Simple and easy homemade Japanese rice porridge recipe. All you need is water and rice. Garnish with scallions, salted salmon, and nori, this homey, comforting dish will sure to keep you nourished and the chill at bay.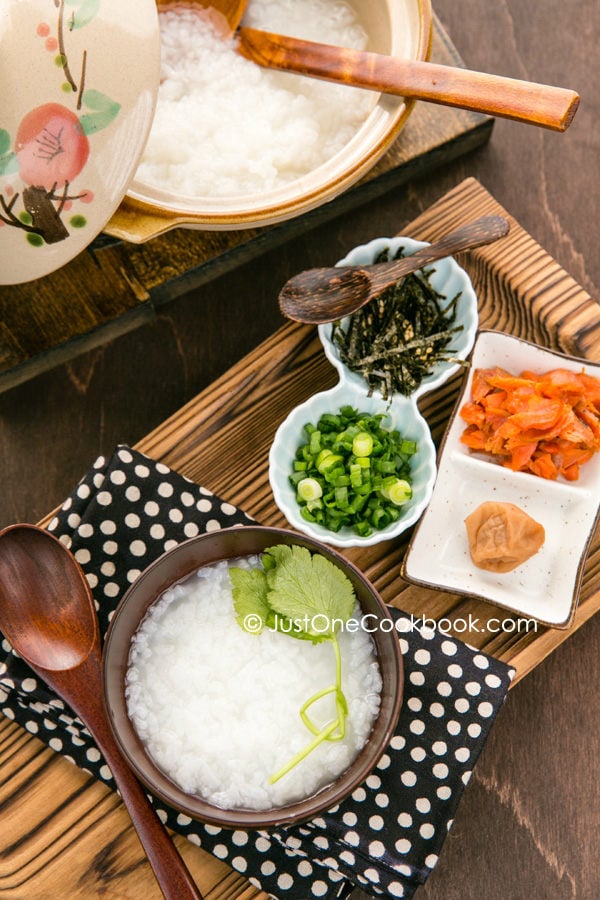 At this time of the year when the weather is cold and flu season is around, my children usually take turns to bring home some bugs from school. Last week it was my daughter's turn.  She was feeling under the weather with high fever and coughs, so I decided to make some warm Japanese Rice Porridge (Okayu) for her.
How to Make Japanese Rice Porridge
Rice Porridge, or we call it Okayu (お粥), is a simple dish made from just rice and water.  The rice is simmered in a pot with water until the mixture disintegrates. As the rice is tender soft and easily digestible, rice porridge in Japan is commonly known as a healing food served to people who are recovering from sickness, the elderly, or babies.
Compared to other countries where rice porridge is eaten, Japanese rice porridge is much thicker.  A rice-to-water ratio is 1 : 5 for typical rice porridge (we call it zen-gayu), compared to 1 : 12 for a Cantonese-style congee.  Japanese rice porridge recipe can be made much quicker than the Chinese congee. We also don't seem to eat porridge as frequently as the Chinese do as a regular meal.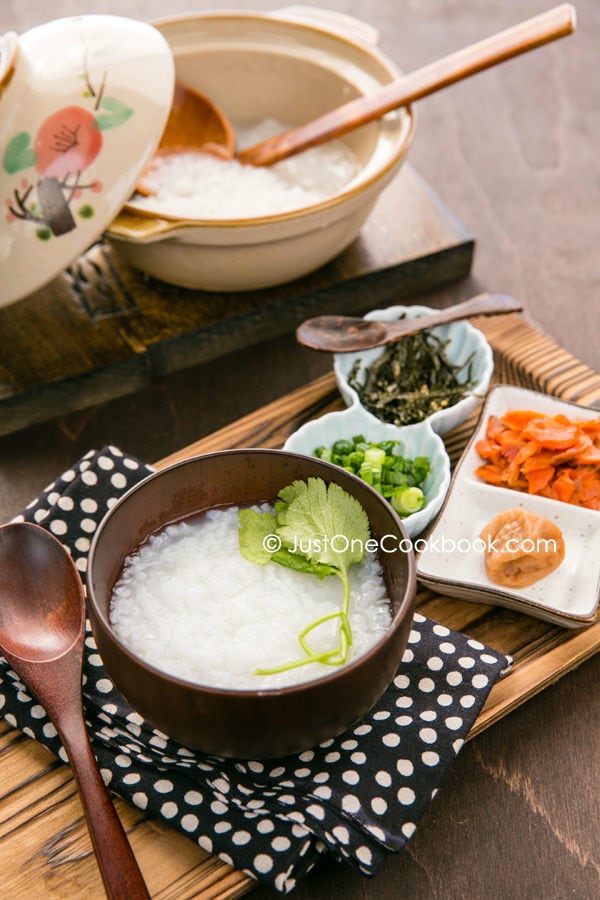 Sometimes the rice porridge is cooked in dashi stock, chicken stock, or miso to flavor the broth.  If you like, salmon, egg, or vegetables can be added to the rice porridge.  However, I made today's rice porridge very basic and plain without any modification so you can enjoy it with optional toppings on the side.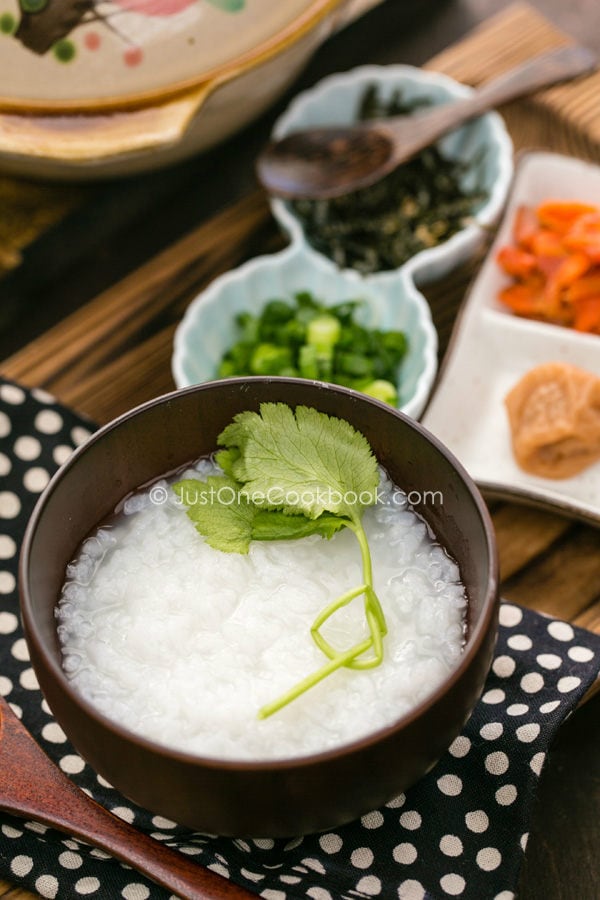 By the way, I received this beautiful gift from Akazuki.  The set includes 2 rice bowls and 2 tea cups and it's a perfect gift for a couple!  Their Tetsubin (cast iron tea pot) is now on sale for $22, and if you need a set of 2 Chawanmushi cups, there are a few that are on sale for $10!
Right now everything is 10% off on their website if you use the promotional code "JUSTONECOOKBOOK".  Have fun shopping!
Get Your Donabe (Earthenware Pot) Ready!
How To Season Donabe (Earthenware Pot)
I hope you enjoy making the Japanese rice porridge (Okayu) recipe. If you make one of my recipes, snap a picture and hashtag it #JustOneCookbook. I love to see your creations on Instagram, Facebook, & Twitter! Thank you so much for reading and till next time!
Don't want to miss a recipe? Sign up for the FREE Just One Cookbook newsletter delivered to your inbox! And stay in touch with me on Facebook, Google+, Pinterest, and Instagram for all the latest updates.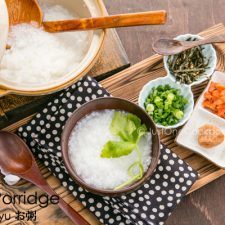 Rice Porridge (Okayu)
Simple and easy homemade Japanese rice porridge recipe. All you need is water and rice. Garnish with scallions, salted salmon, and nori, this homey, comforting dish will sure to keep you nourished and the chill at bay.
Course:
Main Course, Side Dish
Keyword:
okayu, rice soup
Instructions
Gather all the ingredients.

Rinse the rice in water, then drain. Repeat until the water runs clear.


Soak the rice in the pot for at least 30 minutes.


After 30 minutes, drain water completely.


Then add 250 ml of water into the pot.


Cover the pot and bring to a boil over high heat.


When boiling, lower the heat to the stove's lowest setting (make sure to use the right size of stove burner for your pot size). Open the lid and gently mix with the spoon once, making sure rice is not stuck to the bottom of the pot.


Cover the lid (See Note 2) and simmer the rice for 30 minutes. During this time, I never open the lid or mix the rice (See Note 3).


After 30 minutes, turn off the heat and let it steam for 10 minutes. The rice should be soft and thickened. If you want to add something, like a beaten egg or salt, this is the time to add. Today I didn't add anything and kept it simple. Serve into individual rice bowl and garnish and put toppings of your choice.
Recipe Notes
1: With the heavy bottomed pot, the heat is not as direct or strong as regular pot, so you can cook rice evenly.
2: I follow 1 to 5 rice-to-water ratio for my Okayu recipe. With good size pot, and the lowest heat on the stove, water should not boil over. If you cook with more water or your pot is smaller than my pot, you may want to cover the lid at a slight angle so the water doesn't boil over.
3: If you are worried, you can quickly peek and make sure there's enough water so the rice doesn't burn the bottom of the pot. If necessary, you can stir the pot or add "hot" water. Otherwise, don't touch the rice because you would end up breaking the nice shape of rice kernels.
-------------------------------------------------------------------------------------------------
Rice-Water Ratio
Zen-gayu – 1 : 5 (50 grams : 250 ml)
Shichibu-gayu – 1 : 7 (50 grams : 350 ml)
Gobu-gayu – 1 :10 (50 grams : 500 ml)
Sanbu-gayu – 1 : 20 (25 grams : 500 ml)
-------------------------------------------------------------------------------------------------
Using Cooked Rice
Add rice and 2-3 times water in the pot. Cook stirring over medium low heat. Adjust the consistency by adding more water.
Equipment you will need:
Small donabe (earthenware pot) or any heavy bottomed pot (See Note 1)
Recipe by Namiko Chen of Just One Cookbook. All images and content on this site are copyright protected. Please do not use my images without my permission. If you'd like to share this recipe on your site, please re-write the recipe in your own words and link to this post as the original source. Thank you.