Japanese Rice Porridge or Okayu is so simple and easy to make. All you need is water and rice to make this traditional healing food. Add your choice of toppings to this warm and comforting dish that soothes the body and restores energy.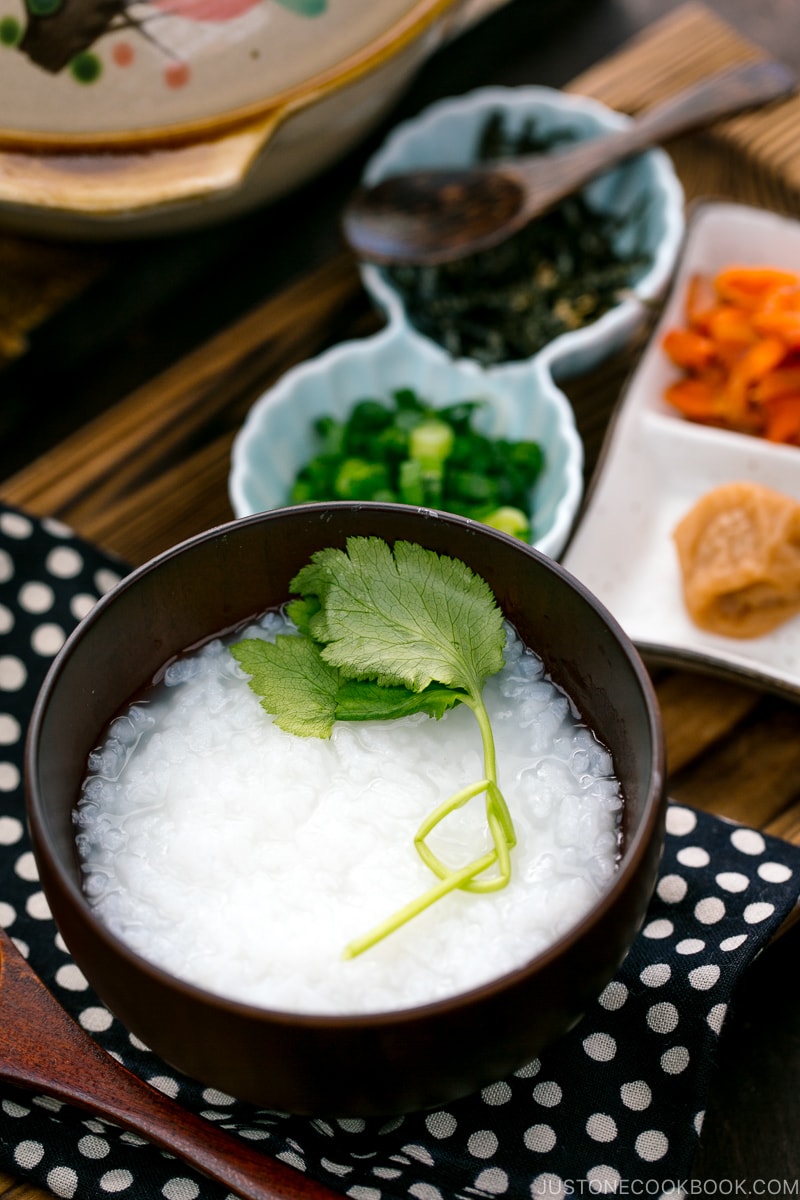 During this time of year, when the cold and flu season is at its peak, my children usually take turns bringing home a few rounds of sicknesses from school. Last weekend, we caught a cold while traveling back from Utah, and our whole family came down with fevers and coughs.
We didn't have much of an appetite, so I decided to make some warm Japanese Rice Porridge (Okayu) for the family. It is the Japanese cold remedy I rely on most to soothe a weak stomach.
Japanese Rice Porridge: A Healing Food
Rice Porridge, or as we call it, okayu (お粥), is a simple dish made with rice and water. The rice is simmered in a pot with water until it disintegrates. Because the rice is tender, soft, and easily digestible, it is considered a healing food in Japan. We typically serve okayu to people who are recovering from sickness, the elderly, or babies.
For those of you familiar with Chinese cuisine, you probably know that rice porridge (or congee), as a comfort food, is enjoyed in various ways. Chinese versions are often topped with julienned ginger, chopped scallions, fried garlic, or fried shallots. Sometimes, congee is topped with additional proteins like shredded chicken, ground pork, seafood, or Chinese sausage, making it suitable for lunch or dinner.
In contrast, the Japanese don't consume porridge as frequently as the Chinese do for regular meals. Okayu, in particular, is served as a healing food, meant to soothe the body and restore energy. The toppings are kept simple, resulting in a light and mild-tasting meal.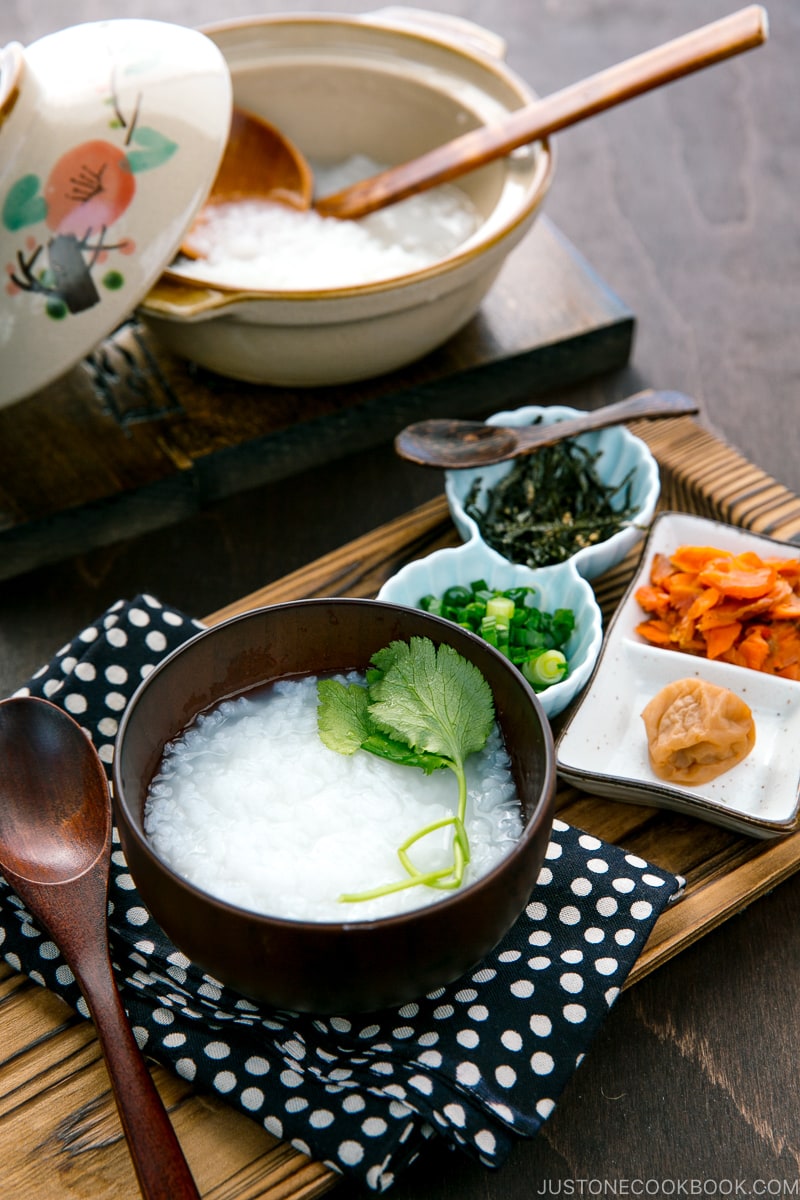 How to Make Japanese Rice Porridge
The Ingredients You'll Need: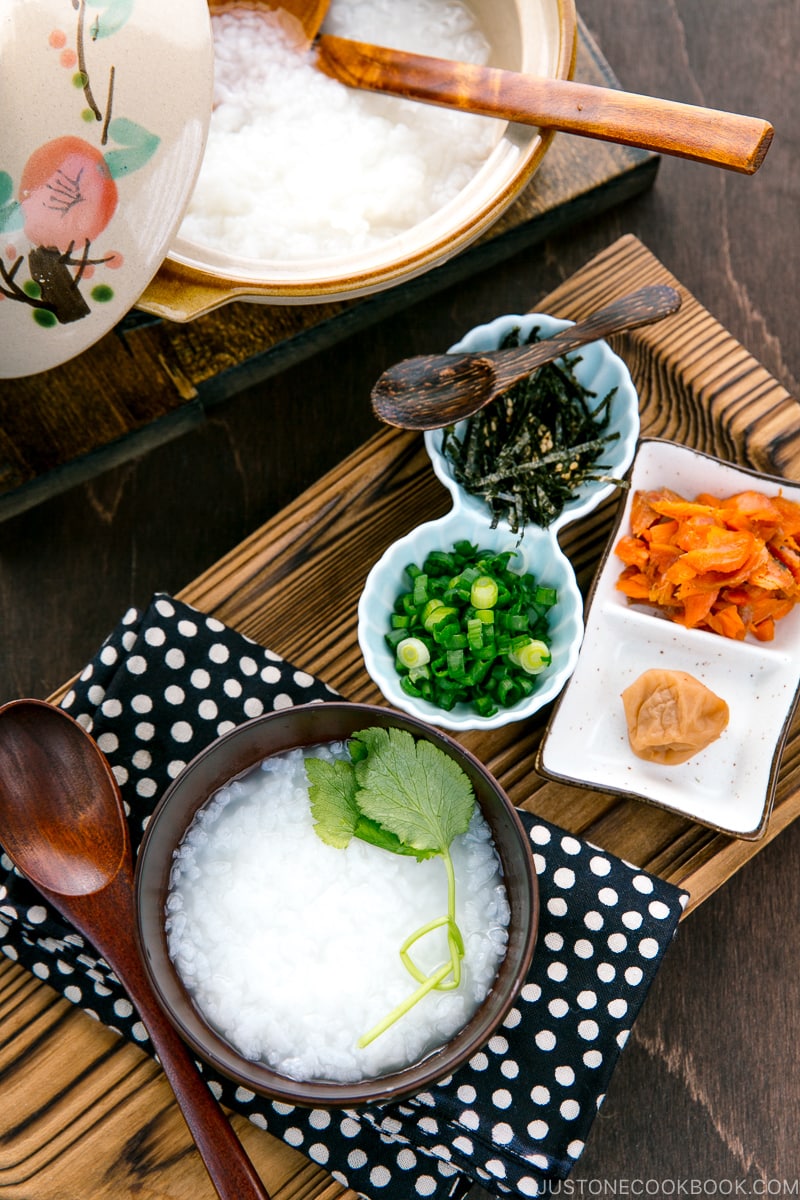 Cooking Tips
Adjust water ratio for desired consistency. For this recipe, I use a 1:5 rice-to-water ratio to yield a thicker consistency. We refer to this ratio as zen-gayu (全粥). You could add more water for a lighter porridge. There is even a whole range of rice-to-water ratios that the Japanese follow, and each one comes with a specific name. You could read more on this in the Recipe Note below.
Use dashi (Japanese soup stock), chicken stock, or miso for a more flavorful broth.
For extra substance and nutrients, feel free to serve the porridge with proteins, veggies, or pickles.
Cooking Rice Porridge with Donabe (Earthenware Pot)
We use a donabe, the Japanese earthenware pot when making the rice porridge for the people we care for. It is a traditional way of preparing the dish as the pot cooks the porridge evenly and retains the heat well.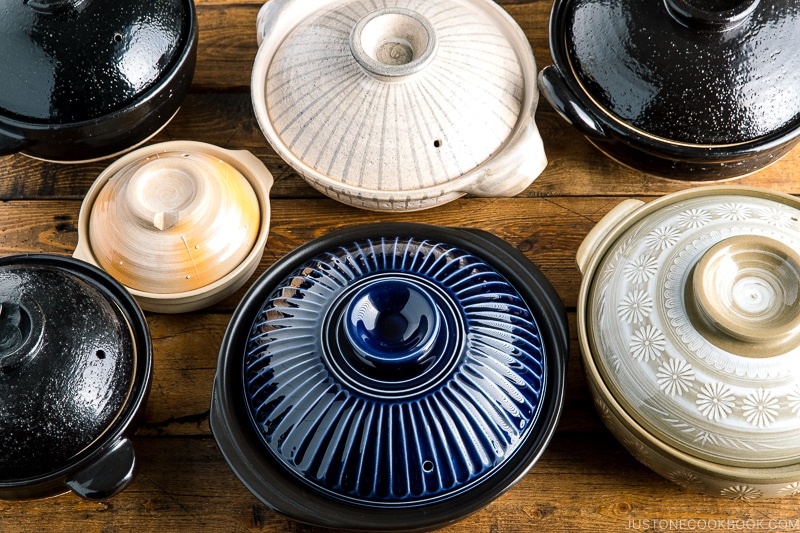 I suppose you can use a rice cooker, instantv pot, or a regular pot to make the porridge, but donabe has always been the preferred method.
I hope you give this Japanese home remedy a try when you're under the weather, or in need of something light and healthy.
More Healthy Recipes You'll Enjoy:
Wish to learn more about Japanese cooking? Sign up for our free newsletter to receive cooking tips & recipe updates! And stay in touch with me on Facebook, Pinterest, YouTube, and Instagram.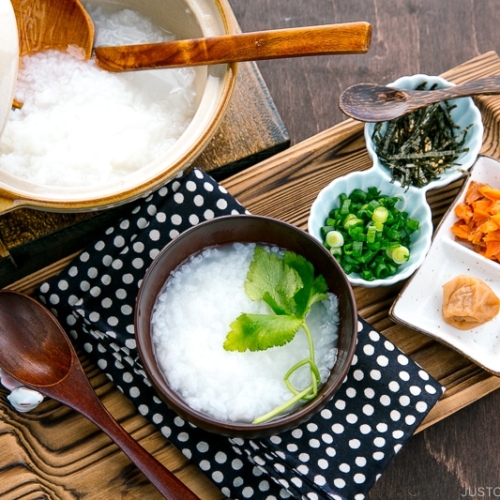 Japanese Rice Porridge (Okayu)
Japanese Rice Porridge or Okayu is so simple and easy to make. All you need is water and rice to make this traditional healing food. Add your choice of toppings to this warm and comforting dish that soothes the body and restores energy. 
Ingredients
250

ml

water

(

1

cup +

2

tsp; for cooking the rice)
For the Suggested Toppings
Japanese Ingredient Substitution:
If you want substitutes for Japanese condiments and ingredients, click
here
.
Instructions
Gather all the ingredients. I follow a rice-to-water ratio of 1 to 5 for a thicker consistency in this recipe; to adjust for a runnier consistency, please see the Notes at the end of the recipe card.

Rinse

¼ cup uncooked Japanese short-grain white rice

in water, then drain. Repeat until the water runs clear. Drain into a colander and shake off the excess water.

Add the well-drained rice and

250 ml water

to a heavy-bottomed pot or a donabe earthenware pot, as I have here. If cooking in a donabe, use a towel to wipe off any excess water on the bottom of the pot (or else it may crack under heat). Tip: Select a cooking pot with plenty of room for the rice and water to cook without boiling over.

Soak the rice for at least 30 minutes.
To Cook the Rice Porridge
Cover the pot and bring to a boil over high heat.

Once boiling, lower the heat to the stove's lowest setting (make sure to use the right size of stove burner for your pot size). Open the lid and gently mix with a spoon, making sure the rice does not stick to the bottom of the pot.

Then, cover with the lid and gently simmer the rice for 30 minutes. During this time, I do not open the lid or mix the rice. Tip: With a good size pot and the lowest heat on the stove, the water should not boil over. If you cook with more water or your pot is smaller than mine, you may want to leave the lid slightly ajar so the water doesn't boil over. Tip: If you are worried, you can take a quick peek to make sure there's enough water so the rice doesn't burn on the bottom of the pot. If necessary, you can stir the rice or add a bit of hot water. Otherwise, don't stir the rice because that may break the rice grains.
To Steam and Serve
After 30 minutes, turn off the heat and let it steam with the lid on for 10 minutes. The rice porridge should be soft and thick. If you want to add a beaten egg or salt, this is the time to mix it in. I keep this recipe plain and simple. Serve in individual rice bowls and garnish with toppings of your choice. Common toppings include chopped

green onion/scallion

,

umeboshi (Japanese pickled plums)

,

toasted white sesame seeds

,

shredded nori seaweed (kizami nori)

,

Homemade Japanese Salted Salmon

, and

mitsuba (Japanese parsley)

.
To Store
You can keep the leftovers in an airtight container and keep them for 2 days in the refrigerator or for up to a month in the freezer.
Notes
Heavy-bottomed pot: I recommend using a heavy-bottomed pot or donabe (earthenware pot). The heat is evenly distributed, and it is not as direct or strong as a regular pot, so the rice cooks evenly.
Rice-to-Water Ratio (in order from thick to runny consistency)
Zen-gayu – 1 : 5 (50 grams : 250 ml)
Shichibu-gayu – 1 : 7 (50 grams : 350 ml)
Gobu-gayu – 1 : 10 (50 grams : 500 ml)
Sanbu-gayu – 1 : 20 (25 grams : 500 ml)
Using Cooked Rice

: Add the cooked rice and 2–3 times water in the pot. Cook, stirring, over medium-low heat. Adjust the consistency by adding more water.
Equipment
donabe (earthenware pot) or heavy-bottomed pot
Nutrition
Nutrition Facts
Japanese Rice Porridge (Okayu)
Amount per Serving
% Daily Value*
* Percent Daily Values are based on a 2000 calorie diet.
©JustOneCookbook.com Content and photographs are copyright protected. Sharing of this recipe is both encouraged and appreciated. Copying and/or pasting full recipes to any website or social media is strictly prohibited. Please view my photo use policy
here
.
Editor's Note: The post was originally published on January 30, 2013. The content has been updated in March 2020.