Umeboshi plums are sundried and salted Japanese plums. It's a centuries-old traditional food known for its many health benefits and sour taste.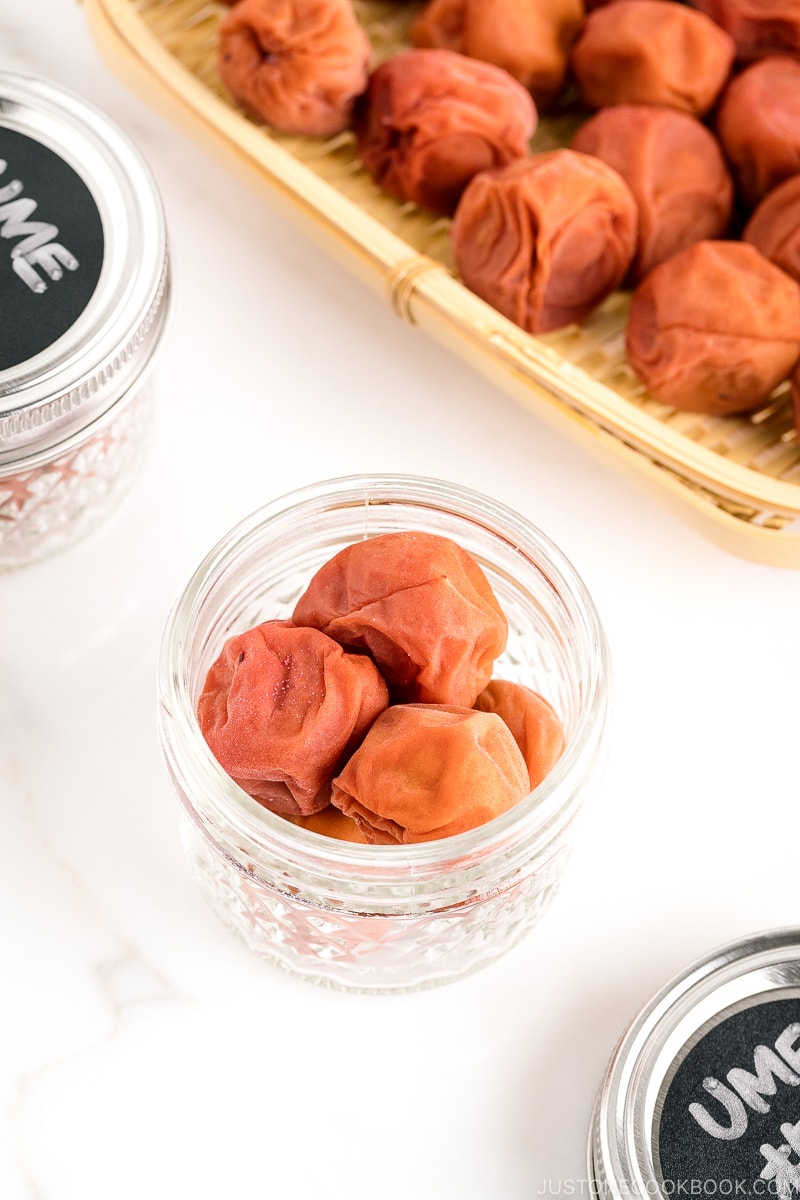 Umeboshi (梅干し) is Japanese salted plums or Japanese pickled plums. Notably known for its distinct sour and salty tang, ume is a popular Japanese pickle called Tsukemono. 
The Japanese have been eating umeboshi for centuries, recognizing their restorative and healing qualities. Some may find the salty-sourish taste overwhelming, but it's making a comeback as the superfood and flavor booster for the 21st century.
What Is Umeboshi
Umeboshi is a traditional Japanese food eaten for centuries made of Japanese ume plums, a variety of apricots in season around June. For a small and wrinkly food product, it's intensely sour and packed with substantial health benefits. Some include aiding digestion, curing hangovers, relieving fatigue, and inhibiting cancer growth.
The pickling process involves salt-drying and adding vinegar for at least three months. The salt slows the aging process and preserves the fruit, while the vinegar balances the sour flavor. The characteristic pink color is due to the addition of red shiso leaves, which are added during the fermentation process.
The Japanese serve umeboshi as an accompaniment to rice in Ichiju Sansai, add it to ochazuke, okayu, or onigiri, or as a condiment for somen and udon. You may see it nestled in a bed of rice in a traditional Japanese bento, called hinomaru bento (日の丸弁当), reminiscent of the Japanese flag 🍱.
Umeboshi Products
Plum vinegar, or umezu (梅酢), is the liquid brine from pickling umeboshi. It deters mold growth and is a coloring agent for beni shoga and seasoned vinegar. You can also find neri ume (umeboshi paste), a convenient substitute for adding umeboshi in cooking, such as salad dressings, pasta sauces, or garnish. Ume salt (梅塩) is umeboshi seasoned salt used to season tempura.
Umeshu or plum wine is ume-infused alcohol. It does not contain umeboshi.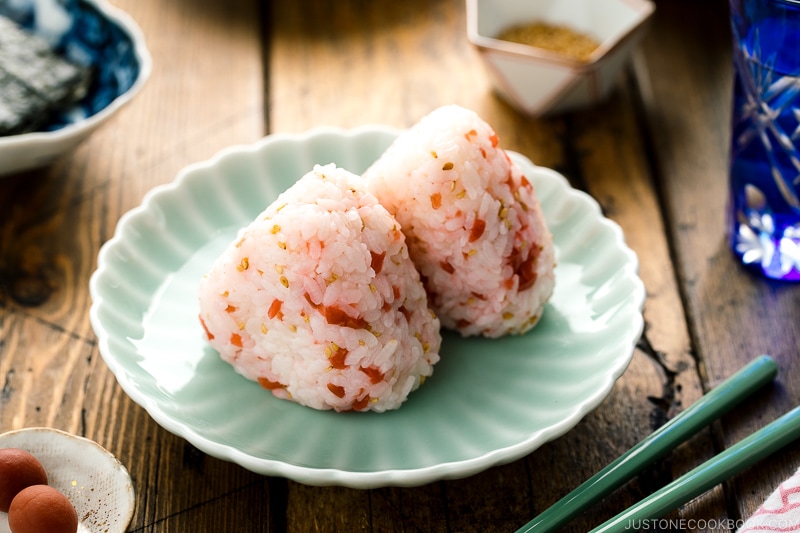 Why Is Umeboshi So Sour
The unique tartness comes from citric acid. The plums have the highest concentration of citric acid compared to lemons or grapefruits. That's what makes your face pucker.
Citric acid can help boost your immune system. Hence, it makes the ideal food to prevent colds or the flu.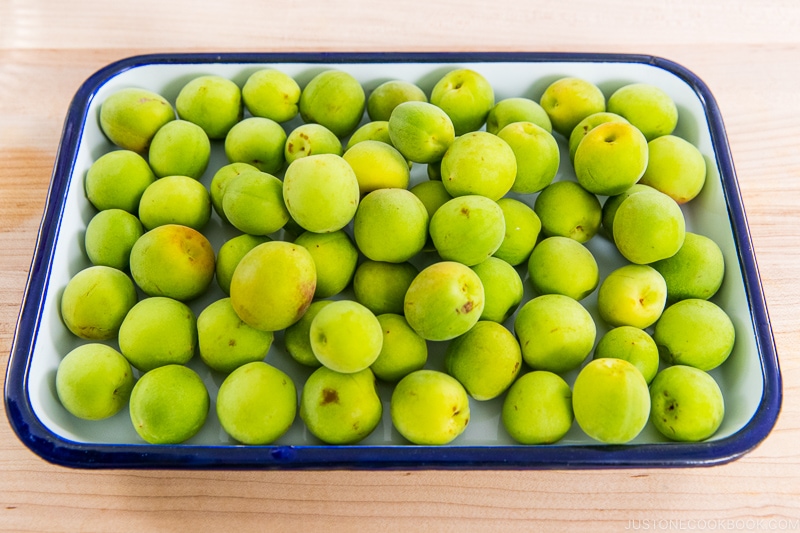 Where To Buy
You can find it at Japanese or Asian grocery stores and some health food stores.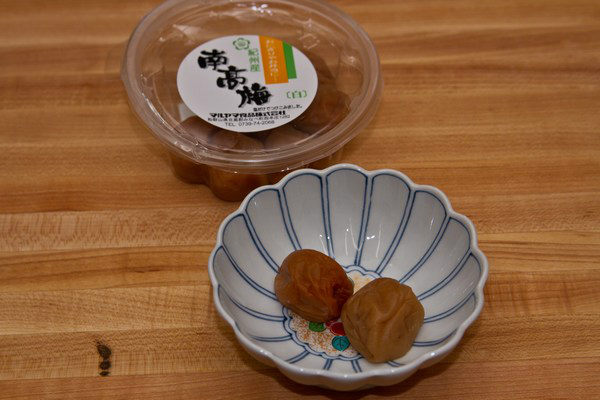 How To Choose The Best
Check the ingredient list. It should only list ume, red shiso leaves, and salt, which is the traditional method. Avoid those with preservatives and food coloring. Nanko Plums (南高梅, なんこううめ) from Wakayama prefecture are considered of the highest quality.
You can also find low-sodium or sweet umeboshi with honey. These types are not made traditionally and contain preservatives but are more accessible for beginners.
How To Store
Keep it in the refrigerator. Umeboshi with 18% salt content or more can be kept at room temperature as it won't spoil. Make sure to avoid direct sunlight and humidity. Most commercial umeboshi are around 8-10%, which must be kept in the fridge.
Use clean chopsticks to take out umeboshi from the container to avoid contamination.
Make Umeboshi At Home
Yes, you can make it at home with fresh ume when they are in season. Here's a detailed post on how to make homemade umeboshi.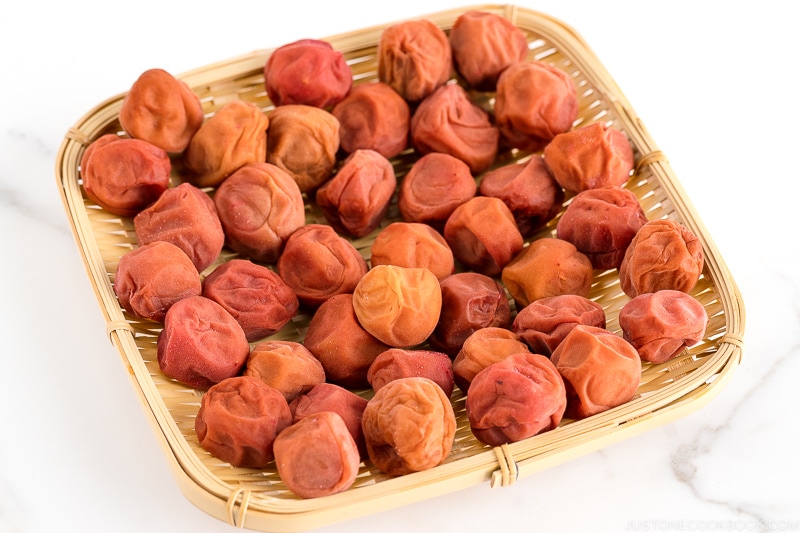 Recipes Using Umeboshi
In addition to rice dishes and garnishes, you can flavor your noodles or salad dishes with umeboshi. It adds an unexpected bright tang to the dish.
Like pickled lemon, feel free to experiment beyond Japanese recipes. Think salad dressings, mayonnaise, risotto, smoked meat/ fish, or marinades. The potential is limitless.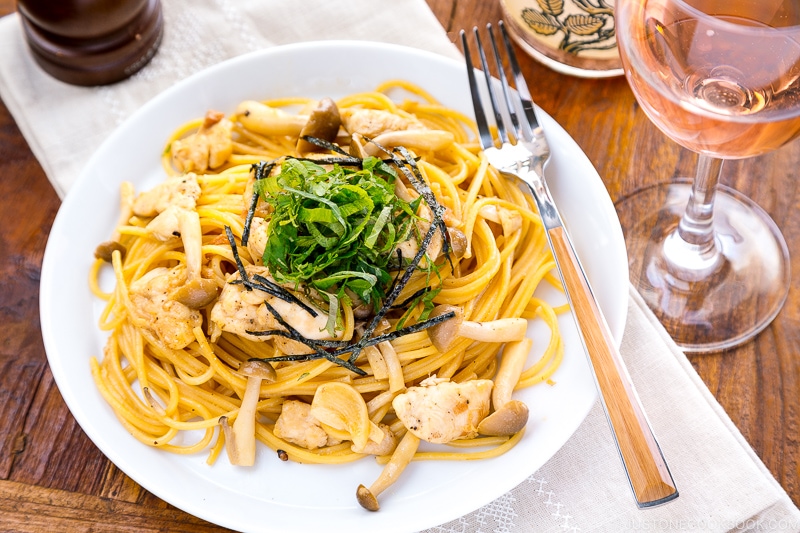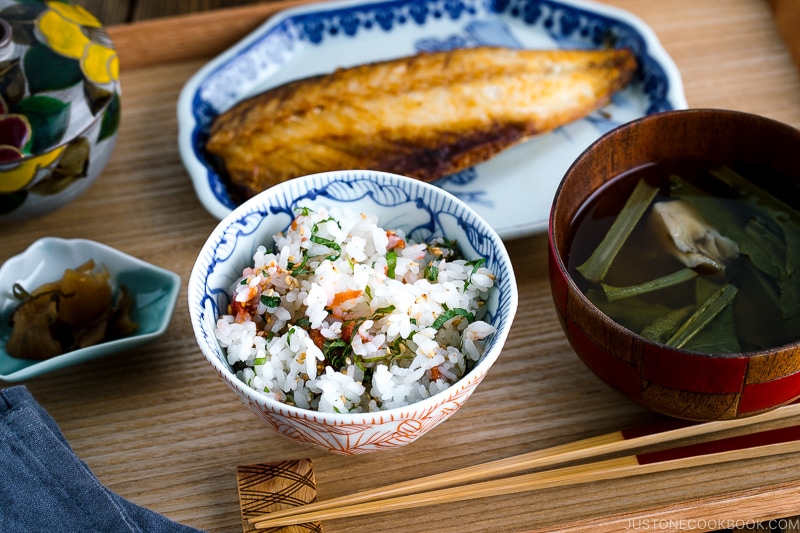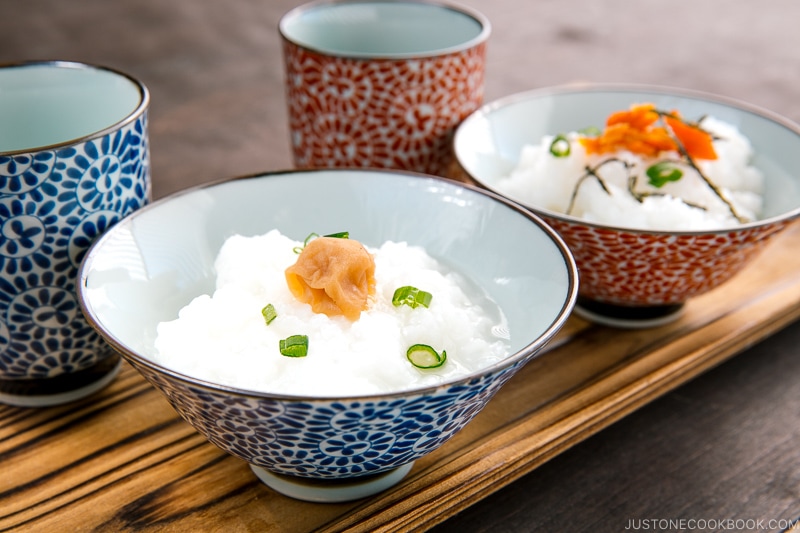 Health Benefits
Throughout East Asia, ume plums have long been regarded for their medicinal properties. When raw, they contain few vitamins and minerals. However, when pickled into umeboshi, they transform into a powerful food with high nutritional content. It is a mouth-puckering preserved food that's an acquired taste for first-timers. But it has been treasured as medicine for centuries and even eaten at battlegrounds for restorative properties.
My grandma and mom would tell us to eat umeboshi daily because it is good for us!
Improves your digestion
The citric acid in ume stimulates the body to produce digestive enzymes and juices, reducing acid reflux. It's also high in fiber, potassium, and manganese, helping alleviate digestive problems such as bloating, nausea, and constipation.
Prevents food poisoning
The catechin has antibacterial and antisepsis effects, which help inhibit bacteria that cause food poisoning. You may notice that traditional bento boxes have an umeboshi in the middle of the rice. This is to prevent the rice from spoiling.
Helps with fatigue recovery
Ume plums are rich in citric acid, which helps boost energy and aids the body in recovery by helping break down and flush out lactic acid, one of the causes of physical fatigue.
Protects the liver
The acid helps improve liver function, especially the damage caused by alcohol and fatigue. The liver is a vital organ that detoxifies the blood, maintains healthy blood sugar levels, regulates blood clotting, and metabolizes fat, so it's critical to keep it functioning.
However, it is high in salt, so consume one or two a day.
---
Wish to learn more about Japanese cooking? Sign up for our free newsletter to receive cooking tips & recipe updates! And stay in touch with me on Facebook, Pinterest, YouTube, and Instagram.