Elevate your everyday dinner with Ume Shiso Rice! With pickled plums (umeboshi), fragrant shiso leaves, and nutty sesame seeds mixed into steamed rice, this beautiful rice dish is big on flavors. Pair it with a simple main or a full spread Japanese meal.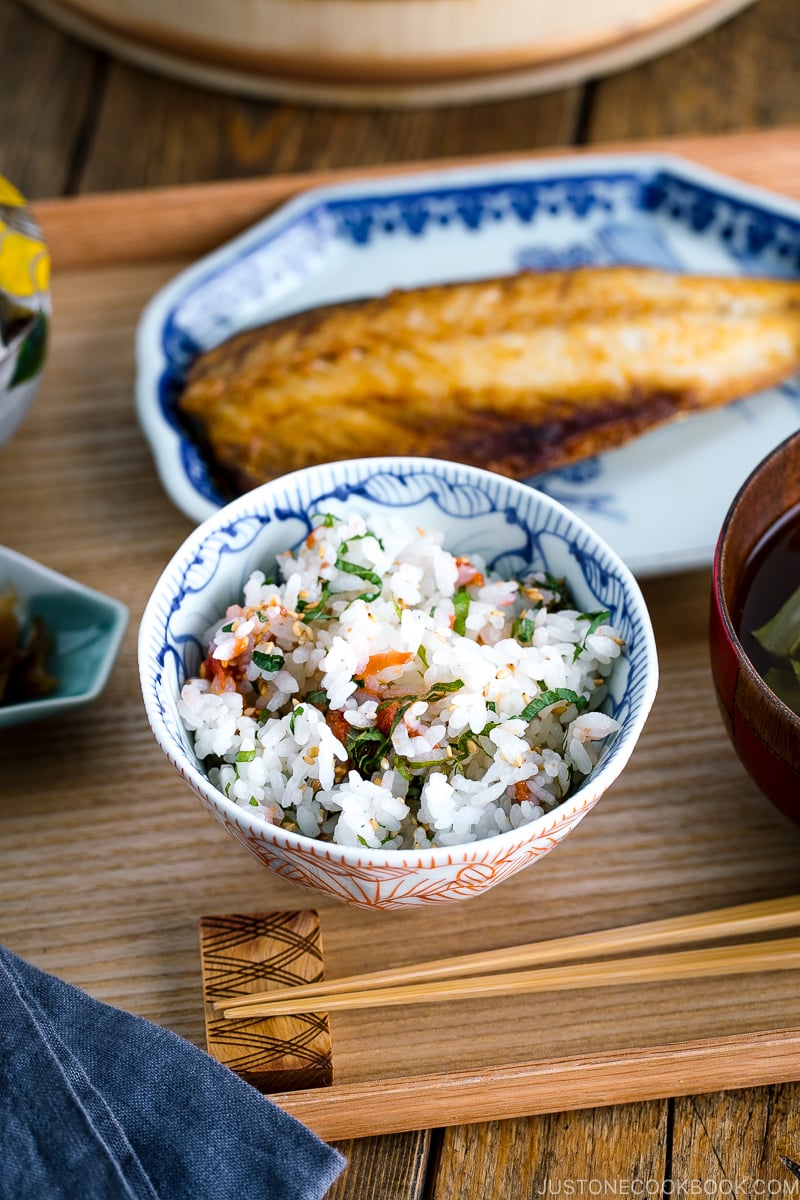 In Japan, we typically serve white steamed rice as a part of a meal. However, once in a while, we serve rice that's mixed with other ingredients and they are called Takikomi Gohan or Maze Gohan.
Today we'll make Ume Shiso Rice (Maze Gohan) (梅しそ混ぜご飯). It's the most appetizing dish where steamed rice is pepped up with the additions of Japanese pickled plum (Umeboshi), shiso leaves, and toasted sesame seeds. I absolutely love this combination and would always go for the same flavor of onigiri rice balls.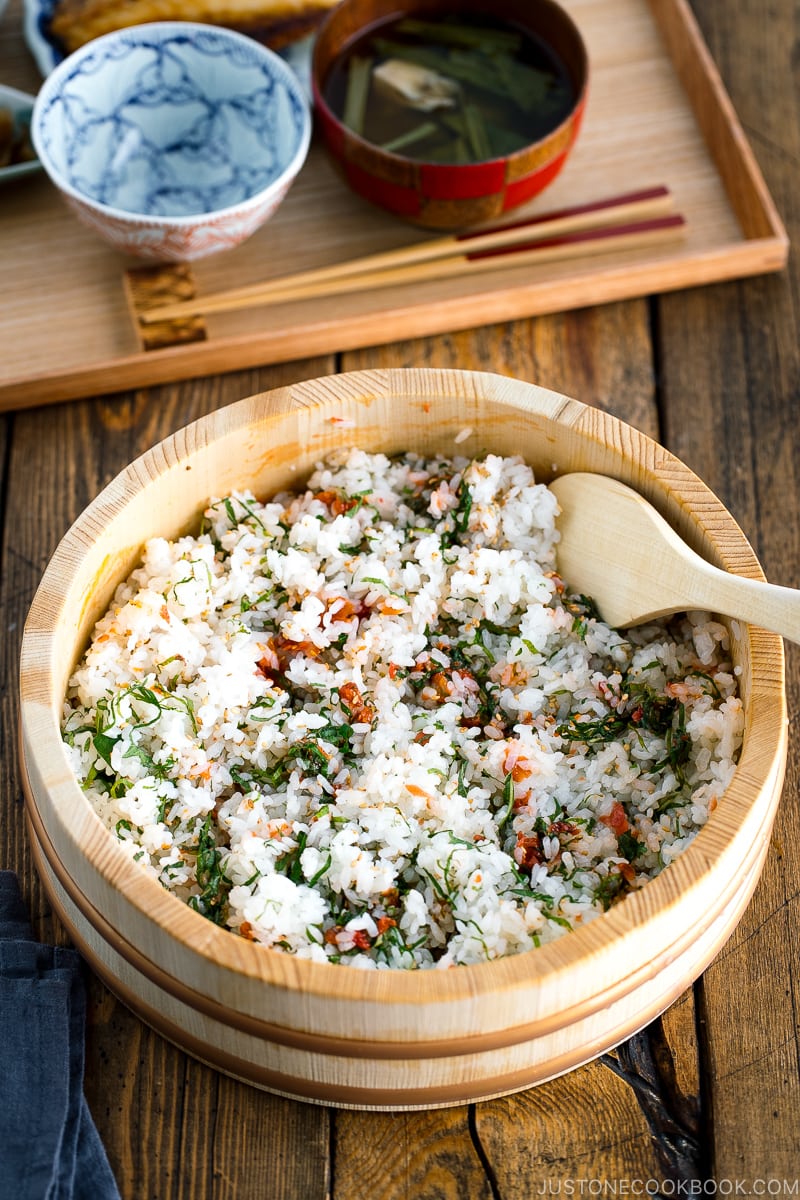 What Is In Ume Shiso Rice?
It's a simple mix of plain steamed rice (Japanese short grain), Umeboshi (Japanese pickled plums), which is seeded and chopped, julienned shiso or perilla leaves, and toasted white sesame seeds. When you're in Japan, you will also find Ume Shiso Onigiri (梅しそおにぎり), the rice ball edition of Ume Shiso Gohan.
I'll go into more detail about each ingredient.
1.Umeboshi (Japanese pickled plums)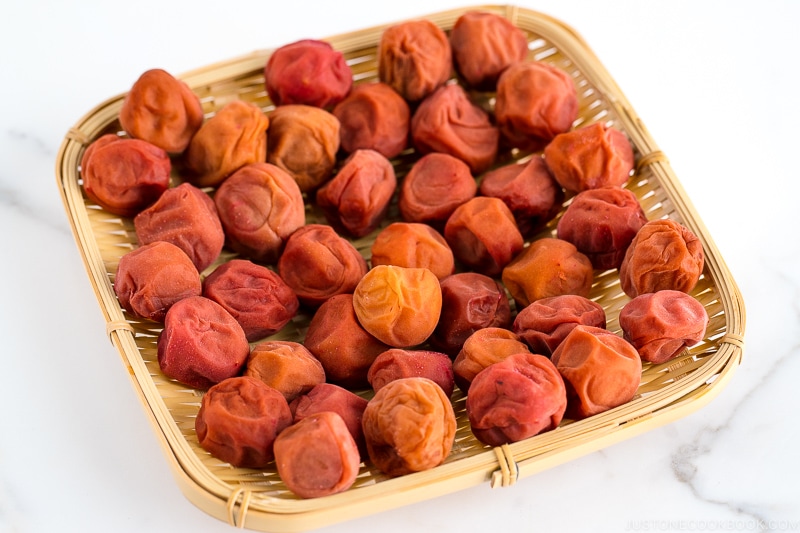 The umeboshi or salted pickled plum is probably the most iconic and classic Japanese pickles (tsukemono). The main ingredient, ume plum, is the fruit of the Japanese apricot tree, botanically classified as Prunus mume. These plums are actually apricot but always referred to as plum, and should not be confused with the common plum or common apricot.
The pickled plums are extremely salty and sour. Just the mention of ume is enough to make your mouth pucker! The cause of sourness in the umeboshi is citric acid. The pickled plum has the highest content of citric acid in the fruit, which is 2-3 times as much as one lemon. This citric acid has the function of increasing metabolism, which helps recover from fatigue. When your metabolism goes down, you tend to get tired or get sick. So take some umeboshi!
Where to Get Umeboshi: Local Japanese or Asian grocery stores, Amazon (although reviews don't seem too positive), and Good Eggs (Anywhere else would you recommend?).
Substitute: Since ume is the key flavor for the rice, there's nothing that can replace it. I would suggest trying different Japanse mixed rice recipes such as Sweet Onion Takikomi Gohan, Matsutake Gohan, and Mame Gohan.
2. Shiso (Perilla) leaves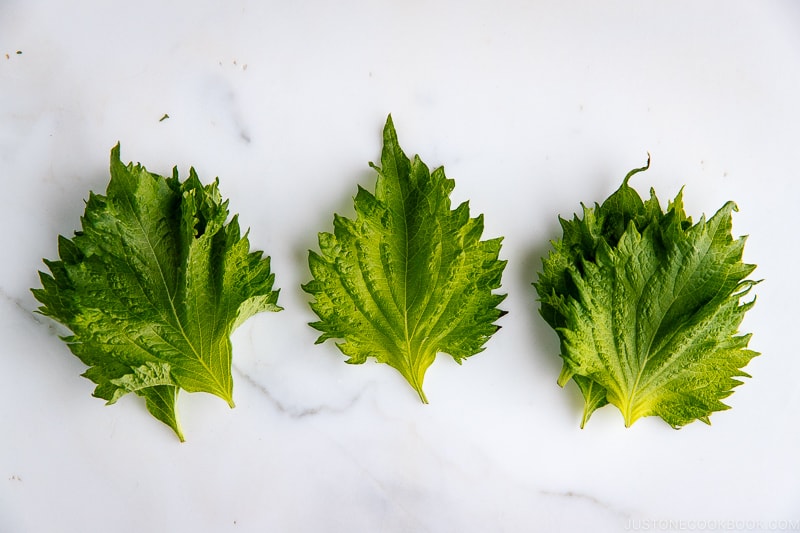 Shiso (しそ, 紫蘇) is a herb (mint family) used in salad, toppings, or garnish in Japanese cooking. It has a unique fragrance and flavor loved by the Japanese.
Where to Get Shiso Leaves: Japanese grocery stores usually carry them in their produce section; however, it's rare to find in other Asian grocery stores. A few JOC readers did tell me that their Asian market carries it, so you can still keep a lookout. Some people get shiso seeds from the Japanese seeding company Kitazawa Seed Co. in California and grow your own shiso in your garden!
Substitute: There's nothing like shiso leaves, but you can substitute with Perilla leaves from a Korean grocery store (but they do have a thicker texture and taste a bit different).
3. Toasted Sesame Seeds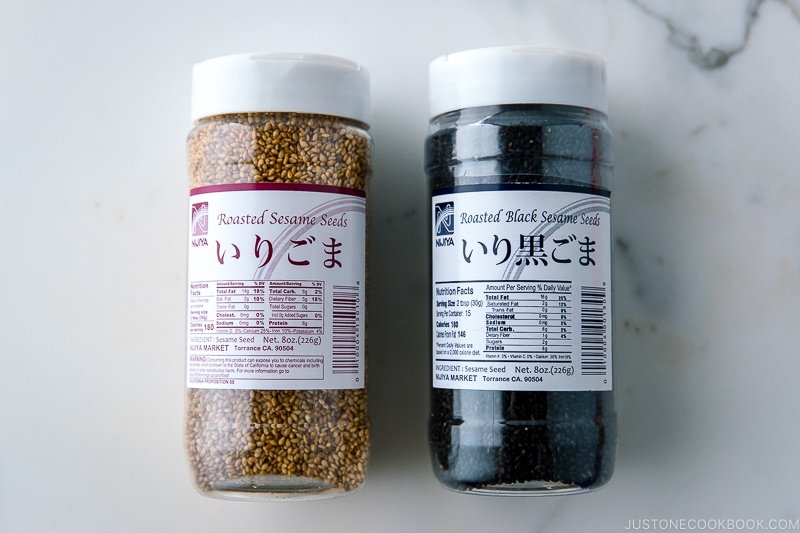 You can use white or black sesame seeds, but make sure they are toasted. If yours are raw, you can simply toast the sesame seeds in an ungreased frying pan until few pieces start to pop. Make sure to keep shaking the pan, like you make popcorn.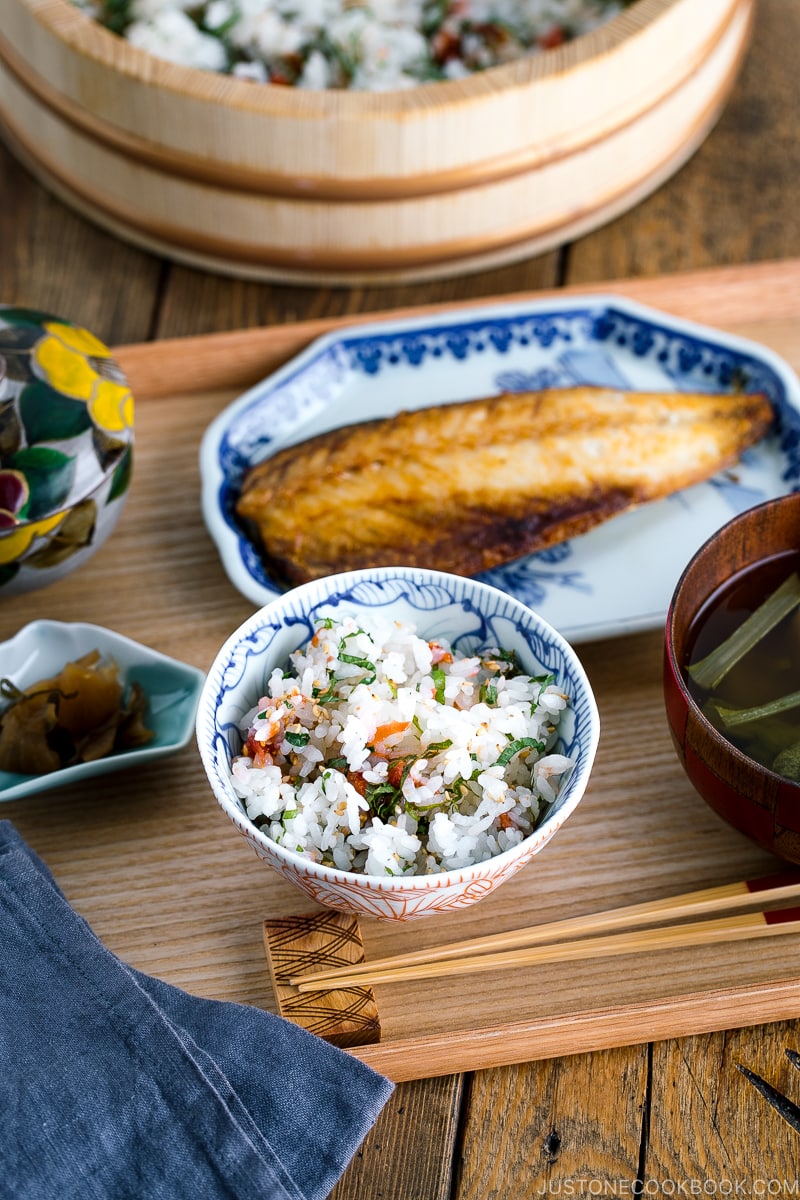 Difference between Takikomi Gohan and Maze Gohan
You may have heard of these two names online or while traveling in Japan. Both rice dishes are mixed with other ingredients. Why some are called Takikomi Gohan and others are called Maze Gohan?
Takikomi Gohan – Rice and ingredients are cooked together in a rice cooker or pot.
Maze Gohan – Rice is cooked first. The steamed rice is then mixed with other cooked (or uncooked) ingredients.
Today's recipe is Maze Gohan, because other ingredients are mixed in after the rice is being cooked.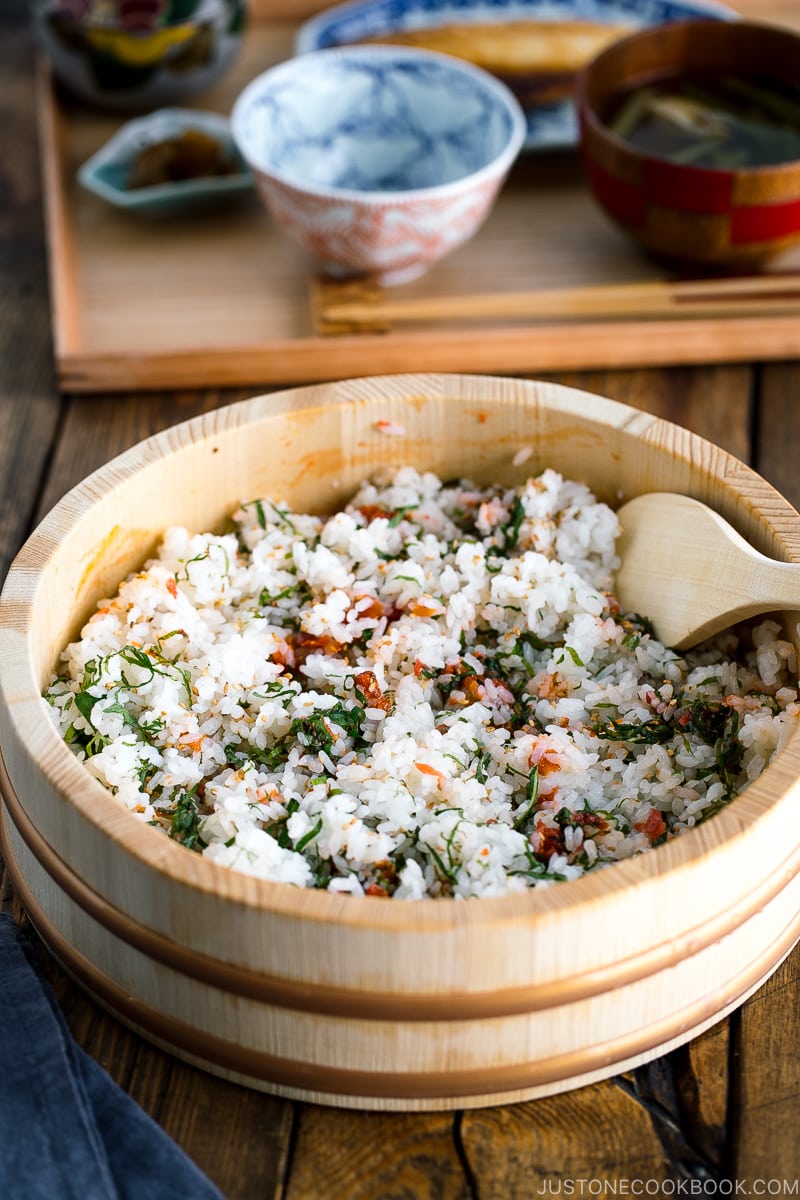 What to Serve with Ume Shiso Rice
Serve this Maze Gohan just like you would with white steamed rice (or brown rice). Still in need of some ideas? Serve it in a format of ichiju sansai (traditional Japanese meal of 'one soup three dishes') with these dishes: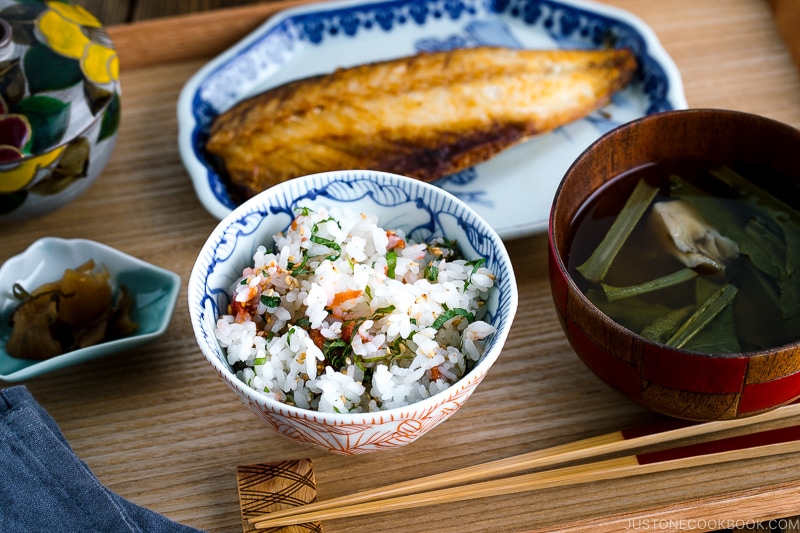 Wish to learn more about Japanese cooking? Sign up for our free newsletter to receive cooking tips & recipe updates! And stay in touch with me on Facebook, Pinterest, YouTube, and Instagram.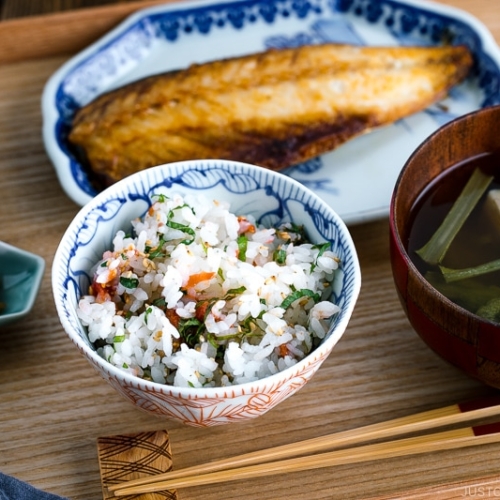 Ume Shiso Rice
Elevate your everyday dinner with Ume Shiso Rice! With pickled plums (umeboshi), fragrant shiso leaves, and nutty sesame seeds mixed into steamed rice, this beautiful rice dish is big on flavors.
Japanese Ingredient Substitution:
If you want substitutes for Japanese condiments and ingredients, click
here
.
Instructions
Discard the stem of the shiso leaves and roll them up from the stem to the tip. Cut into thin julienned strips.

Discard the pit from umeboshi and chop it finely with the knife.

Use a big bowl like my Hangiri (Sushi Oke) or a baking sheet to mix rice, umeboshi, shiso, and sesame seeds together. Serve the rice in individual rice bowls. Enjoy!
To Store
In general, rice does not keep well in the refrigerator. I recommend freezing the leftover rice. I do so even when I save it for the next day. If you prefer to keep in the refrigerator, keep the rice in an airtight container and wrap the container with a thick towel to keep the rice cool but not cold.
Notes
Recipe by Namiko Chen of Just One Cookbook. All images and content on this site are copyright protected. Please do not use my images without my permission. If you'd like to share this recipe on your site, please re-write the recipe in your own words and link to this post as the original source. Thank you.
Nutrition
Nutrition Facts
Ume Shiso Rice
Amount per Serving
% Daily Value*
* Percent Daily Values are based on a 2000 calorie diet.
©JustOneCookbook.com Content and photographs are copyright protected. Sharing of this recipe is both encouraged and appreciated. Copying and/or pasting full recipes to any website or social media is strictly prohibited. Please view my photo use policy
here
.
Love Japanese Pickled Plums? Try These Umeboshi Recipes!