Chicken Tempura is a regional favorite in Oita Prefecture of Kyushu region in Japan. With a crispy and fluffy batter on the outside and juicy and tender meat inside, this Chicken Tempura is best enjoyed by dipping with karashi mustard ponzu sauce.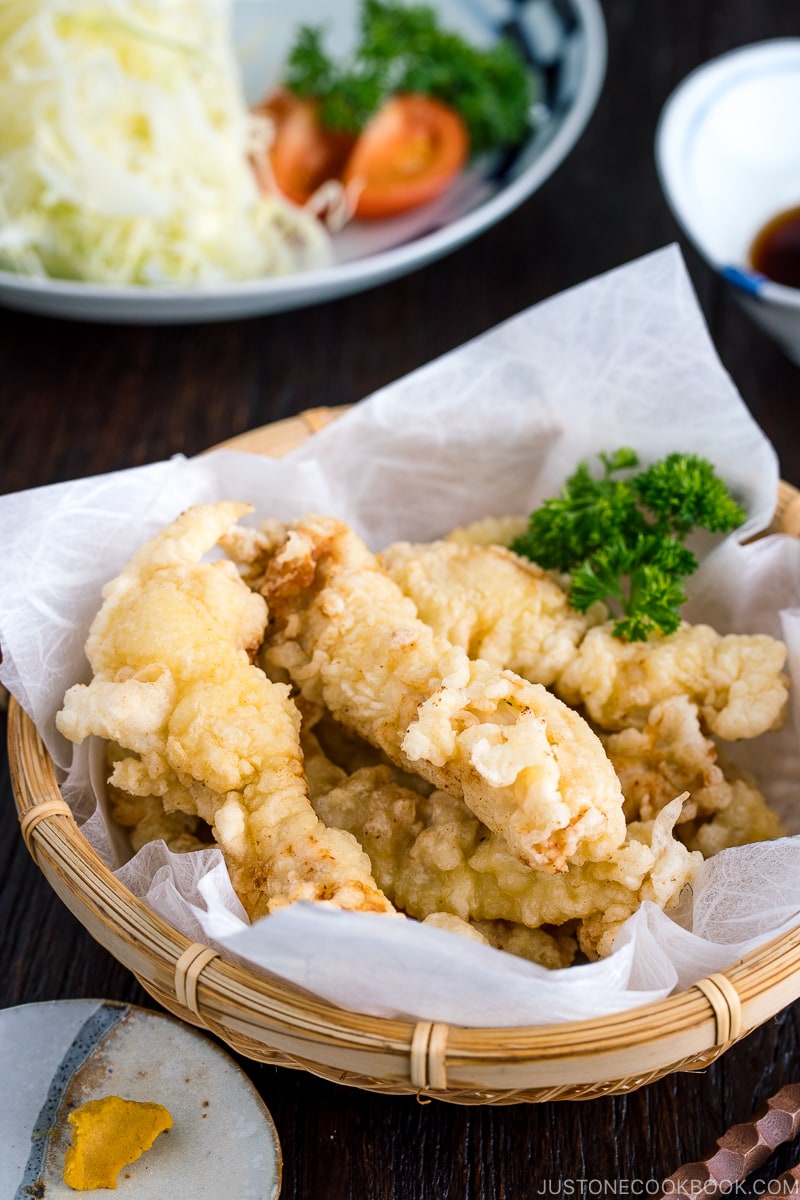 Last summer our family took a week-long trip to Hiroshima and Kyushu. As soon as our train arrived at the station in Beppu, Oita, I had one food in mind that I wanted to try and that was Chicken Tempura called Toriten (とり天) – Oita's specialty food!
Watch How to Make Chicken Tempura (Toriten)
Watch "Chicken Tempura" Video on YouTube
What is Chicken Tempura?
If you never heard of "chicken tempura" before, you're not alone. I even thought chicken tempura is a westernized version of tempura. Invented at a restaurant in Oita prefecture, Chicken Tempura, or Toriten (とり天) in Japanese, is a popular food mostly enjoyed in this region.
I lived in Japan for 20 years before coming to the United States, and I go back to Japan to visit my family almost every year. However, I had never tried chicken tempura or even seen it on the menu anywhere until my trip to Oita. 
As straightforward as the name implies, chicken tempura is tempura-style fried chicken. Chicken breast or thigh is cut into strips, marinated in soy sauce, garlic, and ginger mixture, coated in tempura batter, and deep-fried.
The big difference between chicken tempura and regular tempura is on the dipping sauce. Chicken tempura is often dipped in kabosu ponzu sauce with Japanese karashi hot mustard.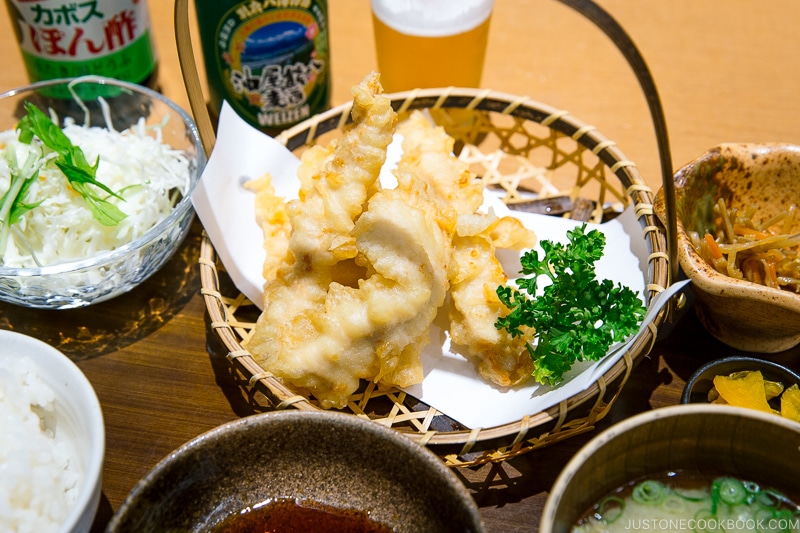 3 Easy Tips to Make Crispy yet Fluffy Chicken Tempura
Besides the actual deep-frying technique, there are a few things you can do to improve your tempura.
1. Use cake flour and mix with potato starch
Potato starch absorbs less moisture, which is why it keeps tempura batter crisp and retains the shape for a longer time. You can play around with the ratio of potato starch and flour.
If you can get hold of cake flour, I recommend using it as cake flour has less gluten which helps to make the batter crisp.
2. Don't mix batter too much
Always mix the batter using chopsticks for only a few seconds to not more than 1 minute, leaving lumps in the mixture. Over-mixing the batter will result in the activation of wheat gluten, which causes the flour mixture to become chewy and dough-like when fried.
3. Keep the batter chilled
A cold batter is a must to achieve the unique fluffy and crisp tempura texture. Since gluten will be activated more at a warmer temperature, we want to avoid that. To keep the batter cool before frying, you can either chill all the ingredients (water, egg, and dry ingredients) or place a bowl in the ice water.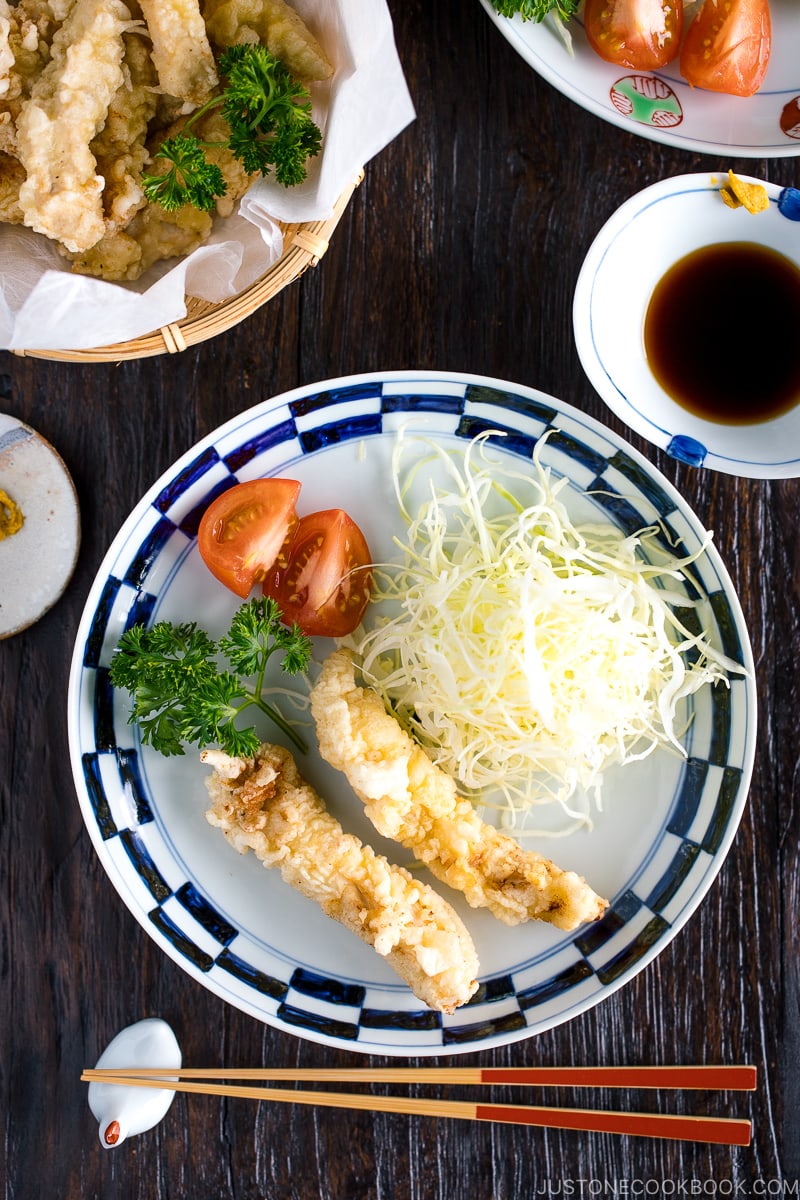 Chicken Tempura – Suggestions for Substitution 
Chicken Breast: I usually prefer chicken thigh when it comes to fried chicken such as Karaage, but I really like the results of using chicken breast for chicken tempura. The majority of the chicken tempura served in Oita is also made with chicken breast. After giving it a try myself, I think chicken breast works best. The meat stays moist, juicy, and tender because it is well coated with tempura batter. However, if you insist to use chicken thigh, feel free to do so.
Ponzu Sauce: As I mentioned earlier, chicken tempura is commonly enjoyed with ponzu sauce instead of tempura dipping sauce. The citrus soy sauce cuts off the greasy taste and imparts a refreshing note to the deep-fried food. If you visit the Kyushu region, look out for Kabosu Ponzu (the bottle shown in the 2nd picture above). Kabosu (カボス), a type of Japanese citrus, is really hard to find outside of Japan. If you can't find ponzu in a bottle at a Japanese/Asian grocery store, you can make it from scratch (so delicious, highly recommend!) or simply mix soy sauce with lemon juice (it doesn't' taste as good).
Karashi Mustard: This Japanese hot mustard is a mixture of crushed mustard seeds of Brassica juncea and horseradish. It is used as a condiment in oden, gyoza, and tonkatsu. Karashi is usually sold in powder form or paste form in tubes (see the pictures). It's spicier and more potent than mild yellow mustard. The closest substitute would be English mustard and Chinese hot mustard powder.
Shredded Cabbage: Many of you asked about the shredded vegetable next to Tonkatsu, Miso Katsu, Ham Katsu, Gluten-Free Baked Chicken Katsu, Korokke, and Fried Oyster. It's actually just shredded cabbage. In Japan, shredded cabbage is often served with deep-fried foods. I highly recommend this cabbage slicer – it makes such fine and fluffy shredded cabbage that I can eat half of the cabbage myself. We eat the shredded cabbage with dressings such as Sesame Dressing, Wafu Dressing, etc.
The next time you have a craving for fried chicken and are about to fire up your deep fryer, give this Chicken Tempura recipe a try! Your family (or dinner guests) may be surprised to learn about chicken tempura, but they would be very happy that you bring this Oita's specialty to the dinner table.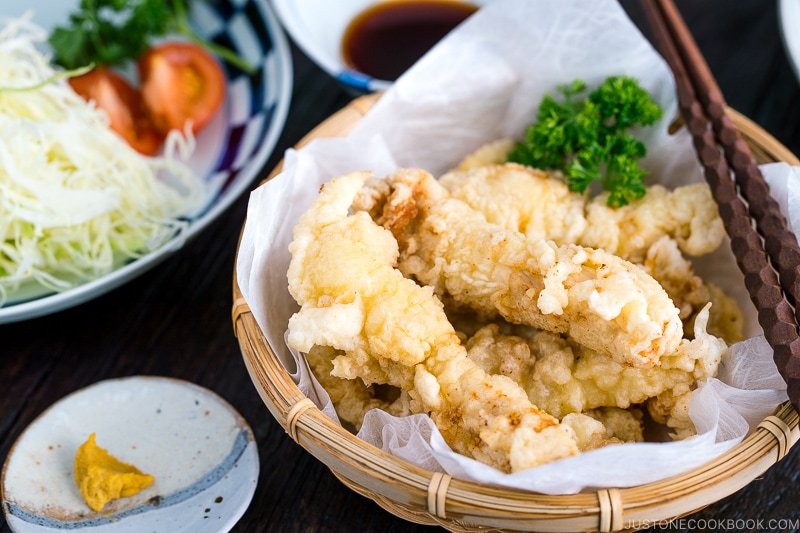 Japanese Ingredient Substitution: If you want to look for substitutes for Japanese condiments and ingredients, click here.
Wish to learn more about Japanese cooking? Sign up for our free newsletter to receive cooking tips & recipe updates! And stay in touch with me on Facebook, Pinterest, YouTube, and Instagram.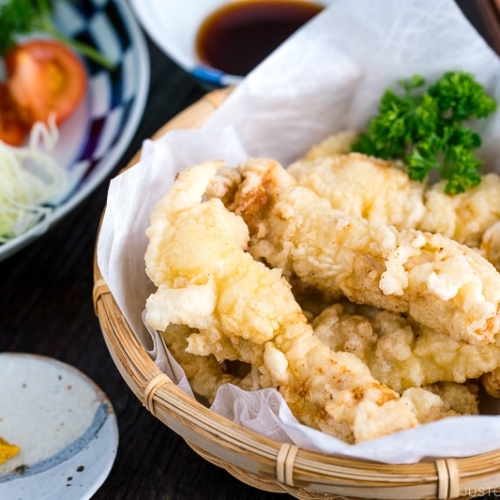 Chicken Tempura (Toriten)
Chicken Tempura is a regional favorite in Oita Prefecture of Kyushu region in Japan. With a crispy and fluffy batter on the outside and juicy and tender meat inside, this Chicken Tempura is best enjoyed by dipping with karashi mustard ponzu sauce.
Video
Ingredients
¾

lb

boneless, skinless chicken breast

1

knob

ginger

1

clove

garlic

freshly ground black pepper

¼

tsp

kosher or sea salt (I use Diamond Crystal; use half for table salt)

1

tsp

sake

2

tsp

soy sauce

1

large egg (50 g w/o shell)

⅓

cup

cake flour

⅓

cup

water

3-4

cups

neutral-flavored oil (vegetable, rice bran, canola, etc.)

(for deep frying)
To serve:
Japanese Ingredient Substitution:
If you want substitutes for Japanese condiments and ingredients, click
here
.
Instructions
Gather all the ingredients.

Pound the chicken breast with a

meat tenderizer

. If you don't own one, you can use the back of the knife. This helps to yield thinner and flatter piece of meat, so the meat cooks faster and more evenly (no more overcooking!).

Cut the meat into roughly ¾" (2 cm)-wide and 3" (7.5 cm)-long strips.

Grate 1 knob ginger and 1 garlic clove.

Season the chicken with freshly ground black pepper, ¼ tsp kosher salt, 1 tsp sake, and 2 tsp soy sauce.

Add the grated ginger and garlic and mix well with hands (rub the chicken with seasonings).

Set a medium bowl over a large bowl with ice water in it. Add 1 egg and whisk well.

With a fine-mesh sieve, sift the ⅓ cup (45 g) cake flour and ⅓ cup (55 g) potato or corn starch into the bowl with the egg.

Gradually add ⅓ cup (75 ml) water and mix all together until just enough to combine (don't over mix).

Add the chicken pieces and coat well with the batter.

Heat the 3-4 cups (720-960 ml) oil to 350ºF (180ºC) in a deep fryer (or in a medium-size pot). Add in only 2-3 pieces of battered chicken at one time. To prevent the temperature of the oil from decreasing, do not add too many cold chicken pieces at once. Deep fry each batch until crispy on the outside, about 4 minutes total, 2 minutes each side. Then repeat with another 2-3 pieces, until all pieces are cooked. Pick up tempura crumbs in the oil to keep your oil clean.

Serve the Chicken Tempura with shredded cabbage (I use this cabbage slicer which yields thinly shredded cabbage) and ponzu with karashi mustard on the side.
Nutrition
Calories:
570
kcal
·
Carbohydrates:
25
g
·
Protein:
41
g
·
Fat:
34
g
·
Saturated Fat:
24
g
·
Polyunsaturated Fat:
2
g
·
Monounsaturated Fat:
5
g
·
Trans Fat:
1
g
·
Cholesterol:
174
mg
·
Sodium:
555
mg
·
Potassium:
862
mg
·
Fiber:
1
g
·
Sugar:
1
g
·
Vitamin A:
146
IU
·
Vitamin C:
3
mg
·
Calcium:
38
mg
·
Iron:
1
mg
©JustOneCookbook.com Content and photographs are copyright protected. Sharing of this recipe is both encouraged and appreciated. Copying and/or pasting full recipes to any website or social media is strictly prohibited. Please view my photo use policy
here
.