Dressed in a savory & nutty sesame sauce, Broccolini Gomaae is a delicious vegetable side dish that goes well with everything. You'd only need 15 min to prepare from start to finish!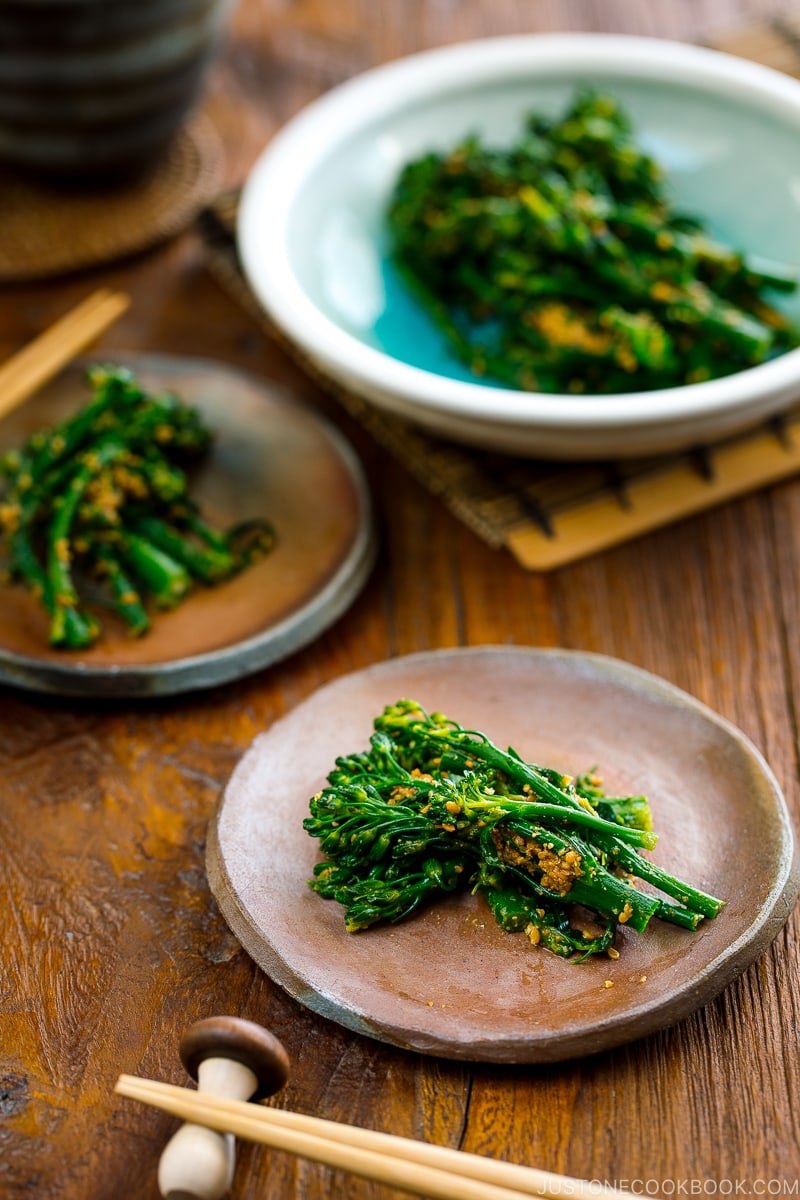 When I plan out the meals for the week, usually I can choose the main dishes fairly quickly but the challenging part is always the side dish(es) for me. If you are stuck with making the same the side dishes too often, I hope you'll try this easy and appetizing Broccolini Gomaae (ブロッコリーニの胡麻和え).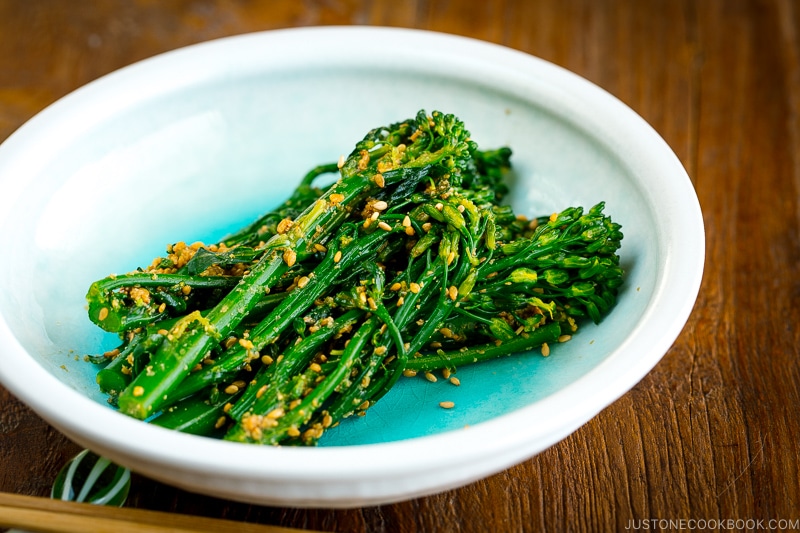 Gomaae (pronounced "go-maa-e") literally means "dressed in sesame sauce" in Japanese. The nutty, sweet, and savory sesame sauce enhances the flavor of blanched or steamed green vegetables.
When blanched spinach is dressed in sesame sauce, it's Spinach Gomaae (Horenso no Gomaae). When green beans are dressed in sesame sauce, it's Green Bean Gomaae (Ingen no Gomaae).
I created this dish out of an accident. I was going to make Green Bean Gomaae, but I realized that my green beans went bad already. Then I found a big bag of organic broccolini from Costco in the fridge and thought I'd use it instead. Broccolini and gomaae complemented each other really well and it's been one of our favorite side dishes since. You can also make this same dish with regular broccoli.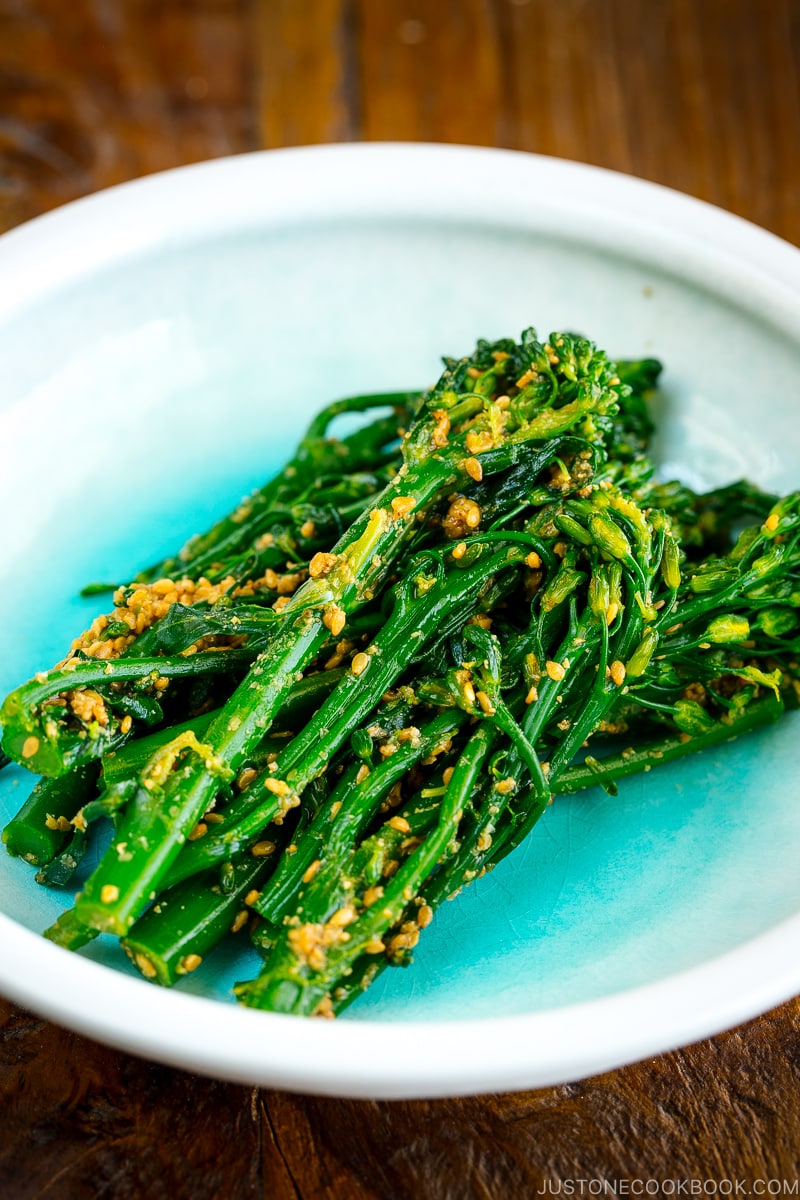 Broccolini is a green vegetable similar to broccoli, but it has smaller florets and longer thin stalks. I didn't know this until researching for this post but broccolini was originally developed in Yokohama, Japan (my home!) in the early '90s (source). The end result is a hybrid of broccoli and Chinese broccoli. If you love broccoli or Chinese broccoli, you'll love this veggie. It has the texture of Chinese broccoli but without the bitter taste, more similar to the flavors of regular broccoli.
It has lots of vitamin C, and also contains vitamin A, calcium, and iron. The stems are very soft and you can eat the entire vegetable!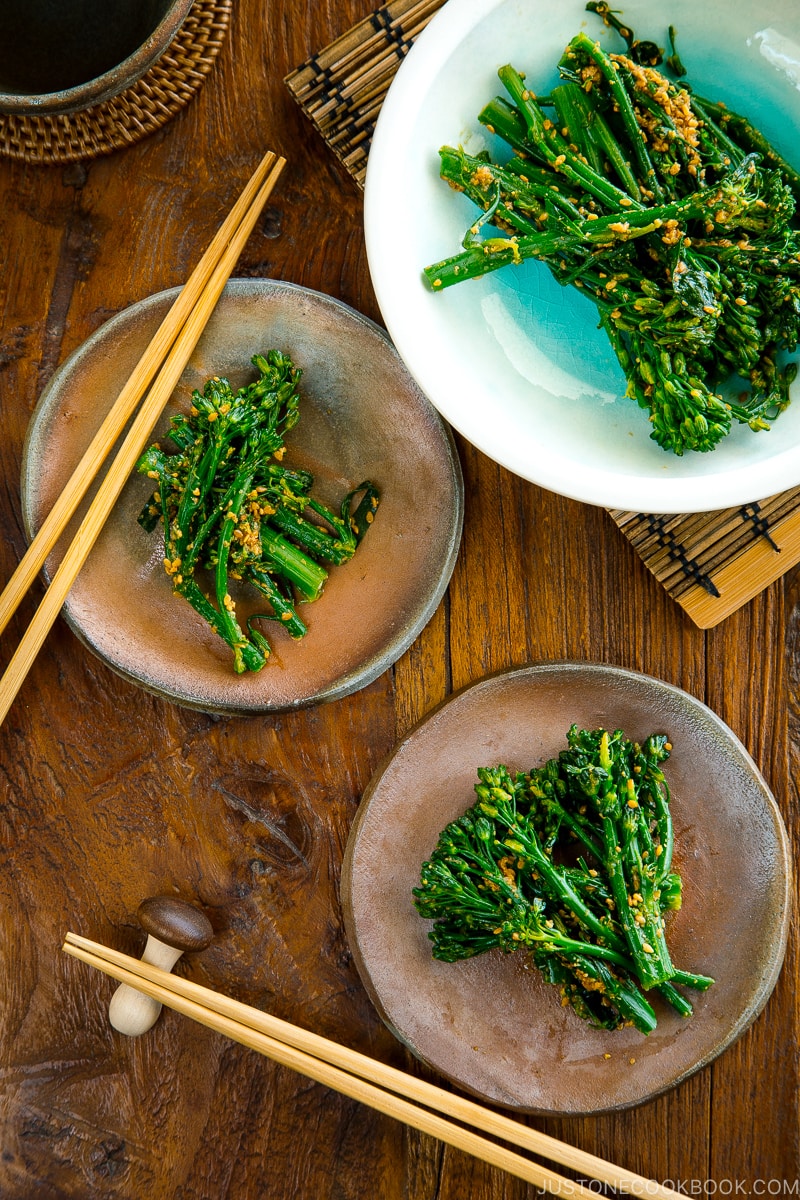 It takes less than 15 minutes to prepare from start to finish and I can usually cook it while I prepare the main dish. It's fast to cook, delicious and healthy! Hope this will become one of the popular side dishes for you and your family as well.
Watch How to Make Broccolini Gomaae
Delectable broccolini dressed in a savory and nutty sesame sauce.
Sign up for the free Just One Cookbook newsletter delivered to your inbox! And stay in touch with me on Facebook, Pinterest, YouTube, and Instagram for all the latest updates.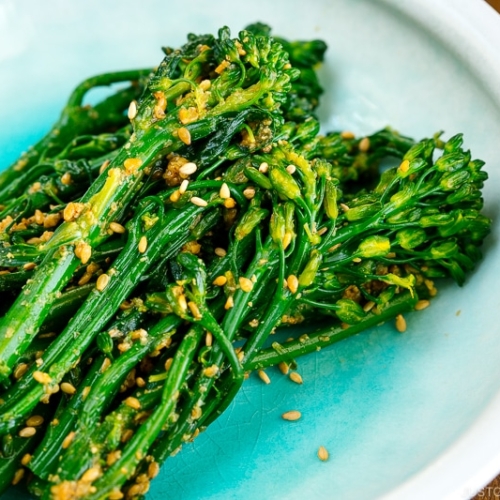 Broccolini Gomaae
Dressed in a savory & nutty sesame sauce, Broccolini Gomaae is a delicious vegetable side dish that goes well with everything. You'd only need 15 min to prepare from start to finish!
Video
Japanese Ingredient Substitution:
If you want substitutes for Japanese condiments and ingredients, click
here
.
Instructions
Gather all the ingredients.

Rinse the broccolini in running water, cut and discard the ends.


Bring a large pot of water to a boil. When boiling, add a pinch of salt and put the end of broccolini first into the boiling water and then submerge the rest of broccolini. Boil for 2 minutes.


Remove the broccolini and soak in the iced water to cool.


Pick up a few bunches of broccolini and squeeze the water out. Place them in a clean bowl.


Add the sesame seeds in a large frying pan and toast them until a few sesame seeds start popping, about 1.5 minutes. Toss the frying pan while toasting so sesame seeds won't get burnt.


Transfer the toasted sesame seeds into a Japanese-style pestle & grooved mortar and keep grinding until the texture becomes smooth.


Add sugar and soy sauce to crushed sesame seed and mix well.


Mix the sesame sauce with the broccolini and serve at the room temperature or chilled.

To Store
You can keep the leftovers in an airtight container and store in the refrigerator for up to 3 days and in the freezer for 3 weeks.
Nutrition
Nutrition Facts
Broccolini Gomaae
Amount per Serving
% Daily Value*
* Percent Daily Values are based on a 2000 calorie diet.
©JustOneCookbook.com Content and photographs are copyright protected. Sharing of this recipe is both encouraged and appreciated. Copying and/or pasting full recipes to any website or social media is strictly prohibited. Please view my photo use policy
here
.