Freshly blanched spinach dressed in a nutty and savory sesame miso sauce, this flavorful vegetable side dish is one that goes well (nearly) with every meal! Plus, it's so simple to make. Eating greens cannot be any easier!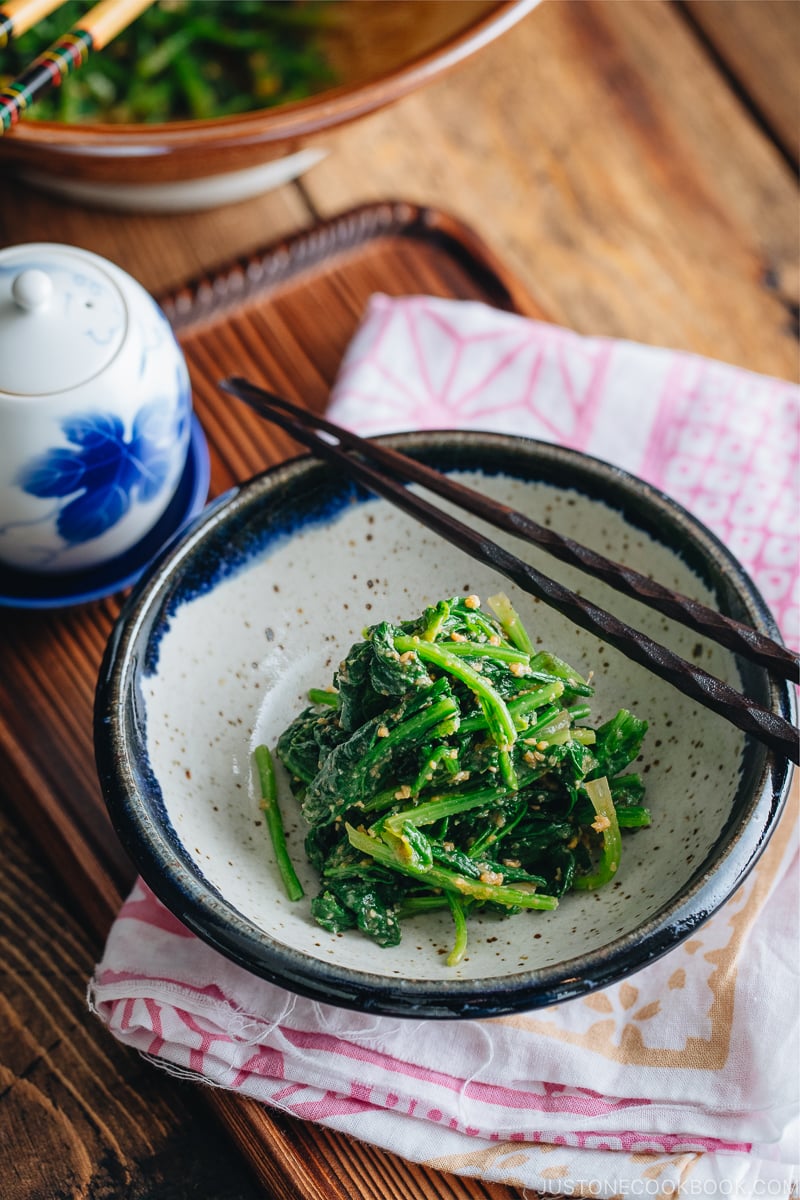 Since introduced in 2011, my Japanese Spinach Salad with Sesame Dressing has been one of the top side dishes that everyone seems to enjoy.
Today, I thought I'd introduce you a slightly different variation, Spinach with Sesame Miso Sauce (ほうれん草の胡麻味噌和え). Both are versatile, not too heavy or rich, and full of bright flavors. You can now alternate these two vegetable side dishes to accompany the delicious meal you are cooking!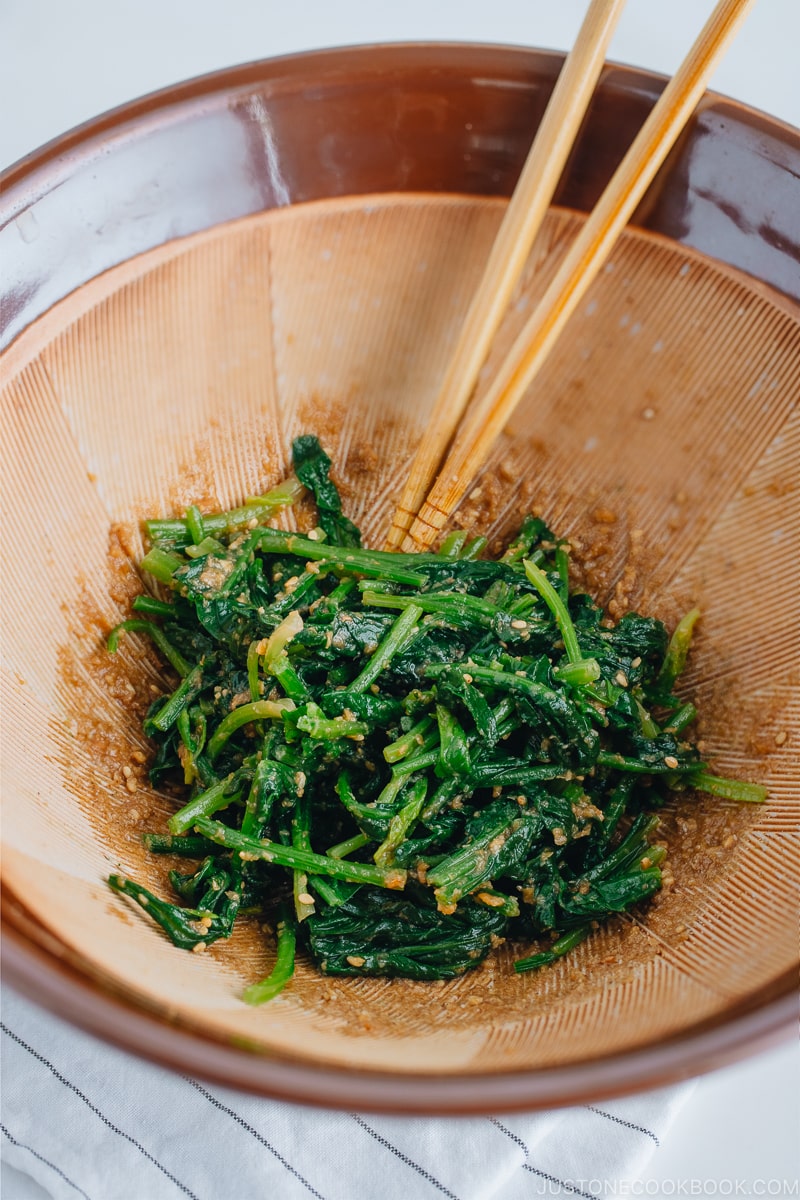 Easy & Delicious Sesame Miso Sauce (Goma Miso Ae)
You've probably seen the combination of ground sesame seeds and miso a lot in Japanese cooking, and the term we use for this combination is "goma miso" – sesame miso.
They go really well hand in hand, and so as this simple dressing for the spinach. Miso imparts a savory taste and depth to the sauce, giving the vegetables a serious boost. When your main dish is on a lighter flavor, you can make this dish instead of the regular sesame sauce.
All you need is simple 5 condiments and spinach to make a memorable weeknight side dish. When you get fresh spinach from the market, definitely try this recipe!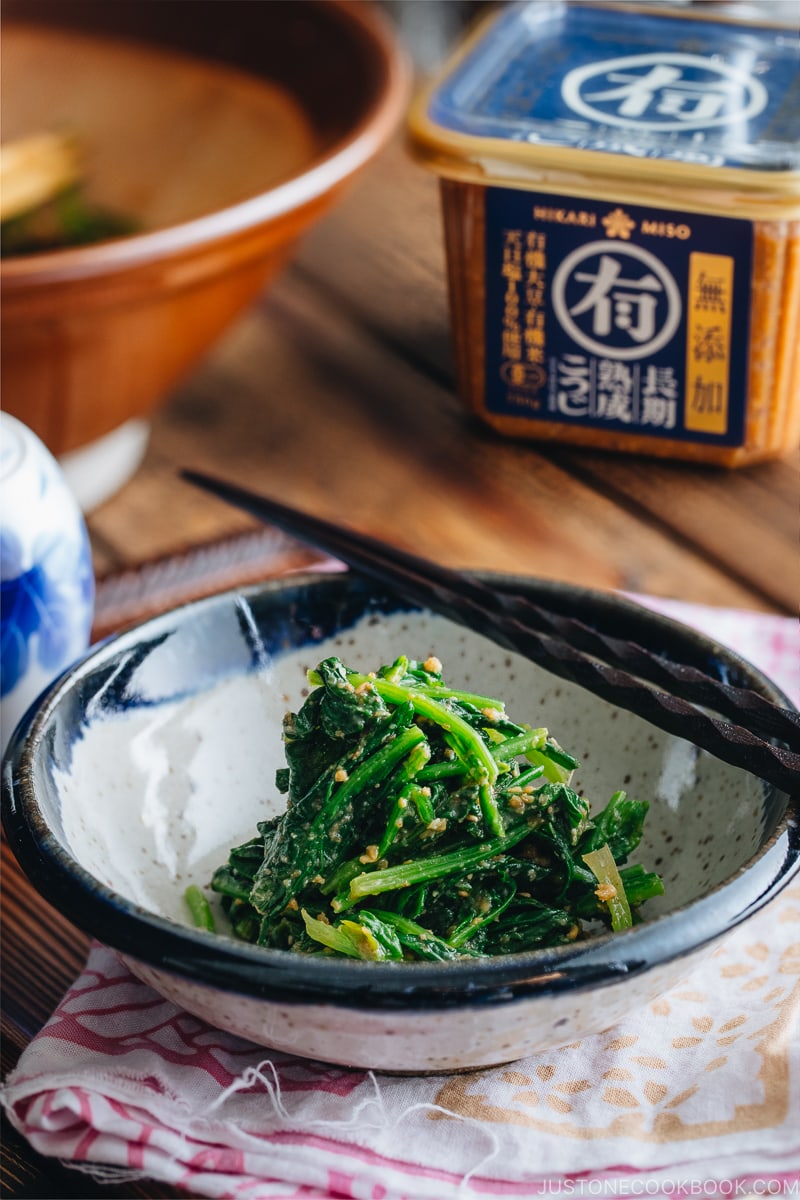 My Favorite Miso – Hikari Miso
For this recipe, I used Hikari Miso "Maru-Yu" Mutenka Yuki Miso (organic). Hikari Miso has a large collection of different types of miso, and it's fun trying out different types as each miso tastes slightly different.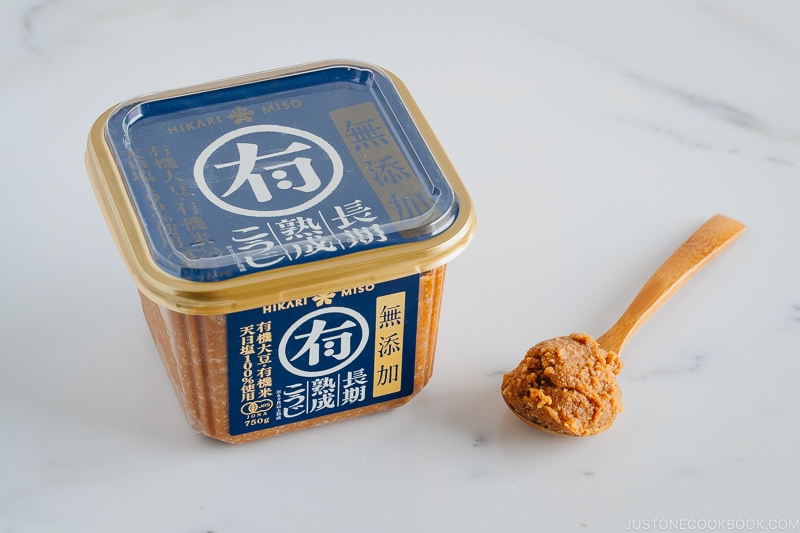 I've been partnering with Hikari Miso® monthly to share various miso recipes on Just One Cookbook.
Personally, I've been using their miso for over a decade (I discovered the brand after I got married), and it's been fun trying out varieties of their amazing miso. Depending on the availability at your grocery store, there are all different types of miso from Hikari Miso (Learn about types of miso here).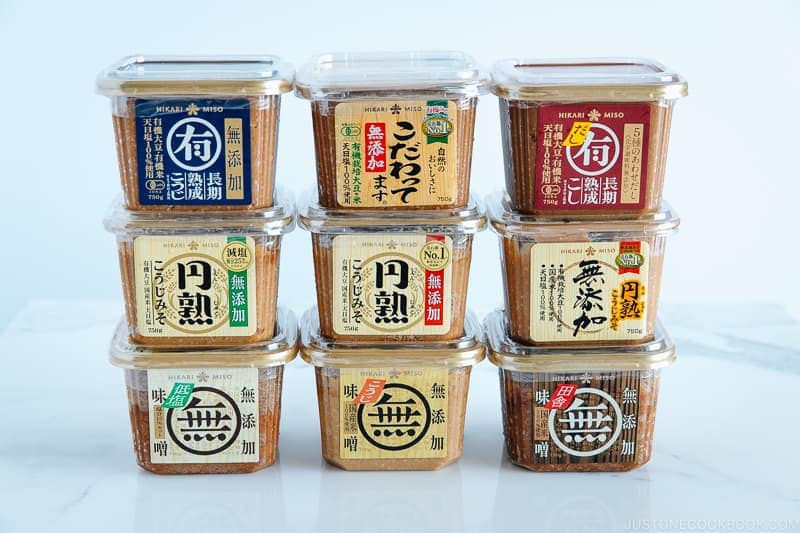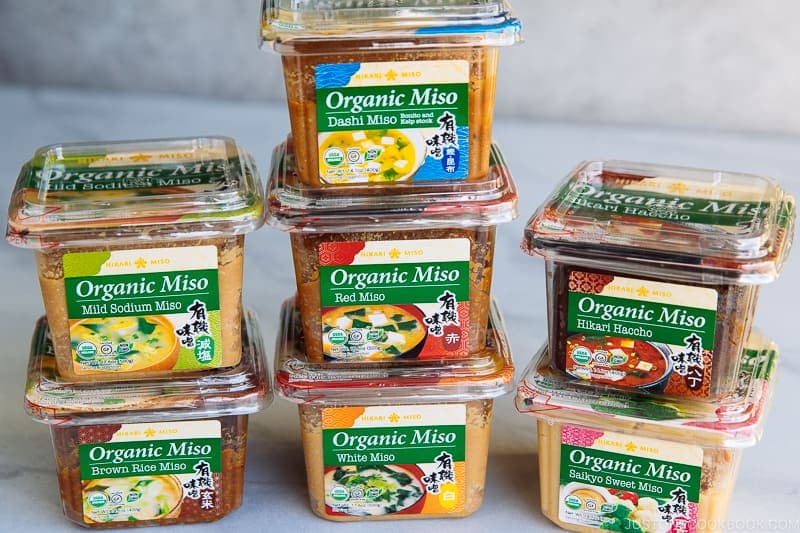 Nikiri – Sake and Mirin Used in Non-Cooked Food
When mirin or sake is used in a recipe that is not required to be cooked, you may be worried about alcohol content for your children.
In that case, we cook the sake or mirin in a small saucepan and let it burn off the alcohol until there is no trace of alcohol scent. Let boil for 1.5 minutes for 1/2 cup, roughly 10 seconds for 1 Tablespoon of mirin or sake. You could check by waving the steam toward your nose to see if you can still smell the alcohol.
You don't have to do this if you are not worried about alcohol in your food. However, I still recommend this quick step since the flavors of some of the ingredients can be very subtle, and you don't want the strong alcohol to interfere with your dishes.
If you're curious about this specific cooking term in Japanese, this process of boiling sake/mirin down is called Nikiri (煮切り) in Japanese. The mirin that's been boiled down is called Nikiri Mirin (煮切りみりん). It is particularly used for dressing vegetables.
A Healthy Vegetable Side Dish For Weeknight Dinners
As a home cook, I believe we all need some good tried and true vegetable side dishes that round up our weeknight dinners. While it's important that the whole family enjoys the side dishes, I always make sure they are also healthy. And this Spinach with Sesame Miso Sauce is exactly what you'd need for a side dish! It is chock full of nutrients and not lack of flavors. The best part is it pairs well with just about anything you're serving. Did I mention that it keeps well in the refrigerator for 2-3 days too?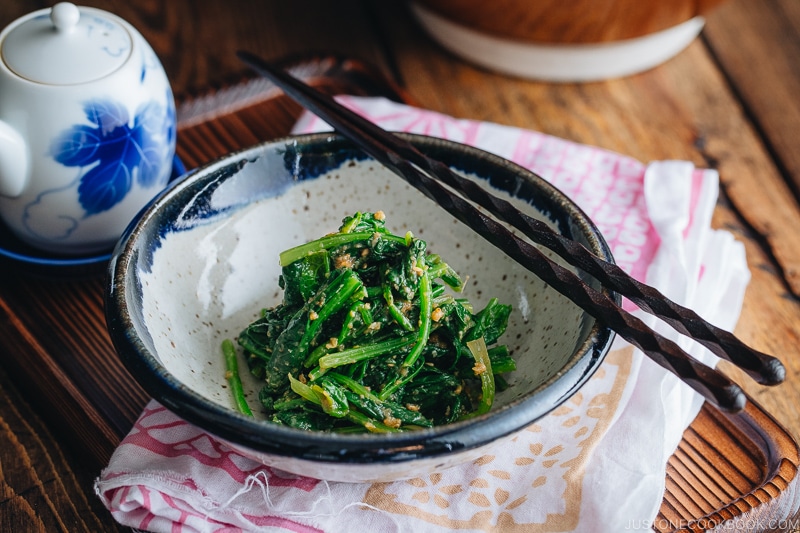 Wish to learn more about Japanese cooking? Sign up for our free newsletter to receive cooking tips & recipe updates! And stay in touch with me on Facebook, Pinterest, YouTube, and Instagram.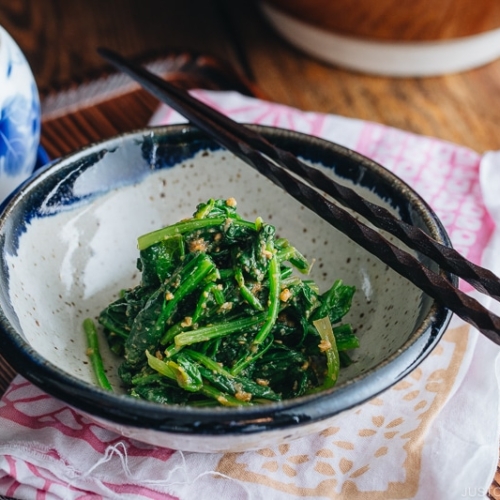 Spinach with Sesame Miso Sauce
Freshly blanched spinach dressed in a nutty and savory sesame miso sauce, this flavorful vegetable side dish is one that goes well (nearly) with every meal! Plus, it's so simple to make. Eating greens cannot be any easier!
Servings:
4
(as a small side)
Ingredients
¼

tsp

Diamond Crystal kosher salt

6

oz

spinach
Japanese Ingredient Substitution:
If you want substitutes for Japanese condiments and ingredients, click
here
.
Instructions
Gather all the ingredients. Bring a big pot of water to a boil. [Optional] If your sesame seeds are not toasted/roasted yet, or if you want more toasty taste/fragrance, put sesame seeds in a frying pan and toast them on low heat. When 2-3 sesame seeds start to pop from the pan, remove from the heat.

While waiting for the water to boil, add 1 Tbsp mirin in a small saucepan. Cook it over medium heat until the alcohol is evaporated, roughly 30 seconds. Set aside.

In a suribachi (mortar), add 2 Tbsp sesame seeds and grind with a surikogi (pestle) until sesame seeds are almost ground. It's nice to leave some texture.

Add 2 tsp miso, 1 tsp sugar, alcohol-free mirin, and ½ tsp soy sauce and mix well together.

Once water is boiling, add the salt. Hold the spinach leaves so you can start blanching from the stem (which takes longer to cook). Cook for 15 seconds. Let go the leafy part and cook for 30 seconds.

Remove spinach from the water and soak in iced water to stop the cooking. Alternatively, drain and run the spinach under cold running water until cool.

Collect the spinach and squeeze water out.

Cut the spinach into 2" (5cm) lengths and add to the bowl.

Mix the spinach and sauce together. Serve at room temperature or chilled.
To Store
You can put it in an airtight container and store it in the refrigerator for 2-3 days or in the freezer for 2-4 weeks.
Nutrition
Nutrition Facts
Spinach with Sesame Miso Sauce
Amount per Serving
% Daily Value*
* Percent Daily Values are based on a 2000 calorie diet.
©JustOneCookbook.com Content and photographs are copyright protected. Sharing of this recipe is both encouraged and appreciated. Copying and/or pasting full recipes to any website or social media is strictly prohibited. Please view my photo use policy
here
.