Cooked with ginger, fried tofu skin, and soy sauce base sauce, this Japanese Ginger Rice is so fragrant that you would enjoy it on its own.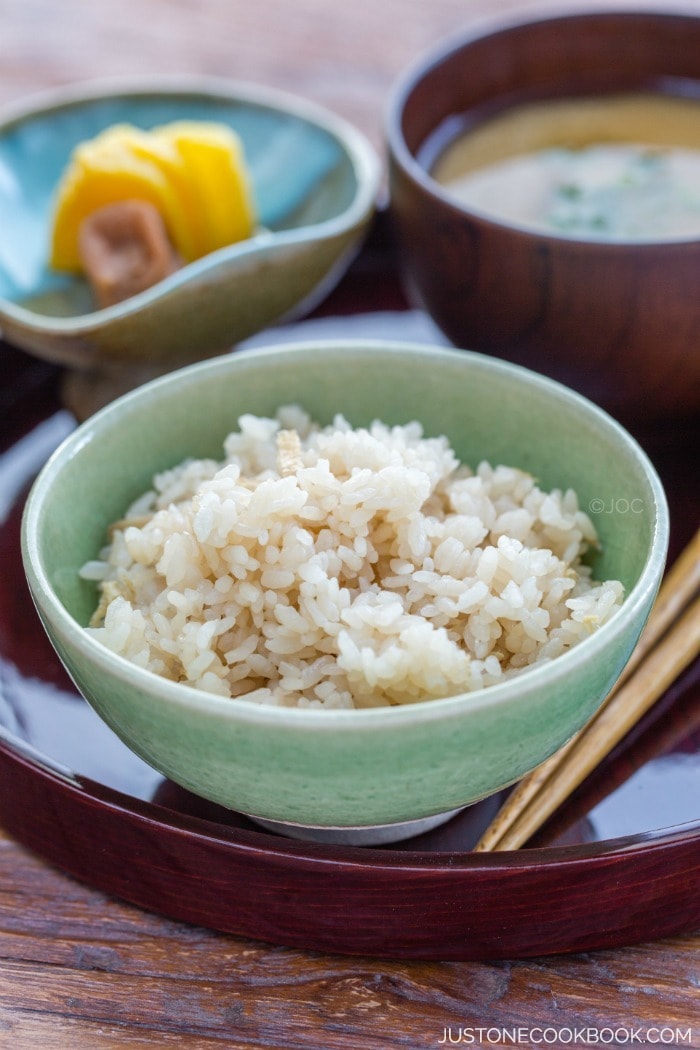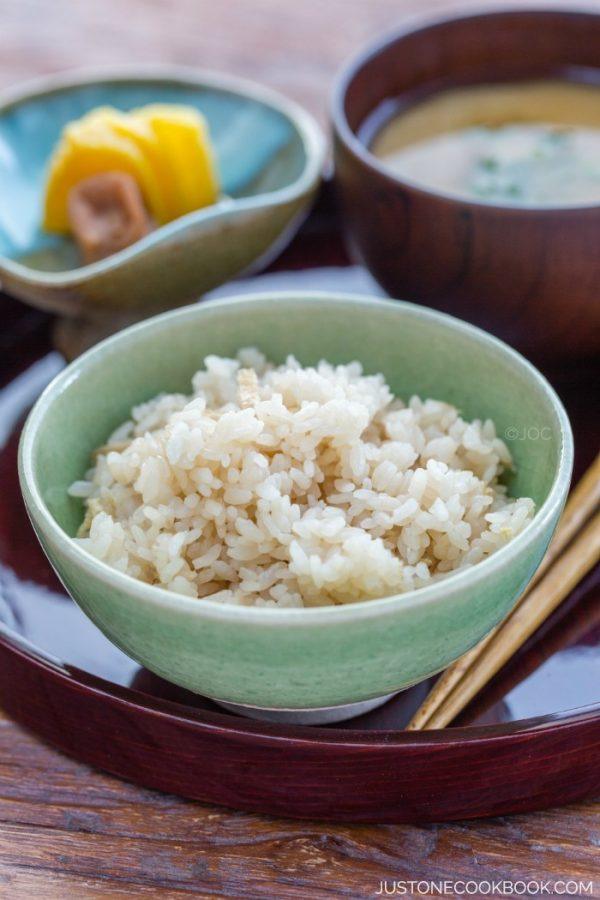 Have you seen an ingredient called young ginger (新生姜) in recipes before and wonder what it is?  Young ginger is in season during the summer time, usually between June and August in Japan.
Compared to "regular" ginger, young ginger has thin skin and some parts may be a little bit pinkish.  As young ginger is more juicy and has a mild taste, it is often used in pickled ginger/sushi ginger (Gari ガリ in Japanese) or in this delicious Ginger Rice.
Watch How to Make

Ginger Rice

生姜の炊き込みご飯の作り方
Fragrant Japanese rice cooked with ginger, fried tofu skin, and flavorful soy sauce base sauce.
Young ginger and ginger that you normally see in the grocery store are actually the same.  When you leave the young ginger under certain conditions for about 2 months, it turns into regular ginger.
During this 2 month period, the pink color turns into the golden color and and the skin gets hardened as it matures.  Ginger can actually lasts close to 1 year if you can control the moisture and temperature.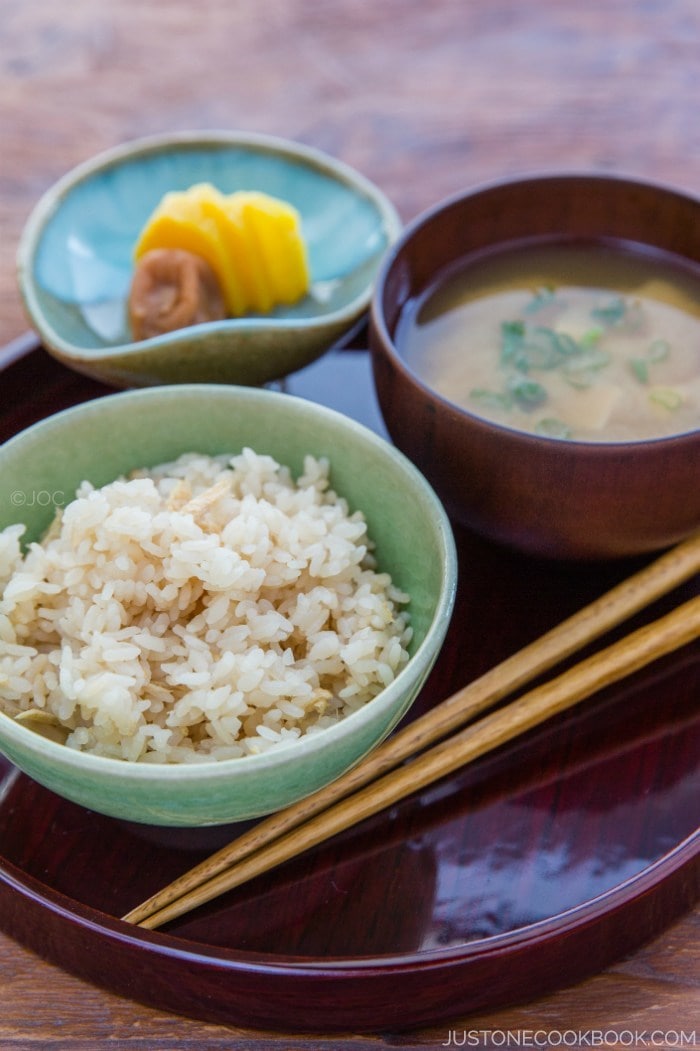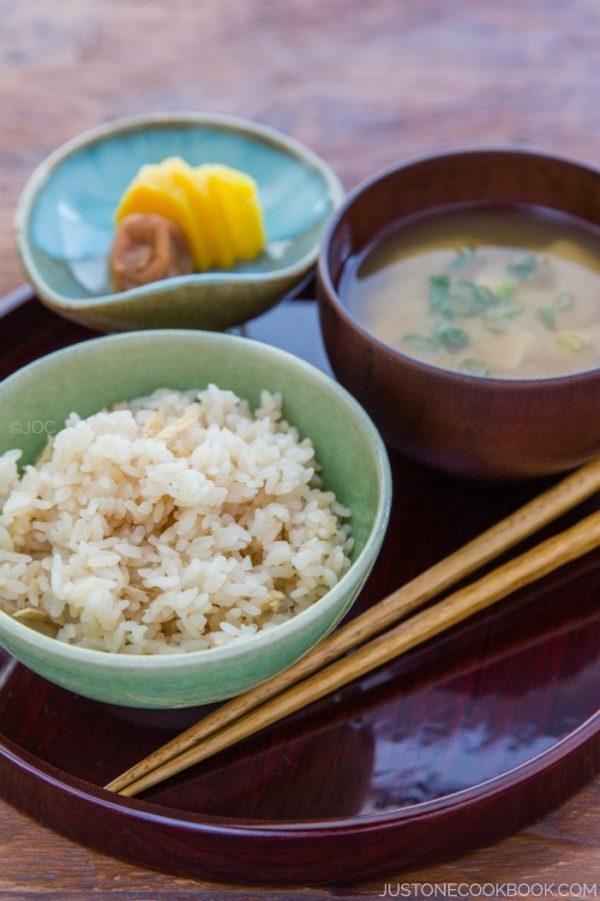 Ginger adds nice aroma, zest, and spicy kick to Asian cuisines.  It tastes great with food, but it's also very good for you and your body.  Not only does ginger's unique powers keeps you warm, it's also an appetite-stimulant and digestive aid.  There are also other health benefits, and if you're interested, continue reading here.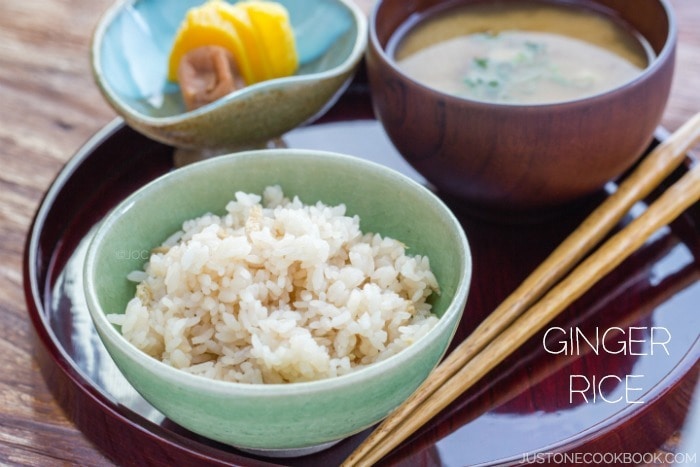 Young ginger can be found in Asian grocery stores, but if it's out of season or you cannot find any, you can substitute with regular ginger, as I did for this recipe.  If you're not a big fan of ginger, reduce the amount of ginger by 1/3 or half, especially if you're not using young ginger.  I use the same amount of ginger as young ginger and my family enjoyed it.
What dish to go with Ginger Rice
We recently ate Ginger Rice and Miso Salmon together and it was fantastic.
Don't want to miss a recipe? Sign up for the FREE Just One Cookbook newsletter delivered to your inbox! And stay in touch on Facebook, Google+, Pinterest, and Instagram for all the latest updates. Thank you so much for reading, and till next time!
Ginger Rice
Cooked with ginger, fried tofu skin, and soy sauce base sauce, this Japanese Ginger Rice is so fragrant that you would enjoy it on its own.
Course:
Main Course, Side Dish
Keyword:
japanese rice, mixed rice
Instructions
Gather all the ingredients.

Boil water in a small saucepan and pour on top of aburaage. This will remove the oil coated on the aburaage (manufacture's oil doesn't taste good, so this extra step will improve flavor of aburaage).


Cut in half lengthwise and slice thinly into strips.


Peel the ginger and cut it into julienned pieces.


Mix all the ingredients for the seasonings in a 2 cup measuring cup. Then add water to the seasonings so that the liquid totals 1 ½ cup (equal volume as rice).


Place the (drained) rice into the rice cooker. Pour the liquid into the rice cooker and mix well, and add ginger and aburaage on top.


Start cooking.

If you have a "Mixed Rice" option, use it (See Notes below).

When the rice is done, let it steam for another 10 minutes. Fluffy it up with the rice paddle and serve.
Recipe Notes
Aburaage: This is really good to have in this recipe to give more flavors. You can find it in Japanese grocery stores. However, if you cannot find it, you can omit it.
Regular or Mixed Rice setting on rice cooker: The main difference is that Mixed Rice setting will create burnt rice called "Okoge" on the bottom of the rice cooker. Takikomi Gohan (mixed rice) always have the burnt rice from soy sauce in the seasoning, and many people enjoy the burnt charred rice. If your rice cooker doesn't have the mixed rice option, steam extra 5 min longer at the end before opening the rice cooker.
Equipment you will need:
Rice cooker (If you don't own a rice cooker, you can cook rice over the stove top. Watch the video here and get the recipe here. Cooking time will be just 15 minutes.)
Recipe by Namiko Chen of Just One Cookbook. All images and content on this site are copyright protected. Please do not use my images without my permission. If you'd like to share this recipe on your site, please re-write the recipe and link to this post as the original source. Thank you.