No rice cooker? Learn how to cook Japanese rice in a pot on the stove! My simple tips and tricks will ensure your rice comes out perfectly every time.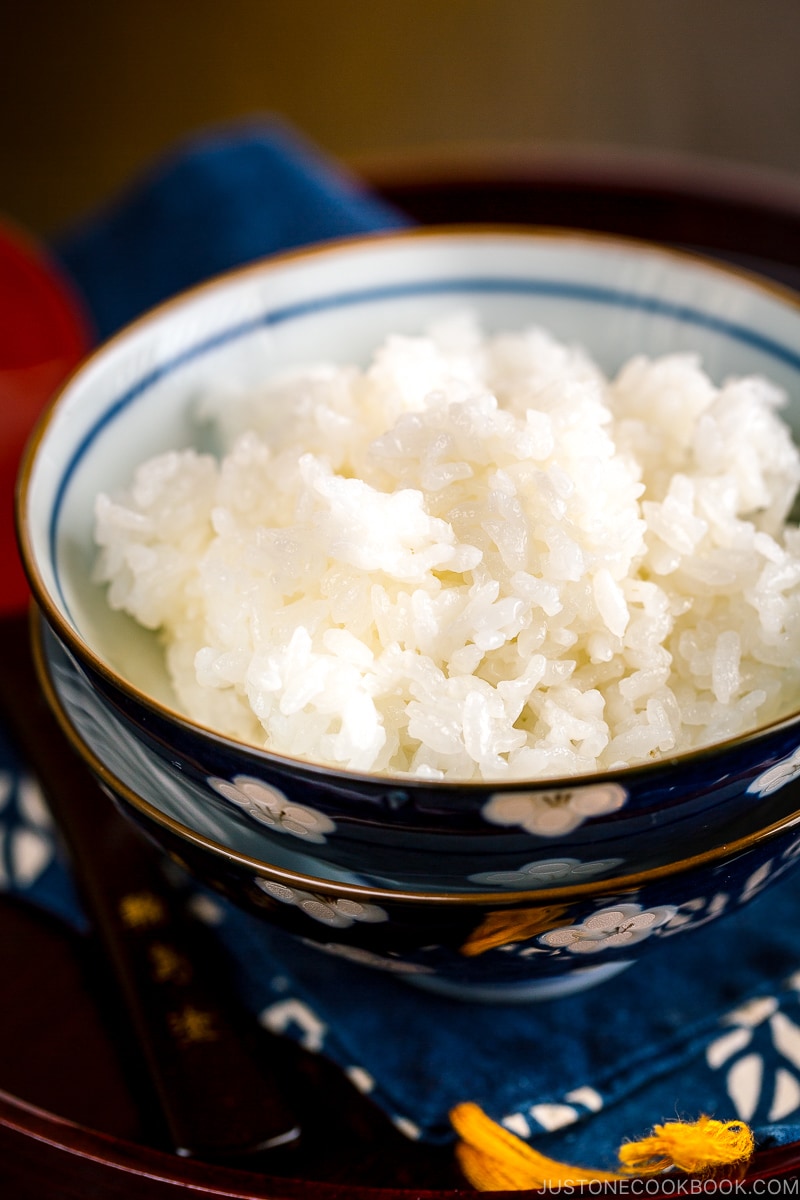 Do you use a rice cooker to make rice or do you cook rice the traditional way in a pot? In this post, let's get back to basics and I'm going to show you how to cook Japanese rice in a pot on the stove.
Growing up in Japan, where rice is a staple food and the primary source of protein, cooking rice is not only just a basic kitchen task but an extremely important one. While an electric rice cooker with all the bells and whistles seems to be an essential kitchen gadget in most Asian kitchens, I know not everyone eats rice on a daily basis and may not own a rice cooker. It's also handy to know how to make rice over the stove in case your rice cooker breaks out of the blue or you're craving rice while camping.
What Type of Rice to Use for Cooking Japanese Food
Japanese rice is a type of Japonica short-grain rice that is short, plump, and rounded oval. It's worth noting that outside of Japan, Japanese rice is often labeled as 'sushi rice' for marketing purposes. However, rice is used not just for making sushi, but also for everyday Japanese dishes.
What makes Japanese rice different from long-grain rice such as basmati or jasmine rice is its high water content, which means the texture is more tender and moist. The grains contain less amylose—a type of starch that separates rice grains— than the long grains, which gives it a more sticky chewy texture.
When cooked properly, the rice grains cling to each other without being mushy, allowing you to pick up the rice easily with chopsticks. You would also notice a beautiful glossy sheen on the surface of the rice. These unique characteristics of Japanese short-grain rice are important because they allow us to make dishes like onigiri and sushi that need to stay in one piece.
Sometimes I hear people calling Japanese rice "sticky rice" due to its sticky texture, but please know that 'sticky rice' is technically a different type of rice known as Japanese sweet rice (or glutinous rice) used for making mochi (rice cakes).
👉🏻 To brush up your knowledge, I highly recommend reading "Everything You Need to Know about Japanese Rice" and "Types of Japanese Rice".
My Favorite Japanese Rice Brands
When it comes to high-quality Japanese rice, I would recommend the Koshihikari variety which is available in various brands at Japanese grocery stores. Known for its sweet taste and fragrance, it is the most popular variety in Japan.
For US-grown koshihikari rice, look for Shirakiku Rice, Tamaki Gold, and Tamanishiki Super Premium Short Grain Rice. For brown rice, we enjoy Genmai Sukoyaka Brown Rice and Koshihikari Premium Sprouted Brown Gaba Rice. 
There are also other new cultivars such as Hitomebore, Akitakomachi, Tamanishiki, Tsuyahime, and so on. Each of them has unique characteristics that are different from Koshihikari.
Various Methods for Cooking Japanese Rice
There are different methods to cook Japanese rice at home. Each method has its own advantages and Japanese households often own a few cooking pots/gadgets for different occasions and needs.
The Rice-to-Water Ratio for Short-Grain Rice
It's very important to remember:
The Japanese golden rule for rice to water ratio [volume] is 1 : 1.1 (or 1.2).
That is 10-20% more water than 1:1 ratio.
For 1 rice cooker cup (180 ml) of uncooked short-grain rice, you will need 200 ml of water.
For a US measuring cup (240 ml), however, I use 1:1.25 ratio so that you can measure water using a US cup. So, for 1 US cup of uncooked short-grain rice, you will need 1¼ cups of water.
If you still want to use the golden rule of 1:1.1 ratio, for 1 US cup (240 ml) of uncooked short-grain rice, you will need 264 ml of water.
5 Important Tips When Cooking Japanese Rice
Here are 5 main tips to cook a perfect pot of glossy and tender Japanese rice:
Wash and rinse the rice. We always start by quickly rinsing and washing the rice a few times to help remove the natural occurrence of arsenic and impurities.
Use a heavy-bottom pot with a tight-fitting lid that keeps the steam in. If your lid fits loosely, put a clean kitchen cloth between the lid and the pot.
Always soak the rice in water for 30 minutes. Rice has been sitting in the bag dried after milling, hence it needs moisture to revive the texture. It's important that you give it enough time for rice to absorb water so that rice has a perfect texture after it's cooked.
DO NOT open the lid while cooking! That is a big no-no when it comes to cooking Japanese rice. I learned from my experience to catch the indication of "boiling" by sound. However, until you do, it's okay to "quickly peek" inside to see if it's boiling.
Rest and fluff. Once the rice is cooked, let it rest for 10 minutes to steam fully and then fluff to help evaporate the excess moisture.
The Best Way to Store Cooked Rice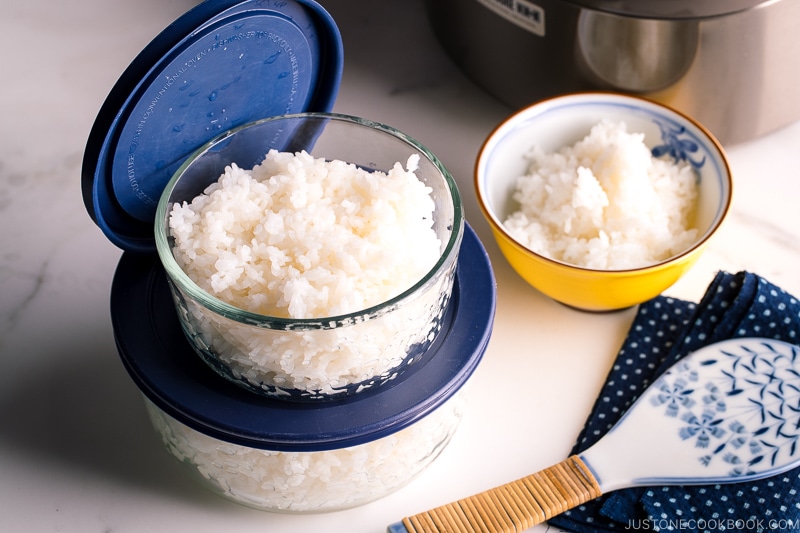 Wondering how to store the leftover rice? Here's what I do: freeze the rice! If you already know how much rice you will be using, then pack away the unused cooked rice immediately to seal in the moisture. Be sure to let it cool before freezing.
To reheat the rice, place it in a covered (but not sealed) microwave-safe container and warm it through.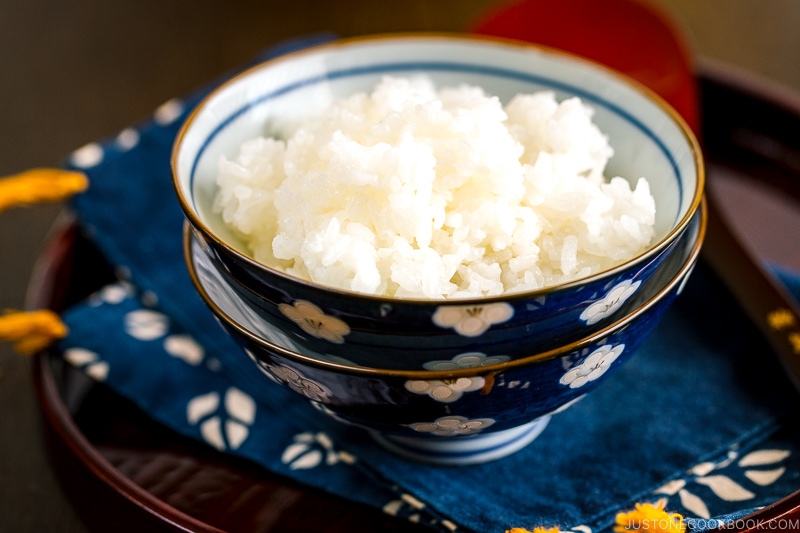 Wish to learn more about Japanese cooking? Sign up for our free newsletter to receive cooking tips & recipe updates! And stay in touch with me on Facebook, Pinterest, YouTube, and Instagram.
How To Cook Japanese Rice in a Pot on the Stove
No rice cooker? Learn how to make a pot of Japanese rice on the stove! My simple tips and tricks will ensure your rice comes out perfectly every time.
Video
Ingredients
For a US Measuring Cup (240 ml)
1

cup

uncooked Japanese short-grain rice

(1 US cup is 240 ml and yields roughly 2 servings or 2⅓ US cups of steamed rice)

1¼

cups

water

(if you are making rice for sushi recipes, deduct 5-10% of this water measurement)
For a Rice Cooker Cup (180 ml)
1

rice cooker cup

uncooked Japanese short-grain rice

(1 rice cooker cup is ¾ US cup and yields roughly 2 servings or 1¾ US cups of steamed rice)

200

ml

water

(if you are making rice for sushi recipes, deduct 5-10% of this water measurement)
Japanese Ingredient Substitution:
If you want substitutes for Japanese condiments and ingredients, click
here
.
Instructions
Before You Start: The ideal rice-to-water ratio is 1 to 1.1 (or 1.2) for Japanese short-grain white rice, which is 10-20% more water. For an easy US cup measurement, I use 25% more water in this recipe for a rice-to-water ratio of 1 to 1.25. One US cup (240 ml, 200 g) of uncooked rice yields roughly 2⅓ US cups (420 g) of cooked rice, enough for about 2 servings. One US cup of cooked rice weighs 6.3 oz or 180 g. A typical Japanese rice bowl holds 150 g of steamed rice and an onigiri rice ball weighs about 110 g.

Measure: Overfill a 1 US cup measure with uncooked short-grain rice and level it off. Put the rice in a large bowl. Repeat until you have the measured amount of rice needed. For this recipe (and video), I used 2 US cups of short-grain rice.
To Wash the Rice
Quick Rinse: Add just enough tap water to the bowl to submerge all the rice. Then, discard the water immediately. Repeat one more time. Tip: Rice absorbs water very quickly when you start rinsing, so this step helps remove impurities from the rice and prevent it from absorbing the first few rounds of milky water.

Wash: Next, use your fingers to gently agitate the wet rice grains in a circular motion for 10-15 seconds. Using very little water allows the grains to rub against each other. It also reduces the absorption of impurities from the milky water.

Rinse: Add tap water and immediately discard the cloudy water. Repeat one more time.

Repeat Wash and Rinse (steps 2 and 3) two more times.

Drain: When the water is almost clear, drain the rice completely. Tip: Use a fine-mesh sieve to drain and shake off any excess water.
To Soak the Rice
In a heavy-bottomed pot with a tight-fitting lid, put the well-drained rice and measured water. Soak the rice for 20-30 minutes before cooking.
To Cook the Rice
Cover the pot with the lid and bring it to a boil over medium heat. Take a quick peek to see if the water is boiling (otherwise do not open the lid).

Once the water is boiling, turn the heat to low and cook, covered, for 12 to 13 minutes, or until the water is completely absorbed (take a quick peek). If you see there is water left, close the lid and continue cooking for a little longer.
To Steam the Rice
Remove the pot (with the lid on) from the heat source and let it steam for another 10 minutes. Tip: This resting period is crucial for the rice to steam properly. Resist the urge to peek under the lid and release the steam during this time.

After 10 minutes, uncover the pot and fluff the rice with a rice paddle. It's now ready to serve.
To Store
Transfer the rice to airtight containers and close the lids to keep the moisture in. Let cool completely before storing the containers in the freezer (read my tutorial post).
Nutrition
Nutrition Facts
How To Cook Japanese Rice in a Pot on the Stove
Amount per Serving
% Daily Value*
* Percent Daily Values are based on a 2000 calorie diet.
©JustOneCookbook.com Content and photographs are copyright protected. Sharing of this recipe is both encouraged and appreciated. Copying and/or pasting full recipes to any website or social media is strictly prohibited. Please view my photo use policy
here
.