Print Recipe
Jump To Recipe
Japanese Rice Balls, or Onigiri, is a great example of how inventive Japanese cuisine can be. Stuffed with a variety of fillings and flavors, these rice balls make an ideal quick snack and are a fun alternative to sandwiches for lunch.  In this recipe, you'll learn have to make onigiri using your favorite ingredients. 
Onigiri, also known as Japanese rice ball, is a Japanese comfort food made from rice formed into triangular or oval shapes and usually wrapped in nori (seaweed).  If a person is new to Japanese cuisine, sometimes onigiri is misunderstood as a type of sushi but it is not.  One of the key differences between onigiri and sushi is that onigiris are made with plain steamed rice, while sushi are made of steamed rice seasoned with vinegar, salt, and sugar (see details in How To Make Rice and How To Make Sushi Rice).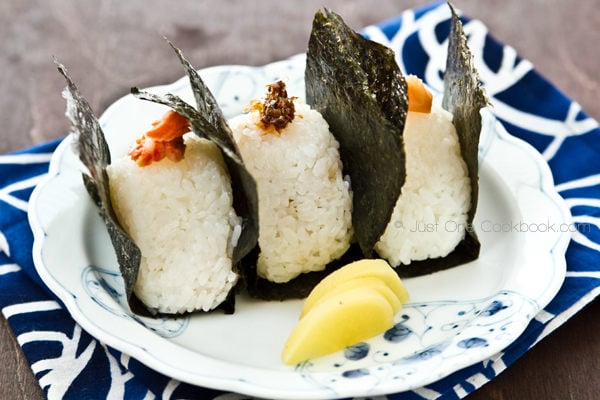 Because of its popularity in Japan, all different appetizing flavors of onigiri can be found in Japanese convenience stores.  You can even buy onigiri from speciality stores for take out. At the time onigiri were first invented, refrigerators didn't exist yet.  So the Japanese came up with a method to keep the rice fresh longer by filling it with salty or sour ingredient as natural preservatives. It is also an inventive way to use up any leftovers from previous dinner. Formed into a compact form, these little rice balls make rice portable and easy to eat with hands.   You can enjoy onigiri for a quick snack, or as school/ work lunch or picnic food. They are also commonly included into bento boxes.
Fillings for Onigiri:
The most common and traditional fillings include:
shiojake | shiozake (salted salmon)
katsuobushi or okaka (bonito flakes moisten with soy sauce)
shio kombu (salty kombu seaweed)
tarako (salty cod roe).
Nowadays onigiri fillings are more creative where you can find Shrimp Tempura, Chicken Karaage,  tuna with mayonnaise, and many other non traditional flavors.  Some onigiri also use mixed rice like Takikomi Gohan.
The Most Important Ingredient for Onigiri
People prefer various onigiri fillings based on their favorites; however, the most important ingredient in onigiri is Japanese rice.  There is a long history of rice being cultivated in Japan for over 2000 years.  It is by far the most fundamental food in Japanese cuisine that the word for it "gohan" also means the "meal" itself.  My husband who is Chinese was surprised to learn that for the Japanese, the rice is the main part of the home cooked meal with meat or fish dish to compliment it.  In the Chinese culture, it's quite the opposite with rice playing the complimentary role to the other dishes.
Japanese rice is a thin and fat short-grain rice, and also known as japonica, uruchimai, or sushi rice (not vinegared sushi rice used for sushi).  When cooked properly, the rice grains cling together without being mushy.
A few months ago, one of my readers had emailed me and we started to exchange emails.  She happened to work for Far West Rice and she generously offered to send me their Japanese rice as a gift because she wanted me to taste their rice.
I received several rice products and one of them was Komachi, their finest California Supreme Short Grain Rice.  Far West Rice provides their customers the freshest rice by milling only when they receive an order.  She had milled and packed the rice for me just before shipping.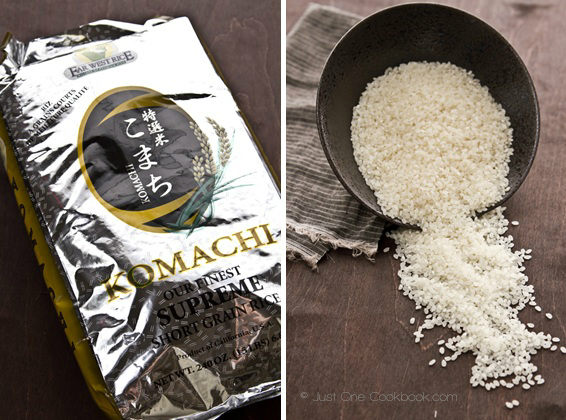 When I cooked Komachi and saw their rice in a rice bowl for the first time, I was shocked how beautiful their rice is.  It has the same shine that we see from rice grown in Japan.  I've been eating California grown Japanese rice for the past 15+ years but I rarely see rice that has this beautiful luster.  It also has very nice mild fragrance and the sticky texture on the tongue is just right.  When you chew it, you can taste the just the right sense of sweetness in the rice and the whole experience brought me right back to Japan.  The Japanese often describe quality rice as "you wouldn't need other food if you had good rice" and this rice was it!
This humble food, rice, is the essence of the Japanese cuisine.  Preparing with high quality ingredients and bringing real flavor and integrity of the ingredient to the food, and that's the heart of Japanese cooking.  Therefore, I highly recommend you to use Japanese premium/supreme short grain rice for cooking Japanese food.
We are now planning a family trip to visit their mill in Nelson, California, about three hours north of San Francisco (and we visited!  Here's the post about Rice Milling Tour.).  I'm looking forward to the tour of their facility and to learn more about their rice.  I'll come back to report about my experience there in the future.  If you are interested in their rice, please contact here.
Lastly, I want to share some useful (?) manners about eating rice in Japan.
You must hold your rice bowl with your hand while eating from it.
It is considered as a polite manner to finish every single grain of rice in a bowl as a way of appreciating rice farmers.
Never leave your chopsticks standing up vertically in your rice – it's used for funerals (resembles burning incense).
Now let's make onigiri with delicious rice!
Tips & Techniques of Making Onigiri:
Freshly cooked rice – let the cooked rice cool just slightly before making them.

Wet your hands with water to prevent the rice from sticking.

Salt both your hands and rub to spread all around. This helps to flavor the onigiri

Your hands should be just firm enough when pressing the onigiri so the rice doesn't fall apart. You don't want to squeeze the rice too tight.
Like everything else, practice makes perfect when comes to making onigiri. For a visual guide, you can see step-by-step instructions below. The best part about making onigiri at home is you can always engage your little ones as their 'craft day in the kitchen'. Make it fun and enjoyable! 
Wrap a strip of fresh nori (seaweed) around it…and enjoy!
Don't want to miss a recipe? Sign up for the FREE Just One Cookbook newsletter delivered to your inbox! And stay in touch on Facebook, Google+, Pinterest, and Instagram for all the latest updates. Thank you so much for reading, and till next time!
You might also enjoy…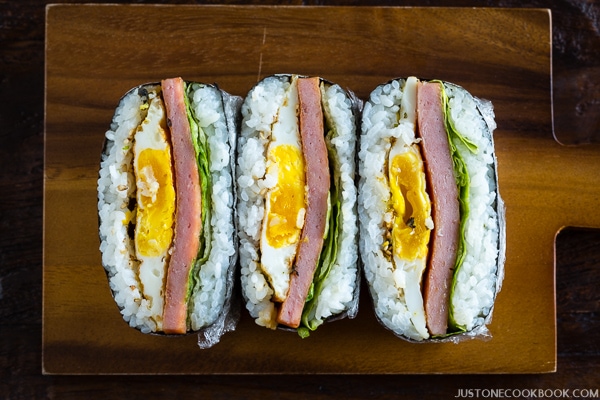 Onigiri (Rice Balls)
Ingredients
Fillings (Anything you like to put):
Instructions
Gather all the ingredients.

While rice is being cooked (see

How To Make Rice

), prepare the fillings. Bake salted salmon at 400F degree in a toaster oven for 25 minutes and break the cooked salmon into flakes.

Pit umeboshi and cut it in half (optional).


Moisten katsuobushi with soy sauce.


Let the cooked rice cool a little bit until you can hold rice without burning your hands. However, do not let the rice completely cool down.

First wet both of your hands with water in order to keep the rice from sticking to your hands.


Then put some salt in your hands and rub to spread all around.


Scoop out a handful of warm rice (about 1/2 cup) into one hand.


Using the other hand, make an indentation in the rice.


Place one kind of filling (about 1 tsp.) inside.


Press the filling into the rice.


Then use your hands to mold and press the rice around the filling to gently form the rice into a triangle.


Form the bottom with your left hand and the top corner with your right hand. I use three fingers (thumb, index finger, middle finger) to cover the area to make a nice triangle shape. Pressing the triangle into the palm of your left hand, squeeze each corner of the triangle with your right hand. Your hands should be just firm enough so the onigiri doesn't fall apart. You don't want to squeeze the rice too tight.


Also, while you squeeze onigiri firmly with both hands, your left hand has to press onigiri in order to keep a nice form. The left photo shows before squeezing and right photo shows after.


Place a little bit of each filling on top of onigiri so we know which kind it is. Before you serve, wrap the onigiri with nori (seaweed).
Recipe Notes
Rice: We do not use vinegared sushi rice. 1 rice cooker measuring cup (180ml) of uncooked rice will make 2 to 3 onigiri.



Equipment you will need:
Wet towel to wipe your hands
A plastic onigiri mold for more uniform shape (option)


Recipe by Namiko Chen of Just One Cookbook. All images and content on this site are copyright protected. Please do not use my images without my permission. If you'd like to share this recipe on your site, please re-write the recipe in your own words and link to this post as the original source. Thank you.