A favorite at Izakaya restaurants, Yaki Onigiri are Japanese grilled rice balls covered in savory soy sauce. With a crispy crust on the outside and soft sticky rice on the inside, these rice balls are simply irresistible and easy to make at home!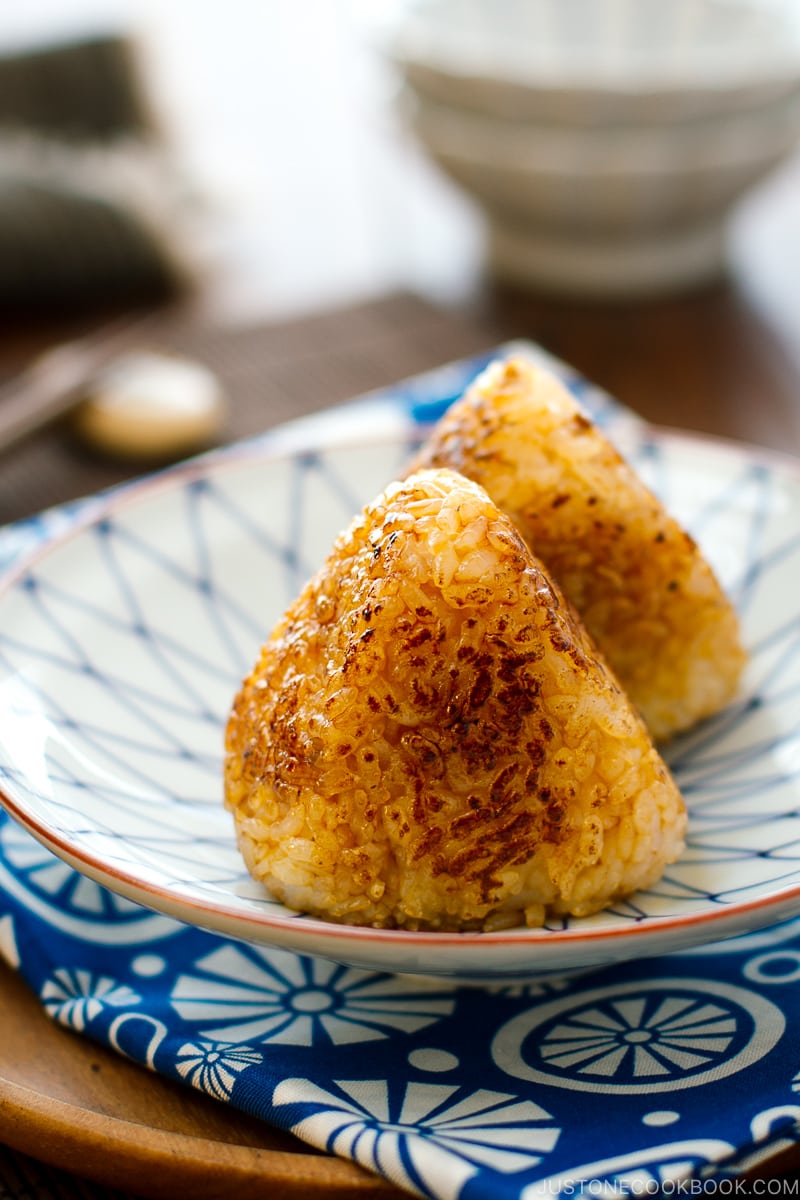 Today I'm going to share Yaki Onigiri (焼きおにぎり) recipe. Yaki means "grilled" in Japanese (you probably heard enough from my blog – Teriyaki, Yakisoba, Yakiniku, Yakitori, etc), and onigiri means "rice ball."
Onigiri (recipe here) is made of white rice formed into triangular or oval shapes. Inside these rice balls, you can find fillings such as Japanese pickled plum (umeboshi), salted salmon, katsuobushi (or sometimes called okaka), simmered kombu, or spicy cod roe (mentaiko). On the outside, they are often wrapped in dried and crispy nori seaweed.
Today's onigiri is grilled, typically on a frying pan or over a barbecue grill.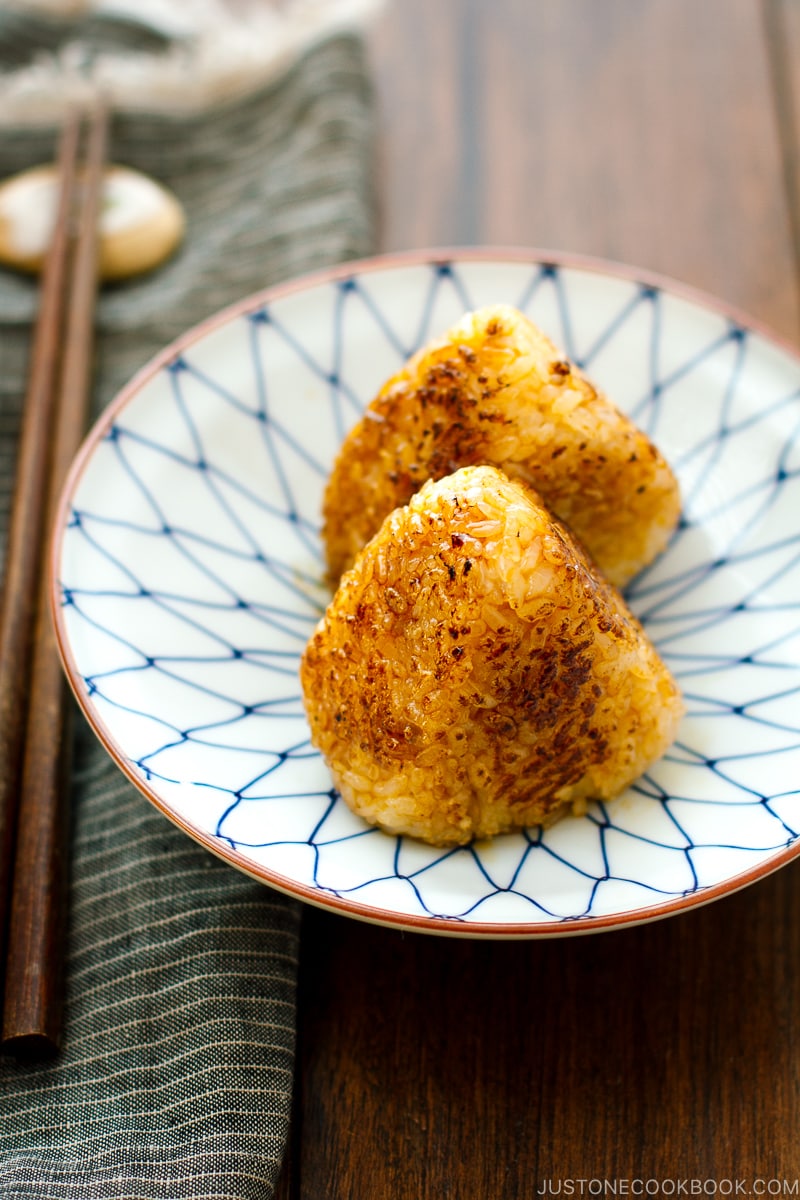 Making Yaki Onigiri at Home
Traditionally, Yaki Onigiri is grilled over charcoal, which lends the rice balls a hint of woodsy, smoky flavor that is truly hard to resist. To make Yaki Onigiri at home, I use a cast iron pan to grill the rice balls instead. This helps to create similar crispiness to how it would taste when cooked over the BBQ grill. But if you don't mind setting up a charcoal grill, go ahead!
These grilled rice balls can be made with or without fillings, but it is more often prepared with plain rice. Because it's all about simplicity, you want to start with quality Japanese short-grain rice. Forming the onigiri is not something too challenging. I've shared step-by-step pictures and tips on how to form the rice balls in the recipe section below, so you will master it in no time. Once your onigiri is formed and placed on the grill, brushed with the sauce and left to crisp up.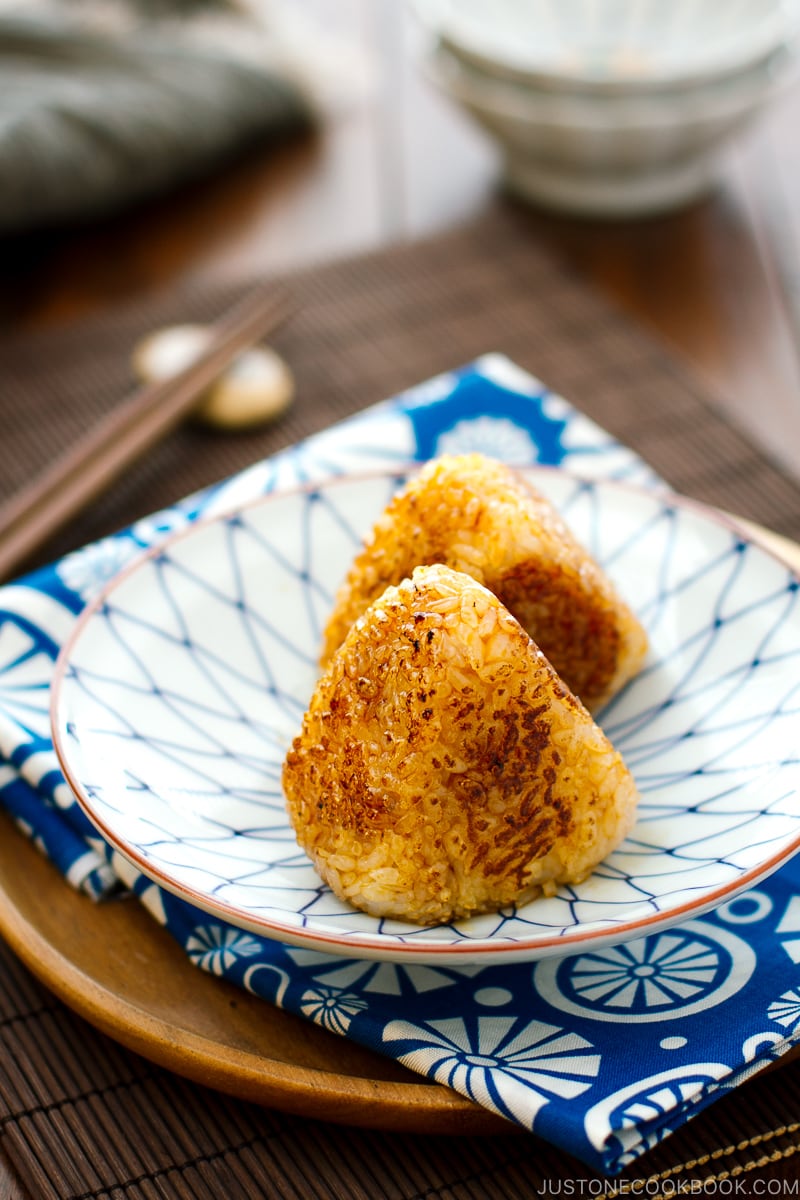 Savory Sauce for Yaki Onigiri
Although most Yaki Onigiri is commonly glazed with soy sauce or miso (I have Miso Yaki Onigiri recipe), I actually love using my Homemade Unagi Sauce. The unagi sauce is a sweet caramelized soy sauce and the savory aroma of the sauce blends perfectly with white rice. You can also purchase Unagi Sauce from Japanese/Asian grocery stores.
When onigiri are grilled until crisp up with a toasty delicious crust, and the rice in the center is still tender and sticky, you know it's time to savor these perfect treats. They are such a wonderful snack for children and adults.
If you live near a Japanese supermarket, you can probably find conveniently packaged pre-made Yaki Onigiri in the freezer section. But, really, Yaki Onigiri is so easy to make from scratch that I hope you will give it a try. Especially since it's barbecue season now, this can be a unique addition to your Asian-style barbecue menus. Enjoy!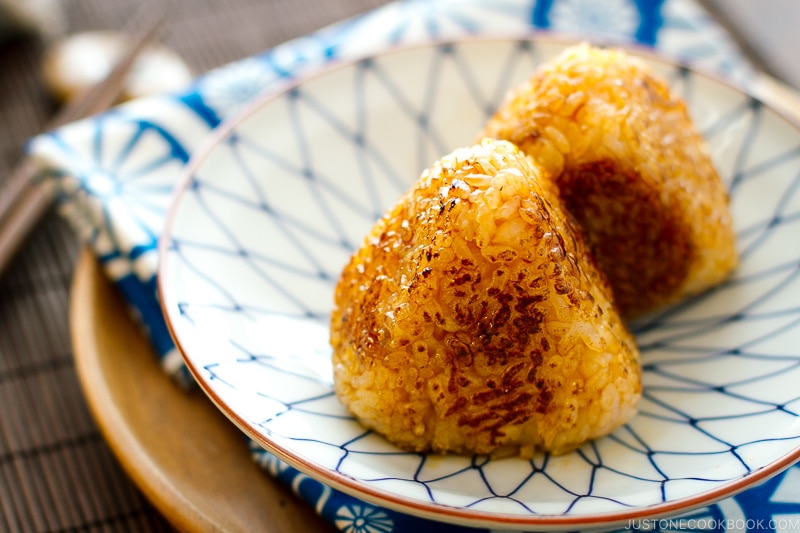 Wish to learn more about Japanese cooking? Sign up for our free newsletter to receive cooking tips & recipe updates! And stay in touch with me on Facebook, Pinterest, YouTube, and Instagram.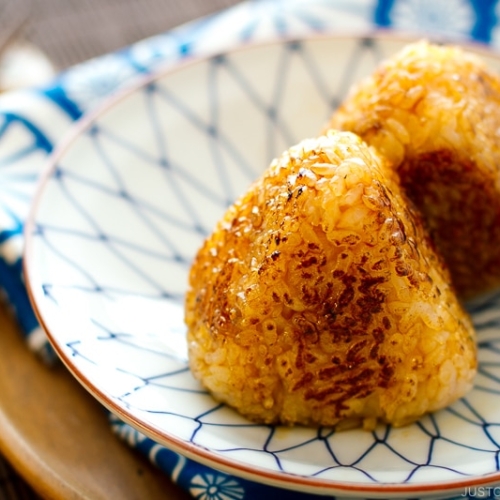 Yaki Onigiri (Grilled Rice Ball)
A favorite at Izakaya restaurants, Yaki Onigiri are Japanese grilled rice balls covered in savory soy sauce. With a crispy crust on the outside and soft sticky rice on the inside, these rice balls are simply irresistible and easy to make at home!
Ingredients
For Cooking Yaki Ongiri
1

Tbsp

kosher salt (Diamond Crystal; use half for table salt)

(you do not need to use all of it)

1

Tbsp

neutral-flavored oil (vegetable, rice bran, canola, etc.)

soy sauce (I love using my homemade unagi sauce)
Japanese Ingredient Substitution:
If you want substitutes for Japanese condiments and ingredients, click
here
.
Instructions
Gather all the ingredients. Cook the rice with a rice cooker, a pot over the stove, an instant pot, or a donabe. Let the cooked rice cool a little bit until you can hold rice without burning your hands. Do not let the rice completely cool down.
To Make Rice Balls
First, wet both of your hands with water so the rice won't stick.

Then put some salt in your hands and rub to spread all around.

Scoop about a half cup of rice onto your palm.

Cover the rice with the other hand and gently form the rice into a triangle.

Make sure the covering hand (my right hand) should be forming a triangle shape. When forming the onigiri shape, your hands should be just firm enough so the onigiri doesn't fall apart. You don't want to squeeze the rice too tight.

I use three fingers (thumb, index finger, middle finger) to cover the area to make a nice triangle shape. Then rotate onigiri to make a perfect triangle.

While you squeeze onigiri firmly with both hands, one of your hands has to press onigiri to keep a nice form.

Gently squeeze the center of the triangle on both sides so there is a slight indentation (for grilling onigiri). Now onigiri is ready! You can tell I'm not a good onigiri maker – no matter how many years I have been practicing.
To Grill Rice Ball
Lightly oil a cast-iron skillet and put it on medium heat.

Grill onigiri until all sides are crispy and lightly browned. Rice will release itself when it forms a nice crust. Don't flip it quickly. Just work on one side at a time and avoid turning over frequently, which may end up breaking into pieces.

Once all nicely toasted and lightly brown, lower heat to medium-low heat. Brush all sides with soy sauce (or unagi sauce). Rotate to make sure all sides become crispy. Be careful not to burn onigiri after you brush it with the sauce.
To Store
Rice gets hard when you refrigerate. You can individually wrap the Yaki Onigiri in plastic wrap and cover them with a thick kitchen towel and store in the refrigerator for up to 2 days. The towel will prevent the rice from getting too cold and keep the food stay cool but not cold. When you're ready to eat, bring it back to room temperature and reheat in a microwave or frying pan.
Nutrition
Calories:
147
kcal
·
Carbohydrates:
31
g
·
Protein:
3
g
·
Fat:
1
g
·
Saturated Fat:
1
g
·
Polyunsaturated Fat:
1
g
·
Monounsaturated Fat:
1
g
·
Trans Fat:
1
g
·
Sodium:
53
mg
·
Potassium:
28
mg
·
Calcium:
1
mg
·
Iron:
2
mg
©JustOneCookbook.com Content and photographs are copyright protected. Sharing of this recipe is both encouraged and appreciated. Copying and/or pasting full recipes to any website or social media is strictly prohibited. Please view my photo use policy
here
.