Join us by cooking up delicious recipes inspired by Netflix's Japanese drama – The Makanai: Cooking for the Maiko House. From comforting one-bowl oyakodon to soulful dumpling soup to bread pudding, we'll take you on a culinary and cultural journey as we follow along the episodes.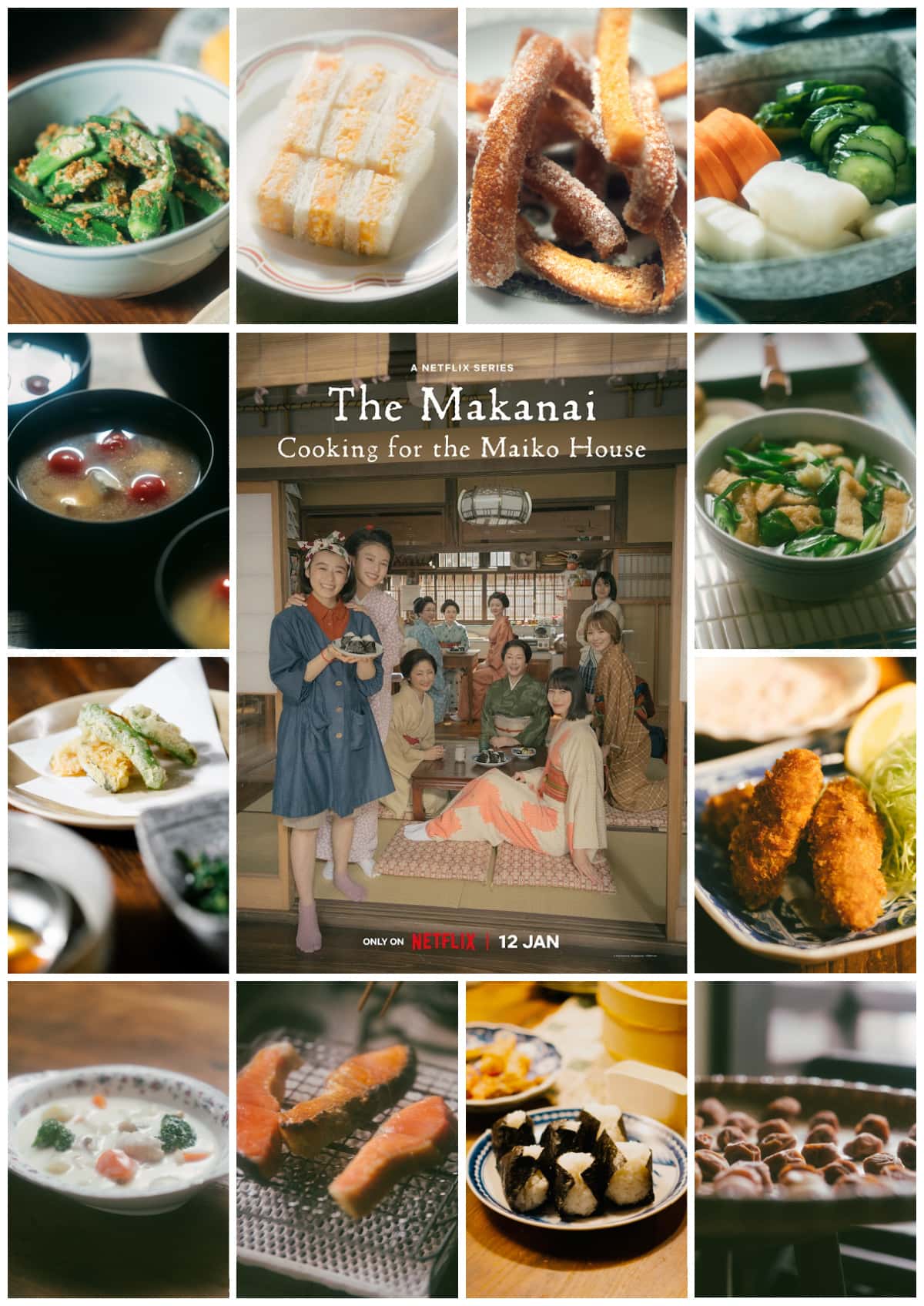 After Midnight Diner, we've been hungry for a Japanese TV show that will again transport us back to Japan so we could be immersed in the culture and food. Imagine our excitement when we found out that Netflix brings us The Makanai: Cooking for the Maiko, a nine-episode series portraying the inner world of aspiring geisha (geiko).
While the subject matter is about the culture of maiko (apprentice geisha) in modern-day Japan, food is at the heart of this sweet, coming-of-age drama. Its humanities are relatable—friendship and empowerment, dreams and struggles, collisions between tradition and modernity, life choices and love.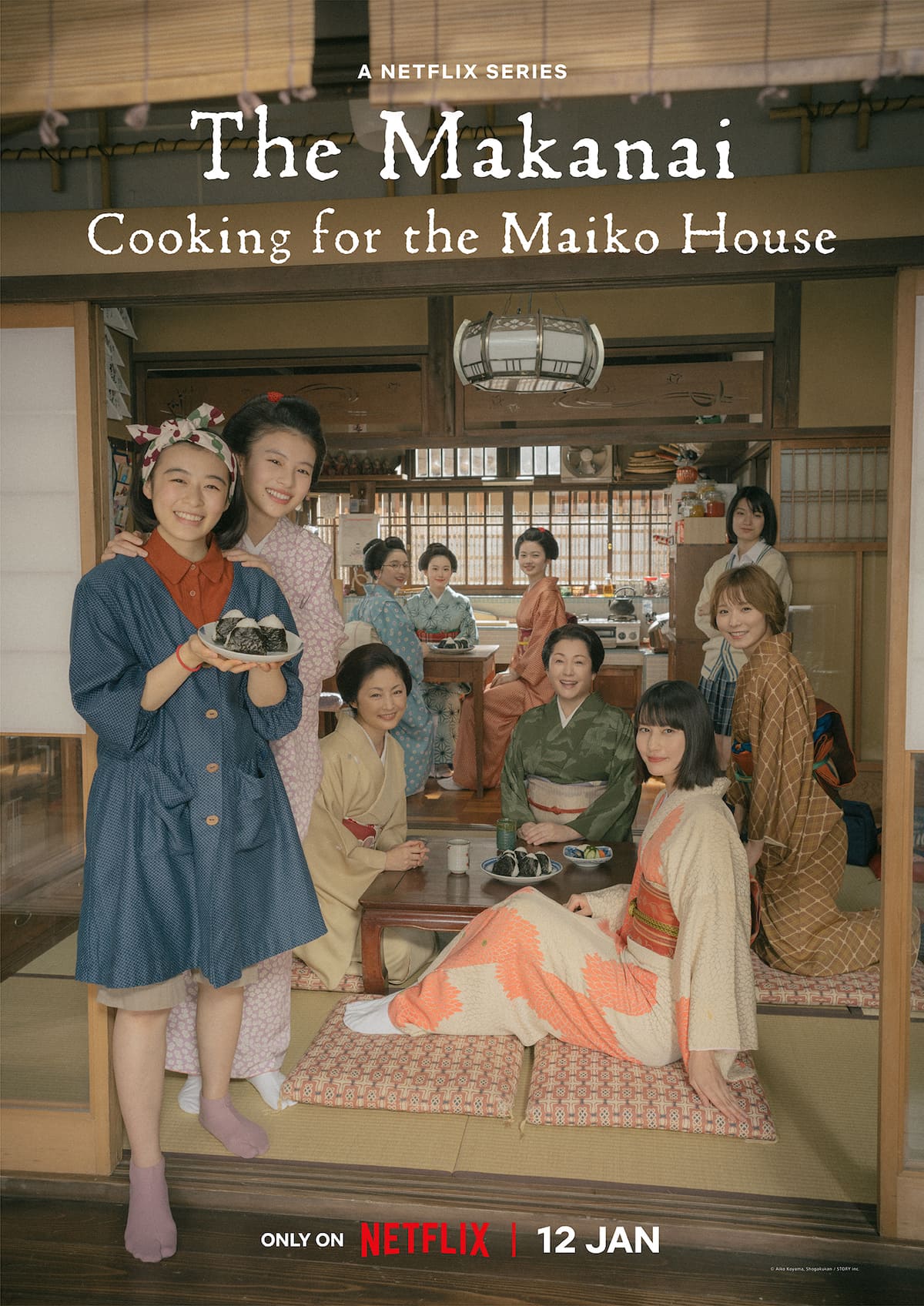 Regardless of how the day goes, we always come back to food. Food that nourishes and brings us joy. Food that provides warmth and evokes memories. You'd be treated with slurp-worthy hot noodle soup, custardy bread pudding covered with deep caramel sauce, cozy wholesome soup brimming with seasonal vegetables, and a colorful sandwich that is as pretty as a cake.
If you find yourself salivating and secretly wishing that you were right there tasting and eating with the characters, we're here for you. In this post, we've put together the recipes—with brief background stories—of each dish shown in the episodes. And we'd like to invite you to join us and Kiyo (one of the lead stars) to cook along. Up for the challenge? Now gather your family, friends, or colleagues to embark on this delicious adventure.
The Makanai: Cooking for the Maiko House is available for streaming on Netflix worldwide.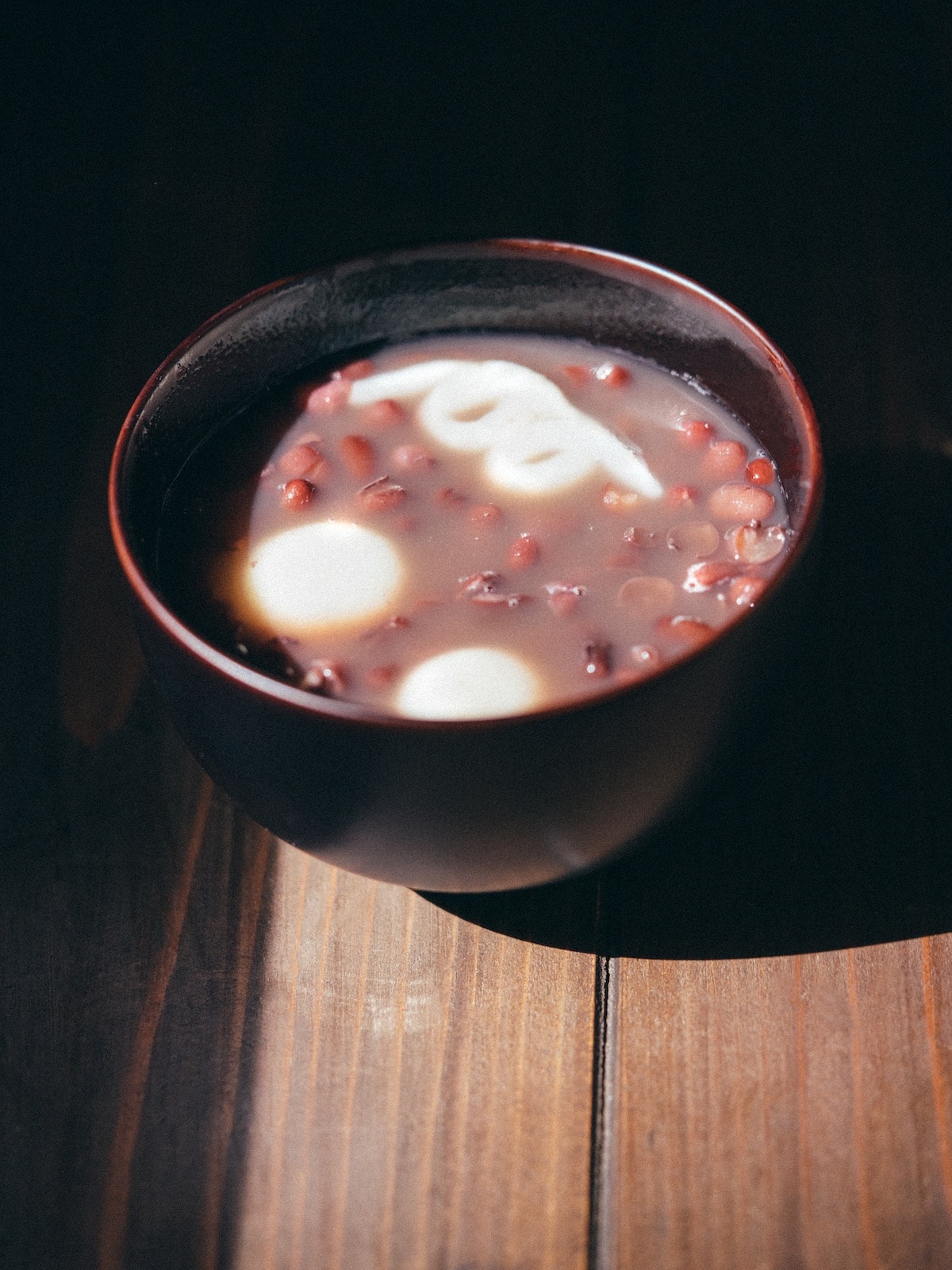 About The Makanai: Cooking for the Maiko House
Adapted from a best-selling manga by Aiko Koyama, The Makanai: Cooking for the Maiko House is a nine-episode series set in the traditional geiko district of Kyoto, portraying the inner world of aspiring geisha known as maiko.
The story follows Kiyo and Sumire, two 16-year-old girls from Aomori prefecture in northern Japan, who move to Kyoto to pursue their dreams of becoming maiko. They join a group of young women to live in the Saku House where all of the maiko train and live together.
As they begin their training, Sumire proves to be a natural talent in the traditional arts, while Kiyo finds herself stumbling through the lessons. When the cook of the house fell ill, Kiyo stepped in to take over the role and started preparing meals for the group. As fate would have it, Kiyo found her life passion as a chef, cooking and feeding the girls that became her family.
What is Makanai?
Makanai (まかない), short for makanai ryori (賄い料理), means in-house food made for the employees and staff at restaurants, sometimes at lodgings and dormitories. The food is often made by young chefs in training. Makanai-san refers to the chef who makes the makanai.
What is Maiko?
Maiko (舞妓) are apprentice geisha (芸者), also called geiko (芸子) in the Kyoto dialect, who are still training to perfect their cultural and entertainment skills including dancing, playing shamisen, and performing tea ceremonies. They are usually younger than 20 and live in the lodging house (okiya) with their mother (okaasan) for 5 years.
Episode 1: Change
Nabekko Dango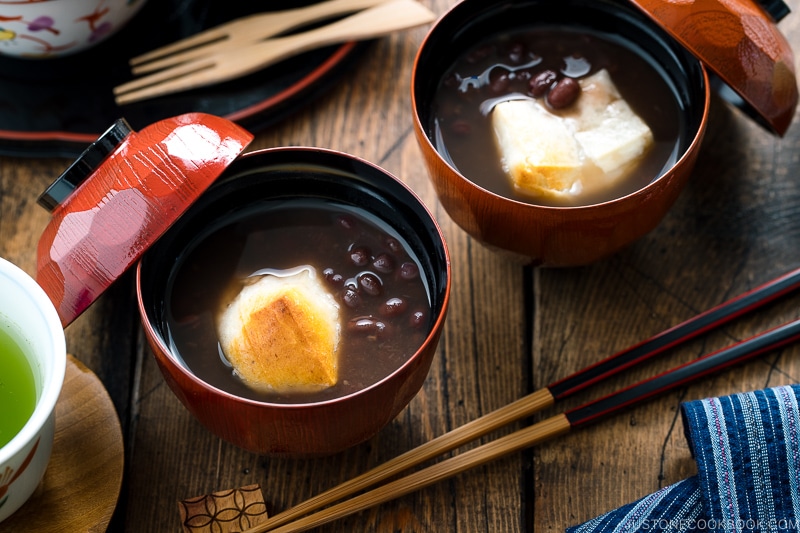 Kiyo's grandma serves the girls nabekko dumplings in red bean soup as their good-luck meal before they leave Aomori for their new adventure.
Nabekko dango is a traditional dish from the southern part of Aomori Prefecture that contains rice flour dumplings called nabekko. The shape of the dumpling resembles a pot (nabe), so it is called "nabekko dango." In the old days, nabekko dango was often made with new adzuki beans and rice flour to celebrate harvesting at the end of autumn and also made as an offering to pray for successful farming.
The food and cooking method is almost identical to Zenzai or Japanese red bean soup. The only difference is that nabekko dango uses rice flour for the dumplings while zenzai uses glutinous rice flour (or mochiko).
🍳 Recipe: Zenzai with Shiratama Dango
---
Yaki Imo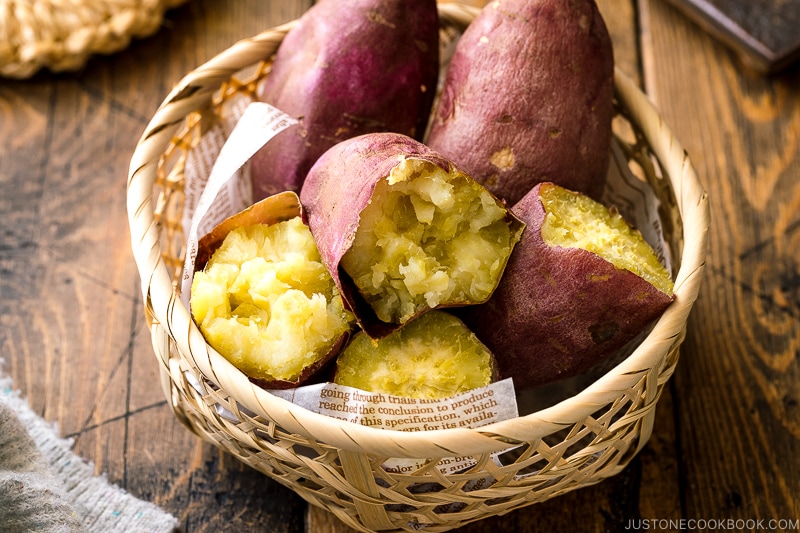 Later, on their bus ride to Kyoto, Kiyo shares with Sumire the baked sweet potato (or yaki imo) their close friend Kenta gave them as a snack for the journey. The girls warm their hands by holding the sweet potatoes and fall into appreciative giggles as they enjoy the snack.
🍳 Recipe: Japanese Sweet Potatoes (Yaki Imo)
---
Japanese Cold Somen Noodles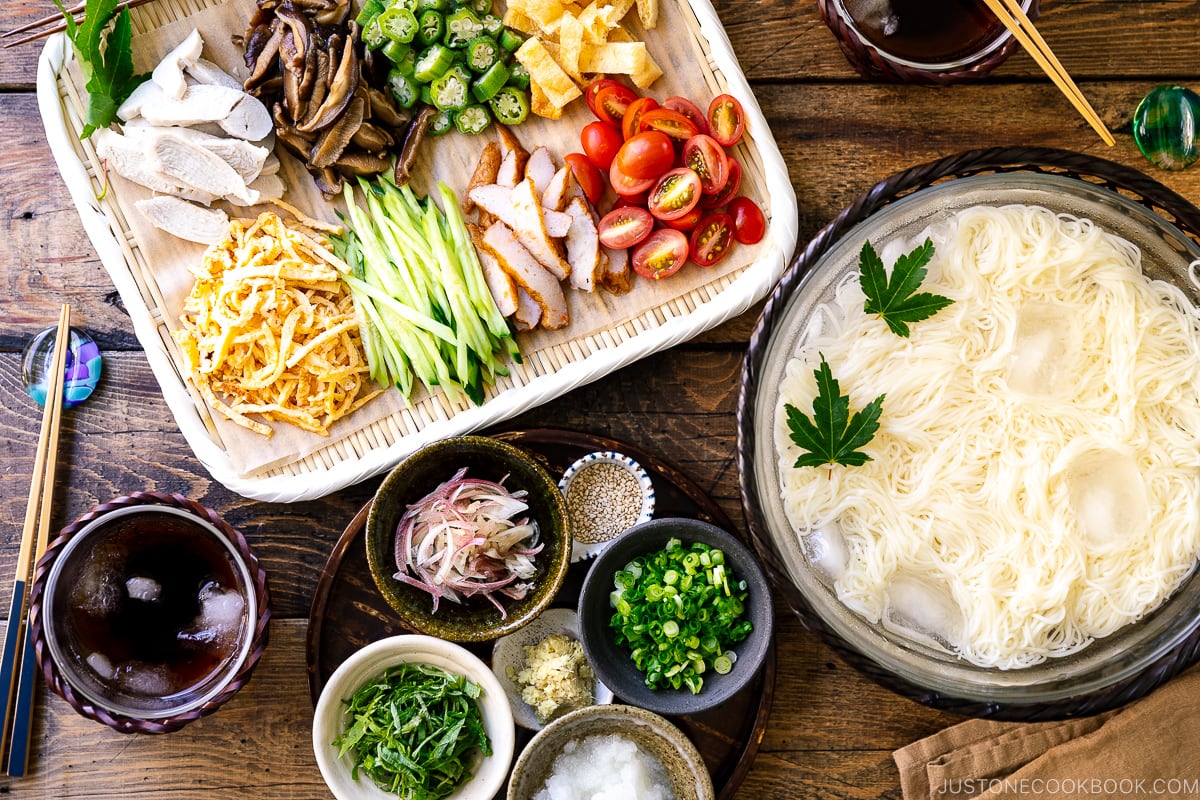 Japanese summer can't pass without eating cold somen noodles! That's how we stay cool in the heat. On a midsummer day, we see maiko of the house sitting on the porch slurping somen from tiny noodle cups while Kiyo helps out in the kitchen.
🍳 Recipe: Japanese Cold Somen Noodles
---
Japanese Tomato Curry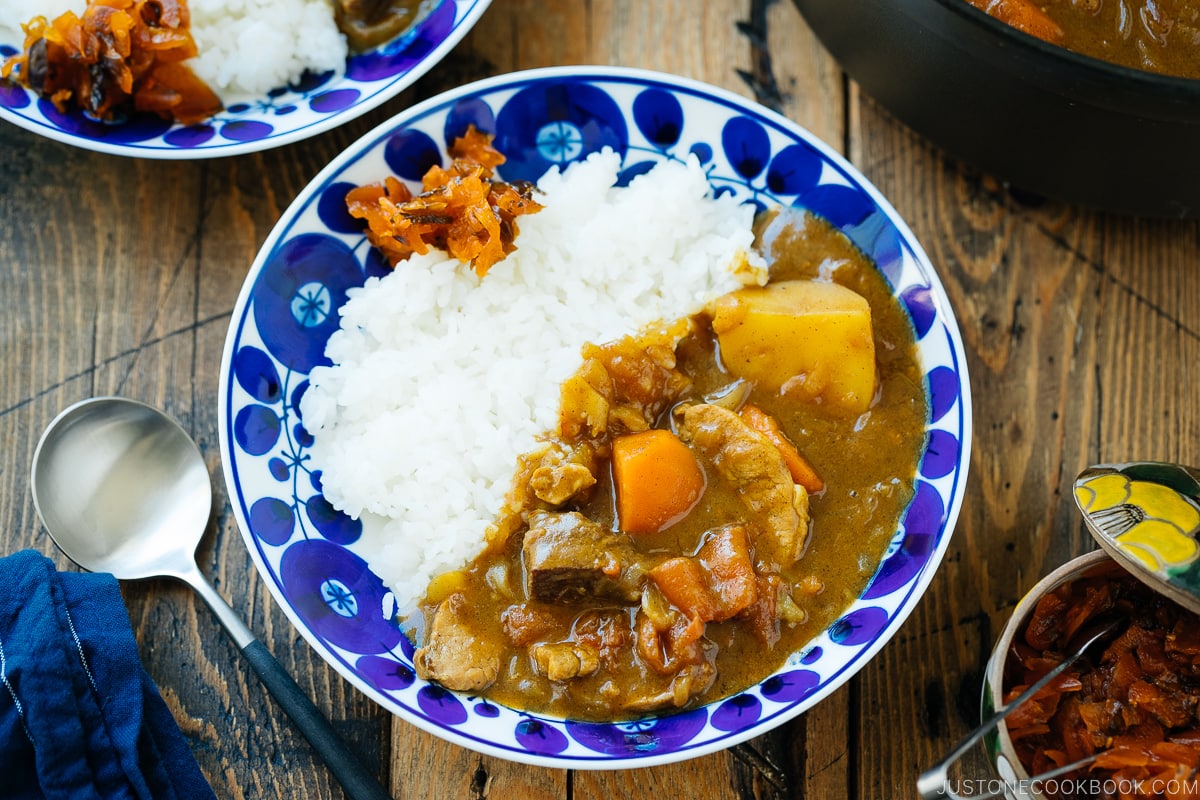 Accompanied by an upbeat tempo, we see Kiyo making her grandma's tomato curry. She blanches the tomatoes that have been scored with cross marks so she could peel the skin off easily. As she finishes cooking, she gives it a few stirs and takes a quick taste of the curry.
The tart and sweet tomatoes provide the perfect contrast to this unique curry, making it a perfect meal to warm you right up.
🍳 Recipe: Japanese Tomato Curry
---
Episode 2: Guardian Spirit
Oyakodon (Chicken and Egg Rice Bowl)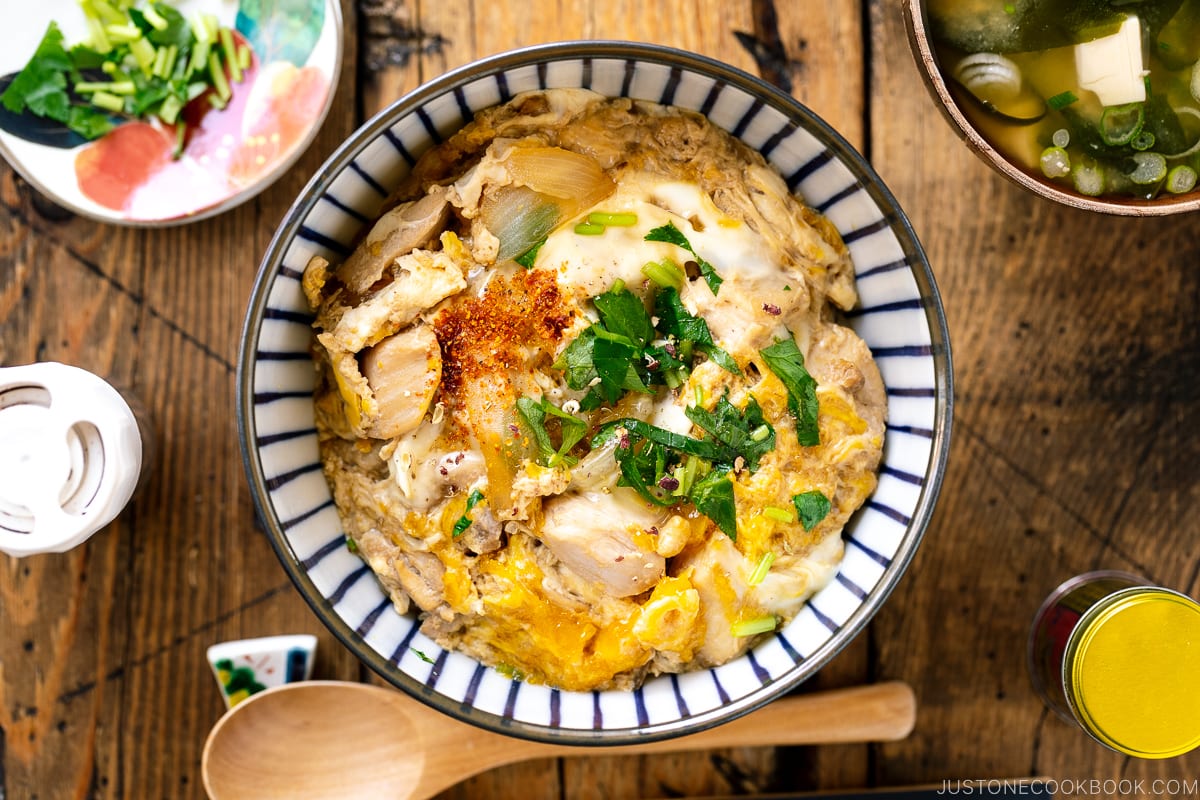 This is the first dish Kiyo makes for the girls in the absence of the cook. We watch her cutting the onion into thin slices, drizzling the whisked eggs to cook with the chicken, and letting everything simmer in a sweet-salty sauce. Finally, she spoons the cooked chicken and egg mixture onto bowls of steamed rice and everyone can finally have a proper dinner instead of cup noodles.
"It's ordinary, but it's so good!" exclaims one of the housemates. That's exactly what oyakodon is all about. An epitome of Japanese soul food, oyakodon is high in protein, quick to make, and a staple dish of Japanese households.
🍳 Recipe: Oyakodon (Chicken and Egg Rice Bowl)
---
Onigiri (Japanese Rice Balls)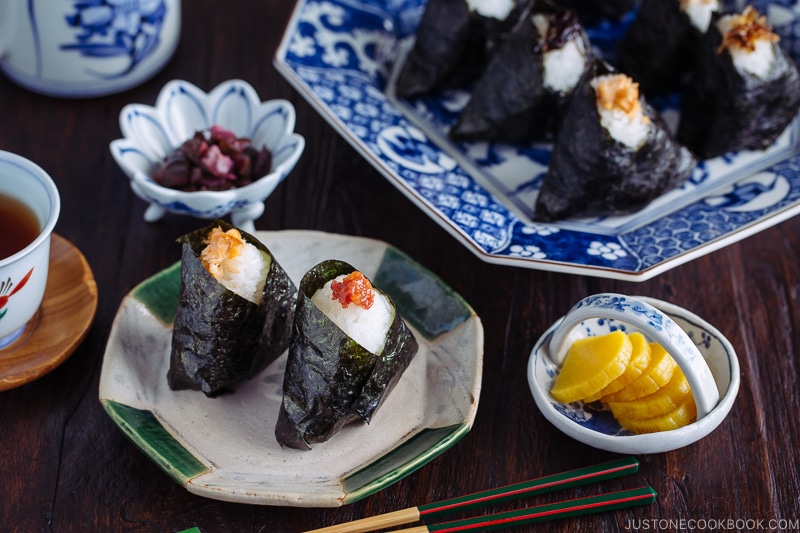 Onigiri (rice balls) making is a mandatory kitchen skill for Japanese home cooks; however, it is also an art when it comes to making the perfect ones. It requires a level of concentration and attention to detail. And Kiyo shows us that with love and passion, your rice balls are going to taste just as amazing.
If you wish to learn about its role in Japanese culture and improve your rice ball making in general, I have all the tips and techniques for you!
🍳 Recipe: Onigiri (Japanese Rice Balls)
---
Episode 3: Taboo
Japanese Breakfast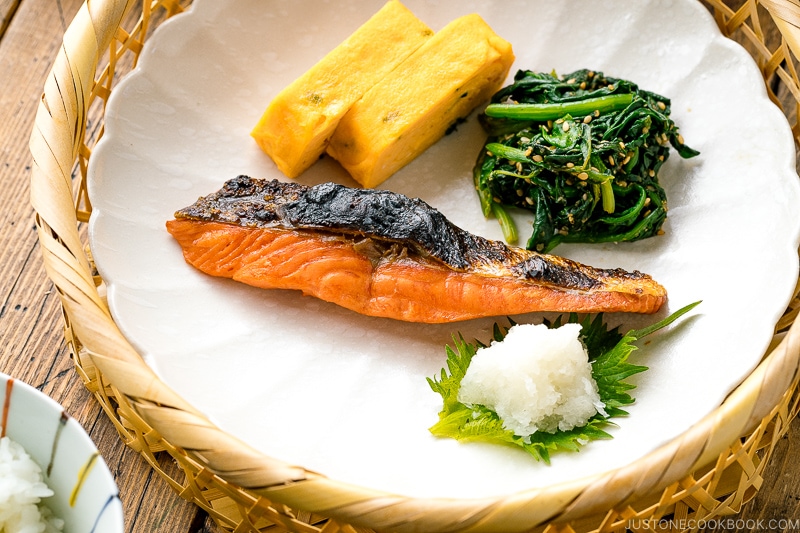 This episode opens with Kiyo starting her first day as the chef for the Maiko house. She works seamlessly by slicing the okra into fancy cuts, fluffing steamed rice in the rice cooker, adding miso to the tomato and tofu soup pot, and flipping thin cuts of salmon on the grill grate.
It is a full spread of the feast she put on the breakfast table for her adopted family! In modern-day Japan, traditional Japanese breakfast is a feast to the senses.
With a bit of planning, you too can create this experience at home. Read all about Japanese Traditional Japanese Breakfast and get the recipes below.
🍳 Recipe: Green Bean Gomaae (Use okra instead), Tomato and Tofu Miso Soup (below), Japanese Salted Salmon, Tamagoyaki (Japanese Rolled Omelette), Simmered Hijiki Salad.
Tomato and Tofu Miso Soup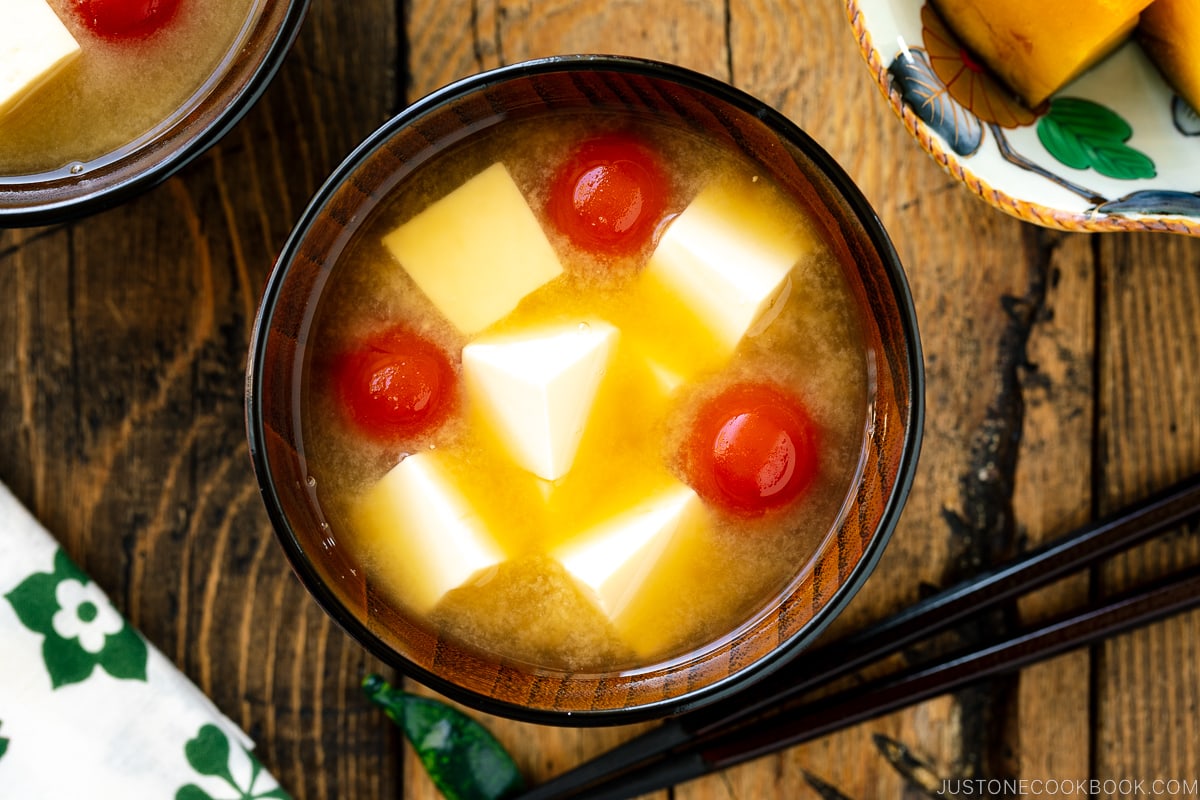 This simple miso soup highlights the sweetness and tartness of tomatoes. When paired with smooth silken tofu, every spoonful offers you a different mouthfeel and taste.
🍳 Recipe: Tomato and Tofu Miso Soup
---
Umeboshi (Japanese Pickled Plums)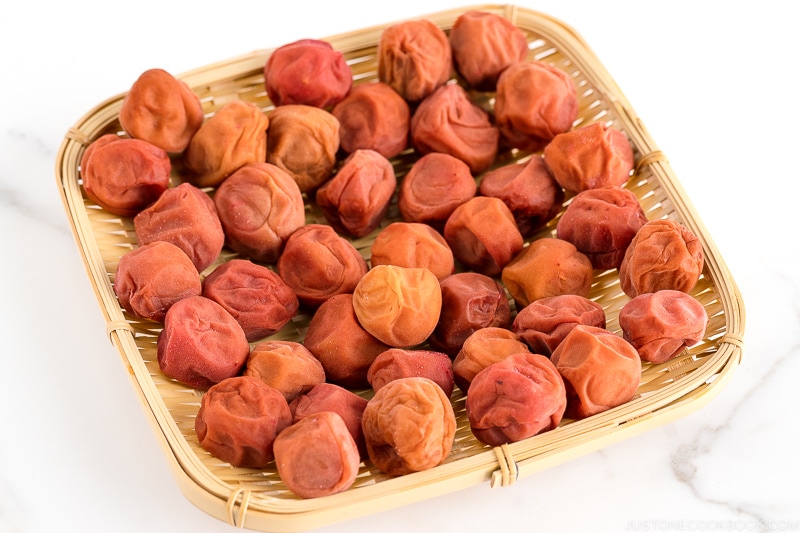 "Starting today, I'm going to protect all of you for three days," whispers Kiyo to the little balls of yellow-looking fruits as she lays them on a bamboo tray for sun drying. What is she making? The fruits are Japanese ume plum and Kiyo was drying them to make umeboshi, a most popular Japanese pickle that has a distinctly sour and salty tang.
Umeboshi is a centuries-old traditional Japanese food and is well-known for its many health benefits. You can find ready-made umeboshi at Japanese/Asian markets or even at Whole Foods or some well-stocked local co-ops. I also have a recipe just for you if you wish to try your hand at the pickled plum or to learn about the process.
🍳 Recipe: Umeboshi (Japanese Pickled Plum)
---
Pan Pudding (Japanese Milk Bread Pudding)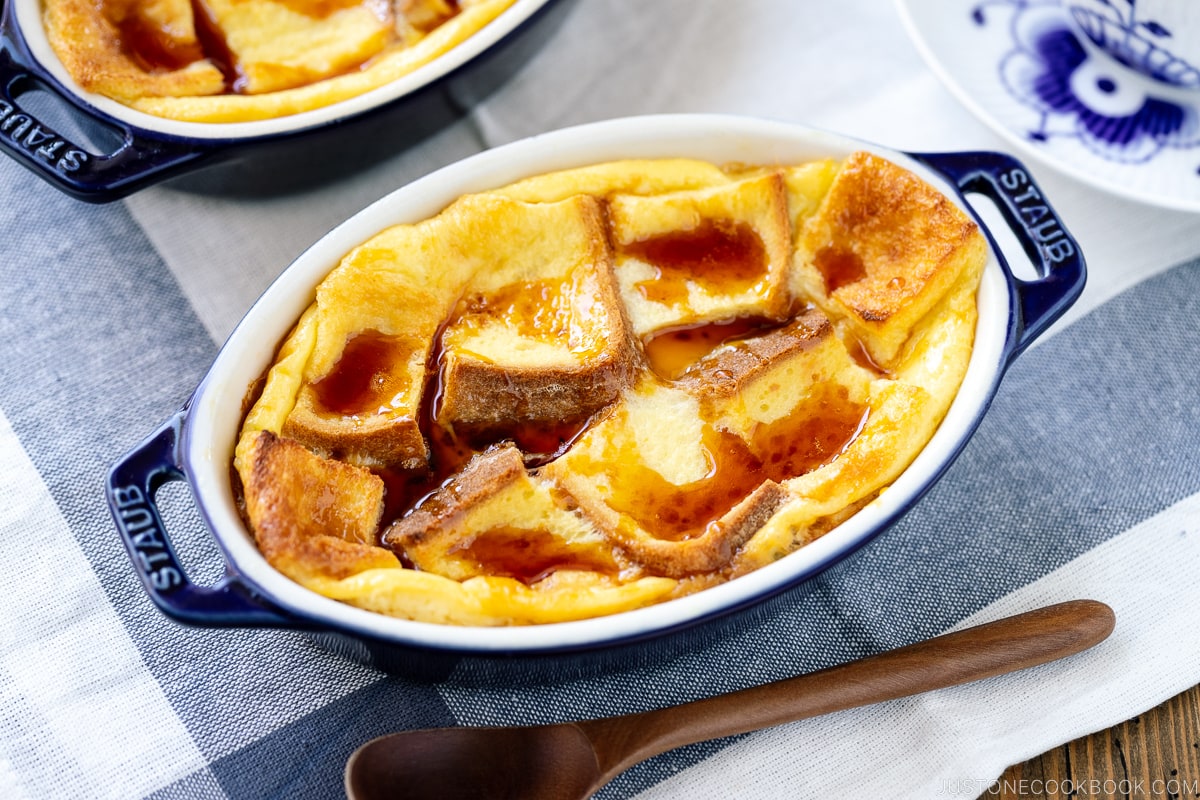 Oh…this one has us drooling too, especially when Kiyo swirls the nicely brown caramel sauce into the bread custard. She uses Japanese milk bread (shokupan) to make this bread pudding or what they call pan pudding. You can see the pure joy on Tsurukoma's face as she takes a bite out of the pudding. She is in heaven! Don't you wish that you could have this for your weekend brunch, too?
🍳 Recipe: Pan Pudding (Japanese Milk Bread Pudding)
---
Other Recipes in This Episode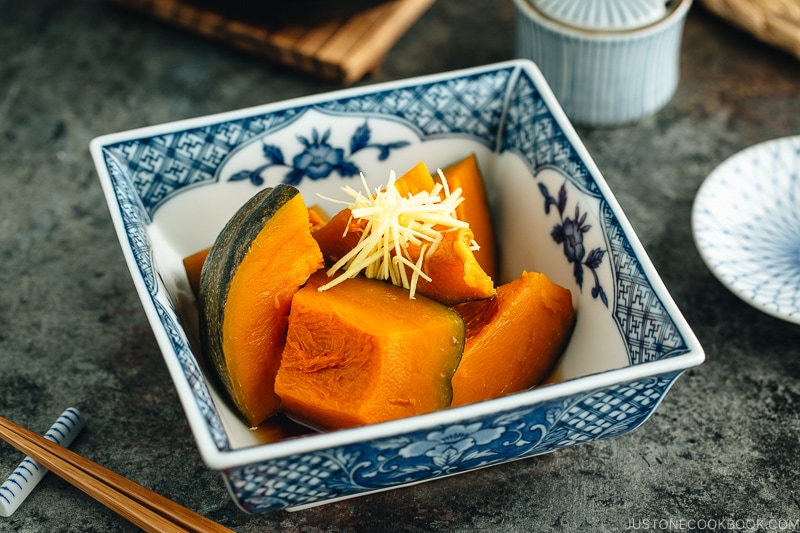 🍳 Recipe: Simmered Kabocha, Pickled Cucumber,
---
Episode 4: Wish
Matcha Souffle Pancake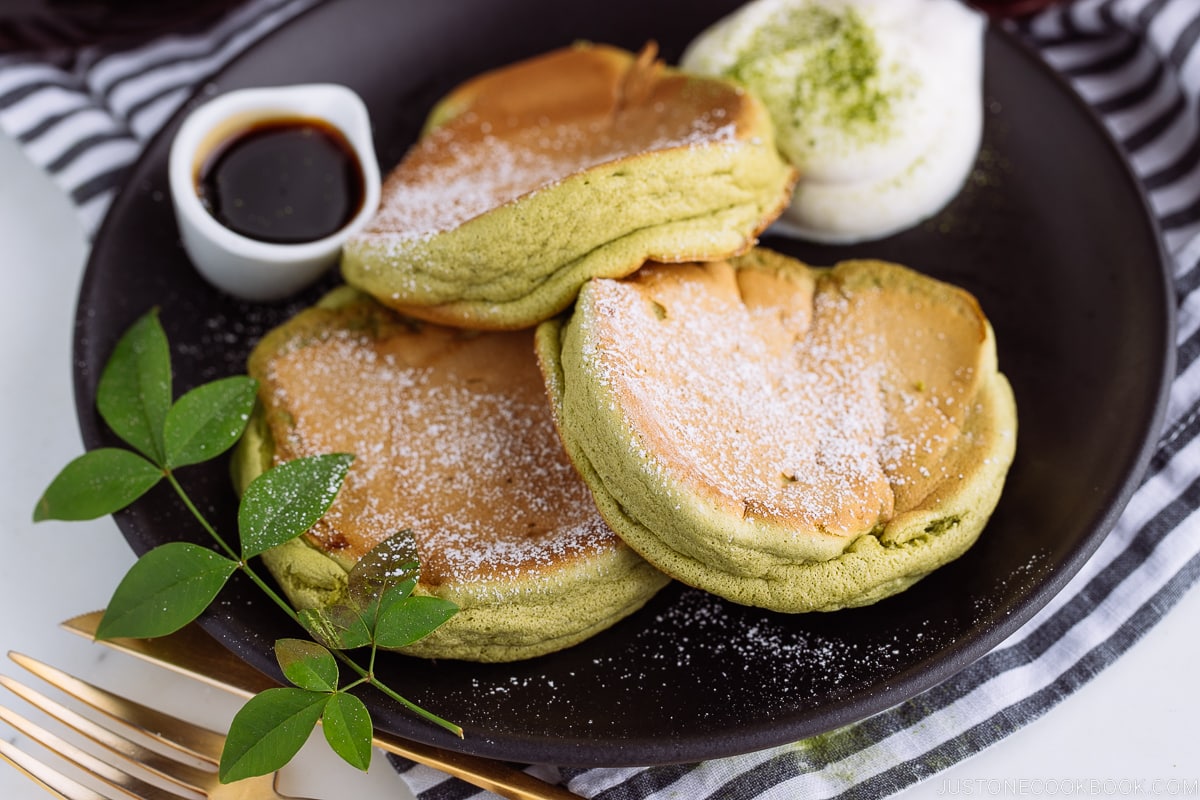 On their day off, Kiyo and Sumire go to the city and stop at a trendy cafe for a break. When the server brings their matcha soufflé pancake to the table, the girls gleam in excitement and tuck in right away.
If you wish you could have these for your Sunday brunch, mark this soufflé pancake recipe down! Flavored with earthy sweet matcha, the pancakes are super airy and fluffy like you're eating cottony clouds! So good with homemade whipped cream, maple syrup, and an extra sprinkling of green tea powder.
🍳 Recipe: Matcha Souffle Pancake
---
Madeleines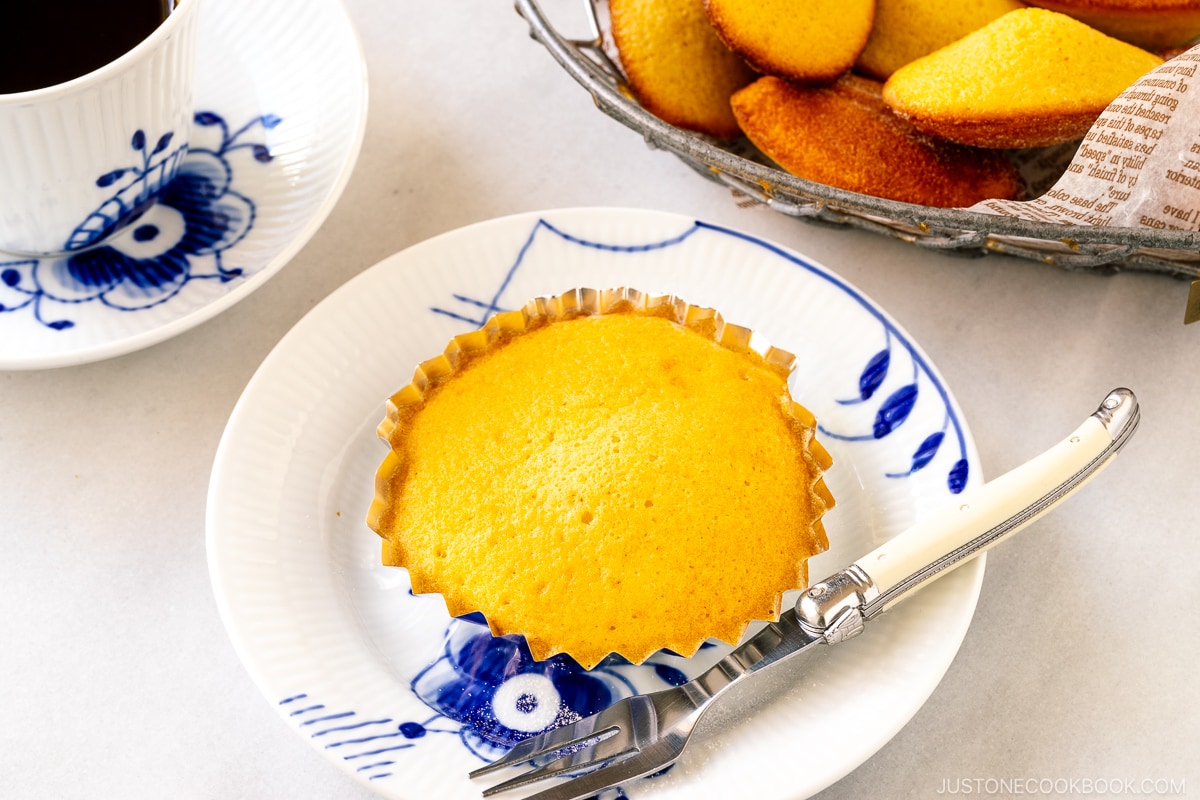 Kiyo and Sumire precisely measure the sugar on a kitchen scale and crack the eggs into a bowl together. They giggle while they hand-whisk the batter, and it's one of the endearing scenes from the show. Then, they pour the batter into individual fluted cake molds.
Many of you asked me what type of cake they are making, and the answer is madeleines. In Japan, we sometimes make madeleines like this, especially when you want to give them as a gift. We individually wrap a mini cake in a small clear plastic bag. You may find them at bakeries, cafes, and sweets shops in Japan.
🍳 Recipe: Madeleines
---
Eggplant Agebitashi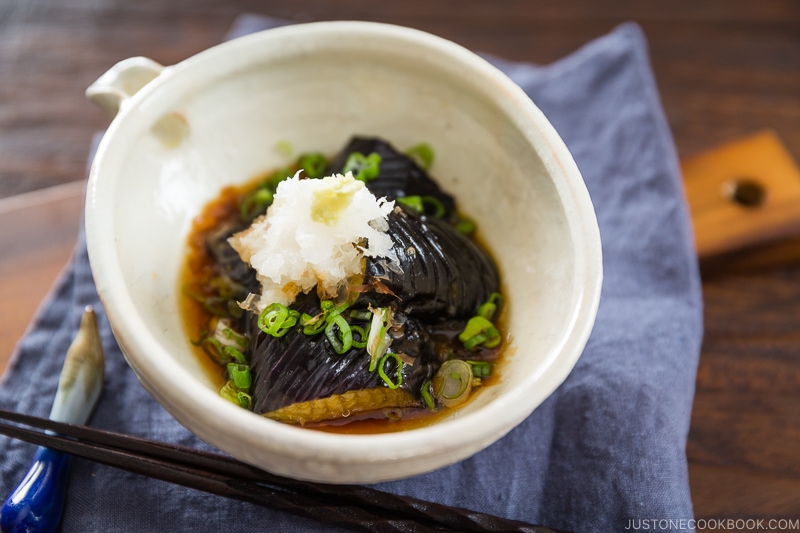 Eggplant agebitashi is composed of deep-fried eggplant soaked in light dashi and soy sauce-based broth. It might look assuming, but you'd be surprised by the contrasting texture and the delicious juice at your first bite. Even a grown man like Sumire's dad couldn't help but cry his heart out by the taste of the eggplant.
🍳 Recipe: Eggplant Agebitashi
---
Episode 5: Choice
Tempura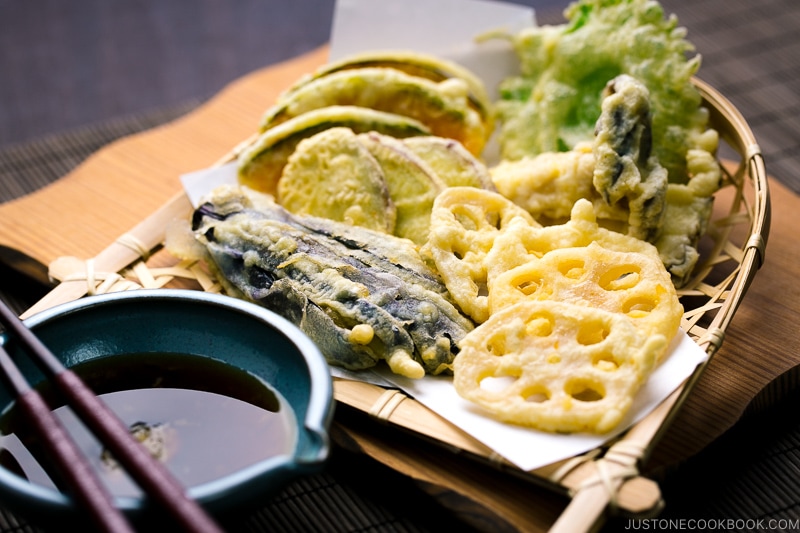 We see Kiyo moving effortlessly in front of a hot pot of oil as she fried up mushrooms, lotus roots, sweet potatoes, etc. for a platter of tempura. How do you keep the tempura batter crisp and light? Kiyo reveals that the secret is to put the batter in the fridge to keep it cold. That's so true! I have all the tips for you to make the perfect tempura. And with some practice, you'd be frying up ultra-crisp tempura as amazing as Kiyo's.
🍳 Recipe: Vegetable Tempura, Shrimp Tempura, Gluten-Free Tempura
---
Korokke (Japanese Croquettes)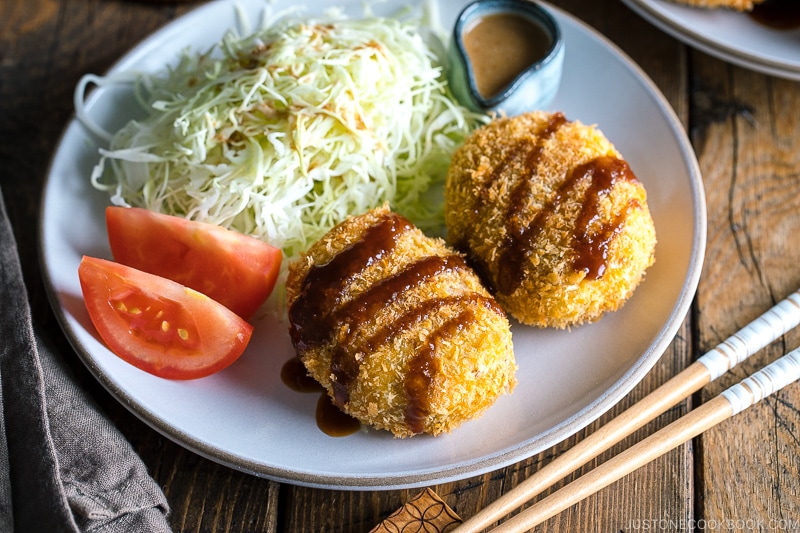 Can you spot the scene in which the girls are munching korokke? It is a fast scene, but you wouldn't miss it. These oval-shaped, Japanese versions of deep-fried mashed potato and beef patties are seriously addicting. And I have no shame to admit that it is my absolute favorite Japanese food.
🍳 Recipe: Korokke (Japanese Croquettes)
---
Karaage (Japanese Fried Chicken)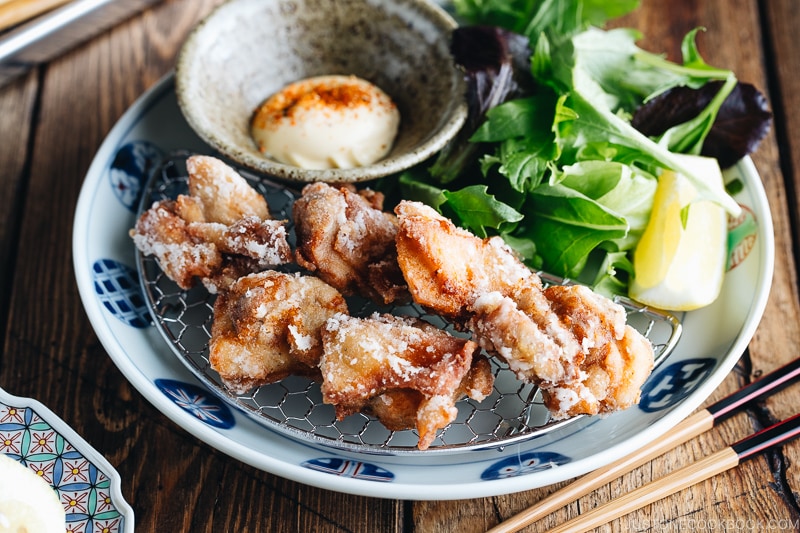 Love fried chicken but feel daunted to make it at home? Then try karaage (Japanese fried chicken)! Come in bite-size pieces and suited for home cooking, karaage is absolutely worth hanging out at the stove for. As Kiyo proves it when she makes karaage for Sumire to enjoy. I'll show you the simple techniques on how to make the best karaage with cracker-crisp skin at home.
🍳 Recipe: Karaage (Japanese Fried Chicken)
---
Episode 6: One-sided
Cream Stew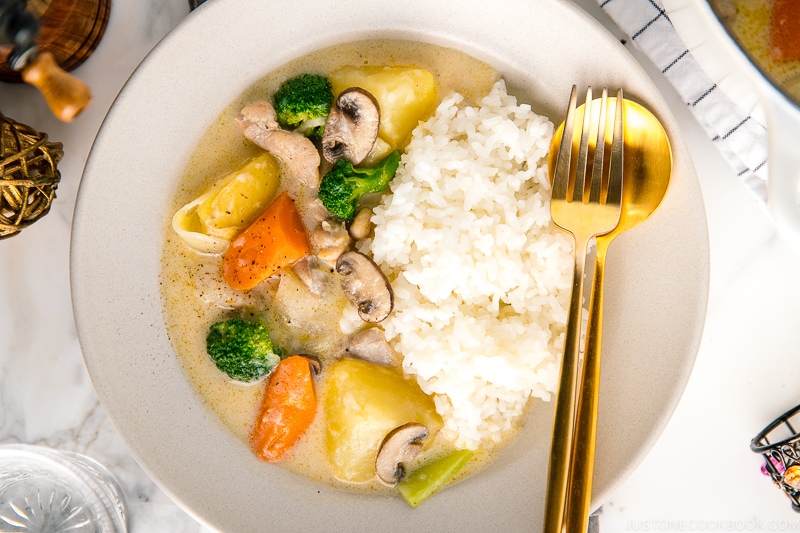 When Ms. Momoko meets Kiyo and calls her rival, Kiyo distracts the awkward moment by inviting Ms. Momoko to stay for lunch. Cream stew is on her menu and so Ms. Momoko accepts the invitation.
The white appearance of the dish might not be the most attractive, but it has a rich and savory flavor that hits the spot every time. Here, we have tender chicken, mushrooms, and colorful vegetables simmered together in a creamy white sauce. The cozy factor is big. Ms. Momoko even asks for a second portion after tasting the stew. You could also add rice and sprinkle cheese on top of the stew and transform it into a baked gratin dish called doria.
🍳 Recipe: Cream Stew and Meat Doria (Baked gratin dish; Cream stew with rice and cheese on top) or Seafood Doria.
---
Amazake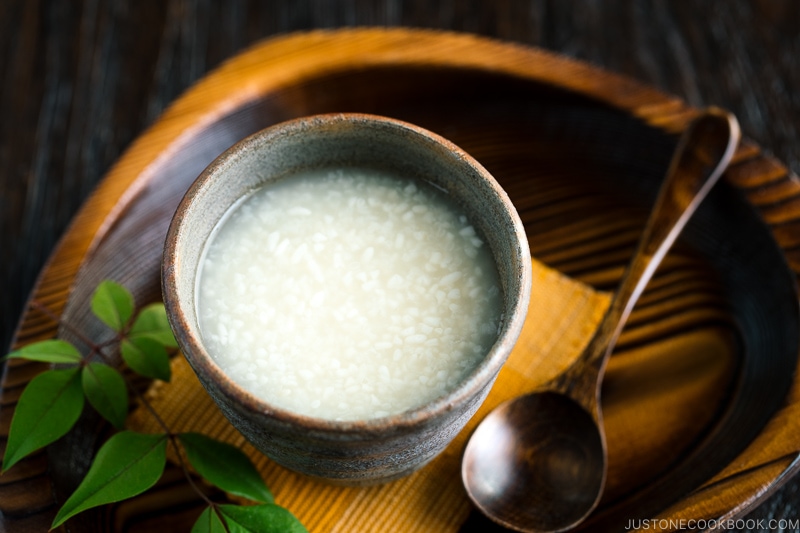 When Kiyo learns that Sumire would have a hard time sleeping after her first mai performance, she makes some amazake to warm her up and help with her sleep.
A traditional Japanese drink made of fermented rice, amazake (甘酒) has a creamy, thick consistency with a sweet taste. You can serve it either chilled or warm/hot, and with low-alcohol or non-alcohol. It is a popular drink during New Year's and Hina Matsuri (Doll Festival).
Amazake is the perfect winter drink and it's known for many health benefits.
🍳 Recipe: Amazake (Fermented Rice Drink)
---
Fruit Sando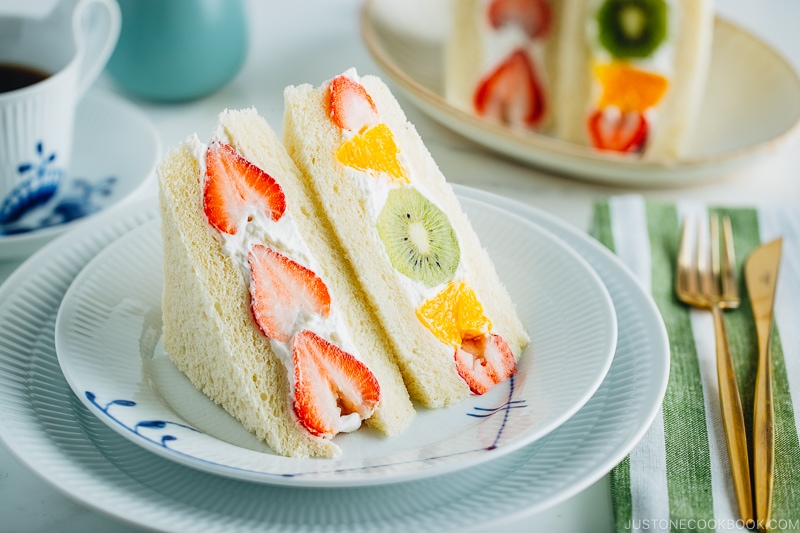 Have you seen a sandwich as pretty as a fruit sando? Kiyo nails it again when she artfully arranges strawberry and orange slices set in whipped cream atop soft white bread. The final result of the sandwich looks just like a cake!
Odd as it may seem, this style of the sandwich is very popular in Japan and it is said to have originated in Kyoto around the early 1920s. Curious to try it? You won't regret it.
🍳 Recipe: Fruit Sando (Japanese Fruit Sandwich)
---
Episode 7: Illness
This is a special episode as you'll learn a lot about the Japanese New Year and its traditions and the foods that we eat during this festive holiday.
Toshikoshi Soba (New Year's Eve Soba Noodle Soup)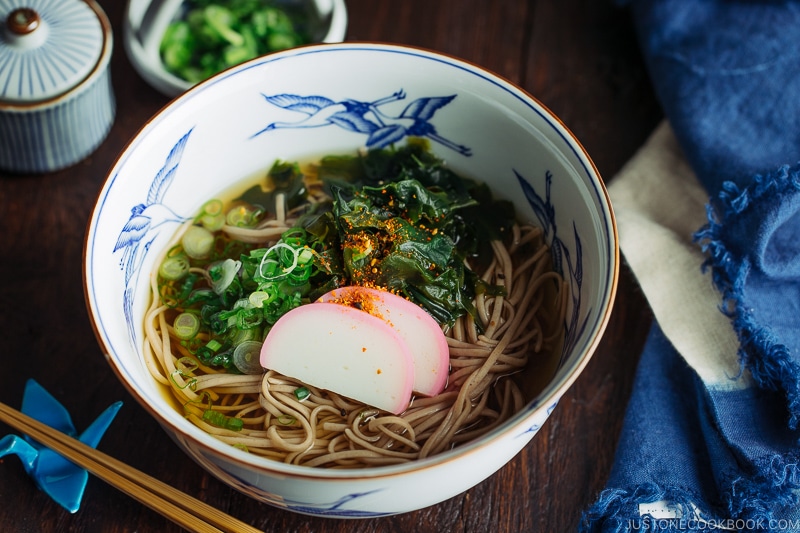 "It's New Year's Eve and we must eat soba noodles." says the street peddler to the girls. In Japan, we have the tradition of eating toshikoshi soba on New Year's Eve as there are many enduring symbols associated with eating buckwheat noodles. We enjoy it in its simplest form by serving soba in a hot dashi broth and garnishing it with only finely chopped scallions.
🍳 Recipe: Toshikoshi Soba
---
Osechi Ryori (Japanese New Year Food)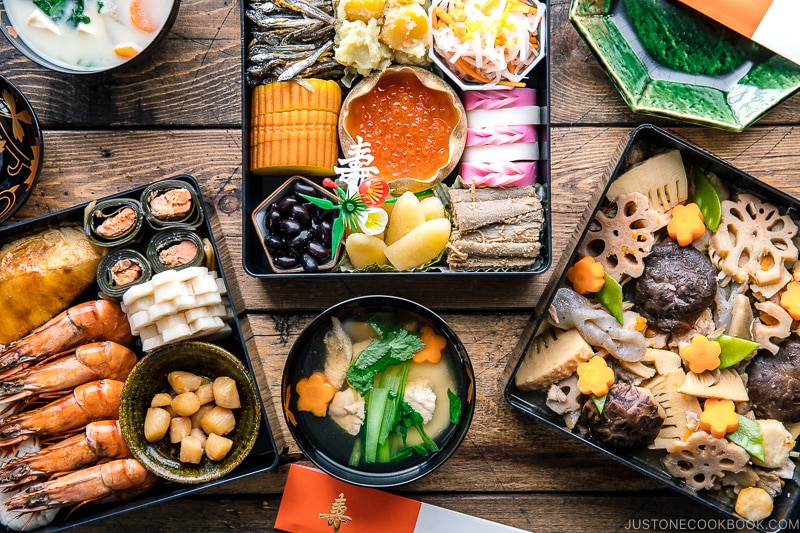 Osechi is the traditional New Year's spread and it is considered the most important meal of the year. The assortment of colorful dishes is packed together in special boxes called jubako, which look like bento boxes.
All the girls are home for New Year and there are only Kiyo, Sumire, Ryoko, Mother Azusa, and Mother Chiyo around in the house. They feast on osechi together as a regular family would.
🍳 Learn more or make: Osechi Ryori (Japanese New Year's Food)
---
Ozoni (Japanese New Year Mochi Soup)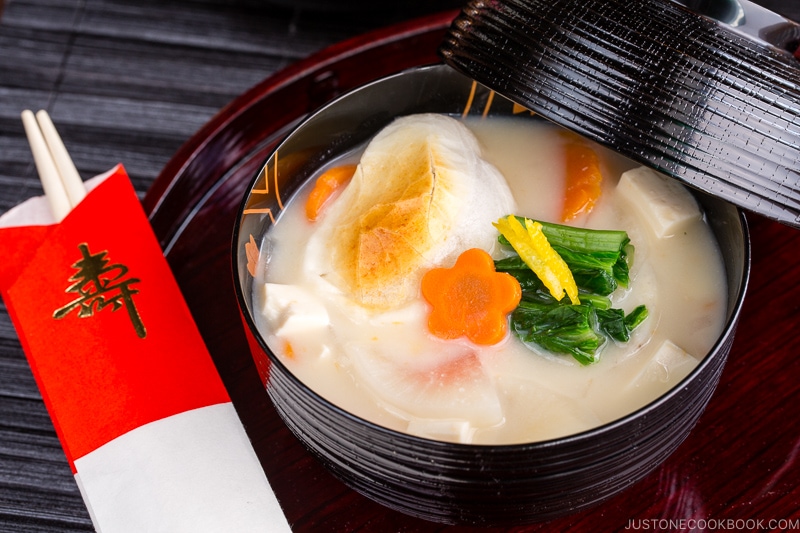 Ozoni is a special soup that we eat in the morning on New Year's Day in Japan. It usually includes mochi (rice cake) and the preparation varies both by household and region. In the drama, Kiyo prepares Kyoto- style ozoni by sprinkling katsuobushi (shaved bonito flakes) on top.
🍳 Recipe: Kansai-Style Ozoni (New Year Mochi Soup), Kanto-Style Ozoni (New Year Mochi Soup)
---
Kakimochi Rice Crackers
To finish off the Japanese New Year celebrations, we have a tradition called kagami biraki (鏡開き) and it involves breaking the ornamental mochi and eating it for good health and fortune for the New Year.
In this episode, Kiyo asks Mr. Hiroshi to help her break the mochi into pieces so she could fry them up to make kakimochi rice crackers. Depending on the region, we'd season them with salt or soy sauce. Both styles are just as delicious!
🍳 Recipe: Kakimochi Rice Cracker
---
Delicious Dashi (Japanese Soup Stock)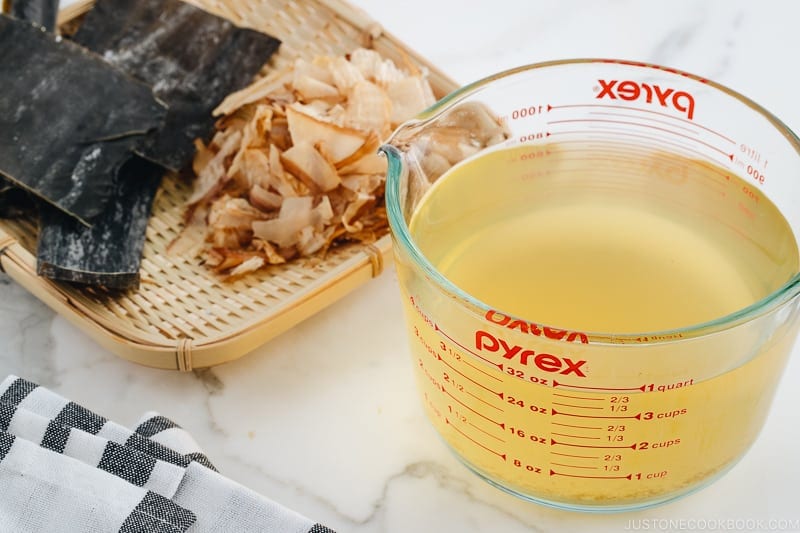 When Sumire falls ill, Kiyo plans to make rice porridge (okayu) but Mother Azusa reminds her that in Kyoto they would eat udon when one's not feeling well. She takes it as her responsibility to take good care of Sumire, and in order to make the best udon soup she goes shopping for the best ingredients in the market.
While dashi (Japanese soup stock) is simple to make, each ingredient and the quality and seasonality you use play an important role to yield the best soup stock. We learn this from the shop owner at the provision shop as he shared his wisdom with Kiyo.
🍳 Recipe: Kombu and Katsuo Dashi
Kyoto-Style Kitsune Udon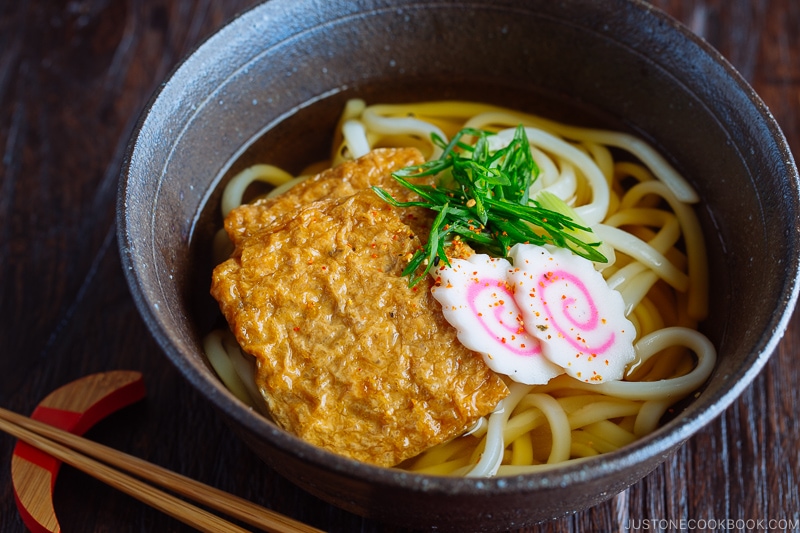 Kiyo makes Kyoto-style Kitsune Udon for Sumire. It consists of light broth, a deep-fried tofu pouch (aburaage), and long green onion. The broth is very flavorful but light in color as we use light-colored soy sauce in the recipe.
🍳 Recipe: Kitsune Udon
---
Episode 8: Carnival
In early February, before the beginning of spring, we transition from the Japanese New Year to an annual festival called Setsubun (節分). Setsubun is a bit like Halloween for the Japanese since people would be observing a ritual by throwing roasted soybeans at anyone who put on the oni (demon) mask. It is meant to chase away the evils, leaving worries behind and making a new start.
Yudofu (Hot Tofu)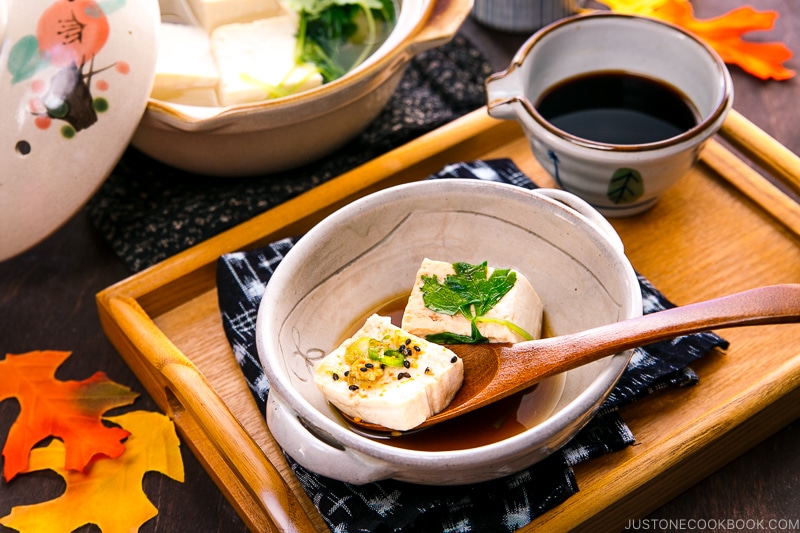 This scene starts with cubes of tofu gently cooked in a wooden serve ware. As the camera zooms out to a restaurant setting, we see Koji asking Yuko, the returning geiko to return home with him.
The tofu dish looks plain and simple, but it is flavored with umami-rich kombu dashi and is meant to be enjoyed with dipping sauce. This preparation spotlights tofu's delicate texture and its place in Japanese cuisine. Anyone can make this warm and nourishing dish at home. We had Yudofu in Kyoto and it was quite memorable how tasty it was. If you are interested to visit the restaurant in the show, it's Nanzenji Yachiyo.
🍳 Recipe: Yudofu (Hot Tofu)
---
Kaki Fry (Fried Oyster)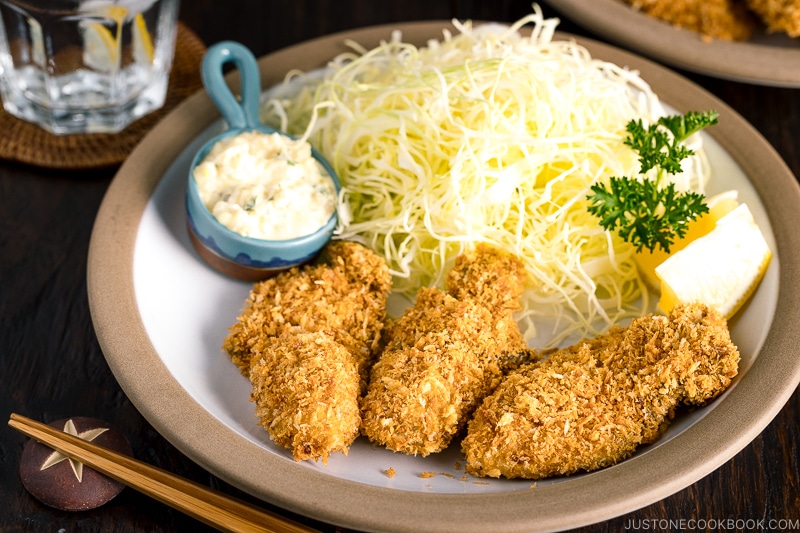 At Momohana (Sumire)'s first dining out, she really wants to eat kaki fry but knows she has to have the same thing as Ms. Momoko. When she returns to the house, she is so delighted when Kiyo happens to cook kaki fry for her. What a treat to enjoy these crunchy, juicy briny morsels!
I use the oven-baked technique for this recipe, so you could enjoy crunchy fried food without having to deep-fry them!
🍳 Recipe: Kaki Fry (Fried Oyster)
---
Tonjiru (Pork and Vegetable Miso Soup)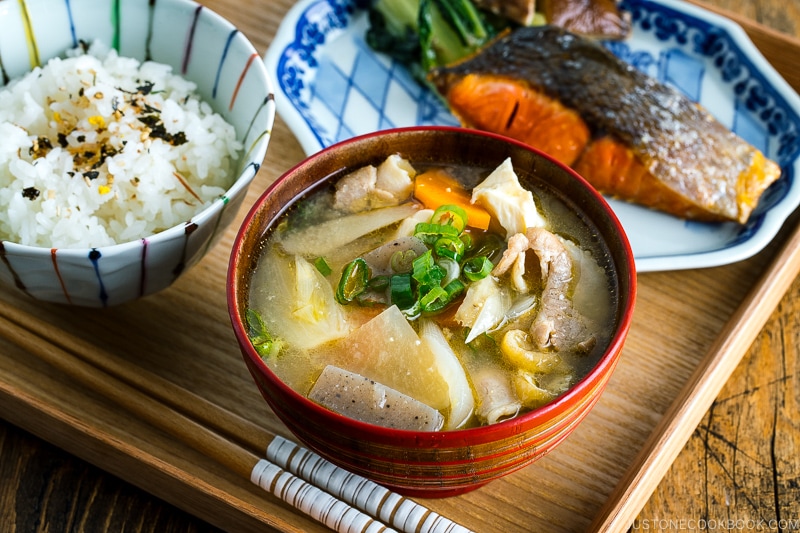 The girls are wrapping up their rehearsal for the annual costume event and Yuko is not happy about her role assigned by Momoko and makes a fuss about it. In the heat of their argument, Kiyo comes in with a tray of tonjiru (pork miso soup) for their late-night snacks. Everyone pauses and enjoys the soup in silence until Yuko brings back the topic again. My favorite part is when everyone makes comparisons of their roles with each ingredient in the soup.
Tonjiru is a classic soup we make at home. Not only is it delicious, but the soup also packs in a lot of protein and nutrients.
🍳 Recipe: Tonjiru (Pork and Vegetable Miso Soup)
---
Episode 9: Passage
Japanese Sandwich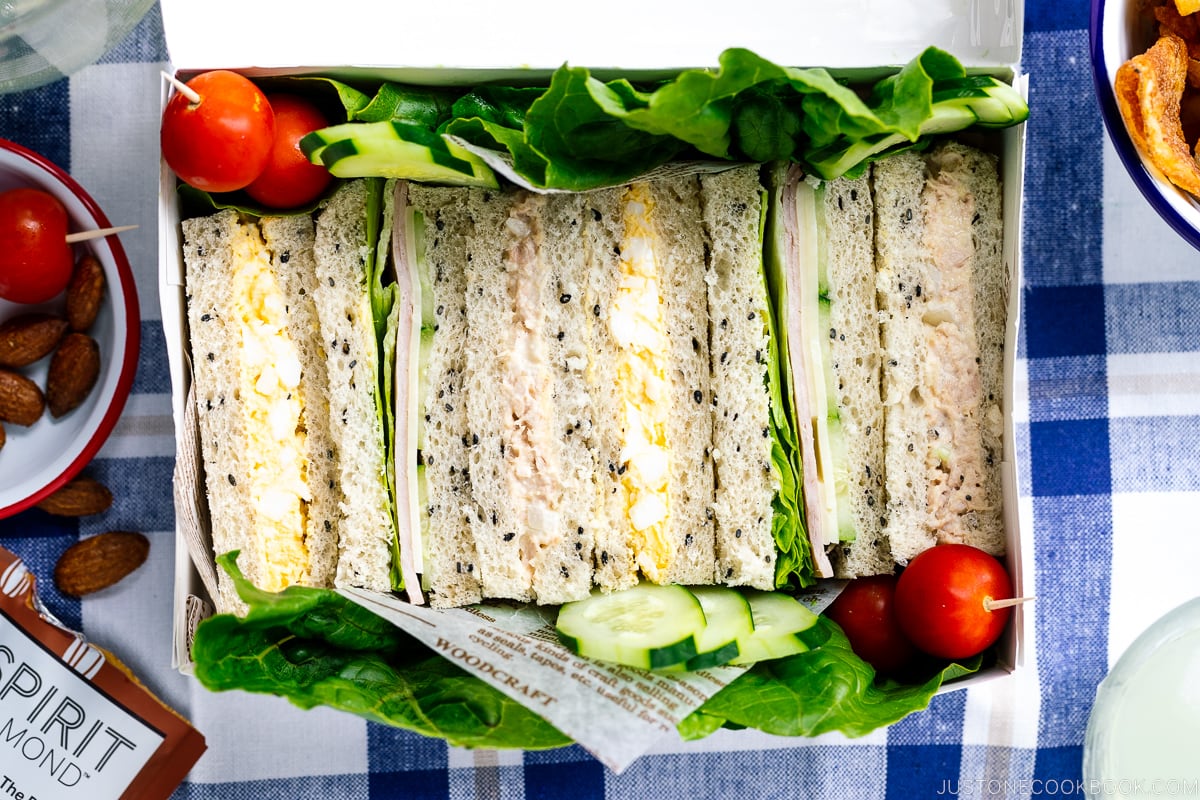 In this finale episode, as the sun shines in through the window, Kiyo wakes up to bowls of ingredients and a bottle of mayonnaise at the kitchen table. The camera spans and shows us that she has stayed up late to make sandwiches as breakfast for the maiko.
Japanese sandwiches (or mixed sando) can be made with different fillings but they are always tucked inside fluffy slices of crustless bread and served as a set.
🍳 Recipe: Japanese Sandwich with Egg Salad, Ham/Cheese/Cucumber, Tuna, and Japanese Potato Salad)
---
Tamago Sando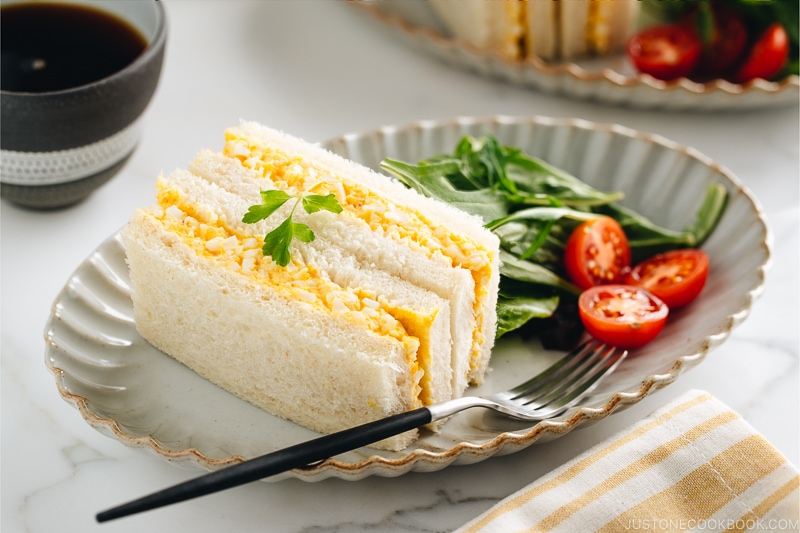 If you'd recall, Sumire has specifically requested Kiyo to make tamago sando for her the moment she graduates to become maiko. Kiyo fulfills her wish by making her the most delicious-looking egg sandwich.
What makes a Japanese egg sandwich so special? The creamy egg filling dressed in Japanese mayonnaise and the soft pillowy shokupan (Japanese milk bread) all play a part in yielding a truly amazing sandwich.
Now, what did Kiyo do with the leftover bread crusts from dinner? Let's find out in the next recipe.
🍳 Recipe: Tamago Sando
---
Shokupan Crust Rusks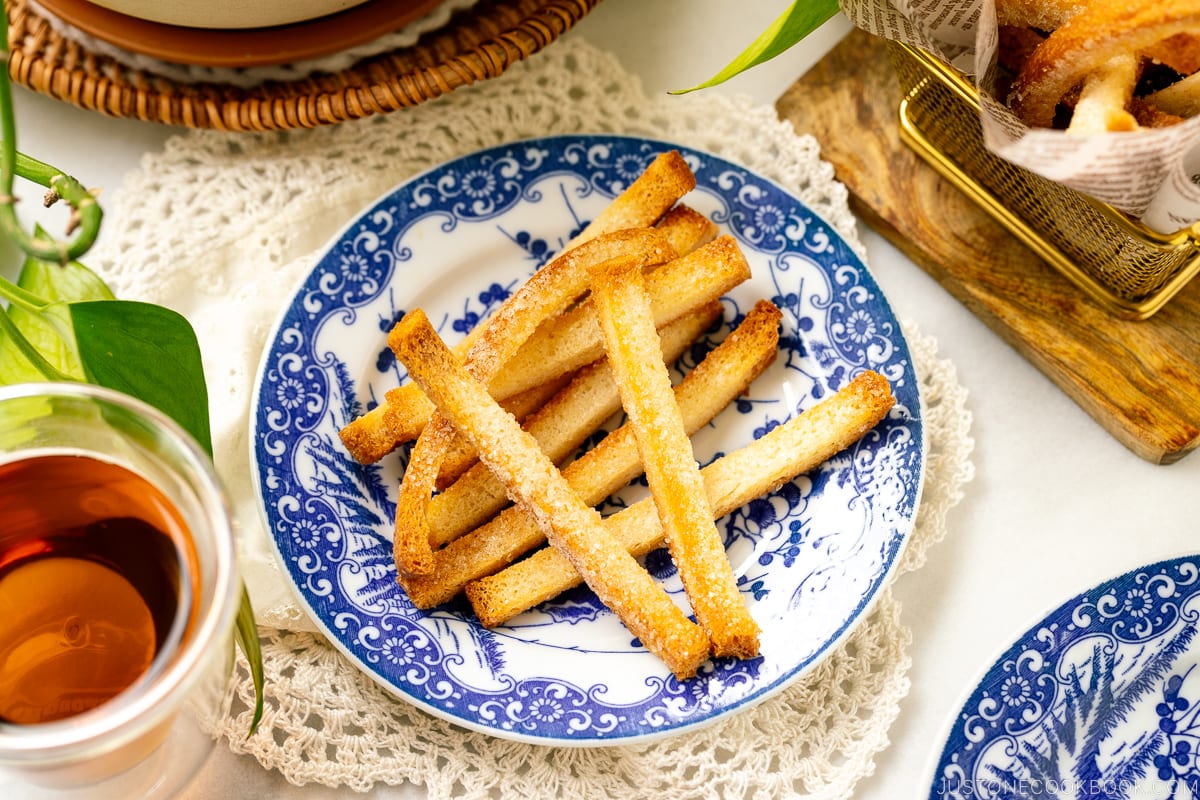 This is it! The treat that Sumire comes back to after she makes her debut as the official maiko. We see Kiyo fry up pan no mimi (shokupan's crust) to make super crunchy and sugary rusk. We see two best friends—bonded over food and genuine love for each other—indulging in the fried bread sticks as they reflect on their day. Such is life's simple pleasure.
🍳 Recipe: Shokupan Crust Rusks
---
We hope you enjoy The Makanai as much as we do! And if you managed to make any of the recipes above, we'd love to see your creations. Leave us a comment below (with pictures, if you'd like) and share with us your experience.
Other Netflix Recipe Series
Readers' The Makanai Recipes
All the recipes from the show were the challenge recipes for JOC Cooking Challenge March 2023. Check out the delicious food created by JOC readers!