Classic Japanese potato salad recipe. Made with mashed potato and colorful vegetables,  Japanese potato salad is creamy yet full of textural crunch. If you're a potato salad lover, you will be happy to add this delicious version into your repertoire. 
Are you surprised if I tell you that potato salad is a home-cooking staple dish in Japan? Economical to make and comforting to eat, it's no wonder potato salad is universally loved. Japanese potato salad is a little different from typical versions of American potato salad. The potatoes are roughly mashed, so it's kind of like mashed potatoes with all the colorful ingredients.  It's creamy and smooth, but with added chunky textures from the vegetables. You can't stop eating them once you have a bite.
What is

Japanese Potato Salad

?
Potato salad is another import of western cuisine (known as yoshoku) that is highly embraced by the Japanese. The classic Japanese potato salad is made of mashed potato (leaving some chunks behind), sliced cucumbers and carrots, eggs and sometimes hams. The ingredient are not too different from the western version, but flavoring wise, the Japanese version is always seasoned with Japanese mayonnaise and sometimes rice vinegar.
There are a few variations based on your family's taste, but it's more standard than American potato salad varieties. The salad always include a myriad of vegetables, which makes it healthier and visually eye-catching.
Most of the ingredients are easy to find in regular grocery stores. To make the salad uniquely Japanese, I highly recommend using Japanese mayonnaise which attributes a sweeter, richer creamy flavor. You can find Japanese mayo in Japanese and Asian grocery stores as well as Amazon (or substitute following my recipe here).
Just like the potato salads in the US, Japanese potato salad is also a popular party dish. You might also see it as a side dish in bento lunch box, next to Karaage and Hambagu. But of course, if you're throwing a Japanese-theme BBQ, potluck or picnic, you will have to complete the menu with this classic Japanese Potato Salad.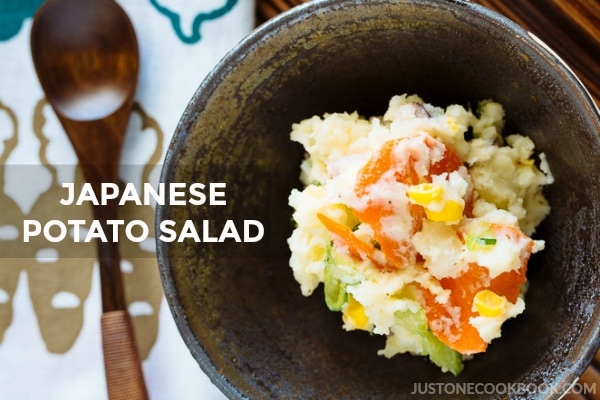 Leftover Japanese Potato Salad?
My family loves potato salad so we actually don't have much leftover.  I usually make extra potato salad so that I can make this Potato Salad Pork Rolls (recipe here).  Thinly sliced pork is wrap around the potato salad and the teriyaki glaze goes really well with potato salad. This is a great example of the leftover turns into a main dish next day.
I hope you enjoy this Japanese Potato Salad recipe!  If you make this recipe, snap a picture and hashtag it #JustOneCookbook.  I love to see your creations on Instagram, Facebook, & Twitter!  Thank you so much for reading and till next time!
Don't want to miss a recipe? Sign up for the FREE Just One Cookbook newsletter delivered to your inbox! And stay in touch with me on Facebook, Google+, Pinterest, and Instagram for all the latest updates.
Japanese Potato Salad
Classic Japanese potato salad recipe. Made with mashed potato and colorful vegetables, Japanese potato salad is creamy yet full of textural crunch. If you're a potato salad lover, you will be happy to add this delicious version into your repertoire.
Keyword:
mashed potato, potato salad
Ingredients
2

Russet potatoes

½

tsp

salt (kosher or sea salt)

1

large egg

2½

inch

carrot

¼

cup

corns

2

inch

English cucumber

(The cucumber in this photo is about 3", but you just need about 2")

2

slices

black forest ham

⅓

cup

Japanese mayonnaise

salt (kosher or sea salt)

Freshly ground black pepper
Instructions
Gather all the ingredients.

Peel potato skins and cut into 1 ½ inch pieces. They should be roughly about the same size so that they'll be done cooking around be the same. Put potatoes in a large pot and add water until it covers all the potatoes. We start cooking potatoes in cold water so that it allows them to slowly heat up so they will cook through evenly.


Boil potatoes with high heat. After water boils, lower heat to medium and cook until a skewer can goes through the potato smoothly, about 10 minutes. Drain the water from pot and put the potato back on the stove again.


On the stove, evaporate water and moisture of the potatoes over medium-high heat (for less than 1 minute). Shift the pot in circular motion so the potatoes wont' get burnt. When you see there no liquid in the pan, remove from heat.


Mash the potatoes but leave some small chunks for texture. Sprinkle salt and transfer it into a big bowl and let it cool on the kitchen counter.


Meanwhile prepare a boiled egg. Remove the shell and mash the egg with a fork in a small bowl. Set aside.


Cut carrots into quarter (or half) and then slice it thinly. Put them in a microwave-safe container and cover it with water. Microwave for a few minutes until a skewer goes smoothly through the carrot (don't overcook). Drain water and cool down.


Peel the cucumbers (leave some skin on to create stripe pattern) and cut into quarter. Then slice it thinly.


Dice the sliced hams into small size.


Prepare and boil corn (canned corn kernels works as well).


Add hams and veggies into the mashed potato bowl. Grind some pepper over and mix well.


Add mayonnaise and mix until incorporated.


Add boiled eggs and mix a bit but don't over do it. Let it cool and keep in the fridge till you are ready to serve.

Recipe Notes
Recipe by Namiko Chen of Just One Cookbook. All images and content on this site are copyright protected. Please do not use my images without my permission. If you'd like to share this recipe on your site, please re-write the recipe in your own words and link to this post as the original source. Thank you.
Editor's Note: This post was originally published on Aug 31, 2011 as a guest post at An Italian Cooking in the Midwest.