Enjoyed chilled or at room temperature, this Soba Noodle Salad tossed in a honey-soy dressing is exactly what you need for a quick, light meal.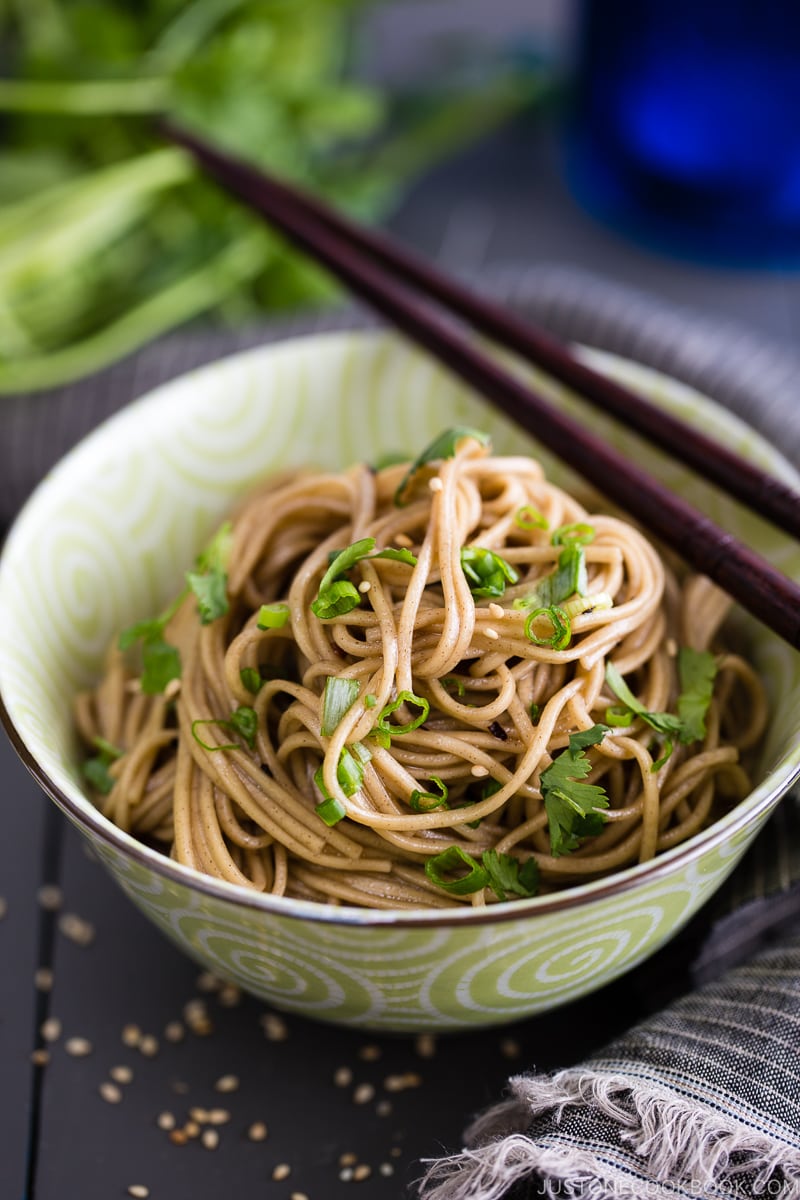 What are some of your go-to warm-weather lunches? When I am not developing or testing a recipe, I like my summer lunch to be light and fuss-free. Today I made an easy and refreshing Soba Noodle Salad (蕎麦サラダ) that's ready in less than 20 minutes.
In this recipe, I toss earthy Japanese soba noodles in a simple honey-soy dressing and garnish it with green onions, cilantro, and sesame seeds. Simple yet bright in flavors, this salad is a true favorite of mine.
What Are Soba Noodles?
Soba noodles are a type of Japanese noodles made of buckwheat, which has a completely different flavor and texture compared to the popular ramen noodles and udon noodles. Soba are often served cold such as Zaru Soba, room temperature, or in hot soup such as Soba Noodle Soup.
In Japan, we have different kinds of soba noodles depending on the percentage of buckwheat used in making the noodles.
100% vs. 80% Buckwheat Flour
Ju-wari Soba (十割そば) is made of 100% buckwheat flour, so it is gluten-free. It has a dry and rough texture so the noodles are easily broken compared to Hachi-wari Soba. Ju-wari soba has a strong buckwheat aroma and flavor, and it is hard to make because of the crumbly texture.
Hachi-wari Soba (八割そば) is made from 80% buckwheat flour and 20% wheat flour. Hachi-wari means 80% in Japanese. The noodle is much smoother with an al dente texture. Unlike Ju-wari Soba, it's easy to swallow and chew. However, the buckwheat aroma is less than Ju-wari.
It's hard to say which soba is tastier as it really is up to personal preferences.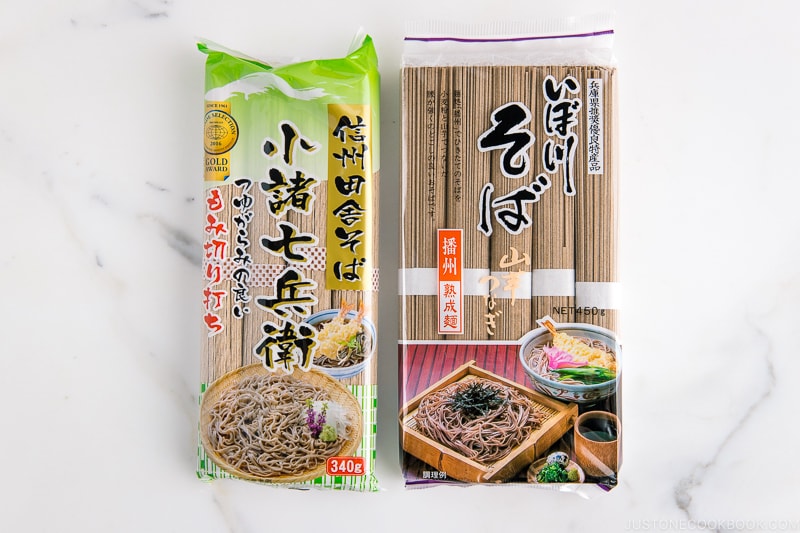 Are Soba Noodles Healthy?
The Japanese consider soba noodles a healthy carb choice, especially among the variety of noodles. Low in fat, soba noodles are a great source of amino acids, manganese, protein, and fiber. It is definitely healthier than udon or ramen noodles or regular spaghetti. 
For gluten-free, look for soba noodles made with 100% buckwheat. Make sure to check the ingredient list. Some Japanese grocery stores offer Juwari Soba (十割そば) that is made of 100% buckwheat flour. In the US, you can find some of the common brands like Hakubaku Organic Soba or Eden Foods Soba (100% buckwheat; gluten-free) available online or at your local grocery stores. 
👉🏻 Learn more about soba, including its origin and nutrition on my pantry page.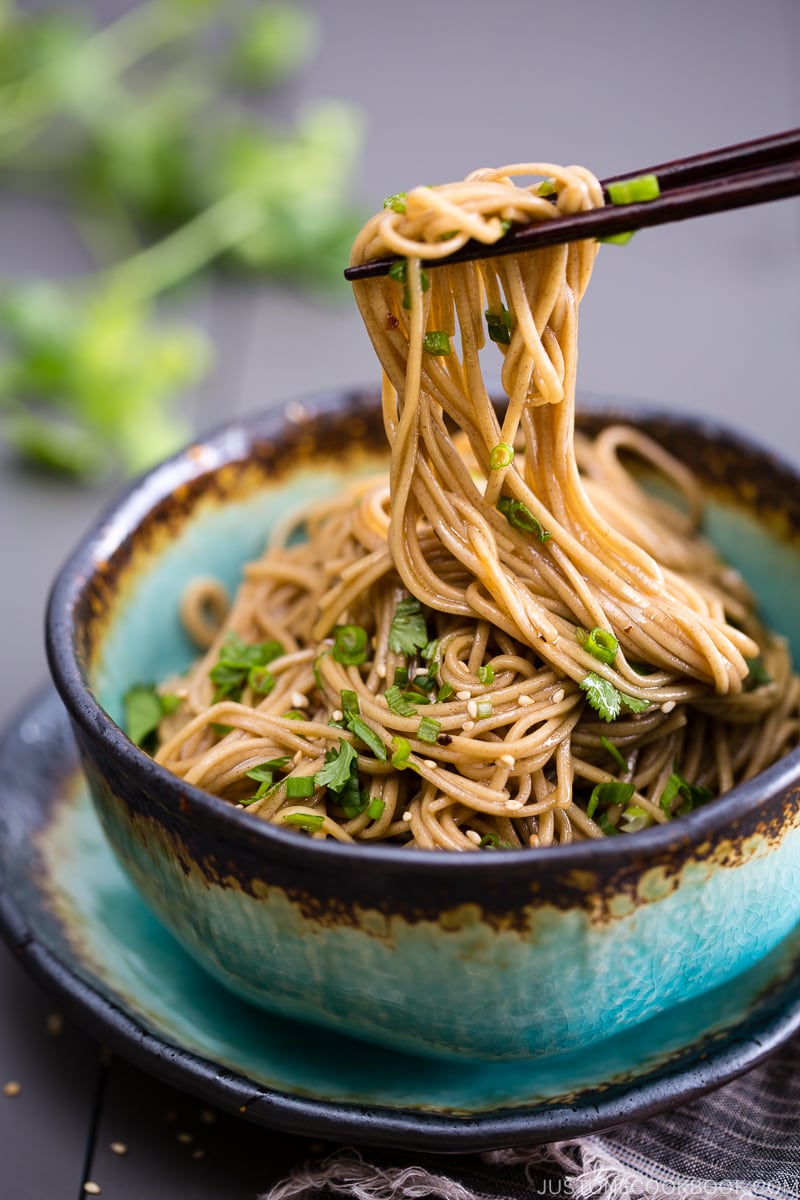 How to Make Soba Noodle Salad
Ingredients You'll Need
Soba noodles
Green onions
Cilantro
Toasted sesame seeds
Dressing: neutral-tasting oil, roasted sesame oil, red pepper flakes (optional), honey, and soy sauce (or tamari)
This Soba Noodle Salad recipe is the perfect blank slate for customization.
For substance, feel free to add in veggies or proteins and turn the salad into a main dish. Here are some delicious opt-in ingredients:
Thin strips of cucumber, carrots, bell peppers, or red cabbage
Edamame, sugar snap peas
Pickled veggies such as kimchi or quick pickled cucumber
Blanched broccoli or a handful of arugula
Hard-boiled egg or ramen eggs
Shredded leftover chicken
Grilled tofu
A Few Quick Tips
Soba noodles cook a lot faster than spaghetti pasta, so this noodle salad is ready in a very short time. It's important to drain the noodles well and run them under cold running water. This helps to remove any starch from the noodles.
You can prepare the dressing ahead of time, but toss everything together when you are ready to serve, or else soba noodles will absorb the dressing and become soggy.
More Soba Noodle Recipes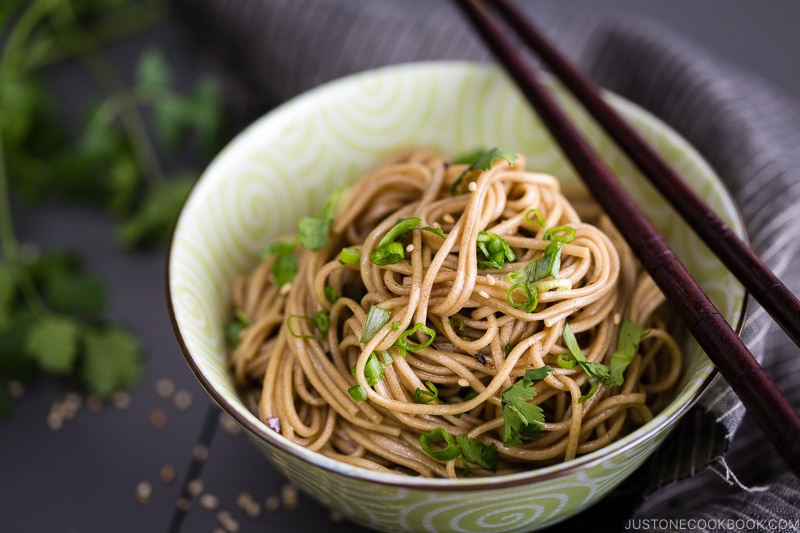 Wish to learn more about Japanese cooking? Sign up for our free newsletter to receive cooking tips & recipe updates! And stay in touch with me on Facebook, Pinterest, YouTube, and Instagram.
Soba Noodle Salad
Enjoyed chilled or at room temperature, this Soba Noodle Salad tossed in a honey soy dressing is exactly what you need for a quick, light meal.
Video
Japanese Ingredient Substitution:
If you want substitutes for Japanese condiments and ingredients, click
here
.
Instructions
Gather all the ingredients.
To Make the Dressing
Combine

1 Tbsp neutral oil

,

3 Tbsp toasted sesame oil

, and

½ tsp crushed red pepper (red pepper flakes)

in a small saucepan.

Whisk it all together and infuse the oil over medium heat for 3 minutes. Alternatively, you can put these ingredients in a small microwave-safe bowl and microwave for 3 minutes. Set aside to let it cool a bit; be careful while handling as it'll get very hot.

Add

3 Tbsp honey

and

3 Tbsp soy sauce

to the oil mixture.

Whisk it all together until the honey has completely dissolved.
To Make the Salad
Bring water to a boil in a large pot (you do not need to salt the water). Cook the soba noodles according to the package instructions, but make sure they are al dente. Drain into a colander and rinse the soba noodles under cold running water. This important step removes the excess starch from the noodles and stops the cooking. Drain well and transfer to a large bowl.

Thinly slice

2 green onions/scallions

and chop

1 handful cilantro (coriander)

into small pieces.

Add the dressing, green onions, cilantro, and

1 Tbsp toasted white sesame seeds

to the bowl with the soba noodles.

Toss everything together. Transfer to a serving bowl or plate. Serve chilled or at room temperature.
To Serve
Soba Noodle Salad is the perfect blank slate to customize with your favorite vegetables like edamame, sugar snap peas, cucumber slices, carrot strips, arugula, or red cabbage. Try adding blanched or pickled veggies like kimchi, Quick Fresh Kimchi, Spicy Japanese Pickled Cucumbers, and Blanched Broccoli with Sesame Oil. For a more substantial meal, you can add hard-boiled eggs, Ramen Eggs, shredded leftover chicken, or grilled tofu.
To Store
You can keep the leftovers in an airtight container and store in the refrigerator for up to 3 days and in the freezer for 2 weeks.
Nutrition
Nutrition Facts
Soba Noodle Salad
Amount per Serving
% Daily Value*
* Percent Daily Values are based on a 2000 calorie diet.
©JustOneCookbook.com Content and photographs are copyright protected. Sharing of this recipe is both encouraged and appreciated. Copying and/or pasting full recipes to any website or social media is strictly prohibited. Please view my photo use policy
here
.
Editor's Note: This post was originally published on May 13, 2013. It is updated with a new video and step-by-step pictures in August 2016. The content was updated with more information in July 2022.