Make this quick and easy Korean Fresh Kimchi recipe that's meant to be eaten right away, without fermentation! It's less pungent compared to regular kimchi and makes a refreshing side to serve with any Asian meal.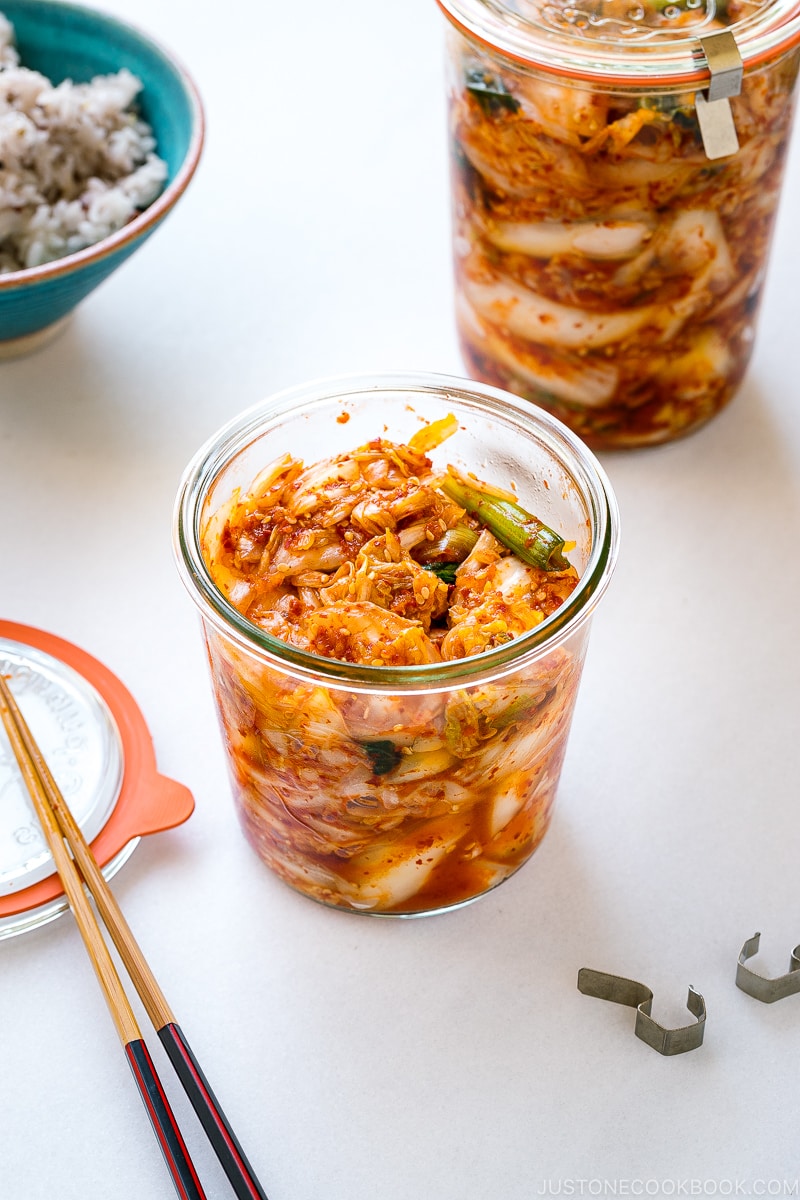 Through food, we connect with people and make new friendships. Whenever I make this Korean Fresh Kimchi (Geotjeroi), it always reminds me of the fun time I had with my friend, Seonkyoung.
I didn't know about Korean fresh kimchi until she introduced it to me. Back in 2016, she came to our house with her husband, Jacob, for the 2-day video shooting collaboration (we shot this and this recipe). She brought a mason jar of her fresh kimchi with her.
My family wasn't into pungent well-fermented kimchi at that time, and her fresh kimchi became an important transition dish until we developed the taste buds and a genuine liking for the real-deal kimchi. And all the while and even now, I've been making fresh kimchi once a month, if not more frequently, and always enjoy it as a part of tsukemono (Japanese pickles) along with steamed rice.
Since this recipe has become a significant part of my family's favorite dishes, I've asked Seonkyong for her permission to share it as a part of Just One Cookbook recipe collections and she generously said yes. For those of you who didn't get a chance to know her, please visit her website and YouTube channel. Thank you, Seonkyong. I hope our readers will discover or rediscover your site and enjoy your delicious recipes.
What is Korean Fresh Kimchi?
Korean fresh kimchi, or baechu geotjeroi, is non-fermented kimchi made with napa cabbage, garlic, green onions, gochugaru, fish sauce, and so on. It will remind you of a bright, spicy salad!
As you might be aware, traditional kimchi is typically fermented, so it's pungent, sour, salty, and has the intensity that most fermented food is known for. Some describe the smell and taste as funky and find the robust flavor less attractive.
Fresh kimchi, on the other hand, has a mild sweetness and is deliciously flavorful minus the pungency or sourness. The fresh crunch of the vegetables is noticeable and vivid, making it a lighter and refreshing counterpart to the fermented cousin. I find it the best introduction to anyone who is less inclined with pungent food.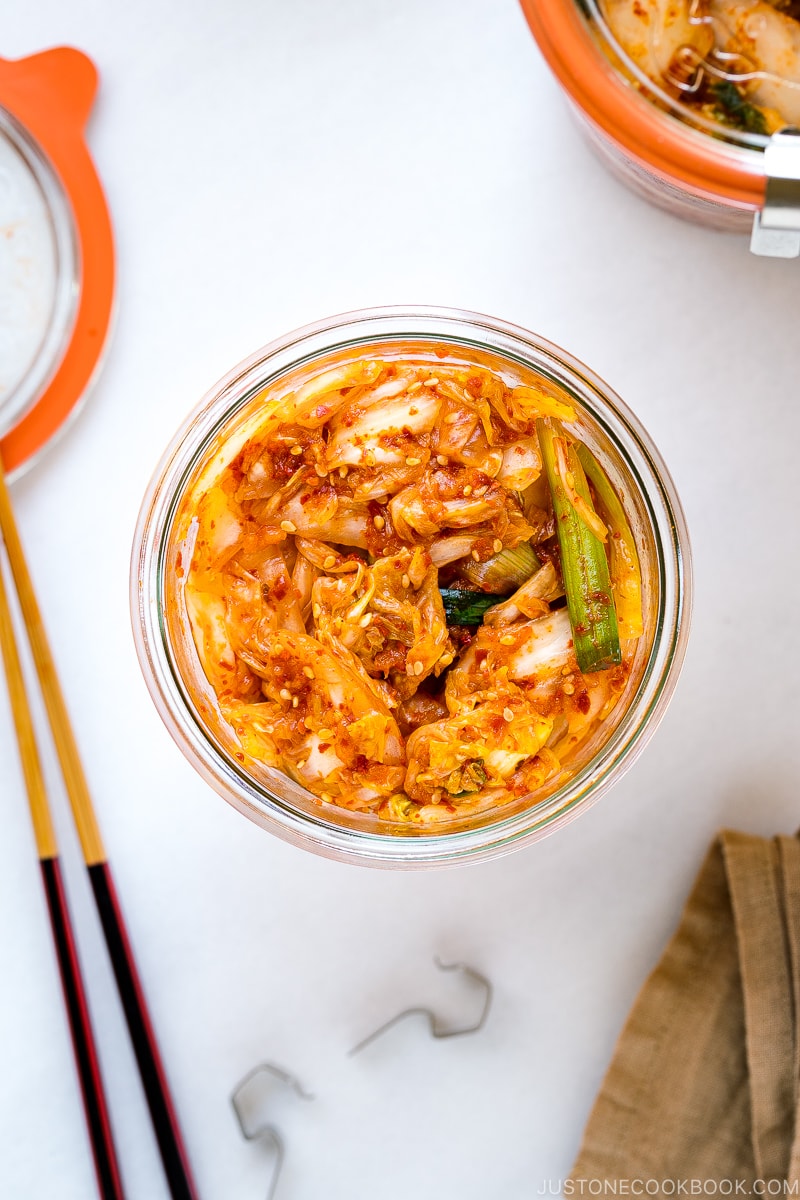 How to Make Fresh Kimchi
Ingredients You'll Need
Napa cabbage
Coarse sea salt – Seonkyoung recommended this brand.
Garlic
Green onions
Fish sauce
Apricot jam (or apple jam)- This is a unique ingredient Seonkyong uses for her recipe; it gives a fruity sweetness and slight tanginess; I believe this is the key ingredient to round up the flavor of the fresh kimchi.
Toasted white sesame seeds
Overview: Cooking Steps
Cut napa cabbages into smaller pieces and brine them.
Make the kimchi paste.
Drain the brine and rinse the napa cabbage.
Combine the drained napa cabbage and kimchi paste together.
Mix well and serve!
Tips on Making Fresh Kimchi
Give a head start by making brine. Coarse sea salt takes time to dissolve completely, so combine the water and sea salt ahead of time, if possible.
Use a large bowl to brine and mix the napa cabbage. The large bowl gives space for you to flip the napa cabbages easily. One of the large stainless steel bowls I have is from IKEA. When this IKEA bowl is filled to the top with sliced napa cabbage pieces (see step 4, the right picture in my recipe card for reference), it is the right amount for this recipe. I usually get one large napa cabbage and start filling up the bowl so I don't have to weigh it.
Use a disposable plastic glove to mix the kimchi. Your hands will be stain-free and ready to eat the meal right away after you serve the fresh kimchi!
Use airtight glass containers. I use glass containers such as Mason jars or Weck jars so the kimchi doesn't stain the container. It should be airtight so the smell (cabbage smell) doesn't leak into the refrigerator.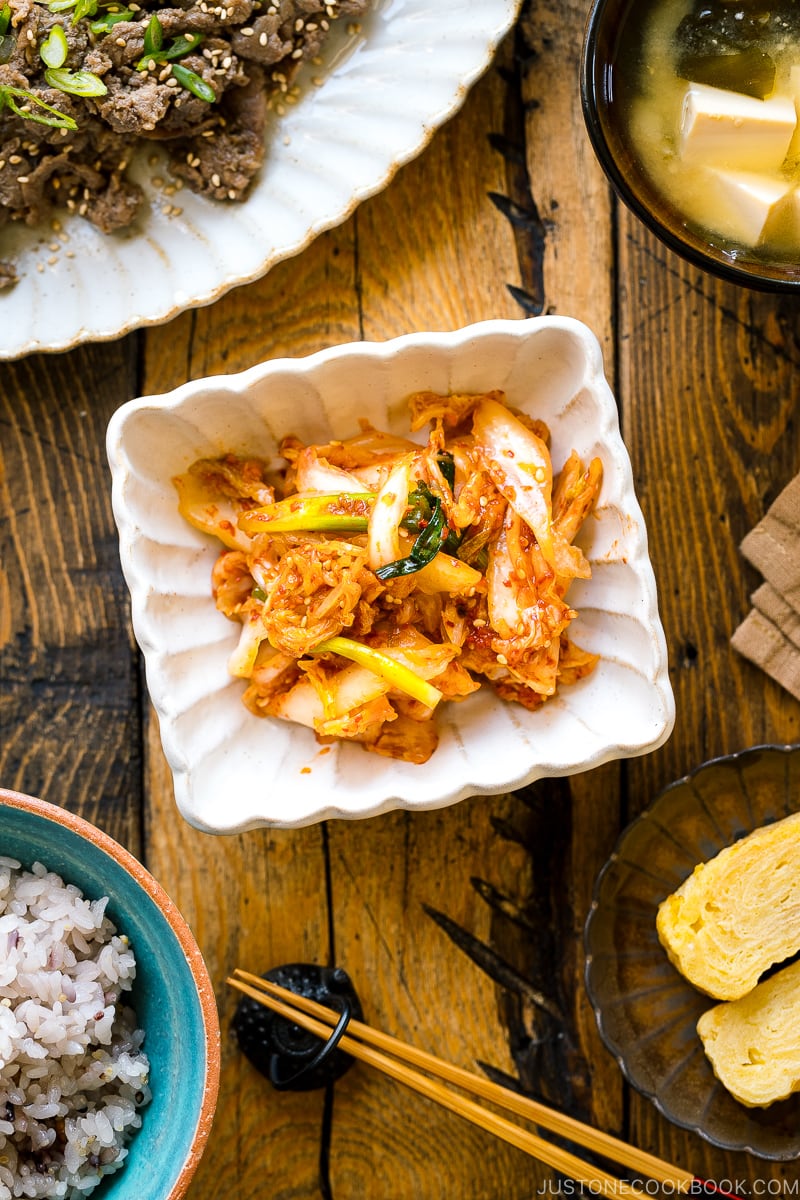 Frequently Asked Questions
Do we need to use Korean sea salt?
You don't have to. However, this Korean coarse kimchi sea salt is commonly used to brine napa cabbage for kimchi. I'm not familiar with the sodium content in this particular Korean sea salt compared with kosher salt, so I can't provide the right amount of kosher salt as a substitute.
If your sea salt is a fine grain, not coarse, then use slightly less amount.
Can I skip gochugaru/fish sauce (or any other ingredient)?
Every ingredient in this recipe plays an important role (even garlic!) so I do not recommend substituting any of them.
For vegan, you can use vegan fish sauce.
How can I make it less spicy?
Adjust the spice level by adding a bit more apricot jam, which I did in the beginning when the kids were younger, or by using less gochugaru.
How do you store fresh kimchi?
I use glass containers such as Mason jars or Weck jars so the kimchi doesn't stain the container. It should be an airtight container too so the smell (cabbage smell) doesn't permeate the refrigerator.
How long does fresh kimchi last?
Fresh kimchi should be eaten when it's fresh, but with proper storage, you can keep it in your refrigerator for about a week. I have eaten fresh kimchi that past one week. Having said that, it really is best to enjoy it within a week.
Can I use this fresh kimchi in your recipes that use kimchi?
Sure, you can. Although pungent fermented kimchi gives way more flavor, I understand that not everyone enjoys it. In that sense, you can definitely use this fresh kimchi.
What Dishes to Serve with Fresh Kimchi
In Korea, fresh kimchi is often being served with Korean BBQ or savory noodles like kalguksu (knife-cut noodle soup), sujebi (hand torn noodle soup), and seoleongtang (oxtail soup). But it certainly makes a fine side dish all on its own to go with any Asian meal. Here are some of our favorite Korean recipes that I serve with fresh kimchi:
Tableware from Musubi Kiln
I've partnered with a great ceramic online shop from Japan called Musubi Kiln. You will get 10% off with a coupon code JUSTONECOOKBOOK for your purchase. In this post, I've used: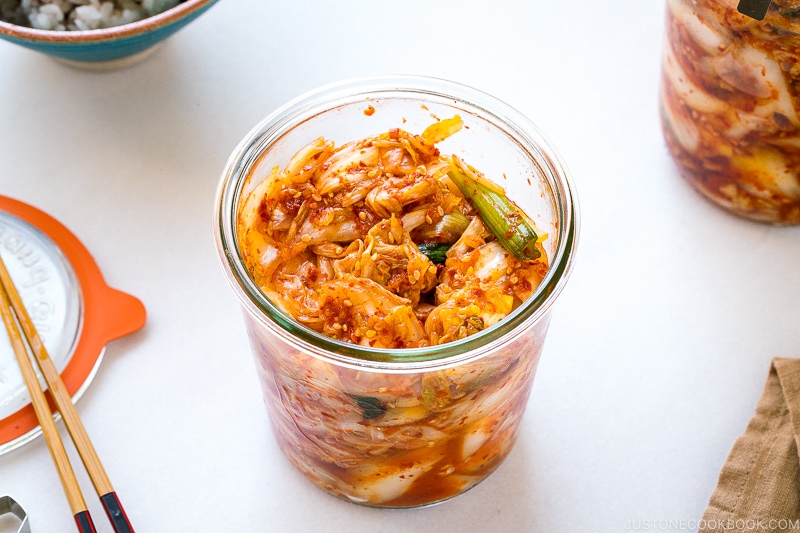 Wish to learn more about Japanese cooking? Sign up for our free newsletter to receive cooking tips & recipe updates! And stay in touch with me on Facebook, Pinterest, YouTube, and Instagram.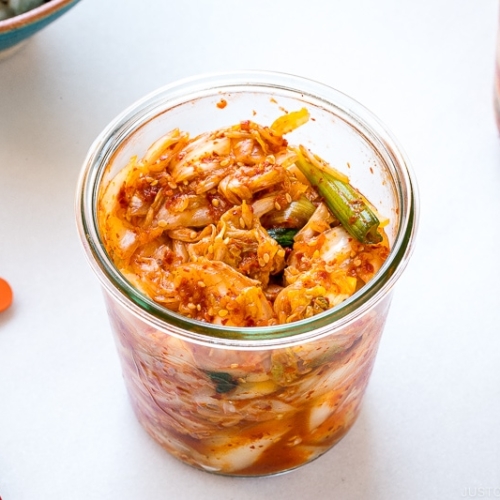 Quick Korean Fresh Kimchi
Make this quick and easy Korean Fresh Kimchi recipe that's meant to be eaten right away, without fermentation! It's less pungent than regular kimchi and makes a refreshing side dish to serve with any Asian meal.
Video
Japanese Ingredient Substitution:
If you want substitutes for Japanese condiments and ingredients, click
here
.
Instructions
Gather all the ingredients.
To Make the Salted Napa Cabbage
Mix

2 cups water

and

⅓ cup coarse sea salt

until the salt has dissolved.

Cut

2½ lb napa cabbage

into quarters. Then, cut off and discard the tough core at the stem end of the cabbage quarters.

Remove the small and tender yellow leaves from the center and transfer them to a large bowl. Then, cut each quarter into 1-inch (2.5-cm) pieces that are about 3 inches (7.5 cm) at their widest part. They don't need to be uniform in size; actually, uneven-sized pieces are better for the kimchi's texture.

Put the napa cabbage pieces into the large bowl. Pour the prepared salted water over the cabbage. Toss to mix well and press down on the cabbage as much as possible. Let it soak for 40 minutes.

Halfway through (after 20 minutes), toss so that the cabbage pieces at the top of the bowl are now at the bottom. We want all the cabbage to soak evenly in the salted water. Press down and soak for another 20 minutes.

After 40 minutes, you can see that the salted water has drawn out the liquid from the cabbage. Now, drain the salted cabbage.

Rinse under cold running water for about 1 minute to get rid of the excess salt (you may see some dirt since this is the first time you're rinsing the cabbage). Drain completely for about 5 minutes.
To Make the Kimchi Paste
Meanwhile, make the kimchi paste. Cut

3 green onions/scallions

in half lengthwise, then cut into pieces about 1 inch (2.5 cm) long. Put them into a large bowl.

Mince or press

5 cloves garlic

(I use my garlic press to crush them). Add the garlic,

4 Tbsp gochugaru (Korean pepper flakes)

,

2 Tbsp fish sauce

,

2 Tbsp apricot jam

, and

1 Tbsp toasted white sesame seeds

.

Mix it all together and set it aside.
To Make the Fresh Kimchi
Mix the well-drained napa cabbage and the kimchi paste together with your hand (I wear a plastic glove). Mix with gentle pressure and squeeze the cabbage so that it absorbs the color and flavor of the kimchi paste very well. Transfer to a serving plate and serve immediately with an extra sprinkling of sesame seeds.
To Store
Keep the fresh kimchi in airtight containers (I use

2

Weck jars, 850 ml and 580 ml) and store in the refrigerator for up to 7 days.
Notes
Disclaimer: This Fresh Kimchi is my friend Seonkyong Longest's recipe. She kindly granted me permission to share it on my website. 
Nutrition
Nutrition Facts
Quick Korean Fresh Kimchi
Amount per Serving
% Daily Value*
* Percent Daily Values are based on a 2000 calorie diet.
©JustOneCookbook.com Content and photographs are copyright protected. Sharing of this recipe is both encouraged and appreciated. Copying and/or pasting full recipes to any website or social media is strictly prohibited. Please view my photo use policy
here
.