Cultivated and eaten in many parts of East Asia, Napa cabbage, or hakusai, is a versatile cabbage used in soups, stews, stir-fries, gyoza fillings, salads, and more.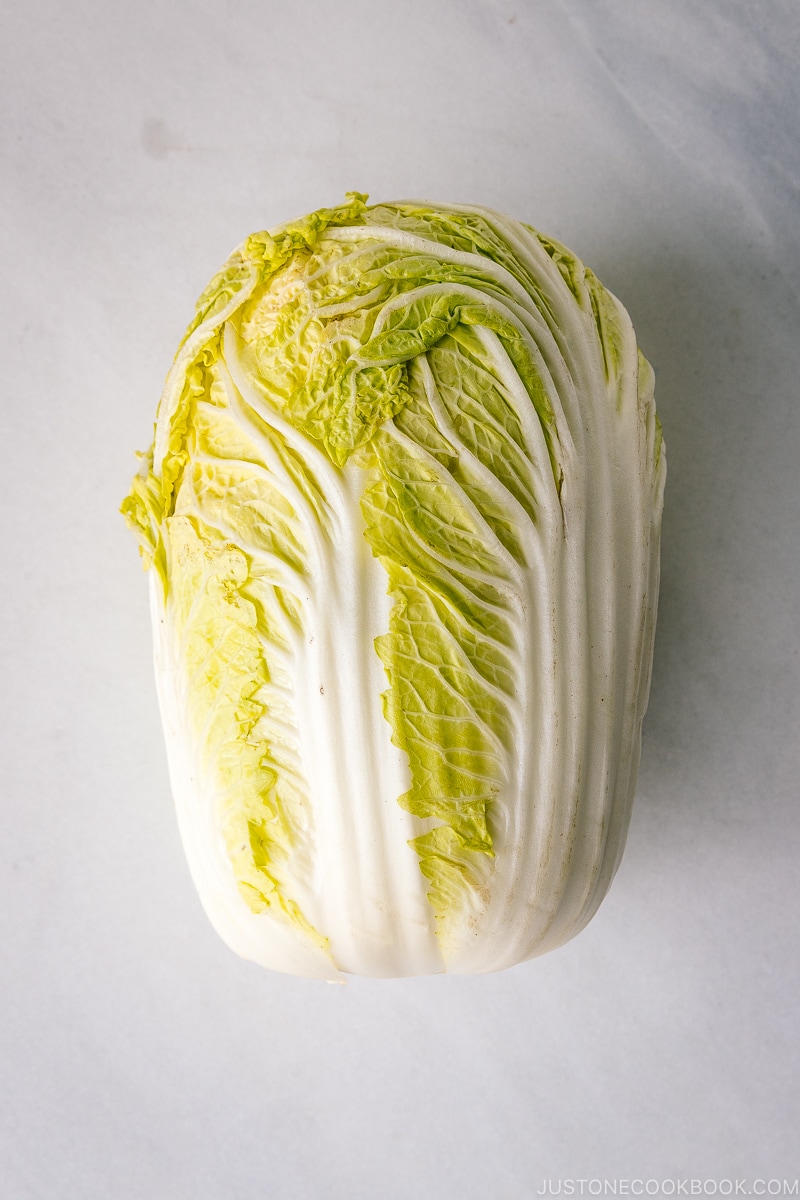 Oblong-shaped with densely packed leaves, Napa cabbage is eaten across East Asia. Other names include Chinese white cabbage, wombok, and celery cabbage. The crinkly leaves are pale green with bright white ribs. It's mildly sweet and soaks up any sauce or seasoning. It's native to China and was introduced to Japan in the late 19th century. The term "napa cabbage" actually originates from Japanese, where "nappa" (菜っ葉) is a colloquial term for leafy greens.
What Is Napa Cabbage
Napa cabbage (scientific name Brassica rapa, variety pekinensis) is a variety of Chinese cabbage that belongs to the Brassicaceae family. It's a large-headed cabbage that's heavy and bulky. While in the same family as cauliflower and Brussels sprouts, it's related to bok choy. Native to China, it is an indispensable vegetable in many East Asian cuisines. It's an essential ingredient widely used, both cooked and raw, from kimchi, gyoza fillings, noodle toppings, hot pot, etc.
It's highly resistant to cold weather and available year-round, making it a treasured crop, especially in northeastern Asia. It also tends to be inexpensive and nutritious and can be used to bulk up a dish.
The Japanese use it in gyoza dumplings, hot pot dishes, and various side dishes.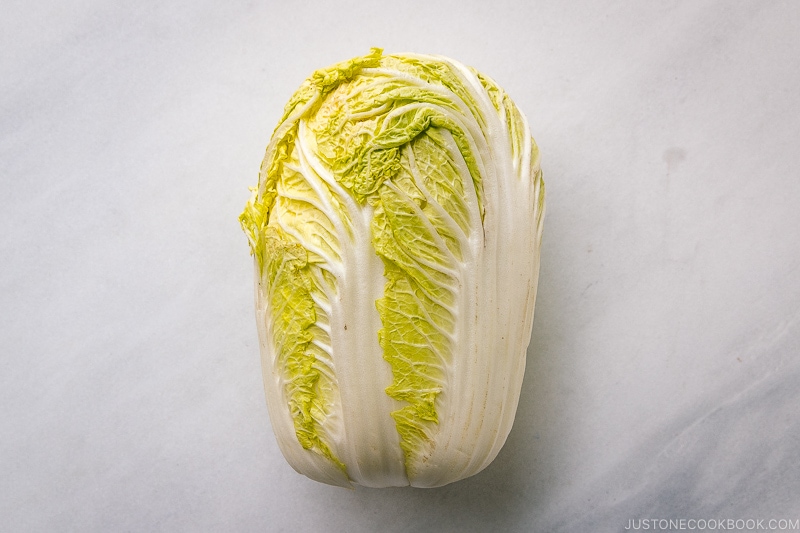 What Does It Taste Like
Napa cabbage has a mild flavor and won't interfere with other assertive flavors. The fibrous stem is crunchy and succulent with a slight bite, and the ruffled leaves cook quickly.
How To Use
Napa cabbage is a highly versatile green that can be eaten raw in salads/slaws or cooked. It'll add a pleasant, crunchy texture to any salad. When cooked, it'll soften and absorb other flavors and juices.
As the stem takes longer to cook than the leaves, it's best to separate the stem and leaves, then cut into thick or thin strips as you like. It will release water as it cooks, so cook out or drain the liquid to avoid sogginess.
The mild flavor pairs well with fresh herbs, spices, garlic, broth, soy sauce, and butter. Feel free to think beyond the realm of Asian cuisine when using it!
Where To Buy
These days, you can find Napa cabbage at most supermarkets. If not, you will find it at Asian and Japanese grocery stores.
How To Choose The Best
Look for medium-sized heads that are dense with firm stems and fresh light-green leaves. Check for blemishes, black dots, or limp-looking leaves.
How To Store
Store whole Napa cabbage by wrapping it with paper towels and newspaper to prevent the leaves from drying. Store it upright in the refrigerator or a cool place away from humidity and sunlight. It can last three to four weeks if stored properly.
Remove the stem for halved or quartered Napa cabbage, as this part spoils first. Wrap in plastic wrap and use up within a week.
You can keep cut leaves in a ziplock bag and store the bags in the refrigerator or freezer. If stored in the fridge, use it within three days. If stored in the freezer, use it within a month.
Substitutions
Swap for similar Asian greens such as bok choy, tatsoi, komatsuna, or gai lan (Chinese broccoli). You could also substitute with green cabbage, although it may require a longer cooking time as the leaves are thicker.
As it cooks quickly and tastes mild, sturdier greens with a bitter flavor, like kale, chard, and collard greens, may not be a great substitute.
Health Benefits
Napa cabbage is abundant in folic acids and dietary fiber, low in calories, and with no cholesterol. It contains vitamins B, C, and K and minerals such as copper, iron, calcium, and manganese. It's also a source of antioxidants, believed to reduce cholesterol levels, stabilize blood sugar, and protect against free radicals and some diseases.
FAQs
Q: Are Napa cabbage and Chinese cabbage the same?
Napa cabbage is a type of Chinese cabbage. Confusingly, the term "Chinese cabbage" refers to two different types of leafy vegetables Pekinensis (AKA napa cabbage) and Chinensis (AKA bok choy).
Recipes Using Napa Cabbage
---
Wish to learn more about Japanese cooking? Sign up for our free newsletter to receive cooking tips & recipe updates! And stay in touch with me on Facebook, Pinterest, YouTube, and Instagram.