Japanese hot pots are satisfying, warm meals that you and your family treasure during the cold-weather months. Today's recipe is Mille-Feuille Nabe, one of the most popular hot pot recipes enjoyed at home in Japan.
Mille-Feuille Nabe (ミルフィーユ鍋, 重ね鍋) is a simple Japanese hot pot that is made with napa cabbage and pork belly slices cooked in a savory dashi broth. Why is the French word "mille-feuille" used in a Japanese dish? So strange right? Well, let me introduce this easy and delicious hot pot dish to you and explain the story behind the name.
What is Mille-Feuille Nabe?
In French, "Mille-feuille" means a thousand leaves and typically refers to the classic French pastry that consists of three layers of thin puff pastry with two layers of cream filling and topped with a sprinkling of powdered sugar. This dessert is sometimes called Napoleon as well.
By Georges Seguin [GFDL or CC BY-SA 3.0], via Wikimedia Commons
So Mille-Feuille in this recipe is the "thousand layers" of cabbage leaves and pork belly slices and Nabe means a hot pot dish in Japanese.
There are about three theories of how Mille-Feuille Nabe was introduced to Japan. The recipe first appeared in a cookbook back in 1991. Since then it became one of the most popular hot pot recipes enjoyed at home in Japan.
Mille-Feuille Nabe is very visually appealing, and the best part about the hot pot is it requires just a few ingredients compared to Shabu Shabu or Sukiyaki, and it tastes equally delicious!
It's also a great party menu during the cold months. You can prepare everything ahead of time and cook the hot pot right after your guests arrive.
3 Important Ingredients for Mille-Feuille Nabe
You can make the layers and soup base with any ingredients you prefer, but the basic and authentic Mille-Feuille Nabe is always made with 3 ingredients.
napa cabbage
pork belly slices
dashi broth
Since the pork belly is the fattier part of the meat, a simple dashi broth is a perfect match for this dish. The flavors from the meat, veggie, and broth come together nicely for an amazing umami flavor. It is incredible how these simple ingredients can offer such harmonious taste!
3 Important Tips for Making Mille-Feuille Nabe
The most important thing when making this nabe is to pack the layers tightly! When the napa cabbage is being cooked, it releases water and shrinks. As a result, the layers get loosen during the cooking process. Therefore, before you start cooking, you want to make sure the layers are packed very tightly and all the ingredients are not moving around.
I put thick outer layers of napa cabbage near the wall of the pot, and a soft leafy part toward the center. Use one hand to hold the layers in the pot, and use the other hand to keep adding the layers. It's okay if the layers get loose and slip. You can start fixing the layers when you put more in the pot to bunch them up against one another.
Some people start packing layers from outer layers while some do it from the center. It's really up to you, but I like to pack from outside toward the center. This way when I run out of napa cabbage before the pot is full, I can still use my "backup plan".
The Backup Plan When Running Out of Napa Cabbage
The goal is to fill up the pot with the layers till the center, however, if you're making this dish for the first time, it could be difficult to estimate the amount of napa cabbage you will need for the pot.
For that reason, I recommend buying shimeji mushrooms or enoki mushrooms as a backup filler. Just in case when you run out of layers of napa cabbage and pork belly, you can stuff the empty space in the center with these mushrooms. As they have a more neutral taste, they won't affect the flavors of the dish too much.
When you're an expert in making this dish, you can add other ingredients like meatballs or fish balls, but let's stick with the basics today.
The Finale of Hot Pot – "Shime"
Toward the end of the hot pot when most of the ingredients are consumed, you are left with the umami-packed soup. Don't throw it away!
The remaining soup can be enjoyed with a serving of steamed rice or noodles. This last dish is called Shime (〆, しめ) in Japanese.
I like adding Chuka Noodles (ramen noodles) but my kids would always vote for udon when we're having hot pot. Mr. JOC likes to add rice with the soup to make Zosui (Japanese Rice Soup). When the rice absorbs the broth, drizzle in beaten egg and cover to cook a few minutes. Season with salt and white pepper and sprinkle with some green onion. It is so yummy!
Since the soup absorbs the flavors from the ingredients, it's amazingly delicious. You can eat a small portion at the end, so don't miss the finale of the hot pot even when you're full.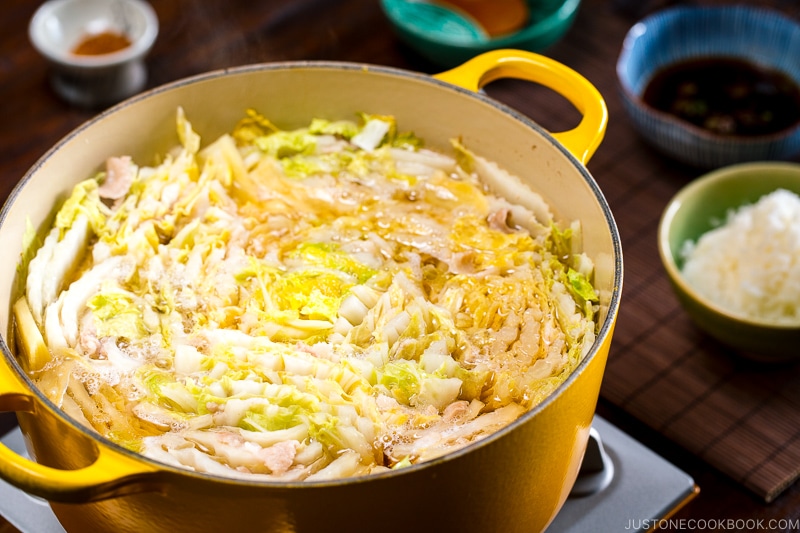 Wish to learn more about Japanese cooking? Sign up for our free newsletter to receive cooking tips & recipe updates! And stay in touch with me on Facebook, Pinterest, YouTube, and Instagram.
Mille-Feuille Nabe
Japanese hot pots are satisfying, warm meals that you and your family treasure during the cold-weather months. Today's recipe is Mille-Feuille Nabe, one of the most popular hot pot recipes enjoyed at home in Japan.
Ingredients
1

napa cabbage

(6 lbs, 2.7 kg)

1 ½

lb

sliced pork belly (You can buy a block of pork belly and slice your own (see the tutorial here). See Notes. This is NOT bacon – bacon is cured sliced pork belly, so if you use bacon for this recipe, the dish will become salty.)
Japanese Ingredient Substitution:
If you want substitutes for Japanese condiments and ingredients, click
here
.
Instructions
Gather all the ingredients.

Slice the ginger and thinly cut green onion/scallion. Keep the ginger on the side and put the green onion in a small serving bowl.

Cut the napa cabbage into quarters lengthwise. Without cutting the edge, wash the leaves carefully and drain well. Don't throw away the leaves that naturally came off while rinsing. We'll use these leaves later on.

Place each slice of pork belly between the napa cabbage leaves. If you have extra pork belly, you can put an additional slice in outer layers which have wide leaves. If the pork belly is too long for the napa cabbage, you can trim with a kitchen shear and place it in other parts of the napa cabbage.

Once the pork belly slices are nicely tucked in, cut the napa cabbage into 3-4 pieces, about 2 to 2 ½ inches (5-6 cm).

Start packing the layers of napa cabbage/pork belly from the outer edges of donabe (or hot pot or regular pot) and work your way towards the center. The napa cabbage/pork belly layers should be packed tightly as they become loose once it starts cooking.

If you don't have enough layers, you might want to consider a smaller pot (remember the size of your napa cabbage and proportional pot size you used for next time) or place other ingredients in the center. Here I stuffed the center with napa cabbage leaves that came off while rinsing and cutting the napa cabbage. You can also put enoki mushrooms or shimeji mushrooms in the center.

Combine the soup ingredients (5 cups dashi, 2 Tbsp sake, 1 Tbsp soy sauce, slices of 1-inch ginger, and ½ tsp kosher salt). Don't cut down on the salt as napa cabbage releases liquid when it's being cooked and will dilute the soup a little bit.

Pour the soup into the pot and start cooking on high heat. Once boiling, skim the foam and fat on the surface. Then reduce the heat to medium-low heat and cook until napa cabbage is tender and pork belly is cooked through, roughly 8-10 minutes.

Serve hot with ponzu, green onion/scallion, and shichimi togarashi (Japanese seven spice).

To Store
You can keep the leftovers in an airtight container and store in the refrigerator for up to 3 days or in the freezer for a month.
Notes
Pork belly slices or blocks can be purchased in Asian grocery stores (especially Japanese, Korean, and Chinese). Some American grocery stores with a good meat section (where butchers work behind the counter) carry pork belly, but usually, they keep it in the freezer so you have to ask for it. If your pork belly has skin/rind, you will have to ask the butcher to remove it.
Equipment
A large pot (size: 10"/26 cm)
Nutrition
Calories:
137
kcal
·
Carbohydrates:
9
g
·
Protein:
5
g
·
Fat:
9
g
·
Saturated Fat:
3
g
·
Polyunsaturated Fat:
1
g
·
Monounsaturated Fat:
4
g
·
Cholesterol:
12
mg
·
Sodium:
300
mg
·
Potassium:
591
mg
·
Fiber:
3
g
·
Sugar:
3
g
·
Vitamin A:
747
IU
·
Vitamin C:
61
mg
·
Calcium:
178
mg
·
Iron:
1
mg
©JustOneCookbook.com Content and photographs are copyright protected. Sharing of this recipe is both encouraged and appreciated. Copying and/or pasting full recipes to any website or social media is strictly prohibited. Please view my photo use policy
here
.