Cozy up at your next get-together with friends and family with this homemade Japanese Sukiyaki recipe. Served with seared marbled beef and a variety of vegetables cooked in a soy sauce broth, it makes a heart-warming meal to share at the table!
Sukiyaki (すき焼き) is a popular Japanese hot pot dish which is often cooked and served at the table, similar to Shabu Shabu (しゃぶしゃぶ).
What's Sukiyaki?
If you are familiar with the Japanese hot pot dish, you have probably heard of Shabu Shabu. With Shabu Shabu, you cook thinly sliced beef and pork in a clear kombu-based broth. The flavor is subtle and you dip the food in a ponzu or sesame-based sauce.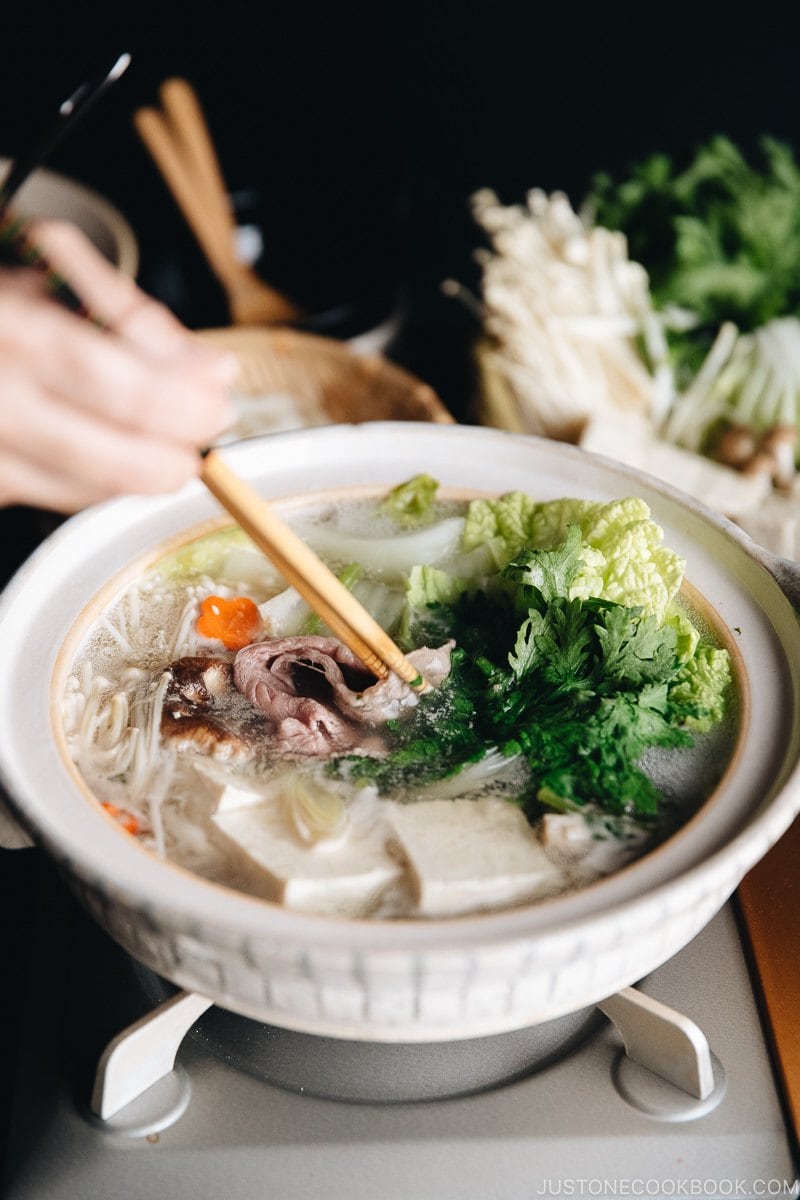 Sukiyaki is completely different; the food is cooked in a sweet and salty soy sauce-based broth and full of bold flavors straight from the pot.
Besides the broth, the pot used to cook sukiyaki is also quite different from Shabu Shabu. Traditionally it is cooked in a cast-iron pot while Shabu Shabu is cooked in a Japanese clay pot called donabe (土鍋), and the thinly sliced beef (but slightly thicker than Shabu Shabu meat) are seared first in the pot before adding ingredients and broth.
Despite having a different flavor and cooking pot, most Sukiyaki ingredients are similar to Shabu Shabu, such as leafy vegetables, tofu, shiitake mushroom, and so on.
Kansai Style vs. Kanto Style
As my mom's side of the family is from Osaka (Kansai) and my dad's side is from Tokyo (Kanto), my sukiyaki recipe is a combination of both Kansai style and Kanto style.
In Kansai (Osaka) area, we sear the meat and season with sugar, soy sauce, and sake. Then we enjoy some of the meat first before the rest of the ingredients are added to the pot. However in the Kanto (Tokyo) area, we make Sukiyaki Sauce (Warishita, 割り下) first, and all the ingredients are cooked at the same time in the Sukiyaki Sauce.
Sukiyaki Beef
For the sliced beef, if you shop at Japanese grocery stores, look in the meat section. There is usually pre-sliced beef, and they are specifically labeled as beef for Shabu Shabu or Sukiyaki.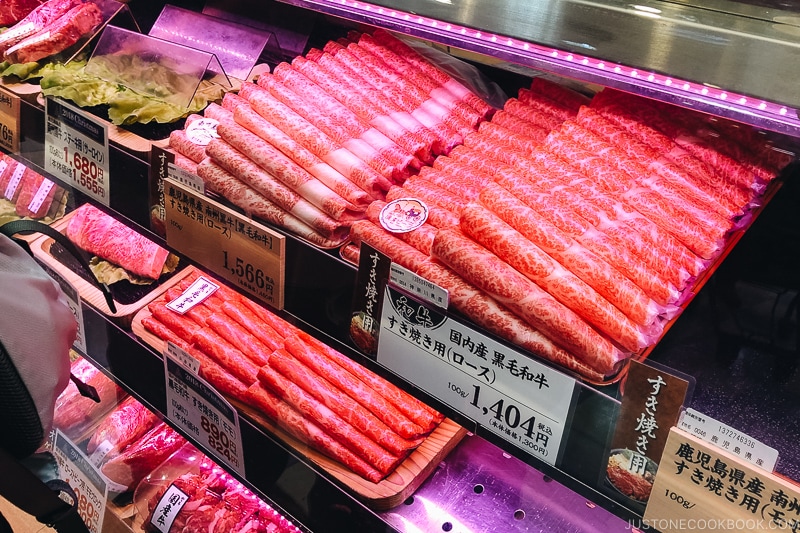 The Japanese like to splurge and enjoy really good quality meat for both Sukiyaki and Shabu Shabu. Wagyu (beef from cows raised in Japan) is very expensive ($40/lb), so typically each person only enjoys about 120-150 grams of sliced meat.
When you shop for the meat, find a well-marbled piece of meat so that fat of the meat becomes tender when you eat. Otherwise, it'll very chewy after being cooked.
If you can't find pre-sliced beef, you can try slicing the beef chuck at your home. Follow my directions and tricks on How To Slice Meat.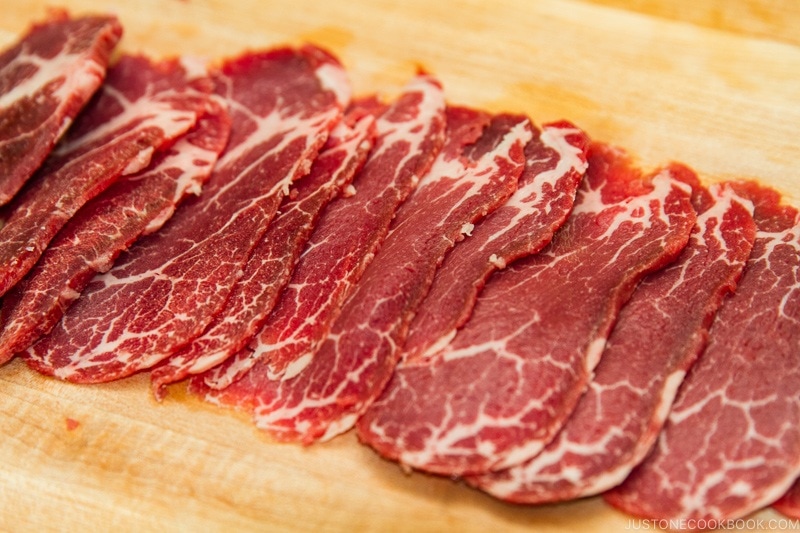 Substitutions of ingredients for Sukiyaki
Some of the ingredients we put in Sukiyaki (or Shabu Shabu) like napa cabbage and shungiku may not be easy to find in where you live. If so, use available mushrooms and leafy vegetables such as cabbage, spinach, and bok choy.
You can substitute Leeks and scallions/green onions for Tokyo Negi. Instead of shirataki noodles (yam noodles), you can use vermicelli.
Cooking at Dining Table
Sukiyaki is usually cooked over a portable stove at the dining table and each person uses their own chopsticks to pick up the ingredients from the pot and add more ingredients as the food disappears from the pot.
It's a fun dinner for family and friends' get-together, and not to mention, all you have to do is to chop ingredients before dinner time!
How to Eat Sukiyaki the "Authentic" Way
I am a bit hesitant and actually slightly reluctant to talk about the "authentic" way the Japanese enjoy Sukiyaki as some of you may not find it appetizing. However, I do want to let you know in case you end up enjoying this dish in Japan and you won't get caught off guard.
So, in Japan, a lot of people dip the cooked ingredients in raw eggs. I know, I can almost hear "eww" from some of my readers but that's the fact. I actually recommend you try if you are in Japan where eggs are sometimes safe to consume raw. The sweetness from raw egg coats well with salty vegetables and meat and it balances out the flavors very well.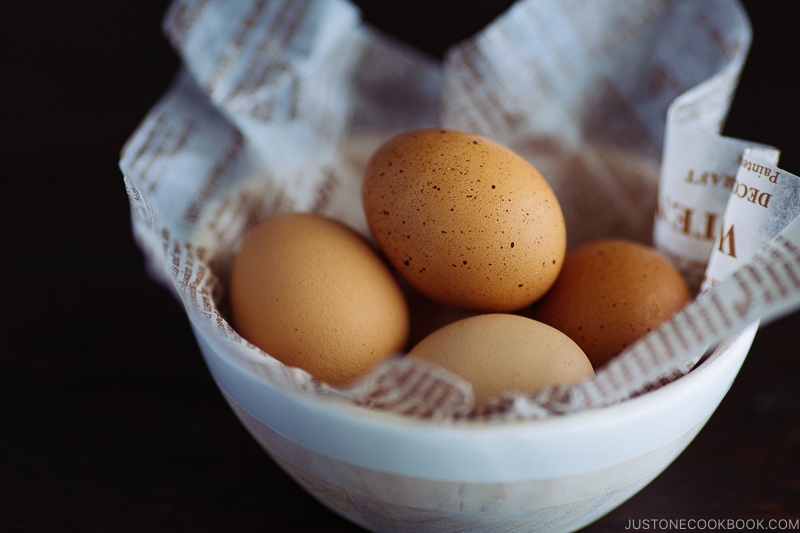 Here in the U.S., raw eggs are not safe to eat, so purchase pasteurized eggs (they are actually hard to find) or you can pasteurize your eggs at home using the sous-vide method.
I hope you enjoy making my Sukiyaki recipe!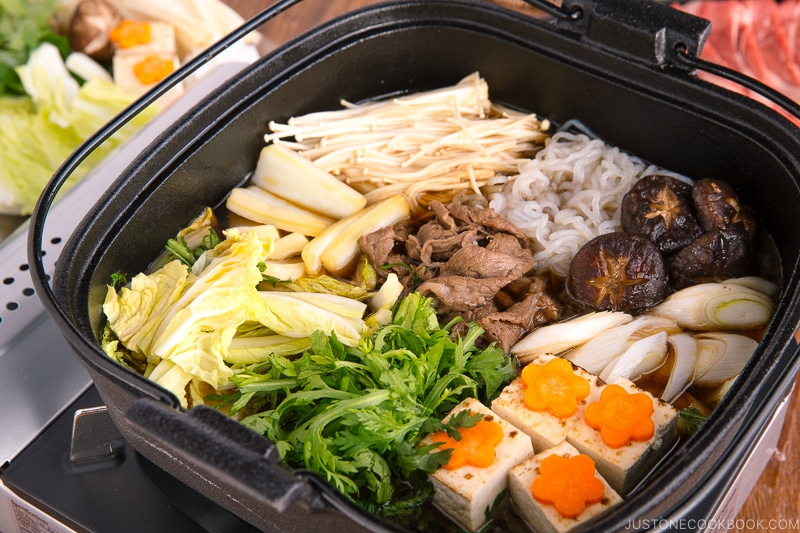 Sign up for the free Just One Cookbook newsletter delivered to your inbox! And stay in touch with me on Facebook, Pinterest, YouTube, and Instagram for all the latest updates.
Sukiyaki
Cozy up at your next get-together with friends and family with this homemade Japanese Sukiyaki recipe, served with seared marbled beef and a variety of vegetables cooked in a soy sauce broth.
Video
Ingredients
For the Sukiyaki Ingredients
For Cooking
1

Tbsp

neutral-flavored oil (vegetable, rice bran, canola, etc.)

(or suet, if your sukiyaki beef package comes with it)

1

Tbsp

brown sugar

(we use it for the first batch of meat)

1-1½

cup

dashi (Japanese soup stock; click to learn more)

(or water; to dilute the sauce)
Japanese Ingredient Substitution:
If you want substitutes for Japanese condiments and ingredients, click
here
.
Instructions
Gather all the ingredients.
To Make the Sukiyaki Sauce
Combine the sake, mirin, sugar, and soy sauce in a small saucepan and bring it to a boil. Once boiling, turn off the heat and set it aside. This Sukiyaki Sauce can be stored in an airtight container in the refrigerator for up to a month.
To Prepare the Ingredients
If your udon noodles are frozen or parboiled, blanch them in boiling water until loosened. If using dry udon noodles, cook them according to the package directions. In either case, remove the cooked udon from the heat, drain, and soak in iced water to stop the cooking. Drain, transfer to a plate, and cover with plastic. You will not need it until the end of the sukiyaki meal.

Prepare the sukiyaki ingredients. Cut the napa cabbage 2 inches (5 cm) wide, then cut the pieces in half down along the thick white center of the leaves.

Cut the shungiku 2 inches (5 cm) wide and slice the Tokyo negi diagonally. Discard the bottom part of the enoki bunch and tear it into smaller bundles.

Discard the shiitake stems and make decorative cuts in the shiitake caps if you'd like

Cut the tofu into smaller pieces (I usually cut it into 6-8 pieces).

If you'd like, you can slice some carrots and then stamp them with a vegetable cutter into a floral shape for decoration.

Rinse and drain the shirataki noodles. Put all the ingredients on one big platter for the table.
To Cook the Sukiyaki
Set a portable gas cooktop at the dining table. Each person should have a medium-sized bowl where they can transfer the cooked food from the pot. Heat a cast-iron sukiyaki pot (or any pot) on medium heat. When it's hot, add 1 Tbsp cooking oil (or the suet).

Place 2-4 slices of well-marbled beef in the pot to sear and sprinkle 1 Tbsp brown sugar on top. Flip and cook the other side of the meat. I recommend that you pour a little bit of the sukiyaki sauce over the meat and enjoy some (or all) of the sweet and caramelized meat now to consume this good-quality beef at its best. Or you can leave the meat in the pot and continue to the next step.
The First Round of Sukiyaki
Pour half of the sukiyaki sauce you made (1⅓ cups) and 1 cup dashi (or water) into the pot.

Add the vegetables, tofu, and other ingredients to the pot (keep the udon for later). The ingredients should be partially submerged in the broth, about two-thirds of the way; add more sauce or dashi (or water) if necessary. Put the lid on and bring it to a gentle boil. Once boiling, turn down the heat and simmer until the ingredients are cooked through. At this point, you can add more beef, as it cooks fast. Transfer the cooked ingredients to the individual bowls and enjoy the first round of sukiyaki. If the cooking broth gets too salty due to evaporation, add more dashi (or water) to dilute. If the vegetables have diluted the broth too much, then add more sauce.
The Second/Third Round of Sukiyaki (Optional)
When there is less cooked food in the pot, divide the leftovers into the individual bowls. Then start cooking the second round by adding more ingredients to the pot (repeat the previous step). While the second round of sukiyaki is cooking, you can enjoy eating the second portion from the first round or any side dishes. Cook a third round of sukiyaki to finish any uncooked ingredients that remain.
To End the Meal
We usually end the sukiyaki meal with udon. When most of the ingredients have disappeared, add the prepared udon to the remaining broth in the pot. Cook until heated through and enjoy.
To Store
You can keep the leftovers in an airtight container and store in the refrigerator for up to 3 days or in the freezer for a month. Tofu does not freeze well, so remove it before freezing the leftovers.
Notes
How to Enjoy Sukiyaki in Japan: As I mentioned in the blog post, we prepare an egg for each person at the table. Everyone cracks their own egg in their own small bowl, beats it, and dips the cooked ingredients in the egg to enjoy. The salty and savory sukiyaki ingredients become mild and sweet after dipping in the egg. Here in the US, raw eggs are not recommended for consumption, so I don't recommend doing so. When you get a chance in Japan, please try this traditional way to enjoy sukiyaki. 
Cooking Pot: You can cook Sukiyaki in a large pan or a cast-iron sukiyaki pan (here's one and another one with a lid on Amazon).
Nutrition
Calories:
608
kcal
·
Carbohydrates:
53
g
·
Protein:
41
g
·
Fat:
21
g
·
Saturated Fat:
8
g
·
Polyunsaturated Fat:
3
g
·
Monounsaturated Fat:
9
g
·
Trans Fat:
1
g
·
Cholesterol:
69
mg
·
Sodium:
1219
mg
·
Potassium:
1430
mg
·
Fiber:
8
g
·
Sugar:
15
g
·
Vitamin A:
942
IU
·
Vitamin C:
60
mg
·
Calcium:
258
mg
·
Iron:
6
mg
©JustOneCookbook.com Content and photographs are copyright protected. Sharing of this recipe is both encouraged and appreciated. Copying and/or pasting full recipes to any website or social media is strictly prohibited. Please view my photo use policy
here
.