Buri Daikon (Simmered Yellowtail and Daikon) is a classic Japanese wintertime favorite when both ingredients are in season and at their freshest. Cooked gently in a soy-infused broth, the homey flavors are utterly comforting!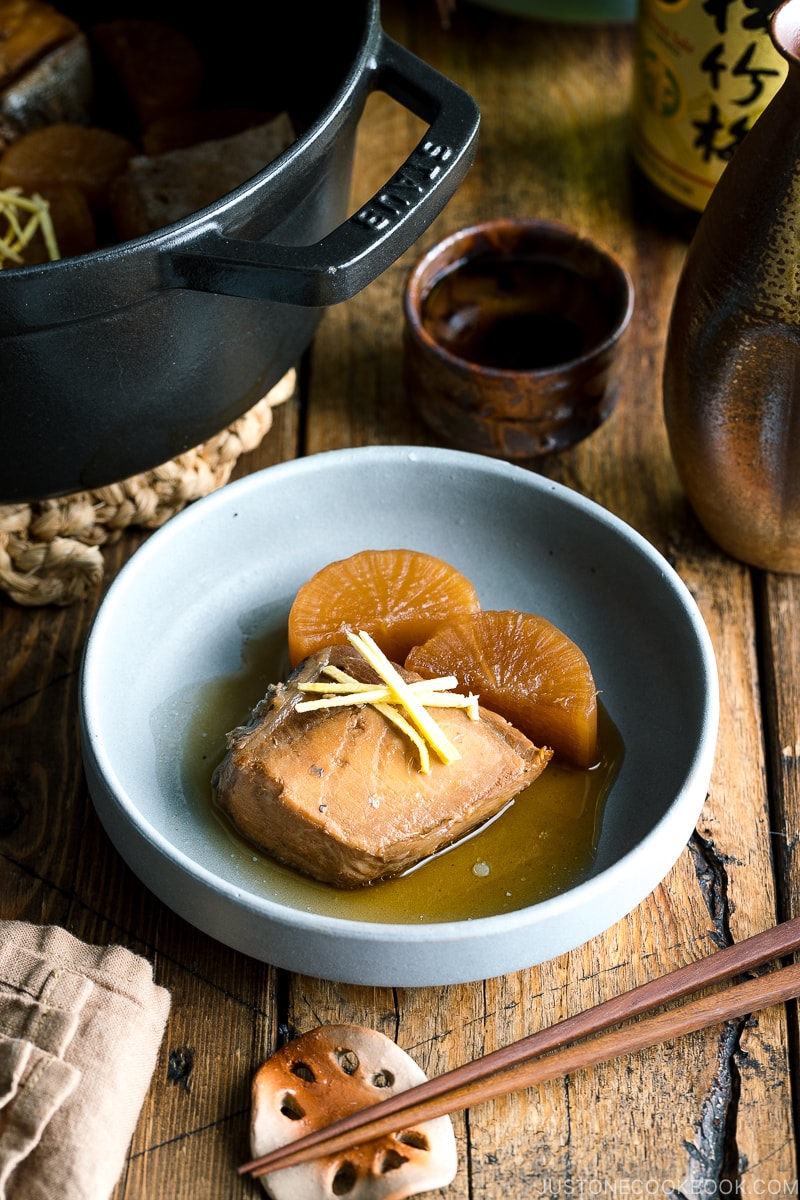 Living in California with a mild climate year round, I sometimes forget that instinctual desire to eat seasonal dishes that are truly special in Japan. So I am thankful when readers send in their requests and remind me of a specific food that I have not made for quite some time.
Today I'm sharing one of my old winter favorites, Buri Daikon (ブリ大根), or Simmered Yellowtail and Daikon.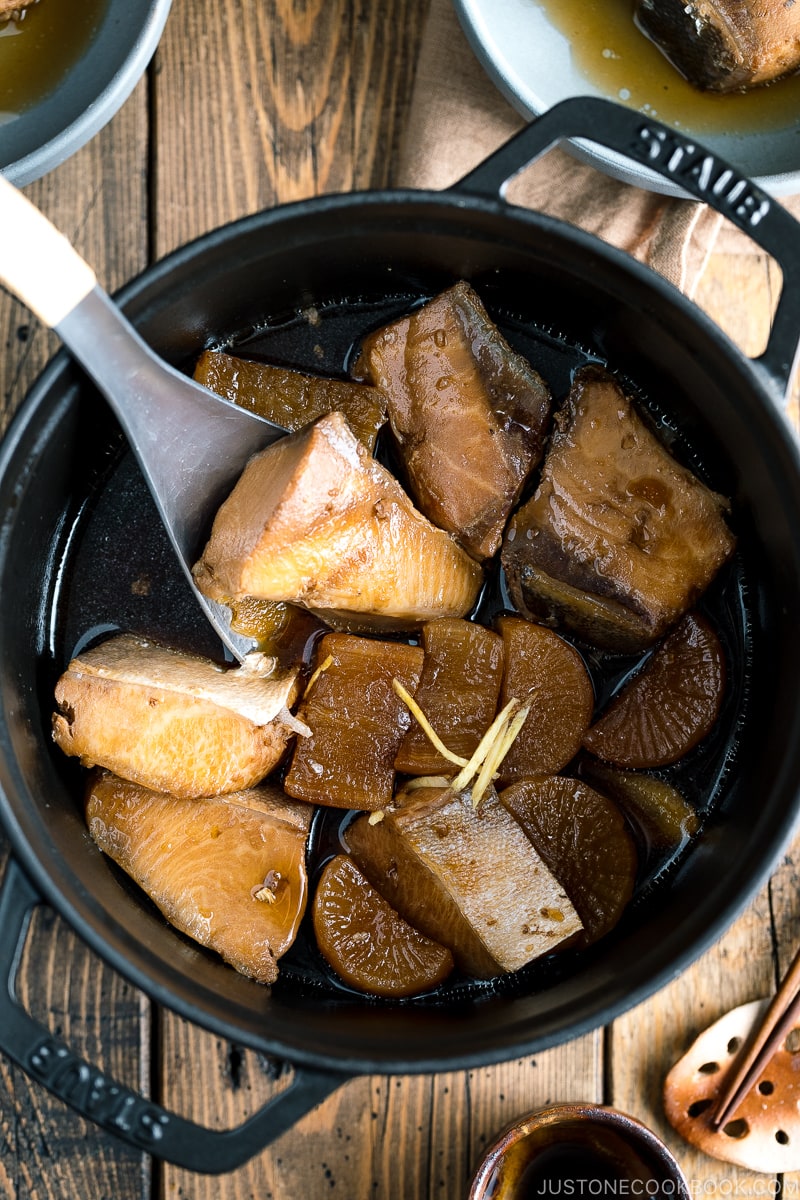 What is Buri Daikon
Buri Daikon (ブリ大根) is a simmered dish featuring yellowtail and daikon. Both ingredients are in season during the cold months. The combination of tasty, fatty yellowtail and juicy, sweet daikon radish works amazingly well in soy-infused broth.
This classic dish represents the taste of Japanese home cooking. With fresh, seasonal ingredients, it's easy to achieve perfectly cooked dish.
Quick Overview of The Dish
Flavor: Just like most typical simmered foods, Buri Daikon is seasoned with soy sauce, sake, mirin, and sugar. One major difference is that it does not use dashi (Japanese soup stock). Since yellowtail already packs in a lot of deep flavor, we can keep the broth simple.
Ease: Before simmering the yellowtail and daikon, there are a few necessary steps involved. They enforce a clean, delicate taste of the final dish. More about it later.
Simmering: The actual simmering time takes only 15-20 minutes. But we'll let the dish cool down slowly so it develops an enhanced and richer taste.
Learn about Buri (Yellowtail)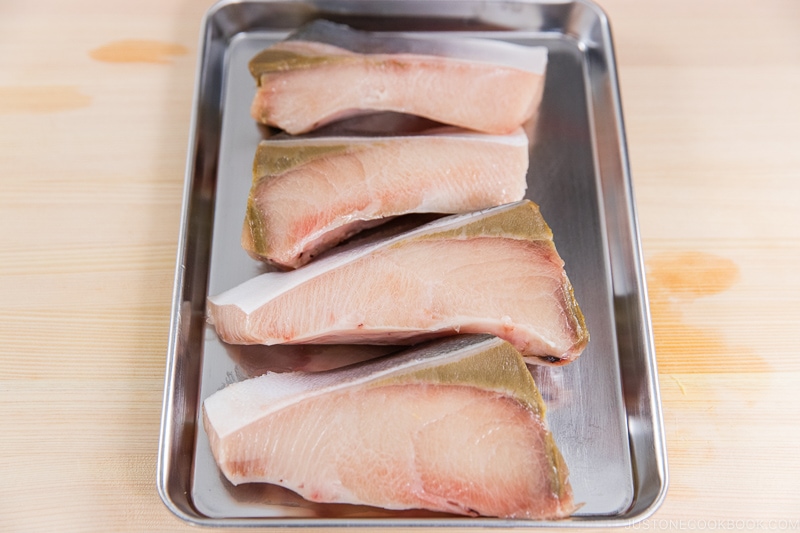 The Japanese love seafood, so we can get very serious and detailed with our naming. A good example is a yellowtail – a fish that changes names as it grows!
Traditionally, there were different names for wild yellowtail, according to size and age, and to make things more complicated, there were also different names between Tokyo and Osaka.
Age (Length) – Tokyo Name / Osaka Name
6 months (10 cm) – Wakashi / Tsubasu
1 year (30 cm) – Inada / Hamachi
3 years (60 cm) – Warasa / Mejiro
4 years (90 cm) – Buri / Buri
These days it's even more confusing as the Japanese differentiate yellowtail by:
Farm (small) – Hamachi (fatty with soft muscles due to less movement and lighter colored flesh)
Wild (small) – Hamachi (firmer flesh and darker color)
Wild (large) – Buri
When you're eating out or shopping, remember the yellowtail "Hamachi" used for sushi and sashimi in the US and Japan is farmed. The larger, older, wild yellowtail "Buri" is caught in the fall in the Japan Sea.
During fall/winter time in Japan, seasonal Buri is called Kanburi (寒鰤) and it is nice and fatty, and has so much flavor.
Substitutions for Yellowtail (Buri)
For those who can't get yellowtail (hamachi/buri) locally, here are my suggestion for substations. Make sure to use fillets with skin-on so that the fish will not disintegrate while cooking.
Amberjack
Cod
Flounder/Sole
Japanese butterfish
Mackerel
Salmon
Sea bream
Learn about Daikon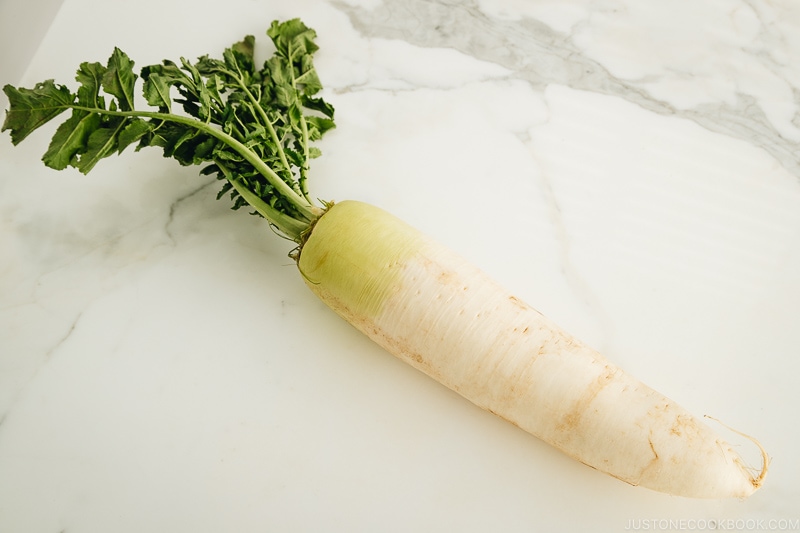 Daikon or daikon radish is a widely-used root vegetable in Japanese cooking. This winter vegetable is characterized by its long white root and green leaves on top, resembling a pale chunky carrot.
In the US, you can find daikon being sold at Japanese or Asian grocery stores, or any well-stocked major grocery stores like Whole Foods or Walmart.
Interested to learn more? Visit our Pantry page.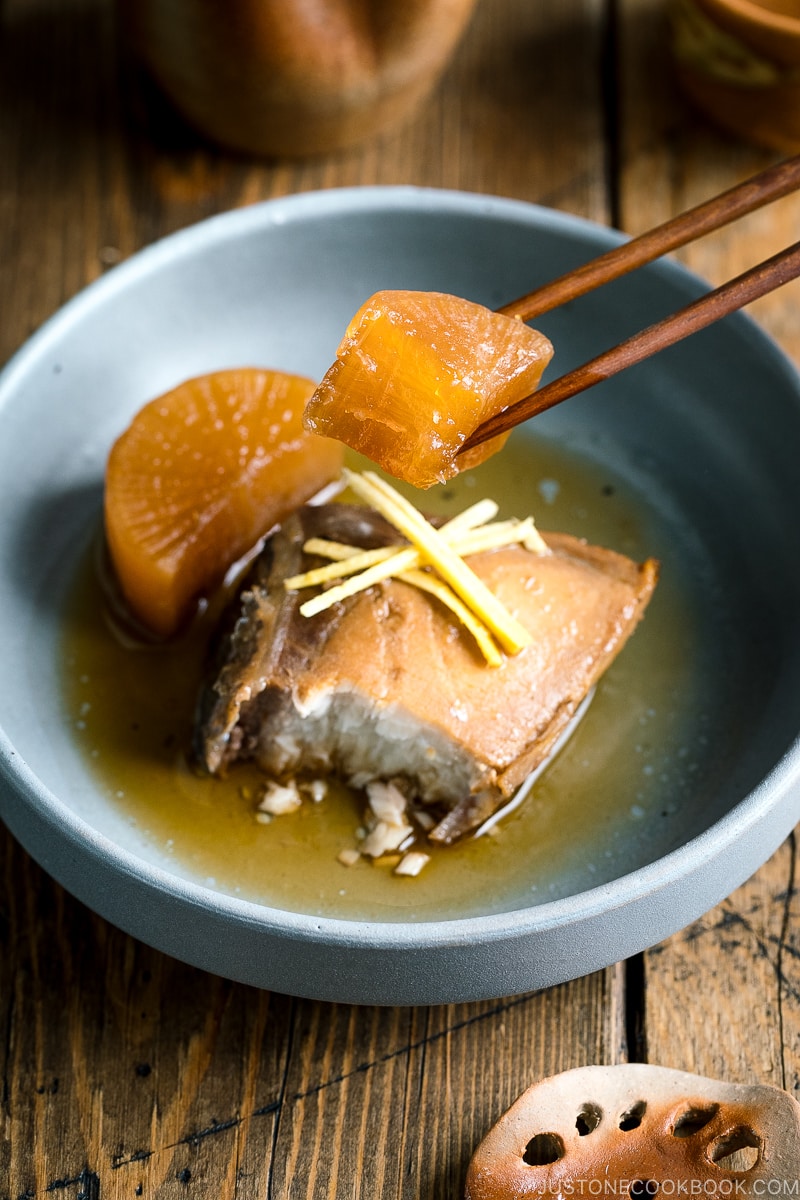 How to Cook Buri Daikon
4 Simple Ingredients
Buri (Yellowtail)
Daikon
Ginger
Condiments: soy sauce, sake, mirin, and sugar
---
Cooking Process Overview
Cook daikon till tender.
Blanch yellowtail.
Simmer yellowtail and daikon in a seasoned broth.
Slowly let cool, giving ingredients time to absorb flavors.
Reheat and enjoy!
Tip 1: Cook Daikon with Rice Water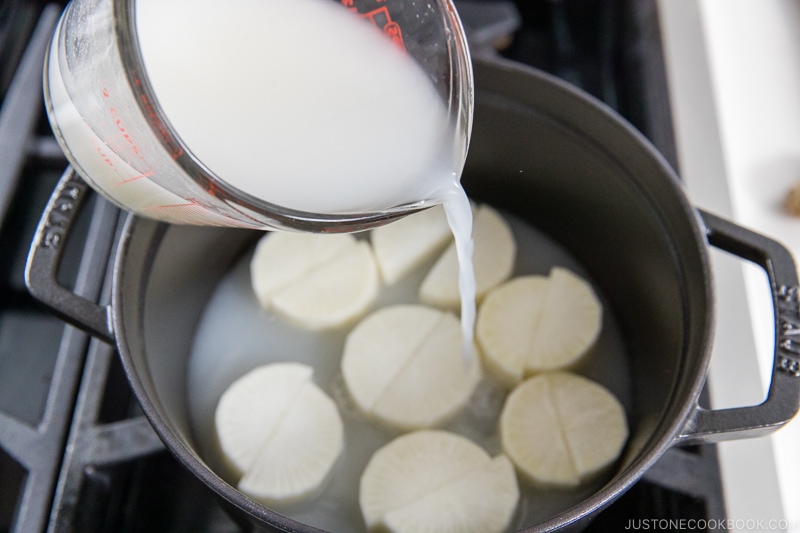 The rice water helps to break down the texture of daikon due to the result of the catalytic activity of enzymes.
Daikon becomes white by the action of enzymes.
Starch also helps retain the shape of daikon (less likely to break).
The bran absorbs the astringency of the daikon.
Tip 2: Let Simmered Food Cool After Cooking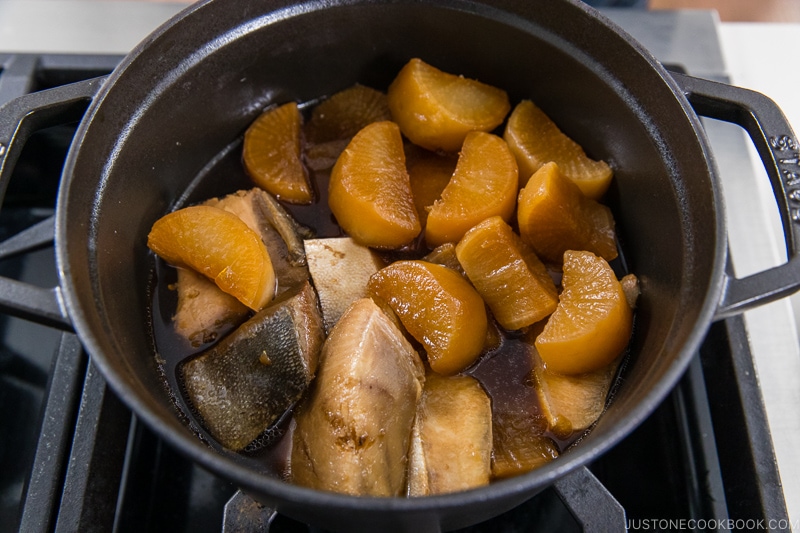 When food is being heated, the moisture of the food is removed from it. While the food is being cooled, the moisture gets absorbed back into the food along with the flavors.
This is why many simmered foods and stews like Nikujaga and Oden taste better the following day.
If time allows, make a simmered food ahead of time and let it cool slowly giving some time for the food to absorb all the delicious taste.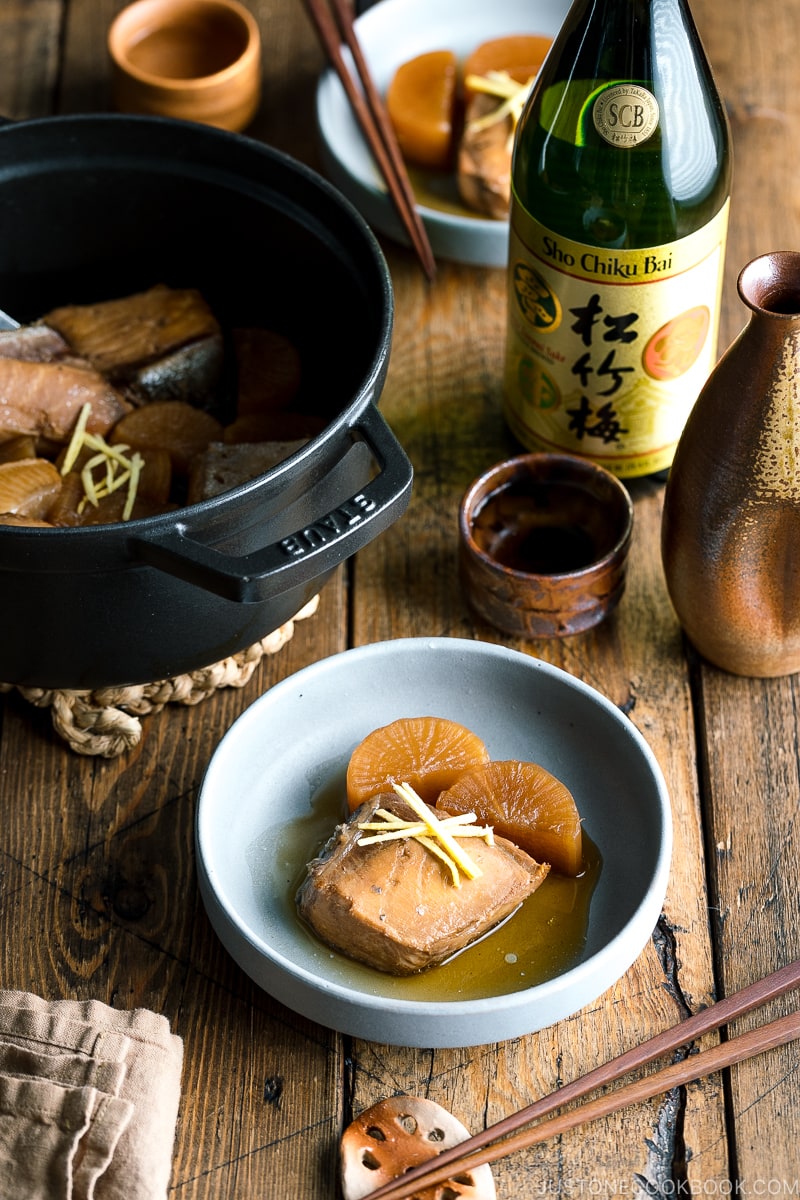 Pairing Buri Daikon with Classic Junmai Sake Sho Chiku Bai
It is tricky to pair seafood with alcoholic beverages. It's usually suggested with white wines but the wine could be too dry or too sweet, and the flavor could conflict or overpower the dish. What we find is that the versatile sake pairs extremely well with many types of food including seafood.
For this classic Japanese dish buri daikon, we paired it with Sho Chiku Bai Classic Junmai. It's our favorite sake to cook with but this award-winning sake is fantastic for drinking. The sake's profile is very well-rounded and balanced, and it can be enjoyed either warm or cold depending on your mood. For buri daikon, since it's a winter dish we heated up the sake to 113°F/45°C (read how to warm up sake properly).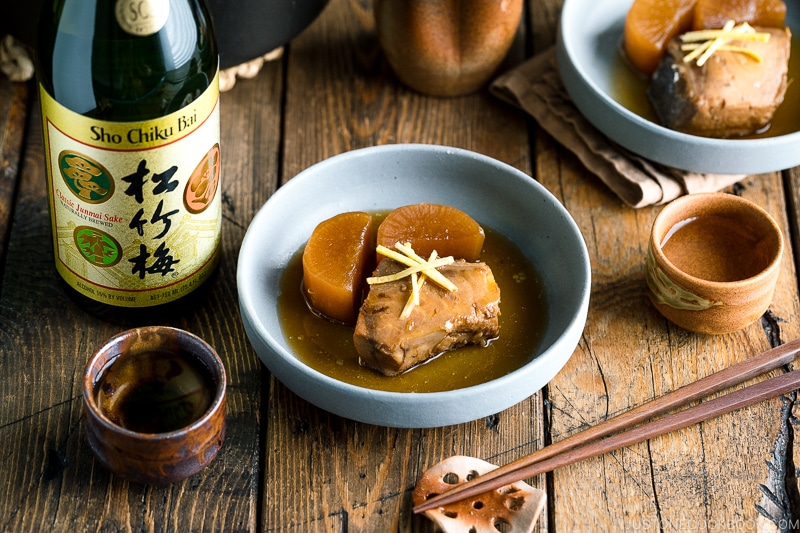 The buri and daikon had been absorbing the sauce for hours so the flavor is very strong. The pairing sake should be intense as well so they go together.
When Sho Chiku Bai Classic Junmai is warmed, more flavors are released compared to cold and both the taste and aroma become more robust. The first taste is peppery and sharp, with bold flavors leap at your palates. The strong flavors then subside and transition to a clean soft floral and sweet finish. It was a really good pairing and we highly recommend Sho Chiku Bai Classic Junmai for other seafood dishes.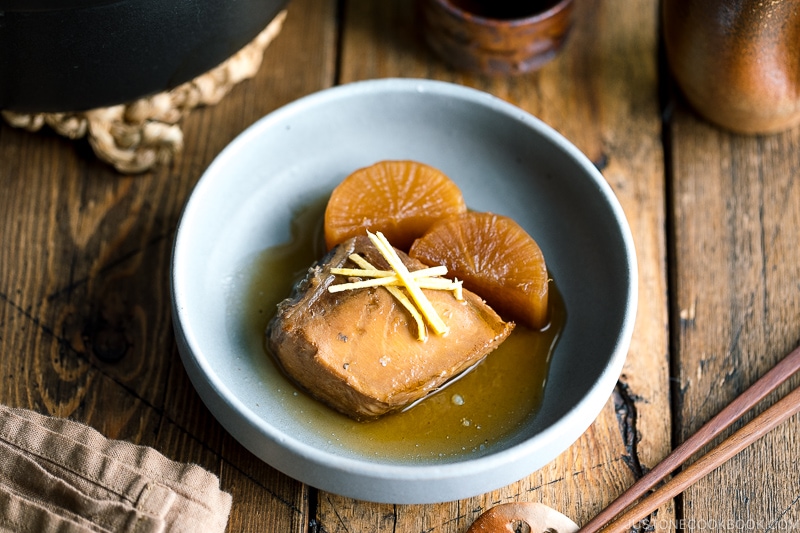 Wish to learn more about Japanese cooking? Sign up for our free newsletter to receive cooking tips & recipe updates! And stay in touch with me on Facebook, Pinterest, YouTube, and Instagram.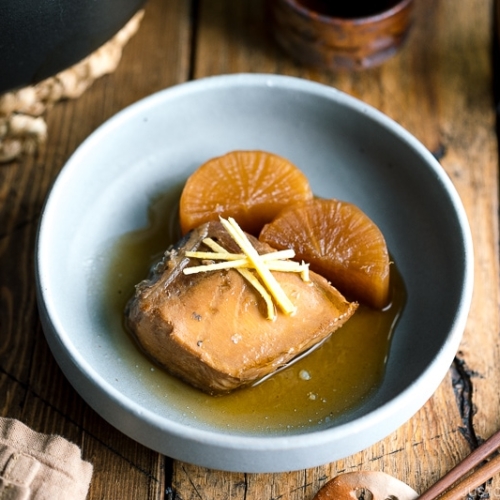 Buri Daikon (Simmered Yellowtail and Daikon)
Buri Daikon (Simmered Yellowtail and Daikon) is a classic Japanese wintertime favorite when both ingredients are in season and at their freshest. Cooked gently in a soy-infused broth, the homey flavors are utterly comforting!
Ingredients
1

lb

daikon radish

(6 inches, 15 cm)

1

lb

yellowtail (hamachi, buri)

(4 fillets from a Japanese grocery store; Substitution ideas – amberjack, cod, flounder/sole, Japanese butterfish, mackerel, salmon, sea bream, etc. Make sure to use the skin-on fillets so the they won't break easily)

1

Tbsp

sake

1

knob

ginger

(2 inches, 5 cm)
Japanese Ingredient Substitution:
If you want substitutes for Japanese condiments and ingredients, click
here
.
Instructions
Gather all the ingredients.
To Prepare Ingredients
Cut daikon into ¾ inch (2 cm) rounds and cut in half if your daikon is more than 2-inches in diameter.

In a medium pot (I use the 2.75 QT Staub), add daikon and water just enough to cover it (about 2 cups/480 ml). In Japan, we use white rice water (from rinsing rice) to cook daikon. It's believed that the rice bran from the rice water help reduce the bitterness.

Cook daikon on medium heat for 15 minutes, until a bamboo skewer goes through smoothly.

Drain the water and rinse under cold water to remove the rice bran. Quickly rinse the pot as we will use it for simmering.

While cooking daikon, peel the ginger and slice thinly. Save ⅔ of sliced ginger (for cooking) and julienne ⅓ of the ginger slices (for garnish).

Sprinkle salt on both sides of the yellowtail, including the skin. Let it stand for 5 minutes, and then cut in half, about 2-inch (5 cm) pieces.

Bring a medium pot of water to a boil. Once boiling, add sake. Then add in a few pieces of yellowtail. Cook until the surface of the fish turns white, about 10-15 seconds.

Take the fish out and place the pieces in iced water. Once cooled, about 10 seconds, remove the fish from the iced water and transfer them to a plate/tray lined with a paper towel.

In the medium pot (that you used for boiling daikon), combine water, sake, mirin, and soy sauce.

Add ginger slices and sugar and mix all together.

Add the yellowtail and bring it to a simmer. Using a fine-mesh sieve, skim the scum and foam if there is any (should not be much due to precooking).

Add daikon and coat well with the seasoned broth. Keep a bare simmer.

Once simmering, place an otoshibuta (drop lid) (you can get on Amazon) over the daikon and keep a bare simmer for the next 15 minutes, flipping the daikon occasionally. Do not use a regular lid because we need some moisture to escape and the otoshibuta helps to coat the daikon with seasoned broth at all times as it is always touching the food. Click the link to make a homemade otoshibuta with aluminum foil.

15 minutes later, the dish is done cooking. You can serve it immediately; however, as I explained in the blog post, I highly recommend to let cool even for a few hours.

Remove from the heat and let cool, keeping the otoshibuta on so the surface won't dry out. Don't use a regular lid as the foods take a longer time to cool. Once every 30 minutes or so, tilt the pot to coat the surface of the daikon with the seasoned broth.

Once completely cooled, you can refrigerate (especially overnight). Right before you serve, reheat until the dish is warm.

Serve the dish in a bowl with some broth. Top the fish with julienned ginger. Enjoy!
To Store
You can keep the leftovers in an airtight container and store in the refrigerator for up to 2-3 days or in the freezer for up to a month.
Nutrition
Nutrition Facts
Buri Daikon (Simmered Yellowtail and Daikon)
Amount per Serving
% Daily Value*
* Percent Daily Values are based on a 2000 calorie diet.
©JustOneCookbook.com Content and photographs are copyright protected. Sharing of this recipe is both encouraged and appreciated. Copying and/or pasting full recipes to any website or social media is strictly prohibited. Please view my photo use policy
here
.