Daikon is a long white root vegetable with a crunchy texture and a lightly peppery taste. It's widely used in Japanese cooking, from pickles, salads, garnishes, soups, and stews.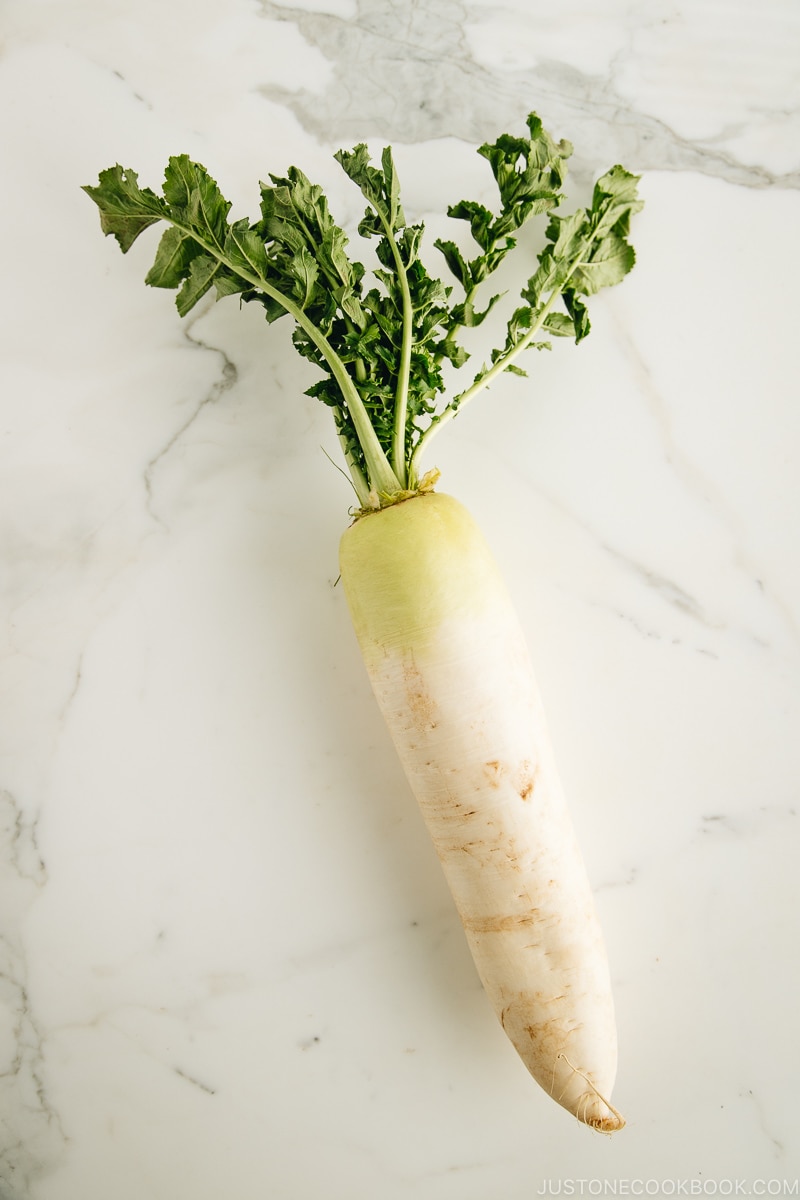 Daikon (大根, literally "big root") is a widely used root vegetable in Japanese cuisine. It is a winter vegetable characterized by its long white root and green leaves on top and resembles a huge pale carrot. It's a nutritionally loaded, low-calorie vegetable.
What Is Daikon
Daikon is a cruciferous vegetable eaten raw, cooked, and pickled. It has a delightful crunchy texture and soaks up broths and flavors in braises and soups.
The root vegetable goes by many names, including Japanese radish, Asian radish, Chinese radish, white radish, Mu, and winter radish. Valued for its nutrition, it is enjoyed by the Japanese and in many Asian cuisines.
What Does It Taste
Compared to other radishes, it is milder in flavor and less peppery. Raw daikon is mild and tangy, with a juicy and crispy texture. It has a concentrated, sweet flavor similar to cooked turnips.
The Japanese also eat the sprouts called kaiware daikon (カイワレ大根), which have a peppery flavor that adds a pleasant kick to salads.
Approximate Weight Of Daikon
1 large daikon, including green leaves — 2.2 lb (1 kg)
1/2 daikon — roughly 1 lb (454 g)
1/4 daikon — 1/2 lb (227 g)
1 cup grated — 7.8 lb (220 g)
1 Tbsp grated — 0.5 oz (15 g)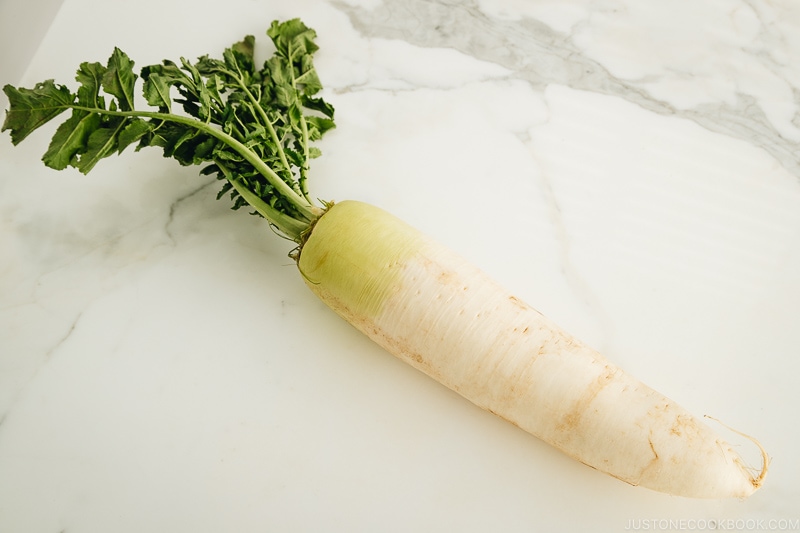 How To Use
Daikon is commonly pickled and eaten as a side dish or added to main dishes in Japanese cuisine. You have most likely tasted daikon, grated finely, and served as an accompaniment to tempura. It's refreshingly crunchy when eaten fresh, raw, sweet, and tender when cooked. You can peel the thick skin or wash and keep it on. Boil, braise, simmer, pickle, or eat raw, it's a versatile root vegetable.
In other Asian dishes, it's used to make the Korean daikon kimchi called kkakdugi, pickled and topped on Vietnamese banh mi sandwiches, grated for Chinese turnip cakes, and more.
Also, don't toss the leafy green tops! Not only are they delicious, but they are packed with nutrients as well. It's a hearty green, so you should cook it. Try adding a handful to stir-fries and miso soup.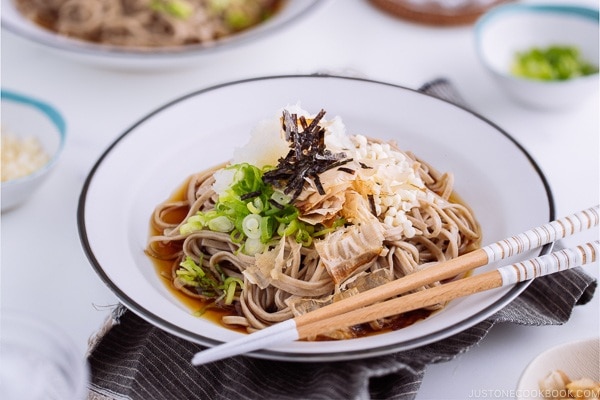 Grated Daikon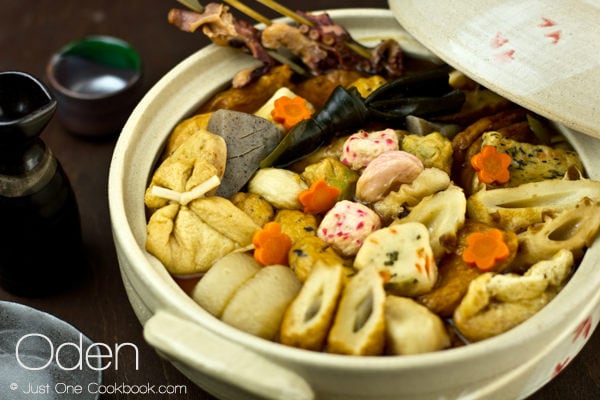 Simmered Daikon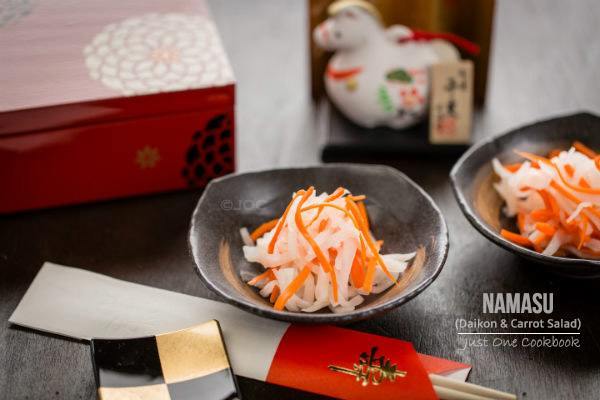 Pickled Daikon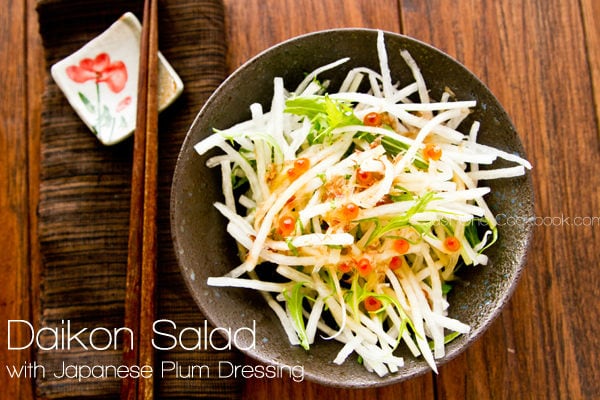 Daikon Salad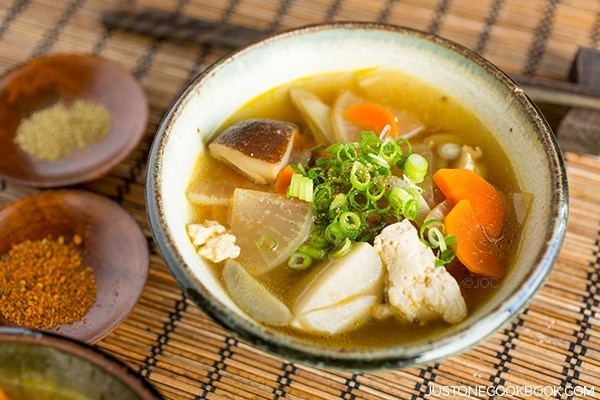 Daikon Soup
Where To Buy
You can find it at Whole Foods, select Walmart stores, well-stocked supermarkets, or even at your local farmers' market or CSA. If not, check out your local Japanese or Asian grocery stores.
How To Choose The Best
Although it is known as a winter vegetable and reaches peak flavor between November and December, it is available year-round.
Here are some tips:
Pick one with leaves, but make sure the leaves are fresh-looking and green and not frayed, yellow, or wilted
Choose ones that are heavy, plump, and straight
It has a beautiful, shiny, white color and a round tip
It has firm and smooth skin with few pores
Looks fresh and juicy
Avoid those with divided roots, which implies the soil was not good
How To Store
To prolong the shelf life, separate the leaves and the root as the leaves absorb moisture from the root. Wrap it in plastic wrap or newspaper, put it in a plastic bag, and keep it in the refrigerator. It can keep well for one to two weeks. You can blanch and freeze it for up to one month.
As for the leaves, store them in the fridge for up to three days in an airtight container or in the freezer for up to a month.
Substitutions
Swap with any similar crunchy vegetable, such as turnips, parsnips, or jicama.
Health Benefits
In Japanese cuisine, it's often served as an accompaniment to deep-fried dishes or heavy meals. The root vegetable is well known for its detox qualities that stimulate the elimination of fats and excess toxins. It also contains enzymes that help improve digestion and improve blood circulation.
Since it's low in calories but high in fiber, it makes a delicious addition to everyday meals, especially if you wish to maintain a healthy weight. It helps to strengthen bones and improves the immune system and respiratory health.
Regarding nutrition, it is rich in potassium and vitamin C. Vitamin C helps promote wound healing, produces collagen, and stabilizes blood sugar levels. It's also a powerful antioxidant that may protect cells from free radicals. It also contains small amounts of fiber, folate, phosphorous, calcium, and magnesium.
---
Wish to learn more about Japanese cooking? Sign up for our free newsletter to receive cooking tips & recipe updates! And stay in touch with me on Facebook, Pinterest, YouTube, and Instagram.