Kaiware Daikon is daikon radish sprouts. It has a strong, peppery flavor and is used in salads, sushi, and garnishes.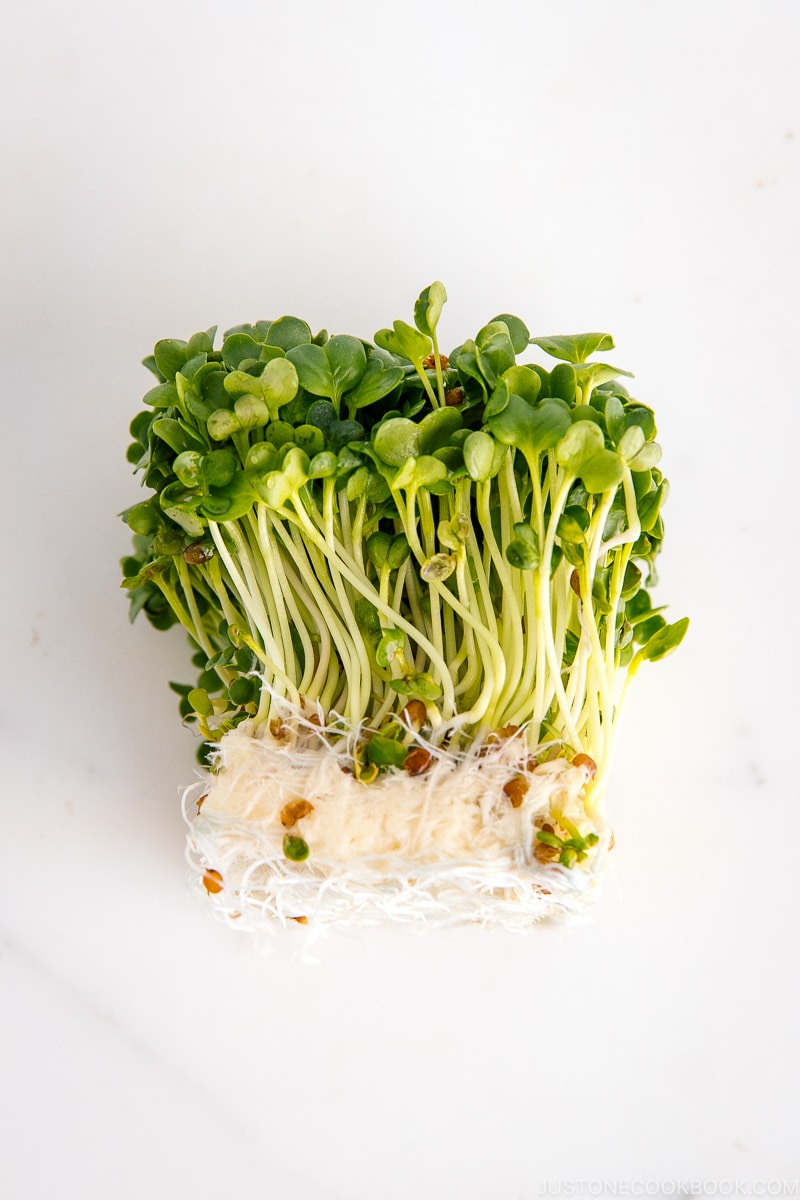 Kaiware Daikon (カイワレ大根 "open shell daikon") is a microgreen of daikon. The name "kaiware" refers to the bivalve-shaped leaves. The Japanese use it as a culinary accent for salads, sushi rolls, chilled tofu, or seafood dishes.
What Is Kaiware Daikon
Kaiware daikon sprouts are often used for culinary accents in sushi, sashimi, soups, and salads.
You can also grow the daikon microgreens in small trays indoors or outdoors.
What Does It Taste
The sprouts have crisp stems, a robust radish flavor, and a peppery finish, like daikon or mustard.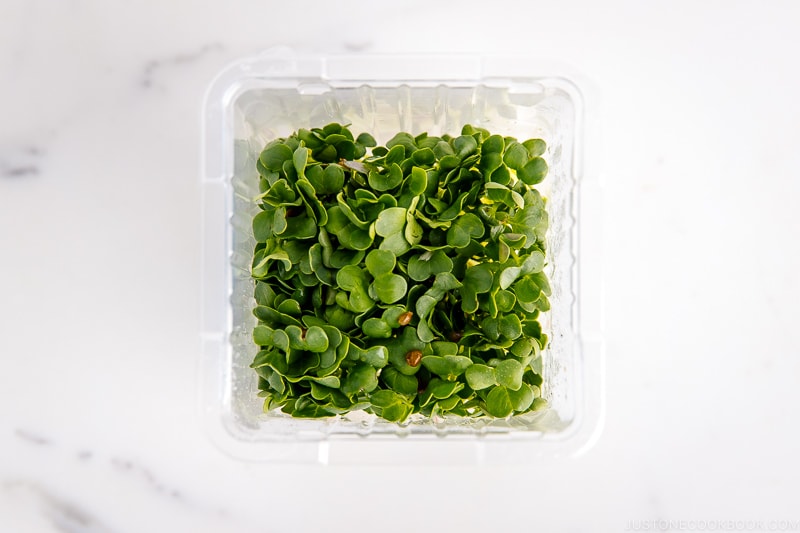 How To Use
The sprouts may seem clean and ready for use right out of the packet, but it's best to give them a quick wash as they are eaten raw.
First, take the sprouts out of the packet and turn them upside down. Gently swish the leaves in a bowl of water. Then, cut off the roots, swish the stems in water and pat dry.
Use them in salads and sandwiches, to add spiciness to sushi rolls, or as a garnish for sashimi and seafood dishes.
Recipes Using Kaiware Daikon
Where To Buy
You can find them in Japanese and Asian grocery stores, usually in little clumps with the roots attached. Once you cut off the stems, you may be able to grow a second crop.
Substitutions
You can replace it with alfalfa, broccoli sprouts, or sprouted greens.
Health Benefits
Like many sprouts, they are a nutrient-dense vegetable. The sprouts are rich in vitamins C and K, potassium, calcium, magnesium, and dietary fiber and are packed with antioxidants and phytonutrients, potentially aiding cancer prevention and reducing inflammation. Their high fiber content supports digestive health and weight management by promoting regular bowel movements and satiety with fewer calories.
---
Wish to learn more about Japanese cooking? Sign up for our free newsletter to receive cooking tips & recipe updates! And stay in touch with me on Facebook, Pinterest, YouTube, and Instagram.