Print Recipe
Jump To Recipe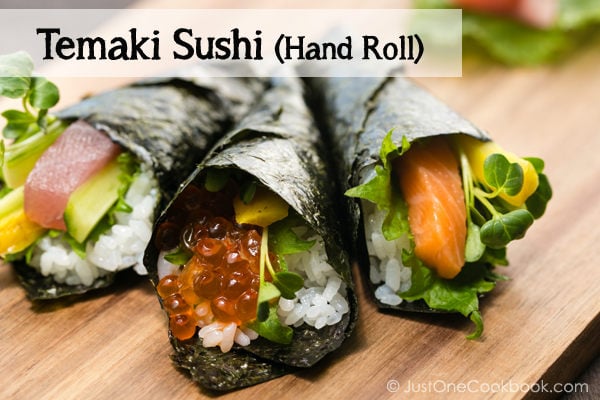 Being a Japanese person living abroad, I often get asked "Do you make sushi at home?"
For the Japanese, when we hear "sushi", we first think of the most traditional form of sushi called Nigiri.  To make great Nigiri sushi, it takes a sushi chef years and years of practice.  However, I do make an easy form of sushi at home and that's Teamki Sushi (hand roll).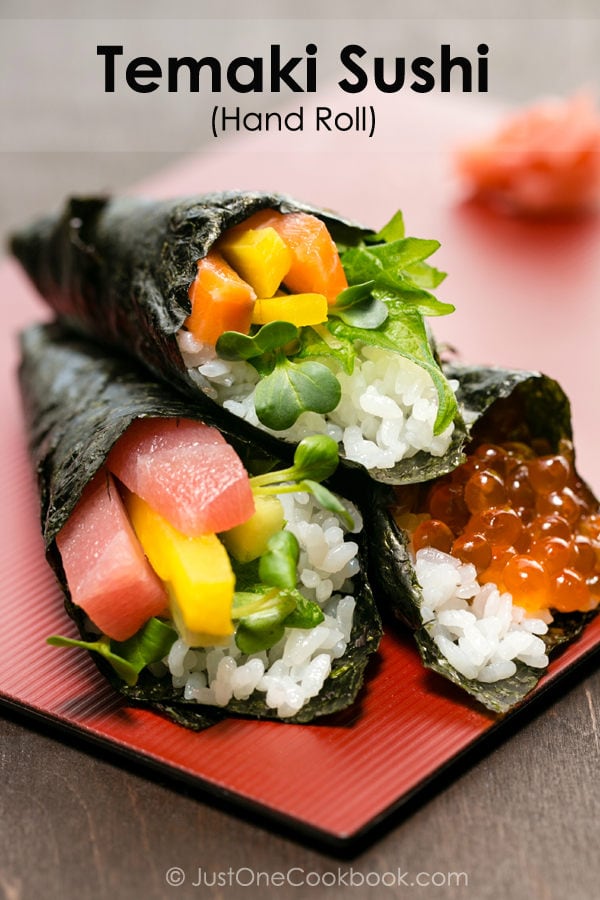 Speaking of sushi chefs, there was a documentary released in 2011 called Jiro Dreams of Sushi (available for streaming on Netflix).  Jiro has been making nigiri sushi for 50+ years and is considered by many to be the best sushi chef in the world.  The documentary tells the story of Jiro's quest to perfect the art of making sushi, as well as his relationship with his sons whom have followed his footstep.  I really enjoyed the movie and recommend it if you haven't seen it.
Temaki Sushi is sometimes called a "hand roll" because it's made of a rolled cone of seaweed, wrapped around rice and fillings.  The best part (for me as a cook) is that this is a meal where everyone helps themselves.  You just need to prepare sushi rice, nori (seaweed sheet) and fillings such as sashimi-grade fish, and serve.  At the table, each person makes own hand roll sushi based on their preference.
What makes "sushi rice" different from regular Japanese rice?  "Sushi Rice" is steamed rice seasoned with rice vinegar, sugar and salt, and we only make this rice when we make sushi, and the rest of time we eat regular steamed rice. See How To Make Sushi Rice.

If you are vegetarian or do not eat raw fish, you can still make Temaki Sushi with vegetables of your choice or use cooked ingredients such as Shrimp Tempura, grilled unagi, or even Chicken Teriyaki and Chicken Kaarage!  It's fun to make your own fillings and you can be creative!
Clockwise from salmon: salmon, hamachi (yellowtail), shredded daikon, radish sprouts, amaebi (sweet shrimp), cucumber, takuan (pickled daikon), tobiko, kanpachi (amberjack), toro (fatty tuna), shredded daikon, radish sprouts, hotate (scallops,) uni (sea urchin), tai (red snapper), and ikura (salmon roe) in the middle.

Don't have an access to sashimi-grade raw fish?  No problem, buy all natural premium sashimi from Fish for Sushi (US Only)!
Don't want to miss a recipe? Sign up for the FREE Just One Cookbook newsletter delivered to your inbox! And stay in touch on Facebook, Google+, Pinterest, and Instagram for all the latest updates. Thank you so much for reading, and till next time!
Temaki Sushi (Hand Roll)
Ingredients
For Fillings:
Sashimi grade fish of your choice

(salmon, tuna, salmon roe, spicy tuna etc)

Shiso leaves (Ooba)

(perilla)

avocado

carrot
Instructions
Gather all the ingredients.

If your raw fish comes as a block, slice the raw fish into long sticks. Or you can ask a fish monger at a Japanese grocery store to cut the raw fish for Temaki Sushi. They will cut fish into long sticks, instead of sashimi-style cut.


Cut nori in half.


Before you start, make sure your hands are dry in order to keep nori dry and crispy. Place the seaweed on the palm of your hand (shiny side down) and put a thin layer of rice on left third of nori.


Place fillings (shiso leaf, cucumber, raw fish and daikon radish sprouts) vertically across middle of middle of the rice.


Fold the bottom left corner of nori over and begin folding into cone shape.


Keep rolling until cone is formed. Put a piece of rice at the bottom right corner to use as glue and close tightly. Continue with the other half of the nori.


Serve with pickled ginger, wasabi, and soy sauce as condiments.
Recipe Notes
Cook Time/Prep Time: This does not include the time to prepare sushi rice.

Recipe by Namiko Chen of Just One Cookbook. All images and content on this site are copyright protected. Please do not use my images without my permission. If you'd like to share this recipe on your site, please re-write the recipe in your own words and link to this post as the original source. Thank you.