Make sushi at home with simple hand-rolled sushi called Temaki Sushi. Everyone in the family (or at the party) will have fun rolling the nori sheets around sushi rice and their favorite fillings!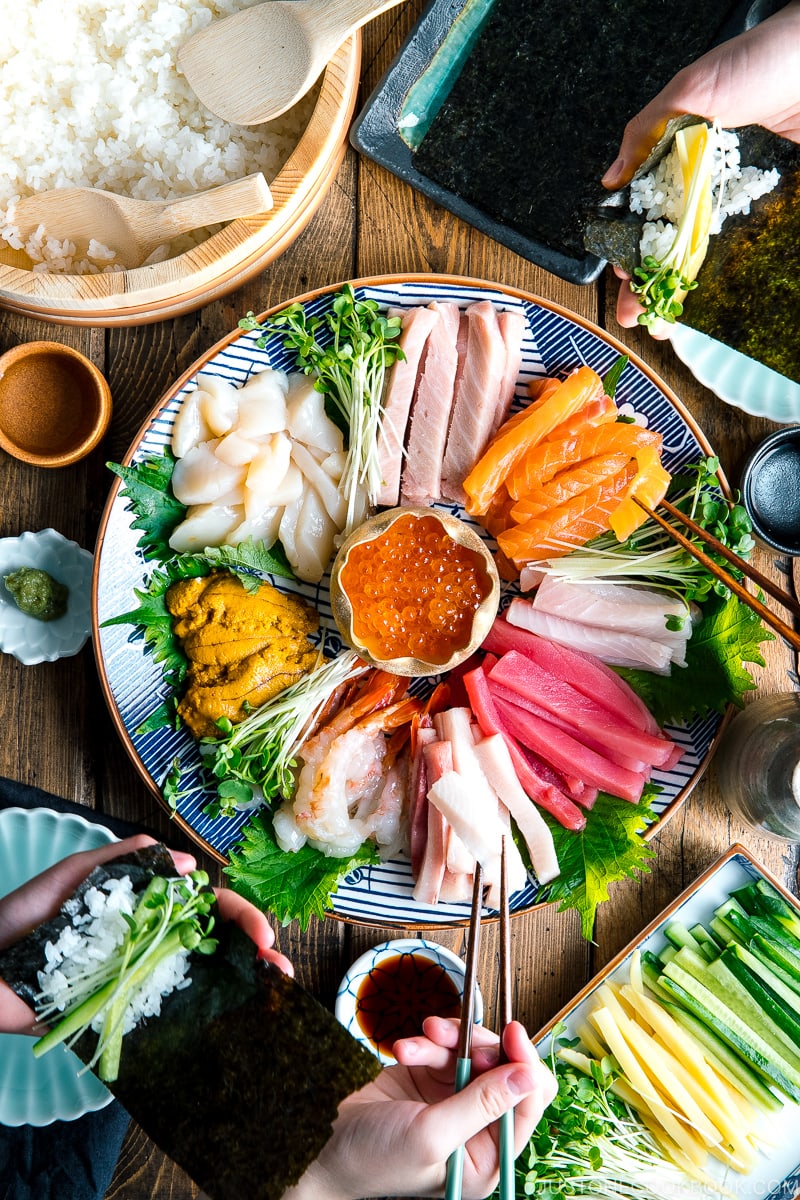 As sushi becomes more popular than ever, many people think that it is a staple of Japanese home cooking. The fact is we don't typically make sushi at home, especially when comes to nigiri or sushi rolls that require time and refined skills. We much prefer to enjoy them at a sushi restaurant.
But we do make exceptions for the less fussy ones like Temaki Sushi (hand-rolled sushi). Growing up, Temaki Sushi was our favorite party meal. My mom would make them once every couple of months because it's very forgiving and we all love this easy DIY sushi at home.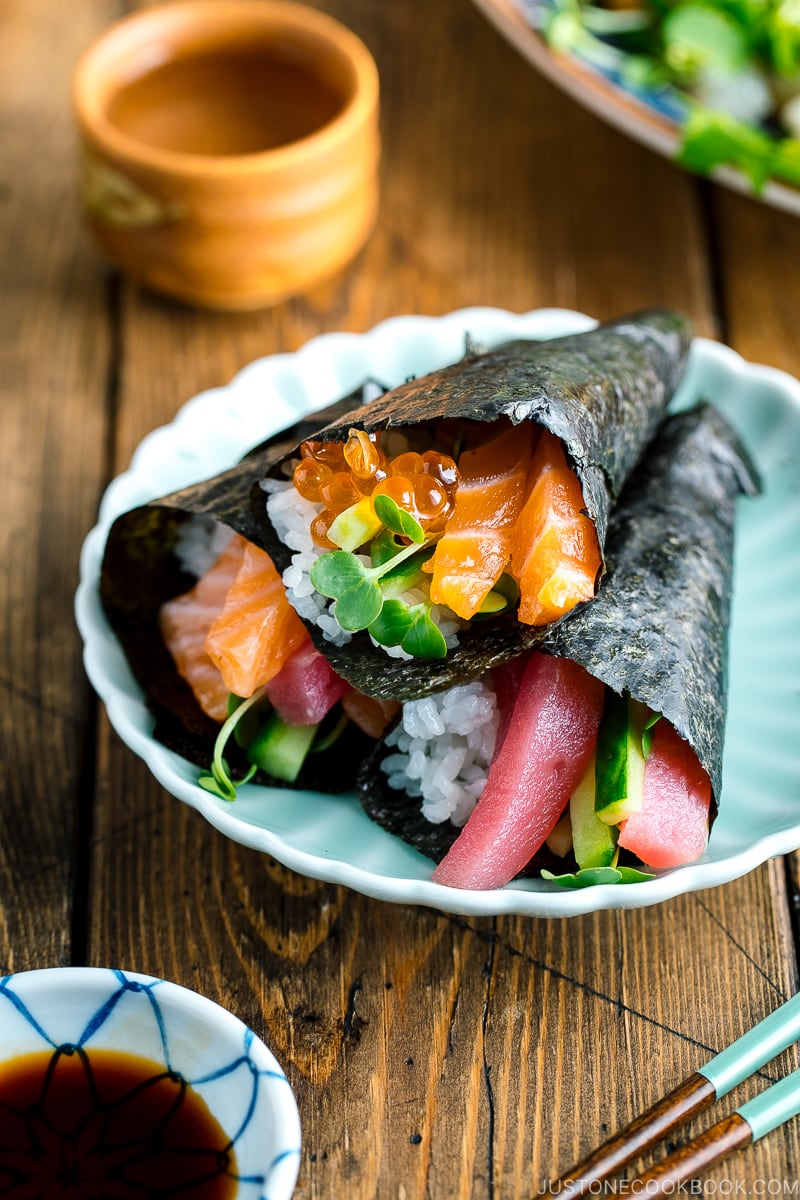 What is Temaki Sushi?
Temaki Sushi is sometimes called a "hand roll" because it is made of a rolled cone of seaweed, wrapped around rice and fillings. The best part, for me as a cook, is that this is a meal where everyone helps themselves. You just need to prepare a platter of sushi rice, nori (seaweed sheet), and fillings such as sashimi-grade fish and sliced veggies/mango. Then at the table, each person makes hand-rolled sushi based on their favorite mix of ingredients.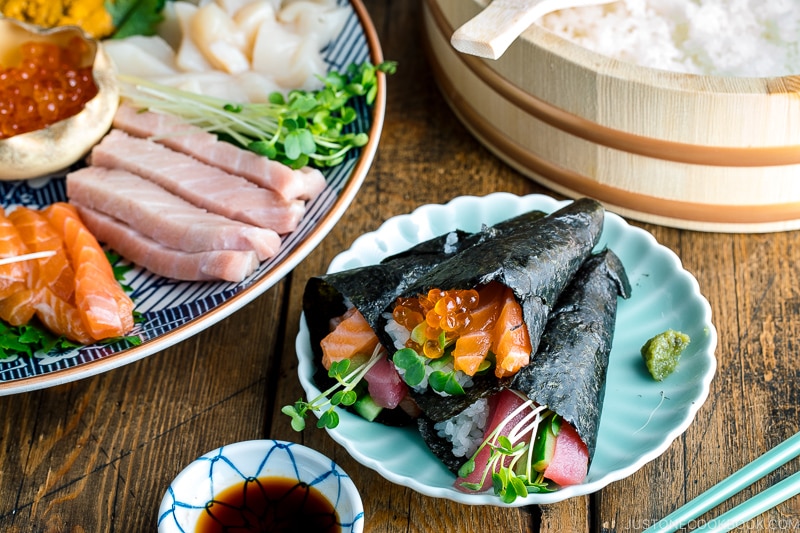 3 Basic Ingredients for Temaki Sushi
1. Sushi Rice 酢飯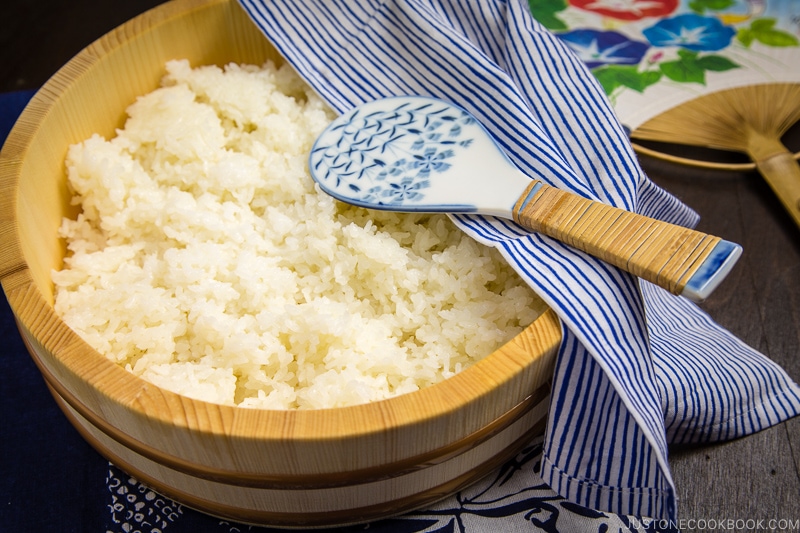 To make Temaki Sushi, you need to make the seasoned rice called Sushi Rice or Sumeshi (酢飯). The rice has to be short-grain rice so it is stickier and forms together when you wrap the seaweed cone around it. Sushi Rice is simply steamed rice seasoned with rice vinegar, sugar, and salt. Japanese only make this rice when making sushi, so for all other Japanese meals, we eat regular steamed rice.
To learn how to make sushi rice, see How To Make Sushi Rice.
2. Gu (Ingredients for Sushi) 具
To be honest, the world is your oyster when comes to choosing the ingredients. Pick what you and your family enjoy! If you're curious, here are some popular options in Japan:
Sashimi Choice (Raw Fish)
Amaebi (sweet shrimp)
Hamachi (yellowtail)
Hotate (scallop)
Kanpachi (amberjack)
Maguro (tuna)
Salmon
Tai (sea bream/red snapper)
Toro (fatty tuna)
Veggies
Avocado
Corn
Cucumber
Lettuce
Cooked Ingredients
If you are vegetarian or do not eat raw fish, you can still make Temaki Sushi with vegetables and cooked items. It's fun to make your own fillings, so get creative!
3. Nori (Seaweed)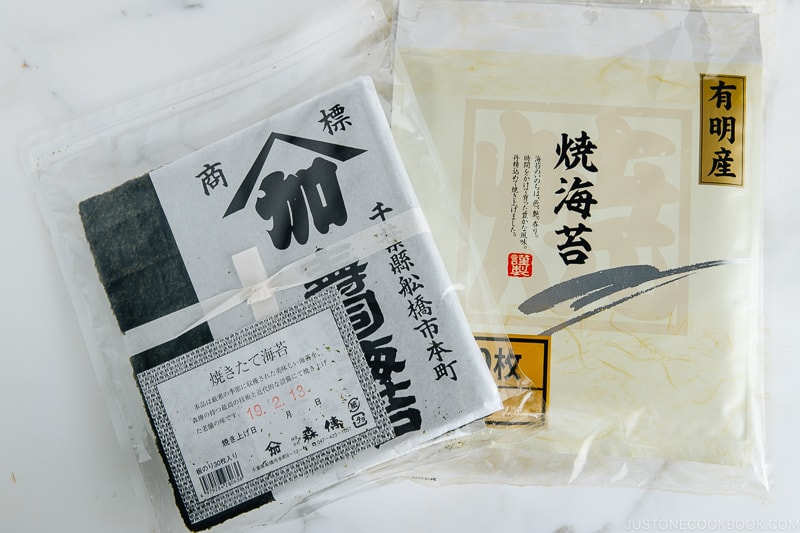 You will need good quality nori (seaweed) for Temaki Sushi. Some of you have asked me why their nori is chewy. Frankly speaking, it's a sign of bad quality nori.
Good quality nori has an amazing fragrance and taste to it. After searching for good nori here in the U.S., I have to say I haven't found any. My recommendation is to get nori from Ariake (有明) and get the most expensive nori available in that store. Still, the quality tends to less on par with the Japanese standard. If you get a chance to visit Japan, you must bring some back (it's light and flat!!).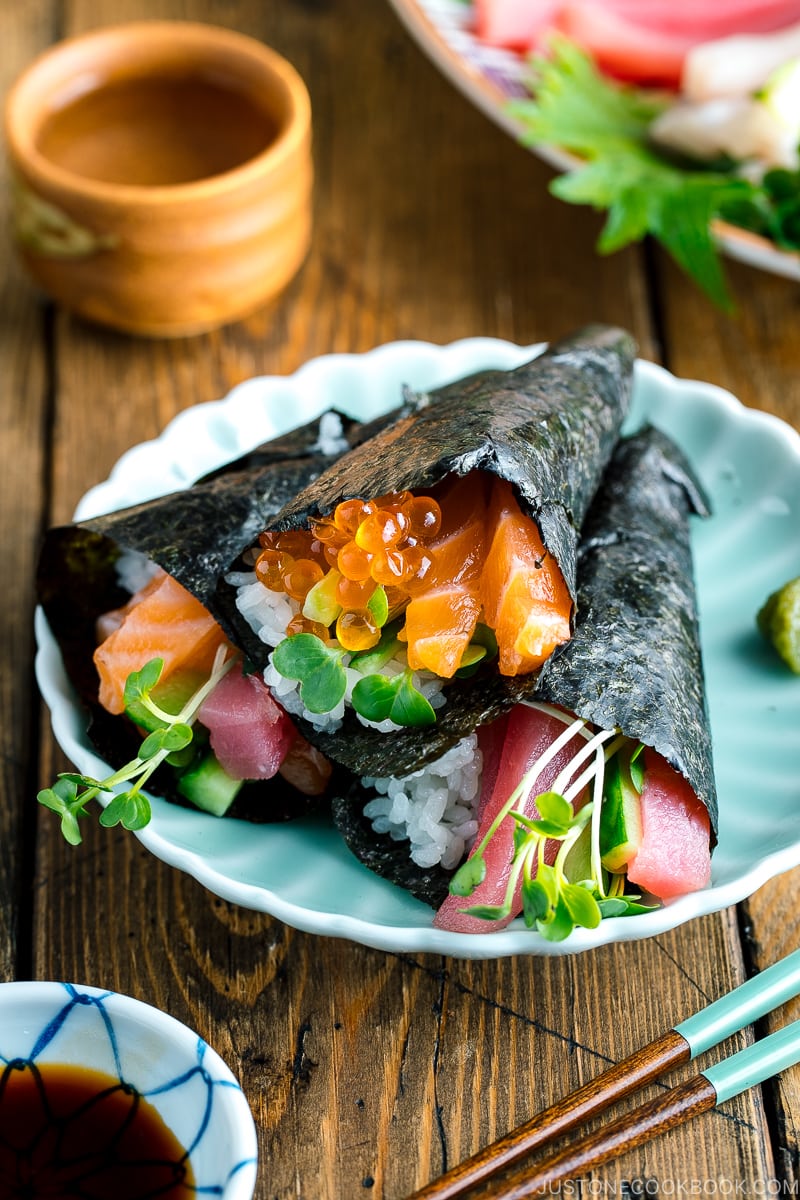 How to Make Temaki Sushi
Cut a square nori sheet in half (restaurant-style) or quarter (more home-style).
Place the nori, the shiny side down, on your palm.
Put 1/4 cup sushi rice at a 45-degree angle to the top left corner of the nori sheet and flatten/spread it evenly.
Add some ingredients over the rice: cucumber, 1-2 types of sashimi, and radish sprout.
Roll the bottom left corner up to the middle of the top edge of the nori to form a triangle, and continue rolling until you form a cone shape.
Put a piece of rice on the tip of the nori to secure the folds.
Whether it's for a small gathering or a bigger crowd, Temaki Sushi is truly the best type of sushi to serve at home. Enjoy!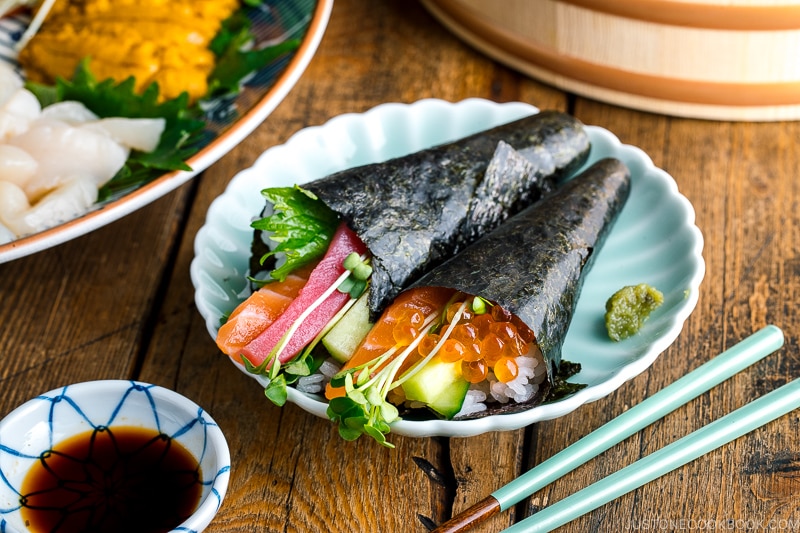 Wish to Learn More About Sushi?
Check out our Ultimate Sushi Guide to learn about the origin, sushi types, etiquettes, and more.
Wish to learn more about Japanese cooking? Sign up for our free newsletter to receive cooking tips & recipe updates! And stay in touch with me on Facebook, Pinterest, YouTube, and Instagram.
Temaki Sushi (Hand Roll)
Make sushi at home with simple hand rolled sushi called Temaki Sushi. Everyone in the family (or at the party) will have fun rolling the nori sheets around sushi rice and their favorite fillings!
Ingredients
5

cups

sushi rice (cooked and seasoned) (follow my recipe; 3 rice cooker cups of uncooked Japanese short-grain rice (540 ml, 3合, 450 g) yields roughly 5¼ US cups or 990 g of cooked rice; you must use short-grain Japanese rice to make sushi; otherwise, rice will fall apart.)

10

sheets

nori (dried laver seaweed)

(we use half sheet for each roll)
Japanese Ingredient Substitution:
If you want substitutes for Japanese condiments and ingredients, click
here
.
Instructions
If your

sashimi-grade fish of your choice

comes as a block, slice the raw fish into long sticks. Or you can ask a fish monger at a Japanese grocery store to cut the raw fish for Temaki Sushi. They will cut fish into long sticks, instead of sashimi-style cut.

Right before you start eating, cut

10 sheets nori (dried laver seaweed)

in half (restaurant-style) or quarters (home-style; makes 40 taco-style rolls) and keep it in the bag as it becomes stale easily.

Prepare

5 cups sushi rice (cooked and seasoned)

,

Japanese or Persian cucumbers

,

shiso leaves (perilla/ooba)

,

kaiware daikon radish sprouts

,

takuan (pickled daikon radish)

, and nori sheet (seaweed) at the table.

Before you start, make sure your hands are dry in order to keep nori dry and crispy. Place the seaweed on the palm of your hand (shiny side down) and put a thin layer of rice on left third of nori. If you're using a ¼ sheet of nori, then put the rice and filling in the center and roll up the sides like taco.

Place the fillings (shiso leaf, cucumber, raw fish, and daikon radish sprouts) vertically across middle of the rice.

Fold the bottom left corner of nori over and begin rolling into a cone shape.

Keep rolling until a cone shape is formed. Put a piece of rice at the bottom right corner to use as glue and close tightly. Continue with the other half of the nori.

Serve with pickled ginger, wasabi, and soy sauce as condiments.
To Store
Sashimi-grade fish must be eaten within 24 hours. Keep the leftovers in an airtight container and store in the refrigerator for a day.
Nutrition
Nutrition Facts
Temaki Sushi (Hand Roll)
Amount per Serving
% Daily Value*
* Percent Daily Values are based on a 2000 calorie diet.
©JustOneCookbook.com Content and photographs are copyright protected. Sharing of this recipe is both encouraged and appreciated. Copying and/or pasting full recipes to any website or social media is strictly prohibited. Please view my photo use policy
here
.
Editor's Note: The post was originally published on May 16, 2013. The images have been updated, the content has been updated, and the post has been republished in February 2021.
Our Recommendations for Buying Sashimi Online


When we have a sudden craving for sashimi we usually buy from our local Japanese supermarkets. If you don't have a reliable shop to purchase quality sashimi nearby, we would recommend buying from Catalina Offshore online.
They've been in business for over forty years and all the sashimi products we've tried from them are outstanding. Use J1COOK20 for 10% discount. Disclosure: We earn a small percentage commission from your purchase of products linked to Catalina Offshore.