Served as nigiri sushi, sashimi, or a luxurious topping, uni is the Japanese name for the edible part of the sea urchin, an ocean delicacy enjoyed in Japan.
Uni (雲丹) [pronounced 'oo-nee'] is the Japanese name for the edible parts of sea urchin. It comes in various colors, from pale yellow to vivid orange, and tastes like a salty and creamy umami bomb.
In Japan, it's eaten as gunkan maki ("battleship roll"), sashimi, or topped over seafood dishes. It's an acquired taste, but its laborious harvest methods and global demand has reflected its high price point. Some connoisseurs call uni an aphrodisiac.
What Is Uni
Uni refers to both the prickly sea creature and the edible insides. Frequently mistaken as the eggs, uni refers to the gonads, the fivefold sexual reproductive organs, which produce the milt or roe.
Covered with sharp spines, sea urchins are echinoderms, including sea stars, sand dollars, and sea cucumbers. Inside the beautiful hard shell lies the edible pieces. They somewhat resemble cow tongues in shape and texture. Uni is a culinary delicacy in many parts of the world.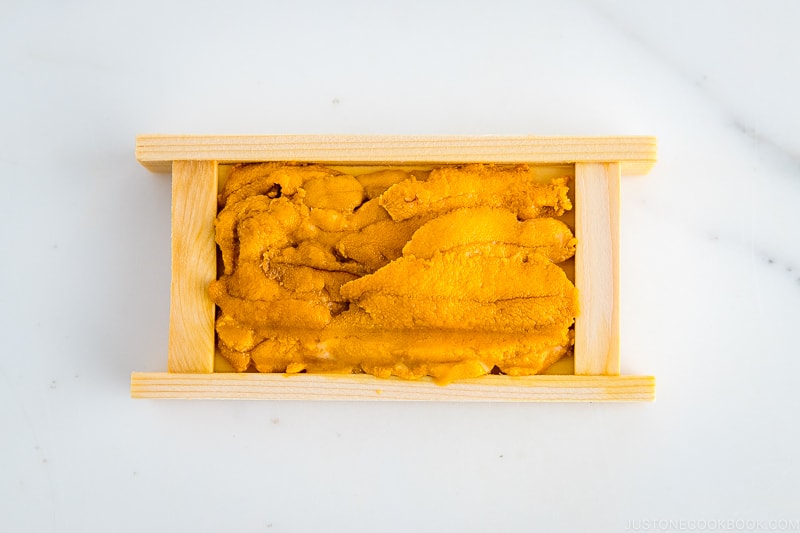 What Does It Taste
Uni has a sweet, briny, and slightly slimy with creamy, buttery consistency. It has an acquired taste, so it is either a love-or-hate kind of thing. Just like foie gras, people who enjoy uni appreciate uni for its curious taste and its rich umami flavor.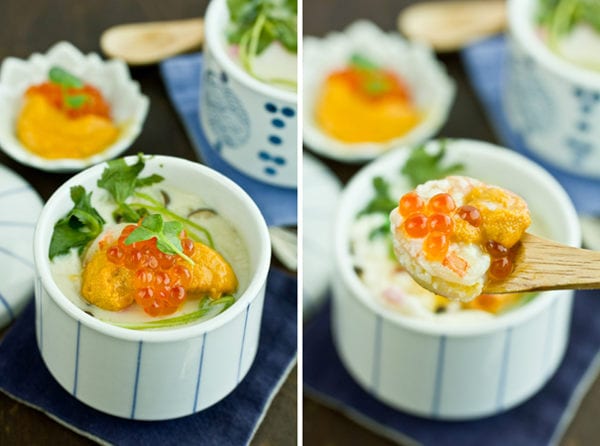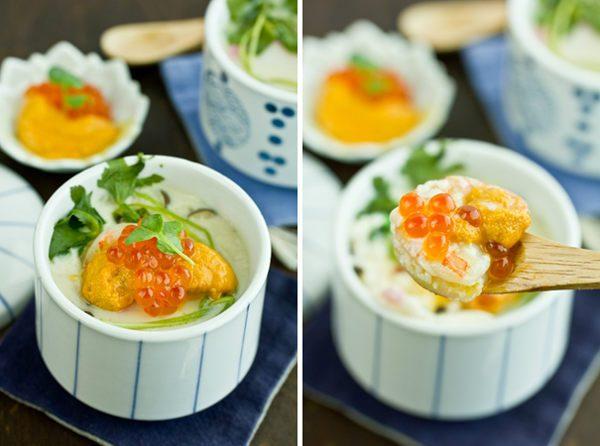 Varieties
While there are plenty of varieties, there are two main types of Japanese uni: murasaki and bafun uni.
Murasaki Uni
Murasaki uni ("purple uni," Heliocidaris crassispina) is the most common type of uni found throughout Japan. As its name suggests, it's a dark purple urchin that's mustard yellow inside. It's plump with a clean and mildly sweet and briny flavor. Best eaten raw such as sushi or sashimi.
Kita-murasaki uni refers to uni harvested in Hokkaido (northern Japan). It has a more delicate texture and is sweeter than murasaki uni.
Bafun Uni
Bafun uni ("horse poop uni," Hemicentrotus pulcherrimus) is much smaller than murasaki uni. Harvested in the deep ocean depths anywhere from Tohoku (northeastern Japan) to Kyushu (southern Japan), it has a more pronounced umami flavor that's slightly bitter with a dark orange color. Many high-end sushi shops prefer serving bafun uni over murasaki uni.
Ezo-bafun uni (蝦夷馬糞雲丹) is another type of uni harvested explicitly in Hokkaido. It's rich and sweet with a strong umami aftertaste.
How to Enjoy Uni
From raw to steamed to grilled to pan-sear, the possibility of uni is limitless.
In Japanese cuisine, it's enjoyed raw in sushi, sashimi, or as a garnish. You can find uni as a lavish sashimi rice bowl (海鮮丼) or a topping on Chawanmushi. Fresh uni is sublime; it just needs a dip in soy sauce and a smidge of wasabi.
Preseasoned uni comes in jars, which is a more affordable and convenient way of adding uni to your cooking.

Where To Buy
Due to its high demand and popularity worldwide, you should expect to pay a high price for a quality pack of uni. The difficulty of raising and harvesting also contributes to the exorbitant cost. Beware of cheap uni, which may be highly processed or low quality.
In the U.S., high-quality uni is harvested along the coast of Southern California and the coast of Maine. You can buy it directly from the local fish markets in the areas (we get it at Santa Barbara Fish Market) or from online seafood suppliers such as Brown Trading Company. You can also find imported uni at Japanese grocery stores.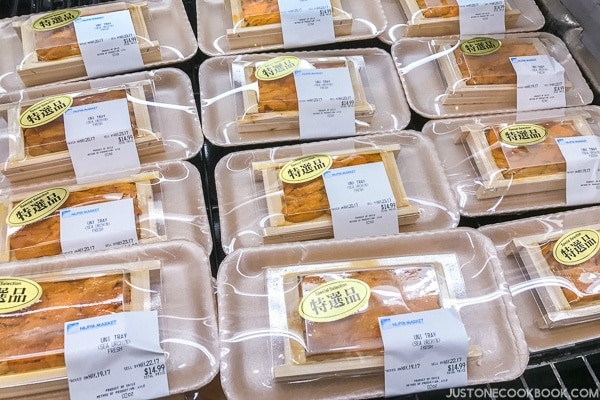 How To Choose The Best
To choose the best and most fresh uni, check the color and expiration date. Fresh uni should be brightly colored, firm, and not leaking liquids.
How To Store
Keep fresh uni in the refrigerator and consume immediately. For eating raw, it's best within two days, or up to five days if cooked.
Frozen uni compromises its buttery, creamy texture, so it's best to keep it in the fridge.
Health Benefits
Uni contains vitamins B1, B2, and omega-3 fatty acids, which supports a healthy heart and brain. It's also rich in vitamin A, which may prevent wrinkles, and freckles, and even has cancer-preventing properties.
However, it's high in cholesterol and calories, so like many delicacies, a small amount is fine, but you may want to avoid binging on it.
FAQs
Q: What are the differences between different grades of uni?
The quality of uni is graded based on color, texture, and freshness. Other factors include harvest origin, gender, diet, and harvest season. The highest grade of uni comes in vivid orange or gold with the sweetest flavor and firm texture. The lesser grades of uni has a duller color, and is often the leftovers from processing.
In Japan, you can find uni sold in various forms such as fresh, frozen, steamed, and grilled. It is also available as a paste or in jars, which are highly seasoned.
Q: When is the peak season for uni?
In Japan, the peak season for uni is from late summer to the end of April the following year. Uni becomes most flavorful when the gonads grow in size to prepare for the spawning season and become intensely flavorful.
---
Wish to learn more about Japanese cooking? Sign up for our free newsletter to receive cooking tips & recipe updates! And stay in touch with me on Facebook, Pinterest, YouTube, and Instagram.