Yakisoba is a classic Japanese stir-fried noodles dish with pork and vegetables, and it's seasoned with a sweet and savory sauce similar to Worcestershire sauce.
Yakisoba (焼きそば) or Japanese stir fry noodles started to appear in the 1930s as So-su (= Sauce) Yakisoba (ソース焼きそば), and it was a popular children's snack at the mom-and-pop candy stores (dagashi-ya 駄菓子屋 in Japanese) in late '50s.
Since then Yakisoba has been cooked and enjoyed at home and Teishoku-ya (Japanese diners), and became an icon for Japanese street food. As it is easy to set up an iron plate Teppan (鉄板) and find ingredients to make this recipe, Yakisoba food stalls are popular at school events, festivals, snack shops, etc.
Watch How To Make Yakisoba
Click here to watch on YouTube Channel
Childhood Memory & Variety of Yakisoba
When I was growing up in Japan, yakisoba often appeared as our weekend lunch menu. My mom and I prep the ingredients and my family used to gather around the Japanese hot plate (portable indoor griddle) and cook Yakisoba together. It was my dad's favorite weekend lunch. It can be a dinner dish as well, but personally, I always associate Yakisoba as a weekend lunch menu.
My mom often changes up the ingredients used in the recipe. Instead of pork belly slices, she sometimes used Japanese sausages and ground pork, and my favorite was the combination of ground pork and squid/calamari. My mom also put Chinese chives and bean sprouts for her yakisoba, but I don't always add them as they are not my "staple" in my kitchen.
Yakisoba is very easy to make, and you can add almost any ingredients to make it your style. Try it with seafood, or a simple vegetarian style is fabulous for Meatless Mondays!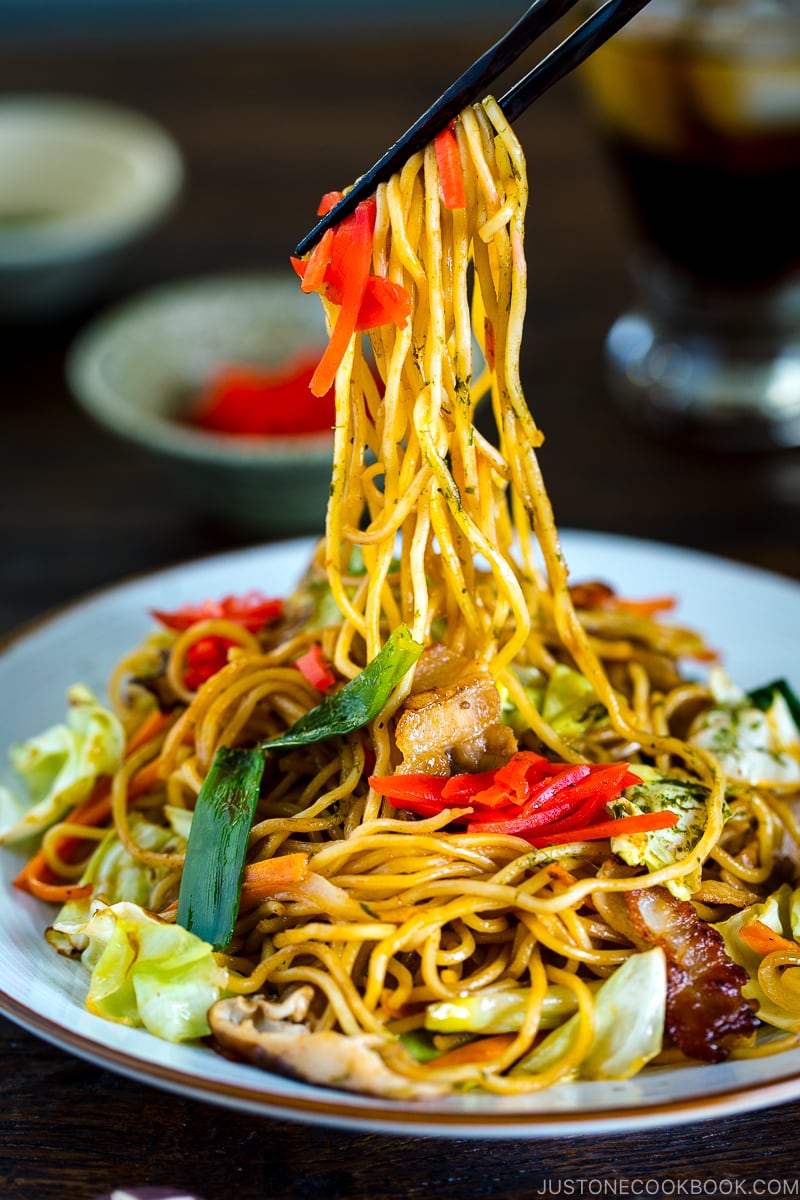 3 Tips to Make Delicious Yakisoba
1. Use a Big Cookware
It's important that you have a big cooking space like a griddle or big wok so that your ingredients have contact with the hot surface. Nice char will add fantastic flavors and give it more "street food" character.
To do that, don't put too many ingredients. You don't want to steam up the noodles. You need to let the steam escape, so the noodles are not wet, and preferably make it as dry and crispy as possible. If you prefer super crispy noodles (I prefer my noodles have some moisture), fry the noodles first and transfer them out and start cooking ingredients. That way, you don't have to cook the noodles later on, and the noodles will still stay crispy.
2. Stir Fry Hard Vegetables First
I like my vegetables to have a nice crisp texture and not all wilted. It is important to start to stir-frying hard vegetables that take takes longer to cook first, before adding the softer ingredients. It's my pet peeve to watch cooking shows, and see who put all the ingredients all at once into the pan. I believe each ingredient has a preferred cooking time for the best taste. 😉
3. Loosen Up Noodles First
I recommend loosening up the strands of noodles before adding to the stir-fried ingredients. If you don't, you will most likely break up the noodles into small pieces on the griddle or wok.
What I recommend is to loosen up noodles with your hands and get rid of oil under warm water. Drain well, and then toss with the stir fry vegetables. Noodles will still have enough moisture, but won't be soggy due to excess water.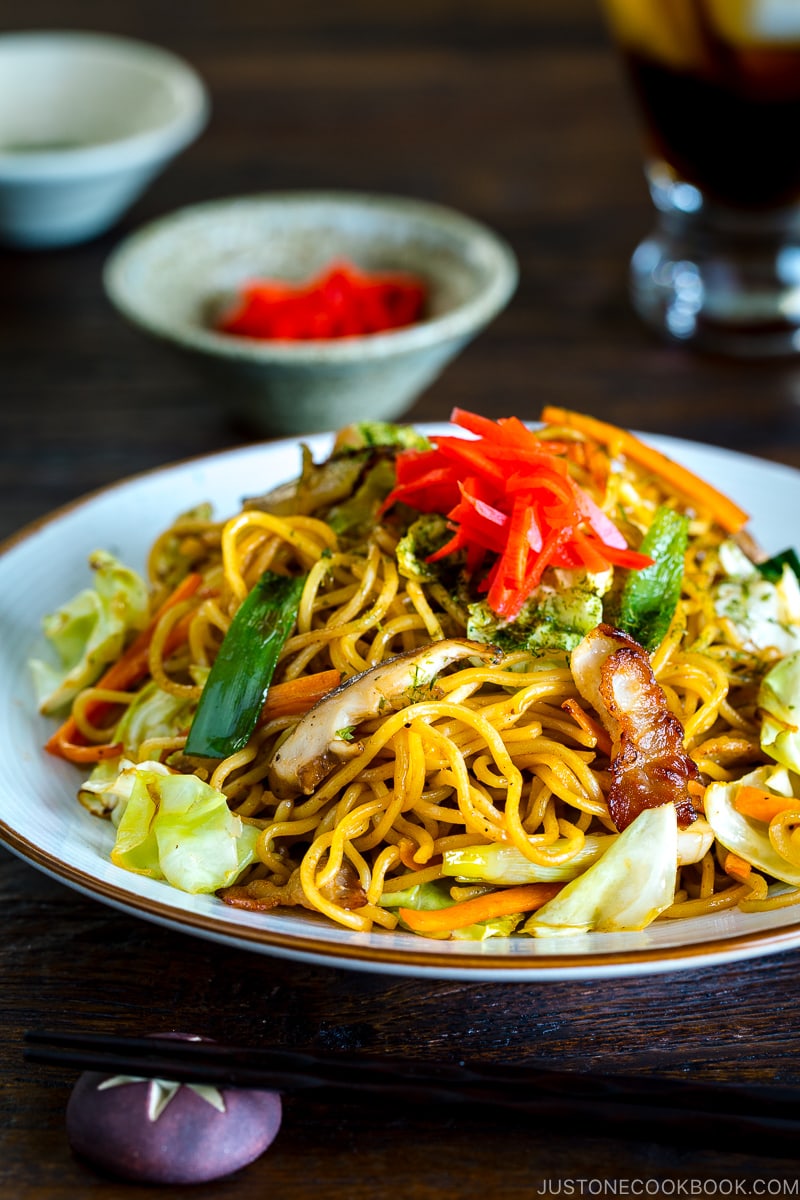 Where To Get Yakisoba Noodles & Yakisoba Sauce
Yakisoba Noodles:
Many of you know "soba" means buckwheat noodles, and that's correct. However, the word soba in Japanese can also be used to describe noodles of any type. Yakisoba noodles are called Mushi Chukamen (蒸し中華麺 or Steamed Chinese-style noodles). They are made of wheat flour, kansui, and water. Even though the color of noodles is yellowish, they are not egg noodles, and the color is the result of using kansui. Yakisoba noodles are steamed and packaged, so they're ready for a quick reheat. The texture of these noodles is similar to ramen noodles.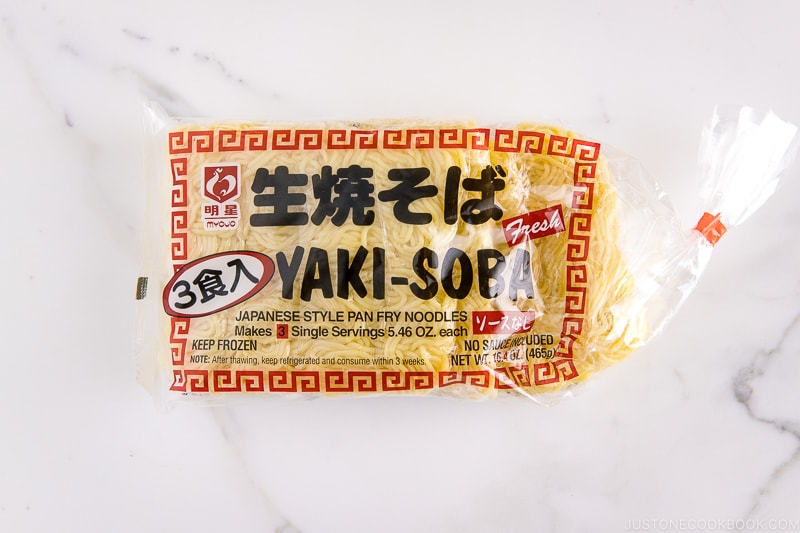 Two popular yakisoba noodle brands Myojo (明星) and Maruchan (マルちゃん), both come with three packets of yakisoba noodles in each package. The noodles are already steamed, coated with oil, and packed tightly in each packet. I recommend using the Myojo brand (see the picture above). Maruchan, if frozen, tends to break into pieces when defrosted. In Japan, Yakisoba noodles are never sold frozen, but these noodles don't last too long, so here in the US, they may be sold frozen.
You can purchase them in Japanese, Korean, and Chinese grocery stores, and they are either in the refrigerated or freezer section.
Yakisoba Sauce:
The popular Otafuku brand offers Yakisoba sauce but I actually like making yakisoba sauce from scratch (made with common condiments), so I can slightly adjust the sauce each time to make my Yakisoba taste different.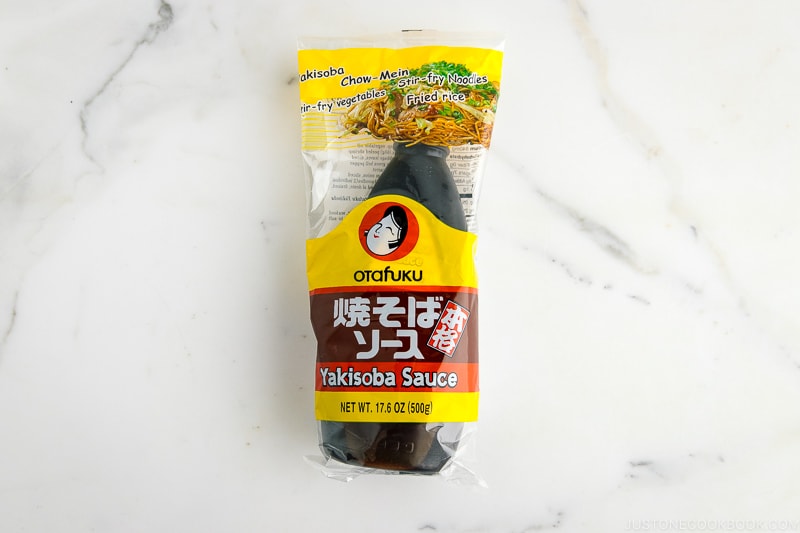 My kids told me they prefer the sauce to be slightly sweeter than my recipe below, but I'll leave that up to you, and feel free to add more sugar.
More Delicious Japanese Noodle Recipes You'll Love: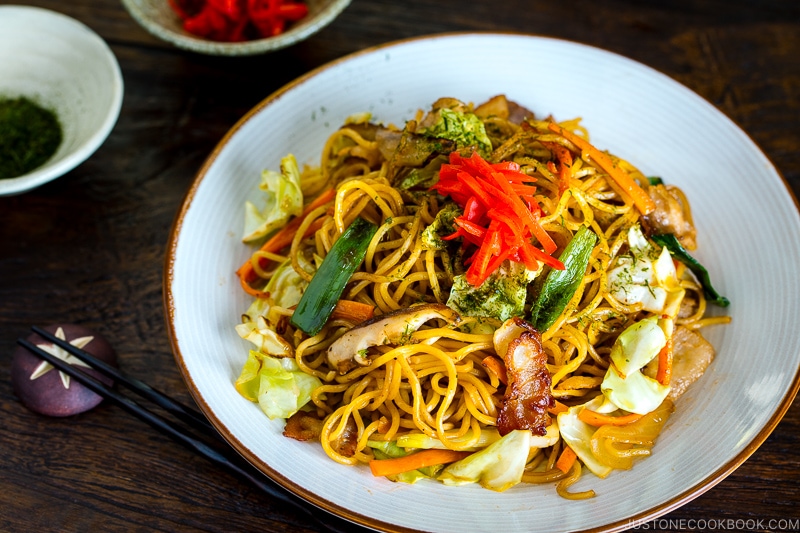 Wish to learn more about Japanese cooking? Sign up for our free newsletter to receive cooking tips & recipe updates! And stay in touch with me on Facebook, Pinterest, YouTube, and Instagram.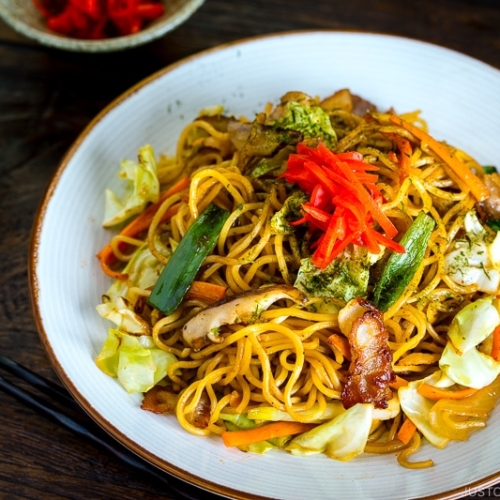 Yakisoba (Japanese Stir-Fried Noodles)
Yakisoba is a classic Japanese stir-fried noodles dish with pork and vegetables, and it's seasoned with a sweet and savory sauce similar to Worcestershire sauce.
Video
Ingredients
½

onion

1

carrot

2

green onions/scallions

4

cabbage leaves

¾

lb

sliced pork belly

(or your choice of meat/seafood/mushrooms/veggies)

2

Tbsp

neutral-flavored oil (vegetable, rice bran, canola, etc.)

freshly ground black pepper

3

servings

yakisoba noodles

(one package comes with 3 servings, 16-17 oz or 454-480 g pre-steamed noodles)

4-6

Tbsp

yakisoba sauce

(recipe below)
For the Yakisoba Sauce (Makes ½ cup, 120 ml)
4

Tbsp

Worcestershire sauce

(Japanese brand "Bull-Dog" Worcestershire Sauce (Usuta-so-su, ウスターソース) is milder and less sour than Lea & Perrins Worcestershire Sauce. If you use a non-Japanese brand, add more sugar)

4

tsp

oyster sauce

(if you're allergic to shellfish, or if you're vegetarian, use Lee Kum Kee Vegetarian Stir-Fry Sauce)

4

tsp

ketchup

2

tsp

soy sauce

2

tsp

sugar

(add more sugar, if needed)
For the Toppings (Optional)
Japanese Ingredient Substitution:
If you want substitutes for Japanese condiments and ingredients, click
here
.
Instructions
Gather all the ingredients.
To Make the Yakisoba Sauce
Whisk together all the ingredients for the Yakisoba sauce. It's important to taste the sauce and see if you need to add more sugar. For example, some ketchup is sweeter than others while some Worcestershire sauce is less sour than others. Set it aside.
To Make the Yakisoba
Slice the onion, cut the carrot into julienned strips, and slice the shiitake mushrooms.

Chop the green onions into 2-inch (5 cm) pieces, cut the cabbage into bite-sized pieces, and cut the meat into 1-inch (2.5 cm) pieces.

In a skillet or wok, heat the oil on medium-high heat. Cook the meat until it's no longer pink.

Add the onions and carrots and cook for 1-2 minutes.

Add the cabbage and cook until it's almost tender.

Lastly, add the green onions and shiitake mushrooms and cook for 1 minute. Season with freshly ground black pepper to taste.

Transfer the yakisoba noodles to a sieve and quickly run hot water over the noodles. Separate the noodles with your hands. Add the noodles to the skillet/wok and lower the heat to medium. It's best to use tongs to combine the noodles and ingredients. Keep an eye on the noodles as they may stick to the skillet/wok.

Add Yakisoba Sauce and mix all together. Add more sauce if needed.
To Serve
Trasfer the yakisoba to individual plates. Garnish with dried green seaweed and pickled red ginger. Serve immediately.
To Store
You can store any leftovers in an airtight container and store in the refrigerator for up to 3 days and in the freezer for a month. Thaw overnight in the refrigerator and reheat in the microwave to warm.
Nutrition
Calories:
942
kcal
·
Carbohydrates:
53
g
·
Protein:
20
g
·
Fat:
72
g
·
Saturated Fat:
30
g
·
Trans Fat:
1
g
·
Cholesterol:
129
mg
·
Sodium:
569
mg
·
Potassium:
736
mg
·
Fiber:
4
g
·
Sugar:
8
g
·
Vitamin A:
3678
IU
·
Vitamin C:
17
mg
·
Calcium:
91
mg
·
Iron:
3
mg
©JustOneCookbook.com Content and photographs are copyright protected. Sharing of this recipe is both encouraged and appreciated. Copying and/or pasting full recipes to any website or social media is strictly prohibited. Please view my photo use policy
here
.
Update: The post was originally published on April 6, 2011. It's been updated with new images and content.