Shiitake has an intense savory taste and a meaty texture. It's a versatile fungus that's excellent in stir-fries, soups, grilled, or fried.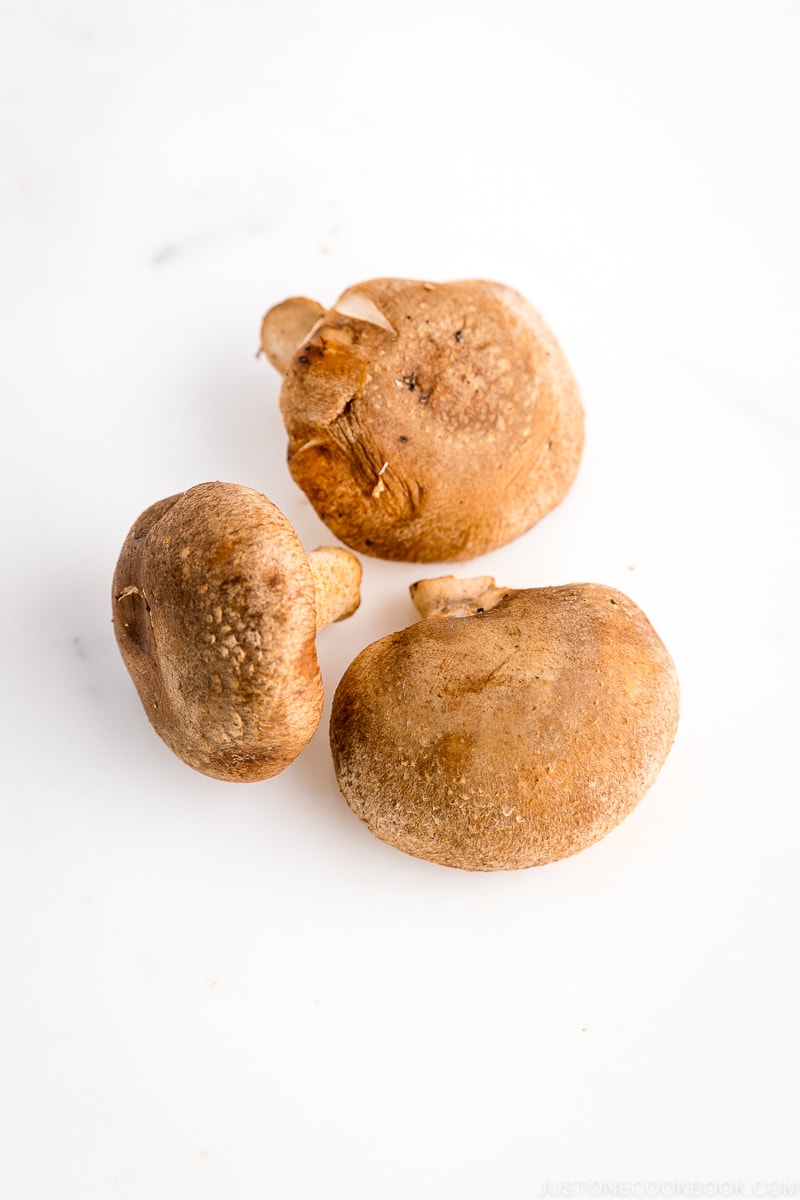 Shiitake mushrooms, or shiitake (椎茸), are edible fungi native to East Asia. In Japanese, shii (椎) is "hardwood tree," and take (茸) is "mushroom." It's consumed fresh, dried, traditional medicine, and supplements.
What Is Shiitake
Shiitake (Lentinula edodes) is a brown-capped mushroom rich in nutrients and fiber. It's a versatile mushroom that's excellent for stir-frying, simmering, and deep-frying. You can use it in Asian cuisine, pasta dishes, sauces, oven roasts, etc.
What Does It Taste Like
It has a rich, buttery, and earthy flavor. Due to its meaty and slightly chewy texture, you may be able to substitute meats with it.
How To Use
Shiitake mushrooms never come in contact with dirt as most are grown on hardwood trees, but you can gently wipe them with a damp cloth or paper towel before use or give them a swish in water. While shiitake allergies are rare, some may develop a skin rash called shiitake dermatitis from eating or handling raw mushrooms. To avoid triggering an allergic reaction, consume them cooked.
Use a knife to cut off the stem. The tough stems are fibrous, but you can eat them in Kakiage Tempura.
Dried shiitake has an intense umami flavor compared to fresh. It's used by soaking the mushrooms in cold or hot water. You can use the soaking liquid as broth and eat the reconstituted mushrooms in various Japanese and Asian dishes.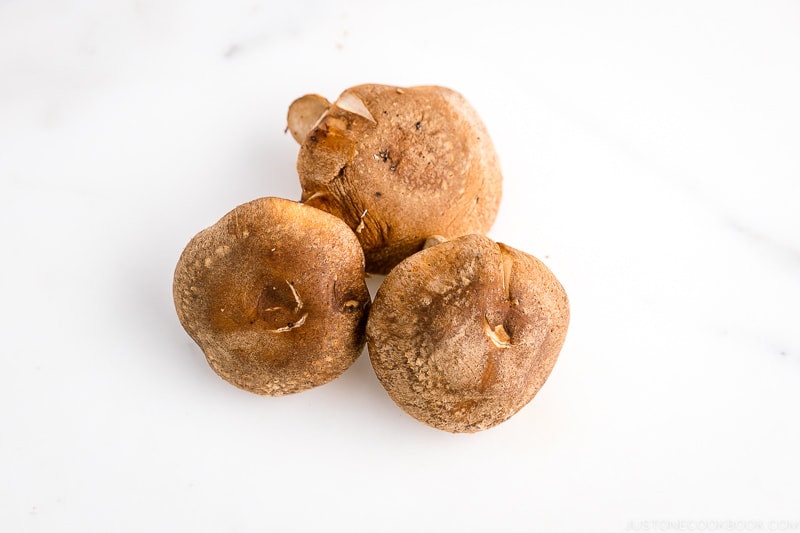 Recipes Using Shiitake Mushrooms
How to Choose The Best
When shopping for fresh mushrooms, get those with round caps and tightly formed gills. Avoid those with brown or black blemishes.
Where To Buy
Due to its wide popularity, you may find it in regular supermarkets and farmers markets. If not, check your local Asian and Japanese grocery store.
How To Store
Cover the mushrooms with damp paper towels to prevent them from drying out, and store them in the refrigerator. They should last for two weeks.
Health Benefits
Besides serving as a tasty addition to your dishes, shiitake provides various health benefits. They're low in calories and contain similar amino acids to red meat; hence, they are an excellent meat substitute when cooked with vegetables. The compounds may help fight cancer, boost immunity, reduce inflammation, lower high blood pressure, and support heart health.
In addition, studies have found that it may help lower cholesterol levels. Researchers found that rats who consumed shiitake mushrooms daily had less fat in their livers and lower cholesterol levels overall.
They're also rich in fiber, B vitamins, zinc, and copper. Vitamin B3, or niacin, supports energy production and overall well-being.
---
Wish to learn more about Japanese cooking? Sign up for our free newsletter to receive cooking tips & recipe updates! And stay in touch with me on Facebook, Pinterest, YouTube, and Instagram.