Made from fresh shiitake mushrooms, Dried Shiitake Mushrooms have an intense flavor and a meaty texture. They are used in many Japanese soups and simmered dishes to add an accentuated umami flavor and fragrance.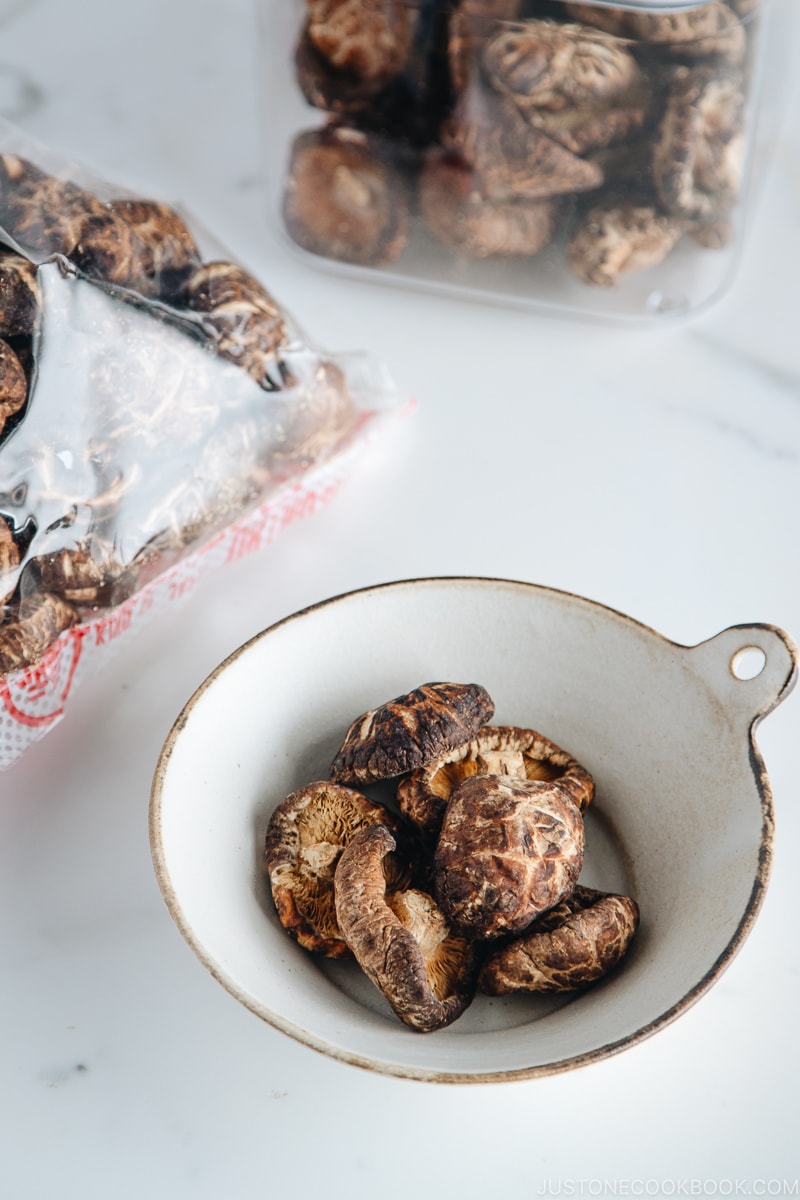 What Is Dried Shiitake Mushroom?
Dried Shiitake Mushrooms (干し椎茸, 干しシイタケ) are a versatile, affordable, and popular ingredient used among East Asian cuisines. They have an intense smoky flavor and a meaty texture, which enhance the flavor of soups, stir-fries, and simmered dishes.
Compared to fresh shiitake mushrooms, the dried ones are known for their concentrated & pronounced flavor, and they are meant to be used in specific cooking where the fresh mushrooms simply cannot replace. My favorite way of using dried shiitake mushrooms is to put them in Chawanmushi, Clear Soup, and Hot Pot (Nabe)!
Different Types
There are 3 different types of dried shiitake mushrooms depending on how the cap (we say "umbrella") is formed.
Donko (冬菇, どんこ) – Thick, dome (umbrella)-shaped cap (shown in this pic). The prized ones are with a light brown color and a beautiful pattern.
Kouko (香菇, こうこ) – Not as thick and curved as Donko – somewhere between Donko and Koshin.
Koshin (香信, こうしん) – Flat, not dome (umbrella)-shaped.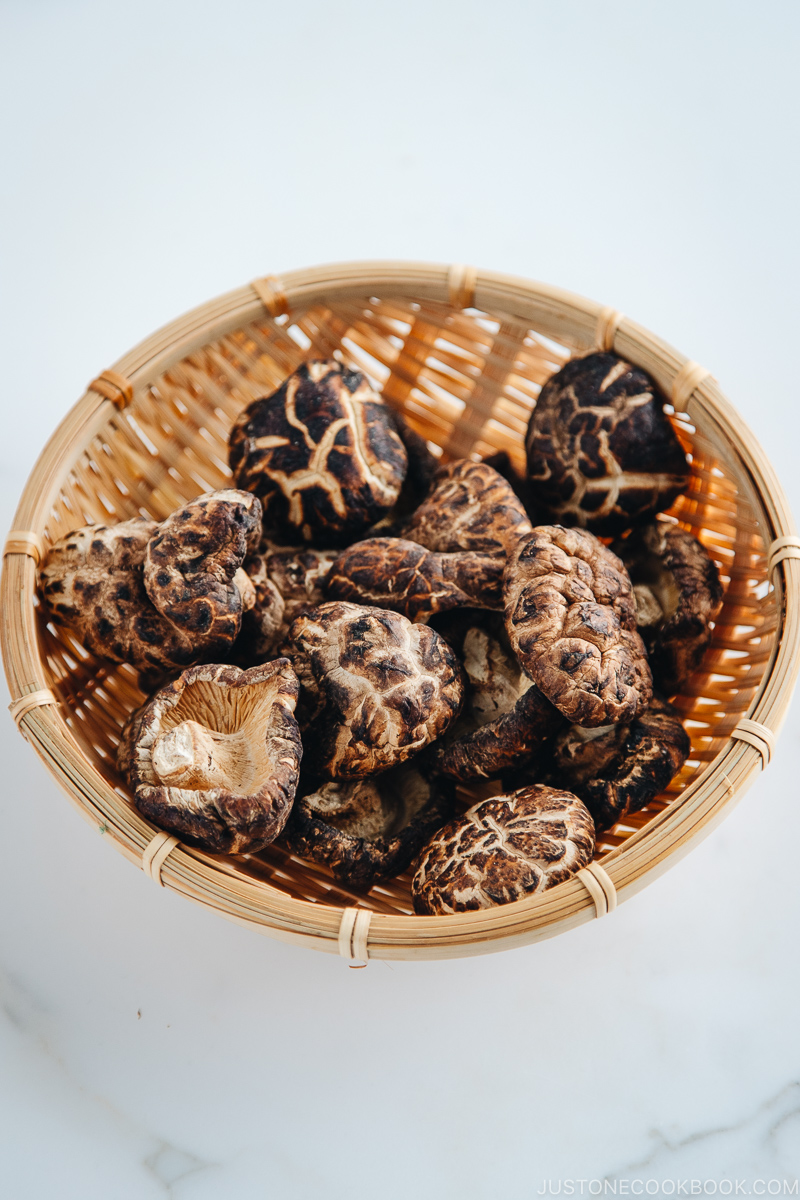 How to Choose The Best Dried Shiitake Mushrooms
Living outside of Japan, it's not always easy to find high quality dried shiitake mushrooms. They are being sold at Japanese and Asian grocery stores in the US, and come in great variety and vary in sizes. You can also buy them whole or in slices. In the case where you can access high quality dried shiitake mushrooms, here's what you should look for:
Light brown cap with a nice luster.
Fewer wrinkles on the cap.
Golden color gills.
How to Store Dried Shiitake Mushrooms
Like most dried goods, dried shiitake mushrooms should be sealed in a plastic or airtight container and stored in a dry, cool place.
How to Prepare & Use Dried Shiitake Mushrooms
Before using dried shiitake mushrooms in your cooking, you will need to rehydrate them in water and remove the tough stems. Depending on the size of the dried shiitake mushrooms, they typically need to be soaked in the water for at least 15-20 minutes.
For step-by-step instructions, click here to learn how to rehydrate dried shiitake mushrooms. Once the dried mushrooms are rehydrated, they will turn tender and spongy and ready to be used.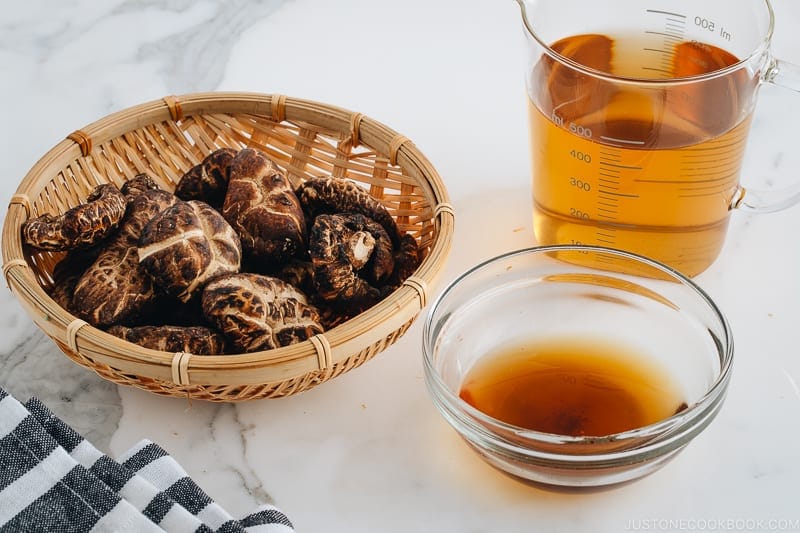 Use of Dried Shiitake Mushrooms in Japanese Cooking
Mushrooms: In Japanese cooking, we use fresh shiitake mushrooms for grilled dishes and soups while we use dried shiitake mushrooms for simmered, steamed, and stir-fried dishes to add a deeper and intense flavor.
Soaking Liquid: The water that is used to rehydrate dried shiitake mushrooms will turn brown and it is called the Shiitake Dashi, a by-product from the soaking process. Since the soaking liquid has good nutrients and flavors, we don't throw it away and instead find a good use for it in cooking. We usually combine the liquid with other kinds of dashi to enhance the flavor and add umami; however, we rarely used shiitake dashi as its own.
How to use leftover rehydrated shiitake mushrooms
If you find yourself with some rehydrated shiitake mushrooms from making dashi, please do not throw them away. The soaked mushrooms are highly versatile and can be added in many delicious dishes you can think of:
Add them into your noodle soups or Japanese-style pasta.
Add them into a stew or braised dishes
Use them as a substitute for meat to make vegetarian mapo tofu
Add them into a stir fry vegetable to bulk up your dish
Mince them and add into the filling for gyoza or spring rolls
Add them into a mixed rice dish
Delicious Recipes Using Dried Shiitake Mushrooms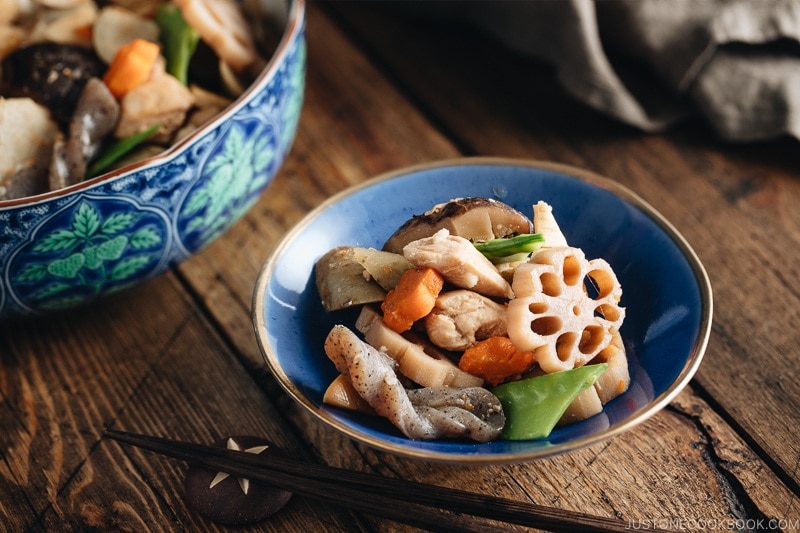 Instant Pot Nishime (Regular Nishime/Chikuzenni)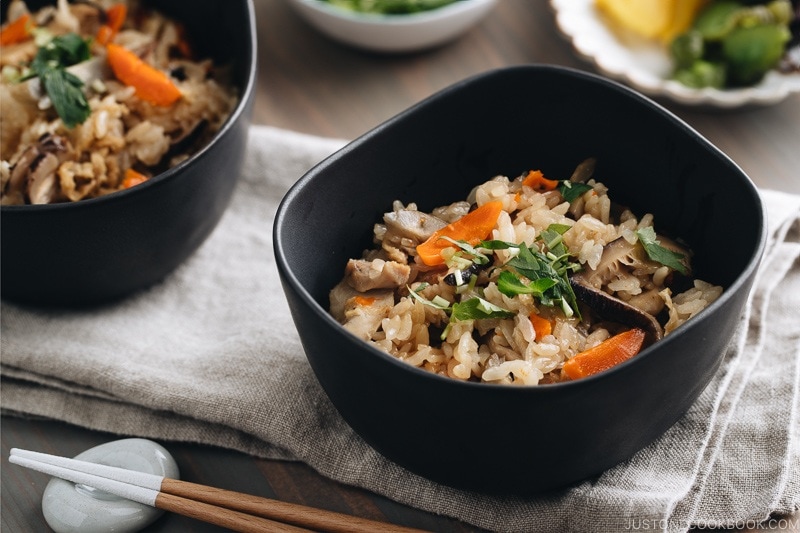 Instant Pot Takikomi Gohan (Regular Takikomi Gohan)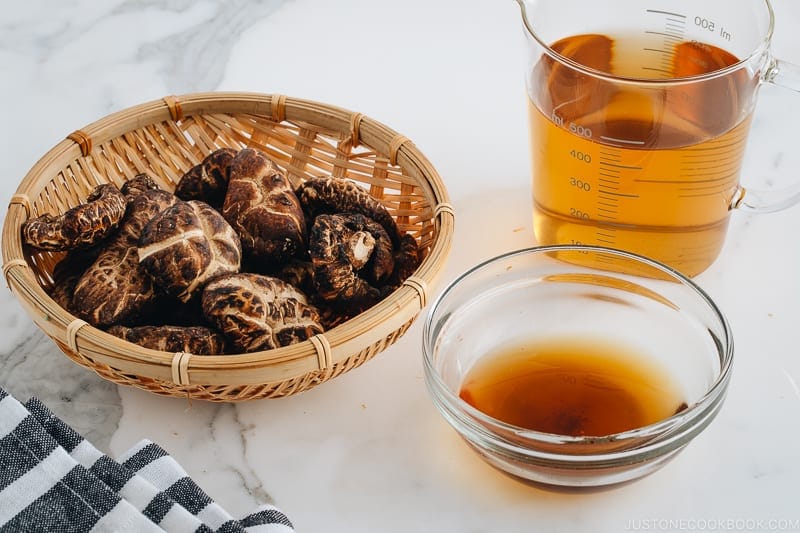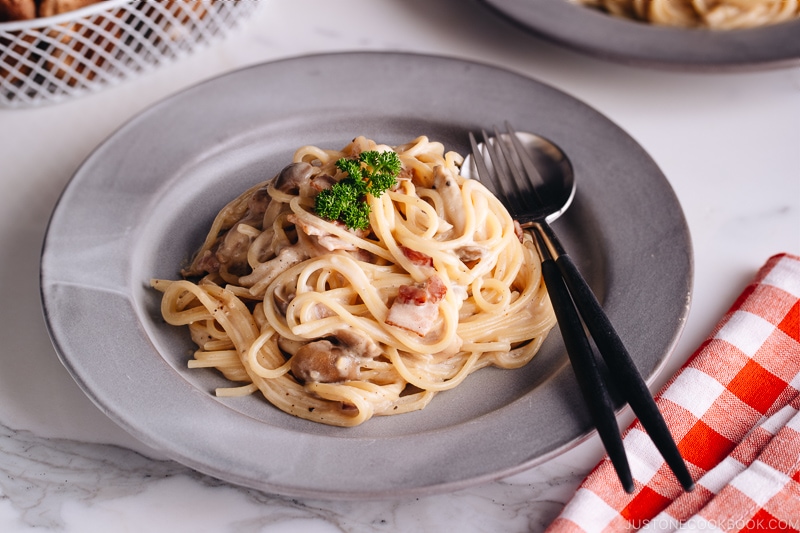 Creamy Mushroom and Bacon Pasta
Wish to learn more about Japanese cooking? Sign up for our free newsletter to receive cooking tips & recipe updates! And stay in touch with me on Facebook, Pinterest, YouTube, and Instagram.