Harumaki is a crispy Japanese Spring Roll wrapped with a delicious filling of pork, chicken, shrimp, shiitake mushroom, carrots, and vermicelli. They make excellent finger food or appetizer.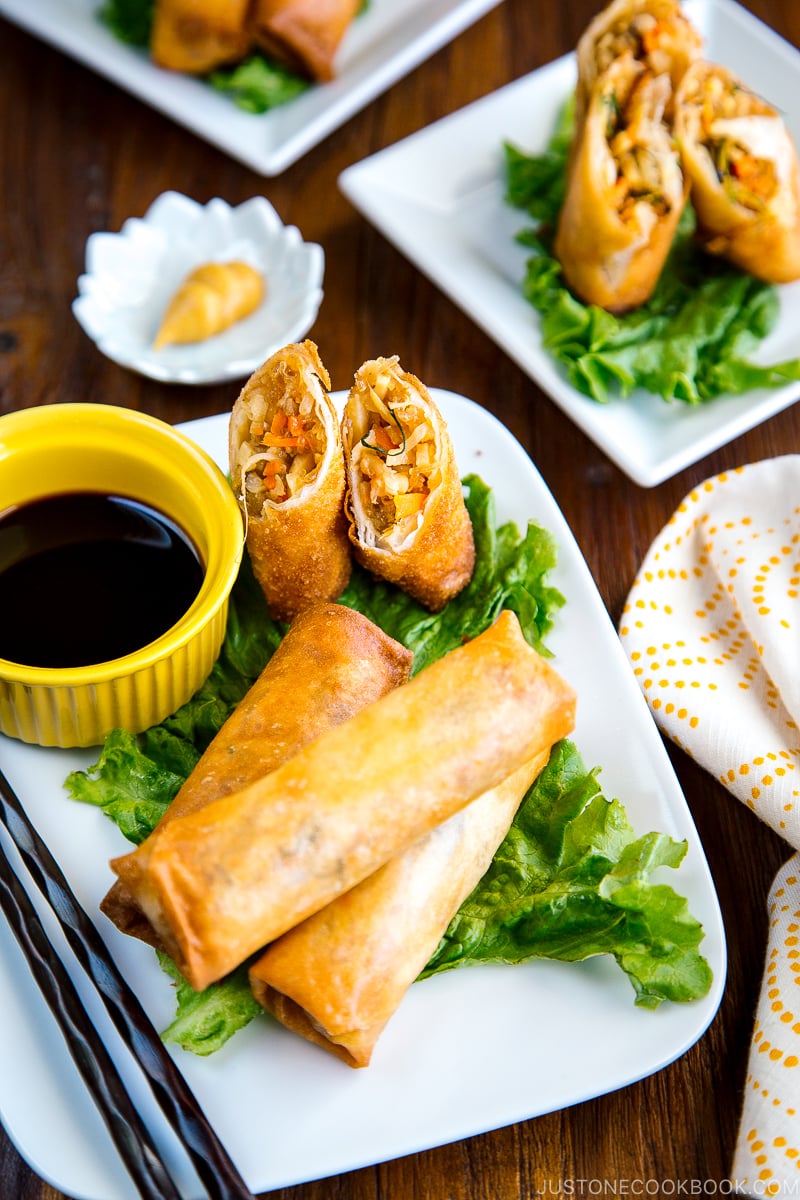 Spring Rolls (often called Egg Rolls and used interchangeably) are a dish found in East Asian and Southeast Asian cuisine. Savory filling wrapped in flour-based pastry sheet and deep-fried till the outer shell is crispy and golden brown.
In Japan, we call this dish Harumaki (春巻き), a direct translation of "spring rolls" in Japanese. Harumaki was originally introduced to Japan by the Chinese and adapted to Japanese tastes.
Harumaki Ingredients
Typical ingredients for Harumaki (Japanese spring rolls) include some type of meat (pork, shrimp, etc), carrot, shiitake mushrooms, bamboo shoots, etc. Each family makes them slightly different, and today I'll show how I make my tasty Harumaki. I learned my recipe from my mom using 10 ingredients for the filling.
Her signature Harumaki includes three types of protein – shrimp, ground pork, and chicken tender. However, the ingredients for spring rolls are really up to your preference. You don't have to include all 1o ingredients that I used. You can pick a couple of your favorites or experiment with fresh seasonal ingredients.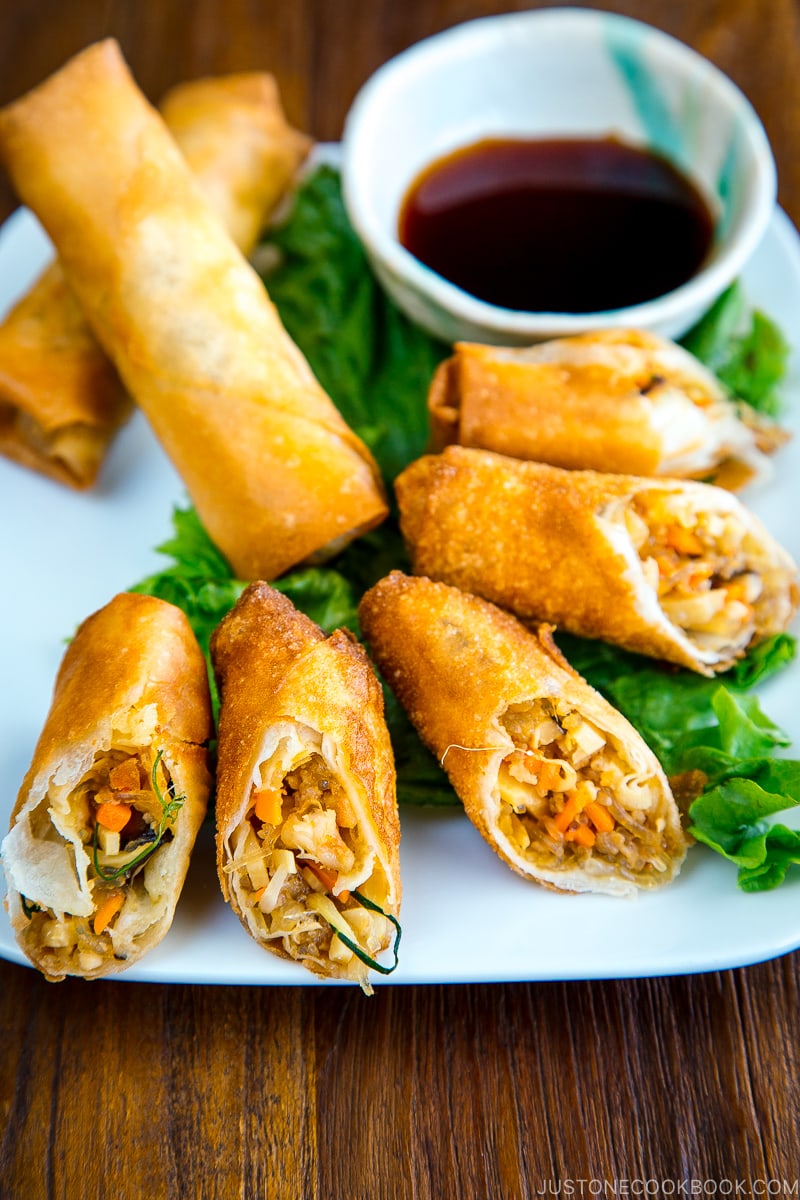 The only difference between my mom's and my Harumaki is that my mom's Harumaki is wider, one and a half times wider than mine. Growing up, I had trouble picking up Harumaki with chopsticks to eat them so I made my Harumaki size similar to typical Chinese spring rolls size.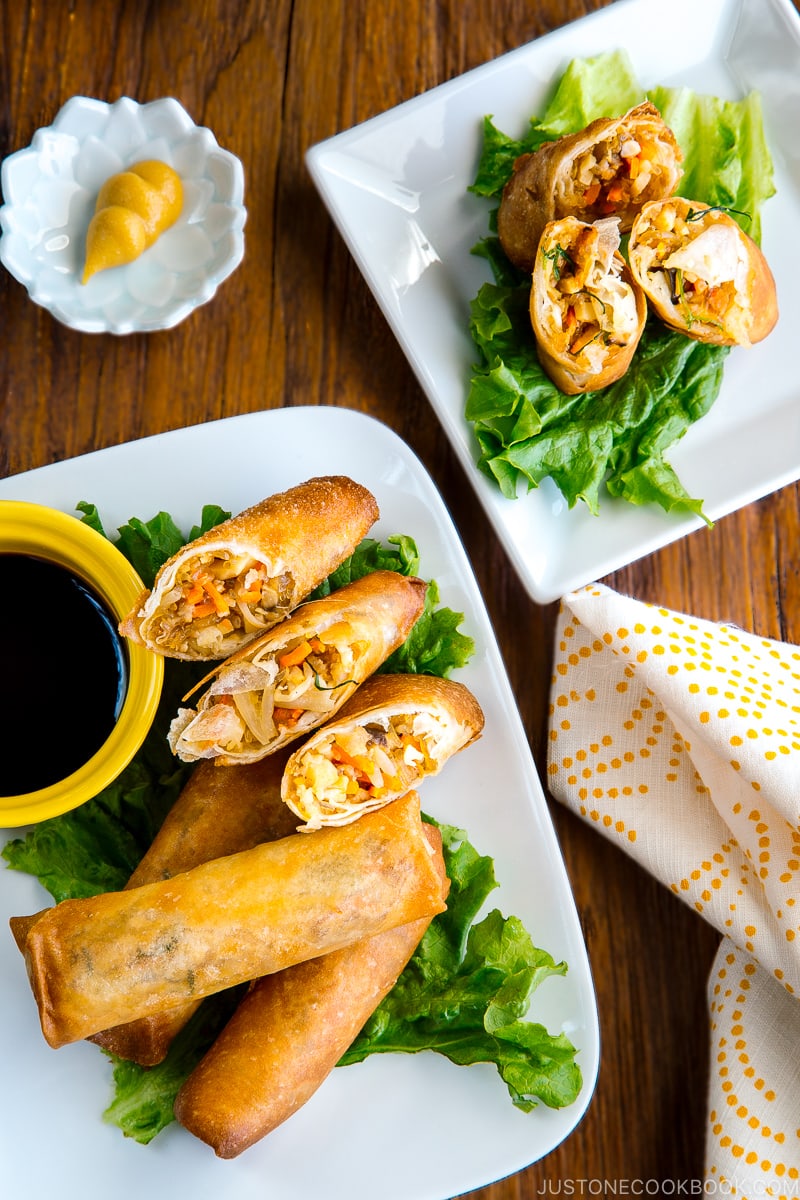 Dipping Sauce for Harumaki
Depending on the filling, you may want to change the dipping sauce, but typical Japanese Harumaki is served with a combination of soy sauce and rice vinegar and you can also add Japanese karashi mustard.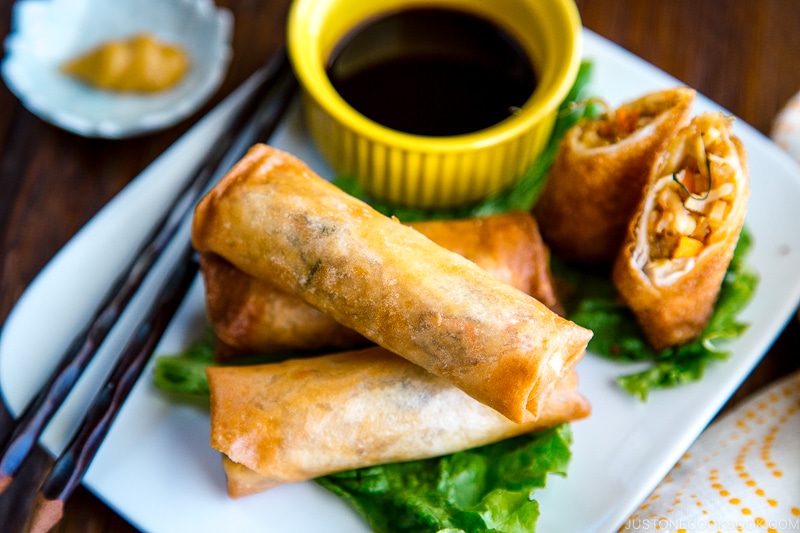 Wish to learn more about Japanese cooking? Sign up for our free newsletter to receive cooking tips & recipe updates! And stay in touch with me on Facebook, Pinterest, YouTube, and Instagram.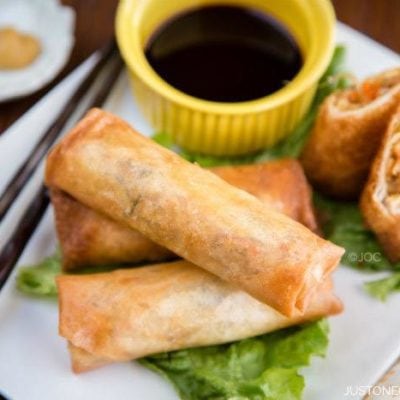 Harumaki (Japanese Spring Rolls)
Harumaki is a crispy Japanese Spring Roll wrapped with a delicious filling of pork, chicken, shrimp, shiitake mushroom, carrots, and vermicelli. They make excellent finger food or appetizer.
Video
Ingredients
Japanese Ingredient Substitution:
If you want substitutes for Japanese condiments and ingredients, click
here
.
Instructions
Gather all the ingredients.

Soak

4 dried shiitake mushrooms

in

¼ cup water

to rehydrate, about 15 minutes.

Cut

4 shrimp

and

2 chicken tenders

into small pieces. In a medium bowl, mix the ingredients for marinade:

2 tsp soy sauce

,

2 tsp sake

, and

2 tsp potato starch or cornstarch

. Add the shrimp, the chicken, and

¼ lb ground pork

to the bowl and mix well. Set aside to marinade.

Cook

1.5 oz dried glass/cellophane noodles (harusame)

in a boiling water for 2–3 minutes. Drain well and cut into 1-inch lengths.

Cut

½ boiled bamboo shoot

,

1 knob ginger

, the rehydrated shiitake, the white part of

1 Tokyo negi (naga negi; long green onion)

,

2 stalks garlic chives (Chinese chives or Nira)

, and

3 inch carrot

into long strips (2-inch julienned pieces). Wash

2.5 oz bean sprouts

and drain well.
To Make the Filling
To make the harumaki filling, heat

1 Tbsp roasted sesame oil

and the ginger over medium high heat in a large frying pan. Once fragrant, add the marinated shrimp, chicken, and pork and stir-fry until no longer pink.

Add the sliced bamboo shoot and carrot and stir-fry until coated with oil and slightly tender. Add the bean sprout, Tokyo negi, Chinese chives, and dried mushrooms and stir-fry. Then, add the noodles.

Add the ingredients for the seasonings:

¼ cup shiitake dashi

,

2 Tbsp soy sauce

,

1 tsp Diamond Crystal kosher salt

, and

freshly ground black pepper

. Mix well.

Combine

2 Tbsp potato starch or cornstarch

with

2 Tbsp water

in a small bowl.

After a quick stir, pour the potato starch slurry into the harumaki filling and mix well. Transfer the filling from the pan to a baking sheet or plate. Let it cool completely and evaporate the moisture. Make sure there is no moisture in the filling. Otherwise, the wrappers will break easily before and during deep-frying (and might explode in the oil).
To Roll the Harumaki
Slowly peel each of the

10 egg roll (harumaki) wrappers

, one at a time, and keep them under plastic wrap or a damp kitchen towel to prevent from drying up while you work. Mix

2 Tbsp all-purpose flour (plain flour)

and

2 Tbsp water

in a small bowl to form a loose paste.

To make the harumaki, lay one harumaki wrapper with a corner pointed towards you (diamond shape). Place the filling neatly just below the center of the wrapper. I use an ice cream scooper to transfer the filling so the amount of filling for each wrapper is somewhat standardized. Start folding the bottom corner over the filling towards the top and tuck under the filling nice and tight.

Roll the wrapper once to cover the filling, and fold the right and left corners of the wrapper in. They should overlap each other a little bit. Then roll toward the remaining corner. When you start rolling upward, the wrapper may flair out. Make sure both sides of the wrapper to taper inwards.

Using your finger, put good amount of flour + water paste on the top corner. Then roll and press firmly to seal. Continue with remaining wrappers.
To Cook
Once you finish wrapping, start deep-frying immediately before the wrapper gets soggy. Deep fry the harumaki in a deep fryer/wok/pot with 170°C (338°F) vegetable oil until light golden brown and crisp, about 5 minutes. Drain the excess oil over a wire rack or paper towel.

If you prefer to bake, preheat the oven to 400ºF (200°C). For a convection oven, reduce cooking temperature by 25ºF (15ºC). Arrange the harumaki in a single layer on a baking sheet lined with parchment paper. Brush the tops of the rolls with vegetable oil then bake them for 10 to 12 minutes, rotating after 6 minutes, until they're golden brown and crispy.
To Serve
Make a dipping sauce with

soy sauce

,

rice vinegar (unseasoned)

, and

Japanese karashi hot mustard

as you like and serve with harumaki.
To Store
You can keep the leftovers in an airtight container and store in the refrigerator for up to 3 days and in the freezer for a month.
Nutrition
Nutrition Facts
Harumaki (Japanese Spring Rolls)
Amount per Serving
% Daily Value*
* Percent Daily Values are based on a 2000 calorie diet.
©JustOneCookbook.com Content and photographs are copyright protected. Sharing of this recipe is both encouraged and appreciated. Copying and/or pasting full recipes to any website or social media is strictly prohibited. Please view my photo use policy
here
.