This is the ultimate guide on how to deep-fry food at home safely. Read our tips on how to check the oil temperature with or without a thermometer and how to dispose of used oil.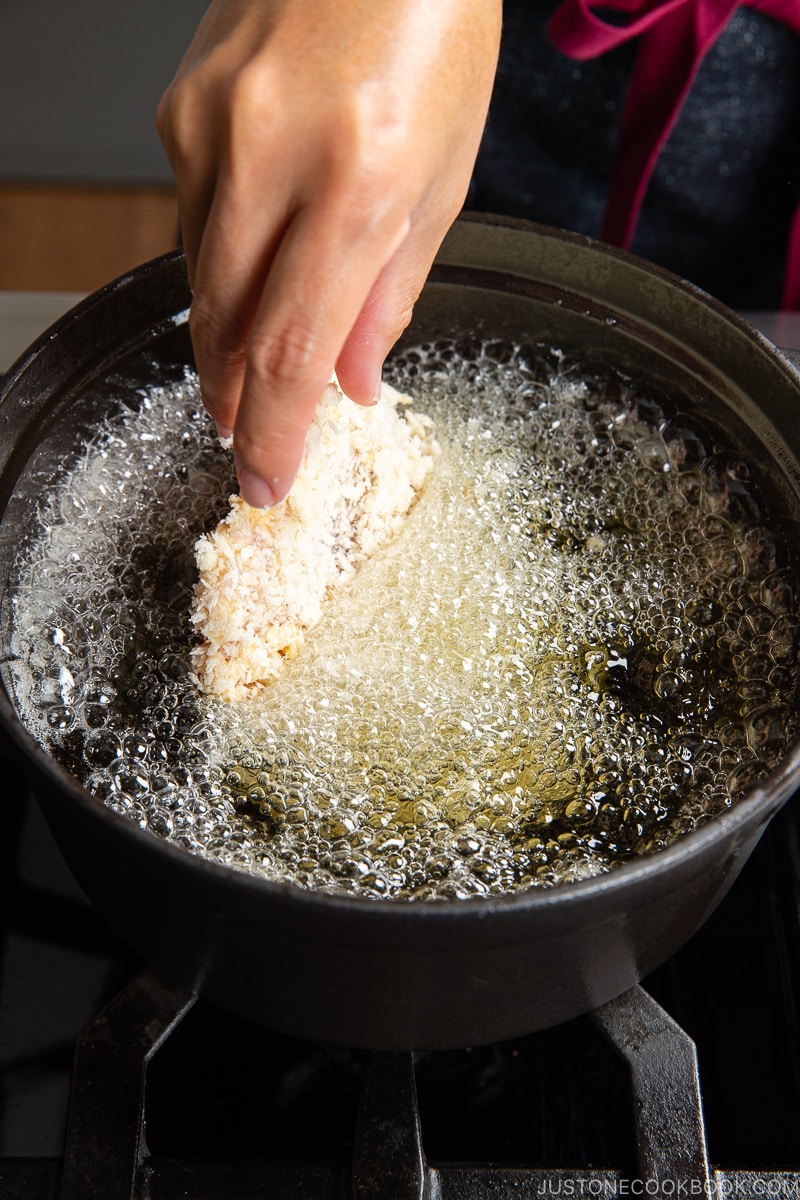 If you like to eat deep-fried food, cooking it at home is actually the healthiest choice because you can use fresh oil. You don't know how many times the restaurant is re-using the same oil!
Types of Oil for Deep-Frying: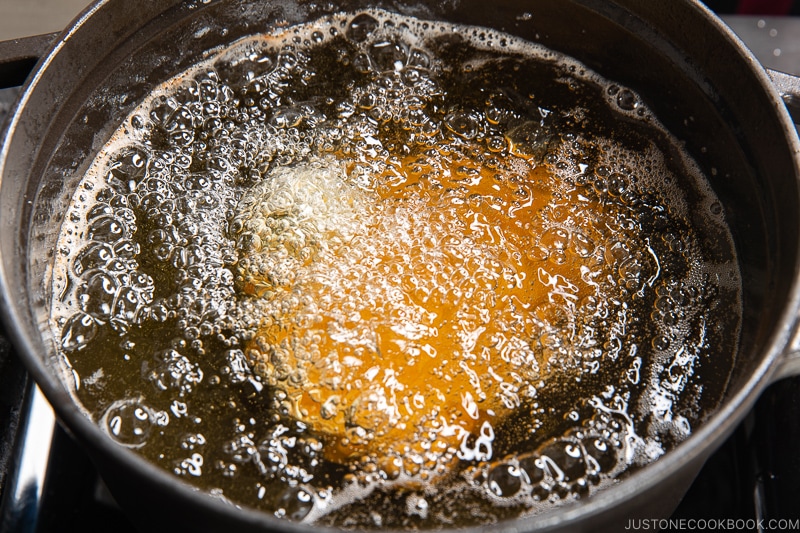 For Japanese food, I recommend neutral-flavored oil such as vegetable oil, canola oil, corn oil, bran oil, etc.
Tools You Need for Deep-Frying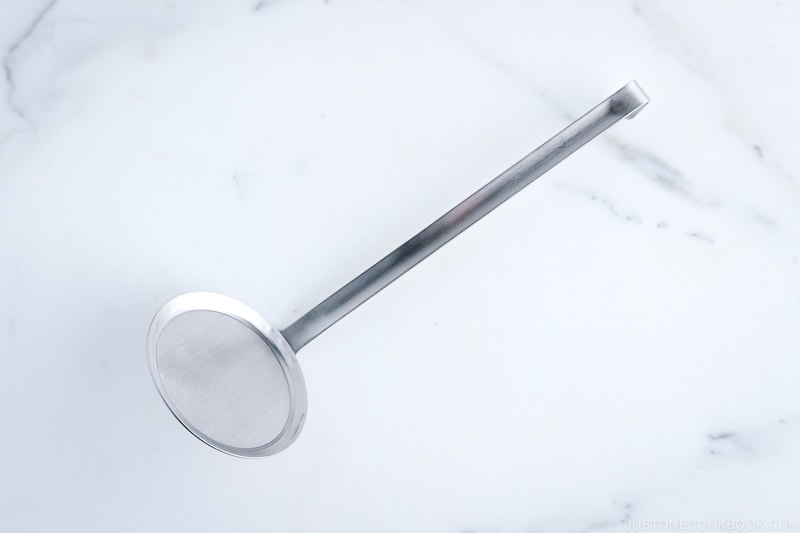 Optional but helpful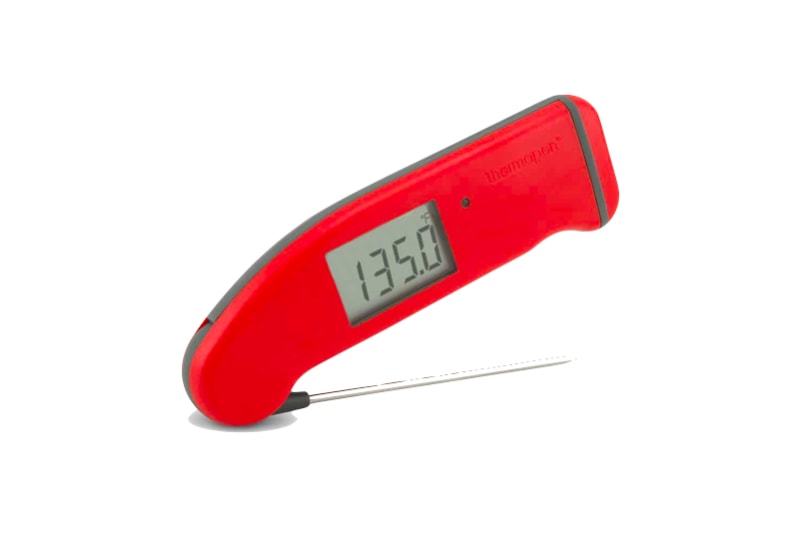 What You Need To Know Before Deep-Frying:
Remove combustible items around the stove.
Do not put water (momisture) in hot oil. Wipe all excess liquid off utensils or else it'll splatter.
NEVER EVER leave your cooking unattended. NEVER! Oils begin to burn at 400ºF and catch fire at 500ºF. If you need to leave your kitchen, make sure you turn off the stove.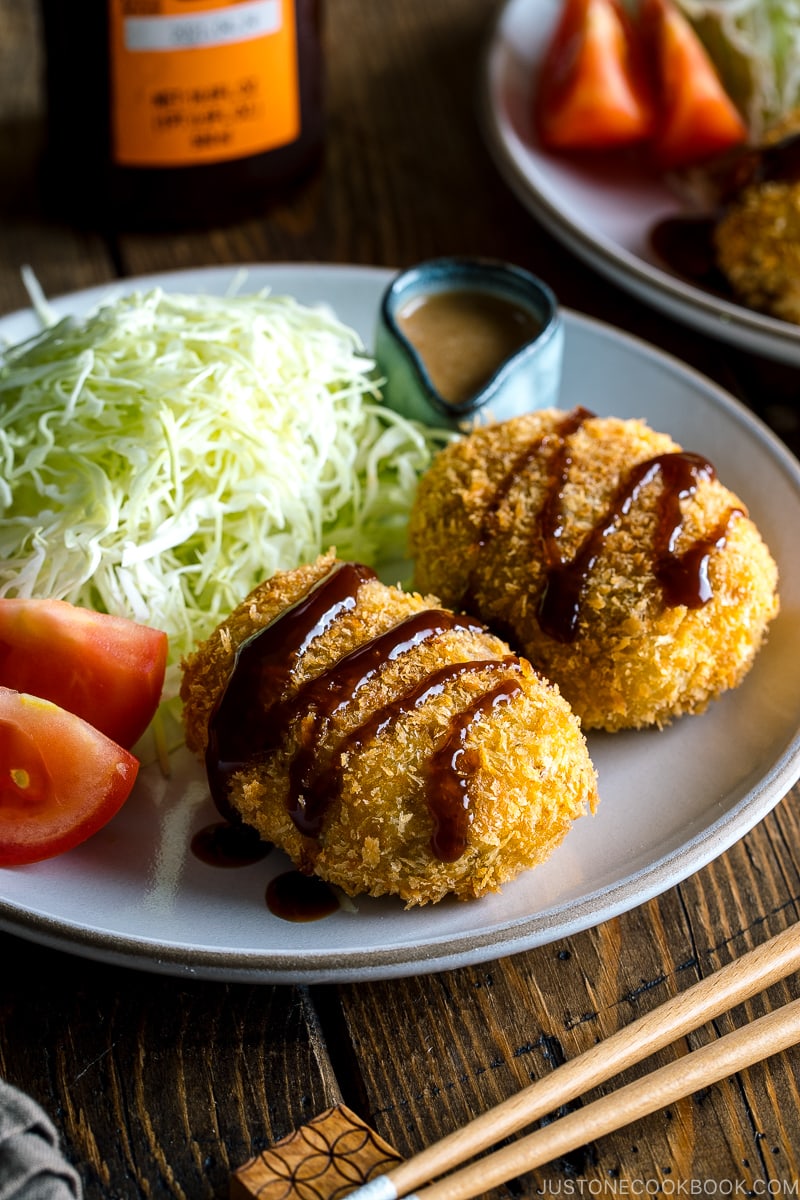 How to Deep-Fry Foods:
Step 1 – Add Oil in a Deep-Frying Pot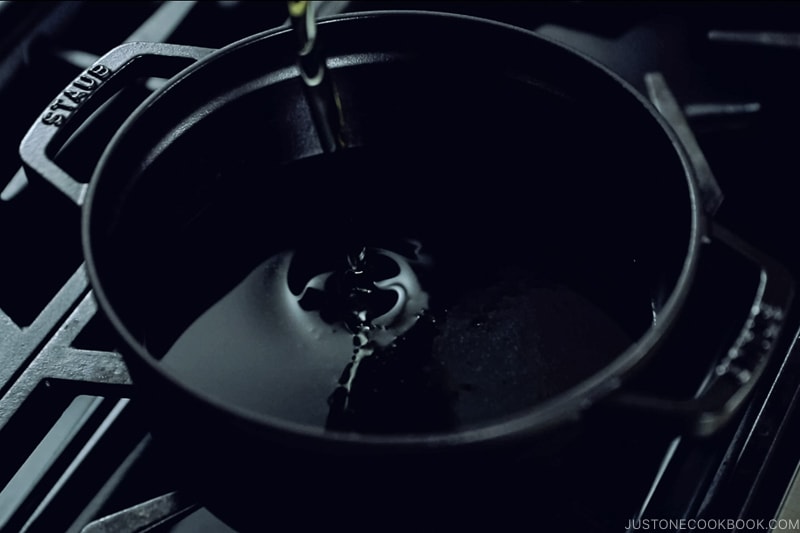 Add oil in your fryer and do not put more than halfway full. I usually put about 1 ½ to 1 ¾ inch (less than 5 cm) oil. Start heating the oil to 340-350ºF.
Step 2 – Learn About Oil Temperature
Oil Temp
When you drop the batter…
When you drop Panko…
When you put a chopstick…
Suitable Ingredients
285ºF/140℃
It sinks to the bottom of the pot and slowly rises.
Spread slowly.
Fine bubbles gently rise from the tip of the chopsticks.
Ingredients for pre-cooking Chinese food, etc.
300-320ºF/
150-160℃
(Low Temp)
It takes about 6 seconds to rise after sinking to the bottom of the pot.
Spread slowly throughout
Fine bubbles rise from the entire chopsticks.
Thick-sliced ​​root vegetables that are difficult to cook, leafy herbs such as shiso leaves and mitsuba
340-350ºF/
170-180ºC
(Mid Temp)
It sinks to the middle and rises immediately.
Make fine bubbles and spread throughout
Bubbles constantly rise from the entire chopsticks
General fried foods such as croquettes, tempura, kakiage, tonkatsu, etc.
375-390ºF/
190-120ºC
(High Temp)
It immediately emerges and browns.
Spreads vigorously throughout
Large bubbles rise vigorously from the entire chopsticks
Seafood such as shrimp, tofu, and eggplant that contains a lot of moisture.
Panko Method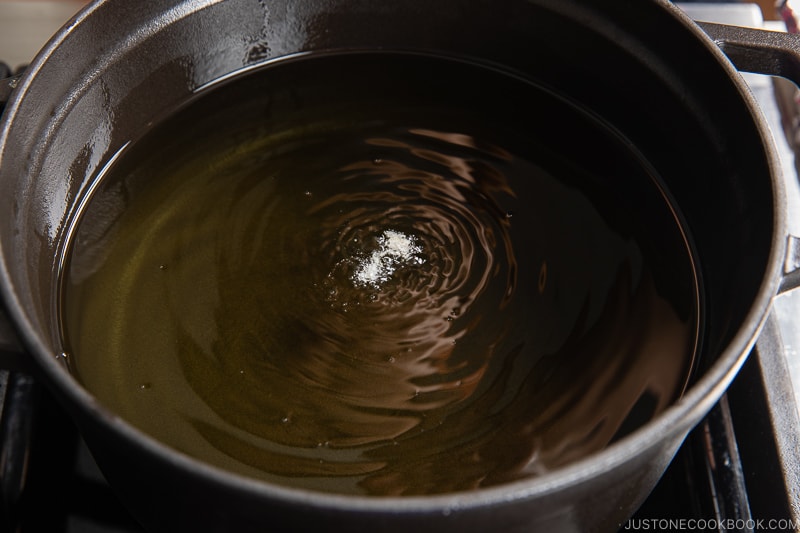 Put a piece of panko (Japanese breadcrumb) in the oil to see the reaction.
Chopstick Method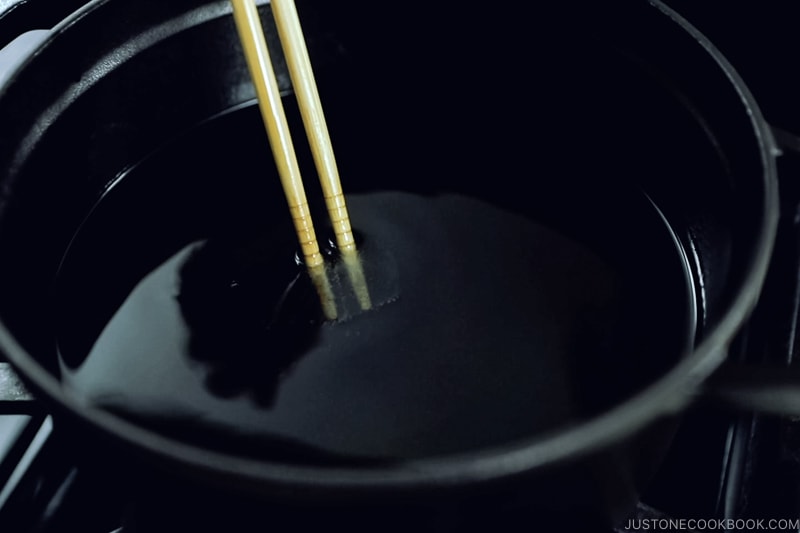 Put a chopstick in the oil, and if you see bubbles start to appear around the chopstick, it's ready for deep frying.
Kithcen Thermometer Method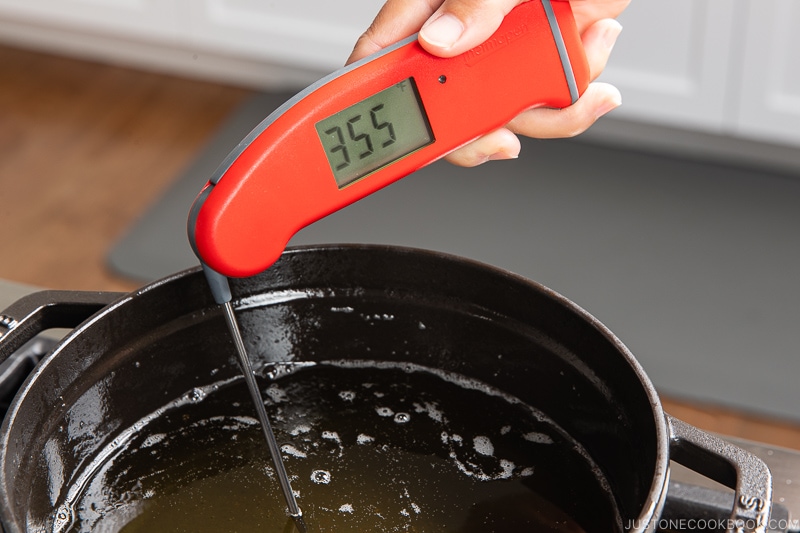 I love using my instant-read thermometer (I use a Thermapen)! It's fast and always accurate!
Step 3 – It's Time to Fry!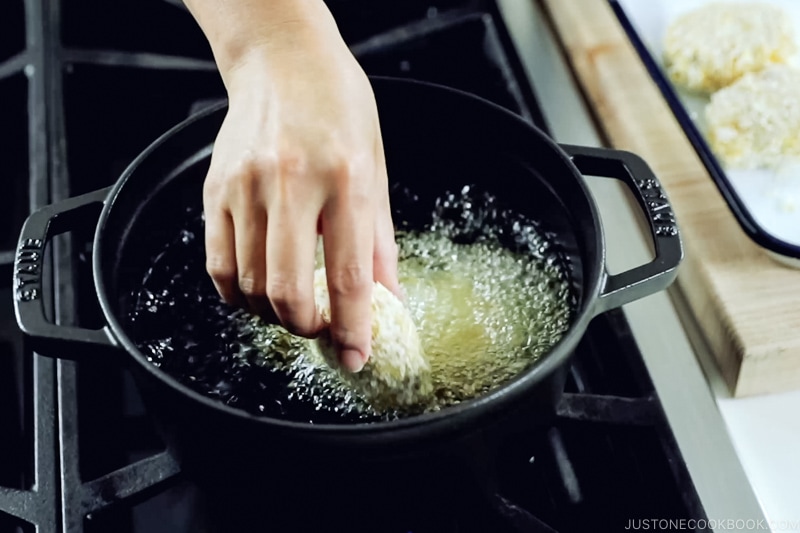 Do not put too many items into the fryer at the same time. Adding too many items at the same time will lower the oil's temperature and your food will end up absorbing too much grease.
If you are new to deep-frying, use a deep-fry thermometer to keep an eye on the oil temperature. It's critical to make sure the temperature stays constant so the food does not absorb too much grease or burns.
Step 4 – Drain Oil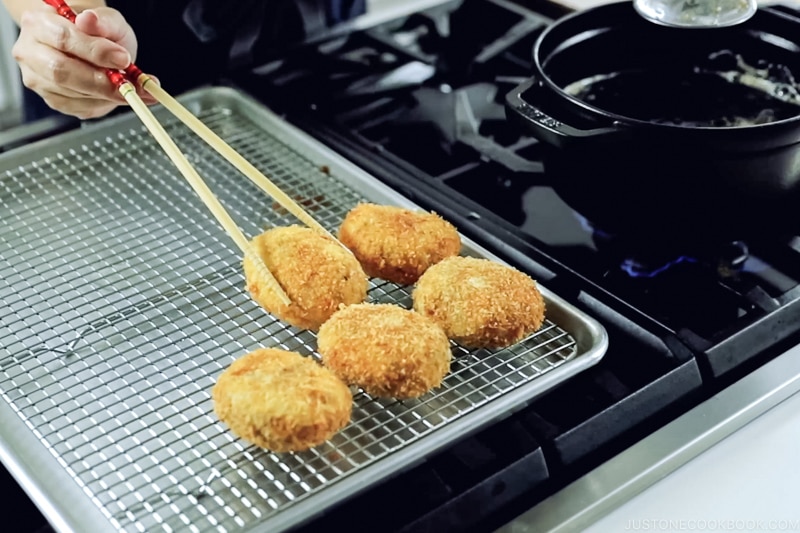 Transfer the deep-fried food to a wire rack or plate lined with a paper towel. Let it drain excess oil.
Step 5 – Clean Oil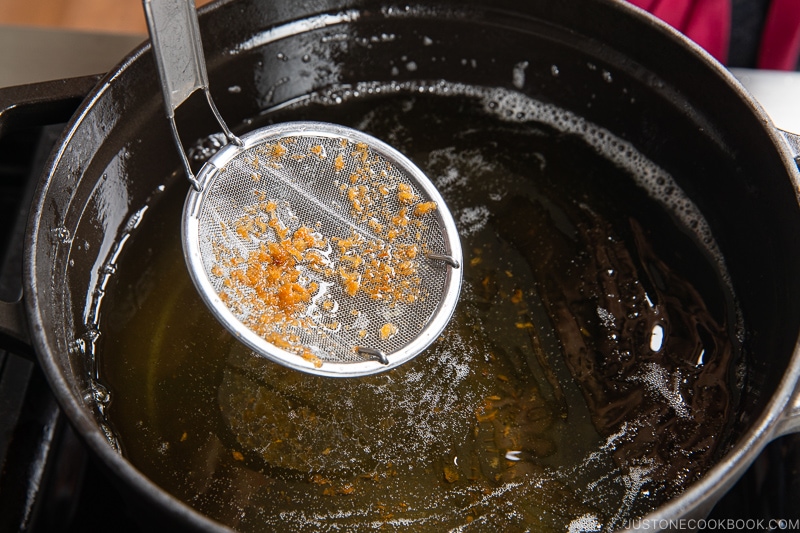 Between batches, use the mesh sieve to scoop excess crumbs, which will burn and turn the oil darker if you don't take them out.
After Deep-Frying: How To Dispose Oil
If the oil is still clean, you can strain the used oil through a fine sieve and use it again within a week. But if you don't deep-fry often, I recommend you dispose of the used oil.
Option A) After the oil cools down, place it in a sealed glass container and put it in the garbage (or follow your local garbage company's instructions). NEVER pour it down your kitchen sink drain.
Option B) Buy these Japanese "Oil Solidifier" products sold in Japanese/Asian grocery stores and dump in the trash can. You can find it on Amazon: Suwaseru Tenpuru or Abura Katametai.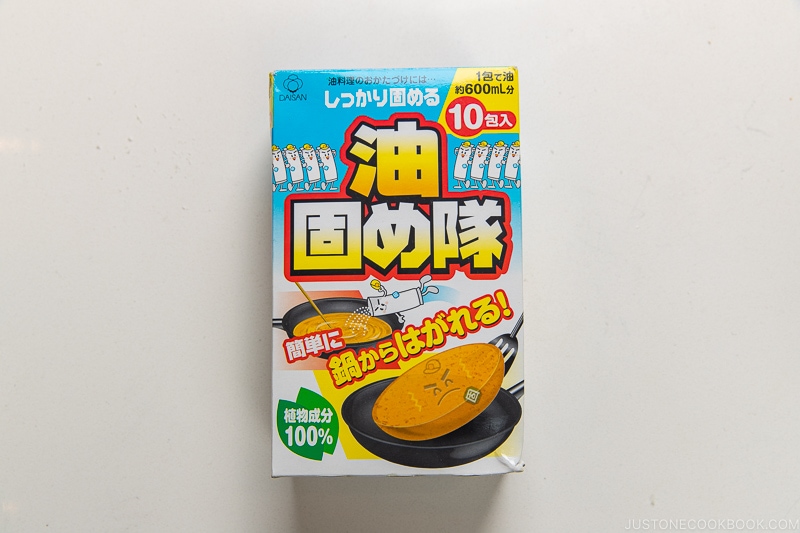 They solidify the oil into a jello-like substance and become semi-solid. See the next section to see how to use it.
Option C) Solidify with gelatine. Read Kenji's method on Serious Eats.
How to Use Oil Solidifier
Step 1: Add the powder to the hot oil and mix.

Step 2: After solidified, toss into the trash.

Delicious Deep-Fried Japanese Foods