In need of inspiration for ramen toppings? From the all-time favorite ramen egg to aromatic la-yu chili oil to the iconic chashu, here is the best list of toppings that go well with your homemade ramen. Also, learn how to use your pantry staples, unexpected leftovers, simple veggies, seasonings and flavoring oils to transform your bowl of noodle soup.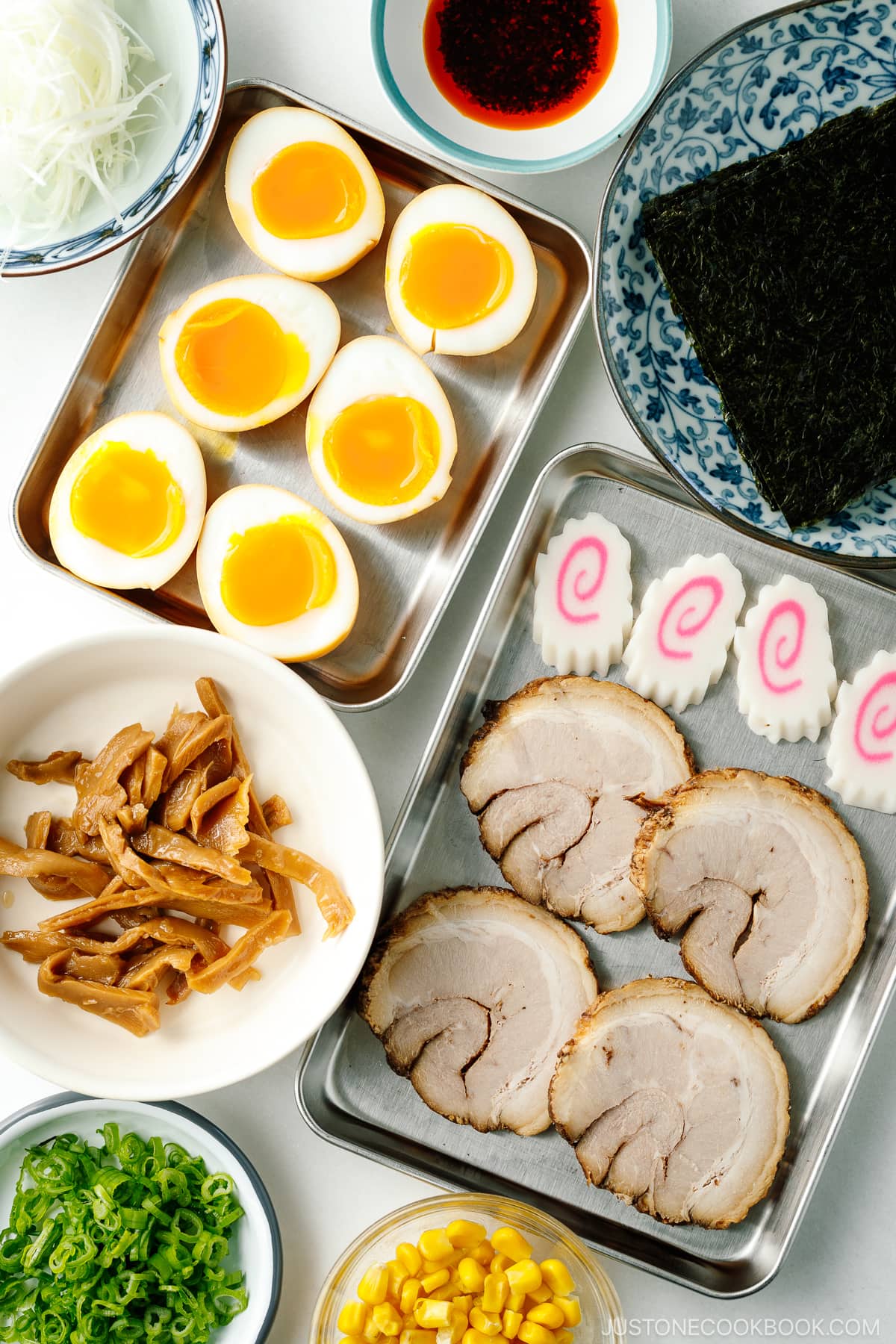 In our Ramen Guide article, we've talked about the basic components that make up a bowl of ramen, mainly the soup stock, tare (sauce), noodles, and toppings. Today, we're all about ramen toppings!
If you are here for delicious ramen topping ideas, you've come to the right place. Whether it's for from-scratch authentic ramen or late-night instant ramen, ramen toppings are where you can get creative and level up your ramen game.
Here, I'll share toppings that complement different styles of ramen, ranging from traditional items like chashu to vegetarian options to creative choices. These toppings will instantly add substance, flavor, color, and texture.
But take my advice: Simple is best for ramen. You want to be able to taste the soup broth and enjoy the bouncy noodles, so keep the toppings minimal and focus on contrasting flavors and textures.
Now let's get to the list!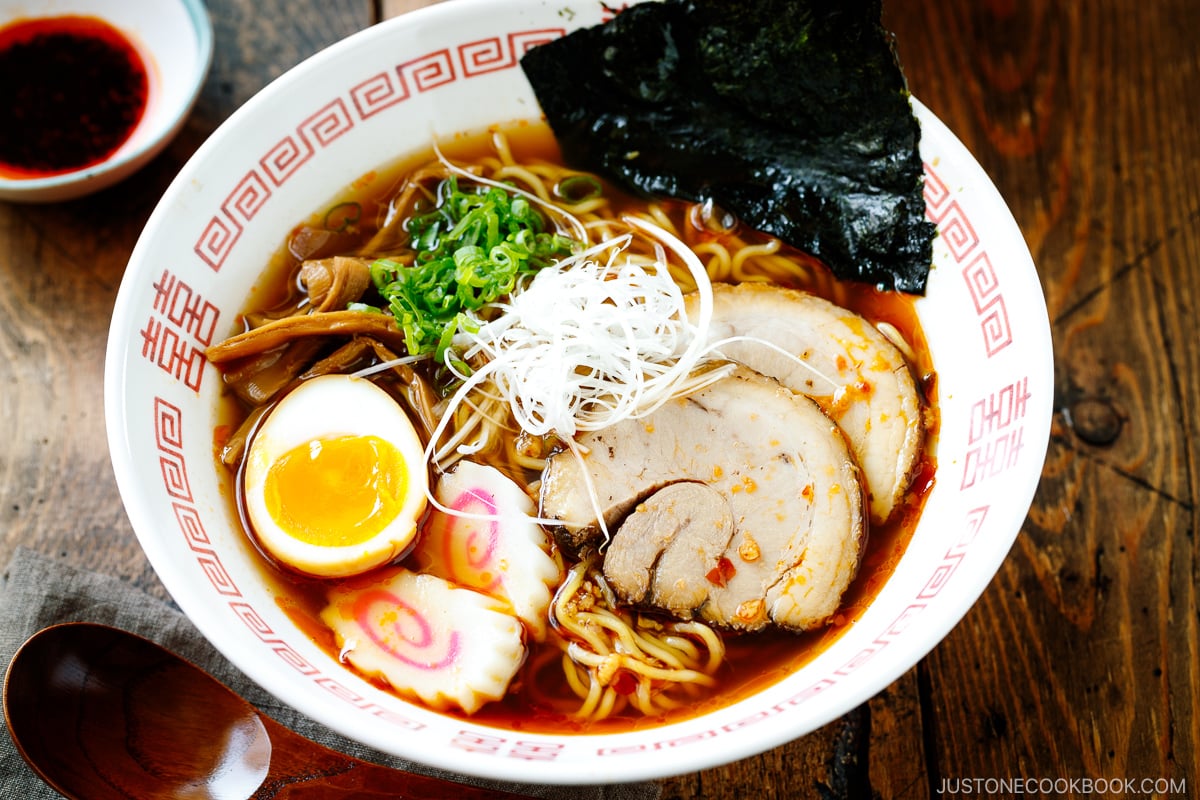 Authentic Japanese Ramen Toppings
The Classics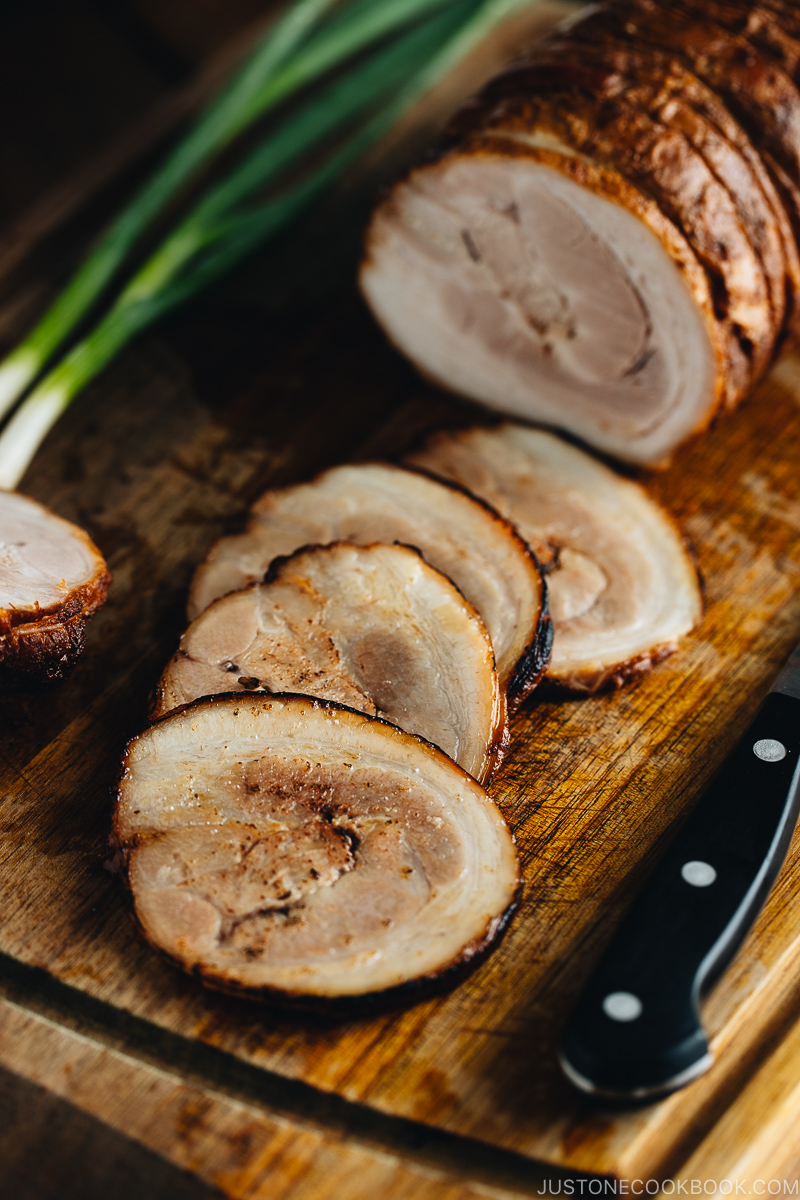 These are what we consider the traditional toppings that often grace the famous bowls.
Chashu – Tender, melt-in-your-mouth chashu pork belly slices are a classic yet luxurious topping for ramen. Although making chashu at home requires time, you'd be surprised how straightforward the process is. My recipe shows you two methods: rolled (log) and non-rolled (block).
Ramen Eggs – Some people think that their ramen is not complete without a savory boiled egg that reveals a golden custardy jammy yolk in the center. Are you one of them? These ramen eggs are called ajitsuke tamago, or ajitama in short, and are marinated in a sweetened soy-based sauce overnight. If you don't have the time, you can also just top your ramen with plain, soft-boiled eggs (hanjyuku tamago). Both styles of eggs offer you custardy creamy yolks that will surely enrich your bowl of ramen.
Menma (Fermented Bamboo Shoot) – Fermented bamboo shoots have a slightly sweet, savory, pickled taste and offer a satisfying crunch to the noodle soup.
Narutomaki (Steamed Fish Cake) – You can't go wrong with narutomaki when it comes to a quick and easy topping choice. The fish cake is pre-cooked and ready to eat, so you just need to slice them thinly before use. The pink and white swirled pattern adds a nice touch of color and texture to the ramen bowl. You can sub with kamaboko, if that's what you can find.
Nori (Dried Seaweed Sheet) – Nori seaweed is another favorite topping since it is packed with umami and crunch. Cut the seaweed sheet into strips or add whole to your bowl and it should be the last item that goes on when you assemble the ramen.
Shiraga Negi – These julienned strips of Japanese long green onion gives a refreshing taste and cut the grease of ramen, especially when it is served with pork belly chashu.
Scallions – Fresh green onions lend an aromatic quality and earthy, herby taste to the soup broth. You can slice it in different ways to accentuate your ramen. There is even a ramen called aonegi ramen which features a big pile of chopped or sliced green onion covering the top of the noodles.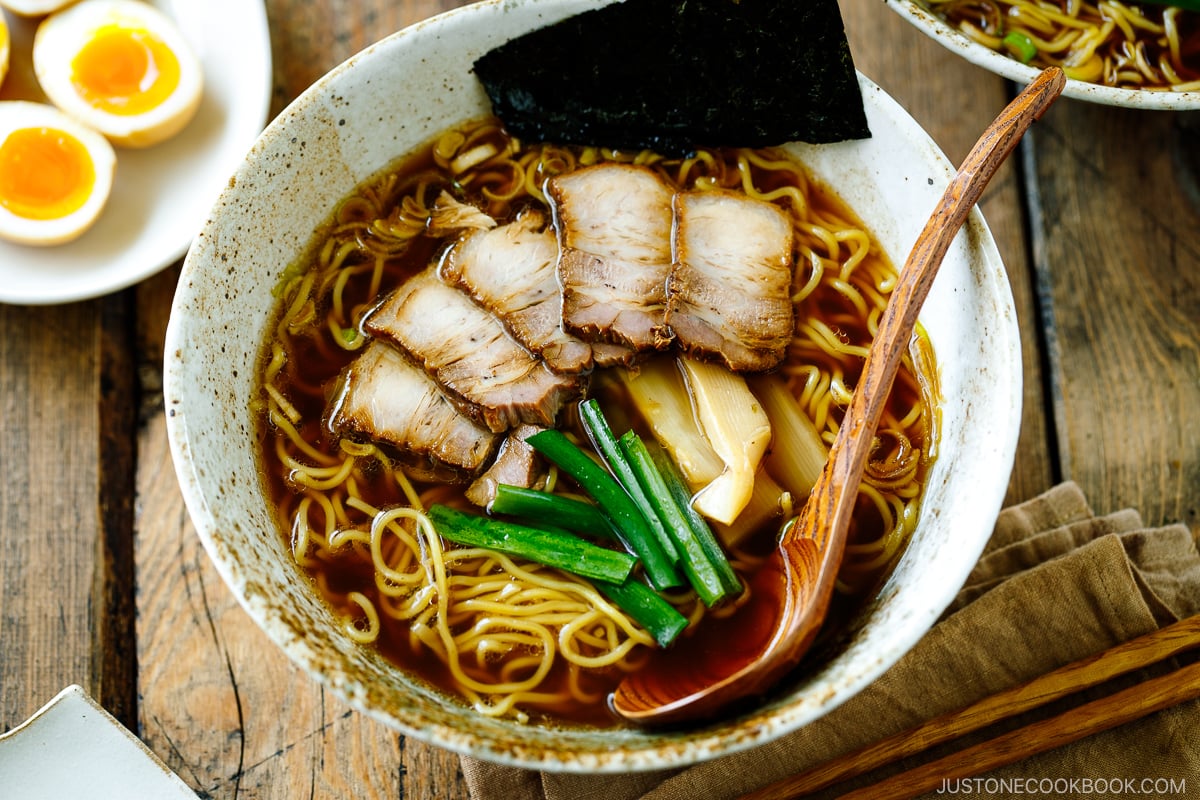 Other Toppings You May See on Ramen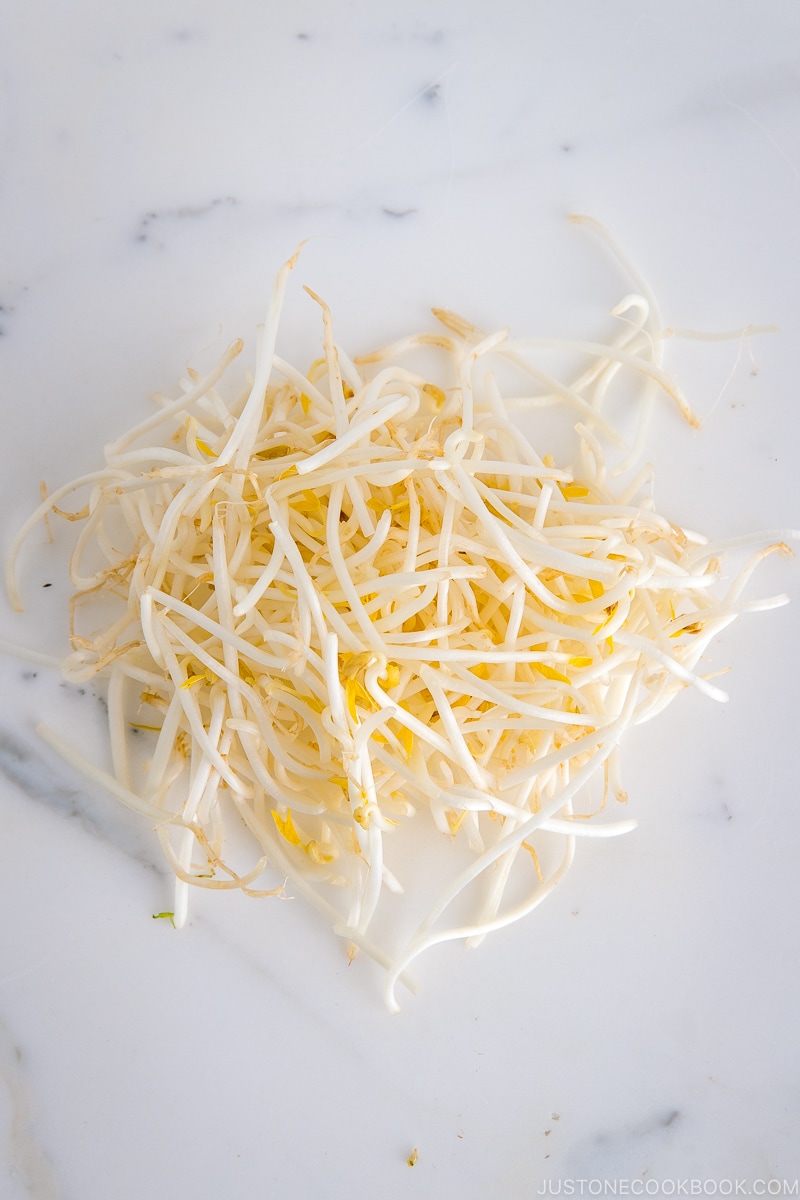 Blanched Bean Sprouts – I love bean sprouts on my ramen as they offer an incredible fresh crunch and are a fabulous palate cleanser between each bite of savory noodles. We don't use raw bean sprouts for ramen as they do in Vietnamese pho. You can simply prepare the sprouts ahead by blanching or stir-frying them. Like it spicy? Try Spicy Bean Sprouts in my popular Vegetarian Ramen for a nice kick!
Wood ear mushrooms (Kikurage) – These uniquely shaped, delicate-tasting mushrooms are known for their delightfully gelatinous and crunchy texture. Find them in this easy Tan-Men recipe.
Garlic Chives (Nira) – The lovely herb has a garlicky-onion flavor without the pungent and sharp taste. I use them in Mazesoba (Mazemen).
Wakame Seaweed – Wakame is another type of seaweed that's most likely added in miso or shio ramen. They add texture and an ocean-y saltiness.
Sweet Corn – Sweet corn adds a pop of color and bursts of sweetness. You'll love them in Miso Ramen.
Beni Shōga (Red Pickled ginger) – These pickled ginger are made with julienned young ginger that has been pickled in plum vinegar, which gives them a bright reddish color. You'll find beni shōga a common garnish for Hakata-style ramen. Don't mistake it for sushi ginger, which is served as a palate cleanser for sushi.
Karashi Takana (Spicy Pickled Mustard Greens) – A traditional topping in regional-style ramen, pickled mustard greens offer a homey, crunchy taste with a mild spicy kick. This is a staple for Kyushu-style tonkotsu ramen. You can get a package of takana aburaitame from Japanese supermarkets.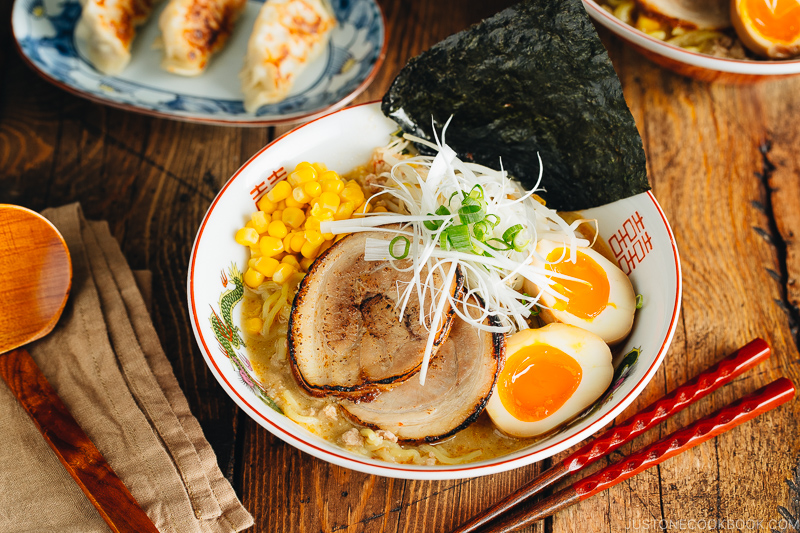 Non-Traditional, Creative Toppings
You can certainly add your own flairs to your homemade ramen for an exciting twist. Here is a list of quick proteins you can add to bulk up your ramen when you're in a hurry. Bonus: Many of them can either be prepped ahead or repurposed in various dishes.
Shredded Chicken – So easy when you have leftovers from rotisserie chicken or baked chicken.
Niku Soboro – Niki soboro is ground meat (this can be chicken, pork, or beef) seasoned with flavorings like soy sauce and a little sugar and then fried until fry. It makes a great topping for dry-style ramen.
Minced Pork – All-Purpose Niku Miso is braised ground meat seasoned with miso.
Shrimp – Cooked shrimp or grilled shrimp are delicious in ramen. See how I use shrimp in Tsukemen Dipping Ramen.
Clam – Clams are used for a seafood base broth (often in dried scallop broth).
Pork Kimchi Stir Fry – This could be your fast favorite once you try it!
Ham or Bacon or Spam – If you're really short on time, this might be it!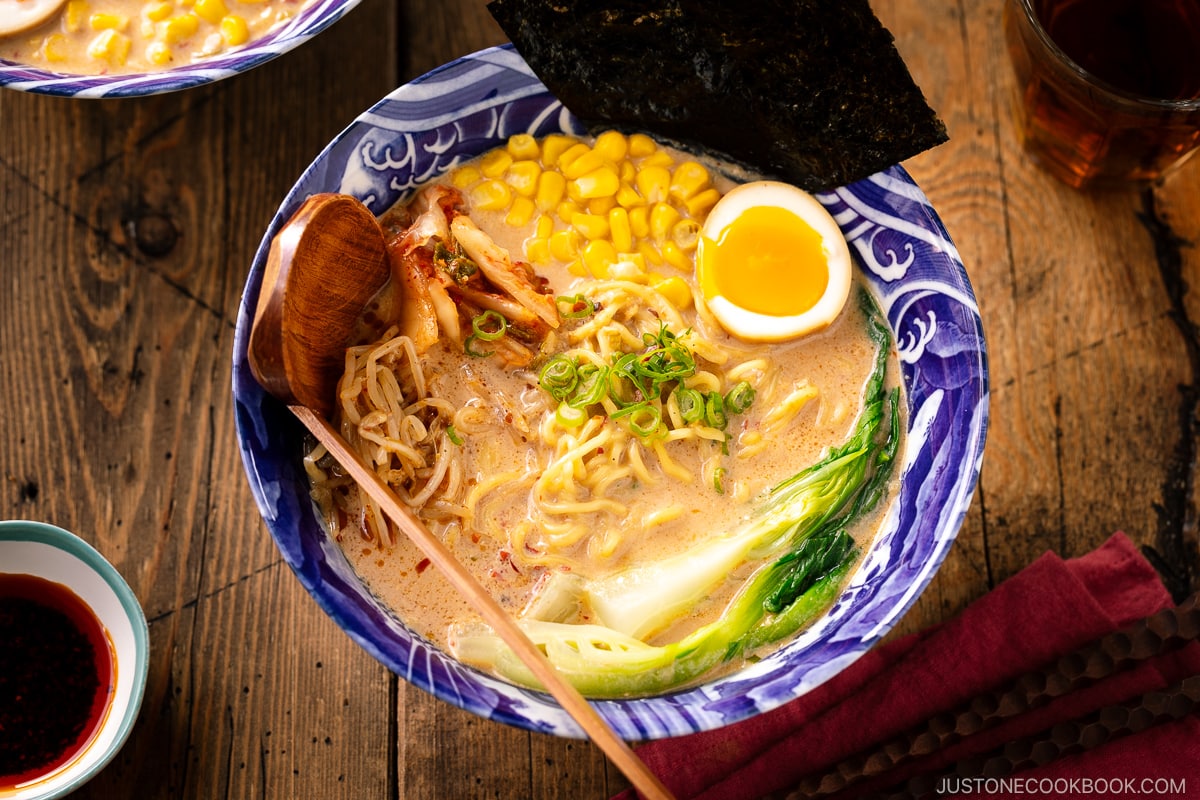 Vegetarian Toppings for Ramen
Wondering what veggies go best on ramen? Fresh and crisp veggies are great, but cooked veggies (grilled/sautéed/blanched) or pickled veggies are fantastic too! Just make sure they are not soggy or overcooked. Layering is the way to go.
When it comes to vegetarian ramen, I recommend mixing and matching vegetables and topping with one protein for a wholesome bowl.
Blanched or Sautéed Leafy Greens – Spinach, bok choy, broccoli florets
Microgreens – Fantastic for a boost of nutrients, fibers, and color
Crisp Vegetables – Thinly sliced carrots, chopped cabbage, asparagus, snap peas, thinly sliced radish
Stir-Fried Vegetables (Yasai Itame) – A great choice for making quick and easy Tan-Men.
Roasted Squashes – 1-2 slices of Roasted Kabocha Squash would brighten up the bowl.
Grilled Vegetables
Pickled Vegetables
Sautéed mushrooms – Shimeji, wood ear, or shiitake mushrooms. You can certainly sub with another type of mushroom such as cremini.
Tofu – Firm, fried, or crispy (deep-fried) tofu is the best choice for topping.
Meat crumbles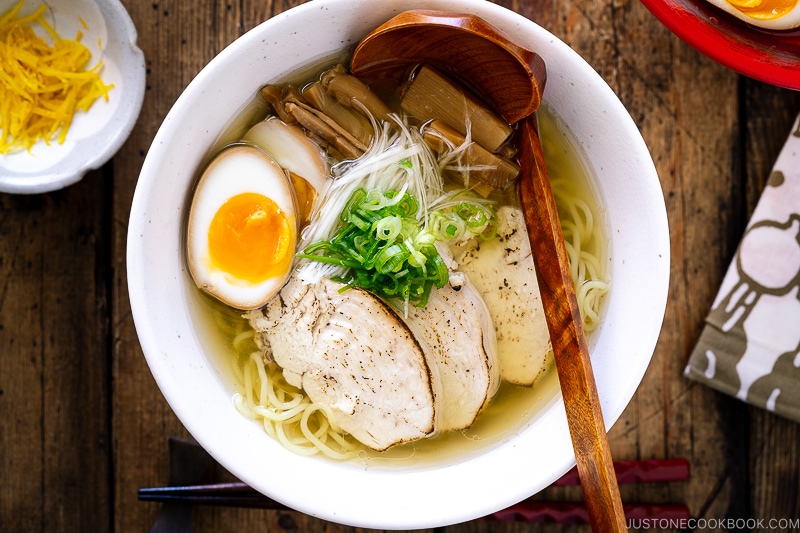 Additional Add-Ons at the Table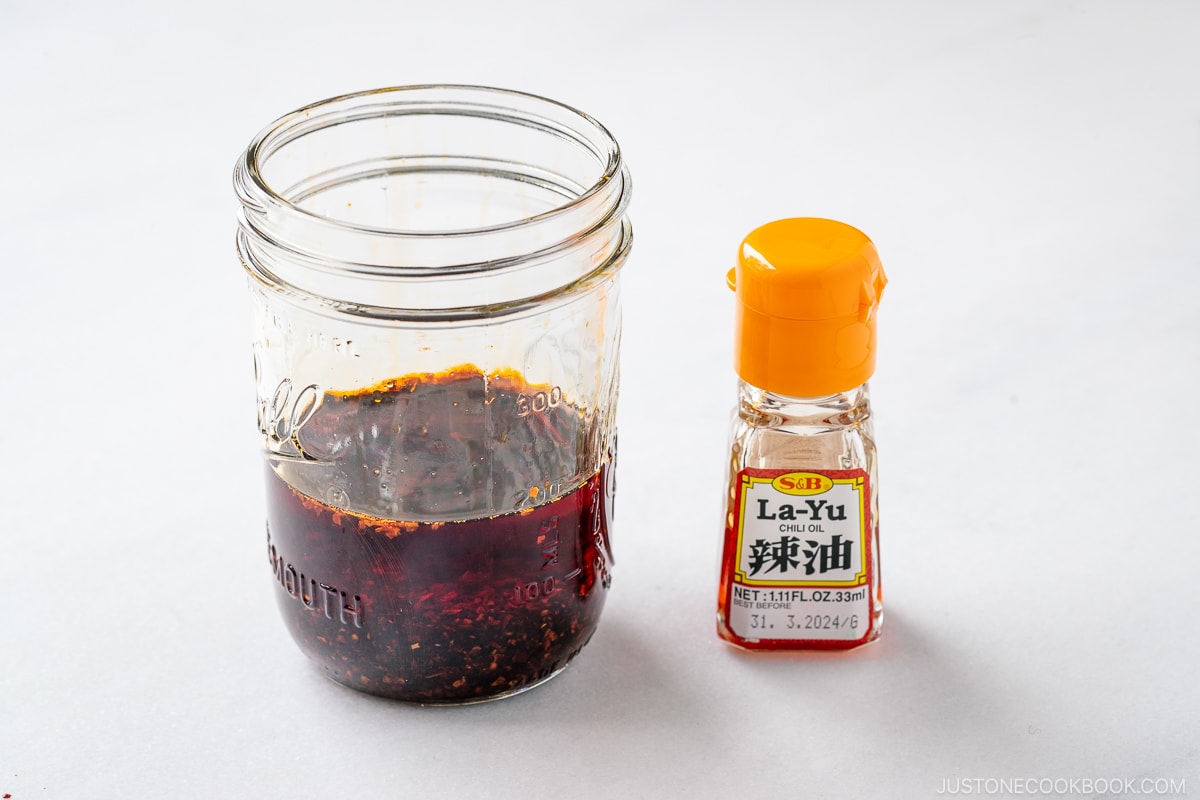 La-yu (Japanese chili oil) – If you crave spice, you'd need chili oil for your ramen too! A few small drops of this fragrant chili oil can dial up the heat and add a nutty savoriness to the noodle soup. I LOVE my Homemade Chili Oil but you can go with the store-bought bottle too.
Mayu (Black Garlic Oil) – Mayu, or black garlic oil, is a blend of burnt garlic cloves in canola/ vegetable oil and toasted sesame oil. It is seriously one of the best condiments to drizzle over a bowl of tonkotsu ramen because its earthy and smoky flavor adds so much depth to the ramen broth.
Roasted Sesame Oil – Toasted sesame oil can add a distinct punch of nutty taste and a subtle aroma to your ramen. A light drizzle to the finishing dish is all you need to enhance the overall flavor.
Ichimi Togarashi – This ground red chili pepper is a simple way to spice up your ramen. You can use Shichimi Togarashi (Japanese Seven Spice) if that's what you have.
Minced Raw Garlic – This is for the garlic lover! Some restaurants serve raw garlic cloves with a garlic crusher readily available at the table. You just need to crush the garlic fresh onto your bowl and mix it into the noodles to slurp away.
Creative Idea: Fried garlic chips are amazing.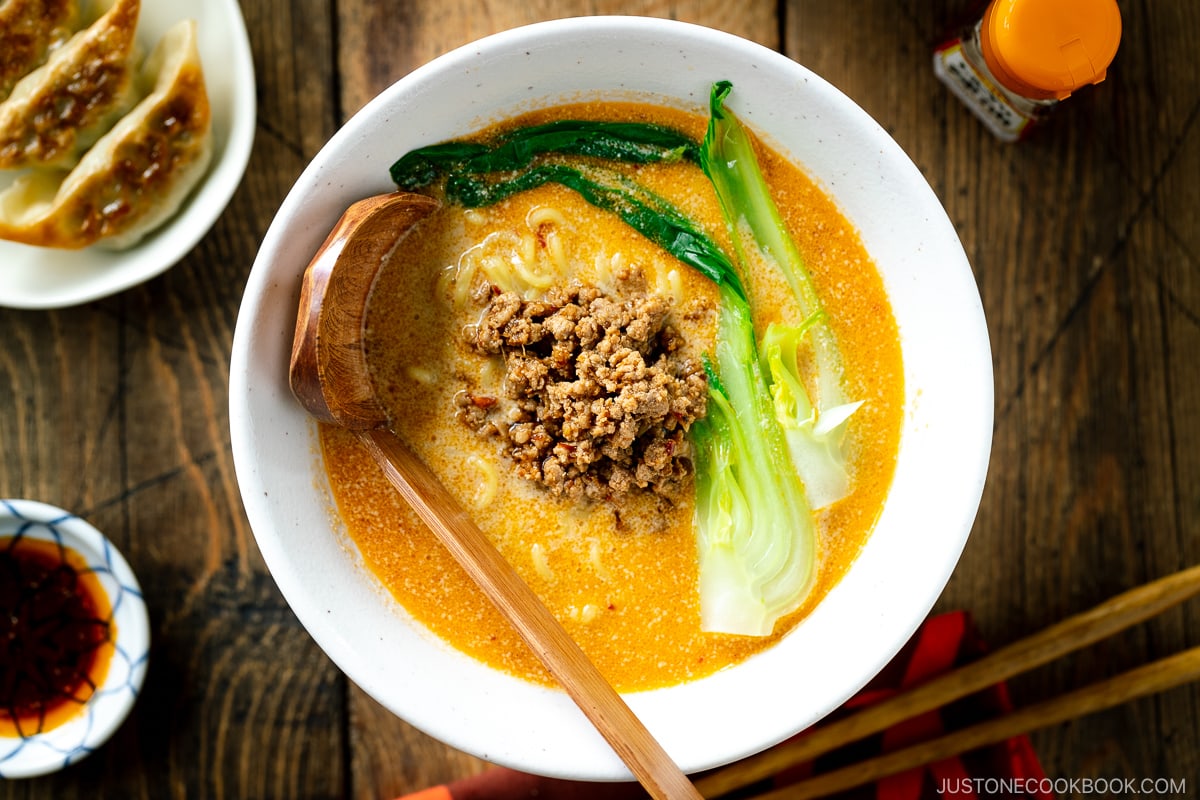 Our Most Popular Ramen Recipes to Make at Home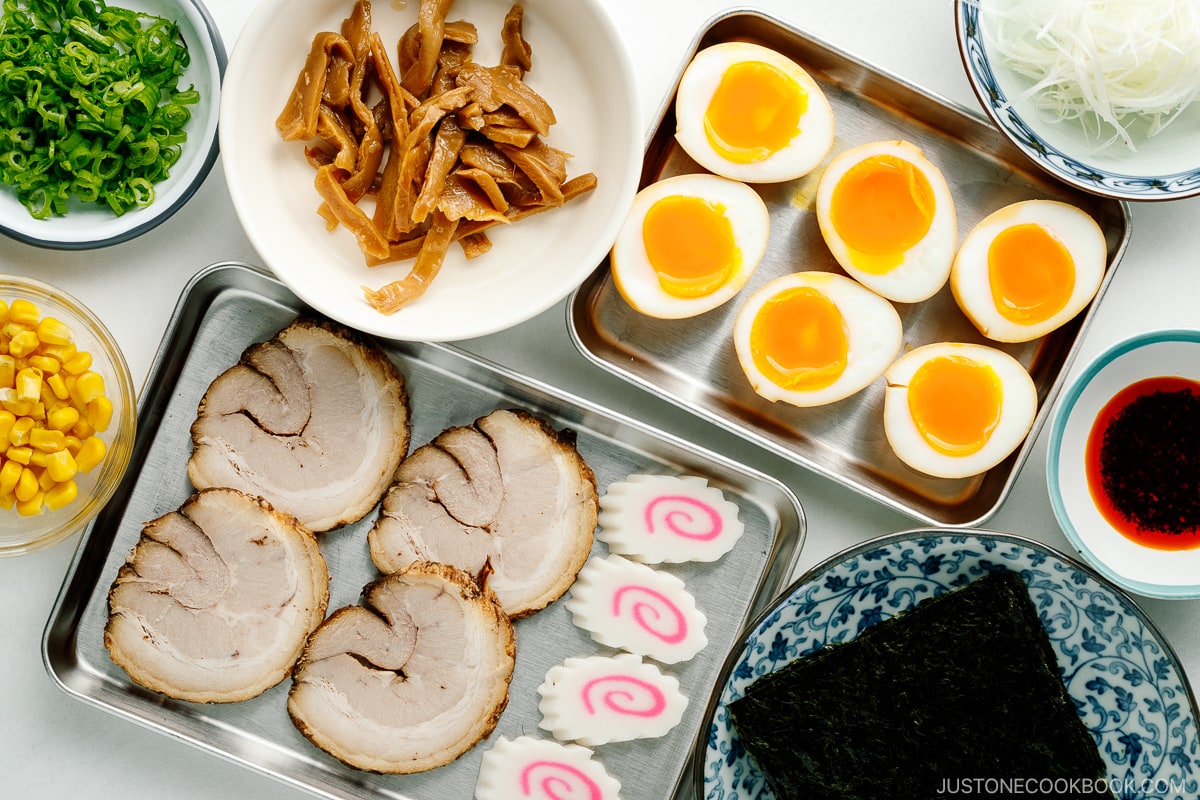 Wish to learn more about Japanese cooking? Sign up for our free newsletter to receive cooking tips & recipe updates! And stay in touch with me on Facebook, Pinterest, YouTube, and Instagram.