This Vegetarian Ramen is going to rock your world! Learn the secret to creating a superrich and creamy broth with soy milk, miso, sesame seeds, and spicy chili bean sauce. Make it vegan by skipping the ramen egg!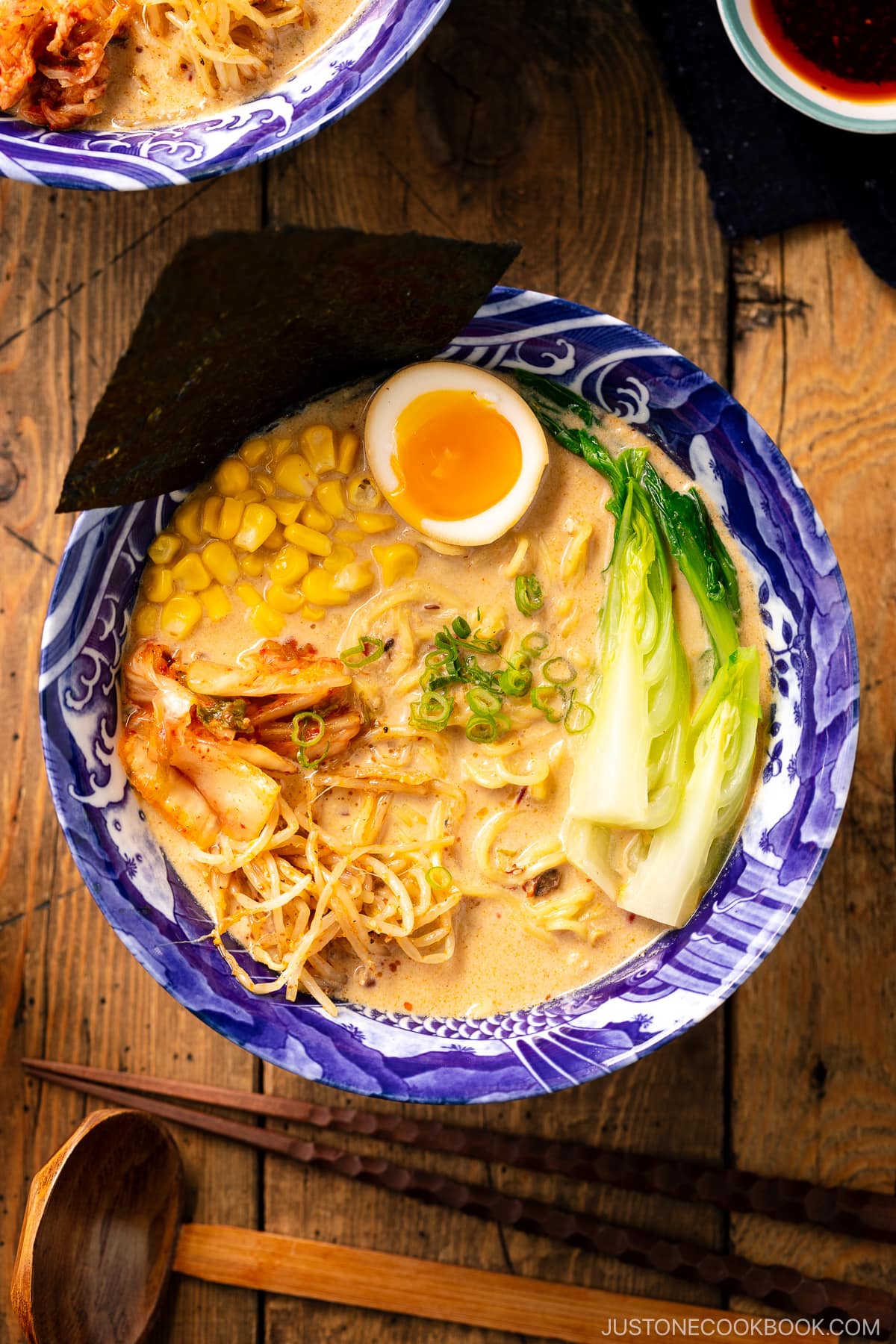 Since I shared this Vegetarian Ramen recipe in 2015, many of you have been making it repeatedly and it has been one of the most popular recipes on my blog. Subsequently, there are more homemade ramen recipes available online, but I'm grateful that you continue to make my ramen recipes including this one.
I had been meaning to revise this recipe for several years but was afraid of changing anything that was not broken. However, as a home cook who cooks for a family of four, my original version that's for one serving was not very helpful. What was I thinking?
So I've updated the recipe for two servings so that you can multiply it easily (using x2 and x3 buttons on the recipe card) when you make this for your family and friends.
I hope you continue to enjoy this vegetarian ramen and thank you so much for the generous reviews you've given me.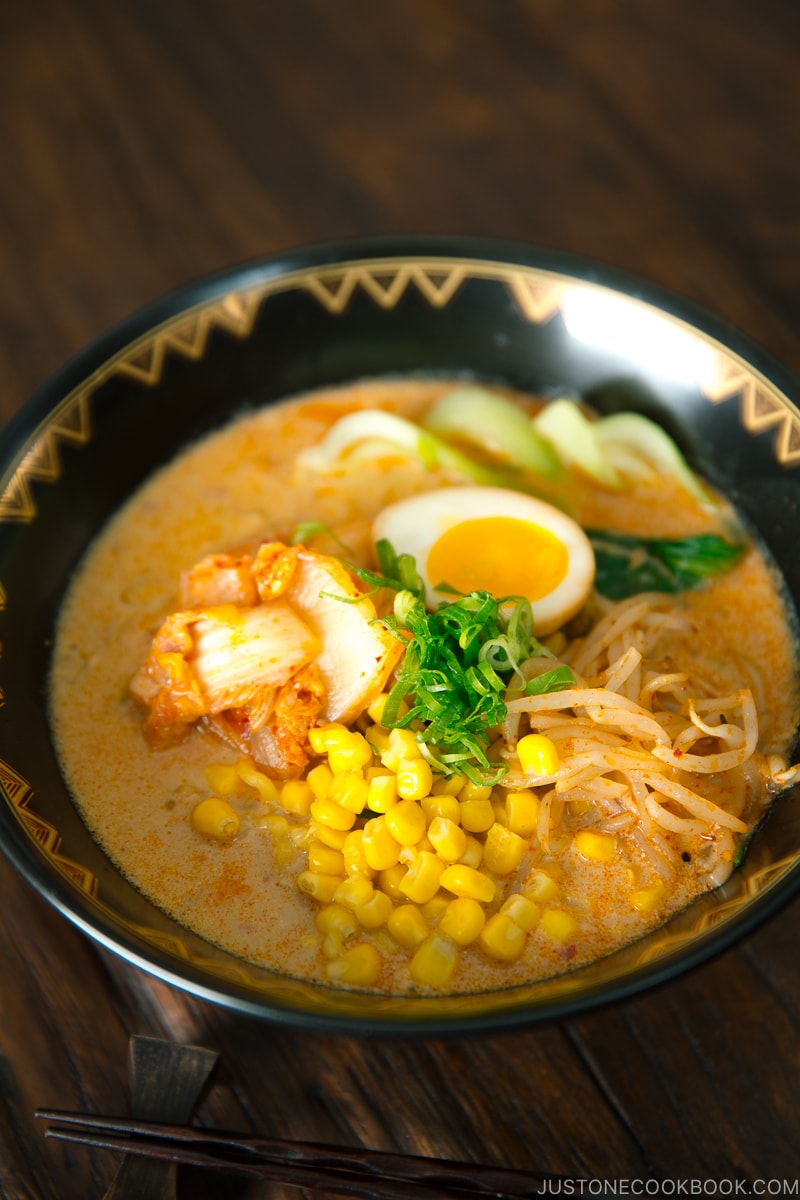 About This Vegetarian Ramen
Is it possible to create a pot of vegetarian ramen broth that rivals the ones that have gone through long simmering of meat bones, cartilage, and fat at all?
My answer is YES. You can make soul-satisfying vegetarian ramen at home that tastes just as rich as a bowl of tonkotsu broth.
Back in 2015, I made this vegetarian ramen inspired by Towzen (previously called Mamezen) in Kyoto, one of the earliest plant-based ramen shops. Their ramen shop was established in 2004 and is well known for delicious Tonyu Ramen (豆乳ラーメン), soy milk-based ramen.
This recipe teaches you how to use some flavorful ingredients to make umami-rich vegetarian ramen that you'd never guess was devoid of meat.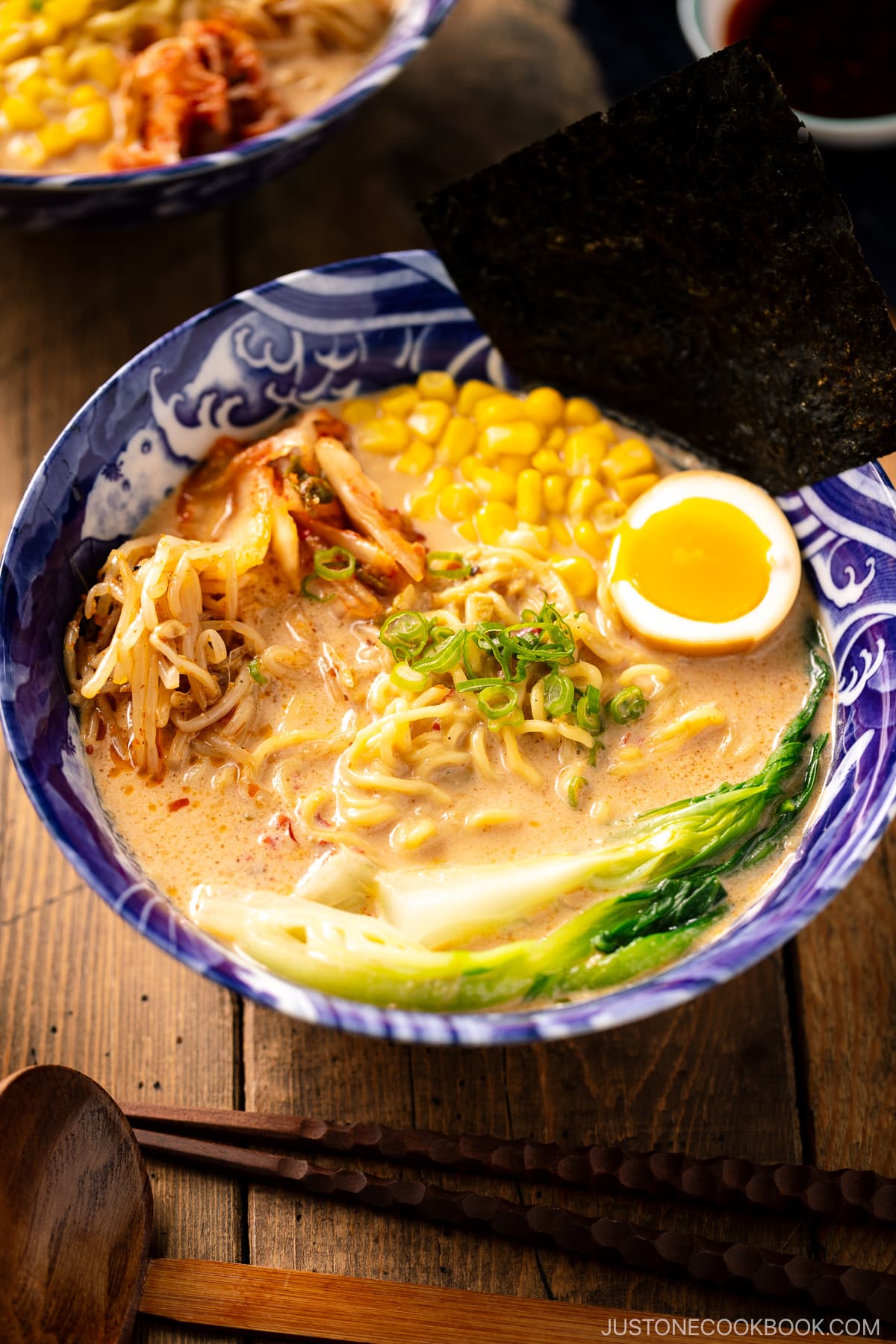 How to Make Vegetarian Ramen
Ingredients You'll Need
Toasted white sesame seeds
Aromatics including garlic, ginger, and scallions
Roasted sesame oil
Doubanjiang (spicy chili bean sauce/broad bean paste) (more below)
Miso (more below)
Sake
Soy Sauce
Vegan dashi made with water, kombu, and dried shiitake mushrooms (more below)
Unsweetened soy milk (more below)
Salt and white pepper powder
Fresh ramen noodles (more below)
Toppings: Blanched Shanghai bok choy, Ramen Eggs (skip for vegan), vegan kimchi, sweet corn, Spicy Bean Sprout Salad
Overview: Cooking Steps
Make the cold brew vegan dashi by soaking kombu and dried shiitake mushrooms in water.
Then, bring the cold brew dashi in a pot to almost a boil. Discard the kombu and mushrooms and set the dashi aside.
In a separate saucepan, cook the aromatics with sesame oil and add all the condiments, prepared vegan dashi, and soy milk.
Cook the Shanghai bok choy and fresh ramen noodles.
Assemble each ramen bowl with the noodles, soup, and toppings. Serve hot!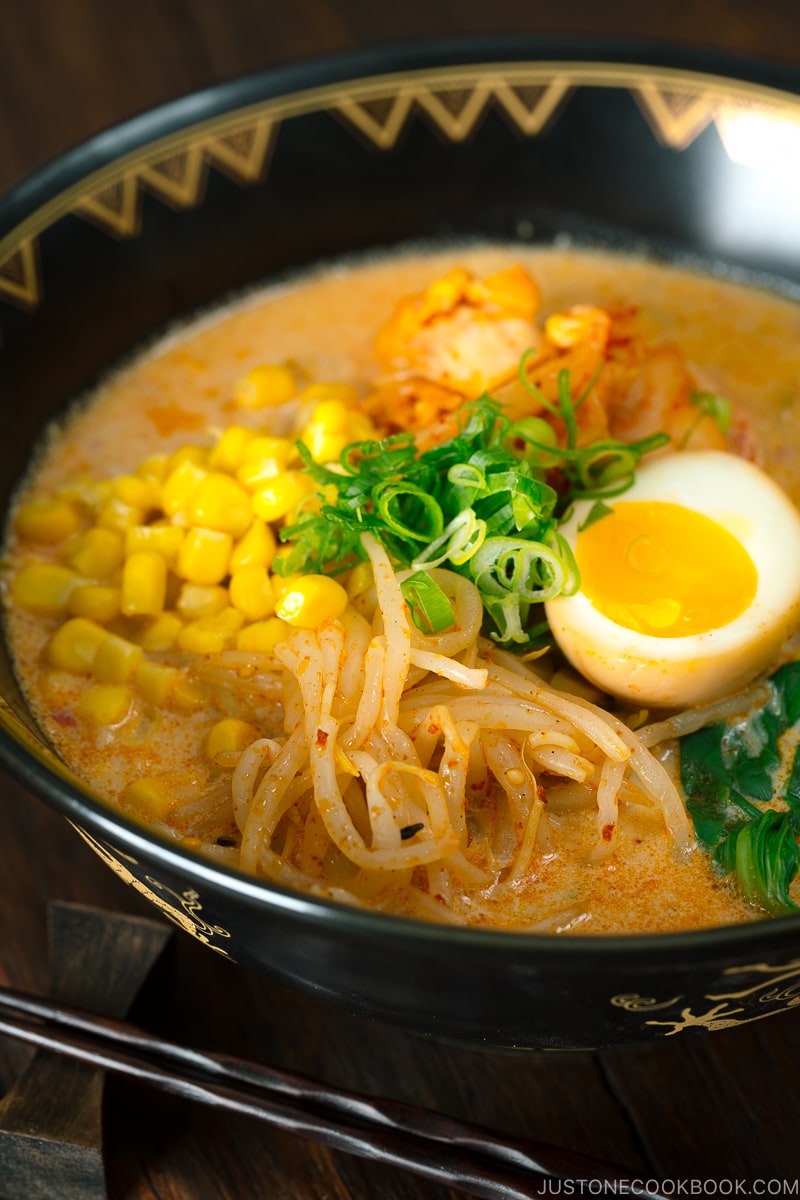 4 Key Ingredients for the Soup Broth
The following 4 ingredients are very important to make a bowl of authentic vegetarian ramen broth Please do not substitute.
1. Soy Milk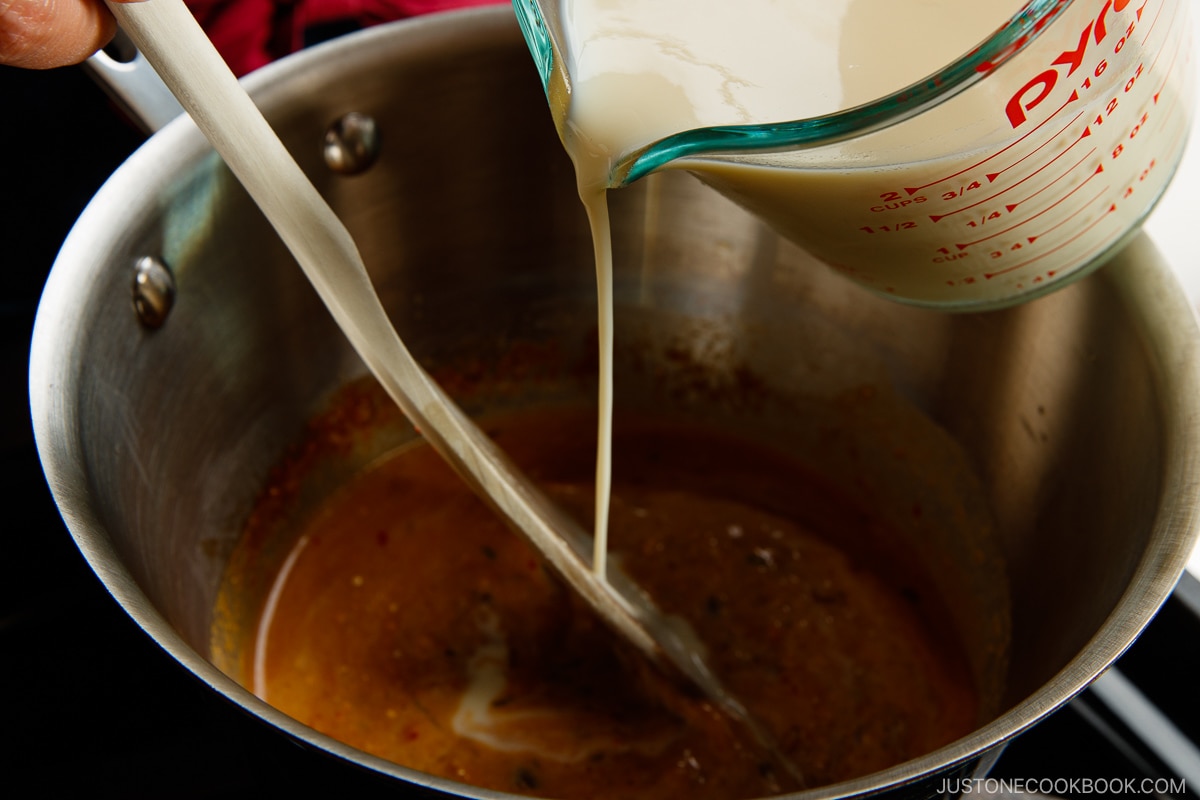 To create a vegetarian ramen broth that is smooth, rich, and creamy, the secret lies in plant-based soy milk. The use of soy milk also adds color, depth, and a hint of delicate sweetness that rounds up the flavor of the soup.
Hopefully, even if you're not vegetarian, I could convince you to try this rich and creamy delicious ramen by the end of this post. The best part? The soup broth takes less than 20 minutes to make!
2. Vegan Dashi – Umami Packed Broth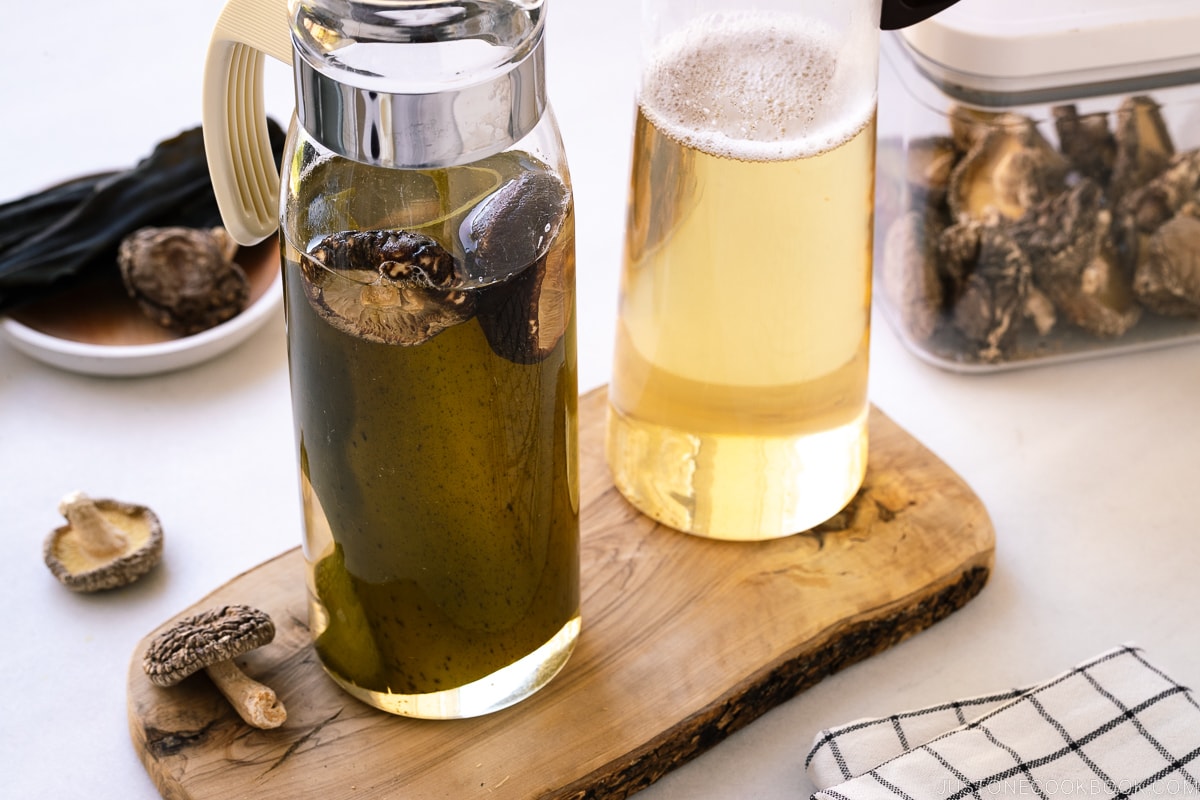 To make umami-packed broth, we'll make Vegan Dashi (精進だし) with kombu and dried shiitake mushroom. Both ingredients are packed with umami substance and they are essential for this recipe.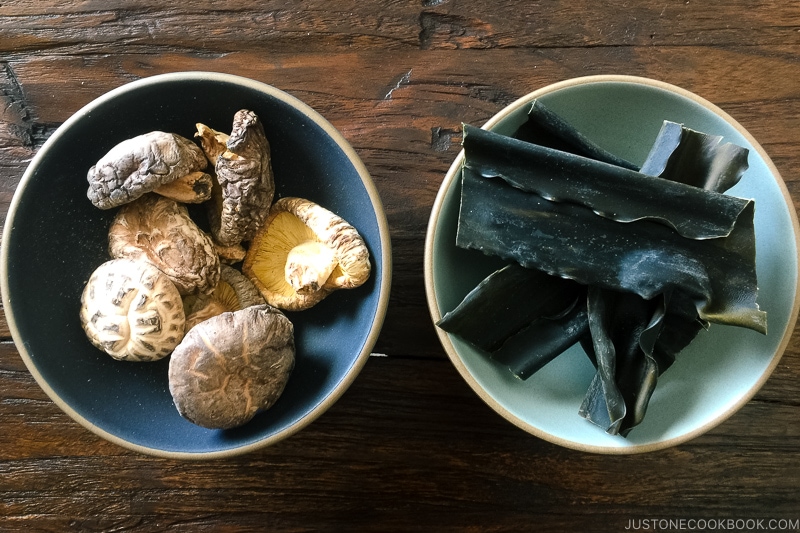 If you're not vegetarian/vegan, you can use Awase Dashi (with kombu and bonito flakes) and/or chicken stock instead.
3. Miso
Miso (味噌) is a Japanese fermented soybean paste and the tub shown above is my favorite brand of miso. There are different kinds of miso and if you are not sure which one to pick, get Awase miso (the combination of red + white miso) or Koji miso (my favorite). They work great for almost all recipes that call for miso. More about miso on this page.
4. Doubanjiang (Spicy Bean Paste)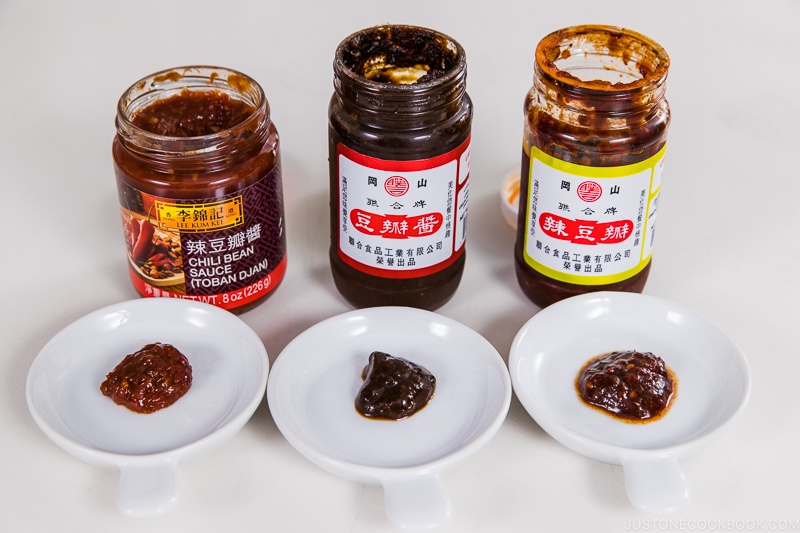 To make a vegetarian broth that is robust in flavor, doubanjiang (豆板醤) or spicy bean paste is an absolutely necessary ingredient.
Doubanjiang is a combination of fermented broad beans, soybeans, and hot chilies. The salty, savory, umami-rich paste adds an incredible depth and character to the broth that you should not substitute. You can add more if you like your soup to be spicy, but a small amount would be enough to give it a good kick.
Did you know that there is non-spicy doubanjiang? Taiwan, Hong Kong, and Guangdong in China have non-spicy doubanjiang. It has the same savory depth, but without the heat.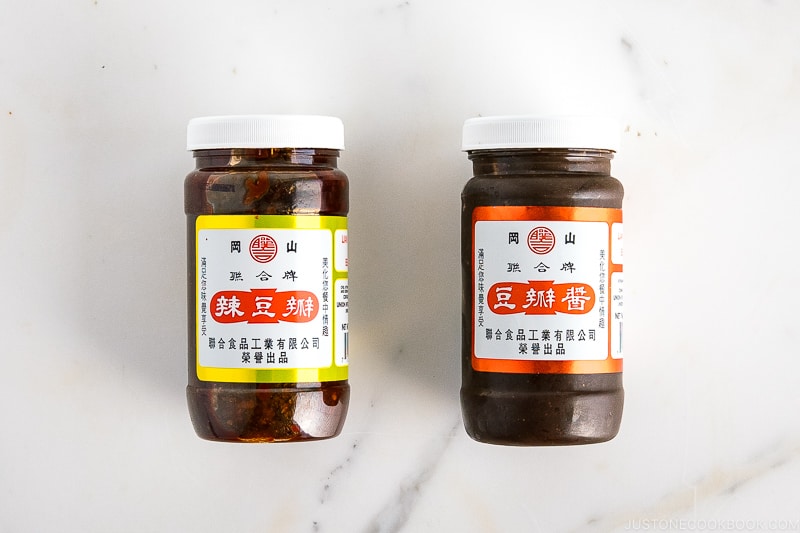 When the kids were small, I used non-spicy doubanjiang to make my Mapo Tofu. Taiwanese brands like Kangshan (岡山) (shown above) and Ming Teh (明德) offer the doubanjiang made from fermented broad beans and soybeans, and they usually have both spicy and non-spicy versions.
You can get these Taiwanese brands at a local Chinese grocery store. Amazon does not sell the non-spicy doubanjiang at this time (please let me know if you find one).
Doubanjiang Substitute: If you really can't find doubanjiang, you can use gochujang (Korean chili paste; spicy) or doenjang (Korean soybean paste; non-spicy). However, please keep in mind that these pastes will yield slightly different flavor profiles.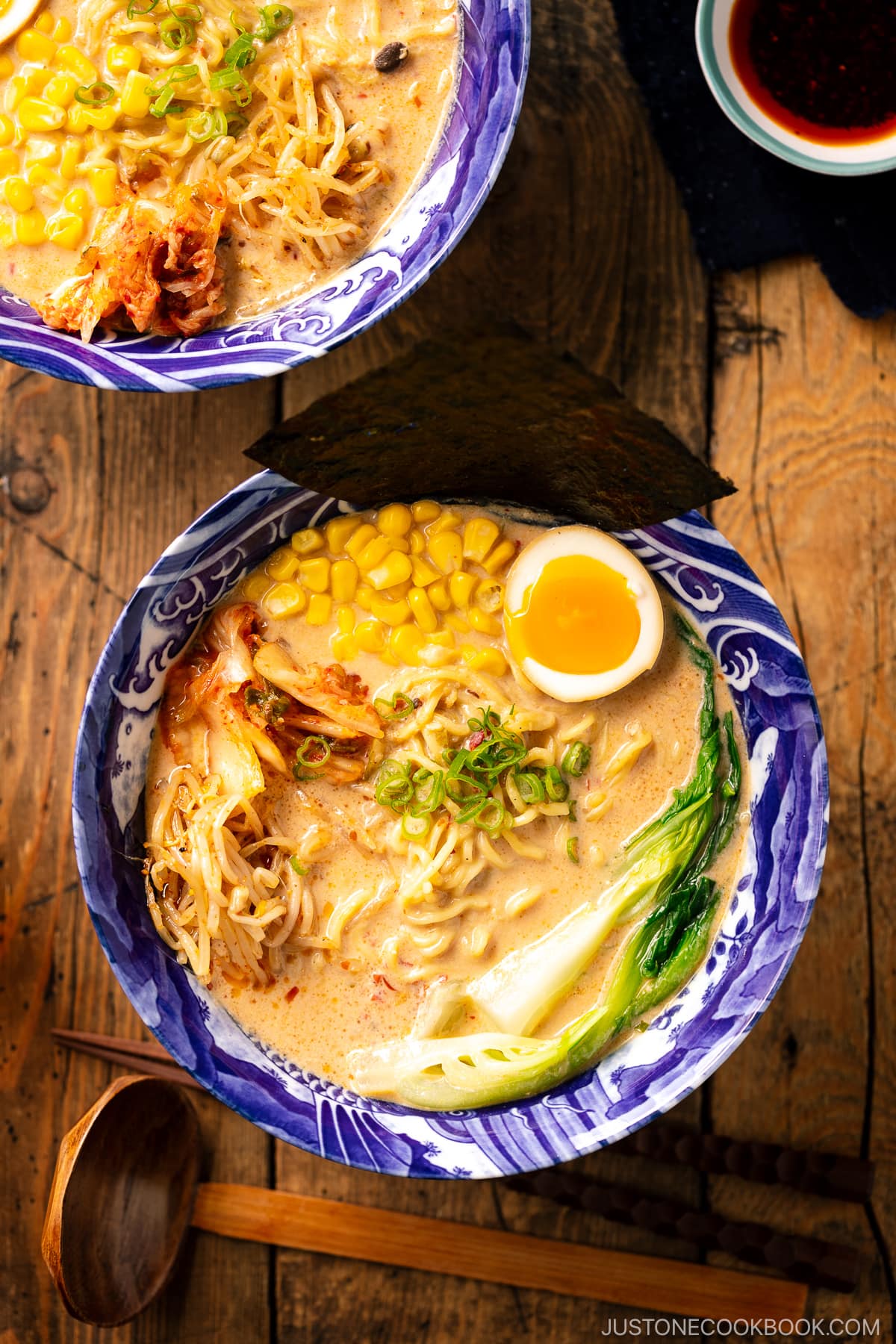 Fresh Ramen Noodles
Fresh ramen noodles are made from four ingredients: wheat flour, water, salt, and kansui. Despite the yellowish color, the noodles do not contain eggs. Kansui, an alkaline solution, is what gives ramen its yellow tint and springy texture.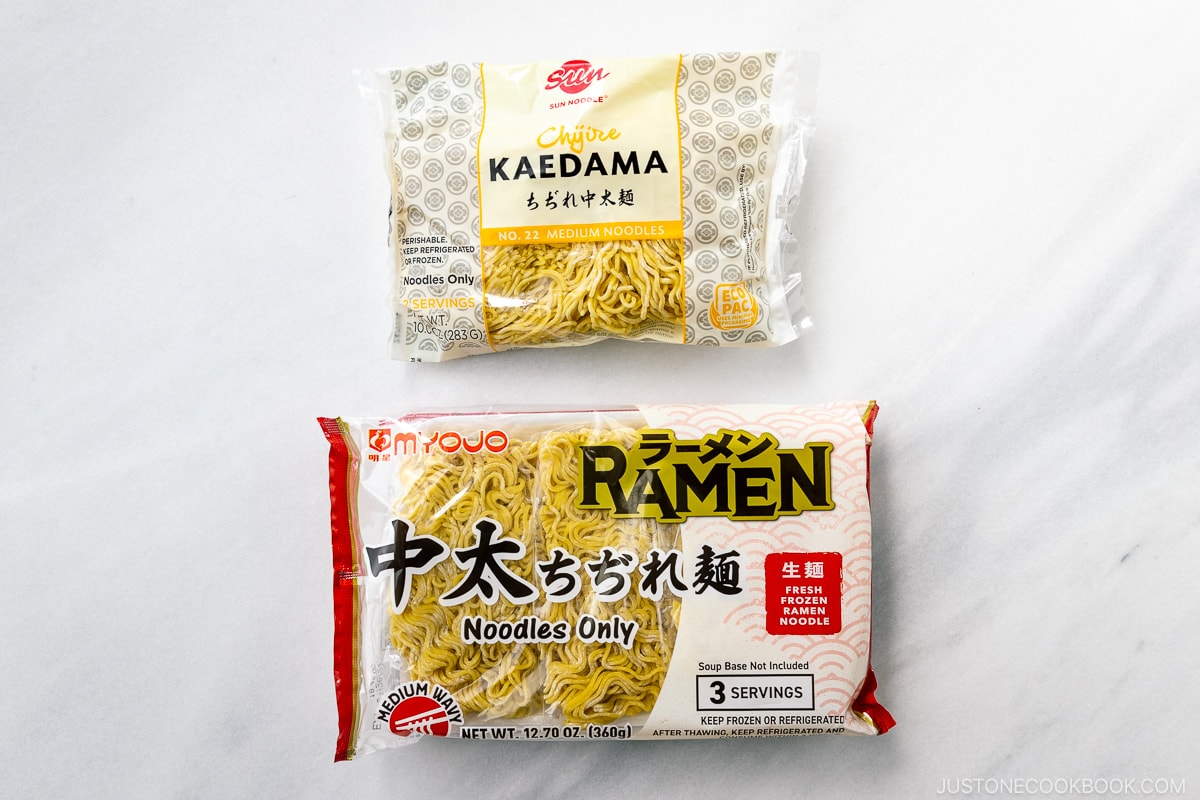 Ramen noodles are either straight (ストレート麺) or wavy (ちぢれ麺). Generally, straight noodles are used for tonkotsu ramen while wavy noodles are used for soy sauce ramen, salt ramen, and miso ramen, but of course, there are exceptions.
Ramen noodles have 6 different thicknesses: ultra-thin (極細麺), thin (細麺), medium-thin (中細麺), medium-thick (中太麺), thick (太麺), and extra thick (極太麺).
Where to Buy the Ramen Noodles
Big Japanese grocery stores like Mitsuwa, Nijiya, and Marukai (Tokyo Central) sell packages of fresh ramen noodles (with or without soup packages included). Some large Korean and Chinese grocery stores also carry packages of fresh ramen noodles from Myojo and Yamachan Ramen.
Sun Noodles make great noodles and they ship domestically!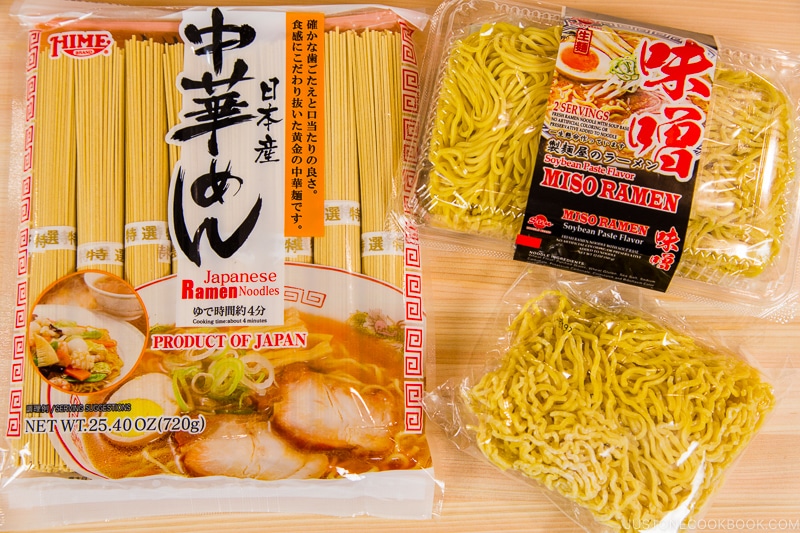 If you don't have access to fresh ramen noodles, you can purchase dried ramen noodles (what we call Chukamen, 中華麺) by the HIME brand at Japanese or Asian grocery stores or Amazon.
If you are looking for gluten-free noodles, check out my favorite vegan-friendly ramen noodles by Gluten Free Meister (Kobayashi Seimen).
Various Ramen Toppings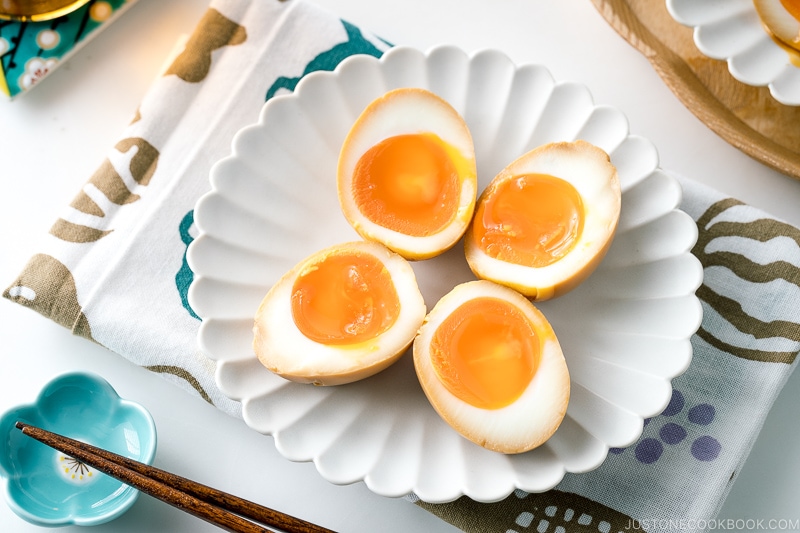 If you want to stick with the traditional ramen toppings, I recommend:
However, feel free to enjoy your ramen with what you have on hand. You can use any ingredients that complement the ramen broth and ramen noodle texture. Some of the examples that go well with your ramen include:
Homemade vegetarian kimchi (I recommend my friend Seonkyoung's vegan kimchi recipe)
Blanched Shanghai bok choy, baby bok choy, or spinach
Colorful veggies like julienned carrots
Deep-fried tofu
Shelled edamame
There is plenty of flexibility to work with!
If You're Not Vegetarian or Vegan…
If you are not vegetarian or vegan, you can cook 4 oz or 113 g of minced pork (for two servings) after stir-frying the aromatics (ginger, garlic, and scallion). The meat will give more complexity to the soup broth.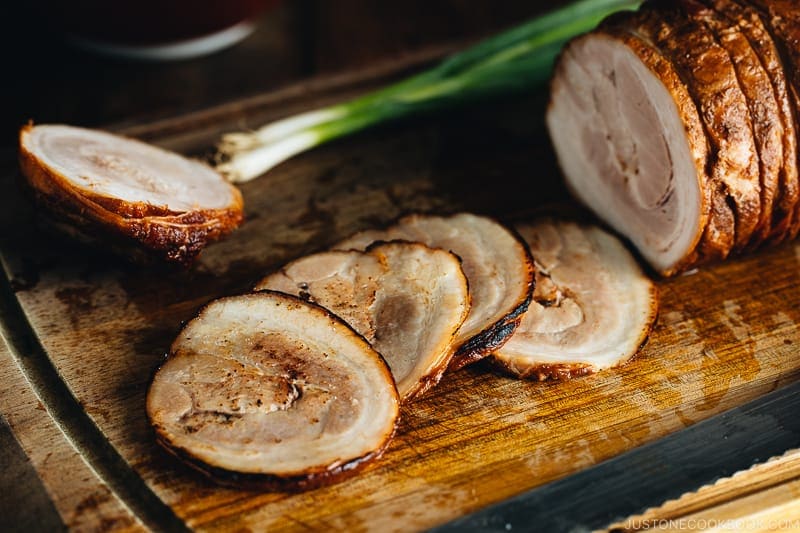 You can also add Chashu as a topping. The bottom line is to use my recipe as a guide and create your own version!
What to Serve with Vegetarian Ramen
I hope this Vegetarian Ramen will be your go-to recipe. Once you've tried it, leave a comment below and let me know how it goes.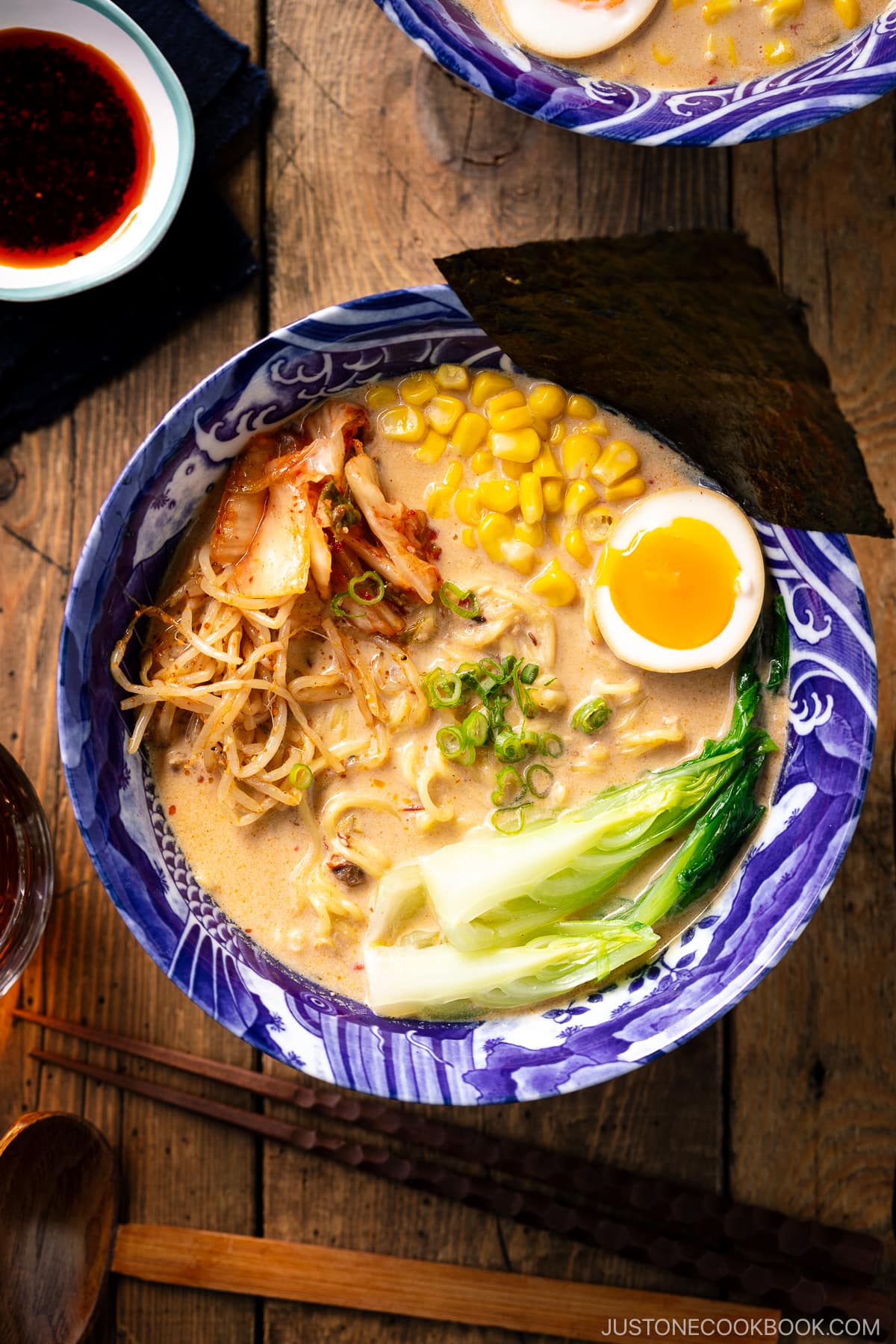 FAQs
How long does it take to make this vegetarian ramen?
Really fast! If you prepare the cold brew dashi (it requires inactive 30 minutes) ahead of time, you can make this ramen in 30 minutes from start to finish! Make sure to read the recipe and understand the process ahead of time.
Is Soy Milk Ramen (Tonyu Ramen) always vegetarian/vegan?
No. When you visit Japan and order Soy Milk Ramen or Tonyu Ramen, make sure that it is vegetarian/vegan. Tonyu ramen is not necessarily vegetarian or vegan-friendly in Japan.
"Soy milk" in the ramen is considered one of the flavor options like miso, shoyu (soy sauce), and shio (salt). It's easier to spot meat as a topping, ask if the soup broth are made with pork bone (Tonkotsu 豚骨), chicken carcass (Torigara 鶏ガラ), bonito flakes (Katsuobushi 鰹節), or other types of fish (such as ago アゴ).
Is it easy to find vegetarian ramen in Japan?
In Japan, vegetarian ramen is not on the standard menu that ramen shops offer. That said, with the increase in foreign tourists, you'd be able to find more vegetarian and vegan options at some ramen shops in bigger cities. Check or ask in advance.
Are ramen noodles vegan?
The traditional ramen noodles are made with wheat flour, salt, water, and kansui, and they are vegan. But not all ramen noodles are vegan. Occasionally, some ramen shops create noodles with eggs. So, you should definitely ask or check the ingredient.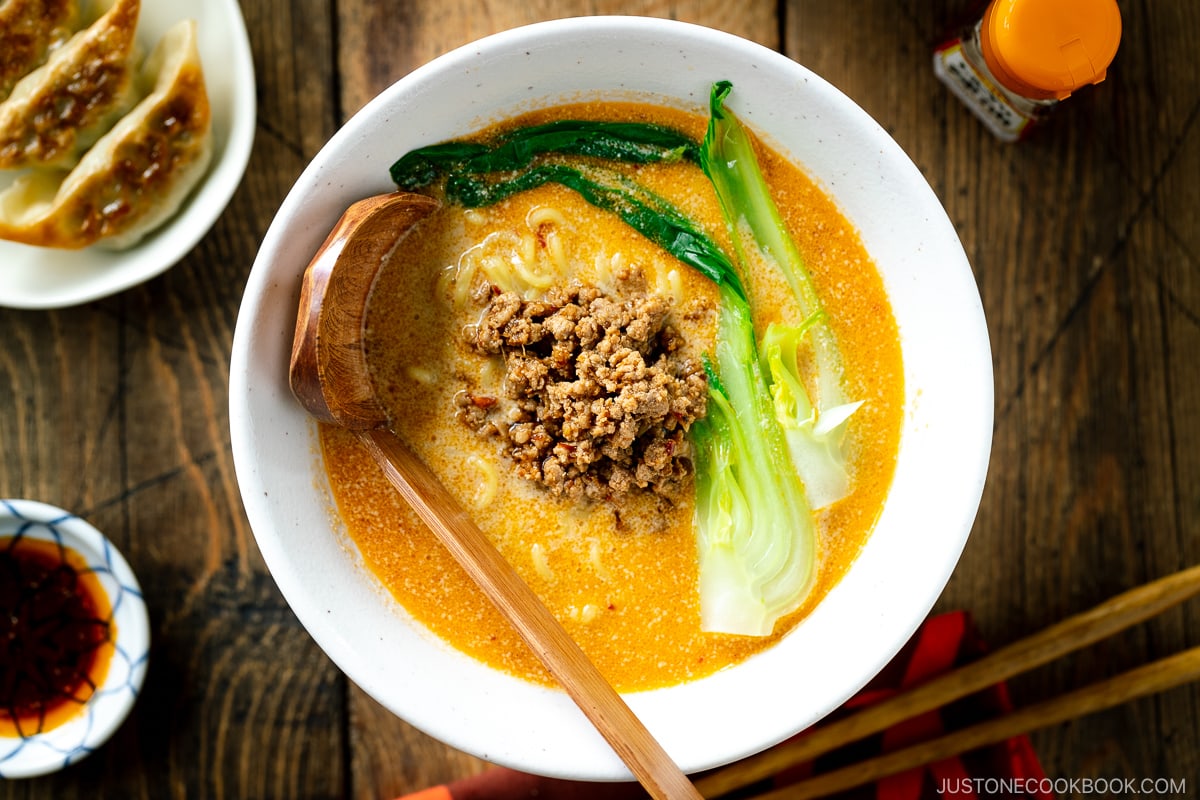 More Delicious Ramen Recipes You'll Love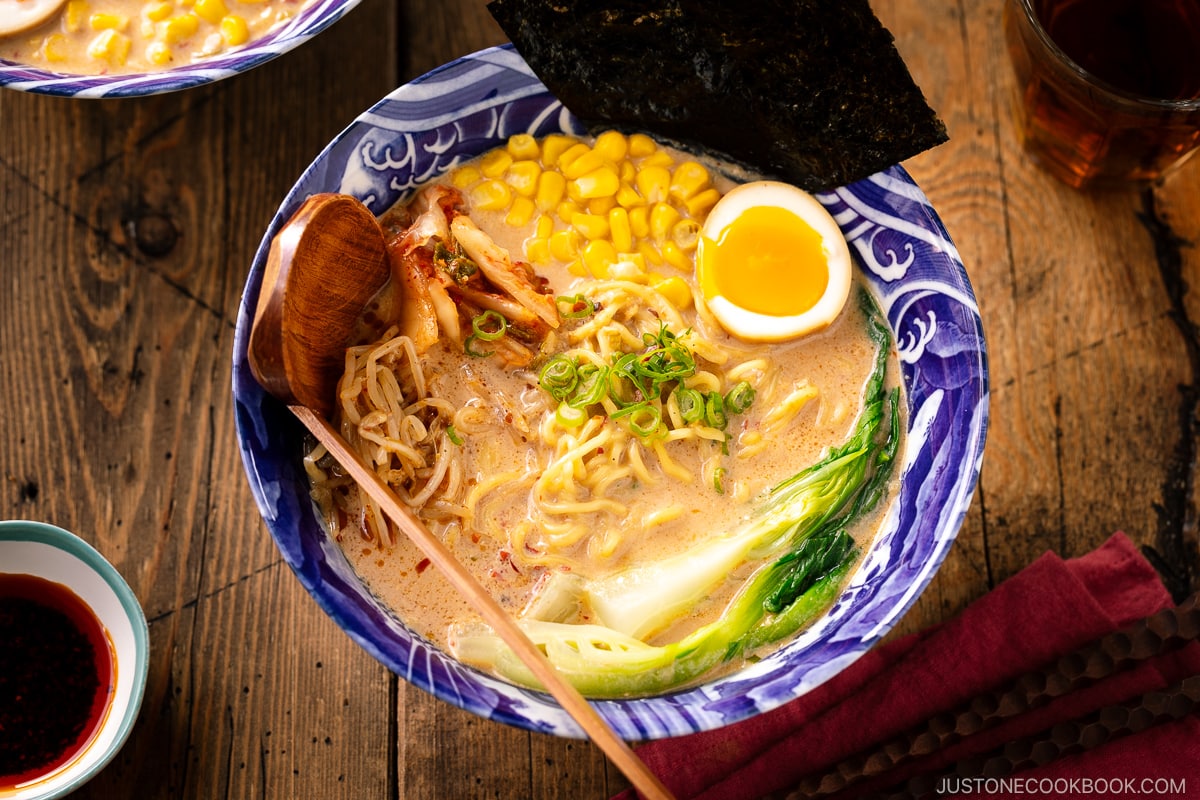 Wish to learn more about Japanese cooking? Sign up for our free newsletter to receive cooking tips & recipe updates! And stay in touch with me on Facebook, Pinterest, YouTube, and Instagram.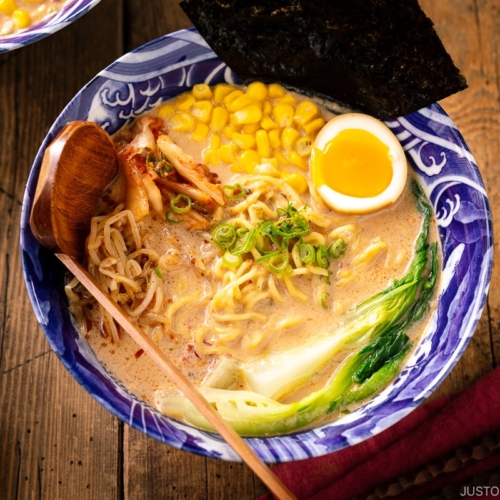 Vegetarian Ramen
This Vegetarian Ramen is going to rock your world! Learn the secret to creating a superrich and creamy broth with soy milk, miso, sesame seeds, and spicy chili bean sauce. Make it vegan by skipping the ramen egg!
Video
Ingredients
Japanese Ingredient Substitution:
If you want substitutes for Japanese condiments and ingredients, click
here
.
Instructions
Gather all the ingredients. 

A typical ramen bowl can hold 1200–1400 ml of liquid. We will prepare 1½ cups (360 ml) of soup broth per bowl, which should be more than enough for a ramen bowl size. If you're using bigger bowls, you may need to prepare extra soup to fill them up.
To Make the Vegan Dashi (Kombu + Shiitake)
Soak the kombu and dried shiitake mushroom in the measured water for at least 30 minutes. Meanwhile, you can start preparing the ramen ingredients. Tip: I set a small mixing bowl on top to make sure the dried shiitake mushroom is completely submerged in the water.

After 30 minutes, transfer this cold brew vegan dashi (the liquid, kombu, and shiitake) to a medium saucepan.

Slowly bring the cold brew dashi to a near boil over low heat; this slow extraction will help enhance the dashi flavor. Right before the liquid reaches a boil, remove the kombu and shiitake mushroom from the dashi (you can repurpose them; see the tip in a later step). Turn off the heat. Tip: If you leave the kombu in the pot, the dashi will become slimy and bitter.

Transfer the vegan dashi to a measuring cup. Make sure you have 1 cup of dashi (for every 2 servings); if not, add water.

Tip: You can save the spent kombu in an airtight container and store it in the refrigerator for up to a week or in the freezer for up to a month. Then, you can make Simmered Kombu (Kombu Tsukudani) and Homemade Furikake (Rice Seasoning). For the spent shiitake mushroom, cut off the tough stem with a knife and discard. You can use the rehydrated mushroom as if you are using fresh shiitake mushroom.
To Prepare the Ingredients
Prepare a big pot of water for cooking the bok choy and noodles. Slowly bring it to a boil on medium-low heat while you prepare all the ingredients.

Grate the ginger (I use a ceramic grater). You'll need 1–2 tsp (for 2 servings). If you're unsure how much ginger flavor you'd like, start with less and add more later.

Separate the green and white parts of the scallions. Cut the white part into thin rounds.

Then, cut the green part into thin rounds. Keep them in separate bowls.

Cut the bok choy into quarters lengthwise and rinse clean under water. Debris tends to hide between the layers, so rinse them carefully.
To Make the Soup Broth
Set a small saucepan over medium-low heat. Add the sesame oil, garlic, grated ginger, and white part of the scallion. Cook until fragrant, about 1–2 minutes. Tip: Make sure not to burn the aromatics.

Add the doubanjiang (spicy chili bean sauce/broad bean paste) and miso to the saucepan. Stir constantly so that they don't burn.

Add the sake and use a wooden spatula to stir and release the bits of the sauce attached to the bottom of the saucepan.

Add the ground sesame seeds and soy sauce and mix it all together.

Gradually add the soy milk, stirring constantly and making sure to dissolve the doubanjiang and miso.

Then, add the vegan dashi.

Taste the soup now and adjust the seasoning with salt and a dash of white pepper to taste. Don't be shy about adding salt because the broth will taste less salty after you add the noodles. Turn off the heat, cover with a lid, and set aside.
To Blanch the Bok Choy
Prepare a medium bowl of cold water and set aside. In the big pot of boiling water, add the bok choy, stem end first, and cook it for 2 minutes. When the bottom end is tender, turn off the heat.

Without draining the water, remove the blanched boy choy from the pot and transfer it to the bowl of cold water to stop the cooking. Keep the hot water in the big pot to cook the noodles in the next step. Once the bok choy is cool enough to handle, squeeze the water out and set aside.
To Reheat the Broth and Cook the Noodles
Now, it's time to reheat the soup broth until it's piping hot, but don't let it overboil because it may curdle. Before cooking the fresh noodles, loosen them up with your hands.

Turn the heat back on for the big pot of water and bring it to a boil again. Once boiling, add the noodles and cook according to the package instructions. While cooking, stir and separate the noodles with chopsticks. Here, I cook the noodles inside a big noodle strainer (I got it in Japan) that I've set inside the pot.

When the noodles are done cooking, drain them well in a strainer, shaking it a few times to drain the water thoroughly (otherwise it will dilute the soup broth). Transfer the noodles to the individual ramen bowls.
To Serve
Divide and pour the piping-hot soup broth with seasonings over the noodles. Place the prepared toppings on top of the noodles and put the bok choy to one side to garnish.
To Store
You can keep the soup broth in the refrigerator for 3 days. Cook the noodles right before serving.
Nutrition
Nutrition Facts
Vegetarian Ramen
Amount per Serving
% Daily Value*
* Percent Daily Values are based on a 2000 calorie diet.
©JustOneCookbook.com Content and photographs are copyright protected. Sharing of this recipe is both encouraged and appreciated. Copying and/or pasting full recipes to any website or social media is strictly prohibited. Please view my photo use policy
here
.
Editor's Note: This post was originally published on Nov 18, 2015. It has been republished with new pictures, an updated recipe (for two servings, instead of one), and more helpful content on April 9, 2023.