This Vegetarian Ramen is going to rock your world! Learn the secret to creating a superrich and creamy broth with soy milk, miso, sesame seeds, and spicy chili bean sauce. This recipe is easily vegan adaptable by skipping the egg!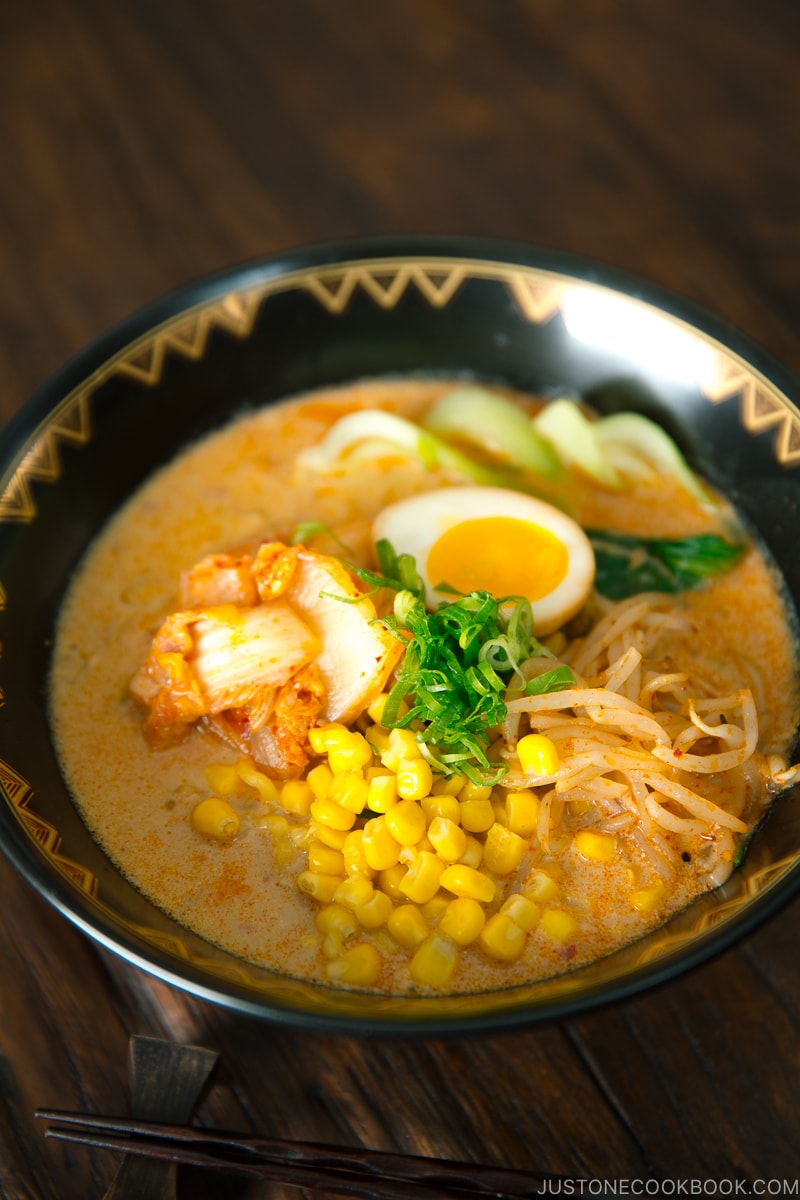 Hello, ramen aficionados! Are you ready for a bowl of incredibly rich, umami-filled vegetarian ramen that is going to rock your world? I know, I smell some skepticism in the air. For non-vegetarians, you may be questioning if it's possible to create a pot of vegetarian ramen broth that rivals the ones that have gone through long simmering of meat bones, cartilage, and fat at all. My answer is YES. You can make soul-satisfying vegetarian ramen at home that tastes just as rich as a bowl of Tonkotsu broth. My ramen critic, Mr. JOC, didn't even realize it was vegetarian when he tasted the soup.
This recipe teaches you how to use secret ingredients to make a pot of vegetarian ramen so rich and satisfying that you'd never guess it was devoid of meat. This is real-deal ramen that is worthy of making. Now if you're vegetarian or vegan (minus the egg topping), you are in for a treat today!
Soy Milk – The Secret to Rich & Creamy Broth
To create a vegetarian ramen broth that is smooth, rich, and creamy, the secret lies in plant-based soy milk. The use of soy milk also adds color, depth, and a hint of delicate sweetness that rounds up the flavor of the soup.
If you are not aware, soy milk has been used in flavoring broths and soups in many East Asian cooking for a long time. In Japan, there is Soy Milk Ramen (豆乳ラーメン) made of a simple combination of soy milk and ramen. If you happen to visit Kyoto, you can check out Mamezen for its amazing vegetarian menu using soy milk.
When I was challenged to use Silk's plant-based beverage to create a meat-and dairy-free version of my favorite fall recipes, I immediately knew that I wanted to use soy milk to make my all-time cold-weather favorite dish, ramen.
Hopefully, by the end of this, I could convince you (even if you're not vegetarian) to try this rich and creamy delicious Soy Milk Ramen. The best part of this ramen recipe? It takes less than 20 minutes to make!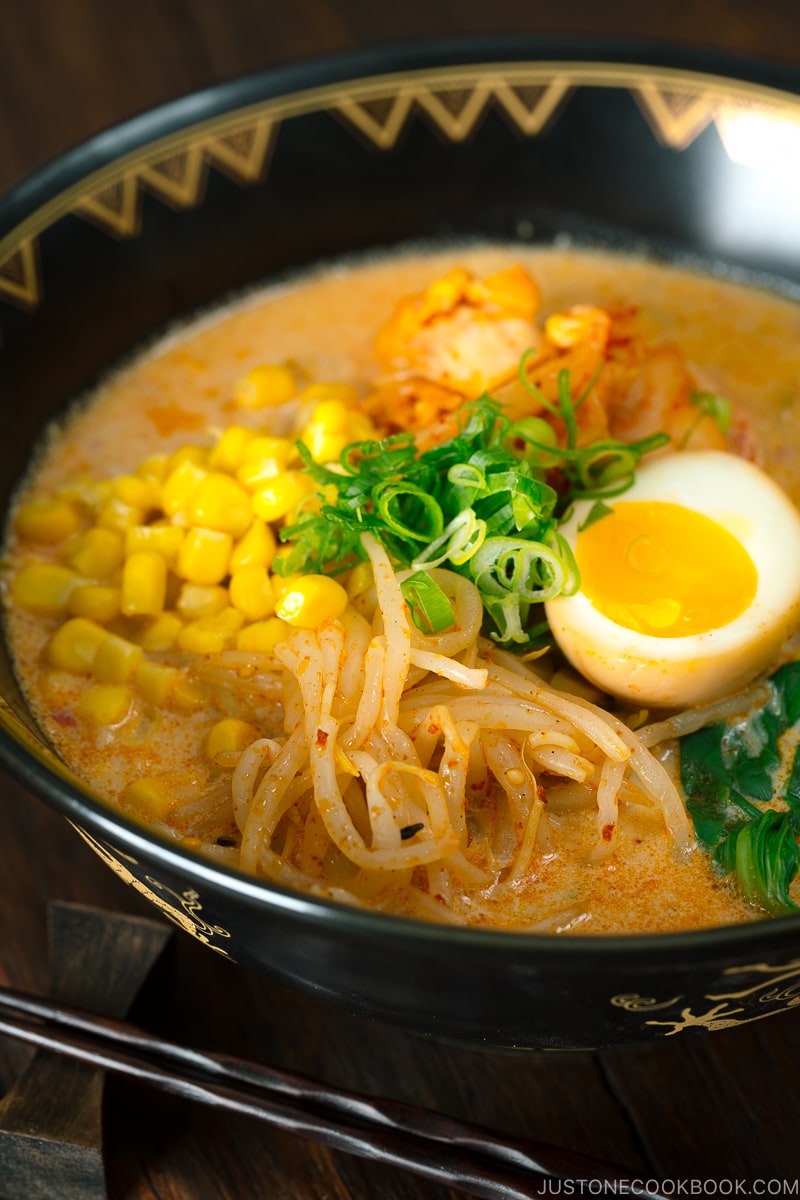 Vegetarian Ramen Broth – The Other Secrets Ingredients
The soy milk ramen in Japan is not necessarily vegetarian or vegan-friendly. Just like regular Tonkotsu, Shoyu, or Miso ramen, the broth can be made with pork bone (Tonkotsu 豚骨) or chicken carcass (Torigara 鶏ガラ). To make the soup even more complex, most ramen soup usually contains seafood-based stock using bonito flakes (Katsuobushi 鰹節) and kelp (kombu 昆布).
So how do we get rich and tasty vegetarian ramen broth without pork or chicken bone in it?
Dashi – Umami Packed Broth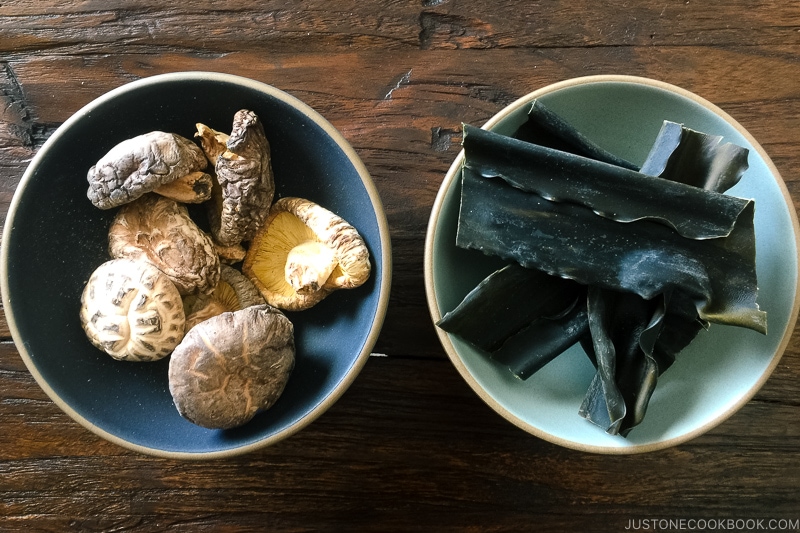 To make this dish vegetarian and vegan-friendly, we'll be making dashi with dried shiitake mushroom and kombu. Both are packed with umami substance and they are inevitable in this recipe. Please DO NOT SUBSTITUTE if you want to make a bowl of authentic ramen broth.
If you're not vegetarian/vegan, you can substitute Awase Dashi (regular dashi) instead of Kombu & Shiitake Dashi.
2 Key Ingredients for Flavorful Ramen Soup
The other key ingredients that we need to make this quick ramen soup are miso and fermented broad bean paste. These two condiments enhance the flavors of the soup and add layers of complexity. Again, for a vegetarian broth that is robust in flavor, do NOT SUBSTITUTE these two ingredients.
1. Miso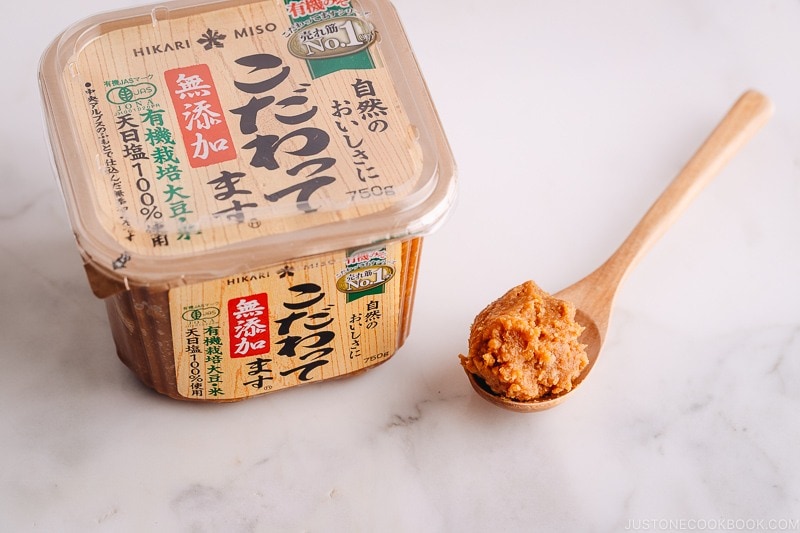 The big tub on the left is (my favorite brand of) miso (味噌), a Japanese fermented soybean paste. There are different kinds of miso available in the market, but if you are not sure which one to pick, get Awase miso (the combination of red + white miso) or Koji miso. They work great for almost all recipes that call for miso. More about miso on this page.
2. Doubanjiang—Spicy or Non-Spicy Bean Paste (Sauce)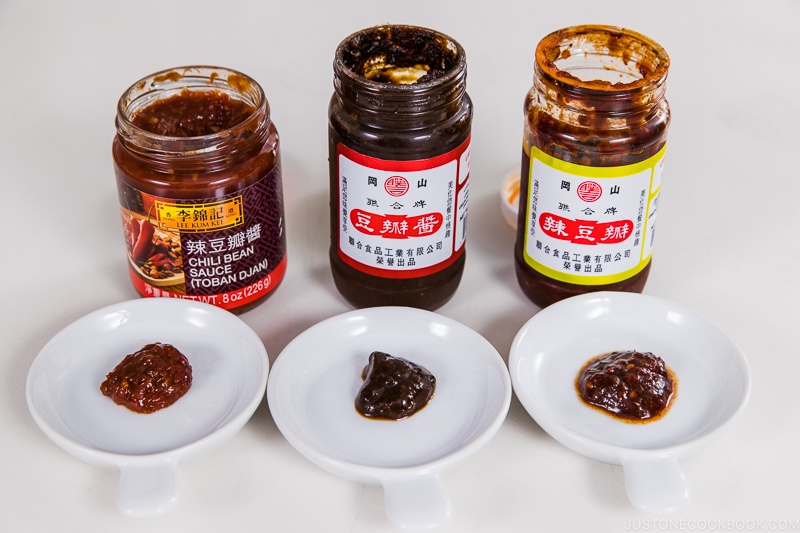 The key condiment in this recipe is doubanjiang (豆板醤) or spicy bean paste, a combination of fermented broad beans as the main ingredient, soybeans, and often hot chilies. The salty, savory, umami-rich paste adds an incredible depth and character to the broth that you should not substitute. You can add more if you like your soup to be spicy, but one teaspoon would be enough to give it a good kick.
Non-Spicy Doubanjiang: Did you know that there is NON-SPICY doubanjiang? Taiwan, Hong Kong, and Guandong in China have non-spicy doubanjiang. It has the same savory depth in the paste, but without the heat.
To distinguish the two versions, the Sichuan doubanjiang is called la-doubanjiang (辣豆瓣醬, "la" (辣) meaning 'hot' or 'spicy').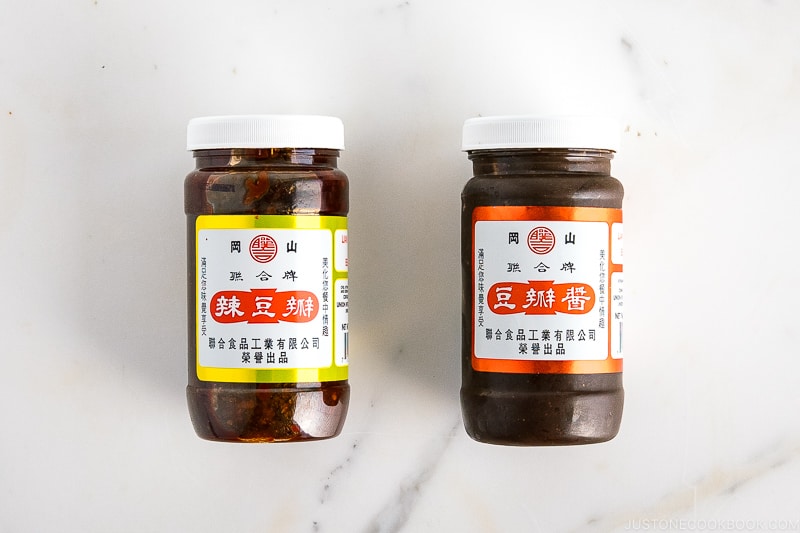 When the kids were small, I use only non-spicy doubanjiang to make my Mapo Tofu and Miso Ramen. Taiwanese brands like Kangshan (岡山) (above) and Ming Teh (明德) offer the doubanjiang made from fermented broad beans and soybeans, and they usually have both spicy and nonspicy versions.
You can get these Taiwanese brands at a local Chinese grocery store. Amazon does not sell the non-spicy doubanjiang at this time (please let me know if you find one).
Doubanjiang Substitute: If you really can't find doubanjiang, you can use gochujang (Korean chili paste; spicy) or doenjang (Korean soybean paste; non-spicy). However, the ingredients are slightly different and have different flavor profiles.
Where To Find Ramen Noodles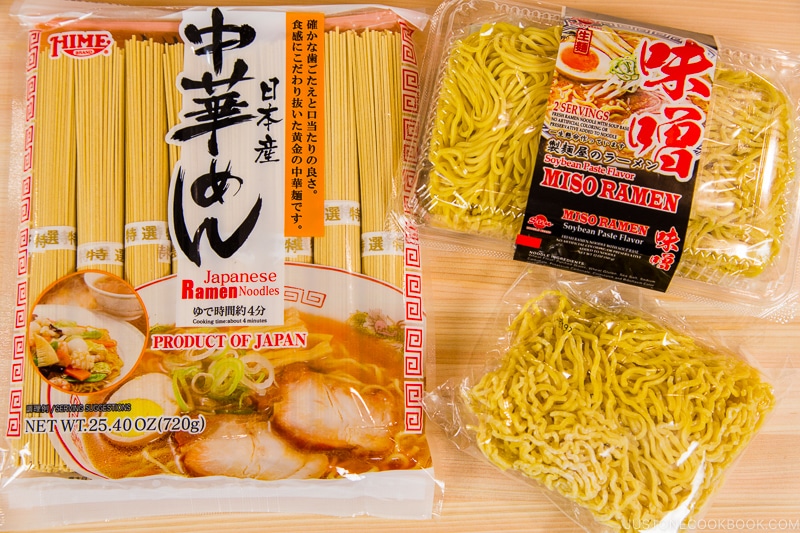 In my local Japanese grocery stores, they sell packages of fresh ramen noodles (with soup packages included, but I don't use them). Sun Noodles make great noodles if you can find them locally.
If you don't have access to fresh ramen noodles, you can purchase these dried "Chuka Men" (Chinese-style noodles) by HIME at Japanese or Asian grocery stores (Amazon used to carry this item but not at this time).
For gluten-free noodles, click here.
Ramen Toppings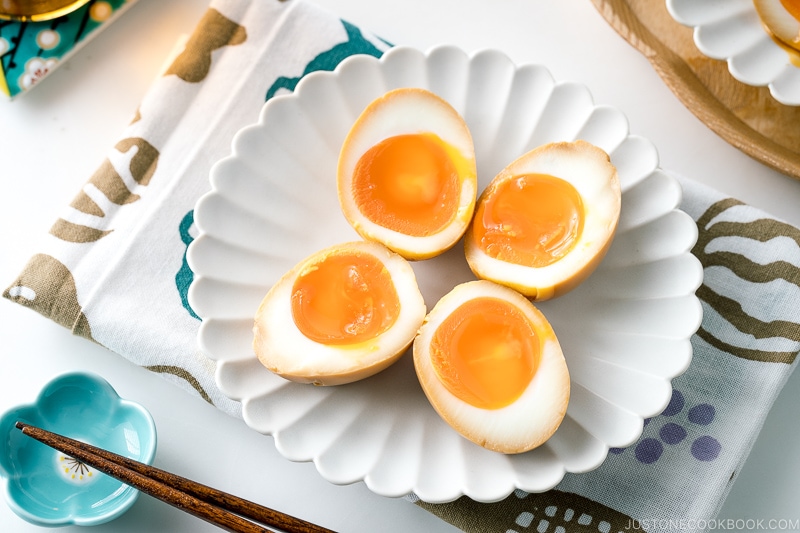 If you want to stick with the traditional ramen toppings, I recommend:
However, feel free to enjoy your ramen with what you have on hand. You can use any ingredients that complement the ramen broth and ramen noodle texture. Homemade vegetarian kimchi, bok choy, spinach, deep-fried tofu, or edamame are just some of the examples that go well with your ramen. There is plenty of flexibility to work with.
If You're Not Vegetarian or Vegan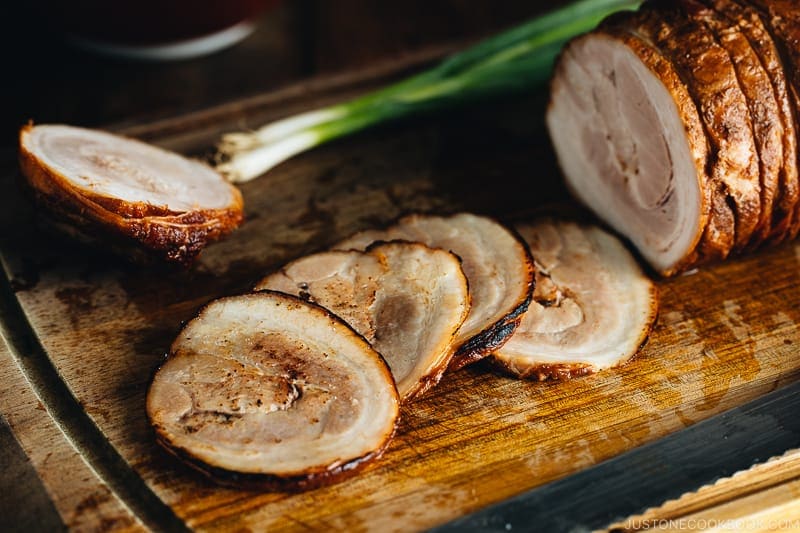 If you are not vegetarian or vegan, you can add 1/8 lb (57 g) of minced pork per recipe (serves 1) between Step 6 and Step 7 to create more complexity. You can also check out my Chashu recipe. The bottom line – use my recipe as a guide and create your own version.
Enjoy! And I hope this Vegetarian Ramen will be your go-to recipe. Once you've tried it, leave a comment below and let me know how it goes.
More Delicious Ramen Recipes You'll Love: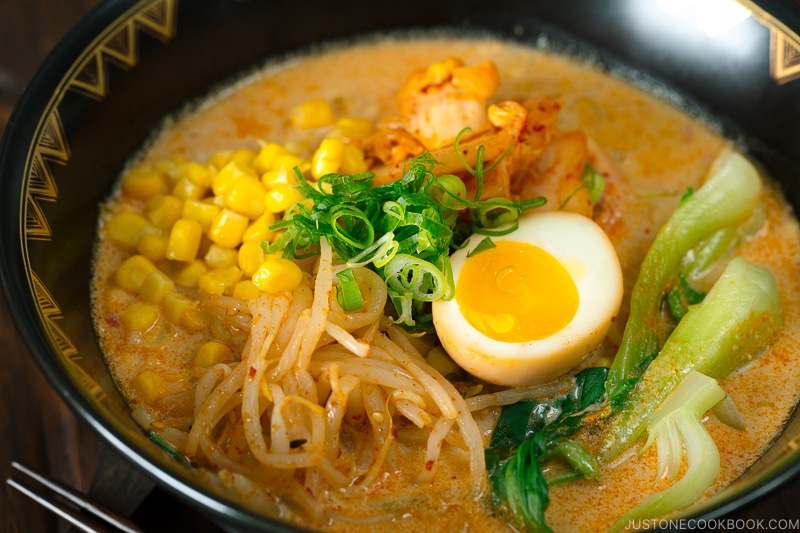 Wish to learn more about Japanese cooking? Sign up for our free newsletter to receive cooking tips & recipe updates! And stay in touch with me on Facebook, Pinterest, YouTube, and Instagram.
Vegetarian Ramen
This Vegetarian Ramen is going to rock your world! Learn the secret to creating a superrich and creamy broth with soy milk, miso, sesame seeds, and spicy chili bean sauce. This recipe is easily vegan adaptable by skipping the egg!
Video
Ingredients
Japanese Ingredient Substitution:
If you want substitutes for Japanese condiments and ingredients, click
here
.
Instructions
Gather all the ingredients. Please note that the serving size is one for this recipe. You can scale the recipe to multiply the ingredients for the number of servings you wish to prepare.
To Make the Vegetarian Dashi (Kombu + Shiitake)
Soak the kombu and dried shiitake mushroom in the measured water for at least 30 minutes. Transfer the liquid, kombu, and shiitake to a small saucepan. Slowly bring the liquid to a boil over low heat. This will help enhance the dashi flavor.

Right before the liquid reaches a full boil, remove the kombu and shiitake mushroom from the dashi. If you leave the kombu in the liquid, the dashi will become slimy. Turn off the heat and set aside.
To Make the Soup Broth
Grind and crush the sesame seeds in a Japanese mortar and pestle (suribachi and surikogi like this).

Mince the garlic (I used a garlic press) and the ginger.

Separate the green and white parts of the scallion, and then cut into thin rounds.

Set a small saucepan over medium-low heat. Once hot, add the sesame oil. Then, add the garlic, ginger, and white part of the scallion and cook until fragrant.

Add the doubanjiang (spicy chili bean sauce/broad bean paste) and miso to the saucepan. Stir constantly so that they don't burn.

Add the sake and use a wooden spatula to stir and release the bits of the sauce attached to the bottom of the saucepan.

Add the ground sesame seeds and soy sauce.

Gradually add the soy milk, stirring constantly and making sure to dissolve the doubanjiang and miso. Then, add the kombu and shiitake dashi.

Add a dash of white pepper and salt to taste. Turn off the heat and set aside.
To Assemble
Once the soup and all the toppings are prepared, cook the fresh or dried ramen noodles in boiling water according to the package instructions. (Do not overcook the noodles; I usually cook 30-60 seconds less than specified.) Make sure to loosen the noodles before adding them to the boiling water and stir the noodles so that they don't stick to each other. Reheat the soup broth at the same time.

Once the noodles are cooked, drain them very well and transfer them to a ramen bowl. Pour the hot soup broth into the bowl.

Place the toppings of your choice on the ramen and enjoy!
Nutrition
Calories:
549
kcal
·
Carbohydrates:
63
g
·
Protein:
14
g
·
Fat:
27
g
·
Saturated Fat:
8
g
·
Sodium:
840
mg
·
Potassium:
373
mg
·
Fiber:
4
g
·
Sugar:
2
g
·
Vitamin A:
219
IU
·
Vitamin C:
2
mg
·
Calcium:
238
mg
·
Iron:
6
mg
©JustOneCookbook.com Content and photographs are copyright protected. Sharing of this recipe is both encouraged and appreciated. Copying and/or pasting full recipes to any website or social media is strictly prohibited. Please view my photo use policy
here
.
Editor's Note: This post was originally published on Nov 18, 2015. The post has been updated on February 2020.