With chewy noodles in a delicious pork and dashi broth, Okinawan Soba is a comfort and soul food for many Okinawans. This classic noodle soup from Okinawa, Japan is a savory mix of tender stewed pork belly, fish cake slices, and red pickled ginger.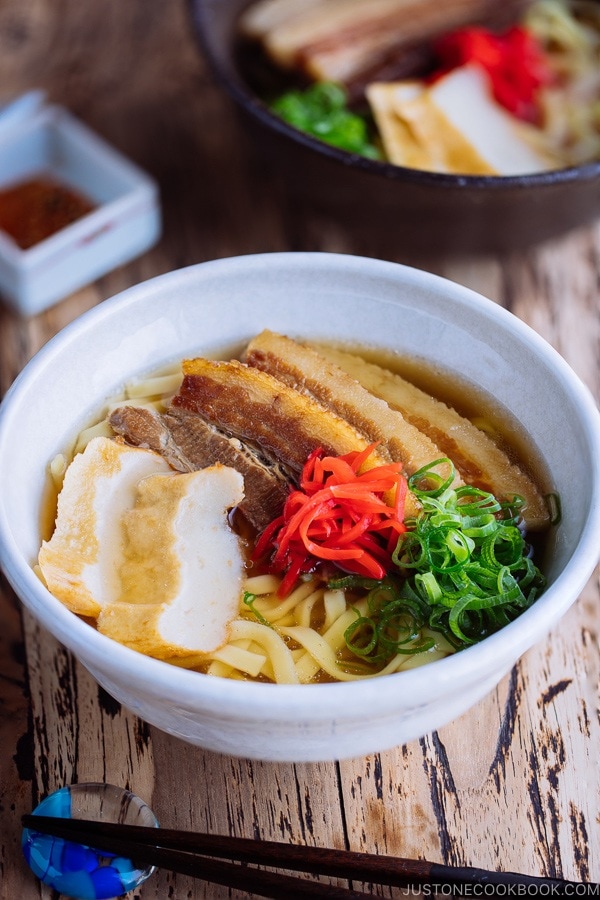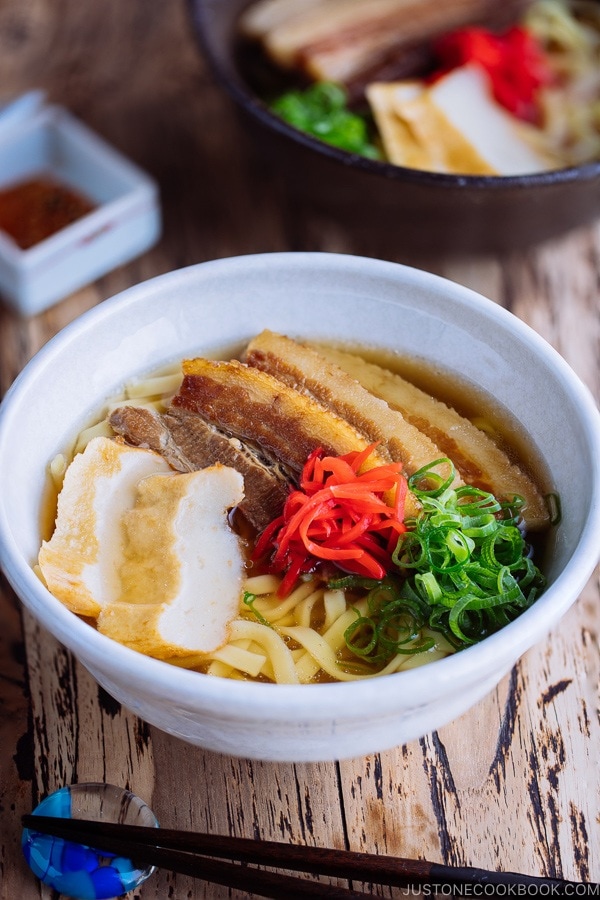 Before traveling to Okinawa, my Okinawan friends here in the US would always tell me how much they missed Okinawa Soba (沖縄そば). They made it sound so delicious that I was starting to miss a dish I had never tried! Okinawa Soba was at the top of my must-try list when I arrived in Okinawa last December, and it of course did not disappoint. I can still remember the taste of the delicious broth, and knew I had to make my own version when I returned home. So I'm featuring my recipe for Okinawa Soba today with you.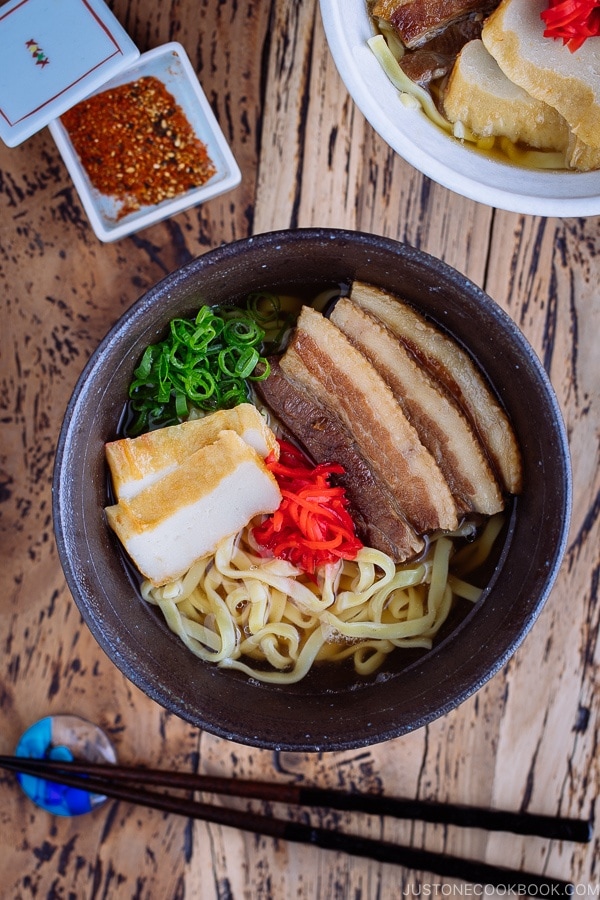 What is Okinawa Soba?
Despite the word "soba" in its name, Okinawa Soba does not include any soba (buckwheat noodles). As I've mentioned a few times on the blog, soba (そば) means "noodles" in Japanese. A good example would be the Japanese stir-fried noodles Yakisoba, which also doesn't use buckwheat noodles. So what then is Okinawa Soba?
Okinawa Soba is a hot noodle soup consisting of a specific type of chewy noodles made with flour, water, and egg (see more below). The soup is a combination of pork broth and katsuo dashi, filled with stewed pork belly slices, a few slices of fish cake, chopped green onion, and red pickled ginger. It's actually quite simple in taste and appearance, as well as cooking process (bonus!). Let me get into the details for each component in this noodle soup: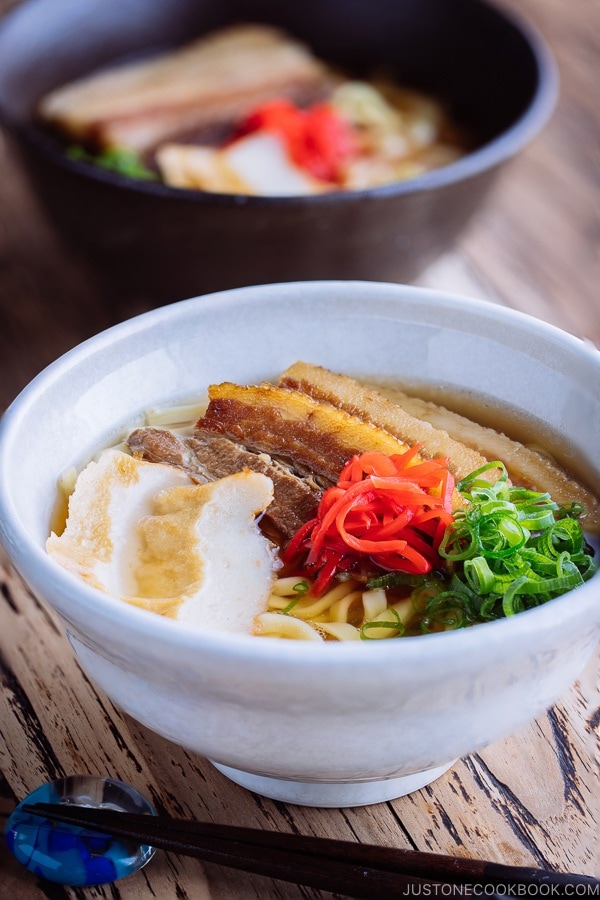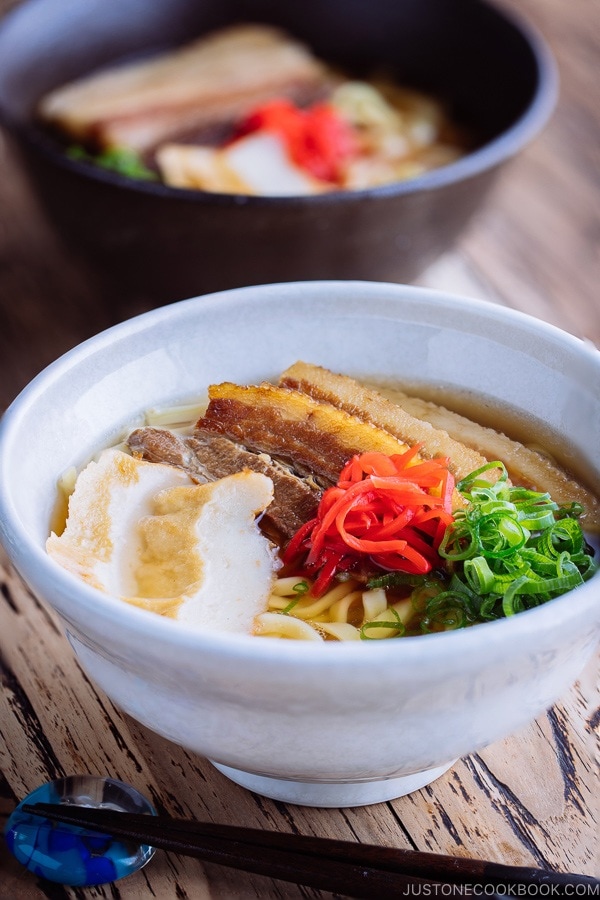 Soup Broth:
The soup broth is made of both pork broth and katsuo dashi. The flavor is complex, yet the broth is very clear and surprisingly light. It's unique to Japanese noodle soups, not unlike Okinawa's uniqueness in Japan. This broth is definitely somewhere between ramen broth and Japanese dashi broth for noodles. It has a really wonderful meat/fish broth balance.
Noodles: 
My first thought was that this Okinawan soba noodle is very similar to dried udon noodles that are cooked (instead of frozen or refrigerated udon type). However, the ingredients for Okinawa soba noodles list flour, water, and egg (udon noodles do not have egg). I imagined it would not be easy to find Okinawa Soba Noodles in the US, but guess what I stumbled upon in both Asian and Japanese grocery stores (Myojo is a big noodle brand)!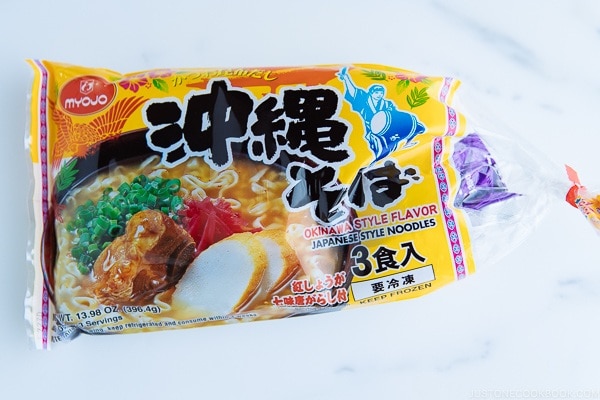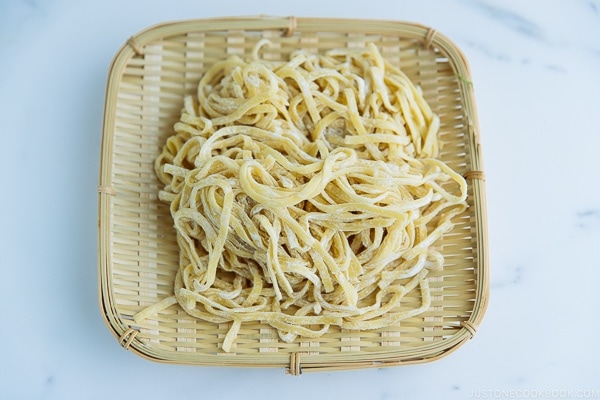 If you cannot get this noodle, you can use dried udon noodles that have a similar flat shape and texture.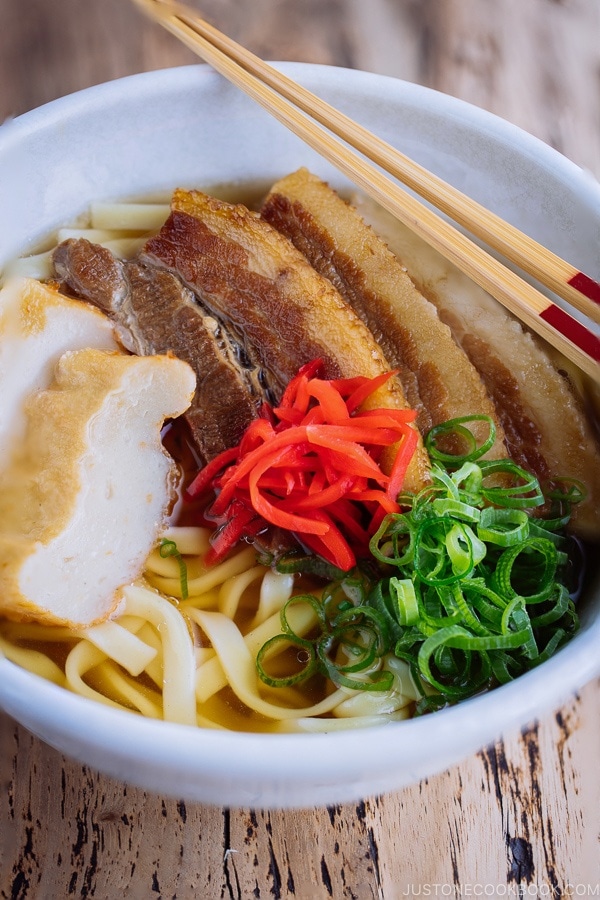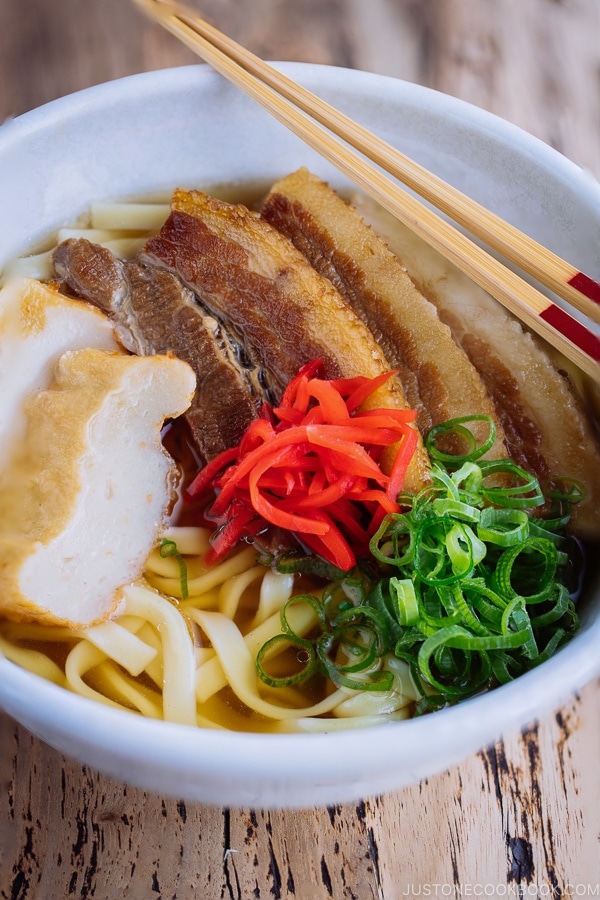 Stewed Pork Belly Slices:
Okinawa Soba comes with a few slices of stewed pork belly. When the meat is slow-stewed pork spare ribs, the dish is called Soki Soba (ソーキそば). When the meat is slow-stewed pig feet, it's called Tebichi soba (てびちそば). We tried a few different versions when we were in Okinawa, and they were all delicious in this noodle soup. The way the pork belly is cooked is very similar to Rafute. If you plan to cook Rafute, you can make extra and use that as a topping for your Okinawa Soba!
Fish Cakes:
Another must-have item on Okinawa Soba is a particular type of fish cake called Satsuma Age (薩摩揚げ). This fish cake is deep-fried, so you see the brown skin on the outside and white skin on the inside. It was originally from Chinese cuisine and then brought over to Okinawa and Kyushu regions. This is another reason why I feel Okinawa Soba is much closer to udon than ramen, as you don't see Satsuma Age on ramen ever.
Garnishes:
Usually very simple – just chopped green onion and red pickled ginger. I love that pickled ginger is included in this dish. The tangy taste of ginger is a refreshing palate cleanser while enjoying the pork belly.
Are you ready to add Okinawan Soba to your noodle soup repertoire? Before you get into the kitchen, don't forget to check out other delicious Okinawan recipes and travel guides.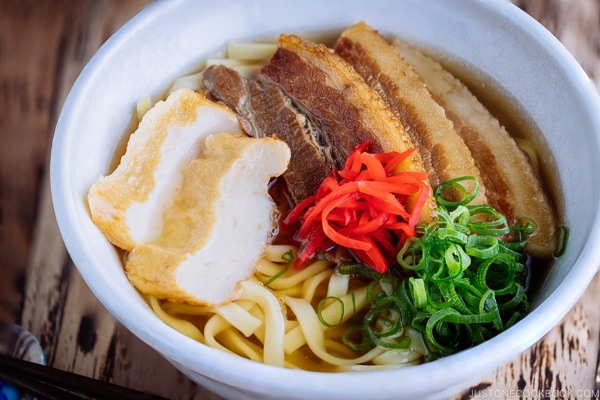 Wish to learn more about Japanese cooking? Sign up for our free newsletter to receive cooking tips & recipe updates! And stay in touch with me on Facebook, Pinterest, YouTube, and Instagram.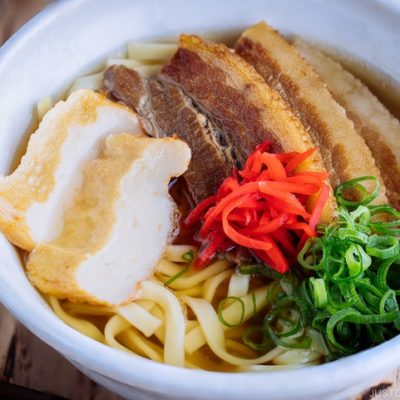 Okinawa Soba
With chewy noodles in a delicious pork and dashi broth, Okinawan Soba is a comfort and soul food for many Okinawans. This classic noodle soup from Okinawa, Japan is a savory mix of tender stewed pork belly, fish cake slices, and red pickled ginger.
Ingredients
Japanese Ingredient Substitution:
If you want substitutes for Japanese condiments and ingredients, click
here
.
Instructions
Gather all the ingredients.
To Make the Katsuo Dashi & Pork Broth
Place

14 oz pork belly block

in a large pot and add

4 cups water

(or just enough to cover the meat).

Bring the water to a boil. Once boiling, lower the heat and simmer for 3–5 minutes until you start to see foam and scum floating on the surface. Drain and quickly rinse the meat and the pot under running water.

Place the meat back in the same pot, and add

6 cups water

(roughly

2

cups will evaporate and leave

4

cups of stock at the end of simmering). Bring it to a boil.

Meanwhile, in a small saucepan, add

2 cups water

and bring it to a boil. Lower the heat to a simmer and add

1 cup katsuobushi (dried bonito flakes)

. Cook for 15 seconds and turn off the heat. This is katsuo dashi. Set it aside to steep a bit more until it's ready to use.

After 1 hour of simmering, take out the meat and cover it with aluminum foil. Set it aside until it's cool enough to handle.

Strain the pork broth through a fine-mesh sieve and reserve

4

cups pork broth in a measuring cup. You can save the leftover pork broth for Champon or soup (strain and freeze it). Put the

4

cups pork broth back into the pot.

Strain the katsuo dashi through a fine-mesh sieve into the pot with the pork broth. Bring the soup broth to a boil.

Once boiling, lower the heat and add

2 tsp soy sauce

and

1 Tbsp Diamond Crystal kosher salt

. Mix well and taste the soup broth and see if you need more salt (or soy sauce). Turn off the heat and cover with a lid. Set aside.
To Make the Stewed Pork Belly
Once the pork belly is cool enough to handle, cut it into thin slices 3–5 mm thick.

In a clean small saucepan, add

2 Tbsp black sugar

and

2 Tbsp awamori (Okinawan distilled liquor)

.

Add

2 Tbsp soy sauce

and

2 Tbsp water

. Mix all together and bring it to a boil. 

Lower the heat and add the pork belly slices and quickly coat with the sauce.

Place an otoshibuta (drop lid) on top of the meat. Cook on low heat for 25–30 minutes until the sauce is almost evaporated. If you don't want to use the otoshibuta (you can make a homemade drop lid with aluminum foil), you will need to double the sauce ingredients to make sure the pork stays covered while cooking. Tip: With the otoshibuta, you don't need as much sauce to season the meat. Otoshibuta also lets moisture slowly evaporate and helps the sauce liquid circulate as it hits the lid and goes back down to the sauce.
To Assemble
Cut

1–2 green onion/scallion

into thin rounds. Slice the fish cake diagonally into thin slices.

Boil

2 servings Okinawa soba noodles

according to the package instructions. I cook slightly less than the indicated cooking time. Make sure to use your hands to separate the noodles before adding them to the boiling water. With chopsticks, separate the noodles in the water.

Pick up the noodles with a fine-mesh sieve (or drain the noodles into a colander in the sink). Make sure the noodles are well-drained so excess water won't dilute the soup. Divide the noodles into individual serving bowls.

Pour the pork and dashi soup broth over the noodles. Place the stewed pork belly slices on top. Top with fish cakes, green onions, and

pickled red ginger (beni shoga or kizami beni shoga)

. Serve immediately.
To Store
You can keep the toppings and soup in separate airtight containers and store in the refrigerator for up to 4–5 days and in the freezer for a month. Prepare the noodles fresh just before serving.
Nutrition
Nutrition Facts
Okinawa Soba
Amount per Serving
% Daily Value*
* Percent Daily Values are based on a 2000 calorie diet.
©JustOneCookbook.com Content and photographs are copyright protected. Sharing of this recipe is both encouraged and appreciated. Copying and/or pasting full recipes to any website or social media is strictly prohibited. Please view my photo use policy
here
.