Fluffy sponge cake rolled up with fresh matcha cream in the middle, this Matcha Swiss Roll will be an instant favorite this holiday season!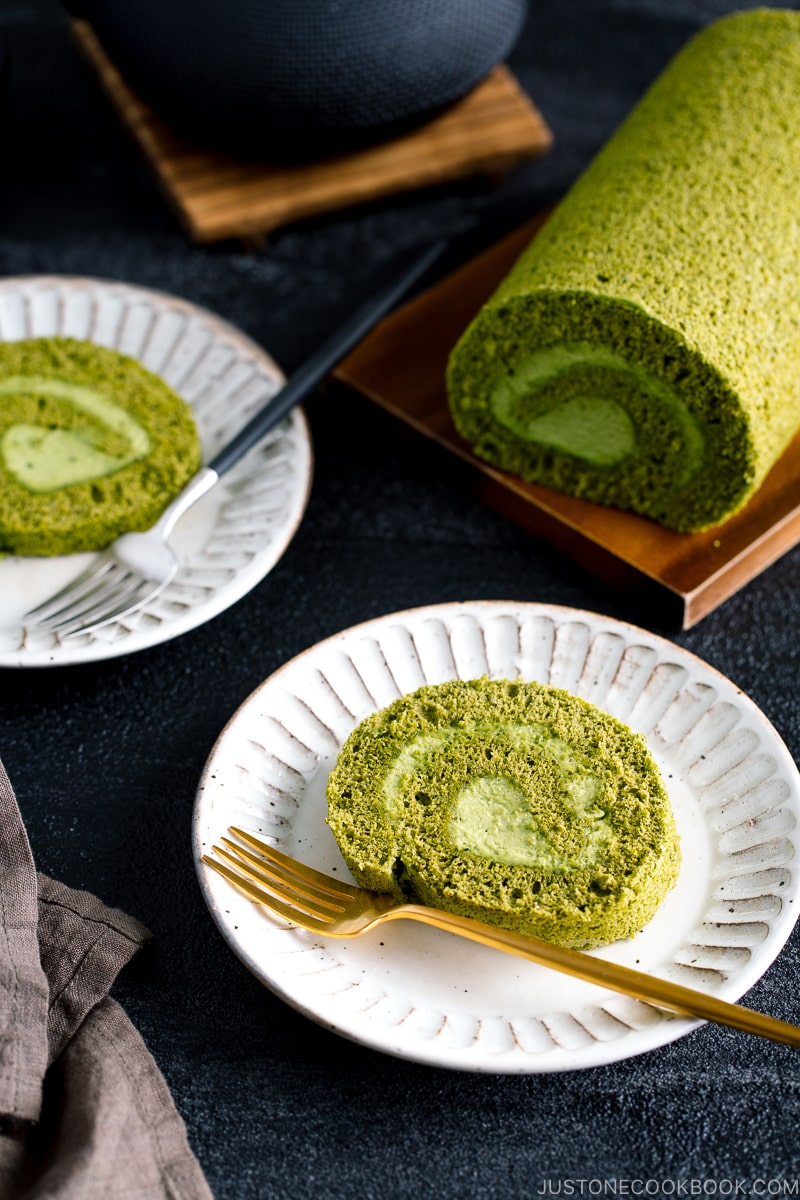 Swill Rolls, or Roll Cakes (ロールケーキ) which we call in Japan, are a type of sponge cake filled with whipped cream, buttercream, custard cream, and sometimes include fruits like strawberries.
Just like any other desserts, we do have Matcha Swiss Roll (抹茶ロールケーキ) and it's always a popular choice in Japan. If you have a soft spot for anything matcha (green tea), I am pretty sure you're going to be as obsessed with this cake as I am.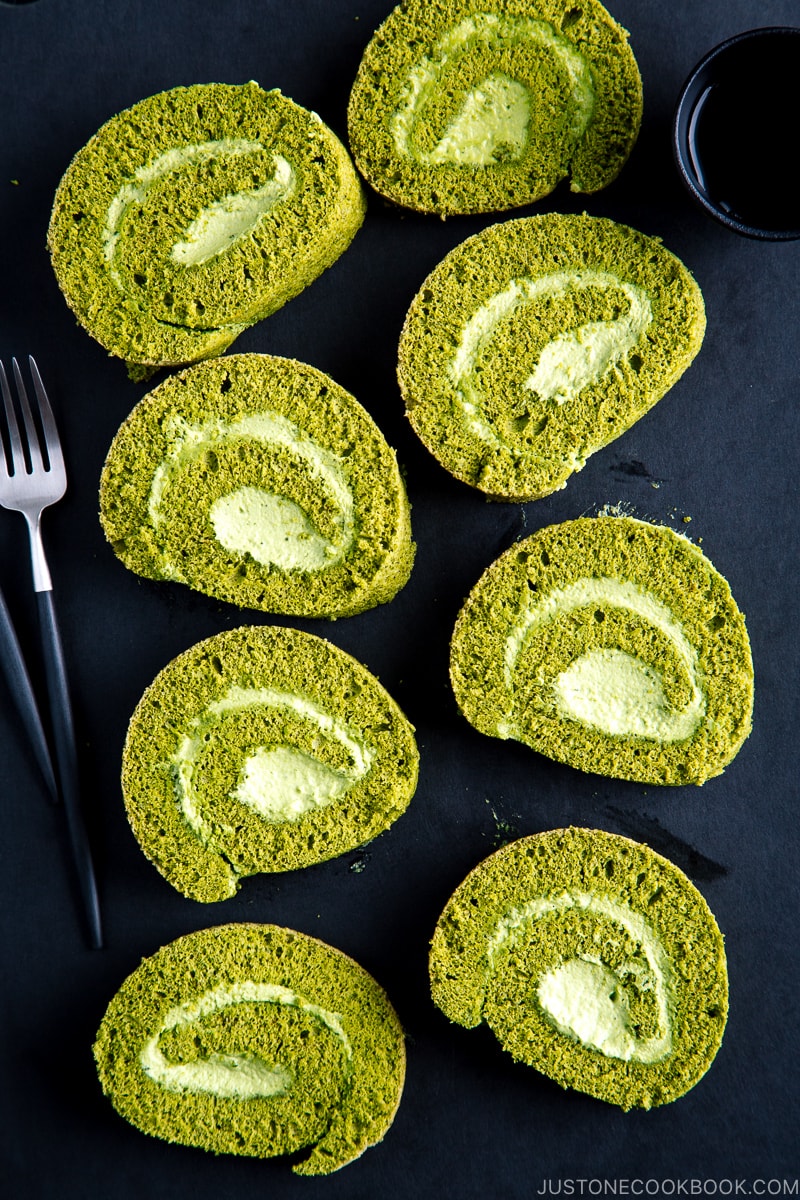 What Differentiate Japanese Roll Cake from Swiss Roll
1. Not so sweet
When it comes to Asian sweets, you have to know one more expression to complement the dessert, and that is "oh, this dessert is not so sweet." What it really means is the sweetness is just right.
Swiss rolls are of western origin, but I want to emphasize that the Asian version of Swiss rolls are guaranteed not so sweet. If you enjoy not-so-sweet desserts, this one is for you.
2. Light and fluffy
The fluffiness and light texture of the sponge cake come from the egg whites that are beaten till stiff peaks, like a chiffon cake recipe. Besides fresh whipped cream for the filling, there is no butter or oil added in the recipe. I know this makes us all feel less guilty about eating more than one slice!
3. Unique flavors
Classic Japanese roll cakes are very similar to western Swiss rolls. You can find flavors such as vanilla, cocoa, chocolate, tiramisu, coffee, strawberry, lemon, raspberry, and so on. Japanese (and some other Asian) varieties include matcha, black sesame, chestnut, purin (crème caramel), and interesting flavors like almond jelly, and mitarashi dango (see below).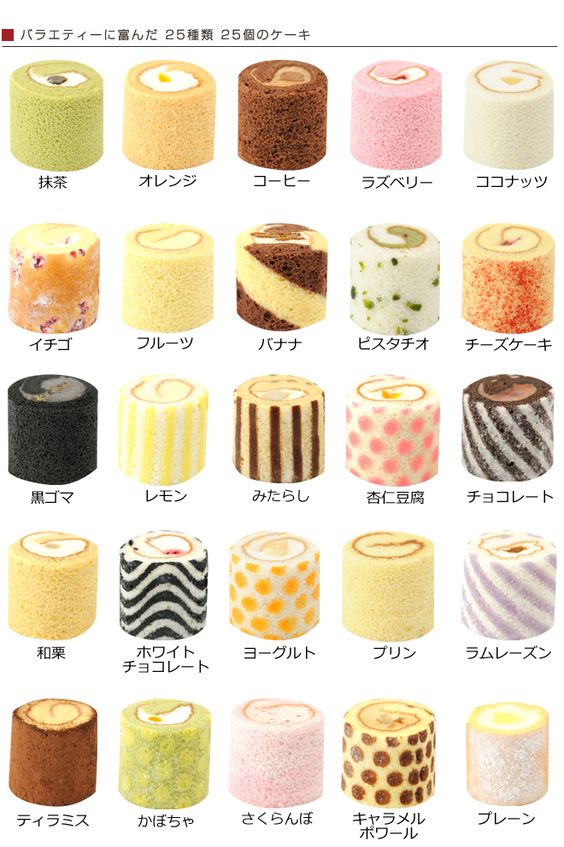 Endless choices of roll cakes! (image source)
5 Tips to Remember When Making Matcha Swiss Roll
1. Egg yolks at room temp & egg whites in the fridge
You can make the sponge cake two ways: Genoise method (The whole eggs are combined with sugar and gently heated over simmering water, then whipped) or Biscuit (bees-kwee) method (the whites and yolks are whipped separately and then folded back together). The Genoise method creates a more moist texture but Biscuit creates a lighter texture.
I chose the Biscuit method this time. When you separate the eggs, keep egg yolks at room temperature and egg whites in the fridge. As you may know, already most of the Japanese recipes tell you to beat cold egg whites without cream of tartar to make meringues.
2. Remember to "fold in"
Folding is a very gentle way of mixing additional ingredients into a batter to prevent entrapped air from escaping. The way to do this is to first run the spatula (or whisk) around the side, then along the base of the bowl. Now fold the mixture over onto itself. Rotate the bowl 90º and repeat until combined.
3. Don't over bake
Because it's a thin cake, it's best to avoid baking slowly; otherwise the cake will be dry. Therefore, bake around 375 ºF (190 ºC) for 12-13 minutes, until the sponge springs back. The bottom of the cake pan will become the surface of the cake, so we'll make sure it doesn't get burnt on the bottom.
4. Remove the parchment paper immediately
You will need to remove the cake immediately from the pan after baking, in order to prevent the cake from drying. But, what do you do with the parchment paper?
There is a whole discussion on when to remove parchment paper – right after baking OR after cooling down. I remove it while it's warm and it comes off beautifully. I don't like the parchment paper becomes too moist while cooling down, but it's up to you. I think either way works.
5. Pre-roll the cake while warm
It's easier to roll up the cake when it's still warm and flexible, so I roll up the cake first and let it cool down. The cake has muscle memory so it's easier to roll up again with fillings. Some people don't pre-roll, but scores on top of the cake before rolling so it's easier to roll. Some don't do either one but still makes the beautiful roll. Again, it's also up to you.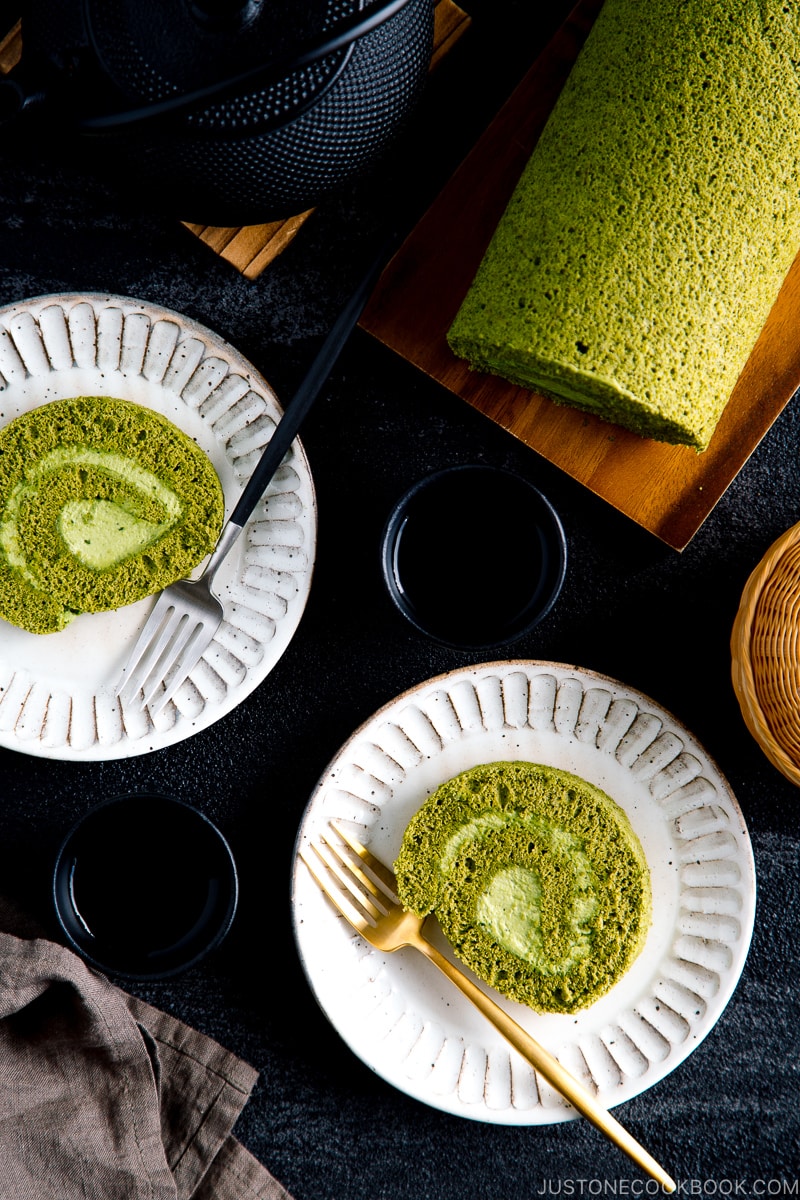 Delicious Matcha Whipped Cream Filling for Matcha Swiss Roll
Some matcha roll cakes include anko, sweet red bean paste, inside the whipped cream filling. The red bean gives some texture to the soft sponge and creamy whipped cream. Even though I love sweet red bean paste, I prefer keeping it out of my cake to keep the fluffy texture in my mouth. When I brought this matcha roll cake to my friend's house, she served the cake with red bean ice cream and it was wonderful!
For the whipped cream filling, I like mine to enhance more matcha flavor, so I included matcha powder in my whipped cream, but that's optional. Simple white-color whipped cream will give nice contrast to the matcha cake, and it looks pretty and delicious too!
If you visit Japan, you will find them all over the country – from fancy versions at bakeries and pastry shops, to more affordable ones at grocery stores or convenience stores. But don't be fooled by the "grocery store" or "convenience store" label. The quality is still reasonably good.
Roll cakes sold at a convenience store
I feel this rolled-up cake has a lot more casual look than a classic round cake, yet it's still elegant enough that you can bring it to a potluck or serve it at your dinner party to wow your guests. For more matcha dessert recipes, click here.
I hope this Matcha Swiss Roll recipe will inspire you to try making it at home. You will need to apply a few techniques but it's really not as difficult as you may think.
Similar Recipes: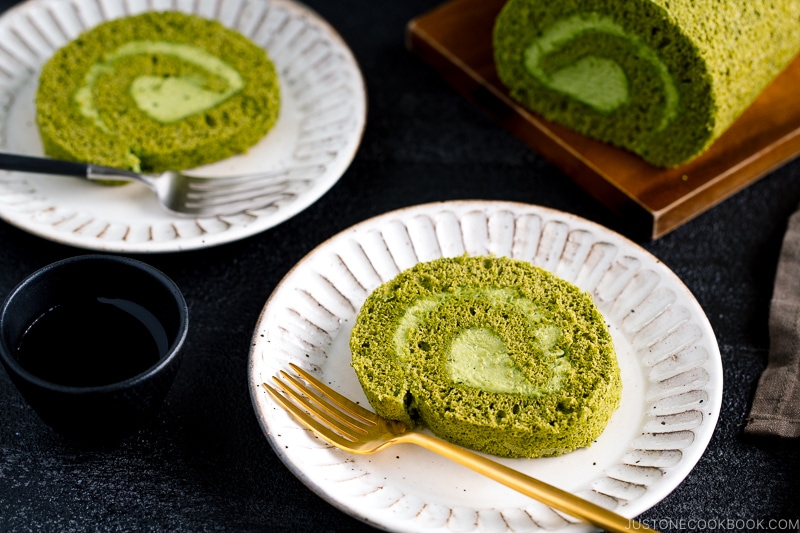 Wish to learn more about Japanese cooking? Sign up for our free newsletter to receive cooking tips & recipe updates! And stay in touch with me on Facebook, Pinterest, YouTube, and Instagram.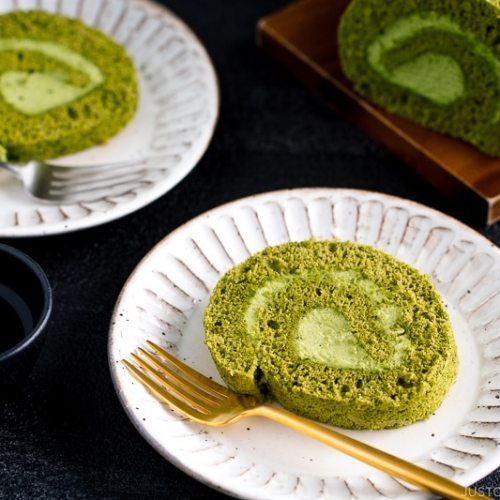 Matcha Swiss Roll (Roll Cake)
Fluffy sponge cake rolled up with fresh matcha cream in the middle, this Matcha Swiss Roll will be an instant favorite this holiday season!
Video
Servings:
1
10″ (25 cm) Swiss roll
Ingredients
4

large eggs (50 g each w/o shell)

(separated)

¾

cup

cake flour (If you're using a cup measurement, please follow this method to measure. Otherwise, the amount of flour tends to be more than you need. 1 cup should be 120 g. You can make your homemade cake flour.)

½

tsp

baking powder

2

Tbsp

matcha (green tea powder)

½

cup

sugar

(separated)

3

Tbsp

whole milk

(microwave until warm to the touch)
Matcha cream filling:
¾

cup

heavy whipping cream

(chilled)

1 ½

Tbsp

sugar
Japanese Ingredient Substitution:
If you want substitutes for Japanese condiments and ingredients, click
here
.
Instructions
Separate the egg yolks and whites into two bowls. Keep the egg whites in the refrigerator, and the egg yolk at room temperature.
Make the cake batter:
Using a fine mesh sieve, sift the cake flour, baking powder, and matcha powder over a sheet of parchment paper.

Transfer the dry ingredients into the bowl, set the sieve over the parchment paper and sift 2 more times (total 3 times).

In a large bowl, add the egg yolks and break them.

Add half of the sugar (¼ cup, 50 g) and whisk until the egg mixture becomes double in volume. When you lift the whisk into the air with some of the mixture on it, the mixture should fall back into the bowl in ribbons, which slowly disappear back into the mixture

Add the cold egg whites into a large bowl. With an electric hand mixer (or stand mixer), beat the egg whites until foamy.

Gradually add the remaining sugar (¼ cup, 50 g) over three separate times and beat until stiff peaks form and egg whites are glossy.

Gently whisk in ⅓ of the egg whites to the egg yolk mixture until incorporated in the batter.

Then add the mixture back into the egg whites. Gently fold in egg whites with a silicone spatula. Tip: Rotate the bowl counterclockwise while you scoop up and fold in the mixture clockwise.

Add the dry ingredients. Using the silicone spatula, fold in gently until just incorporated. Tip: Adding dry ingredients last prevents from mixing too much (over-mixing the batter will result in dense, not fluffy sponge cake).

Add the warm milk and fold in until incorporated.
Bake in the oven:
Tap the jelly roll pan a few times on your working surface to remove the air bubble inside the batter. Bake for 10-12 minutes, or until an inserted toothpick comes out clean and top of cake springs back when touched. Make sure not to over bake or the cake will be too dry and break when you roll.

Remove the pan from the oven and drop the pan on your working space once to prevent the cake from shrinkage.

While the pan is still hot, place a sheet of parchment paper and a baking sheet (or a cutting board) on top.

Wearing the oven mitts, flip the baking sheets together (with the cake sandwiched in between). Using a knife or spatula, lift the jelly roll pan to reveal the cake.

Gently remove the parchment paper attached to the cake. This side will be the exterior of the Swiss roll, so be gentle!

Place another "protective" sheet of parchment paper and baking sheet on top.

Hold both baking sheets and flip the cake over so that brown side is facing up. Remove the parchment paper.

Remove the baking sheet and place the cake on the working surface. Diagonally slice off ¼ inch (1 cm) one side of the cake (shorter end). This will help stabilize the Swiss roll when rolled up.

While the cake is still warm, use your hands to slowly roll the cake on the parchment paper. Once the cake is rolled up, transfer to a wire rack.

Cover with kitchen towel and let it cool completely (until it reaches room temperature, about 30 minutes).
To prepare matcha cream filling
When the cake is completely cool, combine the heavy cream, sugar, and matcha powder in a large bowl.

Beat until firm and spreadable, so it won't ooze out of the cake when you're rolling it up.
Assemble the Swiss cake:
Transfer the swiss roll to a flat surface and unroll the cake. It's okay if the ends curl up a bit.

Using an offset spatula, spread the matcha cream mixture evenly over the cake, leaving a ½-inch border on all sides. A little tip: Spread slightly less amount of filling toward the last ⅓ of cake as the cream will pile up toward the end when rolling up.

Carefully but tightly re-roll the cake. The seam side should be on the bottom. Once you roll up the cake, secure the roll by twisting the parchment paper at both ends (like a candy wrapper). Refrigerate for at least 2 hours to firm up the cream.

Remove and unwrap the Swiss roll. Slice off about ½ inch of the cake on both ends (to show off beautiful swirls). Transfer it to your serving dish. Slice and serve.
To Store
If you have leftovers, just re-wrap the swiss roll in a plastic wrap and store in the refrigerator for up to 3 days.
Nutrition
Serving:
1
whole Swiss roll
·
Calories:
1830
kcal
·
Carbohydrates:
194
g
·
Protein:
60
g
·
Fat:
88
g
·
Saturated Fat:
48
g
·
Polyunsaturated Fat:
7
g
·
Monounsaturated Fat:
27
g
·
Trans Fat:
1
g
·
Cholesterol:
992
mg
·
Sodium:
580
mg
·
Potassium:
546
mg
·
Fiber:
2
g
·
Sugar:
121
g
·
Vitamin A:
5654
IU
·
Vitamin C:
1
mg
·
Calcium:
395
mg
·
Iron:
12
mg
©JustOneCookbook.com Content and photographs are copyright protected. Sharing of this recipe is both encouraged and appreciated. Copying and/or pasting full recipes to any website or social media is strictly prohibited. Please view my photo use policy
here
.