Learn to make authentic Azuki Red Bean Ice Cream just like what you'd find in Japan! It's the perfect treat for a hot day and only takes 3 ingredients to make.
Red bean, also known as Azuki (小豆), is by far the most popular flavor in traditional Japanese sweets. Its prominence in Japanese desserts can be compared to that of chocolate in Western desserts.
Azuki has always been one of my absolute favorite flavors, especially in ice cream, so I want to show you how to make Azuki Red Bean Ice Cream (小豆アイスクリーム) the way we enjoy it in Japan.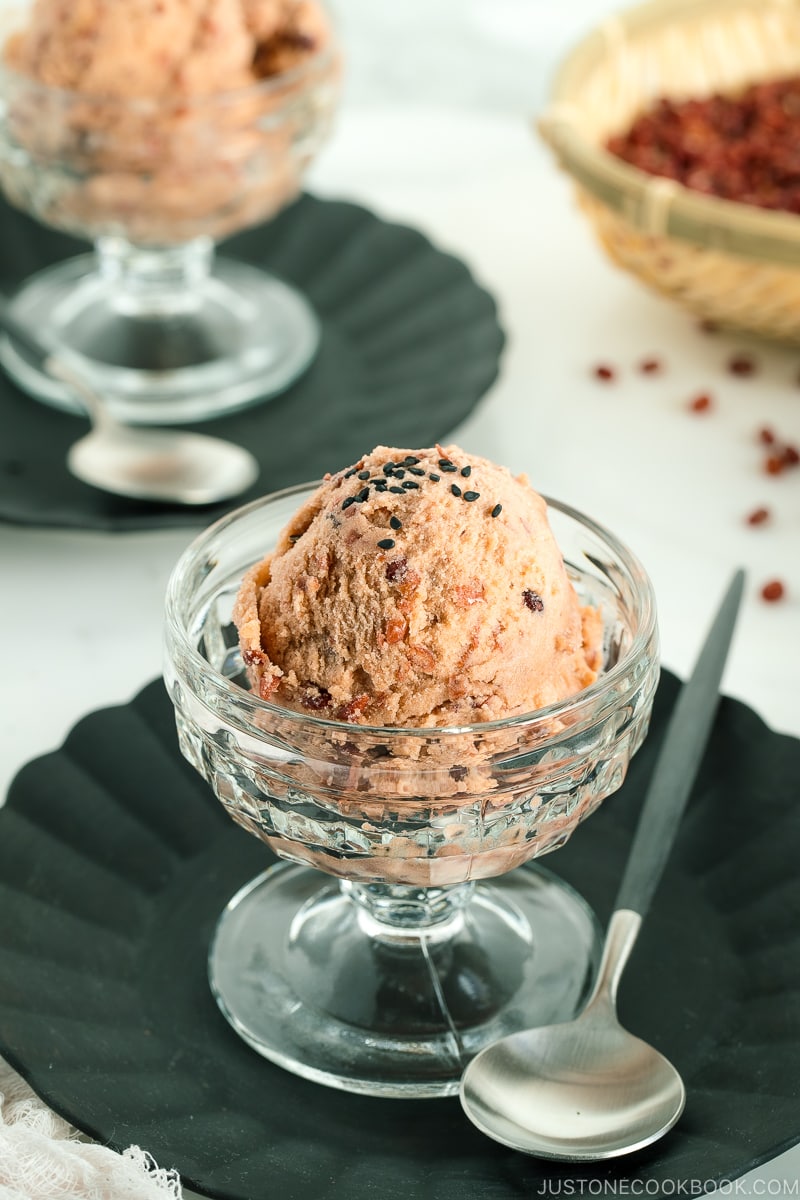 What Does Azuki Red Bean Ice Cream Taste Like?
At a glance, azuki beans look similar to black beans, but they are deep red in color with a mildly nutty taste. Red bean also bears a light sweetness, making it a perfect ingredient for desserts.
In Japan, red bean-flavored foods are impossible to miss, whether you're in a bakery, convenience store (Konbini), or restaurant. Even after living in the States for many years now, the taste of red bean sweets makes me nostalgic for Japan. This homemade red bean ice cream brings back so many great memories of childhood and the summers I spent at my grandpa's house.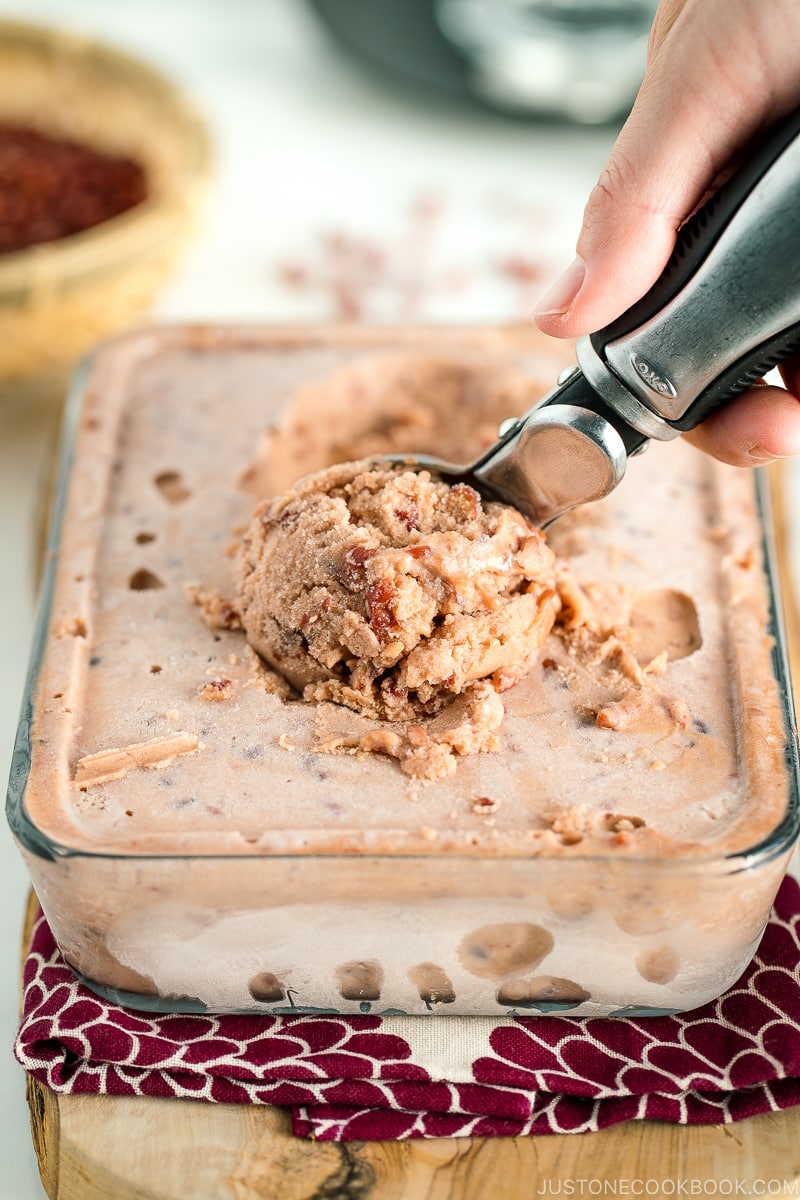 Japanese Ice Cream vs. American Ice Cream
Japanese red bean ice cream is a little different from the ice cream you may be used to, not only because of the unique main ingredient. A key difference is in its level of creaminess. The texture of the ice cream is "harder", kind of like an ice bar, and it won't be as rich and creamy as typical ice cream or soft serve, but it's satisfying, scoopable ice cream, nonetheless. Unlike many ice cream recipes, this one does not call for heavy cream or eggs. All you need is milk, sugar, and red bean. I much prefer this over chocolate ice cream any day!
My favorite toppings are toasted black sesame seeds, or a little sweetened condensed milk if you have any. If you crave richer ice cream, the condensed milk on top will give you just that. The sesame seeds add a nutty crunch that complements the azuki flavor wonderfully. If you want to take it one step further, use this as a filling for your Mochi Ice Cream!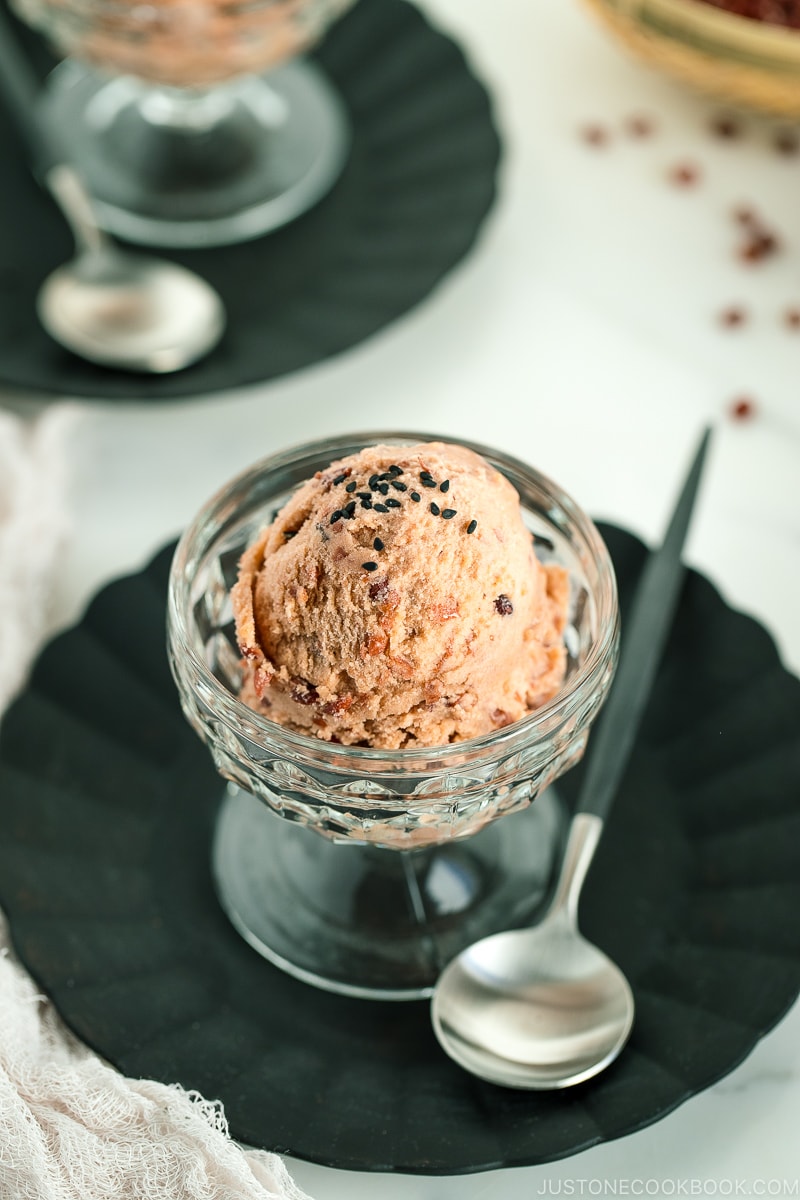 Where to Buy Japanese Red Bean (Azuki Beans)
You can find canned red bean paste (called "anko" in Japanese) at any Japanese grocery store. Recently, I've noticed other grocery stores beginning to carry it, too! Be sure to keep an eye out in the Asian section of your supermarket.
The store-bought red bean paste is quite sweet, so if you prefer a less sweet option, I highly recommend making your red bean paste from scratch – it's much easier than you'd think! For this recipe, I stick with the canned option because the other ingredients balance out the sweetness. If you own a pressure cooker or Instant Pot, you can make your red bean paste in just a few easy steps with this recipe.
More Japanese Ice Cream Recipes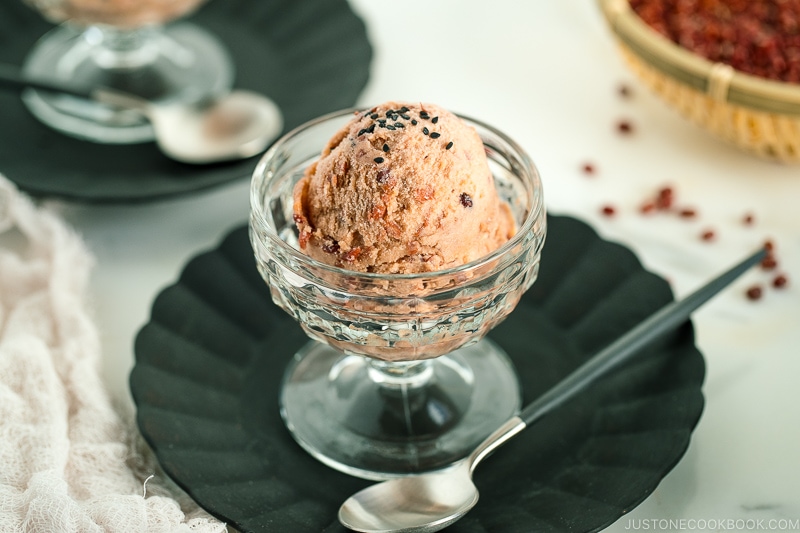 Wish to learn more about Japanese cooking? Sign up for our free newsletter to receive cooking tips & recipe updates! And stay in touch with me on Facebook, Pinterest, YouTube, and Instagram.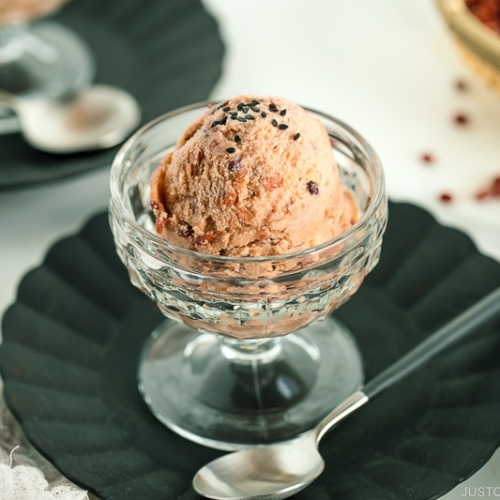 Azuki Red Bean Ice Cream
Learn to make authentic Azuki Red Bean Ice Cream just like what you'd find in Japan! It's the perfect treat for a hot day and only takes 3 ingredients to make.
Servings:
3
cups (¾ QT per batch)
Japanese Ingredient Substitution:
If you want substitutes for Japanese condiments and ingredients, click
here
.
Instructions
Gather all the ingredients.

In a medium saucepan, combine

1¼ cups whole milk

and

⅓ cup sugar

.

Stir and heat the mixture on medium heat. When the sugar is dissolved, add

15 oz sweet red bean paste (anko)

.

Whisk the mixture until combined and turn off the heat.

Prepare ice water in a large bowl. Place the pot of red bean mixture in the ice bath and let the mixture cool completely. Then put the lid on and store it in the refrigerator overnight or at least 4 hours.

On the following day (or after 4 hours), set up your ice cream maker according to the instructions. My ice cream maker does not require freezing the bowl in advance but I need to run it for 15–20 minutes prior to making ice cream. Please make sure your ice cream bowl is frozen ahead of time. A bowl that isn't completely frozen will take longer to freeze your ice cream and impact the finished product. If you make homemade ice cream on a regular basis, store your bowl in the freezer once it is clean. It will always be ready for your next batch of ice cream. If you don't have an ice cream maker, check out here.

Pour the mixture into the ice cream machine. Make sure not to fill it more than about two-thirds of the way up. Start churning. Churning ice cream incorporates air into the finished product while it freezes, so you will need some extra room in your freezer bowl.

The mixture will become thicker and creamier, about 25–30 minutes.

Transfer the ice cream to an airtight container and flatten it with the silicone spatula. Cover the lid and put it in the freezer for at least 3–4 hours. Set freezer temperature to the coldest setting, so the ice cream freezes faster. Optional: Lay plastic wrap directly on top of ice cream and press down gently to prevent ice crystals from forming on top of the ice cream.

Serve the ice cream and sprinkle with

2 tsp toasted black sesame seeds

.
Nutrition
Nutrition Facts
Azuki Red Bean Ice Cream
Amount per Serving
% Daily Value*
* Percent Daily Values are based on a 2000 calorie diet.
©JustOneCookbook.com Content and photographs are copyright protected. Sharing of this recipe is both encouraged and appreciated. Copying and/or pasting full recipes to any website or social media is strictly prohibited. Please view my photo use policy
here
.
Editor's Note: This post was originally published on July 11, 2011. The images and recipe have been updated in January 2021.