Print Recipe
Jump To Recipe
Delicious and easy anko recipe (red bean paste) prepared in a pressure cooker in a few easy steps. Use it as filling in your favorite Japanese sweets and desserts!
In Japan, there are all kinds of sweets and snacks everywhere, from convenience stores to busy stations and to even below department stores.  You can find an assortment of Japanese and Western cookies, cakes, snacks, and desserts.
Speaking of Japanese sweets, the most popular fillings in them is anko (sweet red bean paste).  I would describe its popularity similar to chocolate for Western desserts.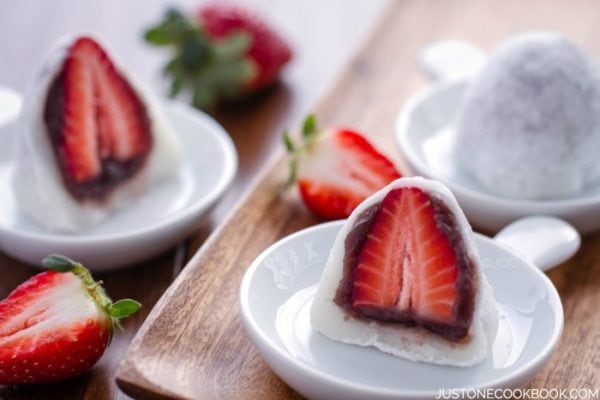 What type of Japanese desserts have red bean paste as filling?   Mochi of course!  The sweet red bean paste is inside of all types of mochi, like you see in Daifuku, Strawberry Mochi, Kashiwa Mochi, Sakura Mochi.  Also in flour cake batter like in Dorayaki and Taiyaki.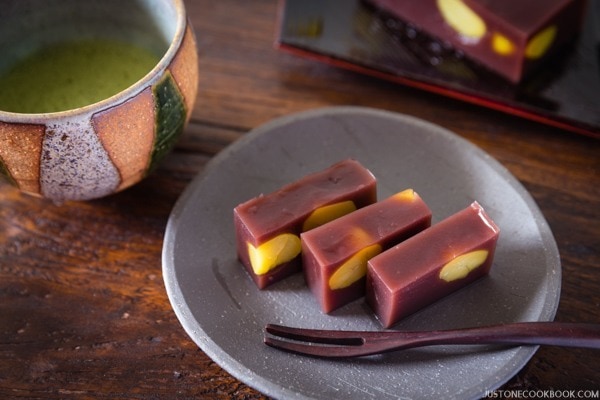 Other Japanese sweet that uses anko as a main ingredient includes Yokan, Red Bean Ice Cream, and Zenzai (red bean soup), just to name a few.
Now making it is very easy, but cooking it in traditional stove-top way requires your time and undivided attention.  The amount of water in the pot has to be just right above the azuki beans while cooking, so you need to stay in the kitchen to keep an eye on it (this is a well-known "proper" method).
I've loved anko all my life and I'm quite obsessed with it.  But even such a fanatic myself, I've only made it at home on special occasions and relied on overly-sweet premade ones from Japanese grocery stores to save time.
But not any more with my Instant Pot!  So today I want to show you my favorite way to make homemade anko.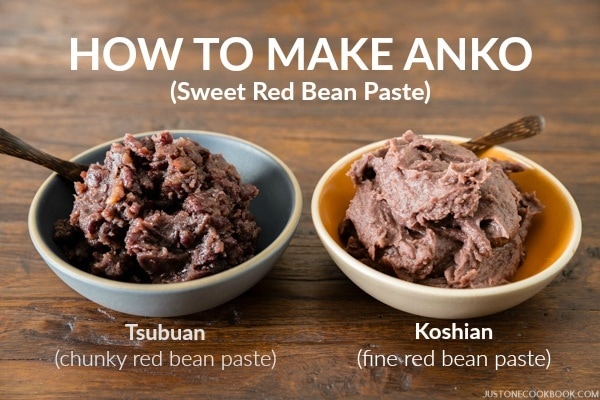 Making Anko in Pressure Cooker
So, the first step to making anko easier is to speed up the processs.  Unfortunately, this will require a pressure cooker.  I know, a pressure cooker is not a gadget that everyone has in the kitchen and I did't own one myself until last year.  If you don't own a pressure cooker, you can still make delicious homemade anko on the stove top (recipe here).  Many of my readers really love this stove top recipe!
Why use a Pressure Cooker then?  It's simple; 1) it cooks fast, 2) does a great job, and 3) saves YOU lots of time.  If you want to learn more about what a pressure cooker does and all the details, this article from the Kitchn summarizes it well.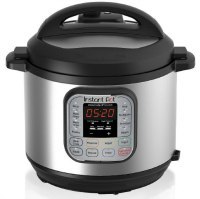 What pressure cooker do I use?  I've been using this Instant Pot and I love it.  Hopefully I'll be able to convince you how great it is (and I'm not getting compensated to promote it!).
The Instant Pot is a 7-in-1 Multi-Functional Cooker.  It's a pressure cooker, slow cooker, rice maker/porridge maker, steamer, sauté/browning, yogurt maker, and warmer in one machine.  I only use the pressure cooker and slow cooker functions.  And unlike old-fashion pressure cooker, there is no hissing sound and it's not scary at all to use and operate.  
Besides cooking beans, it is a total life saver when you want to cook meat in less than 30 minutes.  Even though it's a short time, the tender meat falls off the bones!  I usually switch on before heading to kids' activities and when we come home, the dinner is ready!  I didn't even have to be in the kitchen!
Three Simple Ingredients for Anko
What do you need for this recipe?  It's very simple, all you need is azuki beans, sugar, and salt.  You can find azuki beans in Japanese grocery stores, Asian grocery stores, health food stores, or Amazon.
As for the amount of sugar that goes into this recipe, I'd say it is similar to standard Japanese anko flavor.  Not overly sweet, but I would not consider it as healthy because of how much sugar it contains.  So please adjust the amount of sugar that goes into the anko yourself, based on what type of sweets you're making.
Why do we put salt?  Instead of adding more sugar, a pinch of salt can actually enhance the sweetness even more without making it salty.
Chunky or Fine Red Bean Paste
If you're familiar with Japanese sweets, red bean paste generally comes in two types of texture: chunky and fine.
The chunky red bean paste is called Tsubuan (粒あん) and the red bean paste with fine smooth texture is Koshian (こしあん).
Koshian is used more often as filling but it's really up to your preference.  Traditionally, to make the smooth silky fine texture, cooked and sweetened azuki bean mixture is pressed into fine mesh sieve to separate the bean skins.
To save time (today theme is all about saving time!), we use a food processor or blender to skip the tedious process (my mom may not agree with me…).  It might not be as silky and smooth, but I think it's pretty good (IMHO).
Making anko in a pressure cooker is super easy and simple and cut down on cooking time.  The best part though is that homade anko tastes SO GOOOOOD!
I hope you enjoy making Pressure Cooker Anko recipe!  If you try it, don't forget to share your picture on Instagram, Facebook, or Twitter with #JustOneCookbook.  Thank you so much for reading, and till next time!
Don't want to miss a recipe? Sign up for the FREE Just One Cookbook newsletter delivered to your inbox! And stay in touch on Facebook, Google+, Pinterest, and Instagram for all the latest updates.
Giveaway Time!
Today I'm partnering with Akazuki Japanese Goods Shop to give away one (1) $50 gift card to shop at Akazuki.com and one (1) Blueline Tokoname Teapot from Akazuki shop.  This giveaway contest is open to everyone worldwide.  Please click here to enter!
Pressure Cooker Anko (Red Bean Paste)
Ingredients
300

g

azuki beans

(300 g = 1½ cup)

1200

ml

water

(1200 ml = 5 cups) (see Notes)

240-300

g

granulated sugar

(240 g-300 g = 1¼ cup - 1½ cup) (see Notes)

pinch

Kosher salt
Instructions
Gather all the ingredients.

Put the 300 g (1 ½ cup) azuki beans in a strainer and place it inside a large bowl. Rinse the azuki beans in running water until water is clear. Discard any pieces that are floating. Drain water.


Transfer the beans to the Instant Pot and add 1200 ml (5 cups) of water to your pressure cooker.


Cover and lock the lid of your pressure cooker. If you're using an Instant Pot, turn it on and press the "Bean/Chili" button. Press the "minus" button to decrease the cooking time from the default 35-minute cooking time to 25 minutes.


Before you walk away, make sure the steam release handle points at "sealing" and not "venting".


If you're using a stove-top pressure cooker, cook on high heat until high pressure is reached. Then reduce the heat to low to maintain the pressure for about 20 minutes.

When it's done cooking, the Instant Pot will switch automatically to "Keep Warm" mode. Let the pressure slowly release by itself for 15-20 minutes. If you are using a stove-top pressure cooker, remove the pot from the heat, and let the pressure release naturally. Before opening the lid, turn the steam release handle to vent and release any leftover pressure.


Scoop the foam on the surface and discard (if you prefer more refined taste).


Then drain the azuki beans through a fine sieve.


Put the azuki beans back in the Instant Pot and add the sugar. Press the "Saute" button and set for "Low" option.


Stir the azuki beans with a wooden spoon. When sugar has completely melted, add the salt. If you're not using an Instant Pot, cook on medium low to medium heat.

For Koshian (fine red bean paste)
Continue cooking until you can draw a line in the azuki bean mixture with the wooden spatula and see the bottom of the pot for 1 second (see Note). Then turn off the Instant Pot and take out the inner bowl from the Instant Pot and let the mixture cool for 5-10 minutes (See Note). The mixture will thicken more as it cools down.


Transfer the warm azuki beans into the food processor or blender. I use a 14 cup food processor so the mixture will all fit at once; otherwise blend in 2-3 smaller batches. If you prefer "proper" method, use a very fine mesh strainer and press the mixture with the wooden spoon. The azuki bean skins will be separated and you will get more refined koshian.


Run the food processor or blender until the mixture becomes smooth texture. If it's too soft, don't worry. It will dehydrate and become even more thicken till the paste is completely cooled.


Transfer to an airtight container. When it's cooled and thickened more, it's ready to use. If you don't use it right away, cover and store in the fridge for 1 week and in the freezer for up to 2 months.


I recommend dividing into 100 grams of anko paste in individual plastic wraps and put them in a big freezer bag for storage.
For Tsubuan (chunky red bean paste)
Continue cooking until you draw a line in the azuki bean mixture with the wooden spatula and see the bottom of the pot for 2 second. Then turn off the Instant Pot and transfer the mixture to a baking sheet (or flat rimmed plate) to let it cool.


When it's cooled and thickened more, it's ready to use. If you don't use it right away, transfer to an airtight container and store in the fridge for 1 week and in the freezer for up to a month. I also recommend diving into 100 grams of anko paste in each plastic wrap and put it in a big freezer bag.
Recipe Notes
The ratio of azuki beans to water is 1:4 (300 grams azuki beans = 1200 grams/ml water).

To make Koshian (fine), you will need the same weight of sugar and azuki beans (300 grams azuki beans : 300 grams sugar).

To make Tsubuan (chunky), you will need about 80% of sugar compared to Koshian (300 grams azuki beans : 240 grams sugar).

For Koshian (fine red bean paste), you will stop cooking the azuki beans earlier than when you cook for Tsubuan (coaster red bean paste), this is because you will need some liquid in order to properly mix the azuki beans with the food processor.

If you put hot liquid in the food processor or blender, as it purees, the liquid may start coming out the edges of the food processor or the built up steam can actually blow the lid off the blender. To prevent this from happening, it's best to let the liquid cool for a few minutes before pureeing, fill the food processor or blender up only half way, work in batches and hold a towel over the lid when pureeing.

Recipe by Namiko Chen of Just One Cookbook. All images and content on this site are copyright protected. Please do not use my images without my permission. If you'd like to share this recipe on your site, please re-write the recipe in your own words and link to this post as the original source. Thank you.