Are you a big fan of Japanese pastry and baked goods? If yes, you'd enjoy Anpan, a classic Japanese pastry with sweet red bean paste inside a soft bread. This homemade version comes with step-by-step tutorial to guide you through the bread-making process.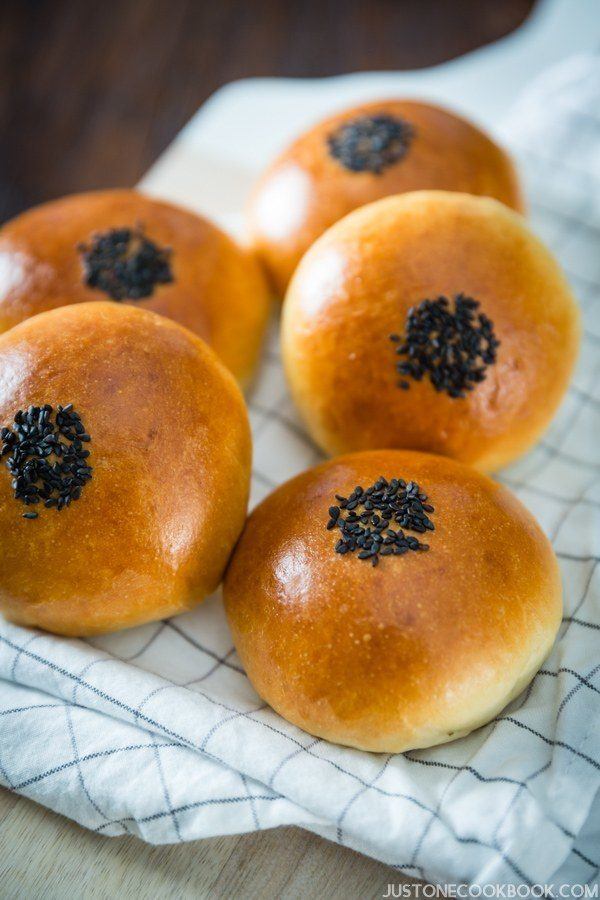 Anpan (あんパン), or sweet red bean bun, is my favorite Japanese bread growing up.  It's no secret that I absolutely love anko (red bean paste), and I love this Japanese bun that has a hint of sweetness, wrapped in a soft delicious bun.
Watch How To Make Anpan, Japanese Sweet Red Bean Bun あんパンの作り方
Amazing homemade Anpan recipe, classic Japanese pastry with sweet red bean paste wrapped inside soft bread.
My mom is a self-proclaimed bread connoisseur, and she loves exploring new bakeries and trying their bread in Japan.  Unlike the US, there are many bakeries in most Japanese neighborhood and stations and many of them are outstanding.  She would buy different types of bread from each store, and among them is always, my favorite anpan.
My favorite one is from Pompadour, one of my favorite bakeries in Japan.  Yokohama-born Pompadour bakes European-style bread and their baguettes are incredibly delicious.  Their anpan is quite unique because unlike Japanese style soft bread, their buns are French-style and it's more crusty (but not quite as hard as baguette).
When my mom visited me in the U.S. in the past, she used to "smuggle" them in for me!  She knew how much I would love this anpan.
This is just one of my nostalgic moments with the Japanese red bean bread, and I truly enjoyed testing this recipe, daydreaming about all the delicious anpan I enjoy back in Japan…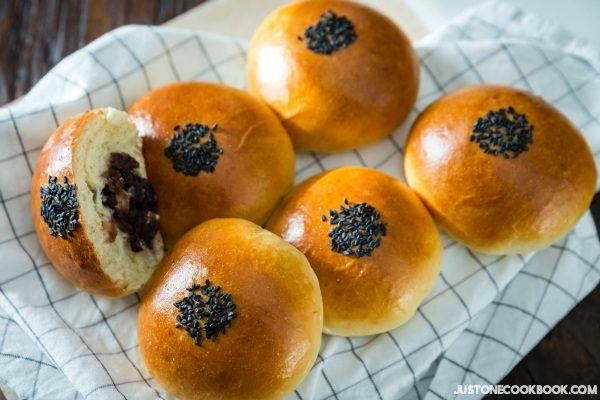 Invention & History of Anpan
So you may wonder, who came up with the idea to put anko (red bean paste) in a roll?  It piqued my curiosity as well when I decided to test my anpan recipe, so I looked up its history.
Wiki explains well here, but basically it was first made in 1875 by a samurai named Mr. Kimura.  He lost his job due to the dissolution of the samurai as a social class back in Meiji period.  During that time, Japan was becoming more westernized and bakeries started to appear.  His new job was a baker.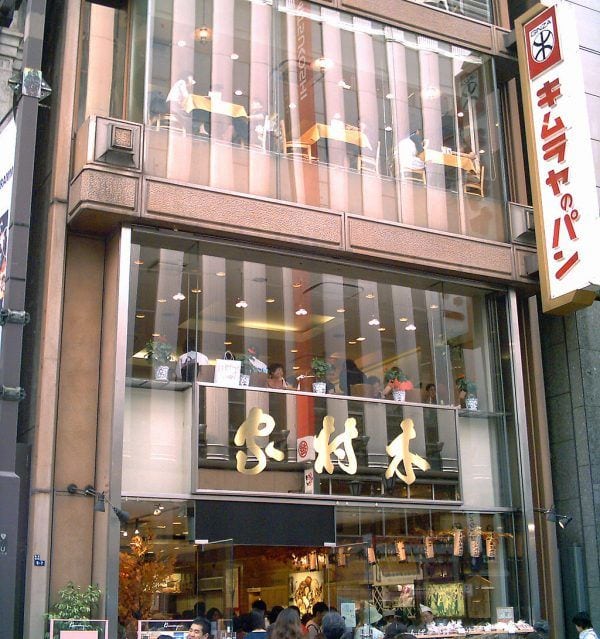 The Original Kimuraya (Photo Credit: By No machine-readable author provided. Kici assumed (based on copyright claims). [Public domain], via Wikimedia Commons)
Soon after Mr. Kimura founded the now well-known bakery Kimuraya, he created a bread that was more to Japanese tastes.  He replaced the traditional Japanese red bean mochi with western bread instead of mochi, and this bread stuffed stuffed with red bean paste was a brilliant one.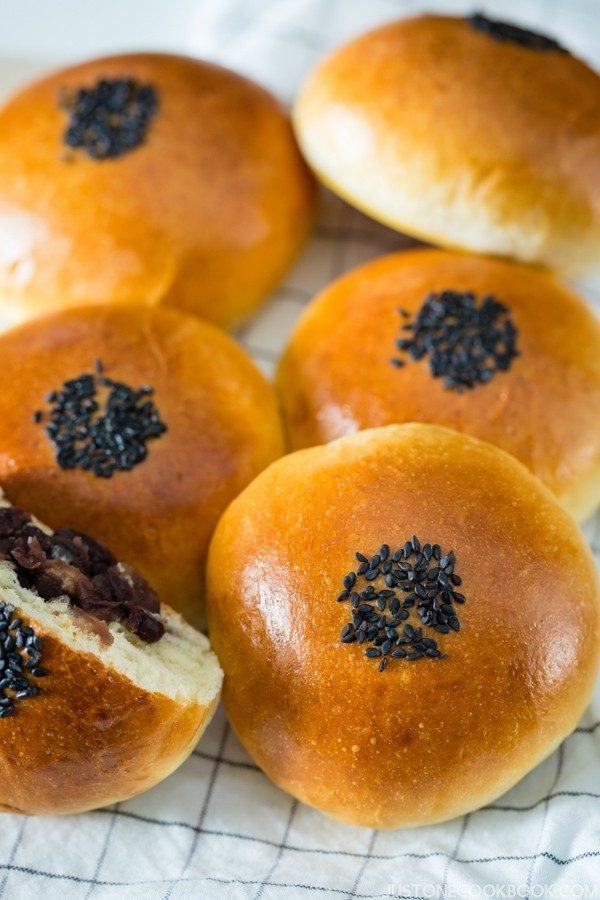 Making
Anpan

 あんぱん

If you plan to make anko (red bean paste) from scratch, I recommend making anko ahead of time to save time on bread making day.  I love making Pressure Cooker Anko recipe with my favorite Instant Pot (recipe here).  Of course, to save time, you can always buy pre-made red bean paste from an Asian grocery store.

Anpan is one of the easiest Japanese bread to make at home, if you want to try making bread for the first time.  Trying to make homemade bread could be intimidating, but the more you try, the easier it becomes.  And this homemade anpan recipe is relatively easy, so I hope my video and step-by-step pictures will help you go through this journey.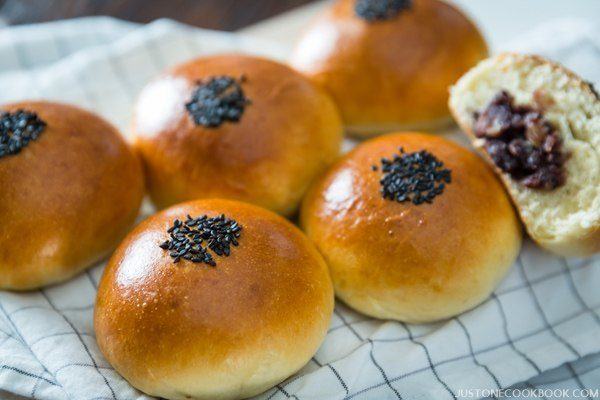 I hope you enjoy making this Anpan recipe!  If you try it, don't forget to share your picture on Instagram, Facebook, or Twitter with #JustOneCookbook.  Thank you so much for reading, and till next time!
Don't want to miss a recipe? Sign up for the FREE Just One Cookbook newsletter delivered to your inbox!  And stay in touch on Facebook, Google+, Pinterest, and Instagram for all the latest updates.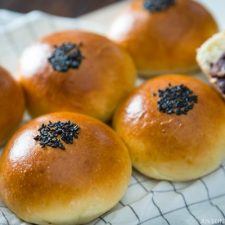 Anpan
Course:
Breakfast, Dessert, Snack
Ingredients
225

g

bread flour

(225 g = 1¾ cup) (and extra for sprinkling)

25

g

cake flour

(25 g = scant ¼ cup) (No cake flour? See Note)

50

g

sugar

(50 g = ¼ cup)

4

g

salt (kosher or sea salt)

(4 g = 1 tsp)

3

g

instant dry yeast

(3 g = 1 tsp) (Are you using active dry yeast? See Note)

1

large egg

(1 large egg = 46-50 g/ml)

50

ml

whole milk

(50 ml = 3½ Tbsp) (keep at 86F = 30C, See Note)

50

ml

water

(50 ml = 3½ Tbsp) (keep at 86F = 30C, See note)

35

g

unsalted butter

(35 g = 2½ Tbsp) (cut into small cubes)
Instructions
Gather all the ingredients.

In a large bowl, combine 225 g (1 ¾ cup) bread flour, 25 g (scant ¼ cup) cake flour, 50 g (¼ cup) granulated sugar, 4 g (1 tsp.) kosher salt, and 3 g (1 tsp.) dry yeast.


Beat 1 large egg in a small bowl and add to the bowl with dry ingredients.


Add 50 ml (3 ½ Tbsp.) milk and 50 ml (3 ½ Tbsp.) water, both which have been kept at 86F (30C).


Using your fingertips or a wooden spoon, gently mix the ingredients together until they are combined. In the beginning, dough is very sticky and wet, but keep mixing until it forms a loose, sticky ball. Also use the dough to pick up the flour on the sides of the mixing bowl. This step should take about 2 minutes.


Sprinkle a clean, stable surface with flour and transfer the dough from the bowl. Press the heels of your hands into the dough, pushing forward slightly. Fold the top half of the dough in half back toward you. Rock forward on the lower part of your palm to press it flat. Turn the dough slightly (to clockwise), fold it in half, and rock into it again with lower part of your palm. This process is called "punching" the dough and the goal is to lengthen and stretch the gluten strands in the dough. Repeat for 5 minutes or so. Tip: If the dough doesn't seem to be losing its stickiness, sprinkle more flour over the top and work it into the dough. You can lightly dust your hands with flour to keep the dough from sticking too much.


After "punching" for 5 minutes and the dough gets more elastic, press and stretch the dough for 10 inches (25 cm). Then put small cubes of 35 g (2 ½ Tbsp.) unsalted butter on top of the dough. Roll up the dough tucking the butter in, and then continue the kneading process.


Your hands, dough, and the working surface will get oily and messy in the beginning. I recommend using a metal/silicone dough scraper to collect the dough stuck on the working surface.


As you knead, the dough will absorb the butter and it will eventually become very smooth and easier to work with.


When the dough becomes smooth, start banging the dough onto the counter and fold it over away from you. This helps develop gluten (elasticity). Bang the dough, turn it 90 degree, and "punch" it, using the lower part of your palm. Continue this process for 10 minutes or until the dough is smooth, supple, and silky. Tip: Don't let go of the dough when you are banging onto the counter. Don't let it rest for too long between turns.


Near the end, pull the end of your dough with your thumb and fingers. Keep spreading the dough with your fingers, stretching the dough into thin translucent membrane. This test is called

Windowpane

Test to see if the dough's gluten has been developed enough. Your dough is now ready to rise. If the dough tears, the gluten isn't quite ready yet. Knead the dough for another 2 minutes and test again.

Shape the dough into a ball by pulling all sides of the ball to the bottom and pinching them together.


Place the dough in a bowl (the seam on the bottom) and cover with a plastic wrap. Let the dough rise in a warm place until the dough has doubled in size, about 1-2 hours. I use a Proof setting (100F / 38C) in my oven.


Once the dough has doubled in size, dust your index finger with flour and put it in the center of the dough. If the hole doesn't close, then the dough is ready for next step.


Press the dough with your hands to release gas in the dough and deflate.


Fold both sides of the dough toward center.


Then fold in thirds toward the middle. Flip, keeping the seam side on the bottom.

Shape the dough into a ball, rotating (clockwise) with both hands while the seam line is touching the work surface.


Using a dough scraper cut the dough into 8 equal pieces. If you need to adjust the size of dough, pinch off the center of the big dough and add to the center of the small dough and knead to combine well.


Shape each dough piece into a nice round ball, pulling from all the sides and tuck into the bottom. Place the dough on your left (right) palm, and rotate it with your right (left) hand, keeping the seam side on the bottom.


Put the dough on a baking sheet lined with parchment paper or silicone baking mat. Cover the dough with plastic wrap to prevent from drying. Rest the dough for 15 minutes at the room temperature.


After resting, flatten the dough with your hand, fold in thirds twice (just like you did earlier), and shape it into balls.


Press the dough so stretches to 3 inch (8 cm) diameter. Then put 35 g of red bean paste in the middle of the dough. Then pull all sides of the dough around and wrap the red bean paste tightly to seal.


Pinch the seam very well and put the seam on the bottom. Place the dough on your left (right) palm, and rotate it with your right (left) hand a few times, keeping the seam side on the bottom. Put the dough back into the baking sheet, seam side on the bottom.


Cover the dough with plastic wrap to prevent from drying. Let the dough rise in a warm place until the dough has doubled in size, about 30 minutes (I used the Proof setting (100F / 38C) in my oven). When the dough has risen half way, preheat the oven to 400F (200C). Note: If you are using the oven for proof, you have to transfer the dough to a warmer place so you can preheat the oven.


In a small bowl, add 1 egg and 2 Tbsp. water and whisk very well. Using a pastry brush, brush all sides of the dough with an egg wash.


Put 2 tsp. black sesame seeds in a small bowl. Dip the flat round side of a rolling pin (about ¾ inch diameter) in the egg wash and black sesame seeds and stamp on top of the dough. Alternatively, you can simply sprinkle the black sesame seeds on top.


Bake at 400F (200C) for 13-15 minutes. Toward the end of baking if you see the bread is not being browning equally, rotate the bread once so that the bread gets equal color.


Once bread is baked, transfer to a wire rack and let it cool. Serve immediately or store in an airtight container or bag after it's been cooled. Enjoy!

Recipe Notes
Prep Time includes resting time for dough.
Cake flour: If you don't have cake flour, you can substitute with all-purpose flour and corn starch. Here's how.
1 cup AP flour - 2 Tbsp. AP flour + 2 Tbsp. cornstarch = 1 cup cake flour
Be sure to sift the flour to distribute the cornstarch well before using it in your cake batter.
Instant Dry Yeast If you're using active dry yeast, it requires being activated in a little bit of warm water (110F/43C) before being added to the rest of the ingredients. In this recipe, add the active dry yeast in 110F/43C milk, hotter than the temperature specified in the recipe because if the milk is not hot enough, the yeast won't dissolve nicely. More about the difference between instant dry yeast and active dry yeast, read here.
Whole milk: I highly recommend using whole milk instead of reduced fat milk, but it's up to you.
Red Bean Paste: I use coarse red bean paste but you can use fine paste. Pressure Cook Anko recipe here and Stove Top Anko recipe here.
Recipe by Namiko Chen of Just One Cookbook. All images and content on this site are copyright protected. Please do not use my images without my permission. If you'd like to share this recipe on your site, please re-write the recipe in your own words and link to this post as the original source. Thank you.