Kashiwa Mochi is a traditional mochi (Japanese rice cake) with red bean paste filling wrapped with an oak leaf. It is enjoyed on Children's Day in Japan as we celebrate a child's growth and happiness.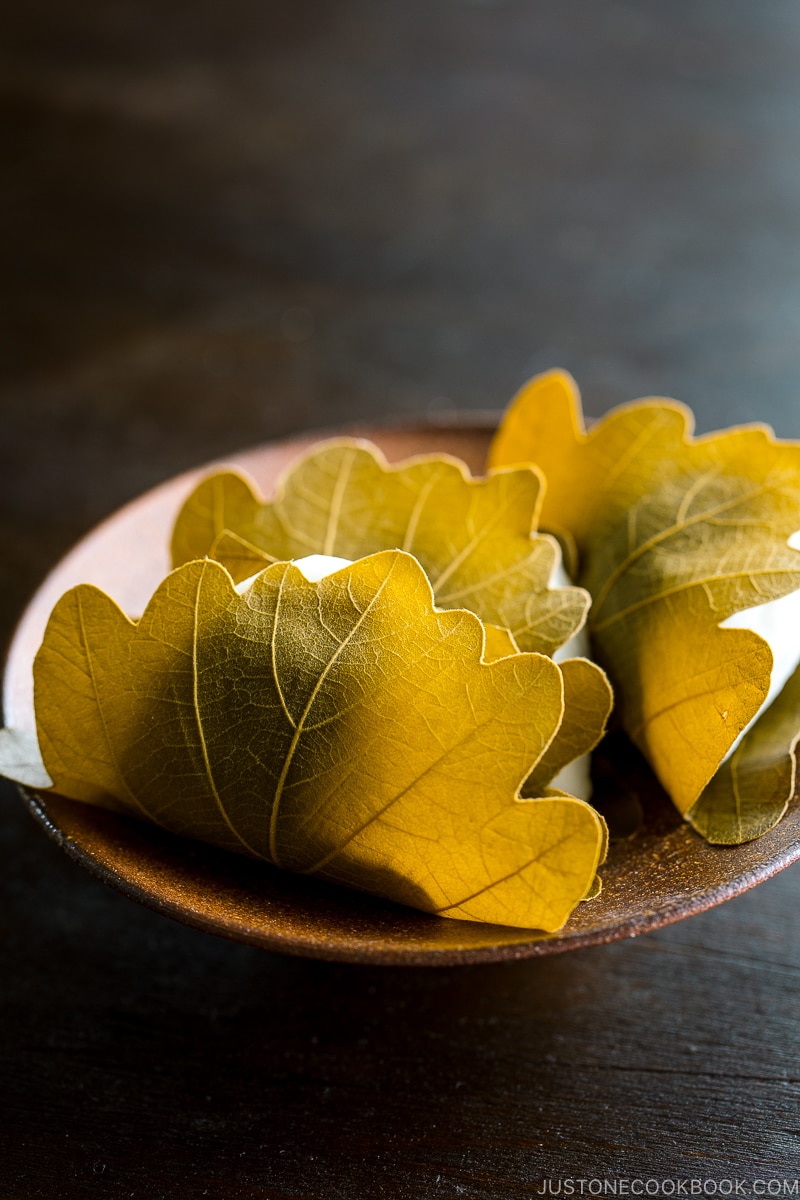 On May 5 every year, it's Children's Day in Japan. On this national holiday, children are celebrated and honored for their individual strengths, and happiness is wished upon them. As a part of the celebration, we eat Kashiwa Mochi (柏餅).
What is Kashiwa Mochi?
Kashiwa Mochi is tender but chewy rice cakes stuffed with sweet red bean paste and wrapped in a kashiwa (oak) leaf.
You may wonder why mochi is wrapped in an oak leaf. Since oak trees don't shed old leaves until new leaves grow, the Japanese consider oak trees as a symbol of the prosperity of one's descendants.
These oak leaves are not edible; however, as they are wrapped around mochi, the nice earthy fragrance transfers to the mochi and it's quite enjoyable.
Watch How To Make Kashiwa Mochi
Soft chewy mochi with red bean paste filling wrapped with an oak leaf, enjoyed on Children's day in Japan.
Azuki An (小豆餡) vs. Miso An (味噌餡)
There are two kinds of fillings for Kashiwa Mochi – Azuki red bean paste and white bean paste with miso. Red bean stuffed Kashiwa Mochi is more popular and widely available and I actually never tried the white bean miso version before.
How can you tell what's the filling inside? It's actually differentiated by which way you wrap the mochi with the leaf. For red bean filling, the back of leaf (veins are more visible) faces outside, and the front of leaf (smooth side) faces outside for white bean with miso filling.
Kashiwa Mochi vs. Chimaki
The origin of Kashiwa Mochi goes back to mid 18th century during the Edo period and it was mostly enjoyed in eastern Japan.
In the Kansai and the west of Japan, where the oak tree does not grow naturally, Chimaki (sweet rice dumplings wrapped in bamboo leaves) were served instead of Kashiwa Mochi.
When the imperial capital was in Nara and Kyoto between the 700's and late 1100s (Nara & Heian period), many of Chinese cultures and customs were adopted in western Japan. It is believed that Chimaki was originated from Chinese Zongzi (sticky rice dumplings), which is enjoyed on the fifth day of the fifth lunar calendar for DuanWu Festival (Dragon Boat Festival).

Children's Day in Japan
The Children's Day was originally called Tango no Sekku (端午の節句) and it was celebrated on the 5th day of the 5th moon in the lunar calendar. When Japan started to follow the Gregorian calendar in 1948, the date was moved to May 5. Originally, Tango no Sekku was a festival for only boys but Children's Day is now for both boys and girls (Girl's Day or Hina Matsuri (Doll Festival) is a festival for girls on March 3).
On Children's Day, families fly huge carp-shaped streamers called Koinobori (鯉のぼり) outside their house. The Koi or carp symbolizes strength and success from a Chinese legend – a carp swam upstream to become a dragon.
Besides koinobori, we also display warrior dolls, miniature suits of armor, and a warrior helmet called Kabuto, which are symbols of a strong healthy boy.
Please check out this post on Children's Day in Japan.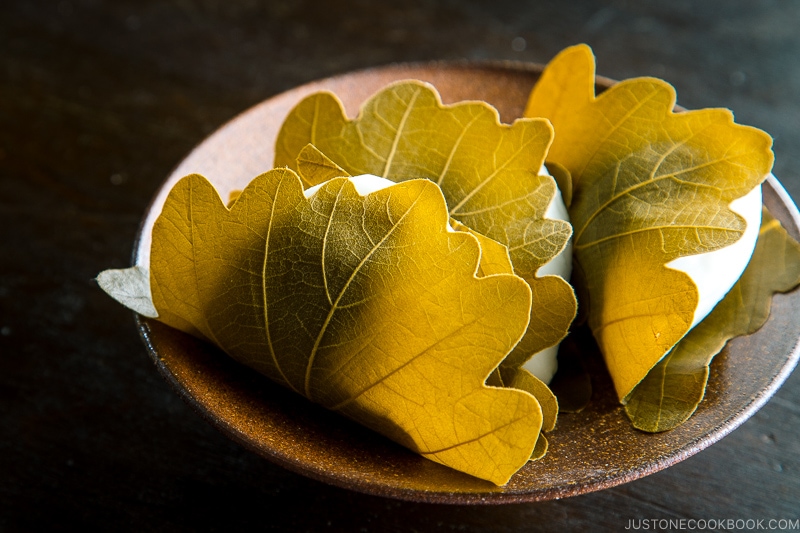 Japanese Ingredient Substitution: If you want to look for substitutes for Japanese condiments and ingredients, click here.
Sign up for the free Just One Cookbook newsletter delivered to your inbox! And stay in touch with me on Facebook, Pinterest, YouTube, and Instagram for all the latest updates.
Kashiwa Mochi
Kashiwa Mochi is a traditional mochi (Japanese rice cake) with red bean paste filling wrapped with an oak leaf. It is enjoyed on Children's Day in Japan as we celebrate a child's growth and happiness.
Video
Japanese Ingredient Substitution:
If you want substitutes for Japanese condiments and ingredients, click
here
.
Instructions
Gather all the ingredients.

Rinse oak leaves in running water. If the oak leaves you purchased are the dried kind, boil for 10 minutes and then soak in water. Dry with paper towel.


Wet your hands with water and scoop 1 heaping spoon of red bean paste (25 g) onto your hand. Shape it into a ball. Repeat until you have 10 balls.


In a large bowl combine 7 oz (200 g) Joshinko, 2 Tbsp potato starch, and 2 Tbsp sugar and mix all together with a whisk.

Add 260 ml (1 cup + 4 tsp) water and mix well with the whisk.

Loosely cover with plastic wrap and microwave for 4 minutes (1100 watt microwave). Please adjust the cook time according to your microwave's power.


Loosen the mochi with spatula. Soak the wooden pestle (or anything that you can pound with) in water and start pounding.


Mochi will get sticker and shinier by pounding. Make sure to soak the pestle in water between poundings. It will help mochi become shiny and glossy.


Once mochi is cool enough for you to handle, transfer the mochi on moist working surface. Start kneading with your wet hands until glossy, elastic, and smooth.


Cut the mochi in half then cut into 5 pieces.


Shape each piece into a round ball then cover the mochi under a damp towel to prevent from drying. With a rolling pin, roll mochi ball into an oval shape.


Place a red bean paste ball in the center of the mochi and fold in half to seal the edge. Make sure your fingers are clean. If your finger has red bean paste on it or if the red bean paste overfills out of the seam line, the sides won't stick each other and it'll become very hard to seal. What I do is pull mochi away from red bean paste and seal tightly first, then reshape the mochi to make them look nice.


Wrap mochi in an oak leaf. The back side of the leaf (veins are more visible) should be faceing outside for red bean filling (Read the post for more details).

To Store
It's best to consume on the same day as the mochi will get hard, especially if you put it in the refrigerator. Store it in a cool place.
Nutrition
Calories:
133
kcal
·
Carbohydrates:
30
g
·
Protein:
2
g
·
Fat:
1
g
·
Saturated Fat:
1
g
·
Polyunsaturated Fat:
1
g
·
Monounsaturated Fat:
1
g
·
Sodium:
20
mg
·
Potassium:
115
mg
·
Fiber:
2
g
·
Sugar:
8
g
·
Vitamin A:
1
IU
·
Vitamin C:
1
mg
·
Calcium:
10
mg
·
Iron:
1
mg
©JustOneCookbook.com Content and photographs are copyright protected. Sharing of this recipe is both encouraged and appreciated. Copying and/or pasting full recipes to any website or social media is strictly prohibited. Please view my photo use policy
here
.