Azuki beans are dark red colored beans with a boxy shape and white ridge along one side. In Japanese cuisine, the legumes are cooked in desserts and savory dishes.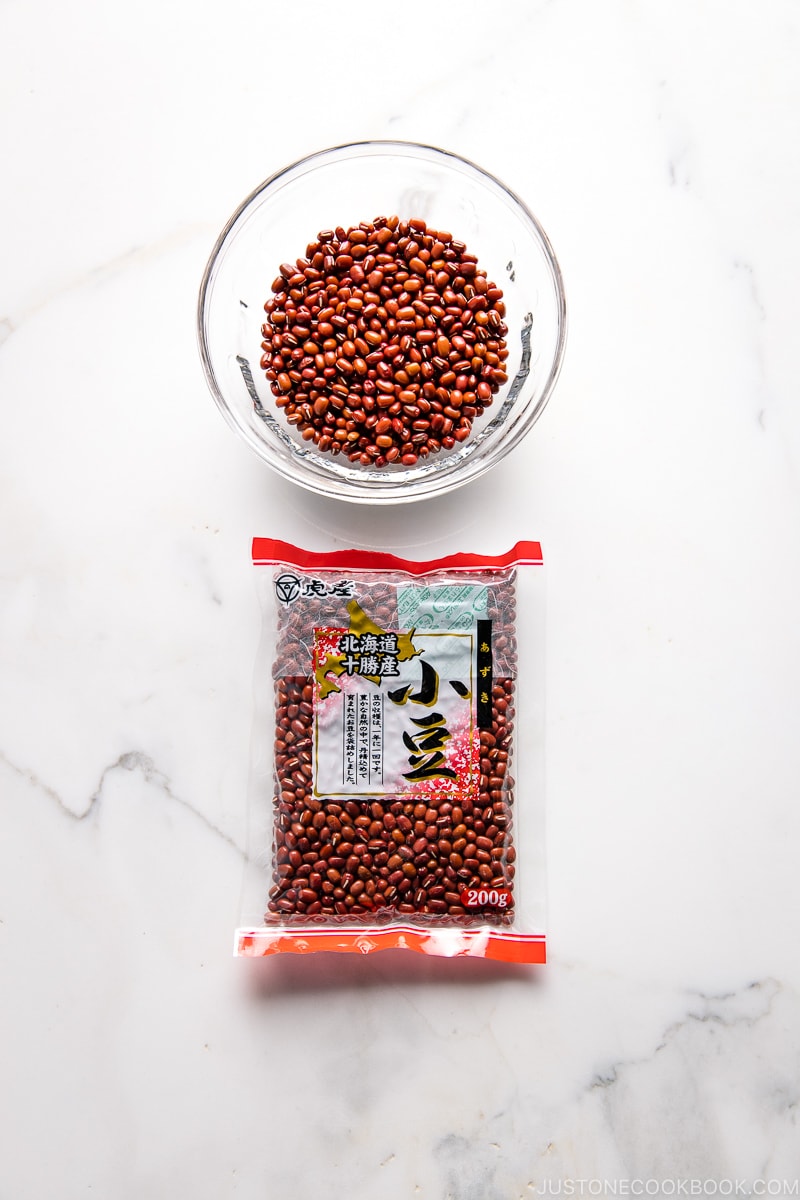 Azuki beans (小豆, "small beans"), or red mung beans, are cultivated in East Asia and the Himalayas. The legume is an excellent source of nutrients and is an antioxidant-rich food.
The Japanese use azuki to make a sweet paste called anko (あんこ) or mixed with rice for sekihan (赤飯). Red bean paste is an ingredient in traditional and modern desserts, such as red bean ice cream and red bean buns.
What Are Azuki Beans
Azuki beans (Vigna angularis var. nipponensis) are dark red beans with a distinctive boxy shape and white ridge along one side. It's eaten in East Asia and the Himalayas in various sweet and savory dishes. There's archeological evidence that it has been cultivated since 4,000 B.C. in Japan and even appears in Kojiki (古事記), the Japanese mythological text written in 641.
The Chinese character for azuki "小豆" is a loan word from the Chinese term shōzu. The word "azuki" is native Japanese.
In Japan, the northern island of Hokkaido is a major azuki growing region, where growing over 90% of annual domestic yields. The two other major azuki growing regions are Tanba (northeastern Hyogo and northern Kyoto) and Bichu (western Okayama).
Other spellings for azuki are aduki beans and adzuki beans.
Varieties Of Azuki Beans
There are several varieties of azuki.
Dai-nagon (大納言)
They are grown primarily in Hokkaido and are slightly bigger and darker in color than regular azuki beans. The skins are sweet and starchy and do not break as easily when cooked. Approximately 5.8mm/.2 in in diameter.
Chu-nagon (中納言)
Another name for regular azuki beans.
Shiro-azuki (白小豆)
White azuki beans are used for shiroan (白餡), white bean paste. Lighter in flavor, it's expensive and rare due to difficulty in its cultivation.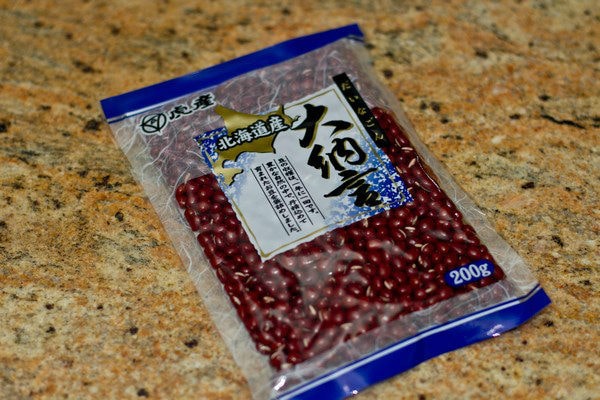 What Does It Taste Like
Azuki has a nutty, sweet flavor and a creamy texture.
How To Use
Use azuki to make sekihan, a celebratory dish of glutinous rice cooked with azuki beans. The Japanese eat sekihan on the Japanese New Year, the birth of a baby, birthdays, festivals, and weddings.
For sweet dishes, use azuki beans for anko, sweetened red bean paste. It's dissolved in hot water for Zenzai/Oshiruko, a sweet soup with toasted mochi. Or use anko for Wagashi, traditional Japanese confectionery, such as daifuku, manju, taiyaki, and anpan.
You can cook azuki on the stovetop, slow cooker, or pressure cooker.
Recipes Using Azuki Beans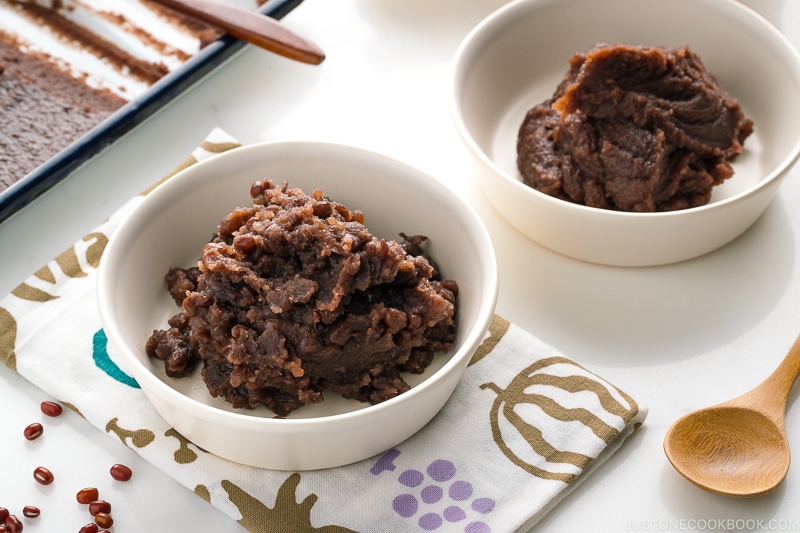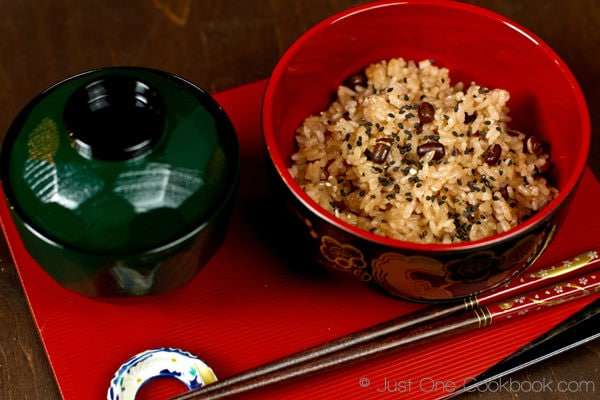 Where To Buy
You can find azuki beans at Japanese and Asian grocery stores, health food stores, and online retail sites. You can also find anko in cans, vacuum-sealed packages, or powdered.
How To Choose The Best
Select beans that are shiny and uniform in shape. The skins should be intact and smooth, not wrinkly. Check the harvest year and make sure the beans aren't old. Old beans will not cook fluffy, and the skins may break. You can also find non-GMO and organic beans.
How To Store
Transfer dried beans to airtight containers and store them in a cool, dry place. Store unopened cans and packages of anko in a cool, dry place and transfer them to a container in the fridge when opened. Use within a few days.
If you're not using the red bean paste right away, you can transfer it to an airtight container or freezer bag and store it in the refrigerator for up to four days or in the freezer for up to two months. To use it, defrost it in the fridge overnight.
Substitutions
Although the taste and color will significantly differ, you can substitute azuki beans with red kidney beans, other mung beans, cannellini beans, black beans, and butter beans.
Health Benefits
Beans are generally loaded with fiber, protein, manganese, potassium, and complex carbs. In addition, Azuki beans may contain up to 29 different antioxidants.
Beans are great for gut health, as the combination of protein and soluble fiber helps slow digestion and moderate sugar uptake into the bloodstream. Reducing blood sugar spikes may help reduce the risk of diabetes. It can also contribute to weight loss as protein and fiber reduces hunger pangs and increases fullness.
It's also good for heart health. A diet high in legumes can help decrease LDL, bad cholesterol.
---
Wish to learn more about Japanese cooking? Sign up for our free newsletter to receive cooking tips & recipe updates! And stay in touch with me on Facebook, Pinterest, YouTube, and Instagram.