A popular Japanese sweet treat, Daifuku is a small, round mochi filled with sweet red bean paste. This easy recipe shows how you can make this delicious snack at home with a quick steam on the stovetop or in the microwave.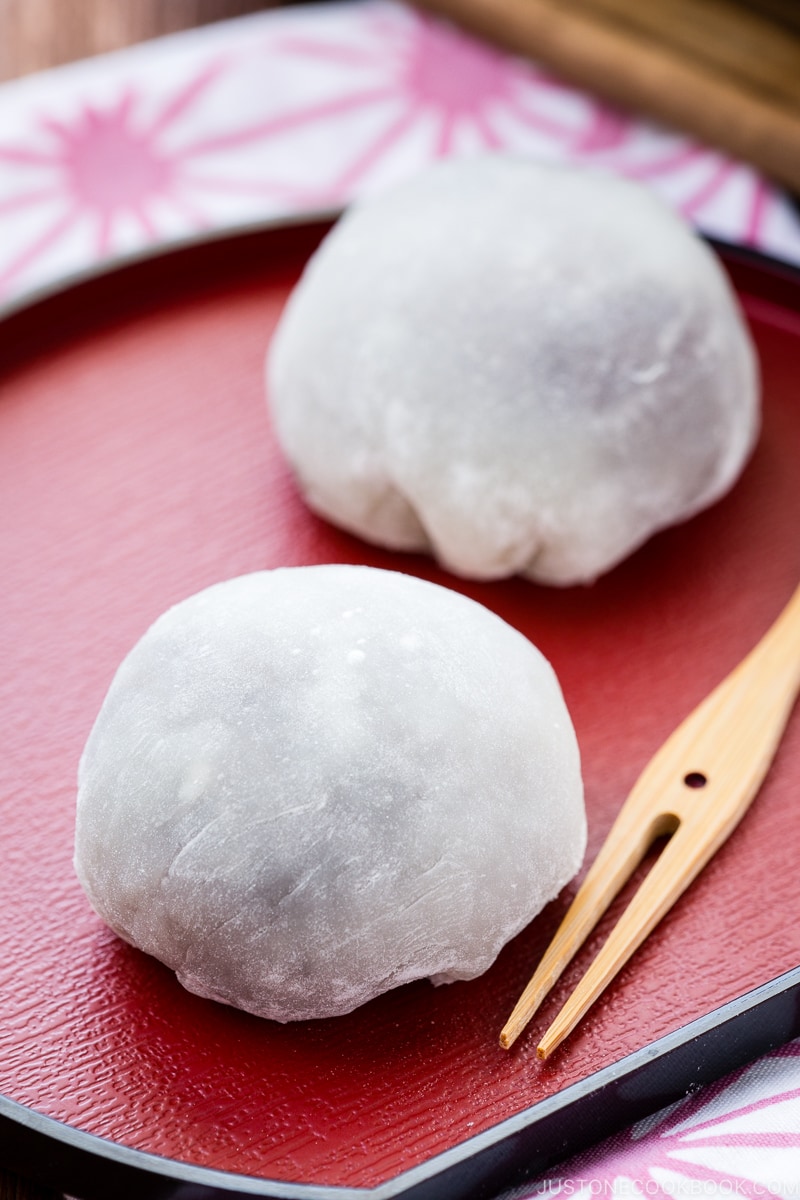 Daifuku (大福) or Daifuku Mochi (大福餅) is a small round mochi stuffed with anko (sweetened red bean paste) made from azuki beans. We usually enjoy this popular Japanese sweet with green tea.
I've previously shared Strawberry Daifuku recipe on Just One Cookbook, which includes a whole strawberry inside a mochi surrounded by anko filling. While strawberry daifuku is seasonal and available during the springtime, daifuku is available all year round at Japanese confectionery shops and supermarkets. Here, I will show you how to make the classic daifuku mochi with 2 quick and easy methods— steaming and microwaving.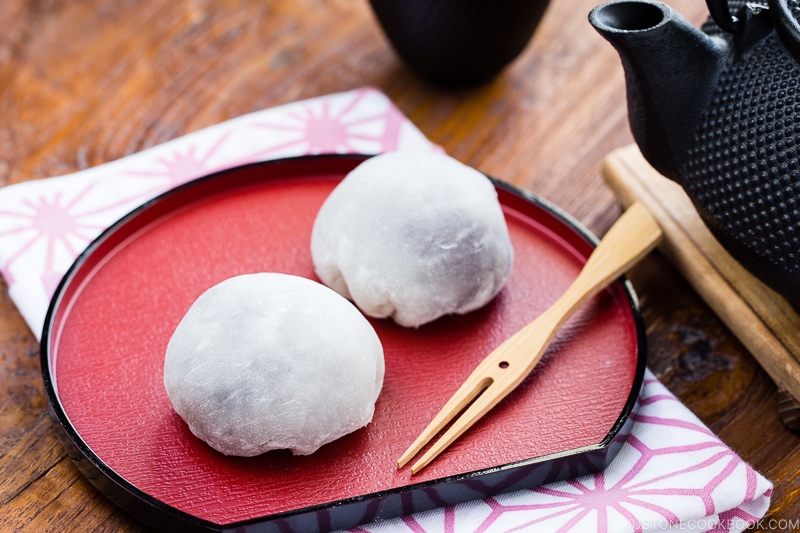 What is Daifuku
Among the wide variety of traditional Japanese sweets (wagashi), daifuku is considered a type of mochi sweet. The name daifuku literally means "great luck." What a perfect name! Who wouldn't get lucky after eating these adorably round, chewy and tasty sweets?!
In Japan, you'll find all sorts of colors and fillings for daifuku. Some shops even sell daifuku the size of one's palm instead of the usual golf ball size, which is 3-4 cm in diameter. You can also bake, grill, or eat daifuku in soups.
A Quick History
Daifuku was a later product from uzura mochi (mochi shaped like a quail) which was popular during the early Edo period (1603-1867). During the Meiji period (1868), salted red bean was a common filling as sugar was a luxury item at the time.
In 1875, it is said that a widow in Koishikawa, Edo (modern-day Tokyo), refashioned the sweets by making them in smaller sizes and added sugar to the red bean paste. It became known as habotai mochi (thick belly rice cake) because the rice cake resembled a well-fed belly. The name later changed to daifuku mochi (big belly rice cake), as fuku can mean both 'belly' and 'luck'.
The new daifuku mochi was then given a new meaning by using "大福" the kanji (Chinese characters) for big luck. As a result, we often serve daifuku—known to bring good luck and fortune—during Japanese New Year and other spring celebrations.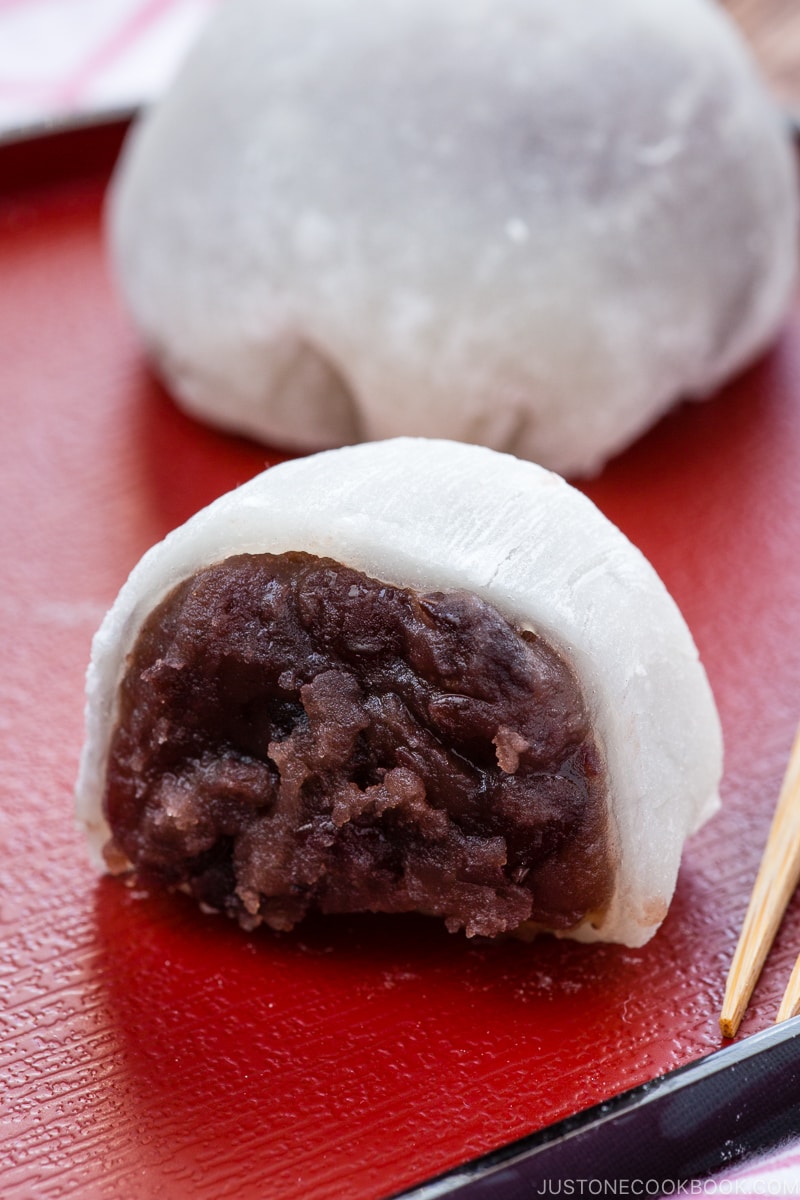 How to Make Daifuku with Red Bean Filling
Ingredients You'll Need
Overview: Cooking Steps
Prepare the sweet red bean paste if using homemade. You can prepare it in advance and freeze.
Make the mochi mixture: Combine the rice flour, sugar, and water. Microwave or steam the mixture until it becomes translucent and cooked through.
Spread and the mochi into a thin layer: Transfer the hot mochi onto a large baking sheet lined with parchment paper and dusted with potato starch. Use a rolling pin to roll out the mochi.
Refrigerate for 15 minutes until the mochi is set.
Cut the chilled mochi into 7-8 mochi wrapper circles.
Stuff the anko filling: Wrap the sweet red bean filling with the mochi.
Homemade Red Bean Filling: Fine or Coarse Texture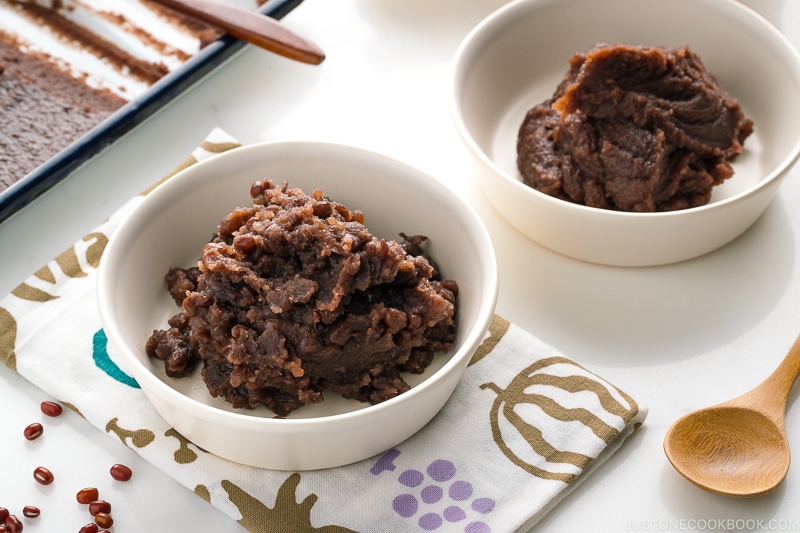 You can make two types of red bean filling.
Koshian (fine texture)
Tsubuan (coarse texture)
I'm more inclined with tsubuan for its coarse texture as you can still taste the azuki bean skin in the paste. However, it's totally personal. Get my homemade recipe here and make it in advance.
Different Types of Daifuku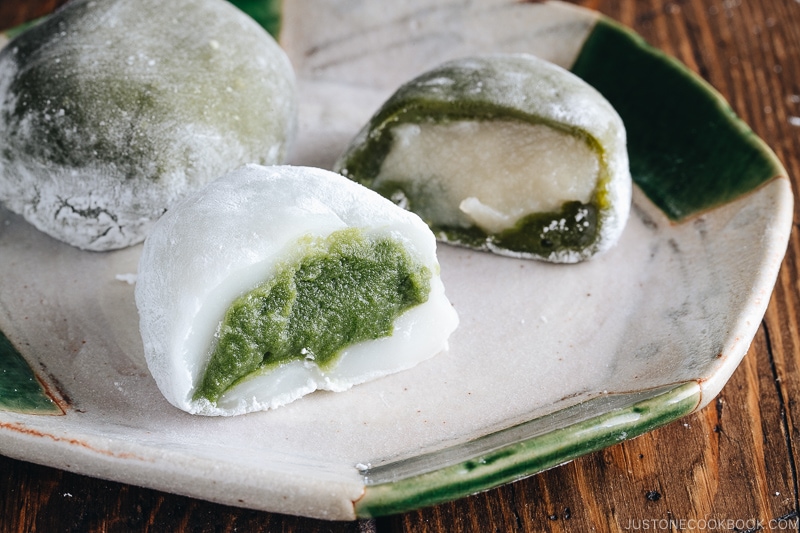 Anko red bean paste is the most common filling for daifuku. However, you can find some other popular flavors and fillings, such as:
Yomogi Daifuku – Green colored mochi made with yomogi (Japanese mugwort leaves).
Matcha Daifuku – Matcha (green tea powder) is used to flavor either the mochi or the white bean paste (shiroan) or both to create a lovely matcha-scented mochi sweet.
Ichigo Daifuku – A springtime favorite, this daifuku is stuffed with strawberry.
Shio Daifuku – This daifuku uses a mix of salt and sugar in the red bean filling to create a mildly sweet and salty taste.
Ume Daifuku – Ume or Japanese plum is another signature flavor for Japanese sweets. For this version, the tangy ume is coated with red bean paste to create a contrasting flavor before they are wrapped with mochi. A precious flavor to enjoy in early spring during ume season.
Coffee Daifuku – Made from mochi stuffed with a creamy coffee-flavored bean paste. Some variations even include a filling made with fresh cream, sometimes called Café au lait Daifuku. Other types mix the mochi with coffee, causing the rice cake to take on a coffee-like brown color and a coffee taste and aroma.
White bean paste (Shiroan) – After red bean paste, white bean paste (made from lima beans or butter beans) is also very popular. It has a milder taste and can be used on its own as a filling or mixed with other flavoring.
Kinako paste – A filling made from roasted soybean flour.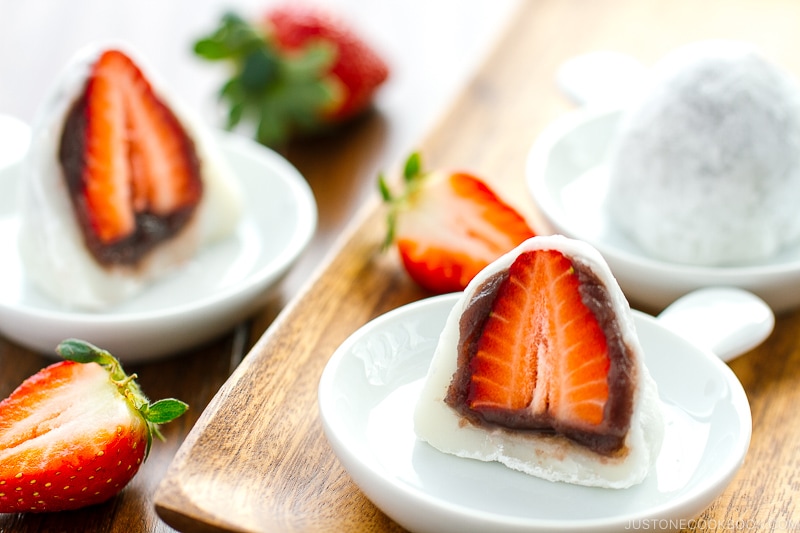 More on Japanese Desserts and Sweets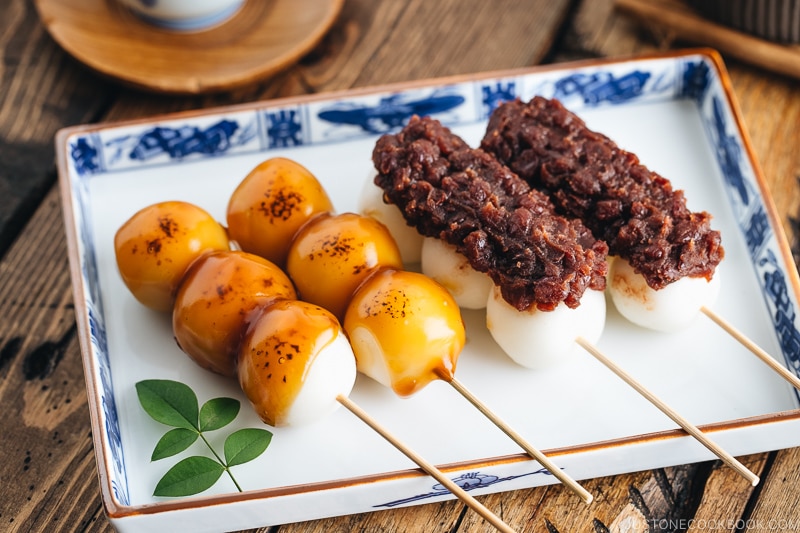 Wish to learn more about Japanese cooking? Sign up for our free newsletter to receive cooking tips & recipe updates! And stay in touch with me on Facebook, Pinterest, YouTube, and Instagram.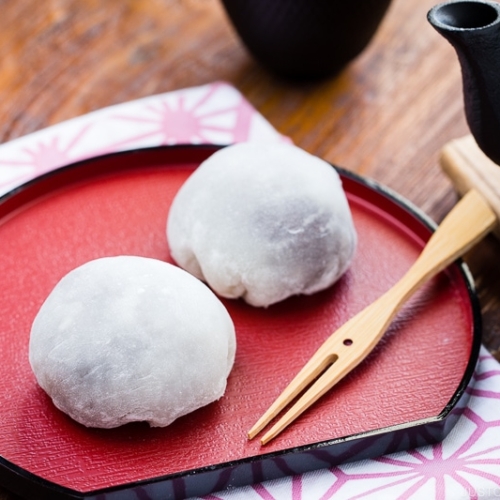 Daifuku Mochi
A popular Japanese sweet treat, Daifuku is a small, round mochi filled with sweet red bean paste. This recipe shows how you can make this delicious snack at home with a quick steam on the stovetop or in the microwave. 
Video
Ingredients
To Substitute Shiratamako with Mochiko, Use:
Japanese Ingredient Substitution:
If you want substitutes for Japanese condiments and ingredients, click
here
.
Instructions
Gather all the ingredients.
To Make the Mochi Mixture
Combine

¾ cup shiratamako (glutinous rice flour/sweet rice flour)

and

¼ cup sugar

in a medium bowl and whisk it all together. Tip: If you can't find shiratamako, you can substitute

¾ cup mochiko (glutinous rice flour/sweet rice flour)

.

Add

¾ cup water

and mix well until combined.

Microwave Method: If you're using a microwave to cook the mochi, loosely cover the bowl with plastic wrap. Put the bowl in the microwave and heat it on high (1100w) for 1 minute. Take it out and stir it with wet rubber spatula. Cover again loosely and cook for 1 additional minute. Stir again, cover loosely, and cook for 30 seconds more to finish cooking. The color of the mochi will change from white to almost translucent.

Steaming Method: If you're using a steamer, wrap the steamer lid with a towel so the condensation does not drop into the mochi mixture. Put the bowl into the steamer basket and cover to cook for 15 minutes. Halfway through cooking, stir it with a wet rubber spatula, then cover to finish cooking. The color of the mochi will change from white to almost translucent.
To Roll and Cut the Mochi
Cover your work surface with parchment paper and dust it generously with some of the

½ cup potato starch or cornstarch

. Then transfer the hot mochi on top.

To prevent it from sticking, sprinkle more potato starch on top of the mochi. Once it cools a bit, spread the mochi into a thin layer, about 3/16 inch (4–5 mm), with your hands or with a rolling pin. Make sure to apply potato starch to your hands and the rolling pin as needed. I recommend using a rolling pin because it's easier to evenly spread out the mochi.

Transfer the mochi with parchment paper onto a large baking sheet. Refrigerate for 15 minutes (no more than that) until the mochi is set.

Take out the mochi from the refrigerator and cut 7–8 mochi wrapper circles with a 3½-inch (9-cm) cookie cutter.

Dust off the excess potato starch from these wrappers with a pastry brush. If you find any sticky spots, cover the area with potato starch, then dust it off. Next, stack the wrappers: Place a piece of plastic wrap on a plate and put a mochi circle on top. Then, layer another piece of plastic wrap on top, and add another wrapper. Repeat for all the wrappers. Roll the leftover mochi dough into a ball, roll it out into a thin layer, and cut out more wrappers circles. You can make about

12

mochi wrappers.
To Make the Daifuku
Now, we're ready to make the Daifuku. On the work surface, place one sheet of plastic wrap with a mochi wrapper on top. Using a medium cookie scoop, place one scoop of the

1½ cup sweet red bean paste (anko)

on top of the mochi wrapper.

Pinch the four opposite points of the mochi circle together to enclose the anko. Then pinch the remaining edges together.

Put some potato starch on the sealed area and set aside, seam side down. Continue making the rest of the Daifuku.
To Store
Keep the Daifuku mochi in an airtight container and store in a cool, dry place. Enjoy within 2 days. For summer months when it's very hot, you may want to refrigerate these; since mochi gets hard in the refrigerator, you will need to wrap the container with a thick kitchen towel to keep it cool but not cold.
Nutrition
Nutrition Facts
Daifuku Mochi
Amount per Serving
% Daily Value*
* Percent Daily Values are based on a 2000 calorie diet.
©JustOneCookbook.com Content and photographs are copyright protected. Sharing of this recipe is both encouraged and appreciated. Copying and/or pasting full recipes to any website or social media is strictly prohibited. Please view my photo use policy
here
.