A popular Japanese sweet, Daifuku is a small, round mochi filled with sweet red bean paste. This recipe shows how you can make this delicious snack at home with a quick steam on the stovetop or in the microwave.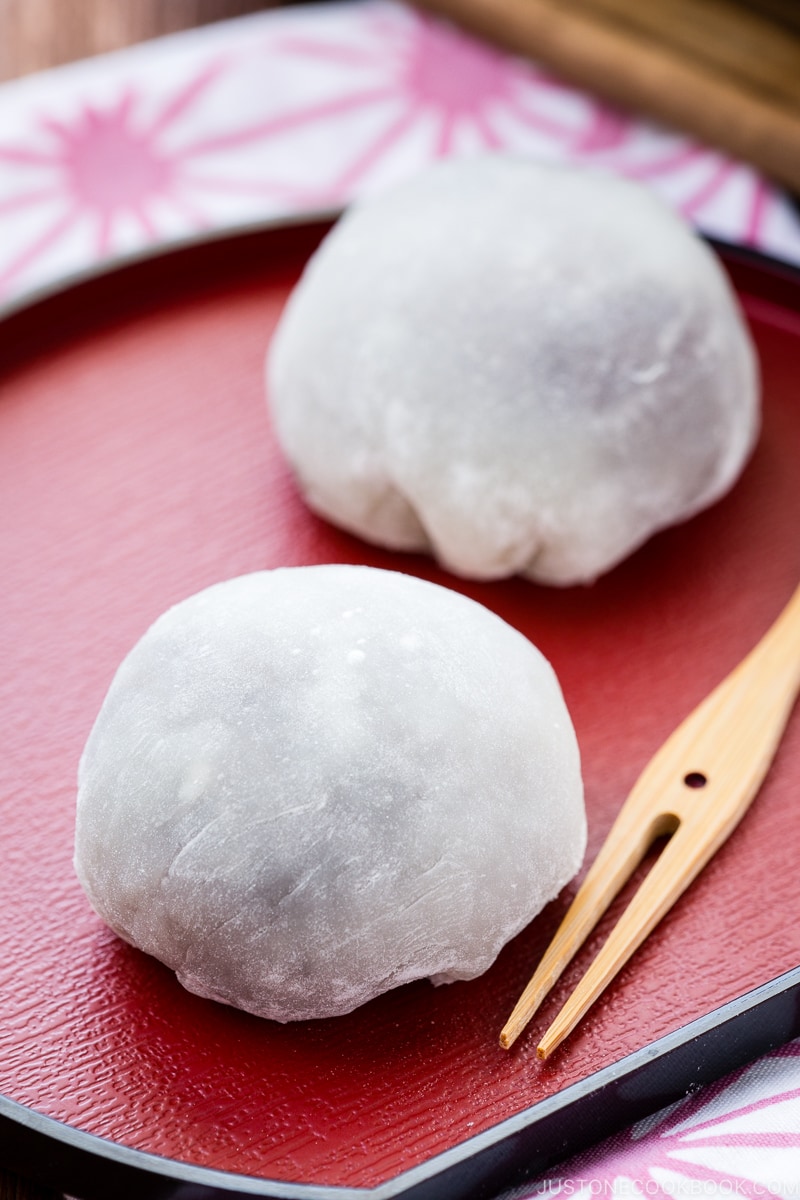 Daifuku (大福) or Daifuku Mochi (大福餅) is a type of wagashi (和菓子), Japanese sweets. It's a small round mochi stuffed with anko (sweetened red bean paste) made from azuki beans. Daifuku is a popular Japanese snack and usually served with green tea.
I've previously shared Strawberry Daifuku recipe on Just One Cookbook, which includes a whole strawberry inside a mochi surrounded by anko filling. While strawberry daifuku is seasonal and available during the springtime, daifuku is available all year around at Japanese confectionery stores and supermarkets.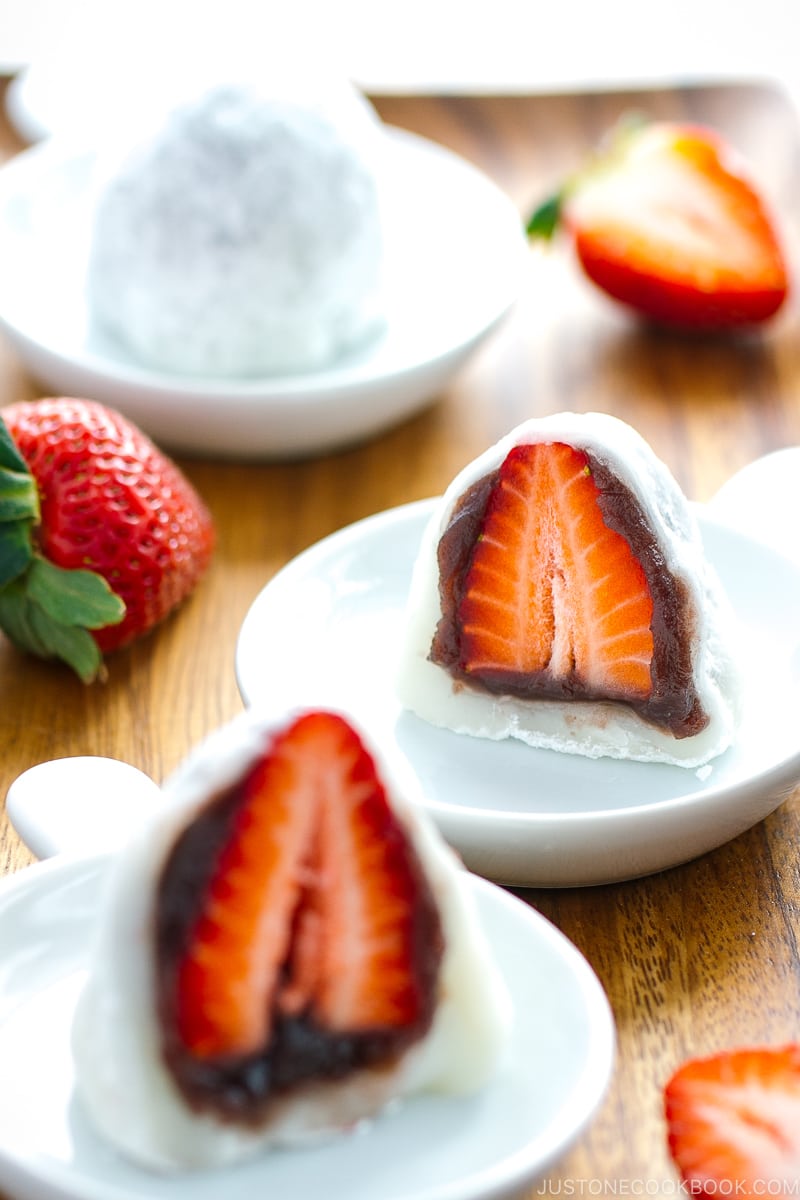 Mochi is made of short-grain japonica glutinous rice (mochigome). Traditionally, mochi is made through a labor-intensive method. The glutinous rice is cooked and pounded with wooden mallets (kine) in a traditional mortar (usu). We call this mochi-pounding process "mochitsuki (餅つき)". Then mochi is then formed into round or rectangular shape.
Since it takes quite a bit of time to make mochi from scratch (oh but freshly made mochi does taste amazing!), so we can also make mochi with shiratamako or mochiko (glutinous rice/sweet rice flour). The flour is mixed with water and steamed either on the stovetop or in the microwave. With this quick method, sticky tasty mochi is ready in no time. Today I will show you how to make mochi with these quick methods.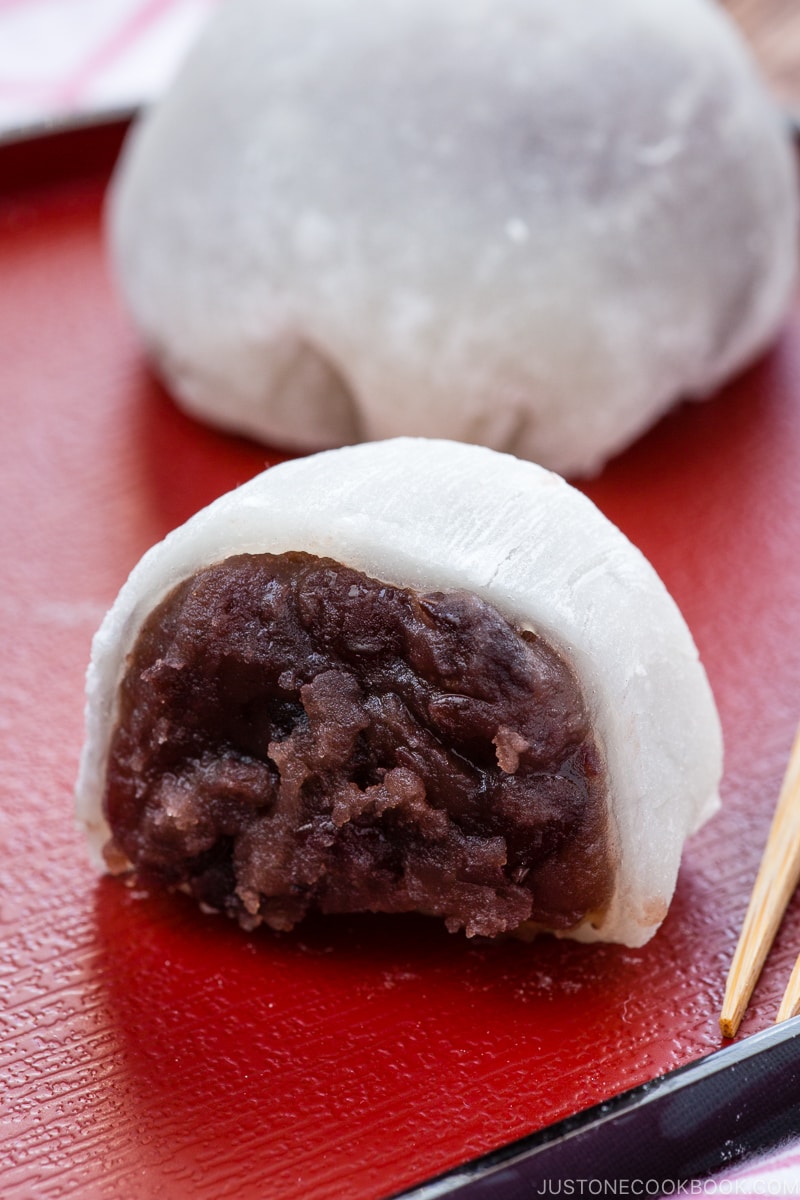 Daifuku is most commonly filled with red bean paste, but some are filled with white bean paste (Shiroan, 白餡). There is also mochi which is colored and flavored with kinako (soybean flour), yomogi (Japanese mugwort), matcha green tea powder, or a touch of red food coloring.
Red bean filling has usually two types: koshian (fine texture) and tsubuan (coarse texture). Personally, I prefer tsubuan with its coarse texture and azuki bean skin still kept in the paste, but it's up to you which red bean paste you prefer as filling. Homemade red bean paste tastes much better (recipe here), but if you like to save time, purchase premade red bean paste from a Japanese supermarket.
If you are interested in learning about wagashi, check out Wagashi Guide: History of Japanese Confectioneries.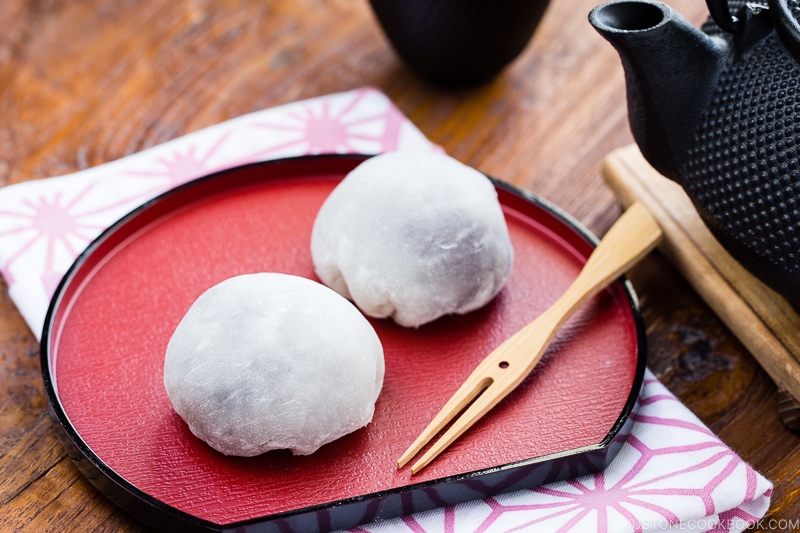 Wish to learn more about Japanese cooking? Sign up for our free newsletter to receive cooking tips & recipe updates! And stay in touch with me on Facebook, Pinterest, YouTube, and Instagram.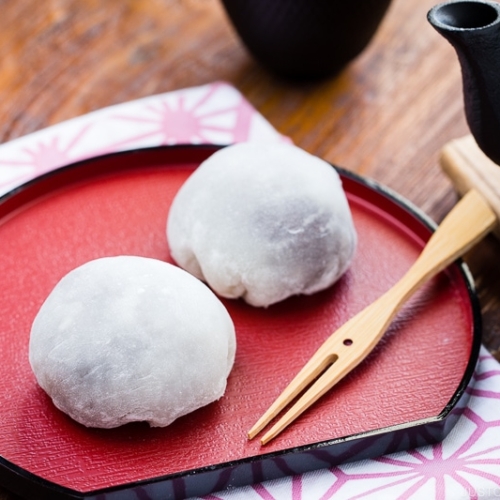 Daifuku Mochi
A popular Japanese sweet, Daifuku is a small, round mochi filled with sweet red bean paste. This recipe shows how you can make this delicious snack at home with a quick steam on the stovetop or in the microwave. 
Video
Ingredients
If you substitute shiratamako with mochiko…
Japanese Ingredient Substitution:
If you want substitutes for Japanese condiments and ingredients, click
here
.
Instructions
Gather all the ingredients.

Combine the shiratamako and sugar in a medium bowl and whisk it all together.

Add the water and mix well until combined.

Microwave Method: If you're using a microwave to cook the mochi, loosely cover the bowl with plastic wrap. Put the bowl in the microwave and heat it on high (1100w) for 1 minute. Take it out and stir it with wet rubber spatula. Cover again loosely and cook for 1 additional minute. Stir again, cover loosely, and cook for 30 seconds more to finish cooking. The color of the mochi will change from white to almost translucent.

Steaming Method: If you're using a steamer, wrap the steamer lid with a towel so the condensation does not drop into the mochi mixture. Put the bowl into the steamer basket and cover to cook for 15 minutes. Halfway through cooking, stir it with a wet rubber spatula, then cover to finish cooking. The color of the mochi will change from white to almost translucent.

Cover your work surface with parchment paper and dust it generously with potato starch. Then transfer the hot mochi on top.

To prevent it from sticking, sprinkle more potato starch on top of the mochi. Once it cools a bit, spread the mochi into a thin layer, about 3/16 inch (4-5 mm), with your hands or with a rolling pin. Make sure to apply potato starch to your hands and the rolling pin as needed. I recommend using a rolling pin because it's easier to evenly spread out the mochi.

Transfer the mochi with parchment paper onto a large baking sheet. Refrigerate for 15 minutes (no more than that) until the mochi is set.

Take out the mochi from the refrigerator and cut 7-8 mochi wrapper circles with a 3½-inch (9 cm) cookie cutter.

Dust off the excess potato starch from these wrappers with a pastry brush. If you find any sticky spots, cover the area with potato starch, then dust it off. Next, stack the wrappers: Place a piece of plastic wrap on a plate and put a mochi circle on top. Then, layer another piece of plastic wrap on top, and add another wrapper. Repeat for all the wrappers. Roll the leftover mochi dough into a ball, roll it out into a thin layer, and cut out more wrappers circles (I could make about 12 mochi wrappers total).

Now, we're ready to make the Daifuku. On the work surface, place one sheet of plastic wrap with a mochi wrapper on top. Using a medium cookie scoop, place a scoop of anko on top of the mochi wrapper.

Pinch the four opposite points of the mochi circle together to enclose the anko. Then pinch the remaining edges together.

Put some potato starch on the sealed area and set aside, seam side down. Continue making the rest of the Daifuku.
To Store
Keep the Daifuku mochi in an airtight container and store in a cool, dry place. Enjoy within 2 days. For summer months when it's very hot, you may want to refrigerate these; since mochi gets hard in the refrigerator, you will need to wrap the container with a thick kitchen towel to keep it cool but not cold.
Nutrition
Calories:
140
kcal
·
Carbohydrates:
32
g
·
Protein:
3
g
·
Fat:
2
g
·
Saturated Fat:
2
g
·
Polyunsaturated Fat:
1
g
·
Monounsaturated Fat:
1
g
·
Sodium:
39
mg
·
Potassium:
183
mg
·
Fiber:
2
g
·
Sugar:
16
g
·
Vitamin A:
2
IU
·
Vitamin C:
1
mg
·
Calcium:
12
mg
·
Iron:
2
mg
©JustOneCookbook.com Content and photographs are copyright protected. Sharing of this recipe is both encouraged and appreciated. Copying and/or pasting full recipes to any website or social media is strictly prohibited. Please view my photo use policy
here
.