A traditional Japanese sweet, Mitarashi dango is made of warm soft grilled mochi ball covered in a sweet soy sauce.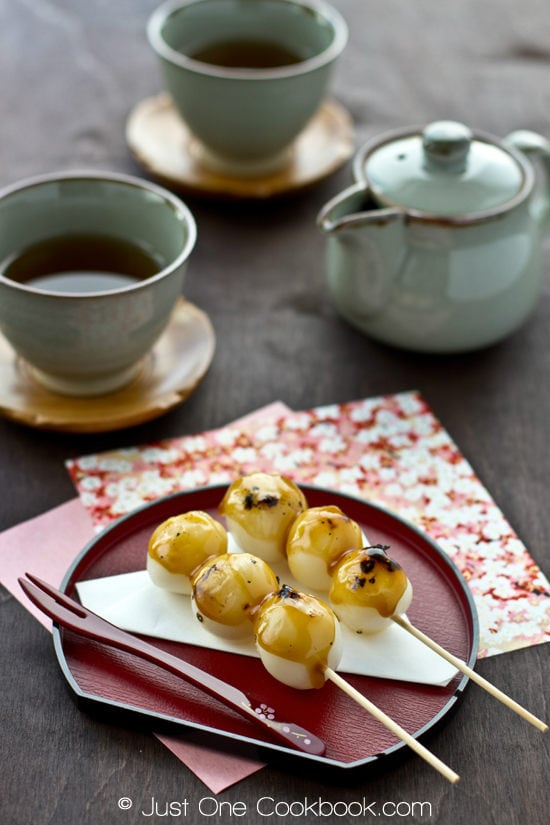 While we celebrated Cinco de Mayo last weekend, the Japanese celebrated the Children's Day (formally Boys' Day) on May 5th.  Even though that was over a week ago, I didn't have a chance to talk about it until now so let me share what I prepared for the celebration.
In Japan, there are several annual celebrations related to children on which we decorate our houses with special displays.  On The Doll's Festival (Girl's Day) in March, we would display the set of the traditional Emperor and Empress dolls dressed in kimono.  On the Children's Day, we would display Kabuto (ancient Japanese warrior helmet) and armor.
Usually on this day the Japanese eat Kashiwa Mochi (柏餅 picture above).  It's a round shape mochi filled with anko (sweet red bean paste) and wrapped with an oak leaf.  I tried to find oak leaves at every Japanese supermarket in my area to make Kashiwa Mochi, but had no luck.  So in the end, I just bought the premade Kashiwa Mochi from the store and I decided to make a different wagashi (Japanese sweets) to share with you.
This sweet is called Mitarashi Dango (みたらし団子).  It's a type of dango (sweet dumplings) skewered onto sticks.  Usually there are 3-5 dangos (traditionally 5) on a skewer and covered with a sweet soy sauce glaze.  The ingredients are similar to Strawberry Daifuku (Strawberry Mochi), but it is much easier to make.
What I like about mitarashi dango is its contrasting textures and flavors. The chewy dumplings are mildly sweet and they get a hint of smokiness from grilling. When brushed with the caramelized sweet soy sauce, each bite is gooey, savory and satisfying without being overly sweet. They make a fun, delicious snack to go with a hot cup of green tea.
Origin of Mitarashi Dango
Mitarashi Dango was originated from the Kamo Mitarashi Tea House in Kyoto.  It was thought to be made as an offering for gods and the name was given after the bubbles of the mitarashi (御手洗) (font of purifying water at the entrance of a shrine) of a famous shrine in the city. The street vendors in Kyoto started selling it as a snack and became popular amongst many visitors. Today you can find mitarashi dango being sold at supermarkets, convenience stores and specialty sweet shops everywhere in Japan.
Important Tip on Making Mitarashi Dango
To achieve the perfect texture for the dumplings, you want to use two types of rice flours:
Joushinko or Johshinko (上新粉) that is made from regular Japanese short grain rice.

Shiratamako (白玉粉) which is glutinous rice flour (also known as sweet rice flour).
The combination of these two flours will give you the bouncy, chewy but not too sticky texture for the dumplings. You can find these flours at your local Japanese grocery store.
I hope you have fun making these traditional sweets of Japan. If you like anko (sweet red bean paste), you can put your homemade anko on top of the dango to enjoy too!
Don't want to miss a recipe? Sign up for the FREE Just One Cookbook newsletter delivered to your inbox! And stay in touch on Facebook, Google+, Pinterest, and Instagram for all the latest updates. Thank you so much for reading, and till next time!
Mitarashi Dango
A traditional Japanese sweet, Mitarashi dango is made of warm soft grilled mochi ball covered in a sweet soy sauce.
Servings
:
8
skewers (3 balls each)
Instructions
Gather all the ingredients.

Combine Shiratamako, Joshinko, and sugar in a bowl.


Stir in warm water a little bit a time and knead slowly until the dough becomes smooth. The texture is like squeezing an "ear lobe" (that's how we describe the tenderness for this type of mochi in Japanese).


Divide into 2 equal pieces until you have 8 balls. Then divide each one into 3 equal sized balls. You will end up with 24 pieces.


Gently place dango in the large pot of boiling water.


Dango will stay on the bottom first but they will start floating on the surface. Then cook dango for 1 minute. Remove from pot and transfer into ice water.


Drain well and put three pieces into a bamboo skewer.


[Optional] On the stove top, place the skewered dango on the grill on direct heat over medium high for 4 minute and rotate slowly to char (or you can heat a frying pan and brush with a little oil and grill on it).


For sauce, combine sugar, soy sauce, mirin and water in a saucepan. Stir occasionally and bring it to a boil.


Once it boils, add the corn starch and water mixture to the sauce and make sure it dissolves well. After the sauce thickens, turn off the heat.


Place dango on a plate. Using a brush, coat with sweet soy sauce on dango. Serve dango with green tea.

Recipe Notes
Shiratamako and Joshinko: Shiratamako is from sweet rice/glutinous Japanese short grain rice and Joshinko is from regular short grain Japanese rice. These flours give different texture. When you make dango with only shiratamako, the texture tends to be too soft. Therefore we usually add Joshinko to make the right dango texture. Of course you can make dango with shiratamako only. It's just the personal preference.
3 ways to keep Dango:
1) After you form into round dango (Step #3), you put them in a single layer in air tight container. Freeze up to a month. When you use them, boil the frozen dango without defrosting.
2) After cooling down (Step #5), pat dry and pack into air tight container without sticking to each other. Freeze up to a month. When you use them, microwave till they are at room temperature.
3) To keep just for few hours, you can save them in ice water, or in water kept in refrigerator.
Equipment you will need:
Recipe by Namiko Chen of Just One Cookbook. All images and content on this site are copyright protected. Please do not use my images without my permission. If you'd like to share this recipe on your site, please re-write the recipe and link to this post as the original source. Thank you.