Japanese rice dumplings, also known as Dango, are a type of traditional Japanese sweets sold at street stalls and wagashi shops. They are chewy and sweet and come with many flavors like sweet soy glaze and red bean paste. Here are some popular dango recipes on Just One Cookbook.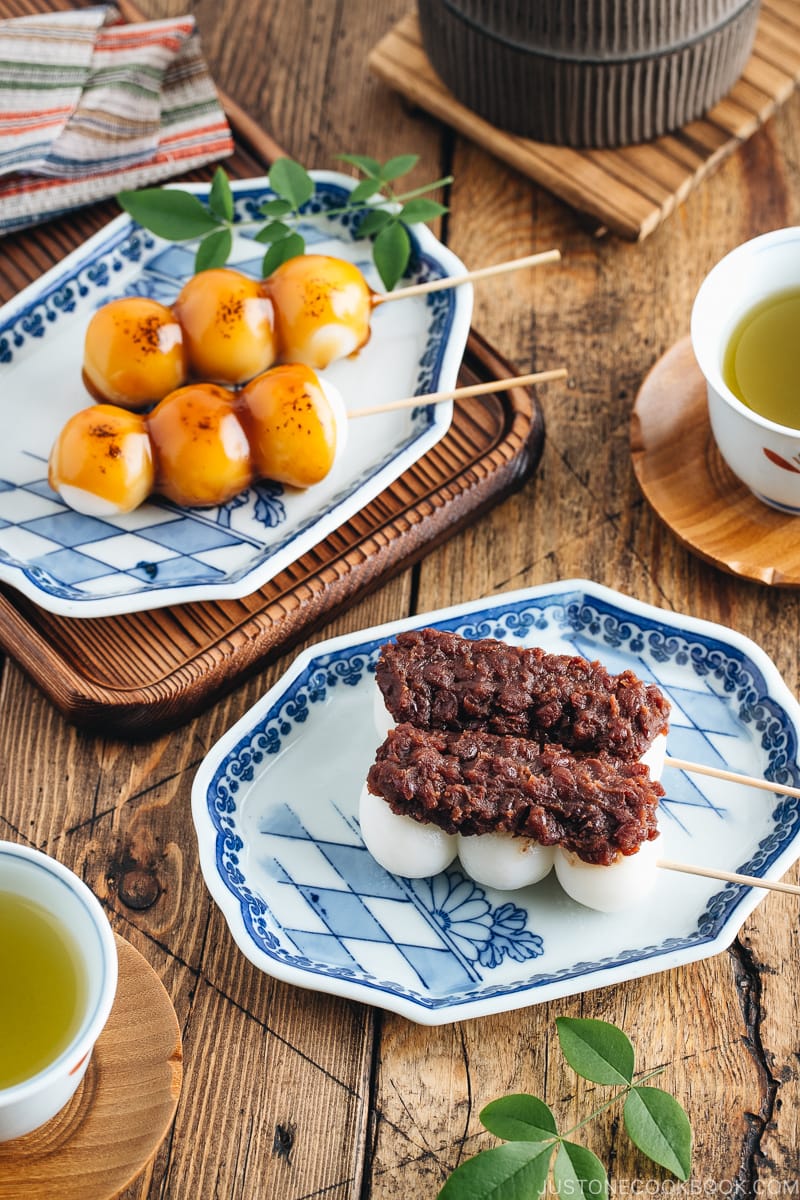 When you're visiting Japan, you want to try out some Dango (団子, だんご), sweet rice dumplings that can be found at a street stall, a local sweet shop, or a festival. Similar to the well-known mochi, dango are sticky rice balls that are skewered on a bamboo stick.
These dumplings are delightfully chewy and addicting, and just as popular as other types of mochi sweets in Japan. Today let's get familiar with dango and I'll show you some of the delicious dango recipes we have on the site.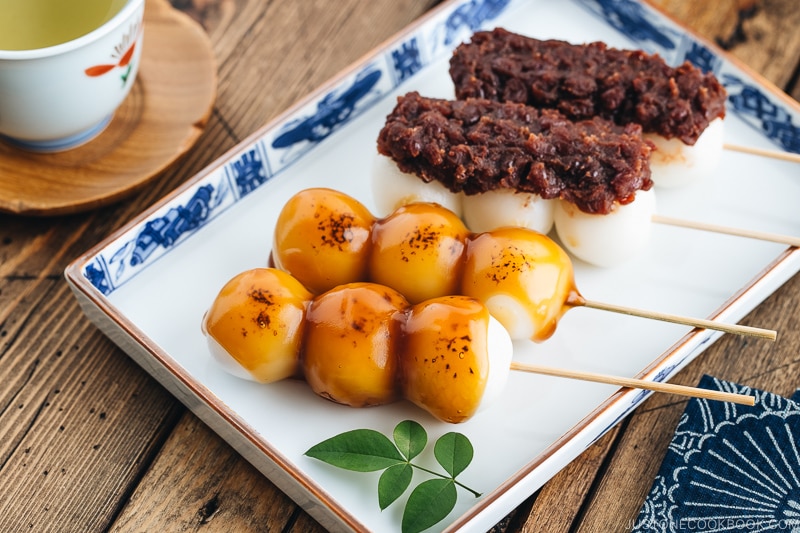 What is the Difference between Dango and Mochi?
Before we talk about the dango recipes, I know many of you may be asking what is the difference between dango and mochi. Well, dango and mochi are unquestionably very alike and both are made of rice. At first bite, you may claim that they are the same thing! But, any Japanese person would tell you otherwise.
How It's Made: 
The main difference between the two lies in the way they are made; one from flour and the other from the grain.
To make dango, we first make the dough by mixing rice flour (sometimes a mixture of rice flour and glutinous rice flour) with water until it becomes pliable and then forms into balls before boiled. Whereas mochi is made by a method of steaming mochigome (short-grain glutinous rice), pounding till stretchy, and forming into different shapes.
Texture:
Dango tends to have a firmer and slightly springy texture so it can stay in a round ball shape. On the other hand, mochi is a lot more elastic and stretchy, which could be a bit droopy and soft to keep its shape.
Presentation:
The most common way of serving dango is in a skewer of 3 to 5 small round dumplings. Mochi can be formed into a bigger ball stuffed with fillings or formed into a flat round shape coated with seasonings.
Flavor:
Both dango and mochi can be plain tasting with a mild rice flavor. Therefore, they are coated or topped with a sweet soy sauce glaze (mitarashi みたらし) or red bean paste (anko あんこ) or the nutty soybean powder (kinako きな粉). These three common flavors make such a nostalgic feeling to the Japanese. I tend to eat more than I should when I make these treats at home.
Different Kinds of Dango
We have several kinds of dango in Japan, and if we include some regional specialty, the list could be quite long. Here, I will share popular kinds of dango and my recipes.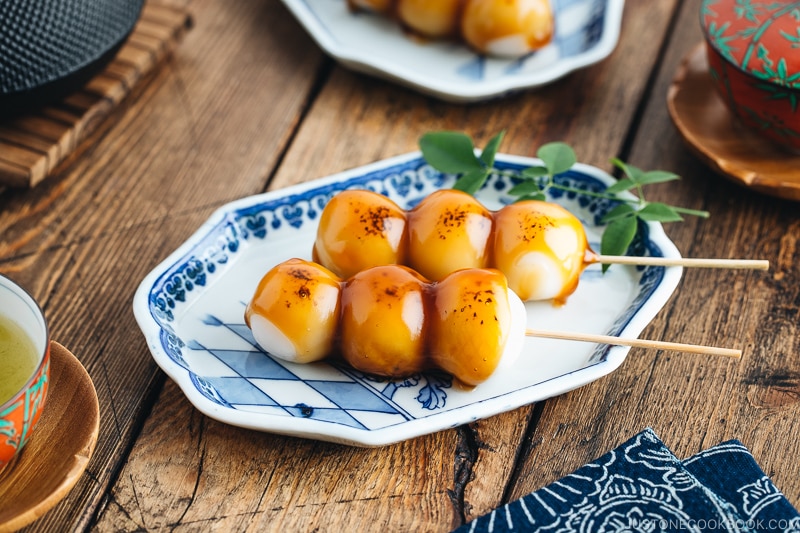 1. Mitarashi Dango
Mitarashi Dango (みたらし団子) is coated with a sweet soy sauce glaze that is thick and syrupy. This savory and sweet sauce is quite addicting and there are many fans looking for this dango at street stalls in Asakusa, traditional shopping streets, and the conbini (Japanese convenience stores).
You can easily make this rice dumpling at home following my recipe.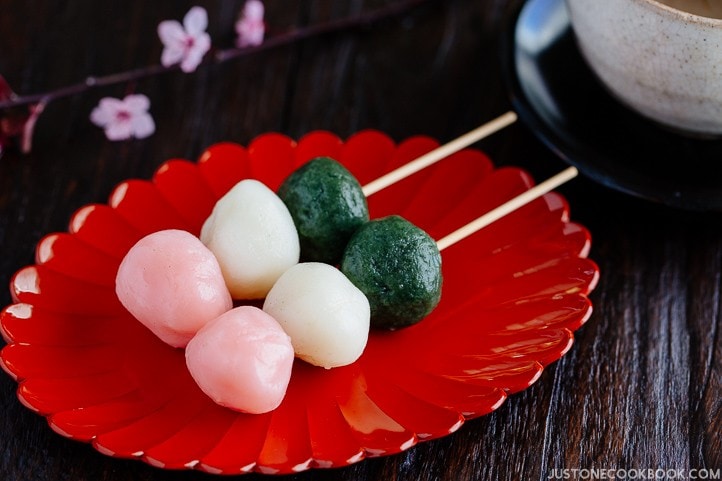 2. Hanami Dango (Sanshoku Dango)
You have probably seen this 🍡 emoji. This is Hanami Dango (花見団子) or sometimes called Sanshoku Dango (三色団子), three-color dango. It is enjoyed during cherry blossom viewing ("Hanami") in Japan and it's a popular sweet especially in spring!
Make this dango at home following my recipe.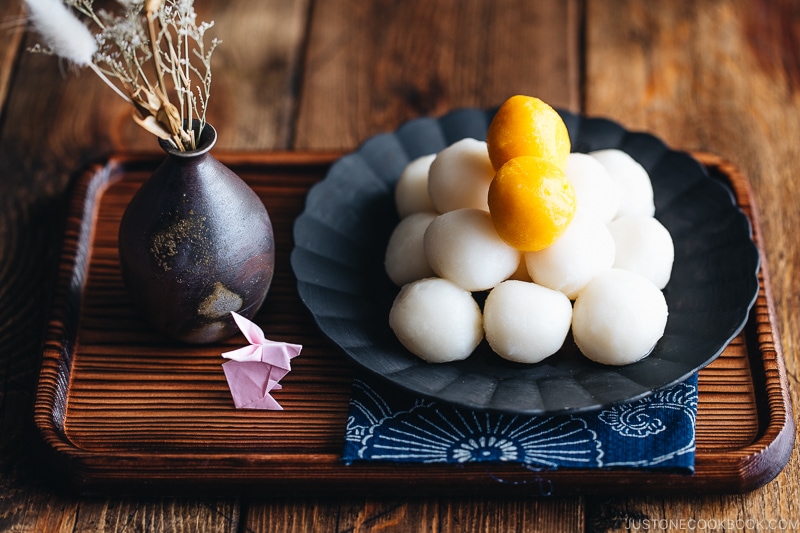 3. Tsukimi Dango
In mid-autumn, under the full moon, the Japanese celebrate the harvest and marvel at the passing of seasons, and this festival is called Tsukimi (月見) – Japanese Harvest Moon Festival or Mid-Autumn Festival (中秋の名月). On this day, we enjoy Tsukimi Dango (月見団子) with tea. Unlike typical dango which is served in a skewer, Tsukimi Dango is plain. Since it's for a special occasion, we display them by stacking fifteen rice dumplings in a special pyramid arrangement on a tray.
Celebrate the Mid-Autumn Festival by making Tsukimi Dango!.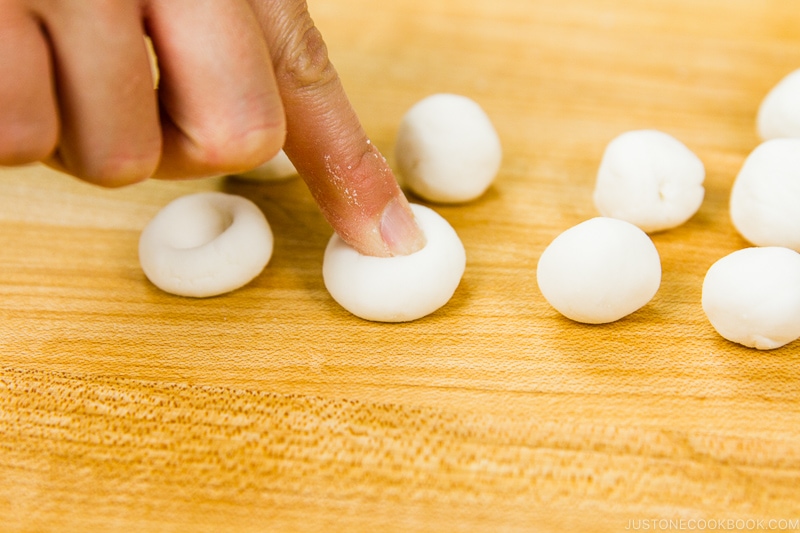 4. Shiratama Dango
Shiratama Dango (白玉団子)  is often served with Zenzai (Oshiruko), Kakigori (shaved ice), and Anmitsu. They are soft and small, and the flatter shape is perfect as a topping for Japanese dessert.
Make them at home following my recipe.
5. And more!
Yomogi Dango (よもぎ団子) also known as Kusa Dango (草団子) – Dango made with Japanese mugwort.
Sasa Dango (笹団子) – Dango wrapped with bamboo leaves. A specialty from the Nigata prefecture.
Kibi Dango (吉備団子) – Dango made of glutinous rice, starch, and sugar. A specialty from the Okayama prefecture.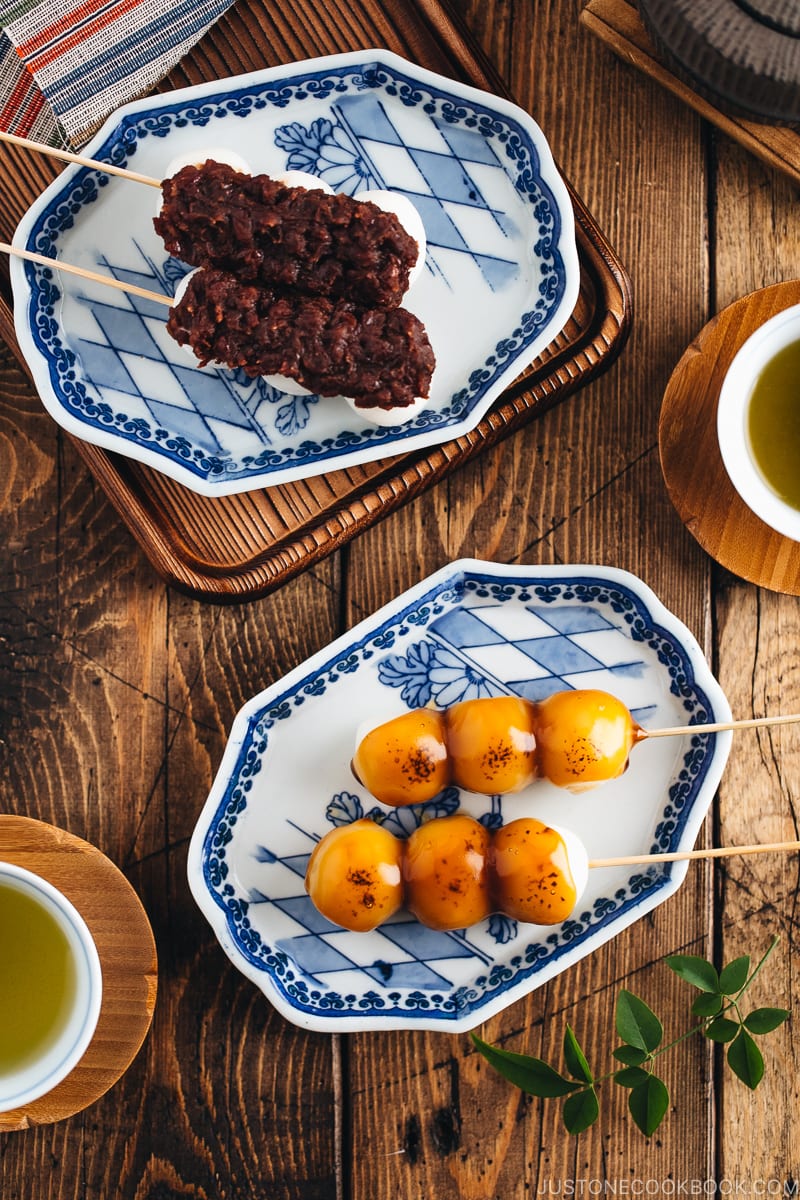 How to Make Basic Dango at Home
The basic dango recipe that I shared in this post is easy, mess-free, and fail-proof! If you're looking for a bonding activity with your children, I'd recommend spending an afternoon to make these delicious dumplings at home. It takes just about 30 to 45 minutes to make this treat.
1. What you will need:
Both Joshinko (上新粉) and Shiratamako (白玉粉), OR Dangoko (団子粉) *Read below for more explanation of the flours
Water… and that's it!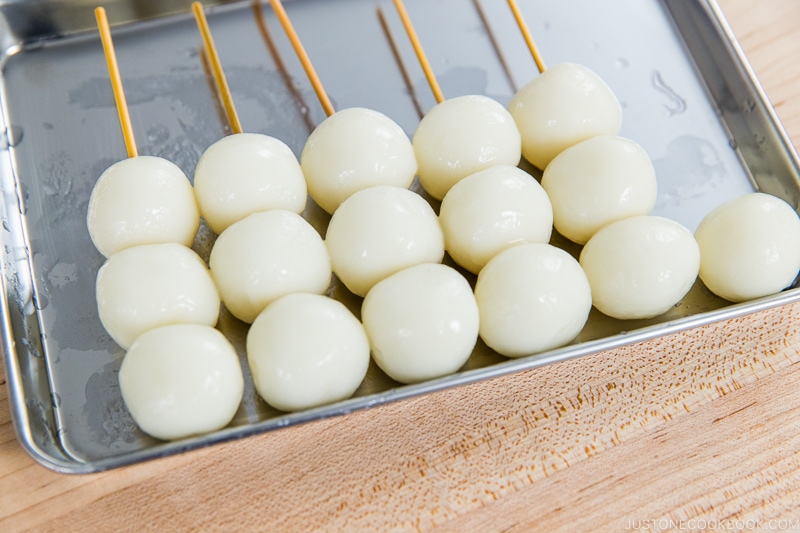 2. Five Easy Steps!
Mix the flour and water.
Shape into balls.
Boil until tender and let cool in iced water.
Skewer the dumplings into a stick.
Add toppings of your choice!
For the detailed step by step process, please follow this recipe.
3. Pick Your Toppings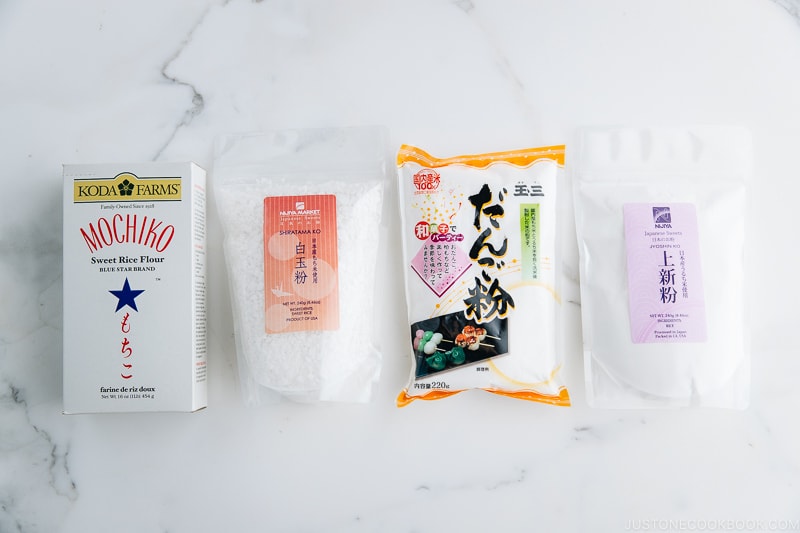 Get Familiar with Different Rice Flour
Lastly, it's a bit advanced, but I want to cover the different types of rice flour we have in Japan (picture above from left):
Mochiko (餅粉): A type of glutinous rice flour similar to Shiratamako, but it is produced differently. It produces a very soft and tender texture of mochi dough; therefore, it's good for Gyuhi (those "mochi" toppings for frozen yogurt) and Daifuku, but not an appropriate texture for Dango.
Shiratamako (白玉粉): A type of glutinous rice flour that's most commonly used in Japanese household to make all kinds of "mochi" sweets such as daifuku mochi.
Dangoko (団子粉). A combination of rice flour and glutinous rice flour but the ratio is unknown. Each manufacturer has their own formula. It's made specifically for Dango; however, I feel the texture is on the tougher side, due to higher rice flour ratio in the mix.
Johshinko (上新粉): A type of rice flour. The texture of "mochi" made with this flour is less chewy and elastic due to the absence of glutinous rice.
Note that all these flours are from short-grain rice or glutinous rice. They are different from other Asian rice varieties.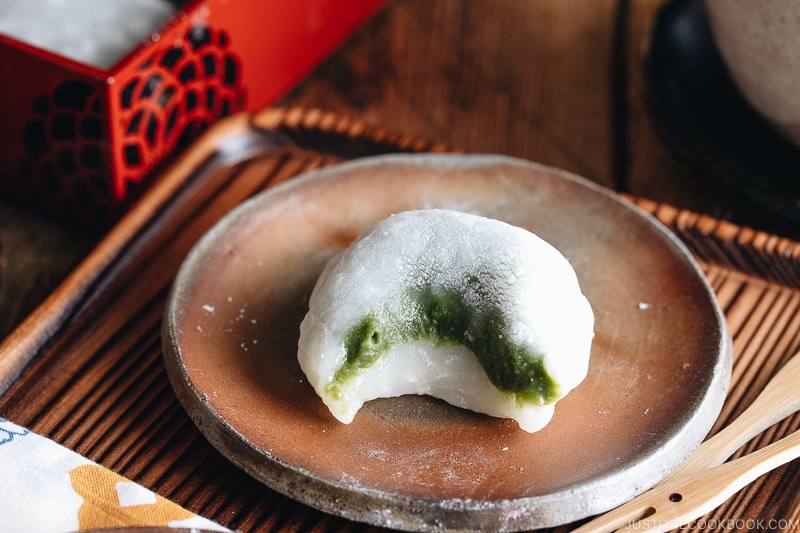 If you're familiar with Japanese sweets made of rice such as Dango, Daifuku Mochi, Kashiwa Mochi, and Sakura Mochi, you can tell each texture of these mochi sweets (Mochi-gashi 餅菓子) is slightly different. That's because the rice flour used for the sweet is different from the other.
For making dango, I recommend mixing both Joshinko (上新粉) and Shiratamako (白玉粉), which, I believe, will make a better dango texture than using Dangoko (団子粉). Dango made with just Dangoko tend to be tougher and less bouncy/elastic.
To make your own dango dough, my recommendation is 50-50 ratio for the Joshinko and Shiratamako, which will give you the bouncy, chewy but not too sticky and soft texture. If you prefer the chewy mochi-like texture, you can decrease Joshinko to 40% and increase Shiratamako to 60%. But be careful not to overuse Shiratamako, otherwise, the dango will get too soft and flat.
Where to Find Rice Flours?
You can find Japanese rice flours at your local Japanese grocery store or maybe on Amazon. With the popularity of mochi sweets overseas, I hope these ingredients will be widely available in the future so everyone can make different types of mochi at home.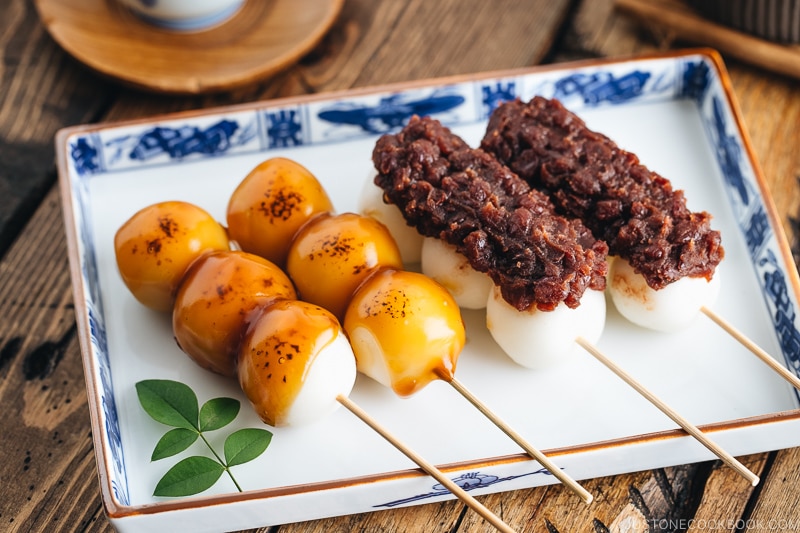 Wish to learn more about Japanese cooking? Sign up for our free newsletter to receive cooking tips & recipe updates! And stay in touch with me on Facebook, Pinterest, YouTube, and Instagram.