A traditional Japanese matcha green tea shaved ice dessert, Ujikintoki is a summer must-try recipe! With a simple shaved ice machine, you and your family can enjoy this refreshing treat all summer long. Have fun with topping such as red bean paste, shiratama dango, sweetened condensed milk and green tea ice cream.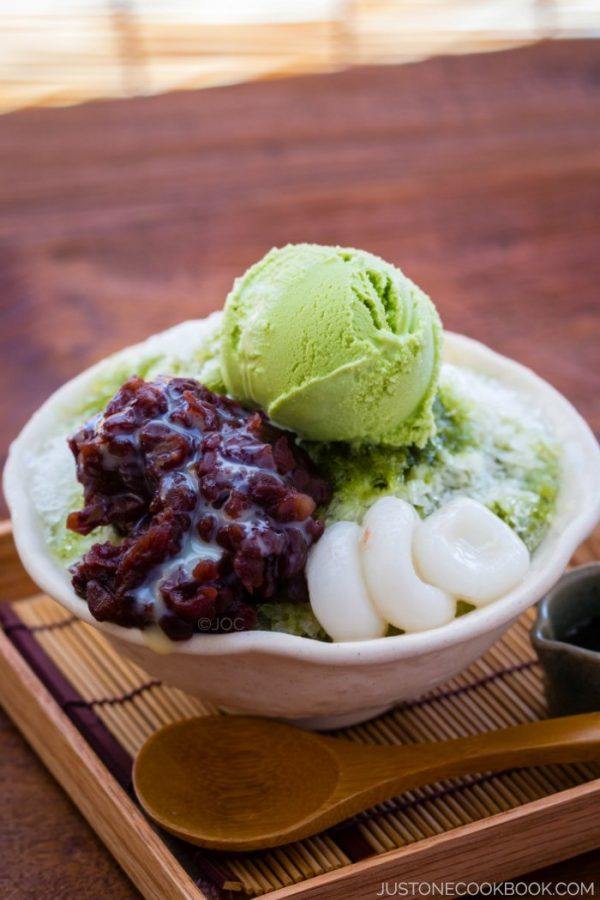 There was an unusual heat wave in San Francisco bay area last week with the temperature soaring above 90F almost everyday.  The hot weather came at a perfect time as I could make one of the summer desserts I love eating in Japan, and that is Green Tea Shaved Ice or we call it Ujikintoki (宇治金時).
Watch How to Make Ujikintoki (Green Tea Shaved Ice) 宇治金時かき氷の作り方
Refreshing traditional Japanese green tea shaved ice dessert, topped with red bean paste, shiratama dango, sweetened condensed milk and green tea ice cream.
What's Ujikintoki?
Ujikintoki is a Japanese shaved ice dessert, made with shaved ice on the bottom, drizzled with green tea syrup and topped with red bean paste.  Other common toppings include shiratama dango (mochi), sweetened condensed milk, and green tea ice cream.  On a hot and humid summer day, eating shaved ice brings immediate refreshment and cools you down.
When I got back from Japan, I purchased this shave ice machine after doing a bit of research and reading reviews.  This shave ice machine won't make the nice fluffy snowy shaved ice, but it is inexpensive (compared to commercial models over $200) and easy to operate.  You simply insert the ice block, place the top of machine on and press down to start shaving ice.  The machine only comes with 2 ice molds so I used plastic cups about the same diameter to freeze additional ice blocks.  Each ice block only makes 1 bowl of shaved ice.
Typical shaved ice you see are made with fruity flavors like strawberry, melon, lemon, blue-hawaii, and they can be purchased at the summer festivals and food stalls in Japan.  However, Ujikintoki is usually served only in restaurants or sweet shops during the summer, and it's a rather special treat because one Ujikintoki costs about 800-1000 yen (USD$8-10) in restaurants.
For us, since we can't find any restaurants or place to purchase Ujikintoki, making them at home was the only option.  And it was a smart option as our family loves it and we've been enjoying it almost everyday at home.
It's a quick dessert that literally takes just a few minutes to put together if you have all the ingredients.  I figured how to make Green Tea Syrup using the same proportions as making simple syrup, but add matcha green tea powder to it.  I really like this green tea syrup recipe and how flavorful it is so I will be making this over and over again.
I also have a recipe for rest of the toppings used in this dessert:
I hope you will enjoy making this Ujikintoki recipe!  If you try it, don't forget to share your picture on Instagram, Facebook, or Twitter with #JustOneCookbook.  Thank you so much for reading, and till next time!
Don't want to miss a recipe? Sign up for the FREE Just One Cookbook newsletter delivered to your inbox! And stay in touch with me on Facebook, Google+, Pinterest, and Instagram for all the latest updates.
Ujikintoki (Green Tea Shaved Ice)
Instructions
Gather all the ingredients.

To make syrup, combine sugar and matcha green powder in a small bowl and whisk together. Then add the hot water and whisk until sugar is completely melted. Let it cool in the freezer (don't forget to take it out) or refrigerator (if you still have time before serving).


I use an electric shaved ice machine. Put the ice cube and run the machine for a while to let it form a nice peak on its own. Then toward the end you rotate the bowl to correct any lopsidedness.


Pour 2 Tbsp of green tea syrup for each bowl. Add dollop of red bean paste. Place the shiratama dango. Put a scoop of ice cream on top to make the shaved ice creamier. Pour 1 Tbsp of sweetened condense milk.
Recipe Notes
Red bean paste (anko): Homemade recipe, click here.
Shiratama Dango/mochi: Homemade recipe, click here.
Green Tea Ice Cream: Homemade recipe, click here.
Recipe by Namiko Chen of Just One Cookbook. All images and content on this site are copyright protected. Please do not use my images without my permission. If you'd like to share this recipe on your site, please re-write the recipe and link to this post as the original source. Thank you.