During spring, the beautiful cherry tree blossoms into a sea of pink. For cherry blossom viewing (Hanami), make these popular spring-theme foods and go picnic under cherry trees!
Cherry blossom season is a really big ordeal in Japan since the full beautiful blossom of cherry flowers only lasts about a week each year.
Every year, Japan's cherry blossoms first appear in the southern island of Okinawa in March then move northwards to the northern island of Hokkaido by early May.
The Japanese highly anticipate the beginning day of blossoms in their region monitoring the daily progress reports on the TV, as the dates of the first bloom and full bloom are subject to change due to the temperature, winds, and rain.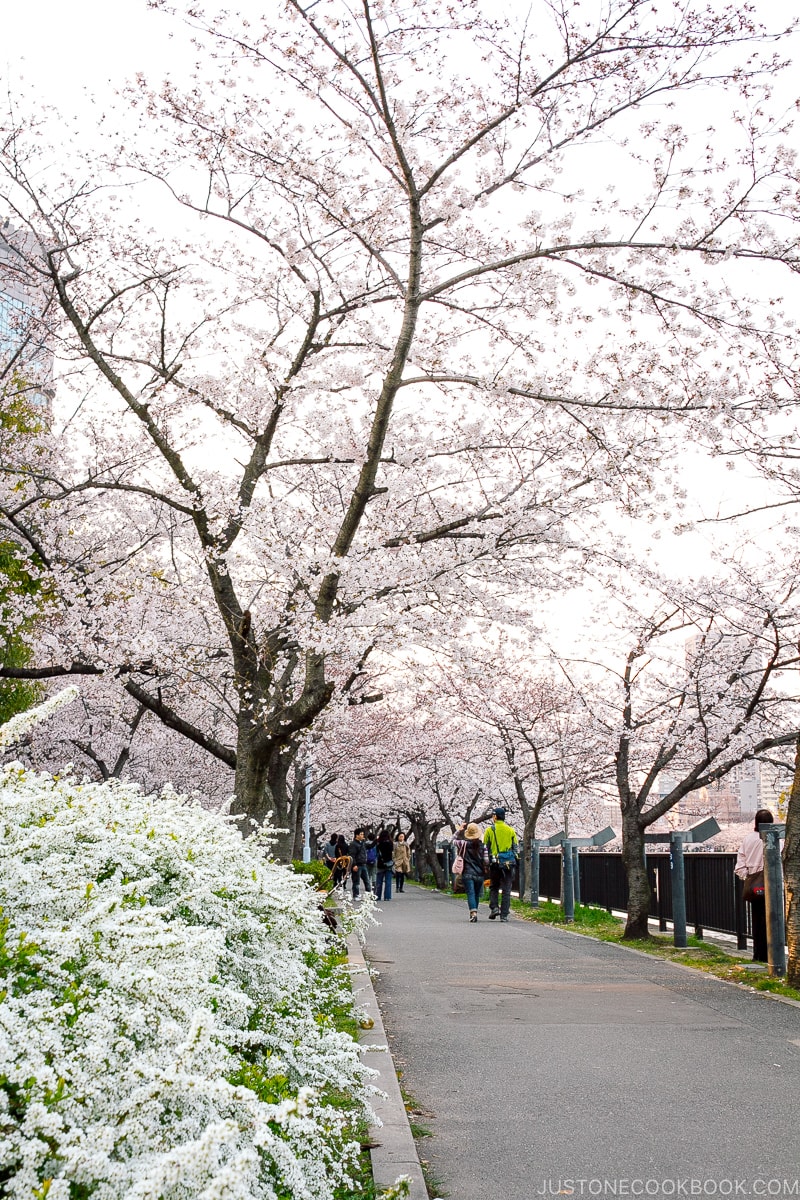 12 Popular Foods to Enjoy at Cherry Blossom Viewing
Hanami (花見), or cherry blossom viewing, has been Japan's tradition from as early as the Nara period (710-794), when elite imperial courtiers paused to appreciate the delicate pink sakura.
The Japanese have long been celebrated the cherry blossom and admired its beauty by enjoying picnics beneath the blooms and strolling through the magnificent tunnel of flowering trees.
Here are 12 popular foods to enjoy at Hanami in Japan.
---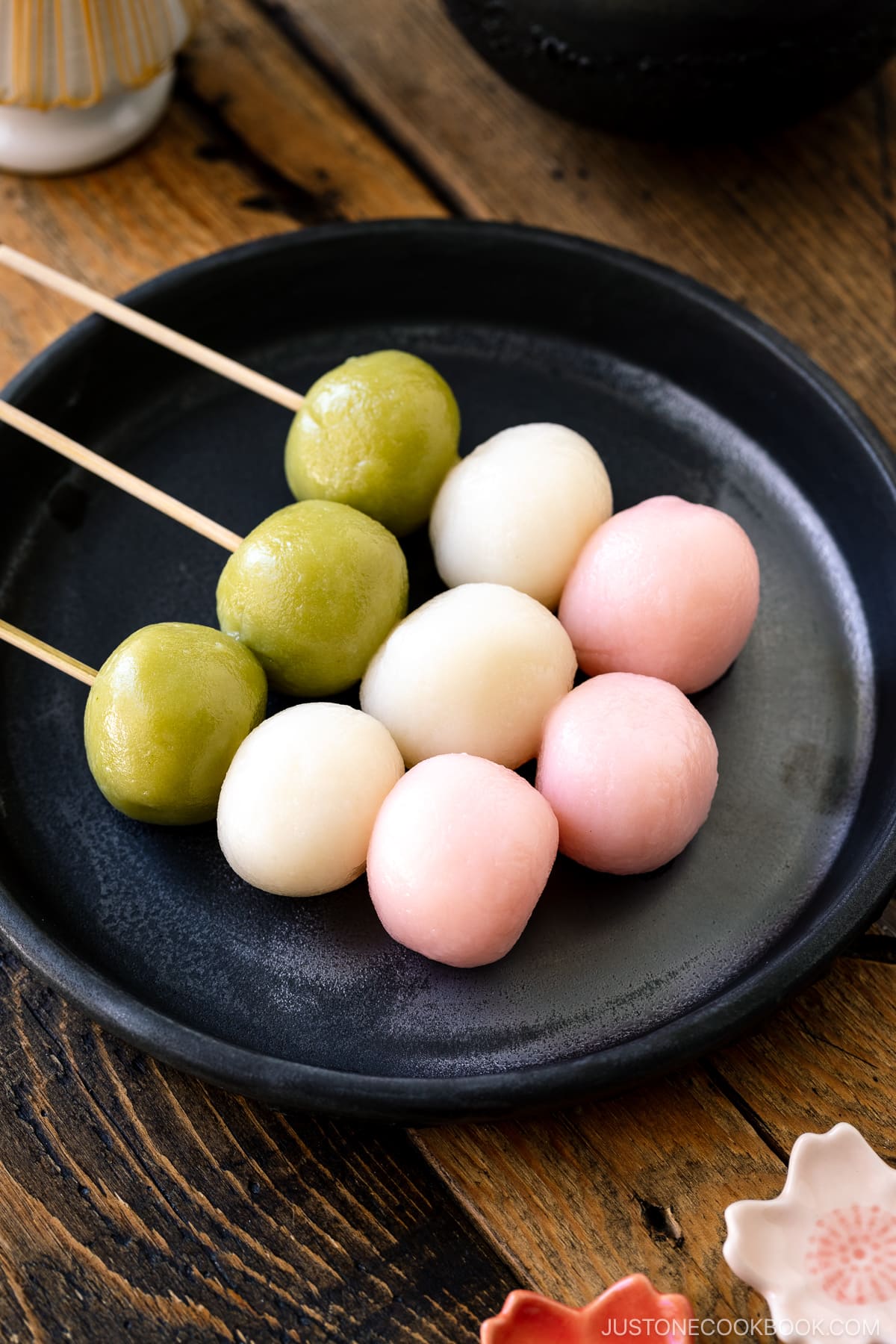 Hanami Dango is an iconic tri-color sweet for cherry blossom viewing in Japan. These dumplings are made with sweetened rice flour (or sometimes a combination of glutinous rice flour). They are easy to make and look festive!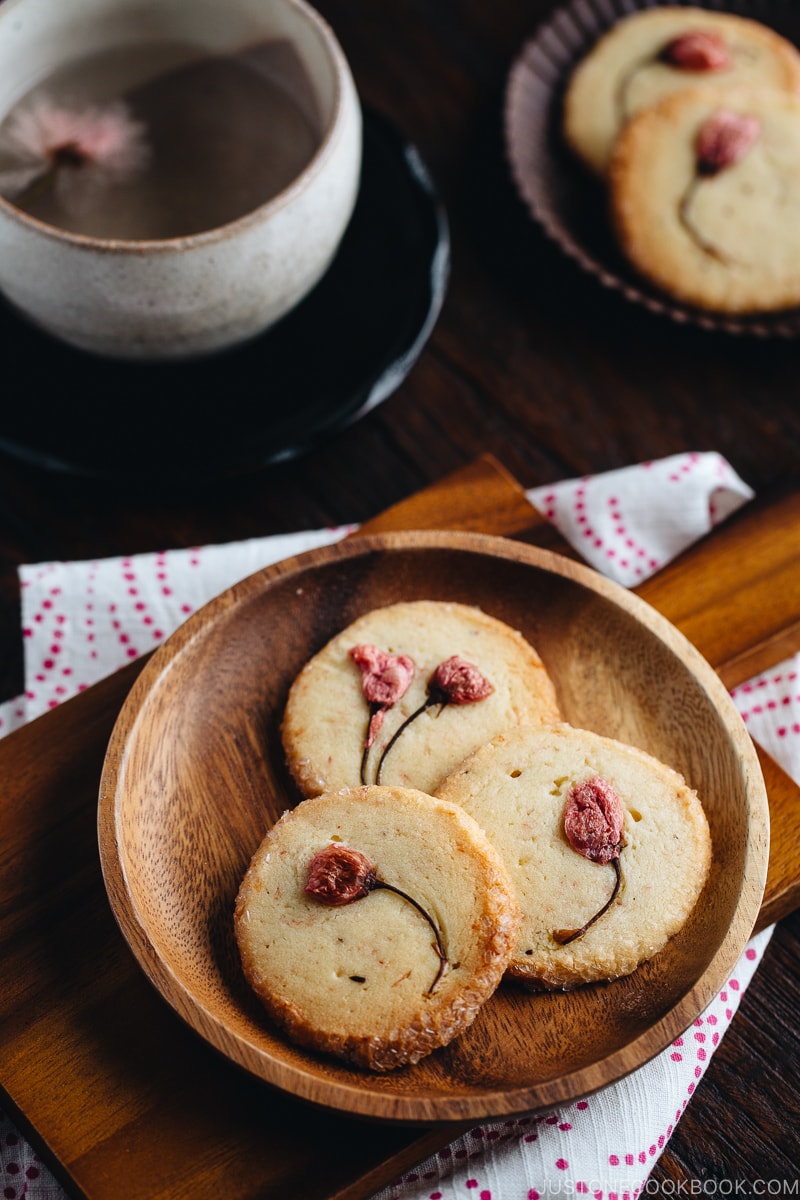 Not only are these Cherry Blossom Cookies pretty to look at, but they are also delicious! You'd love the crispy and buttery texture with the fragrant aroma from the salt pickled cherry blossoms.
Celebrate the cherry blossom season with this delectable Cherry Blossom Milk Pudding! The soft silky pudding simply melts in your mouth and the top cherry blossom jelly/jello layer is sweet and a bit salty, and blends perfectly with the milk pudding base.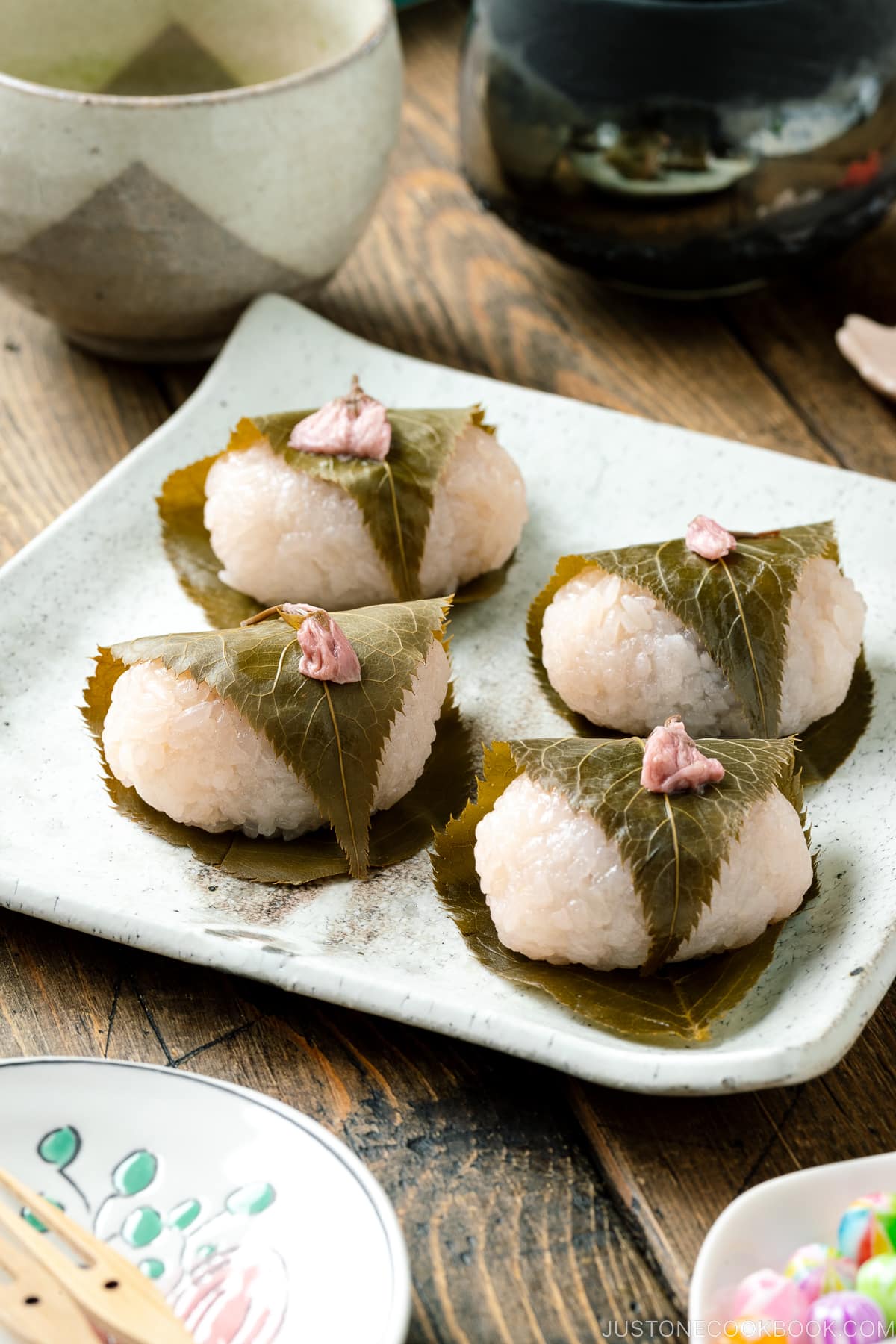 Another iconic dessert for cherry blossom viewing is Sakura Mochi. Chewy mochi with anko sweet red bean paste filling is simply delectable! The aroma of cherry blossom leaves adds to the next level of full spring experience.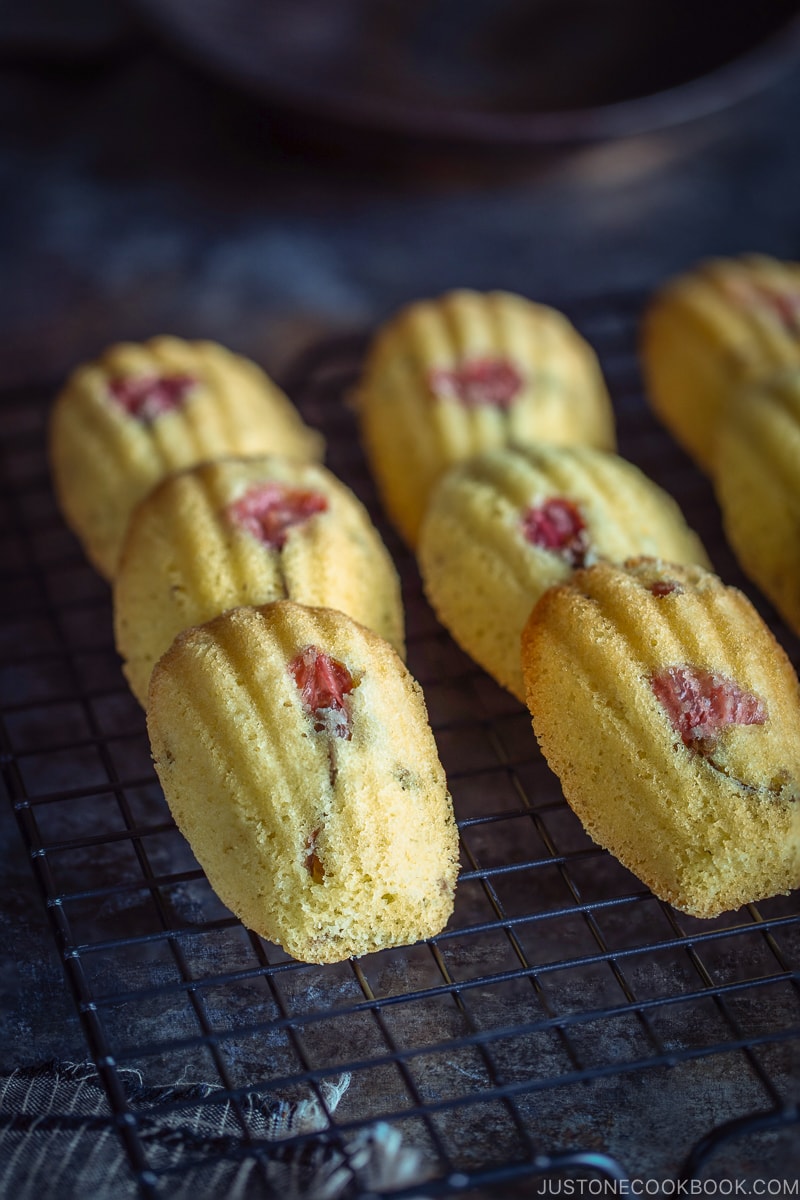 Celebrate the arrival of spring with Cherry Blossom Madeleines! These delightful cookies are buttery, slightly sweet, and salty, with a hint of cherry blossom fragrance. Invite your friends over and enjoy these gorgeous madeleines with green tea.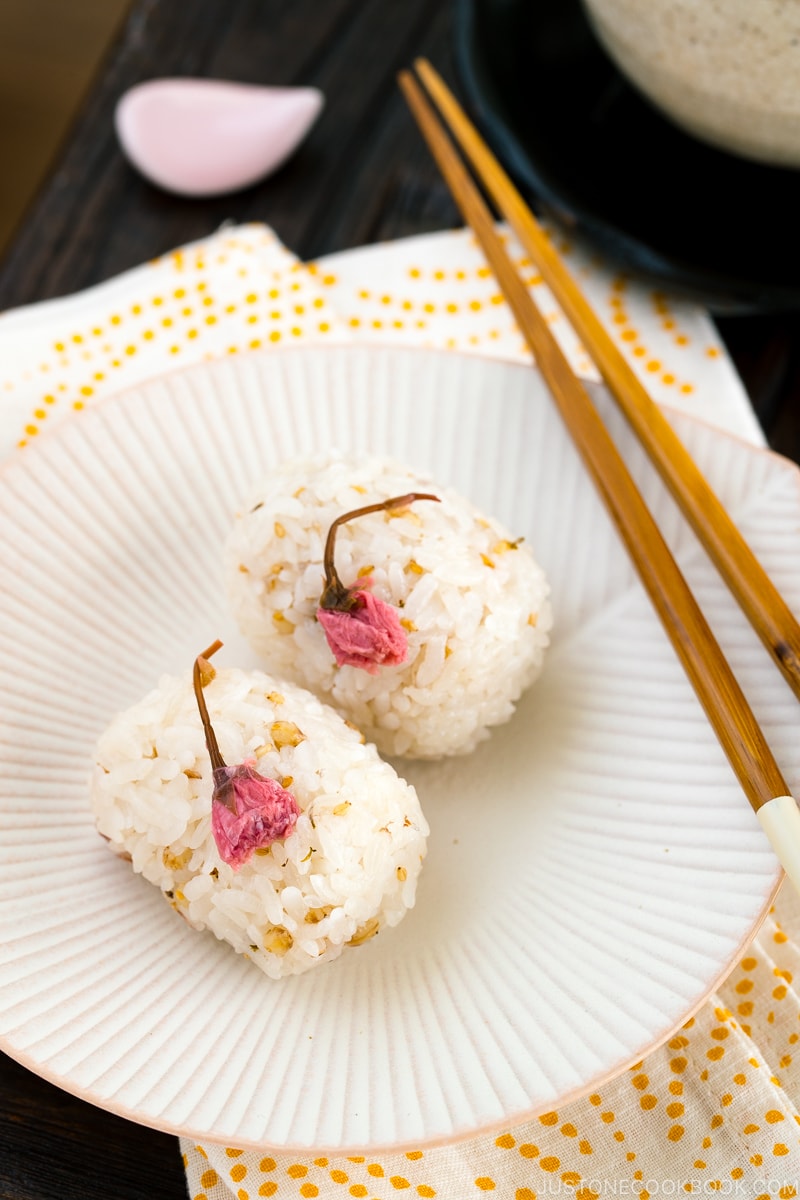 Representing the elegance of the changing season with trees in full bloom, these Cherry Blossom Rice Balls are a perfect dish to bring to a spring picnic!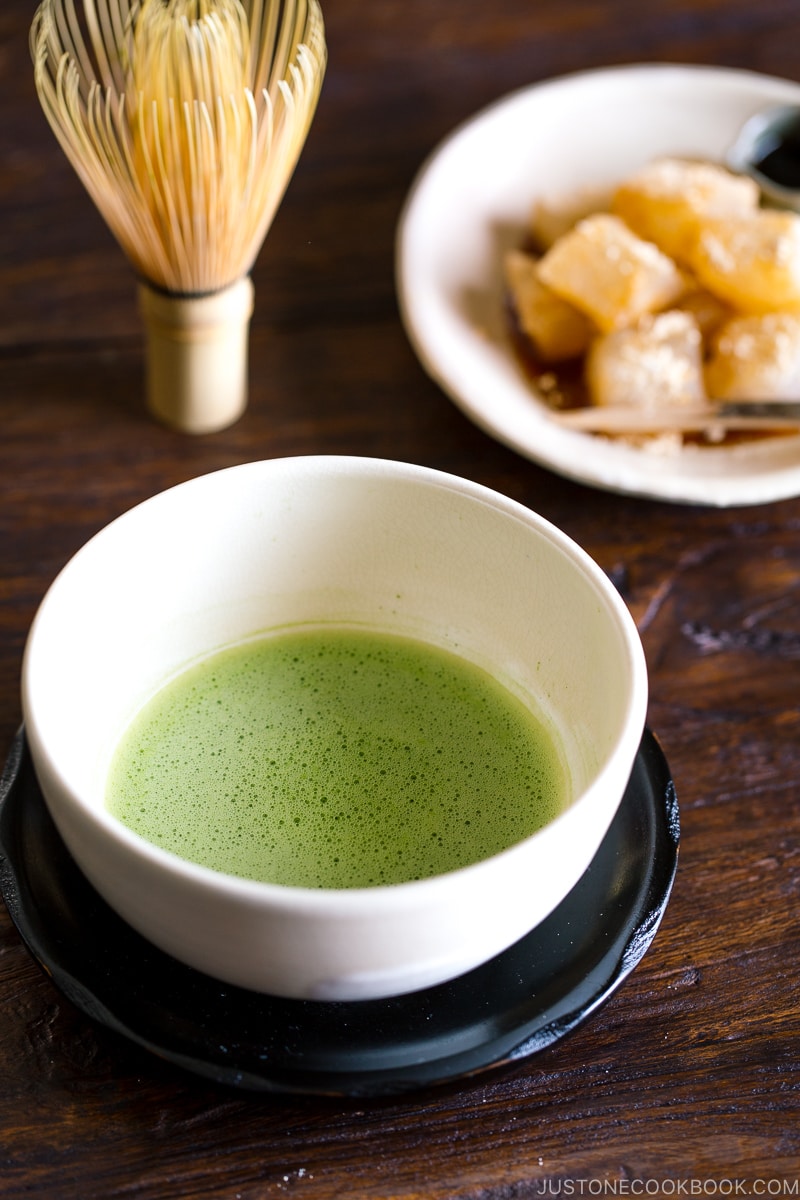 Enjoy and relax with authentic Matcha and Warabi Mochi together. This traditional sweet is a chilled, chewy, jelly-like mochi covered with sweet and nutty soybean powder and drizzled with kuromitsu syrup. Green tea is full of antioxidants, and the unique earthy matcha is perfect for this sweet!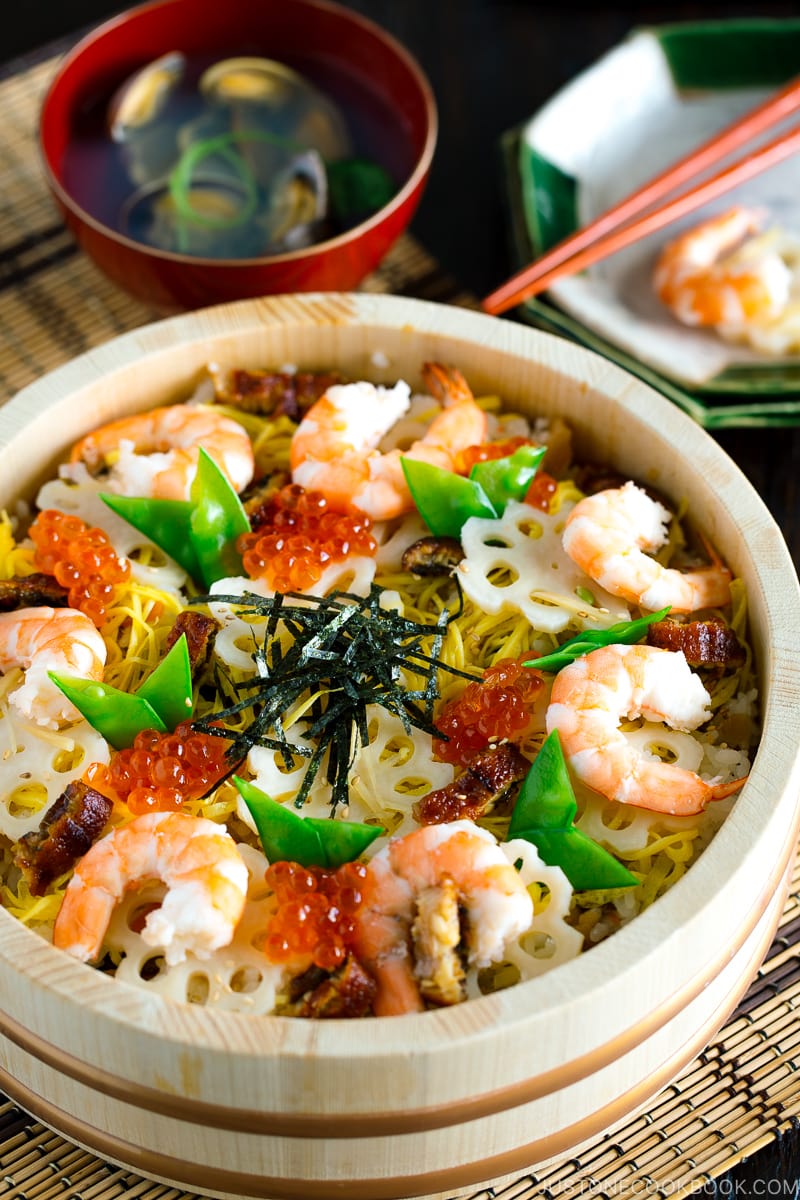 Chirashi Sushi is served on happy occasions and at parties in Japan. This bright and colorful dish is made of sushi rice with a variety of vegetables mixed in, and toppings sprinkled over the top.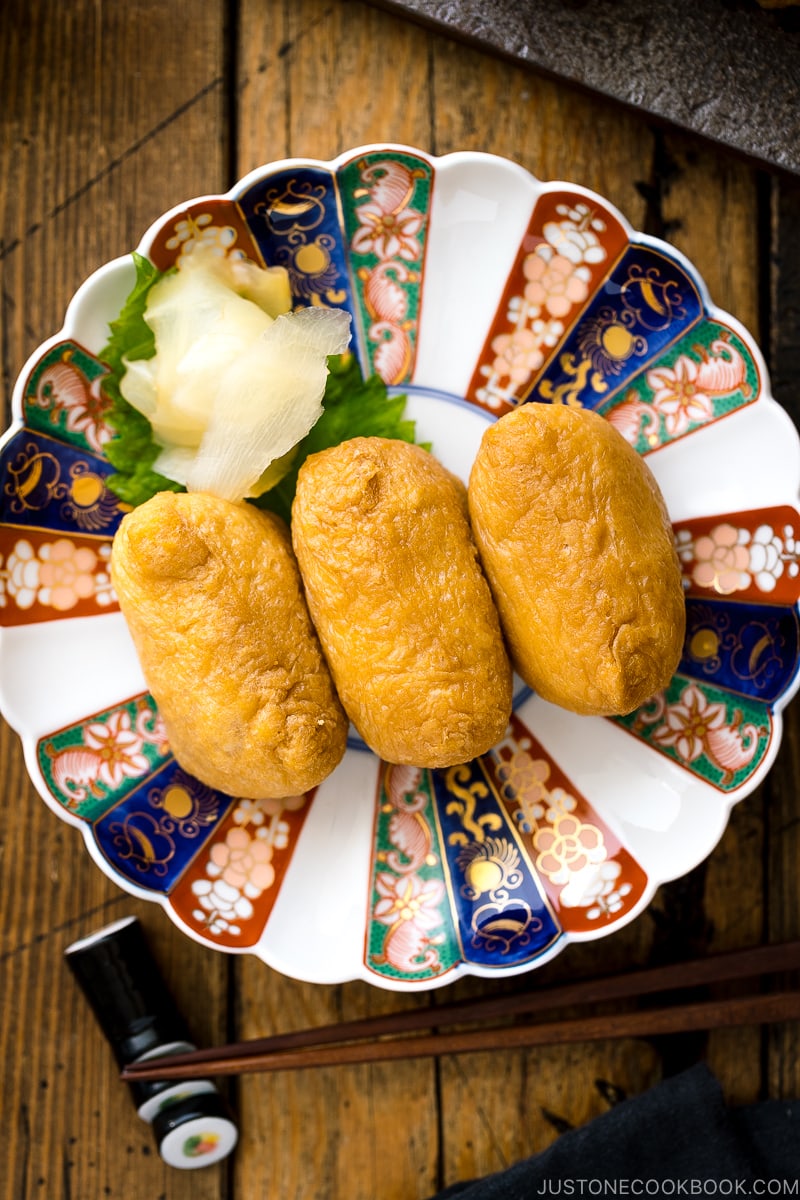 Inari Sushi – sushi rice stuffed in the deep-fried seasoned tofu skin. My version includes shiso leaf and nori seaweed.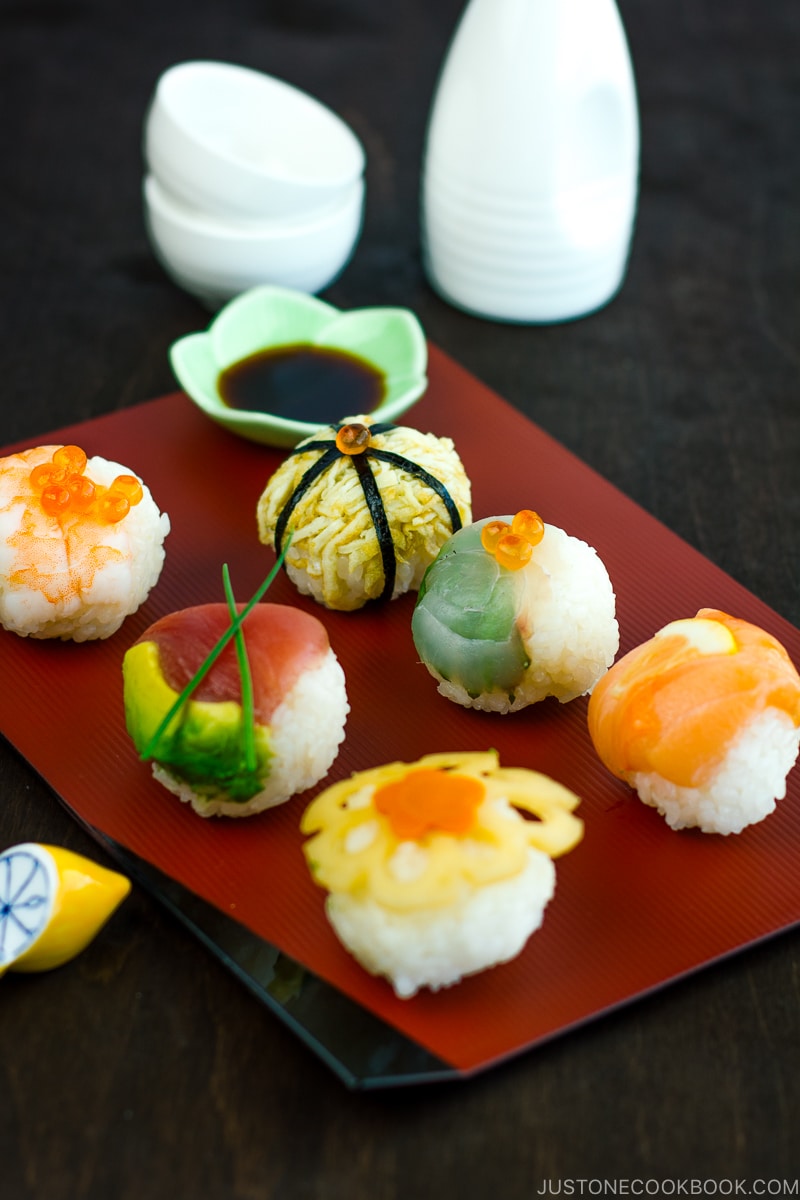 Temari Sushi is casual sushi that we can make at home. You don't need a sushi chef's skill to make these cute delicious little balls of sushi.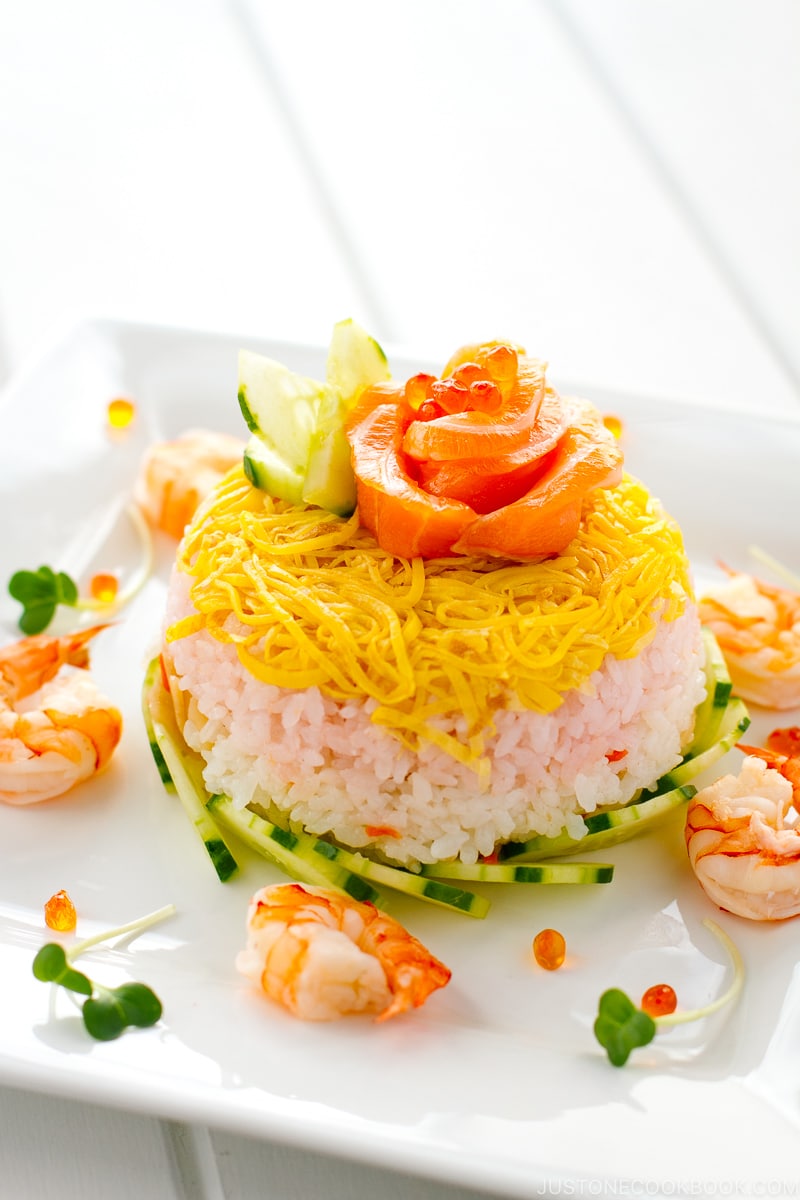 Simple Chirashi Sushi Cake with shredded egg, boiled shrimp, and salmon sashimi. Enjoy this savory colorful cake garnished with salmon roe.
Futomaki is a traditional thick sushi roll typically filled with vegetables and sometimes includes cooked fish like unagi. It's perfect finger food for a picnic and packs well in the bento box!
---
Enjoy Cherry Blossom Viewing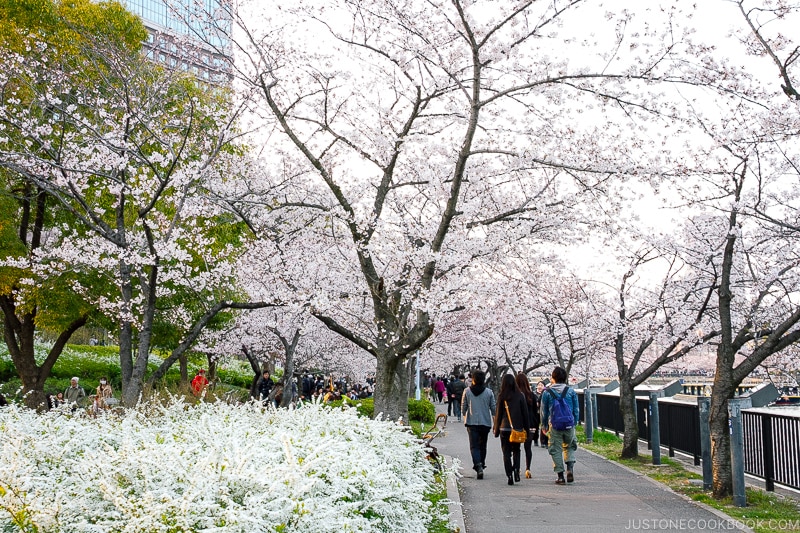 As my children are in elementary school now, it's more difficult for us to take time to travel to Japan to view the cherry blossom. I miss seeing the sea of pink from my mom's balcony and just enjoying the natural beauty. It's one of the biggest events I look forward to in Japan during spring. I hope you'll get to see Japan's cherry blossom in person.
Editor's Note: The post was originally shared on March 23, 2017. It's been updated in March 2021.