Inari Sushi is a traditional sushi of vinegared rice tucked inside sweet and salty deep-fried tofu pockets. Known as Inarizushi in Japan, they are one of the easiest types of sushi to make at home and are beloved by children and adults alike. This vegetarian- and vegan-friendly sushi is perfect for a snack, a picnic lunch, or as part of your sushi dinner platter.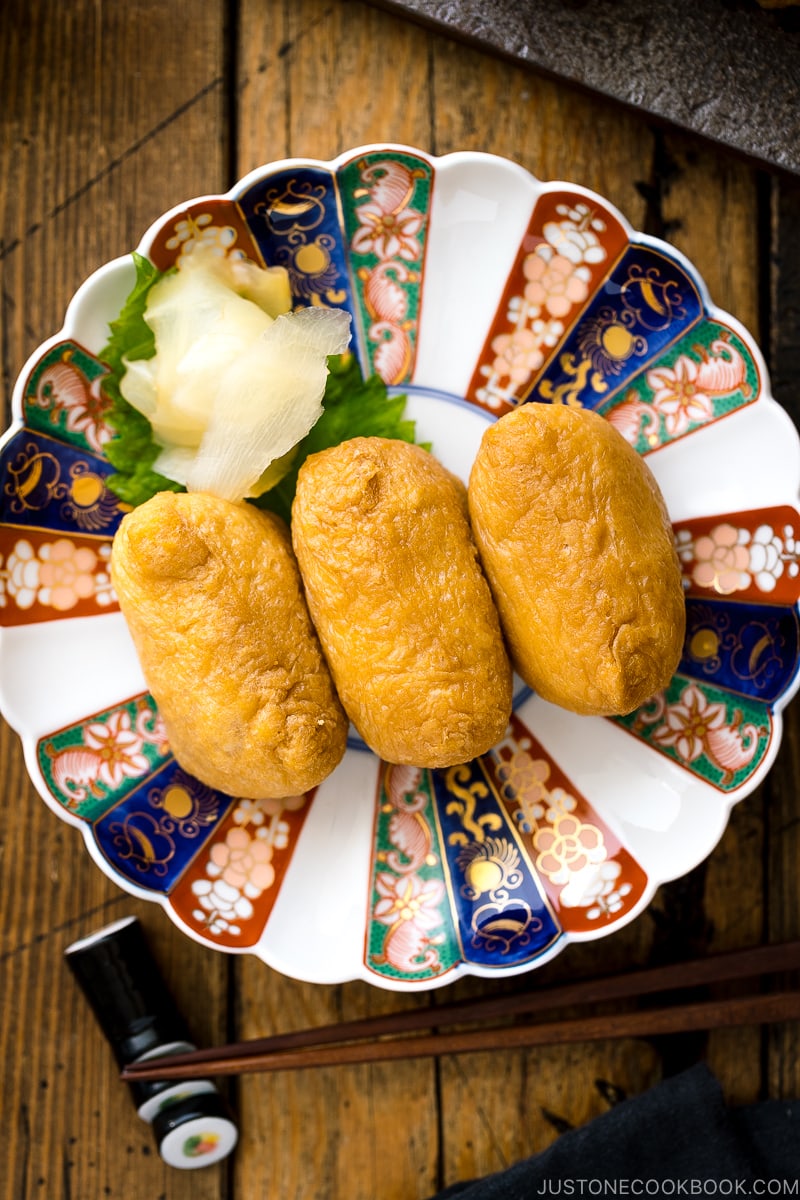 Looking for an easy sushi recipe to make at home? You won't go wrong with Inari sushi (稲荷寿司). You can enjoy tasty, filling, and addicting Inari sushi at any time of the day. They make a satisfying little snack and the perfect finger food to serve at your next home gathering. In this recipe, I'll show you how to make proper sushi rice and two variations of Inari sushi.
What Is Inari Sushi?
Inari sushi (稲荷寿司, いなり寿司), or Inarizushi as we call it in Japan, are made of sushi rice that we stuff inside seasoned deep-fried tofu pockets/pouches called Inari age. The tofu pockets are cooked in a dashi-based broth. After the tofu pockets absorb all the flavors, we squeeze them to remove the liquid and get them ready to stuff with sushi rice.
With their sweet and savory taste and toothsome bite, these little golden pockets are the best sushi to enjoy at home, picnic, or on the go. Inari sushi are also a popular item for bento boxes, and you may see this type of sushi packed at the deli along with sushi rolls.
The Origin of Inari Sushi
Behind its popularity, Inari sushi has a fascinating story. It gets its name "Inari" directly from the deity who protects the crops. At Inari shrines in Japan, people bring the deep-fried tofu pockets–what we call aburaage (油揚げ)–as offerings and place them in front of the fox statues on the shrine grounds.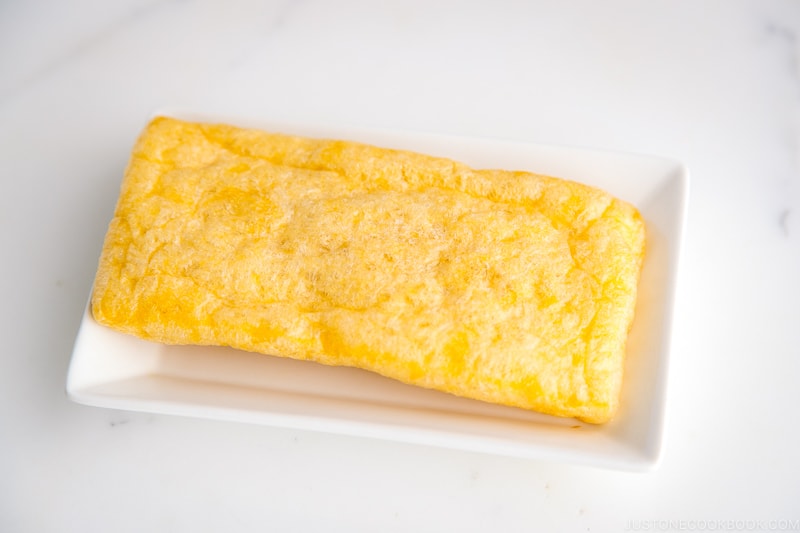 It is said that foxes are the messengers of the Inari god and it's believed that they like aburaage. Eventually, newly harvested rice was added as a filling to the fried tofu pockets to show gratitude for good crops towards the Inari god.
Hence, the dish was named Inarizushi or Oinari-san (O is an honorific prefix, and -san is an honorific title) and the Japanese have enjoyed it for over 170 years.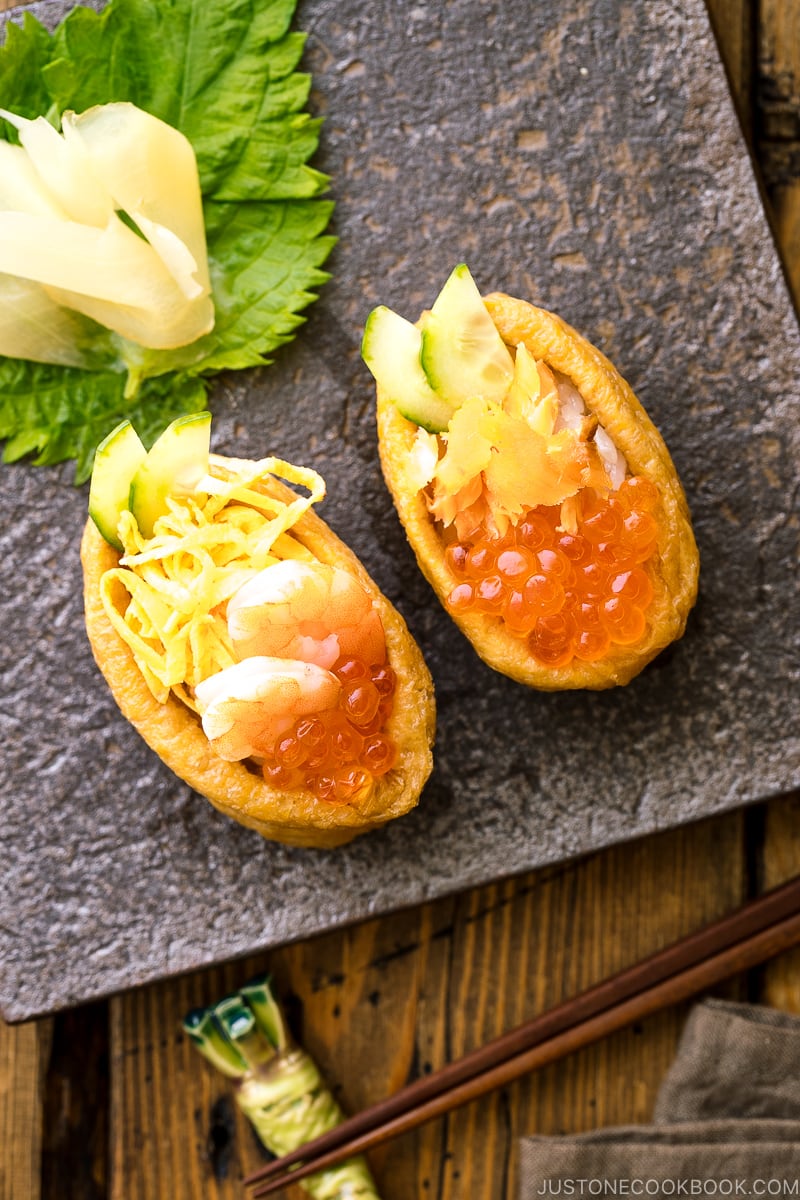 Tokyo vs. Osaka Style Inari Sushi
In Japan, Inari sushi in the Tokyo area and the ones in the Osaka area are actually different in shape. In the Tokyo area, Inari sushi is shaped like a straw bag and the sushi rice is completely wrapped inside.
Whereas in the Osaka area, you will find fox-ear-like triangle-shaped Inari sushi that exposes the sushi rice at the bottom. Other versions include straw bag-shaped Inari sushi that is decorated with colorful ingredients on the top opening. Sometimes sushi rice inside the tofu pocket is mixed with various ingredients to give additional flavors and texture.
Tokyo-Style Inari Sushi
Straw bag-shaped
Sushi rice is completely covered in Inari age
Osaka-Style Inari Sushi
Triangle-shaped (sushi rice is exposed on the bottom)
Straw bag-shaped (opening on the top, decorated with colorful ingredients)
Sushi rice is mixed with ingredients like Osaka-style chirashi sushi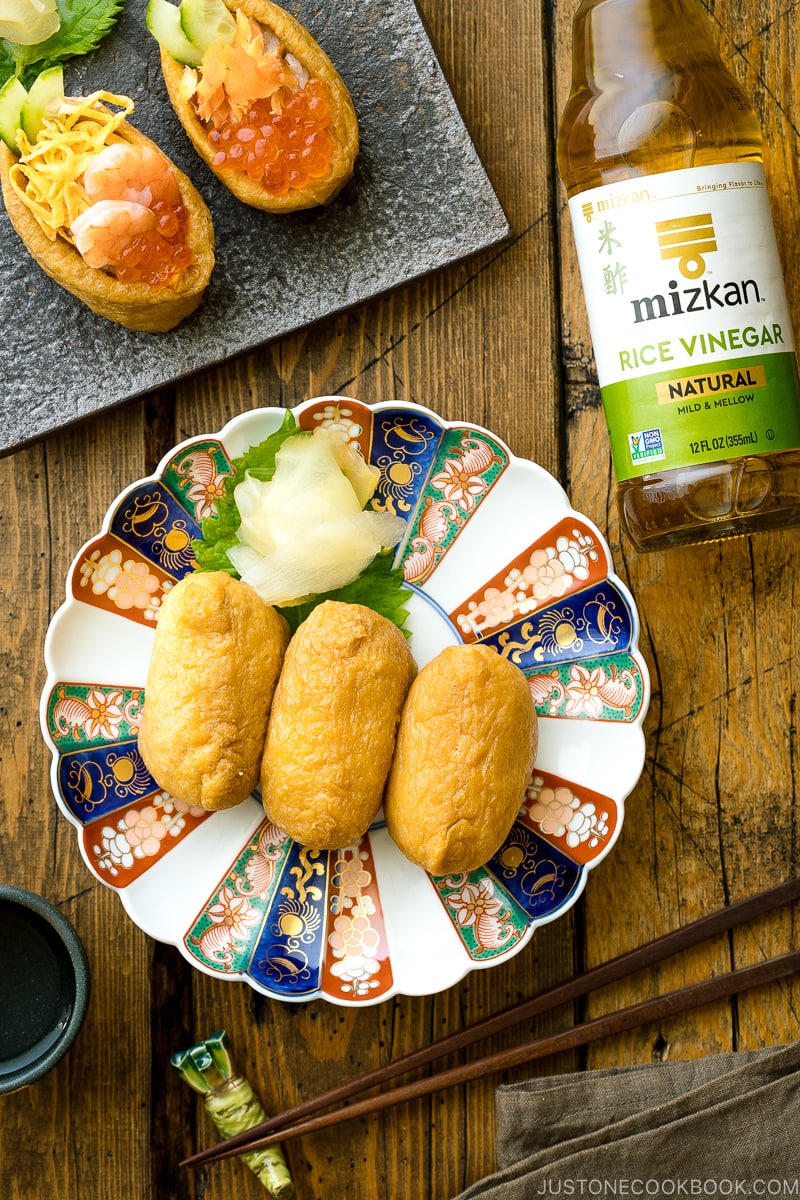 How to Make Inari Sushi
Inari sushi is made in three simple and easy steps.
Make homemade Inari age* by simmering tofu pockets in sweet and savory dashi-based broth. Or, buy packaged Inari age from a store.
Make sushi rice. Cook rice with kombu (dried kelp) and season the cooked rice with sushi vinegar.
Stuff the sushi rice into the tofu pockets.
It all comes together very quickly once you make the sushi rice.
*If you have an extra hour, I recommend making homemade Inari age. You can even make it in advance and freeze it!
Homemade vs. Store-Bought Inari Age
Homemade Inari age are the best, in my opinion, especially because store-bought ones tend to be a lot sweeter. However, there are benefits for store-bought Inari age. Let's compare the two.
Homemade Inari Age: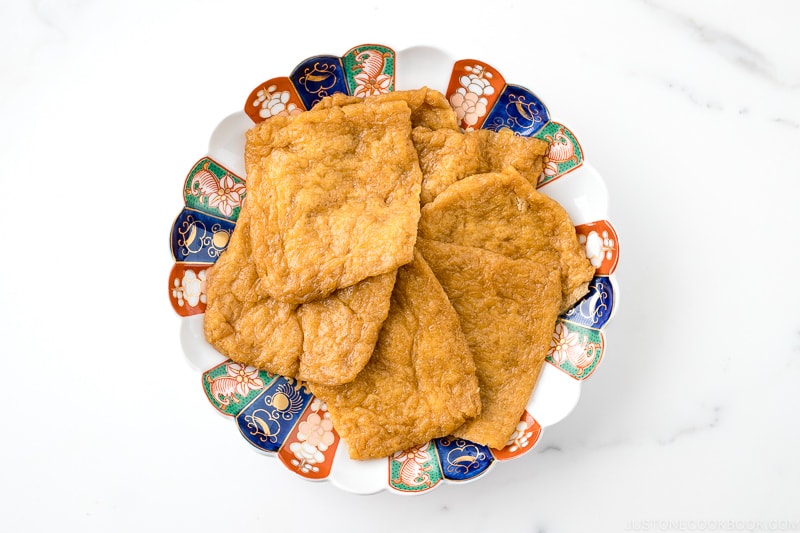 Natural ingredients and no preservatives.
You can adjust the seasonings – less soy sauce, less sugar, etc.
Vegetarian/vegan-friendly with the use of kombu dashi.
Store-bought Inari Age: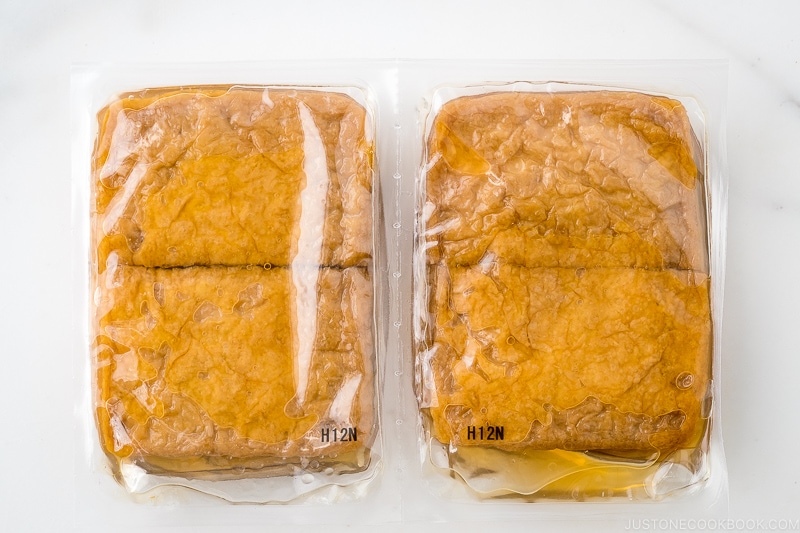 To make homemade Inari age, you'll need deep-fried tofu pouches, but they can be hard to find. According to JOC readers around the world, ready-made Inari age are more accessible at their local Japanese/Chinese/Korean grocery stores.
Shorten cooking time for Inari sushi by roughly one hour.
When I have time, I make my own Inari age; otherwise, I use the store-bought Inari age for Inari sushi or kitsune udon. When I make homemade Inari age, I make sure to double or triple my recipe and freeze them for later use.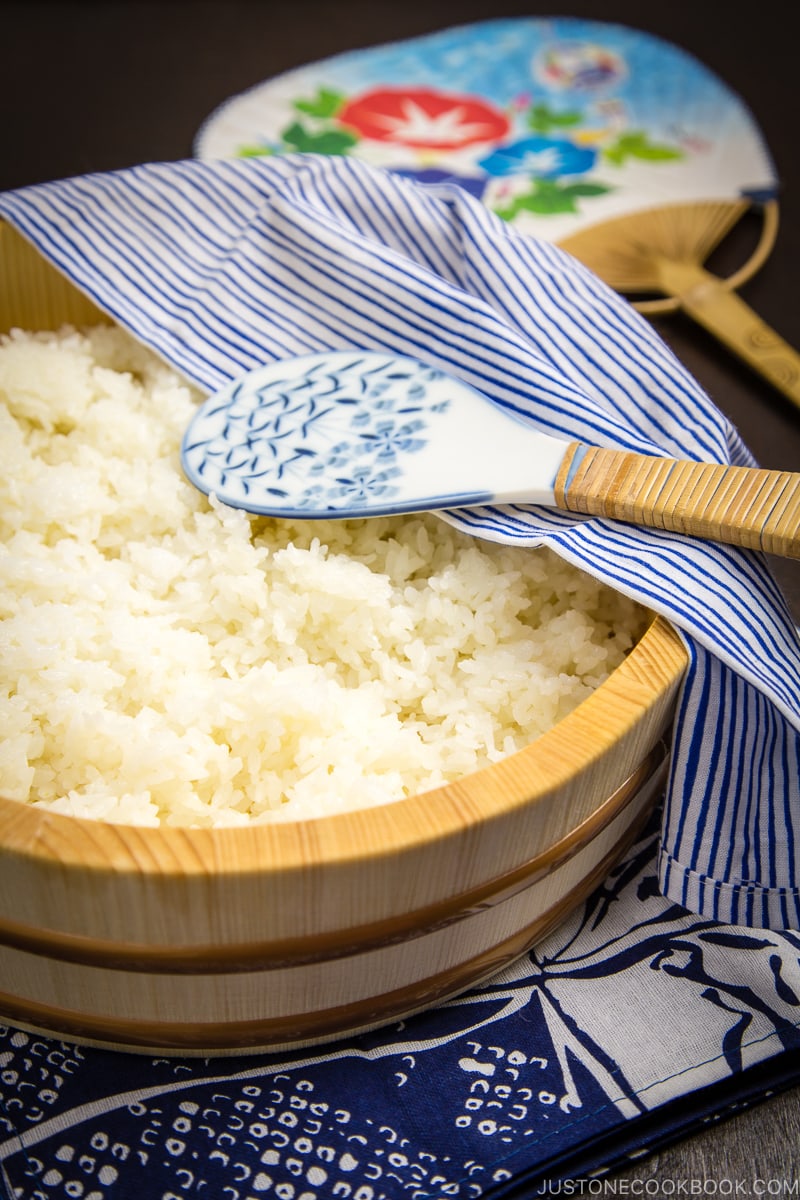 How to Make Delicious Sushi Rice
When we say "sushi rice" in Japan, it always means the seasoned steamed rice that we use to make all kinds of sushi. We never use unseasoned regular steamed rice to make sushi.
Sushi rice (sumeshi 酢飯) is made with short-grain rice cooked in kombu-steeped water and then seasoned with sushi vinegar.
Sushi vinegar (sushizu 寿司酢) is made with just three ingredients–rice vinegar, sugar, and salt. It gives the rice a beautiful shine and delicious flavor, perfect for all kinds of sushi. You can find my detailed technique for preparing sushi rice in the recipe card.
I can't emphasize enough that it's important to use rice vinegar, not other types of vinegar you may have in the pantry. Rice vinegar is a lot milder than the other kinds of vinegar. The only brand I've been using ever since I started cooking is Mizkan Natural Rice Vinegar.
I personally use many types of Mizkan sauces and condiments for my home cooking. As a leading brand in Japan for over 215 years, I trust Mizkan for bringing authentic Japanese flavors to our dinner table.
For convenience, I also keep a bottle of sushi vinegar at home when I need to make sushi rice in a pinch. Sweet, mild, and versatile, Mizkan Seasoned Rice Vinegar is my go-to sushi vinegar to accent many Japanese dishes!
For Japanese-inspired recipes and other quick and delicious usage ideas, you can follow Mizkan on Facebook, Instagram, Twitter, and Pinterest.
Inari Sushi Cooking Tips
When Making Sushi Rice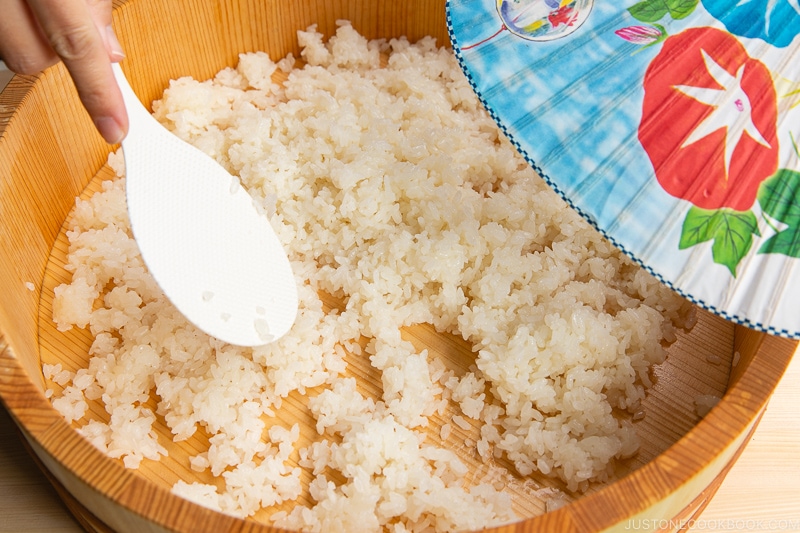 Use only Japanese short-grain rice. Do not use any other type of rice as it won't be sticky enough and will fall apart easily. Read more here.
Make sure to use rice vinegar, not other kinds of vinegar.
Use a large bowl (I use a sushi oke or hangiri here) or a baking sheet to cool and season the cooked rice.
"Slice" the rice, instead of mixing the rice, so the rice will not get mushy.
Fan the cooked rice to cool it, which gives a beautiful shine to the rice!
When Stuffing Sushi Rice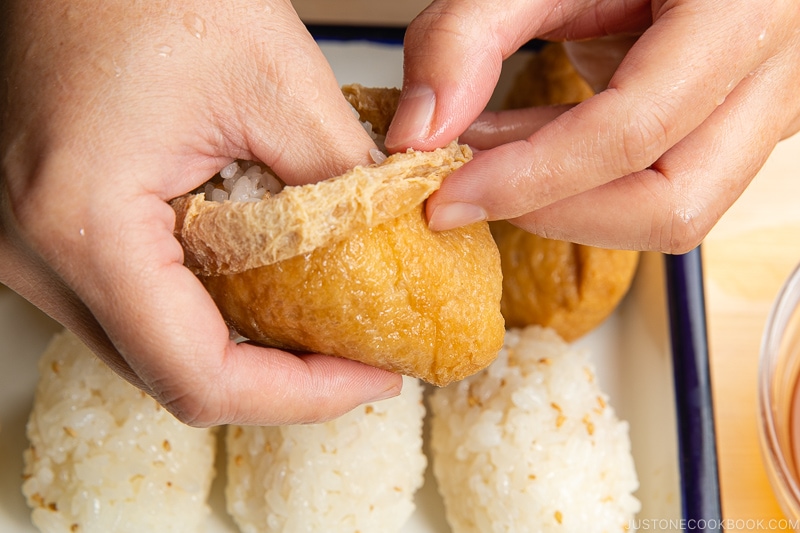 Carefully open the tofu pockets. They are so fragile, so take your time as you open the pockets.
Don't stuff too much rice. Start with a small amount. You can always add more.
Stuff the rice into two corners. This is very important to achieve the perfect round corners.
For Osaka-style Inari sushi, flip upside down and show the rice. Tuck in the edge of the Inari age inside the bag, so it will have a round smooth edge. You can decorate the top with shredded egg crepe called kinshi tamago, ikura, cooked shrimp, cucumber slices, or any toppings you like!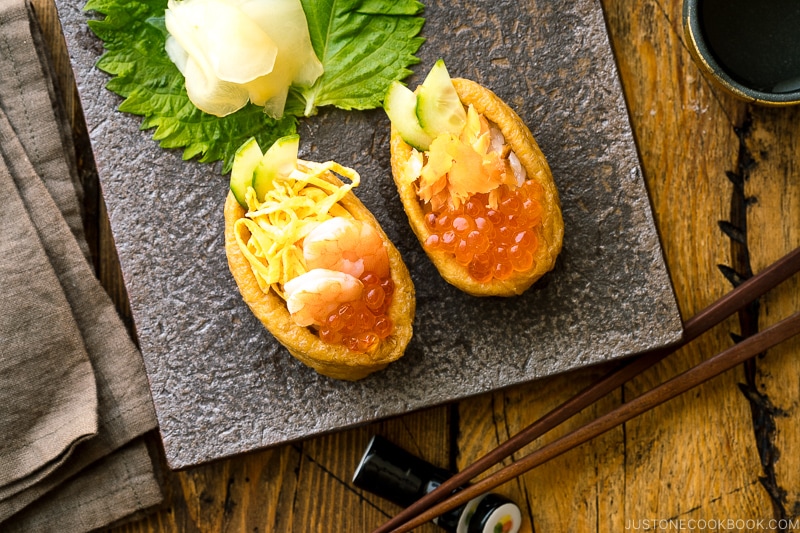 The Perfect Sushi to Enjoy Anytime
For those who enjoy cooking with your kids, you want to give Inari sushi a try! Together, you can stuff the sushi rice into the tofu pockets. It's super fun and ridiculously easy.
I love packing Inari sushi in a bento box with some vegetables for a simple quick lunch. For dinner, you can serve Inari sushi with futomaki, hosomaki, or temaki sushi (hand roll sushi) as part of your sushi meal. They make the perfect afternoon snack too!
Tableware from Musubi Kiln
I've partnered with a great ceramic online shop from Japan called Musubi Kiln. You will get 10% off with a coupon code JUSTONECOOKBOOK for your purchase. In this post, I've used: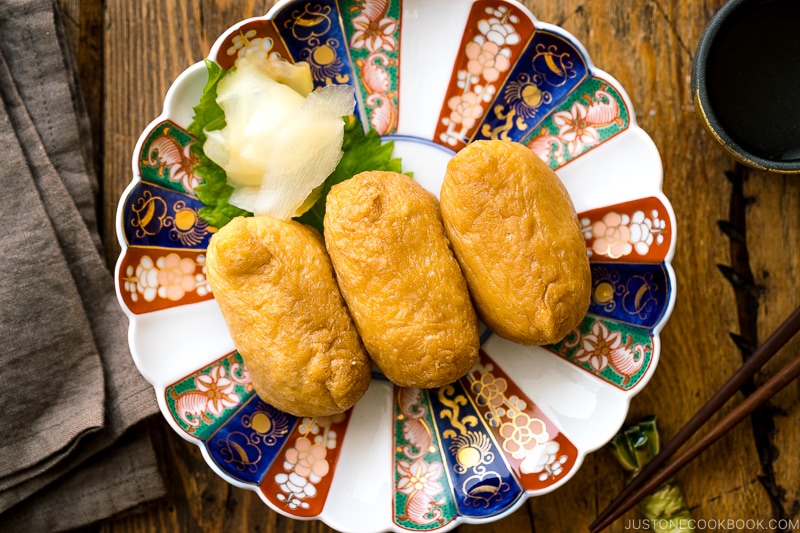 Wish to learn more about Japanese cooking? Sign up for our free newsletter to receive cooking tips & recipe updates! And stay in touch with me on Facebook, Pinterest, YouTube, and Instagram.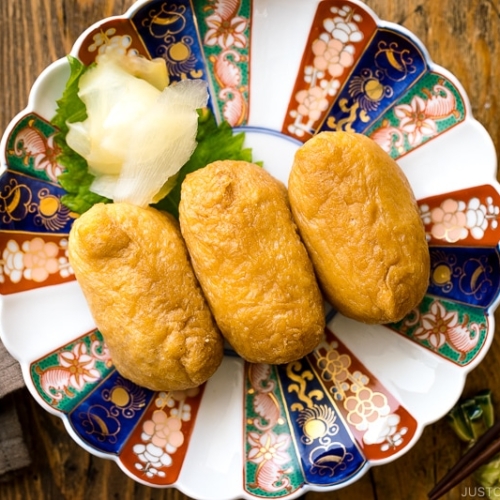 Inari Sushi
Inari Sushi is a traditional sushi of vinegared rice tucked inside sweet and salty deep-fried tofu pockets. Known as Inarizushi in Japan, they are one of the easiest types of sushi to make at home and are beloved by children and adults alike. This vegetarian- and vegan-friendly sushi is perfect for a snack, a picnic lunch, or as part of your sushi dinner platter.
Servings:
12
Inari Sushi (3–4 pieces per serving)
Japanese Ingredient Substitution:
If you want substitutes for Japanese condiments and ingredients, click
here
.
Instructions
Before You Start: Please note that the time for rice cooking varies depending on how you cook it. It usually takes about 45 minutes to 1 hour.
To Cook the Sushi Rice
Gather all the ingredients. You must use Japanese short-grain rice or your sushi will fall apart. Please note that ¾ US measuring cup of uncooked Japanese rice is 1 rice cooker cup (150 g, 5.3 oz) and yields roughly 1¾ US cups (330 g, 11.6 oz) of cooked rice. The rice-to-water ratio for sushi rice is 1 to 1, instead of 1 to 1.1 or 1.2 for regular steamed rice. For this recipe,

2

rice cooker cups of uncooked rice yield roughly

3–4

servings (

3½

US cups or

660

g) of steamed rice and make

12

Inari sushi pieces.

First, wash

1½ cups uncooked Japanese short-grain white rice

: Place the measured rice in a bowl. Do an initial quick rinse by adding just enough water to submerge all the rice, then discard the water immediately; repeat this quick rinse once more. Next, wash the rice using your fingers to gently agitate the wet grains in a circular motion for 10–15 seconds. Then, rinse it by adding water and immediately discarding the cloudy water; repeat this rinse once more. Repeat the wash and rinse steps two more times. Finally, drain the rice very well in a fine-mesh sieve and shake off any excess water.

Put the well-drained rice in the inner pot of your rice cooker. Add

1½ cups water

(to just under the

2

-cup water line of your inner pot for

2

rice cooker cups of uncooked rice). If your rice cooker has a Sushi Rice mode, add water up to that line. Next, check

1 piece kombu (dried kelp)

to see if there are any dirt particles and wipe off with a damp cloth, but do not wipe off the white powdery umami substance. Next, place the kombu on top of the rice. Let the rice and kombu soak in the water for 20–30 minutes. Then, start cooking. If you don't have a rice cooker, cook the rice in a pot on the stove or an Instant Pot with the amount of water I specified in this recipe.
To Add the Sushi Vinegar
While the rice is cooking, make the sushi vinegar. Combine

4 Tbsp rice vinegar (unseasoned)

,

2 Tbsp sugar

, and

1 tsp Diamond Crystal kosher salt

in a small bowl. Microwave it for 30–40 seconds and whisk until the sugar is completely dissolved. Alternatively, you can put it in a saucepan and bring it to a boil over medium-high heat and whisk to dissolve the sugar. Set it aside and let it cool to lukewarm or room temperature.

If using a wooden sushi oke (also called hangiri), moisten it with running water and drain well. You can also use a baking sheet lined with parchment paper. When the rice is cooked, discard the used kombu (or repurpose it to make simmered kombu) and transfer the hot cooked rice into the sushi oke. Spread out the rice evenly so it will cool faster.

While the rice is hot, gradually drizzle the sushi vinegar all over the rice. With a rice paddle, gently "slice" the rice at a 45-degree angle to distribute the sushi vinegar mixture and break up the chunks of rice. Gently flip the rice in between slices. Do not stir or mix the rice because the grains may break and become mushy. While using this slicing motion, vigorously fan the rice with a paddle fan or other fan. Fanning cools the rice and removes the excess moisture. It also makes the rice shine and keeps it from becoming mushy. Slice and fan until the rice is cooled to the temperature of human skin. Then, cover the prepared sushi rice with a damp towel (or paper towel) and keep it for up to a few hours at room temperature.
To Make the Inari Sushi
Now, let's make the Inari sushi! Take out

12 Inari age (seasoned fried tofu pouch)

from the refrigerator.

Sprinkle

1 Tbsp toasted white sesame seeds

over the sushi rice and gently "slice" the rice again to combine. Next, divide the sushi rice into quarters; you'll make three Inari Sushi pieces with each quarter of sushi rice.

Pour the seasoning/cooking liquid from the seasoned Inari age container (or package) into a small bowl. Moisten your hands with this seasoned liquid and place a small handful of sushi rice (about ¼ cup) in your palm.

Gently form the sushi rice into an oblong shape. Your hands should be just firm enough so the sushi rice doesn't fall apart. Try to keep the density of the sushi ball as airy as possible. You don't want to squeeze the rice too tightly. Repeat with the rest of sushi rice. You should be able to make

12

sushi rice balls.

Squeeze out the seasoned Inari age and carefully open the Inari age pockets, separating the skin all the way to the bottom of the pocket. Be gentle, as the skin is thin. Then, fold back the skin at the opening.

Stuff each sushi rice ball into the Inari age pockets. Stuff the rice all the way into the pocket so that the two pocket corners look smooth and round.

Finally, close the Inari Sushi: First, unroll the skin at the opening, then fold both side edges down onto the sushi rice ball.

Then, fold the front and back edges down like you're wrapping a present. Place the sealed Inari Sushi seam side down onto a plate or tray. Continue with the rest of the pockets. Your Inari Sushi are now ready to serve.
To Make the Kansai-Style Version (optional)
To make Kansai-style Inari Sushi (optional), decorate the top with colorful ingredients. After stuffing it with sushi rice, keep the pocket open on top and tuck the edges of the Inari age inside the pocket so you will have smooth, round edges. Then, you can add any toppings you like. Here, I used sliced cucumber, ikura (salmon roe), shredded egg crepe (kinshi tamago), boiled shrimp, and cooked salmon flakes.
To Serve
Serve the Inari Sushi at room temperature. Garnish with

5 shiso leaves

and

sushi ginger (gari)

, as desired.
To Store
You can keep the leftovers in a cool place for several hours but consume them within the same day they're prepared. You can also store them in the refrigerator for up to 24 hours. I highly recommend placing them in an airtight container or on a plate wrapped tightly with plastic and then wrapping the entire container or plate with a thick kitchen towel. The towel insulates the sushi rice from the cold air in the refrigerator so the rice doesn't get hard. If you have leftover Inari age, you can store it with its liquid in the freezer for up to a month. If you store it in an airtight container in the refrigerator, we recommend using it within 2–3 days.
Nutrition
Nutrition Facts
Inari Sushi
Amount per Serving
% Daily Value*
* Percent Daily Values are based on a 2000 calorie diet.
©JustOneCookbook.com Content and photographs are copyright protected. Sharing of this recipe is both encouraged and appreciated. Copying and/or pasting full recipes to any website or social media is strictly prohibited. Please view my photo use policy
here
.
Editor's Note: The post was originally published on February 28, 2011. It's been updated with new images and revised blog content in December 2021.
Our Recommendations for Buying Sashimi Online


When we have a sudden craving for sashimi we usually buy from our local Japanese supermarkets. If you don't have a reliable shop to purchase quality sashimi nearby, we would recommend buying from Catalina Offshore online.
They've been in business for over forty years and all the sashimi products we've tried from them are outstanding. Use J1COOK20 for 10% discount. Disclosure: We earn a small percentage commission from your purchase of products linked to Catalina Offshore.