Learn how to make delicious Sushi Rolls (Hosomaki) at home with step-by-step instructions and a tutorial video. To get started, you just need a few ingredients like tuna, cucumber, nori, and Japanese short grain rice.
For today's recipe, I'll show you how to make the best known and popular Japanese food, Sushi Rolls!  Even though you might not have tried making sushi at home before, don't worry.  I will explain in detail with lots of good tips and advice as well as video tutorial and step-by-step pictures on how to make these delicious rolls at home!
You can put different ingredients inside but for today, we'll be making Tuna Rolls, Cucumber Rolls, and Natto Rolls.
Watch How To Make Sushi Rolls (Hosomaki) 細巻きの作り方
Making delicious sushi rolls at home is easy, you just need a few ingredients like tuna, cucumber, nori, and short grain rice.
What are Sushi Rolls?
First of all, what's Sushi?  Sushi is any dish that consists of vinegared rice ("Sushi Rice") combined with other ingredients such as seafood and vegetables.  Some people think sushi means RAW fish and sushi rice is a type of short-grain Japanese rice, but they're not.
When the sushi rice is wrapped in nori (seaweed) and rolled, it is a Sushi Roll.  In Japan we call it Makizushi or Maki Sushi (巻き寿司). There are several types of sushi rolls:
Hosomaki (細巻き) – Thin rolls (1″ in diameter), nori on outside, containing 1 ingredient
Chumaki (中巻き) – Medium rolls (1-1.5″ in dameter), nori on outside, containing 2-3 ingredients
Futomaki (太巻き) – Thick rolls (2-2.5″ in diameter), nori on outside, containing 4-5 ingredients
Uramaki (裏巻き) – "Inside-out" rolls (nori on the inside – like California Roll)
Temaki (手巻き) – Cone-shaped hand rolls – Click for Recipe
What kind of
Sushi Rolls

are available?

Traditional Edo-Style Sushi Rolls are hosomaki which consists of one main ingredient and usually wrapped with nori on the outside.  How many of these do you know or tried before?
Tuna Roll (Tekka Maki) – Today's recipe
Cucumber Roll (Kappa Maki) – Today's recipe
Fermented Soybean Roll (Natto Maki) – Today's recipe
Dried Gourd Roll (Kanpyo Maki)
Pickled Daikon Roll (Shiko Maki)
Pickled Plum & Cucumber Roll (Umekyu)
Eel/Sea Eel & Cucumber Roll (Unakyu or Anakyu Maki)
Tuna & Scallion Roll (Negitoro Maki)
Yellowtail & Scallion Roll (Negihama Maki) – Click for Recipe
Western Style Sushi Rolls consist of multiple ingredients and most of them are inside-out rolls (uramaki).  A lot of restaurants create their own version of combination and unique names, but here are some common ones.
You don't see your favorite sushi rolls in the list?  Let me know your favorite sushi roll in the comment below! 😉
Now let's make Sushi Rolls!
Today we'll make these traditional sushi rolls – Hosomaki.  They are much easier to roll than thick sushi rolls, so they are perfect for practicing before you move on to sushi rolls like California Rolls and Dragon Rolls.  We'll make Tuna Roll, Cucumber Roll, and Natto Roll.  Tuna and cucumber rolls are the most popular Hosomaki and you have probably seen or eaten these at Japanese restaurants.  If you don't eat raw fish or cucumber, you can substitute with other ingredients of your choice.
What ingredients do you need to make Sushi Rolls at home?
The ingredients for today's recipe are actually simpler than you might imagine.  You need just FOUR items to make sushi rolls: sushi rice, the fillings of your choice, nori sheet, and bamboo sushi mat.
1. Sushi Rice (酢飯)
One of the important ingredients to make sushi rolls is to have the right sushi rice.  The steamed short grain rice should be seasoned with sushi vinegar.  If you need the directions on how to make sushi rice, you can watch this video or read/print out the recipe from How To Make Sushi Rice post.
2. The Fillings
Traditionally the fillings for hosomaki is either (raw or cooked) seafood or vegetables.  However, if you don't eat raw fish, you can use other ingredients you like.  Experiment what food works for your preference.
If you're looking for sahimi/sushi-grade fish, check your local fishmongers and Japanese grocery stores.  Check online to see if there is any stores nearby.  If there are no stores around you and if you live in the U.S. (48 contiguous US), my store FishforSushi.com sells high quality sashimi and deliver to your door step.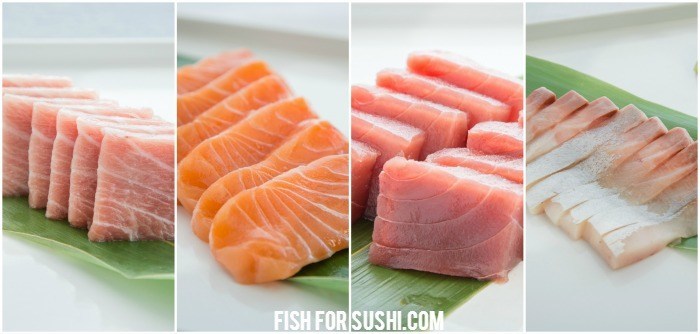 3. Nori Sheet (Roasted Seaweed)
There are many types of "seaweed" used in Japanese cooking, but for sushi roll we need dried seaweed.  They are roasted and look like sheets of paper.  We use half sheet of nori for this recipe, but depends on the type of roll, we use half, 3/4, or whole sheet of nori.
Please remember that nori gets stale easily; therefore, once you open the package, store in an airtight container or a plastic bag (remove the air before closing) and keep in the refrigerator.
4. Bamboo Sushi Rolling Mat (Makisu

巻き簾

)
A bamboo sushi mat or Makisu (巻き簾) is made of bamboo and used to make sushi rolls and egg omelette like Tamagoyaki and Datemaki.   
The left sushi mat has round and flat (green) side and each bamboo strip is wider and bigger round shape.  The right sushi mat has narrower round bamboo strips with no flat side.  For today's sushi roll recipe, I highly recommend the sushi mat on the right because it is more flexible when you shape the sushi roll.
I found this cool set of sushi oke/hangiri, bamboo mat, and rice paddles from Amazon for $16.65!  If you have a sushi party often, this is a must!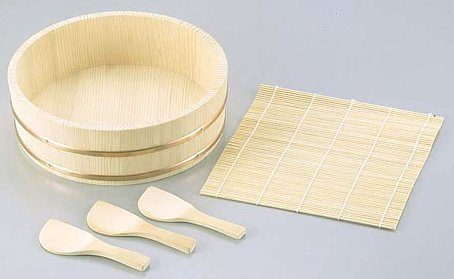 If you don't want to purchase a bamboo mat, you can actually use a thick, hard texture kitchen towel folded into the similar size as a bamboo sushi mat, or use a place mat similar to the bamboo mat.

Don't want to miss a recipe? Sign up for the FREE Just One Cookbook newsletter delivered to your inbox! And stay in touch on Facebook, Google+, Pinterest, and Instagram for all the latest updates. Thank you so much for reading, and till next time!
Sushi Rolls
Learn how to make delicious Sushi Rolls (Hosomaki) at home with step-by-step instructions and a tutorial video. To get started, you just need a few ingredients like tuna, cucumber, nori, and Japanese short grain rice.
Instructions
Gather all the ingredients.

Prepare Sushi Rice. To follow a detailed step-by-step instruction, please

click here

. Cover the sushi rice and the completed rolls with a damp cloth/plastic wrap at all times to prevent from drying.

Cut both ends of the cucumber. Then cut in half lengthwise and cut again in half so you now have 4 strips. Remove the seeds with knife and cut in half lengthwise again. You should end up with 8 cucumber strips.


Cut the tuna into ¼- ½" slices and then cut into ¼- ½" thick long strips.


Take out the natto from the container and season with soy sauce or seasoning that came with the package. Mix everything up until it's slimy and bubbly.


Make vinegared hand-dipping water (Tezu) by combining ¼ cup water and 1 Tbsp rice vinegar in a small bowl. Applying this water to your hands prevents rice from sticking to your hands.


Cut nori in half. Even though it may look it, Nori sheets are not perfect square; therefore cut the longer side of rectangular in half. Also, nori gets stale easily, so store unused nori in an air-tight bag and take out only as much as you need.


Place the sushi mat on a working surface. The bamboo strings should go sideways so you can roll them up. And put the nori half sheet on the bamboo mat, with one of nori's long side close to the back edge of the mat. Leave about 3-4 slats visible on the side nearest to you. The shiny side of nori should face DOWN.


Moisten your hand before you touch sushi rice.


Scoop a scant ½ cup of sushi rice into your hand. My trick is to use a ½ cup measuring cup. That way the amount of rice for each roll is the same and the rolls will be equal size. Make sure to wet the measuring cup so the rice wont' stick. I know, this is not a "proper" way, but until you can grab a perfect amount of rice each time, this trick will do!


Place the sushi rice on the left center of nori. Now spread the rice across the nori, leaving a 1" space along the top edge of the nori. Use your right hand to spread the rice toward the right and use your left fingers to keep the rice away from the 1" space on the top of the nori.


Spread the rice evenly with both fingers, still keeping the 1" space on the top. Wet your fingers in dipping water if rice starts to stick to your fingers.


Place the filling (tuna, cucumber, natto) at the middle of rice. If your tuna or cucumber is a bit too short, add extra pieces on the end. Hold the filling down using your fingers.


With one swift movement, roll the sushi over the filling and land right where the edge of the rice is (see you still see the 1"nori space after rolling).


Don't move the sushi mat yet and gently shape and tighten the roll with your fingers from outside of the mat. Shape the sushi roll into square (or round). Then finally lift the sushi mat and rotate the roll once to seal the edge of nori. Again gently squeeze and tighten the roll with your fingers.


To cut a sushi roll, wet your knife with a damp towel and cut the roll in half first. You should "push then pull" the knife while cutting through the sushi. Wet the knife again and cut each half roll into 3 pieces. Serve with soy sauce, wasabi, and pickled ginger.

Recipe Notes
Sushi ginger: Homemade recipe, click here.
* Cook time does not include time for cooking rice as it varies depending on device/method you use to cook rice.
*Please use short-grain Japanese rice to make sushi.
*1 rice cooker cup is 180 ml, not same as 1 US cup. 1 cup will make 2 cups of cooked rice. For this recipe, 4 cups of cooked rice (2 cups of uncooked rice) will make 10 Hosomaki (thin sushi rolls).
*There is a convenient Sushi Seasoning available at Japanese/Asian grocery store. You make regular steamed rice, and add the seasonings after rice is cooked.
Equipment you will need:
Recipe by Namiko Chen of Just One Cookbook. All images and content on this site are copyright protected. Please do not use my images without my permission. If you'd like to share this recipe on your site, please re-write the recipe and link to this post as the original source. Thank you.