Learn how to make delicious thin sushi rolls called Maki Sushi (Hosomaki) at home for your next party, picnic, or potluck. To get started, you just need a few ingredients like tuna, cucumber, nori, and Japanese short-grain rice.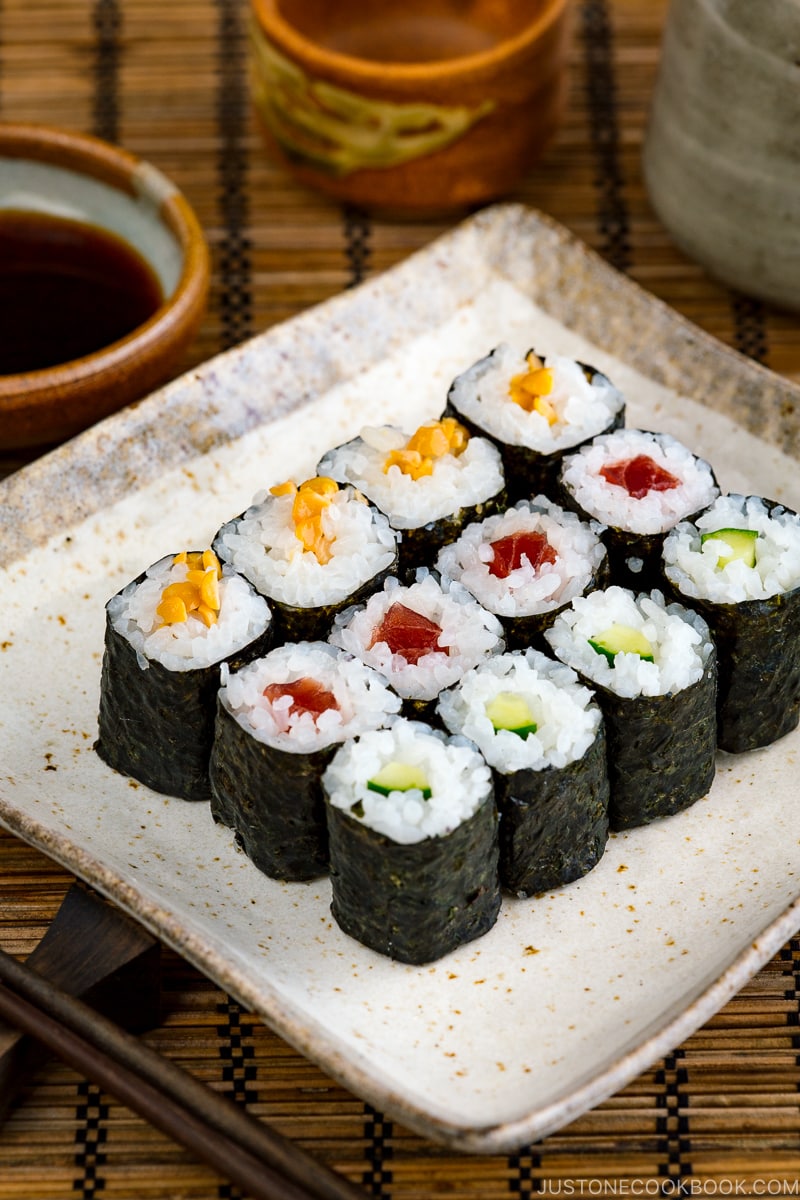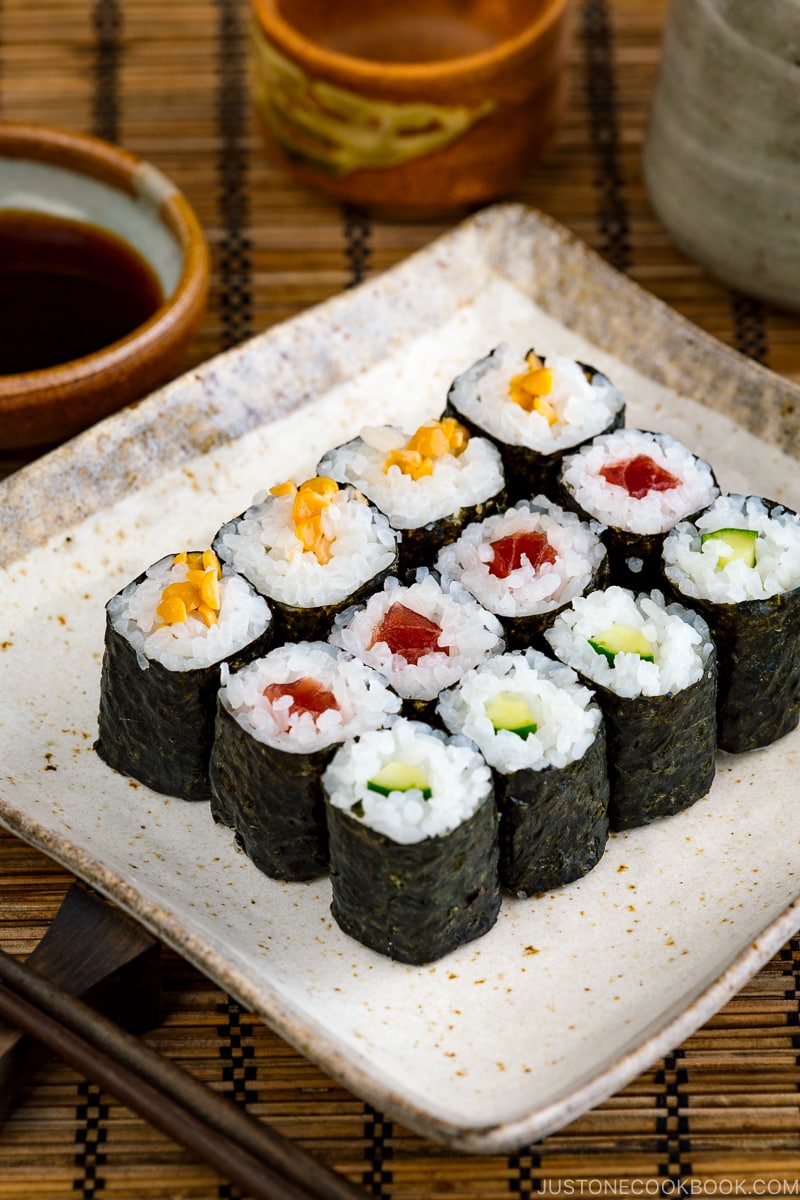 For today's recipe, I'll show you how to make the best known and popular Japanese food, Sushi Rolls or Maki Sushi (巻き寿司)! Even though you might not have tried making sushi at home before, don't worry. I will explain in detail with lots of good tips and advice as well as the video tutorial and step-by-step pictures on how to make these delicious rolls at home!
You can put different ingredients inside but for today, we'll be making Tuna Rolls, Cucumber Rolls, and Natto Rolls.
What are Sushi Rolls?
First of all, what's sushi? Sushi is any dish that consists of vinegared rice (we call it "Sushi Rice") combined with other ingredients such as seafood and vegetables. Some people think sushi means raw fish, but that's not entirely true. There are various types of sushi, and you can find variations here.
When the sushi rice is wrapped in nori seaweed and rolled, it is a sushi roll. In Japan, we call it Makizushi or Maki Sushi (巻き寿司). There are several types of sushi rolls:

Varieties of Sushi Rolls
1. Traditional Edo-style Sushi Rolls
These sushi rolls are hosomaki which consists of one main ingredient and is usually wrapped with nori on the outside. How many of these do you know or tried before?
2. Western Style Sushi Rolls
These sushi rolls consist of multiple ingredients and most of them are inside-out rolls (uramaki). A lot of restaurants create their own version of combinations and unique names, but here are some common ones.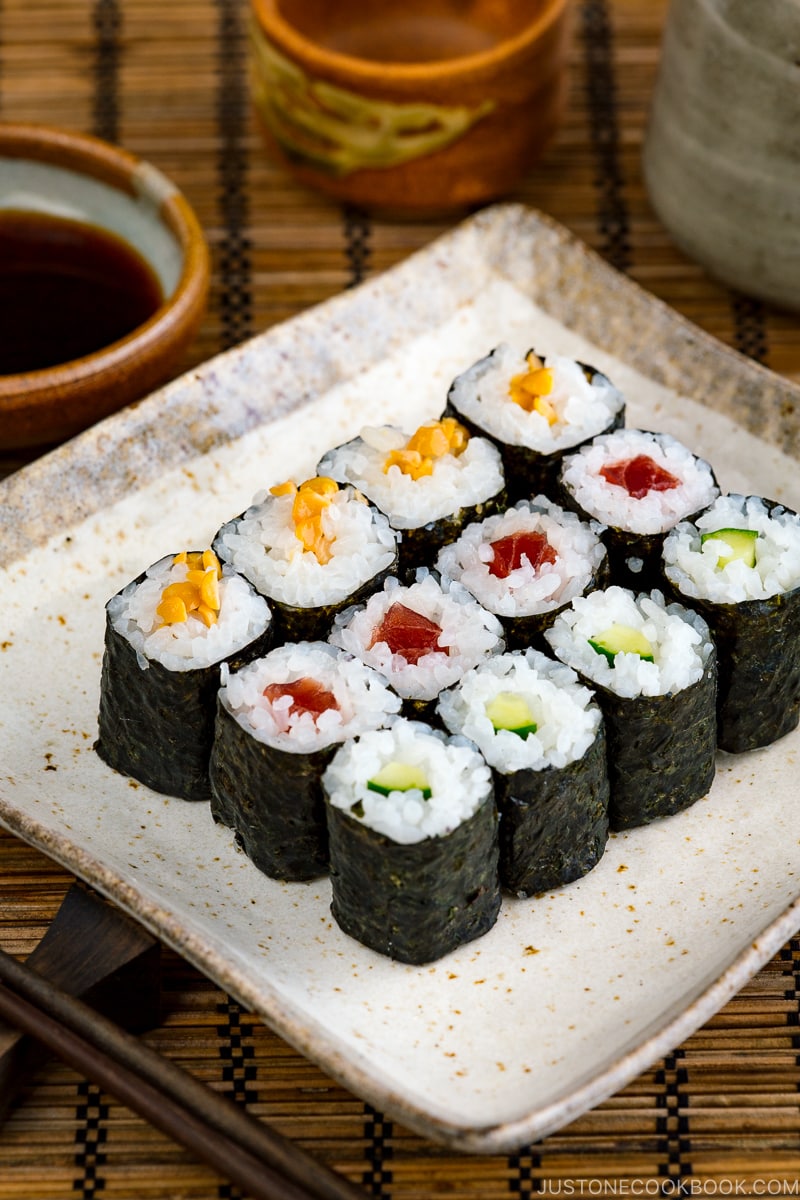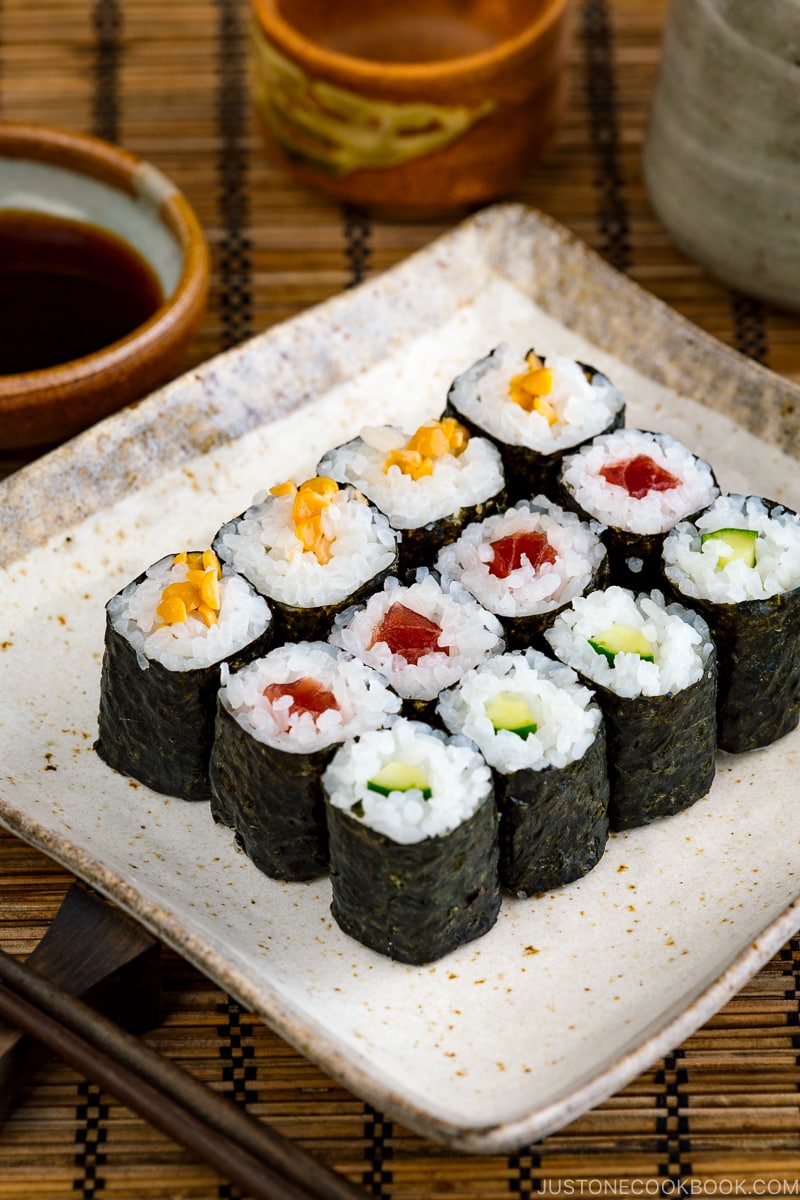 What You'll Need to Make Sushi Rolls
First, you need to prepare 4 key items to make sushi rolls: sushi rice, the fillings of your choice, nori sheets, and a bamboo sushi mat.
1. Sushi Rice
One of the important ingredients to make sushi rolls is to have the right sushi rice. The steamed short-grain rice should be seasoned with sushi vinegar. If you need the directions on how to make sushi rice, you can watch this video or read/print out the recipe from How To Make Sushi Rice post.
Simple instruction on how to make sushi rice with kombu, rice vinegar, sugar, and salt.
2. The Fillings
Traditionally the fillings for hosomaki are either (raw or cooked) seafood or vegetables. However, if you don't eat raw fish, you can use other ingredients you like. Experiment with what food works for your preference. Here are some ideas:
Vegetable and fruit filling ideas: The traditional Japanese fillings include julienned cucumber, pickled daikon, dried gourd, bell pepper, or radish. You can use non-traditional Japanese ingredients such as avocado or mango, if you'd like.
Sushi with raw fish: Sushi-grade salmon or tuna. See below on where to buy sushi-grade seafood.
Sushi without raw fish: Imitation crab sticks, cooked crab meat, canned tuna with spicy mayo, smoked salmon, smoked mackerel, or natto (fermented soybean).
3. Nori Sheet (Roasted Seaweed)
There are many types of "seaweed" used in Japanese cooking, and for making sushi rolls, we need dried seaweed called nori (海苔). They are roasted and look like sheets of paper. We use a half sheet of nori for this recipe but depending on the type of roll, we use half, 3/4, or a whole sheet of nori.
Please remember that nori gets stale easily; therefore, once you open the package, store in an airtight container or a plastic bag (remove the air before closing) and keep in the refrigerator.
4. Bamboo Sushi Rolling Mat (Makisu

巻き簾

)
A bamboo sushi mat or Makisu (巻き簾) is made of bamboo and used to make sushi rolls and egg omelette like Tamagoyaki and Datemaki.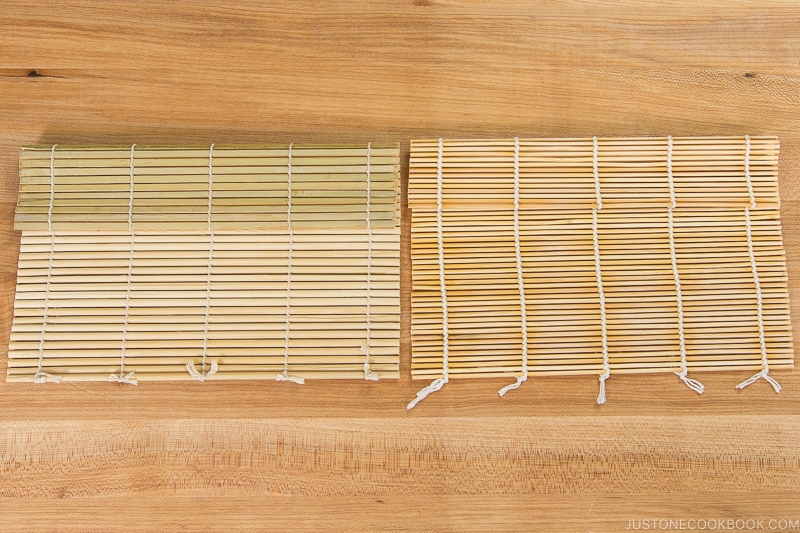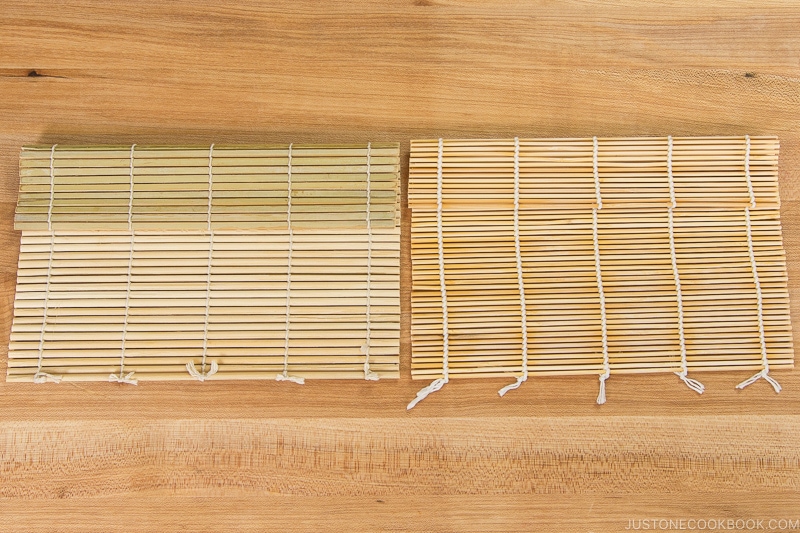 The left sushi mat has a round and flat (green) side and each bamboo strip is wider and bigger round shape. The right sushi mat has narrower round bamboo strips with no flat side. For today's sushi roll recipe, I highly recommend the sushi mat on the right because it is more flexible when you shape the sushi roll.
I found this cool sushi kit, a set of sushi oke/hangiri, bamboo mat, and rice paddles from Amazon for $16.65! If you have a sushi party often, this is a must!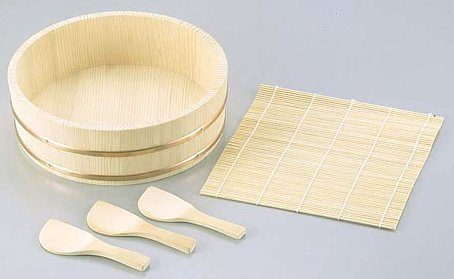 If you don't want to purchase a bamboo mat, you can actually use a thick, hard texture kitchen towel folded into a similar size as a bamboo sushi mat, or use a placemat similar to the bamboo mat.
Where to Buy Sushi Grade Fish (Sashimi)
You can find sushi-grade fish in the sashimi selections of your local Japanese grocery stores.
If you live in San Francisco, you can place an order from TrueFish for local delivery or pickup. I go to the Suruki Supermarket in San Mateo for sashimi. They usually take orders in advance via email. If you are using it for hand roll, ask for the hand roll cut (a stick shape rather than sashimi style).
You can also order online from Catalina Offshore. Use the discount code "J1COOK20" for 10% off.
Practice Makes Perfect!
Today we'll make these traditional sushi rolls – Hosomaki. They are much easier to roll than thick western-style fancy sushi rolls. Consider today's recipe as a practice run before you move on to bigger sushi rolls like California Rolls and Dragon Rolls.
We'll make Tuna Roll, Cucumber Roll, and Natto Roll. Tuna and cucumber rolls are the most popular Hosomaki and you have probably seen or eaten these at Japanese restaurants. If you don't eat raw fish or cucumber, you can substitute it with other ingredients of your choice.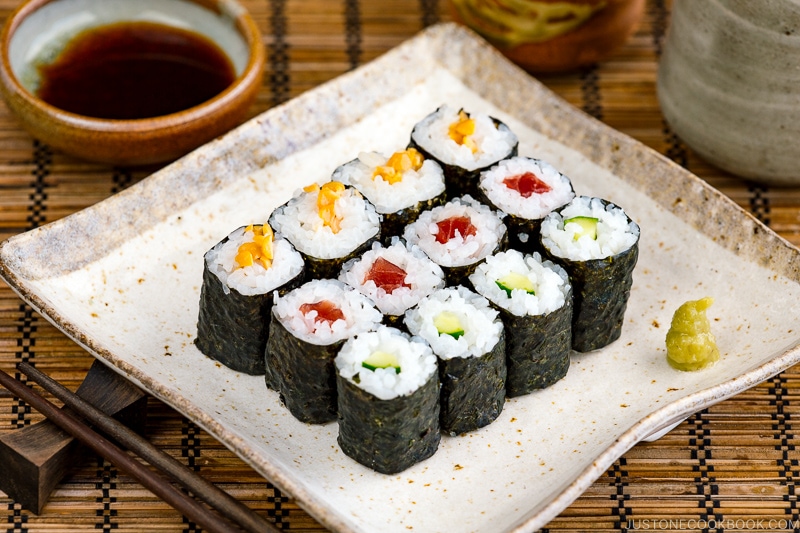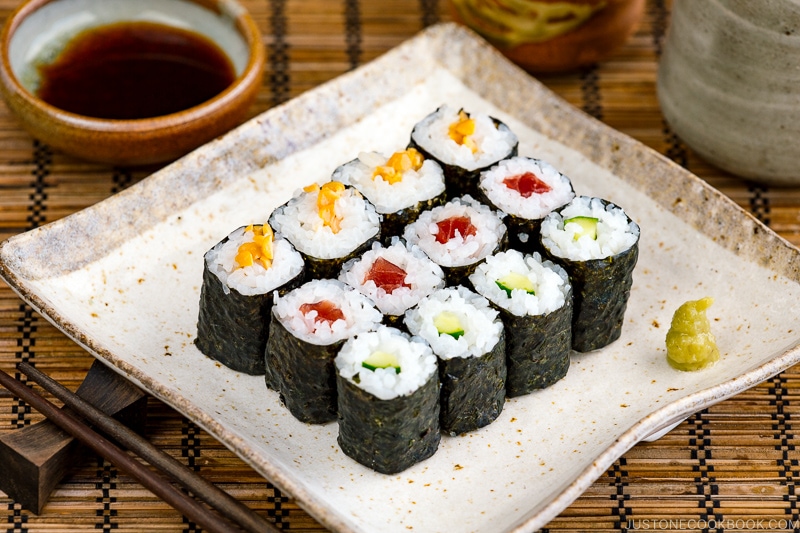 More Sushi Recipes You'll Love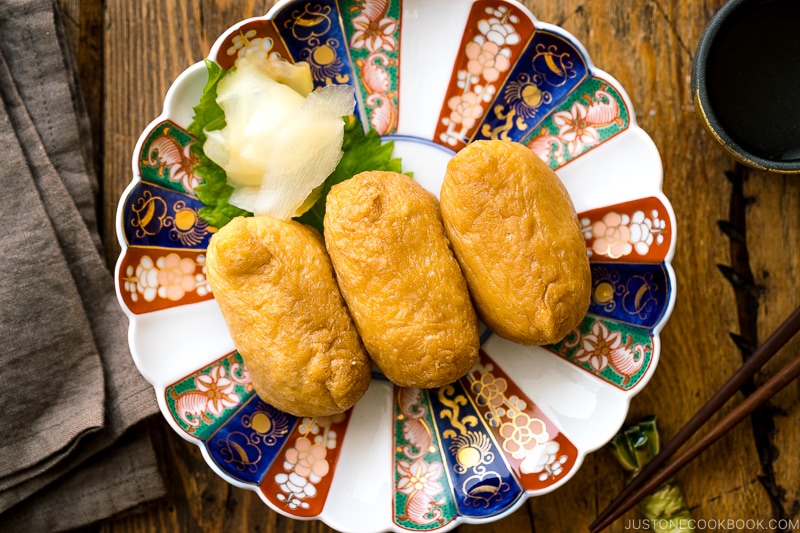 Also, check out our Ultimate Sushi Guide: Sushi Types, Recipes & Etiquette
Wish to learn more about Japanese cooking? Sign up for our free newsletter to receive cooking tips & recipe updates! And stay in touch with me on Facebook, Pinterest, YouTube, and Instagram.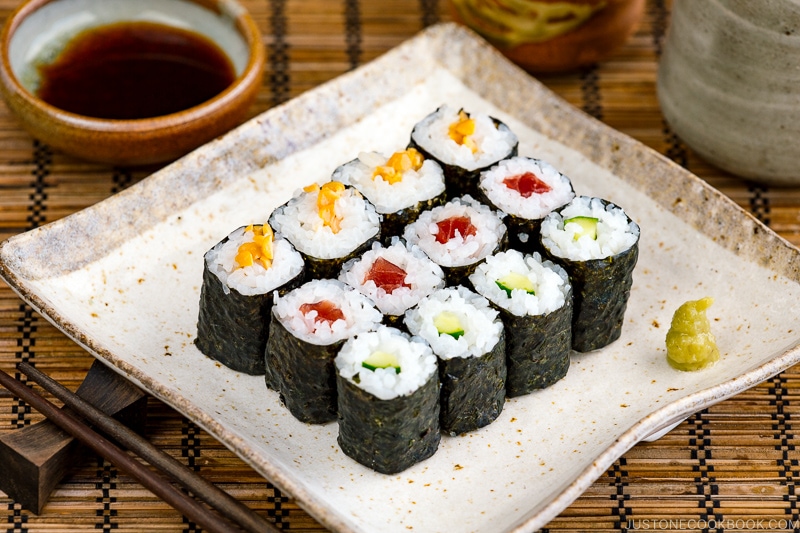 Sushi Rolls (Maki Sushi – Hosomaki)
Learn how to make delicious thin sushi rolls called Maki Sushi (Hosomaki) at home for your next party, picnic, or potluck. To get started, you just need a few ingredients like tuna, cucumber, nori, and Japanese short-grain rice.
Video
Ingredients
Japanese Ingredient Substitution:
If you want substitutes for Japanese condiments and ingredients, click
here
.
Instructions
Gather all the ingredients. Please note that cook time does not include time for cooking rice as it varies depending on device/method you use to cook rice. You will need a bamboo sushi mat.
To Prepare the Sushi Rice
3 rice cooker cups of uncooked short-grain Japanese rice will yield 6⅔ cups of cooked rice and can make 10 Hosomaki (thin sushi rolls). Please follow my Sushi Rice recipe for step-by-step instructions on how to cook the rice and add the sushi seasonings. For this recipe, use 

2¼ cups uncooked Japanese short-grain white rice

, 

2¼ cups water

, and 

1 piece kombu (dried kelp)

 to cook the rice.

For this recipe, use 

⅓ cup rice vinegar (unseasoned)

, 

3 Tbsp sugar

, and 

1½ tsp Diamond Crystal kosher salt

to season the rice. Cover the sushi rice and the completed rolls with a damp cloth/plastic wrap at all times to prevent from drying.
To Prepare the Fillings
Cut both ends of

1 Japanese or Persian cucumber

. Then, cut in half lengthwise and cut again in half so you now have

4

strips. Remove the seeds with knife and cut in half lengthwise again. You should end up with

8

cucumber strips.

Cut

7 oz sashimi-grade tuna

into ¼- to ½-inch slices and then cut into long strips ¼- to ½-inch thick.

Take out

1 box natto (fermented soybean)

from the container and season with the soy sauce or seasoning that came with the package. Mix everything up until it's slimy and bubbly.
To Roll the Sushi
Make vinegared finger-dipping water (tezu) by combining

¼ cup water

and

2 tsp rice vinegar (unseasoned)

in a small bowl. Applying this water to your hands prevents rice from sticking to your hands.

Cut

5 sheets nori (dried laver seaweed)

in half. Even though it may look it, nori sheets are not perfectly square; therefore, cut the longer side of the rectangle in half. Also, nori gets stale easily, so store unused nori in an airtight bag and take out only as much as you need.

Place the sushi mat on a working surface. The bamboo strings should go sideways so you can roll them up. And put the nori half sheet on the bamboo mat, with one of nori's long side close to the back edge of the mat. Leave about 3–4 slats visible on the side nearest to you. The shiny side of nori should face DOWN.

Moisten your hand before you touch sushi rice.

Using a ½-cup measuring cup, measure ½ cup (80 g) of sushi rice into your hand. This way the amount of rice for each roll is the same and the rolls will be equal size. Make sure to wet the measuring cup so the rice won't stick. I know, this is not a "proper" way, but until you can grab a perfect amount of rice each time, this trick will do!

Place the sushi rice on the left center of nori. Now spread the rice across the nori, leaving a 1-inch space along the top edge of the nori. Use your right hand to spread the rice toward the right and use your left fingers to keep the rice away from the 1-inch space on the top of the nori.

Spread the rice evenly with both fingers, still keeping the 1-inch space on the top. Wet your fingers in dipping water if the rice starts to stick to your fingers.

Place the filling of your choice (tuna, cucumber, or natto) at the middle of rice. If your tuna or cucumber is a bit too short, add extra pieces on the end. Hold the filling down using your fingers.

With one swift movement, roll the sushi over the filling and land right where the edge of the rice is (see you still see the 1-inch nori space after rolling).

Don't move the sushi mat yet and gently shape and tighten the roll with your fingers from outside of the mat. Shape the sushi roll into square (or round). Then finally lift the sushi mat and rotate the roll once to seal the edge of nori. Again gently squeeze and tighten the roll with your fingers.


To cut a sushi roll, wet your knife with a damp towel and cut the roll in half first. You should "push then pull" the knife while cutting through the sushi. Wet the knife again and cut each half roll into 3 pieces. Serve with

soy sauce

,

wasabi

, and

sushi ginger (gari)

.
To Store
Sushi rolls should be consumed right away, but they can be stored in the refrigerator for up to 24 hours. I highly recommend keeping them in an airtight container or a plate wrapped tightly with plastic and then wrap around the container/plate with a thick kitchen towel so the food stay safe in a cool environment but rice doesn't get hard from cold air in the refrigerator.
Nutrition
Nutrition Facts
Sushi Rolls (Maki Sushi – Hosomaki)
Amount per Serving
% Daily Value*
* Percent Daily Values are based on a 2000 calorie diet.
©JustOneCookbook.com Content and photographs are copyright protected. Sharing of this recipe is both encouraged and appreciated. Copying and/or pasting full recipes to any website or social media is strictly prohibited. Please view my photo use policy
here
.
Our Recommendations for Buying Sashimi Online


When we have a sudden craving for sashimi we usually buy from our local Japanese supermarkets. If you don't have a reliable shop to purchase quality sashimi nearby, we would recommend buying from Catalina Offshore online.
They've been in business for over forty years and all the sashimi products we've tried from them are outstanding. Use J1COOK20 for 10% discount. Disclosure: We earn a small percentage commission from your purchase of products linked to Catalina Offshore.