Fiery Spicy Tuna Rolls with sashimi grade tuna tossed in sesame Sriracha sauce, topped with spicy mayo for that extra oomph!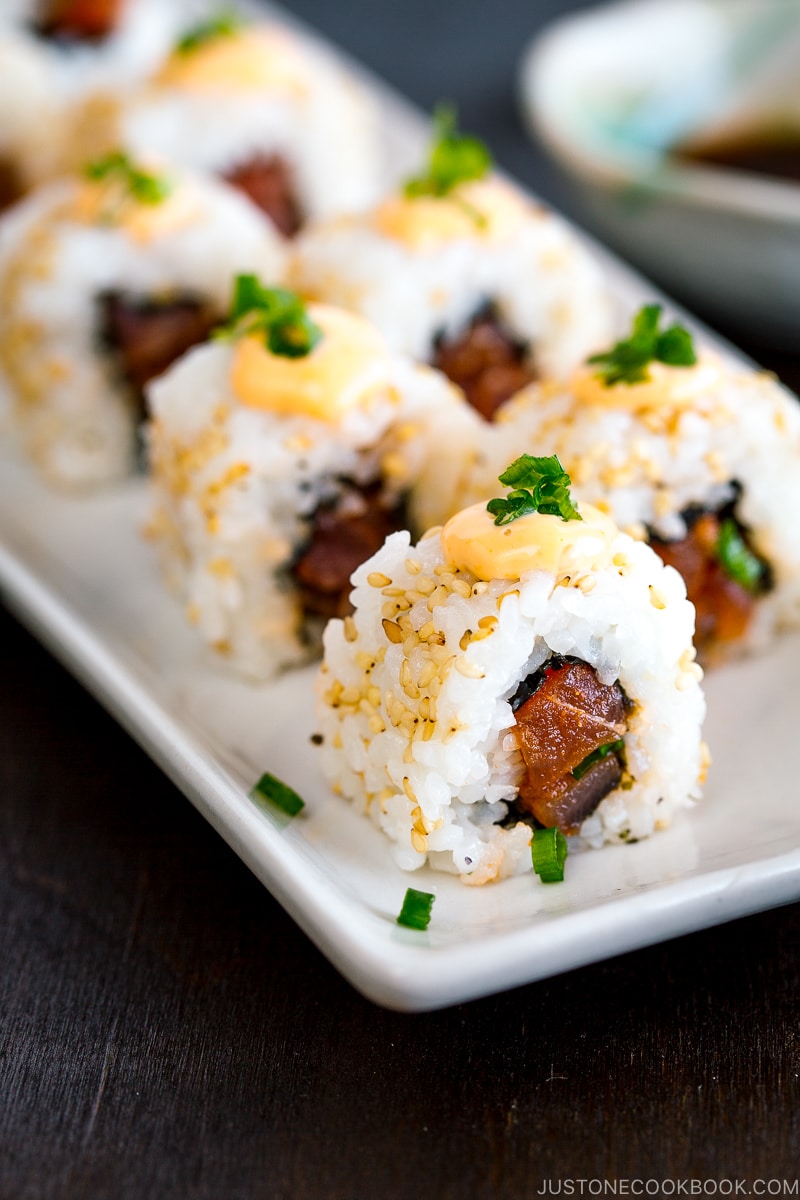 Can you guess what is the most requested sushi roll recipe requested by JOC readers? Right, it's Spicy Tuna Rolls, and today I'm sharing this simple and easy recipe. If you are new to sushi rolling, this spicy tuna roll is a good one to start as you only have one ingredient to roll.
Watch How To Make Spicy Tuna Rolls
What is

Spicy Tuna Roll

?
Spicy Tuna Roll is one of those sushi staples in Japanese Restaurants across the US, along with California Rolls, Dragon Rolls, and Rainbow Rolls as opposed to traditional Japanese sushi rolls, like Futomaki and Hosomaki.
The basic concept for all the sushi rolls are similar, but the details often differ. Typically, spicy tuna roll is made of 3 main ingredients. Sushi rice (steamed rice seasoned with sushi vinegar), nori (seaweed), and sashimi-grade tuna.
Sesame seeds and green onions/scallions are optional. If you cook Asian dishes often, you probably have these ingredients in your kitchen already.
So where does the "spice" from "spicy" tuna roll comes from? It's the popular Thai/Vietnamese condiment called Sriracha sauce. Sashimi-grade tuna is seasoned with Sriracha sauce and sesame oil. You can season the tuna with soy sauce along with Sriracha sauce and sesame oil, but if you normally dip your sushi rolls in soy sauce, then I suggest you skip soy sauce in the sushi rolls as it might be too salty.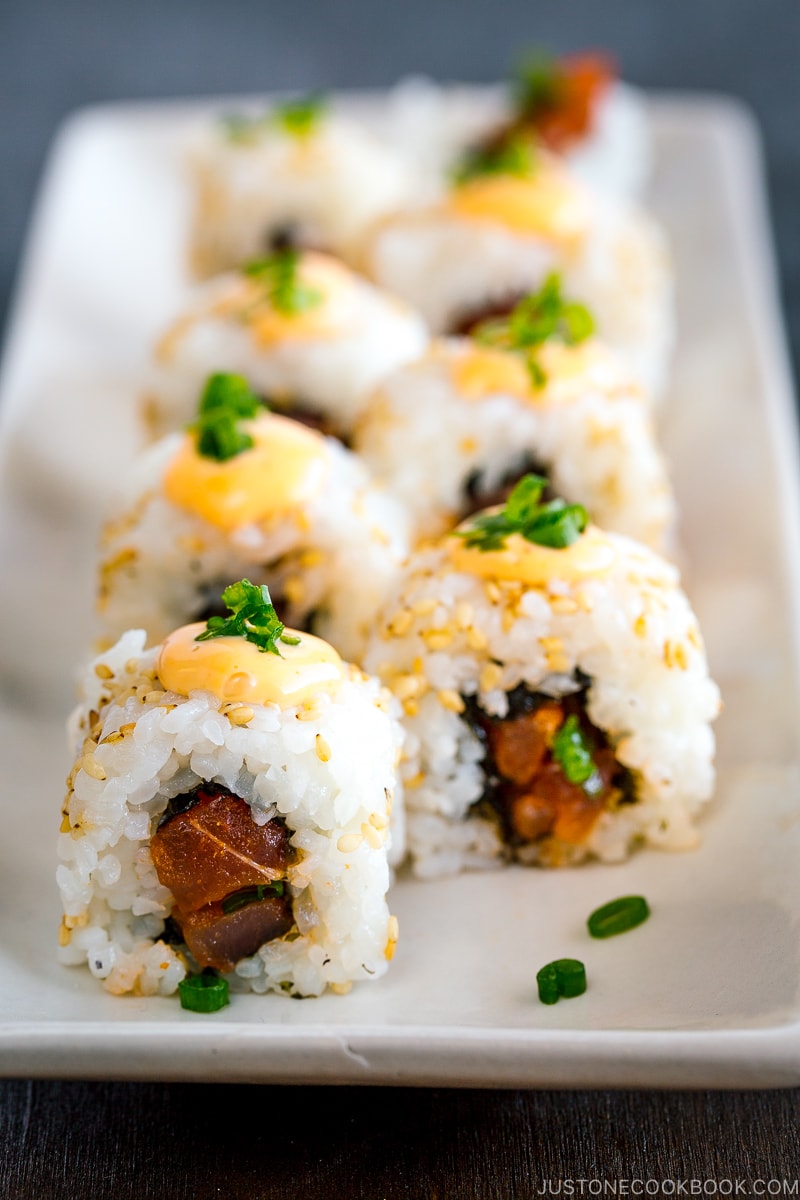 3 Tips to Make Perfect Spicy Tuna Roll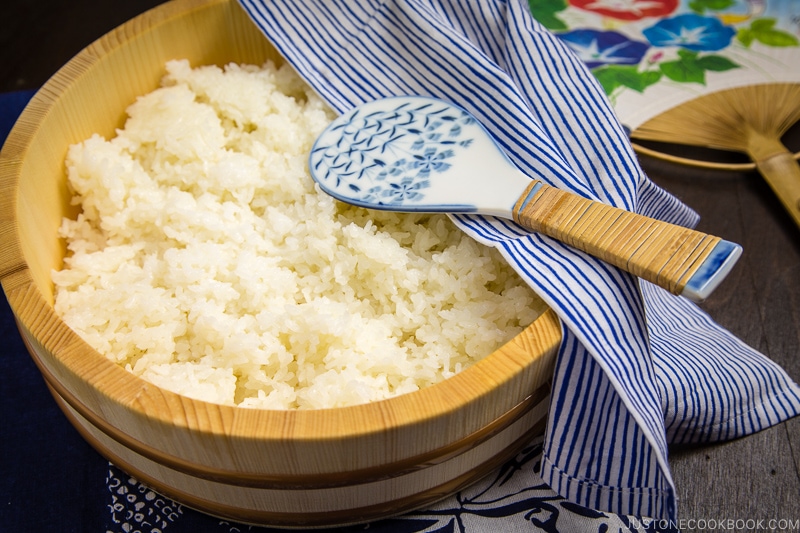 1. Make Good Sushi Rice
First thing first, making good sushi rice is so important to make delicious sushi. You will need to:
Get good Japanese short grain rice
Cook the rice properly
Prepare the sushi rice with sushi vinegar
Spread the sushi rice on nori (seaweed)

without smashing the rice

.
The sushi rice is simple to make, but most of sushi rolls from supermarkets fail big time because their sushi rice is smashed and the texture is completely wrong. The rice in sushi rolls has to be fluffy even though it's tightly rolled.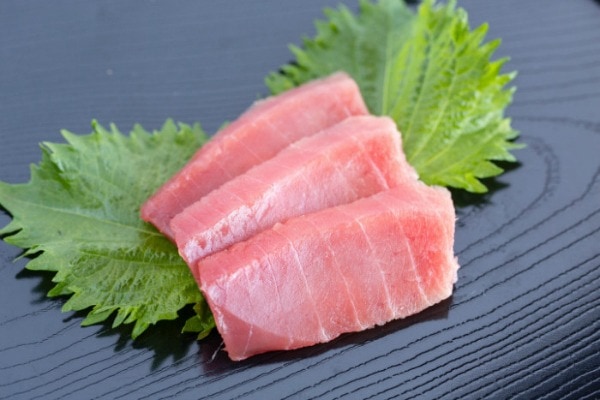 2. Find Sashimi-grade Tuna
If you live near a Japanese grocery store, we recommend checking out their sashimi selections.
If you are in San Francisco, you can place an order from TrueFish for local delivery or pickup. I go to the Suruki Supermarket in San Mateo for sashimi (you can ask for Temaki-style cut (long, stick shape sashimi) when you make hand rolls at home).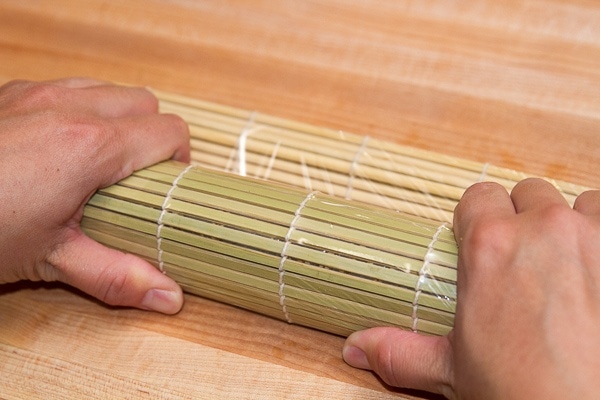 3. Roll Sushi Gently but Tightly 
Finding your sushi falling apart easily? Maybe because you don't squeeze the sushi rolls tightly enough. You have to tuck in and pull the bamboo mat while you roll. Also after you finish rolling, place the bamboo mat over the sushi roll and gently squeeze the sushi roll over the bamboo mat.
Rice sticking to your hands while making sushi? You will need to prepare Tezu (手酢), or vinegared hand dipping water made with an equal part of water and rice vinegar. Moisten your hands and fingers in Tezu so the rice won't stick. This vinegared water not only eliminates the odor of previously handled fish but also has an anti-bacterial effect on the hands.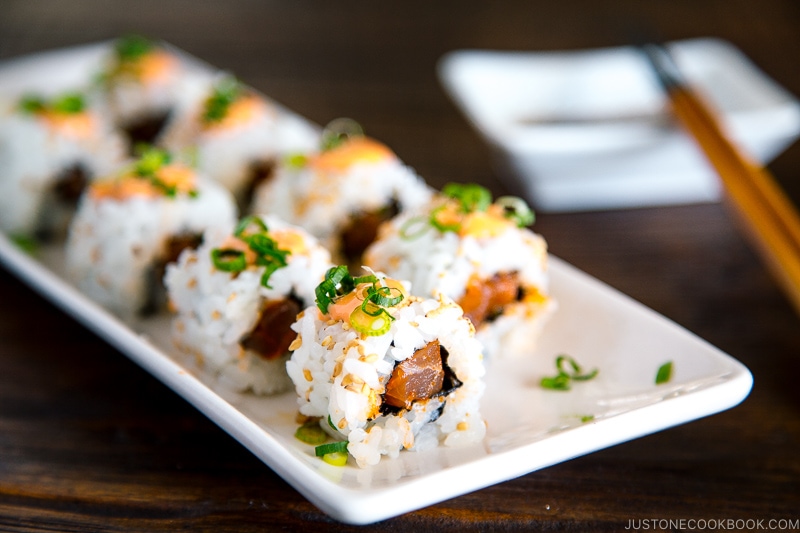 Not a Fan of Spicy Tuna Roll?
If you don't want to roll sushi because it might be difficult, try the easy Temaki Sushi (Hand Roll). If you are an artistic and creative person, you might enjoy making Temari Sushi (Ball Shape Sushi). Lastly, if you don't like nori seaweed, don't worry! You can make this refreshing Cucumber Wrapped Sushi.
I hope you enjoy making sushi at home!

More Sushi & Sashimi Recipes You'll Enjoy:
Don't want to miss a recipe? Sign up for the FREE Just One Cookbook newsletter delivered to your inbox! And stay in touch on Facebook, Google+, Pinterest, and Instagram for all the latest updates.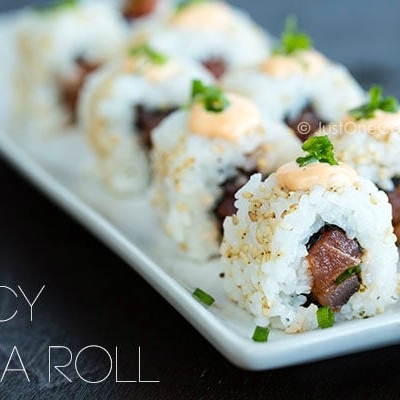 Spicy Tuna Roll
Fiery Spicy Tuna Rolls with sashimi grade tuna tossed in sesame Sriracha sauce, topped with spicy mayo for that extra oomph!
Video
Ingredients
For Vinegar Water for Dipping Fingers (Tezu)
Japanese Ingredient Substitution:
If you want substitutes for Japanese condiments and ingredients, click
here
.
Instructions
Gather all the ingredients. Note: Cooking time is not including the time for making sushi rice. For a complete guide to make sushi rice, please check sushi rice recipe. Important: Cover the sushi rice with a damp cloth at all times to prevent it from drying. Cover your bamboo sushi mat with plastic.

Make vinegar water for dipping fingers (Tezu) by combining ¼ cup (4 Tbsp) water and 2 tsp rice vinegar in a small bowl. Dipping your fingers prevents rice from sticking to them.

Cut the tuna into ¼" (0.5 cm) cubes (or you can mince the tuna).

In a medium bowl, combine the tuna, Sriracha sauce, sesame oil, and some green onion (save some for topping).

Lay a sheet of half nori, shiny side down, on the bamboo mat. Wet your fingers in Tezu and spread ¾ cup of the rice evenly onto the nori sheet. Sprinkle the rice with sesame seeds.

Turn the sheet of nori over so that the rice side is facing down. Line the edge of the nori sheet at the bottom end of the bamboo mat. Place half of the tuna mixture at the bottom end of the nori sheet.

Grab the bottom edge of the bamboo mat while keeping the fillings in place with your fingers, roll into a tight cylinder. Lift the edge of the bamboo mat and continue to roll it forward while keeping gentle pressure on the mat.

With a very sharp knife, cut the roll in half and then cut each half into 3 pieces. Clean the knife with a damp cloth every few cuts. When you cut sushi rolls, dip your fingers in Tezu or cover the roll with plastic, so the rice won't stick to your hands.

Put a dollop of spicy mayo on top of each sushi and garnish with the remaining green onion.
To Store
It's best to enjoy sushi rolls on the same day. Rice gets hard and dry in the refrigerator. Therefore, if you really want to keep sushi rolls in the refrigerator, my recommendation is to cover them with plastic and a thick kitchen towel, so the rice will stay cool and safe, but not become too cold.
Nutrition
Calories:
268
kcal
·
Carbohydrates:
30
g
·
Protein:
18
g
·
Fat:
8
g
·
Saturated Fat:
1
g
·
Polyunsaturated Fat:
3
g
·
Monounsaturated Fat:
3
g
·
Cholesterol:
22
mg
·
Sodium:
191
mg
·
Potassium:
240
mg
·
Fiber:
3
g
·
Sugar:
1
g
·
Vitamin A:
1433
IU
·
Vitamin C:
7
mg
·
Calcium:
95
mg
·
Iron:
2
mg
©JustOneCookbook.com Content and photographs are copyright protected. Sharing of this recipe is both encouraged and appreciated. Copying and/or pasting full recipes to any website or social media is strictly prohibited. Please view my photo use policy
here
.
Editor's Note: This post was originally published on May 29, 2013. A video tutorial was added on February 23, 2017.
Our Recommendations for Buying Sashimi Online


When we have a sudden craving for sashimi we usually buy from our local Japanese supermarkets. If you don't have a reliable shop to purchase quality sashimi nearby, we would recommend buying from Catalina Offshore online.
They've been in business for over forty years and all the sashimi products we've tried from them are outstanding. Use J1COOK20 for 10% discount. Disclosure: We earn a small percentage commission from your purchase of products linked to Catalina Offshore.