Learn how to make your all-time favorite Dragon Rolls at home! In this recipe, we will talk about the key ingredients and tips and tricks to make this popular sushi.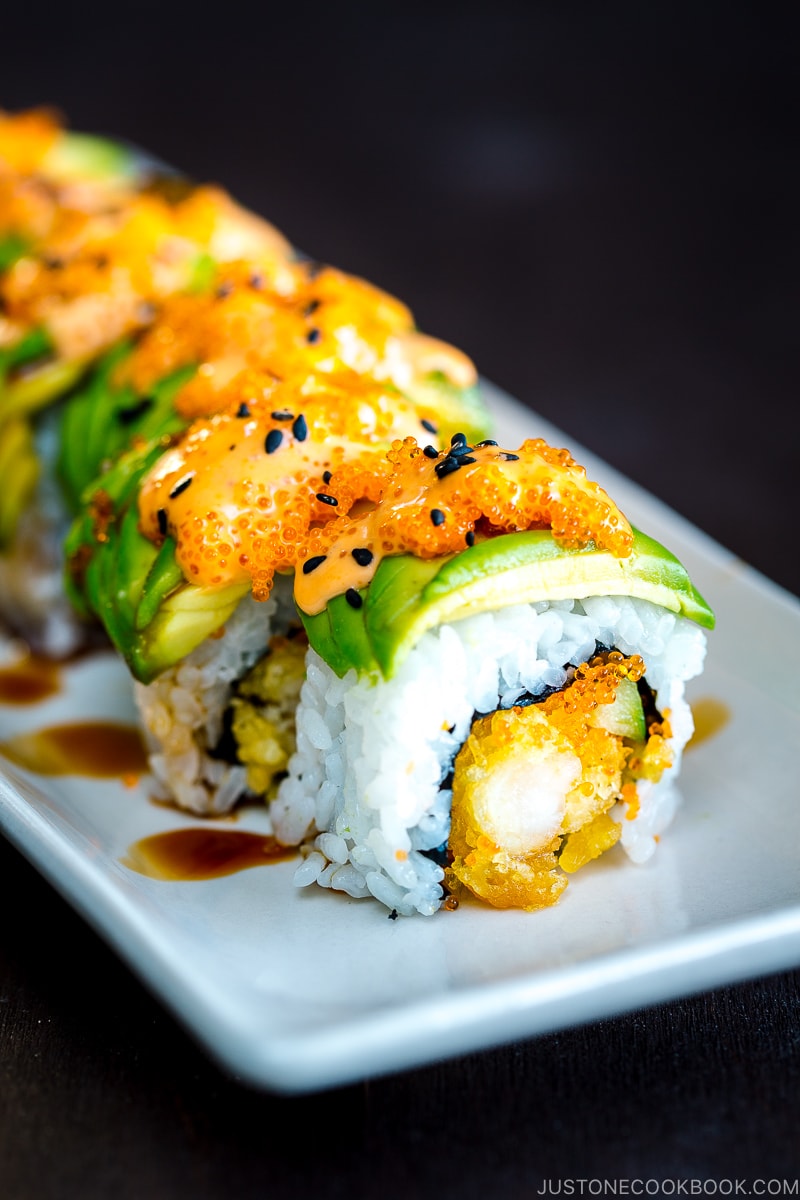 Next to California Rolls, Dragon Roll is another popular sushi roll served at American-style sushi restaurants and buffet joints. It's not traditional sushi you can find in Japan, but I can see why this imaginative sushi is such a favorite.
The combo of creamy avocado and crunchy shrimp tempura make the perfect match to the tenderly moist vinegared rice. It's so delicious that I can devour the entire roll on my own. Luckily, making dragon roll at home is easier than it looks.
What is Dragon Roll
The dragon roll is an inside-out sushi, which is filled with nori sheet wrapping around the ingredients on the inside and the sushi rice is on the outside. Here, shrimp tempura and cucumber are tucked inside the nori, and thinly sliced avocado is layered on top of the roll, and when it's sliced, the artistically arranged sushi resembles the scales of a dragon. The sushi roll is typically topped with tobiko fish roes and drizzled with spicy mayonnaise and unagi sauce, which makes it even more enticing.
You can also find another version of the dragon roll that features grilled eel (unagi) instead of shrimp tempura.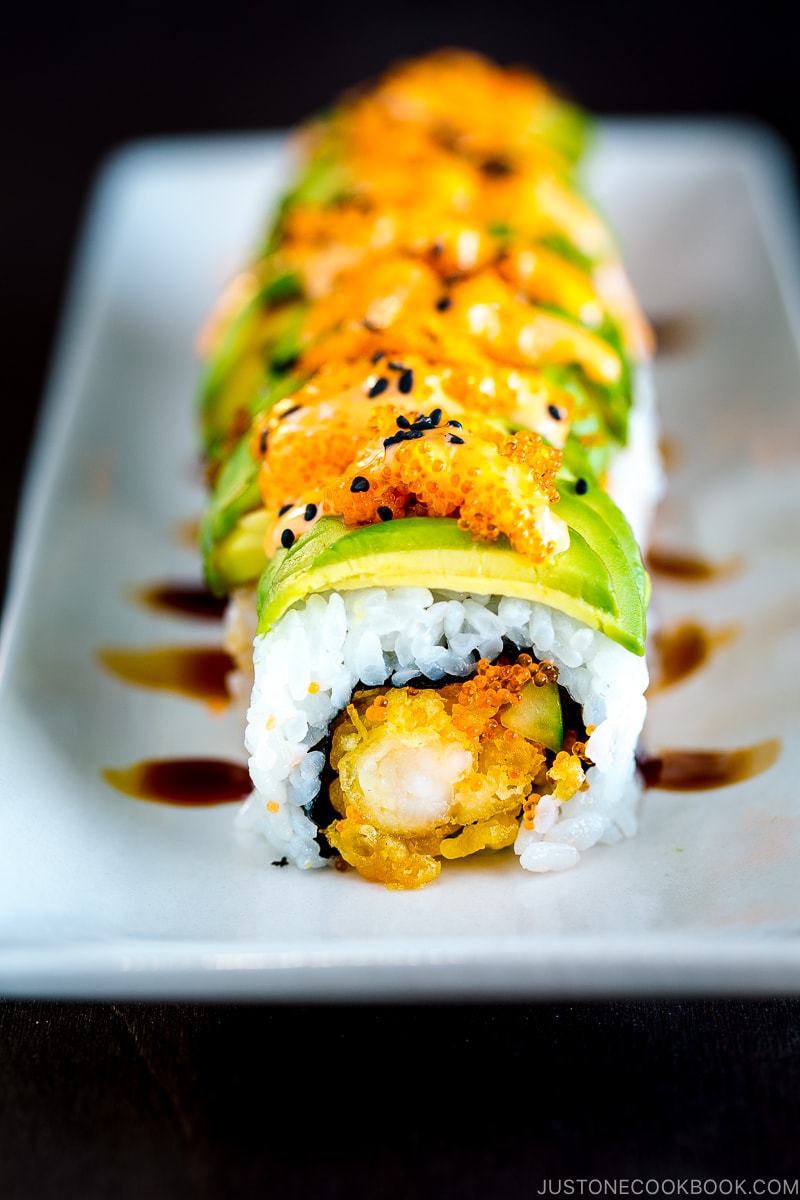 Key Ingredients and Tips to Make Perfect Dragon Roll
1. Shrimp Tempura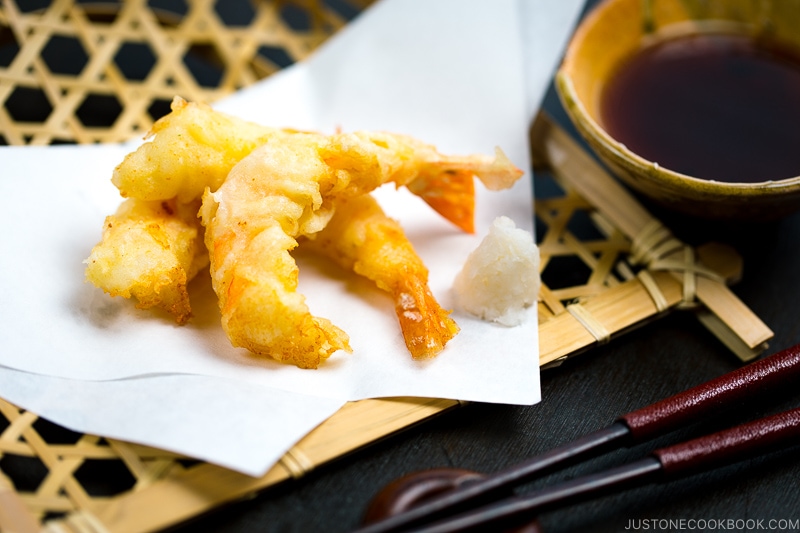 Since shrimp tempura is getting mainstream, many American grocery stores (Trader Joe's, Costco, etc) carry frozen shrimp tempura at the seafood section. The frozen shrimp tempura tends to be extra crunchy, so it's perfect for making dragon roll at home. You just need to pop them in an oven (or toaster oven) for 20 minutes or so, while you do most of the prep work.
Of course, you can make them from scratch, and here's my Shrimp Tempura recipe. You'll need 2 shrimp tempuras for each roll you plan to make.
2. Avocado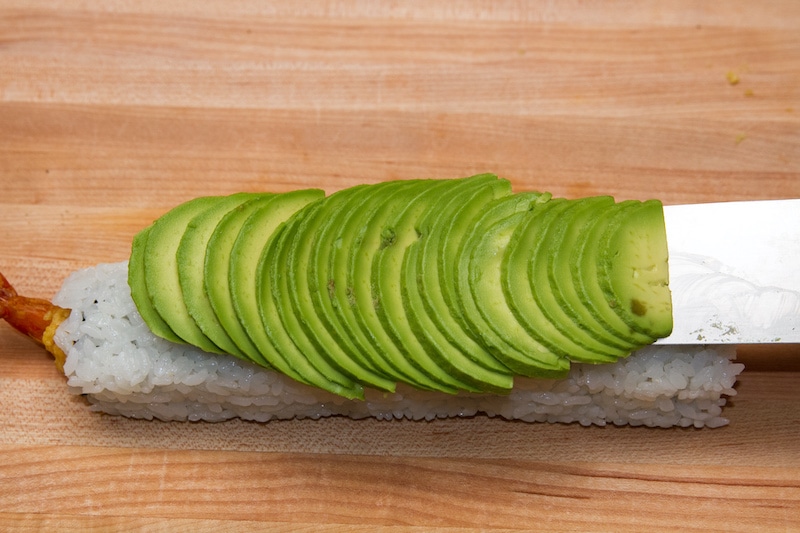 It's funny to say this, but I find the most challenging part of making dragon roll at home is to find the perfectly ripe avocado.
To choose the perfect avocado for immediate use, look for the ones with darker-colored skin. Then gently squeeze the fruit in the palm of your hand. The avocado is ready to eat if it yields to firm, gentle pressure.
If the avocado does not yield to gentle pressure, it is considered still "firm" and will ripen in a couple of days. If the avocado feels mushy or very soft to the touch it may be very ripe to overripe.
3. Cucumber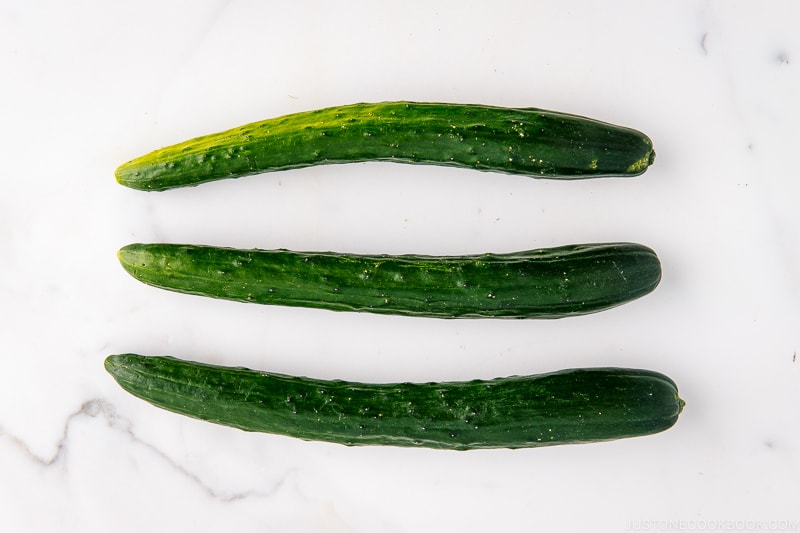 I use Japanese cucumbers which are long and slender. They have few seeds so it's perfect for sushi rolls. If you can't find Japanese cucumbers, then use Persian cucumbers are quite similar so they are a great substitute.
If you use English cucumbers, then cut in half lengthwise and remove the seeds with a spoon as they yield too much water inside the rolls. I do not recommend using typical American cucumbers as they have waxy thick skin and too many seeds inside.
4. Sushi Rice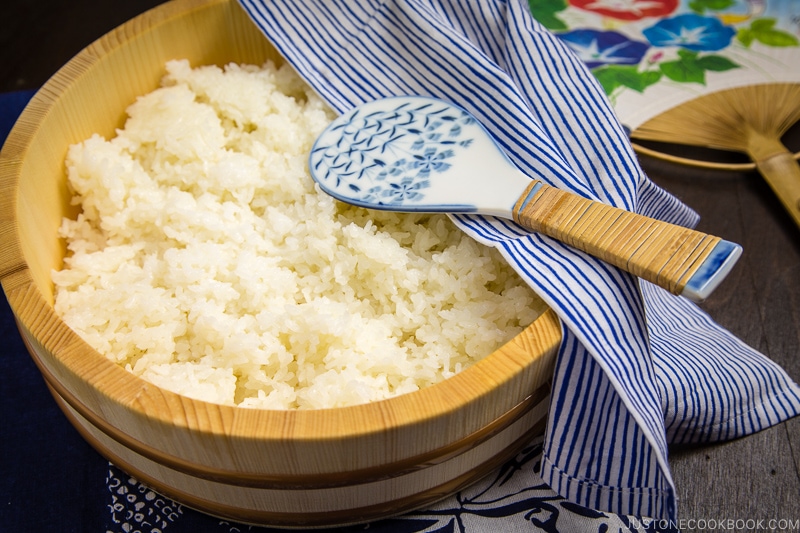 The word "sushi rice" is sometimes used to refer to Japanese short-grain rice outside of Japan, but in Japanese cooking, Sushi Rice (酢飯) means steamed rice that has been seasoned with sushi vinegar and only used for all types of sushi recipes.
Perfectly prepared sushi rice is very important in sushi making. Here are a few things to take note:
You'll need Japanese short-grain rice (I use Koshihikari), cook it well, and season with sushi vinegar. Read my step-by-step tutorial on how to cook sushi rice.
Please DO NOT mash the sushi rice when you place it on the nori sheet. You should be able to see individual rice kernel, not mushy rice in the roll.
Do not overfill the roll with rice. It's important to balance to ratio of rice and the fillings. My quick tip is to use a ½-cup measuring cup to fill the rice before you assemble your rolls. That should be enough for half a sheet of nori. With a consistent amount of sushi rice for each roll, all of your sushi rolls will be of even size!
5. Nori (Seaweed)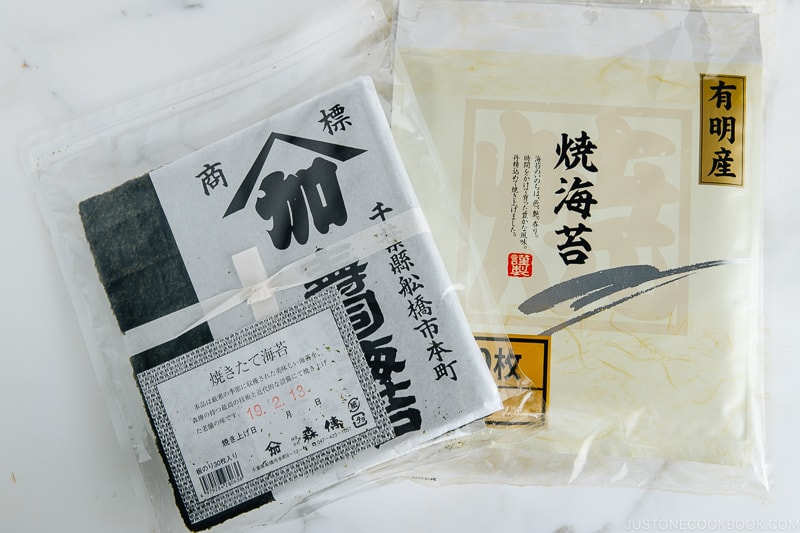 I use only half a sheet of nori for my recipe and it is sufficient to roll. If you found the nori a little too short, cut down the filling slightly. Keep practicing and you should be able to find the perfect ratio for rolling.
6. Spicy Mayo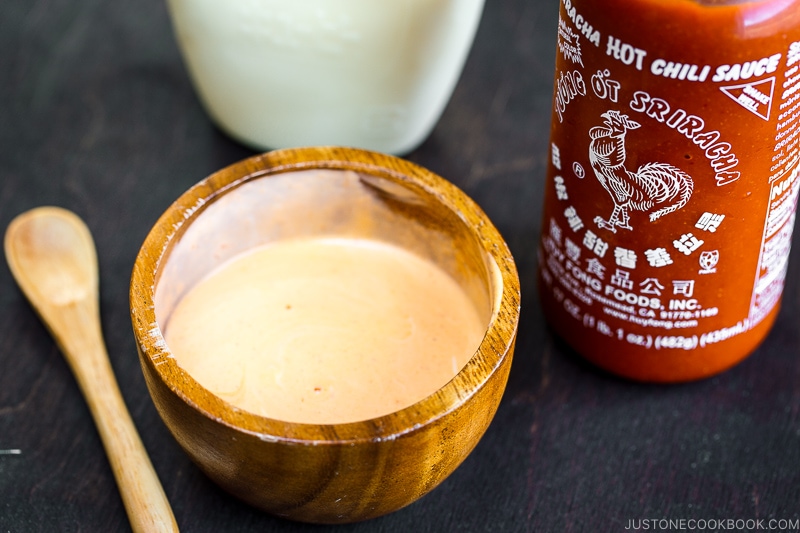 All you need is two ingredients for this amazing sauce! It's creamy, sweet, tangy with the right amount of heat. Please use Japanese mayonnaise for the best flavor. You can buy it from Amazon. The Japanese mayo is essential to make Japanese Potato Salad, Sesame Dressing, Mentaiko Pasta, Okonomiyaki, Casesar Salad, and more!
7. Unagi Sauce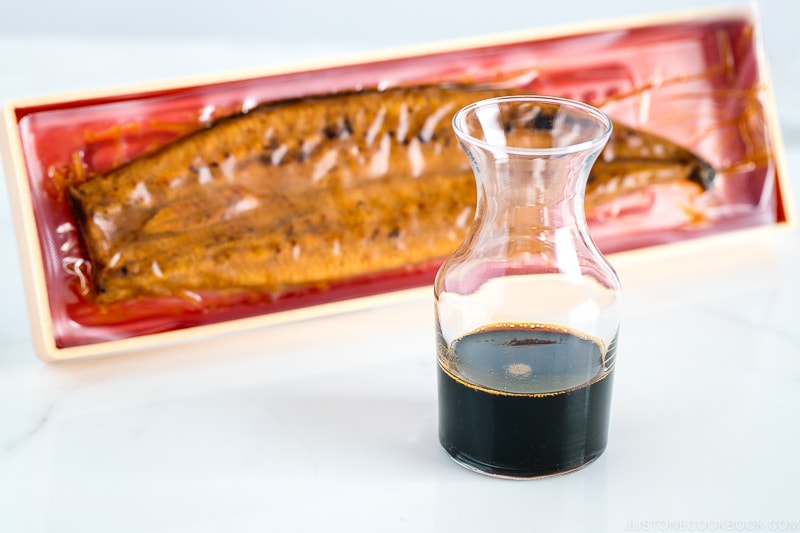 Just a few spoonfuls of unagi sauce give an extra flavorful boost to the dragon roll. If you can't find a bottle of unagi (eel) sauce from your local Japanese grocery store, try my Homemade Unagi Sauce recipe. It is totally worth making from scratch, especially if you love making Unadon (Unagi Donburi) or Yaki Onigiri. It's a good condiment to have in your fridge at all times.
Dragon Roll for Sushi Party
I hope I've inspired you to start making sushi rolls at home. Dragon roll does not include any raw sashimi, so it's safe for pregnant ladies and young children. If you're looking for sushi to serve a crowd, this is the one to make. We have an ultimate guide on how to host a sushi party that you might want to check out!
Other Sushi Recipes You'll Love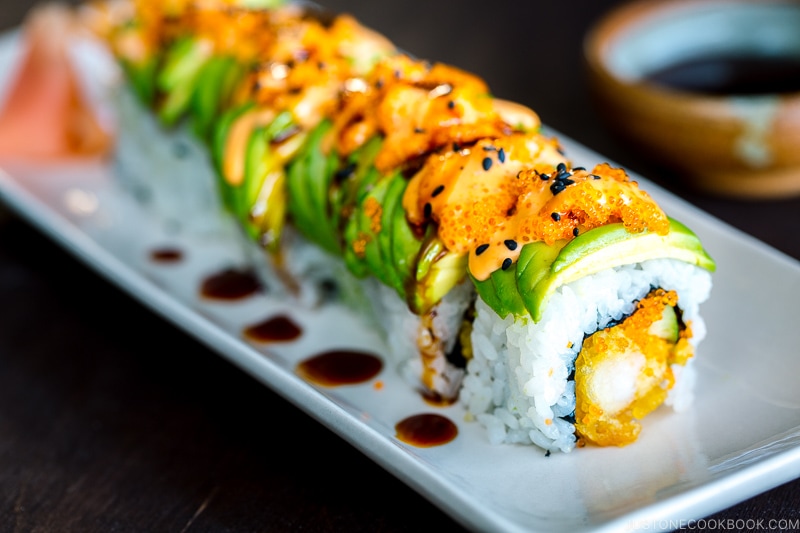 Wish to learn more about Japanese cooking? Sign up for our free newsletter to receive cooking tips & recipe updates! And stay in touch with me on Facebook, Pinterest, YouTube, and Instagram.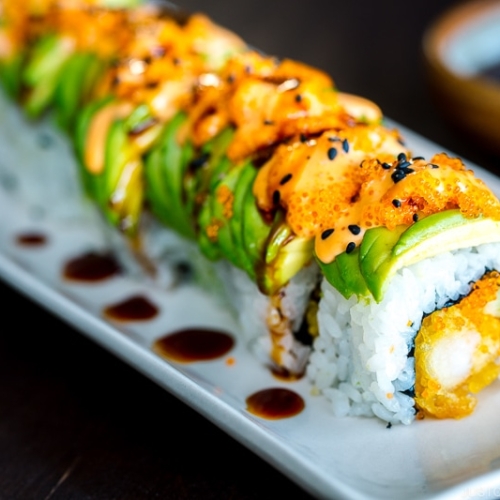 Dragon Rolls
Learn how to make your all-time favorite Dragon Rolls at home! In this recipe, we will talk about the key ingredients and tips and tricks to make this popular sushi.
Video
Ingredients
For the Vinegared Water for Dipping Hands (Tezu)
For the Toppings
Japanese Ingredient Substitution:
If you want substitutes for Japanese condiments and ingredients, click
here
.
Instructions
Gather all the ingredients. To learn how to cook and season rice for sushi, please see my tutorial How to Make Sushi Rice.

Cut

1 Japanese or Persian cucumber

lengthwise into quarters. Remove the seeds and then again cut in half lengthwise into thin strips. You will have

8

strips.

Cut

2 avocados

in half lengthwise around the pit and twist the halves until they separate. Use a spoon to remove the pit. Alternatively, you can remove the pit with your knife, but you must take great care not to use too much force or you could cut your hand. First, hold the avocado half in your palm; it's best to hold it with a folded kitchen towel to protect your hand. Very gently tap the heel of your knife into the pit with just enough pressure that the knife embeds in the pit. Then, twist the knife and the pit will come out smoothly.

Remove the skin and thinly slice the avocado halves crosswise.

Gently press the avocado slices with your fingers so the individual slices begin to slide and separate. Keep pressing gently and evenly with the side of the knife until the length of the sliced avocado half is about the length of a sushi roll (or a sheet of nori seaweed.) If you don't roll the sushi right away, squeeze

½ lemon

over the avocado to prevent discoloration. Repeat the process with the other avocado halves.
To Roll the Sushi
Make the tezu (vinegared water) by combining 

¼ cup water

 and 

2 tsp rice vinegar (unseasoned)

in a small bowl. Next, line a bamboo mat with plastic wrap. Place a half nori sheet on top, shiny side down. Then, dip your hands in the tezu and spread ¾ cup (110 g) sushi rice on the nori sheet.

Flip over the nori sheet with the rice on it. Place 2 pieces shrimp tempura across the bottom edge of the nori sheet closest to you (leave the tails sticking out on either end). Then, add 2 cucumber strips and ½ Tbsp tobiko (flying fish roe).

Starting from the bottom end, roll the nori sheet over the filling tightly and firmly with the bamboo mat until the bottom edge reaches the nori sheet. Lift the bamboo mat and roll over the remaining nori.

Place the bamboo mat over the top and tightly squeeze the roll.

Remove the bamboo mat and plastic wrap from the sushi roll. Using the side of the knife, lift the avocado slices from a half avocado and place them on top of the roll. If you'd like to add

unagi (freshwater eel) fillet

, alternate avocado and unagi slices and layer them to cover the top and sides of the roll.

Replace the plastic wrap over the roll and put the bamboo mat over the top. Tightly squeeze the roll through the bamboo mat until the avocado slices wrap around the roll. Be gentle so you don't break the avocado slices. Remove the mat.

Cut the Dragon Roll through the plastic wrap into 8 pieces with the knife. Clean your knife with a wet towel after each cut. If the roll gets messy while cutting, tightly squeeze the sushi roll again with the bamboo mat. Remove the plastic wrap on top of the sushi and transfer the sushi pieces to a serving plate. Repeat to make the remaining rolls.
To Serve
Put some tobiko on each piece of sushi and drizzle

Homemade Spicy Mayo

and sprinkle

toasted black sesame seeds

on top. If you'd like, place some

unagi (eel) sauce

on the plate so you can dip the sushi. Enjoy!
To Store
For leftover sushi rolls, keep them in a cool place for 8 hours. To refrigerate them overnight, cover them with a thick kitchen towel, so the rice will stay cool but not become cold. If you have leftover sushi rice, I recommend storing it in an airtight container in the freezer for up to a month. You can defrost it overnight in the fridge, and then microwave to room temperature (not hot). Rice gets hard and dry in the refrigerator, but if you really want to refrigerate it, cover the container with a thick kitchen towel so the rice will stay cool but not become cold.
Nutrition
Nutrition Facts
Dragon Rolls
Amount per Serving
% Daily Value*
* Percent Daily Values are based on a 2000 calorie diet.
©JustOneCookbook.com Content and photographs are copyright protected. Sharing of this recipe is both encouraged and appreciated. Copying and/or pasting full recipes to any website or social media is strictly prohibited. Please view my photo use policy
here
.
Editor's Note: Original post was published in June 2013. The post is updated with new content and video in April 2016 and republished in June 2020.
Our Recommendations for Buying Sashimi Online


When we have a sudden craving for sashimi we usually buy from our local Japanese supermarkets. If you don't have a reliable shop to purchase quality sashimi nearby, we would recommend buying from Catalina Offshore online.
They've been in business for over forty years and all the sashimi products we've tried from them are outstanding. Use J1COOK20 for 10% discount. Disclosure: We earn a small percentage commission from your purchase of products linked to Catalina Offshore.