The Japanese cucumber is slender and thin-skinned than standard cucumber varieties. They are crisp, crunchy, and succulent with bright, melon-like flavors.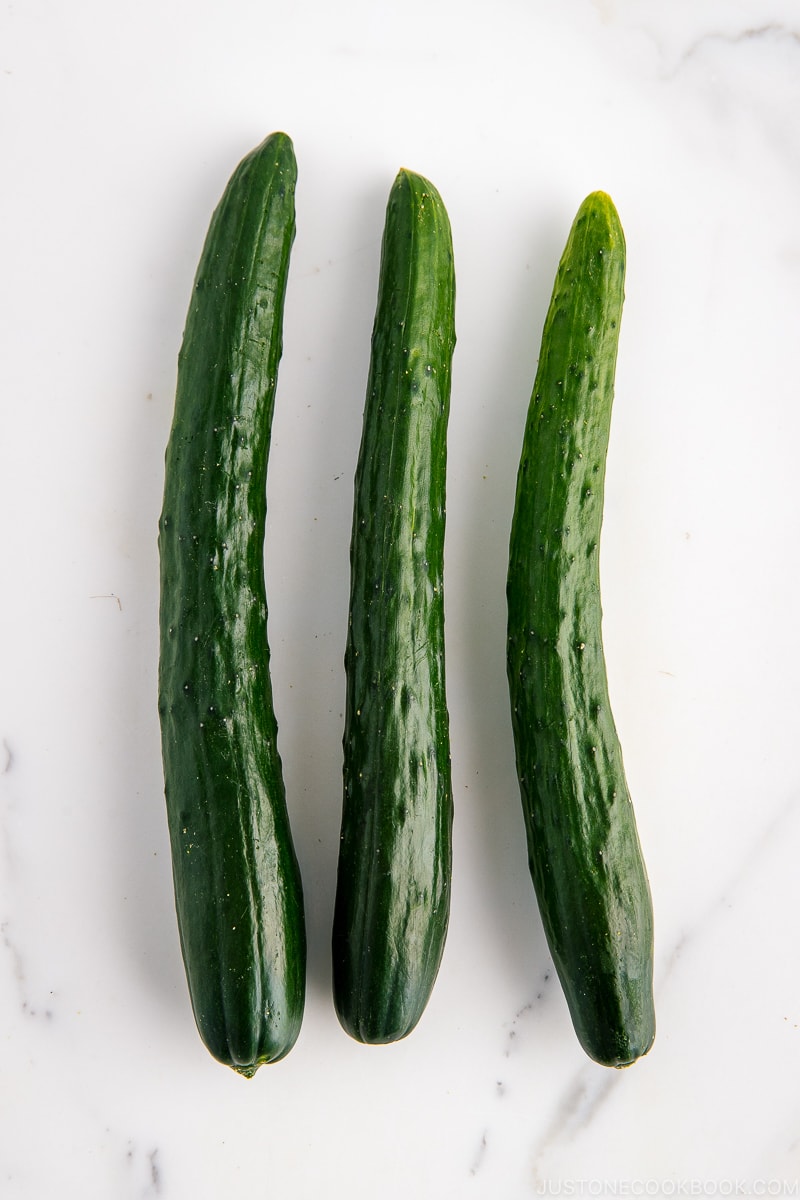 Have you tried Japanese cucumbers? Called Kyuri (胡瓜・きゅうり) in Japanese, these crunchy cucumbers have forest green skin with long and slender bodies. The length is between an English cucumber and a Persian cucumber. Japanese cucumbers do not contain developed seeds and are slightly sweet with no bitterness. It's a versatile ingredient especially eaten during the hot and humid Japanese summers.
What Are Japanese Cucumbers
Japanese cucumbers (Cucumis sativus) are a beloved vegetable in Japanese cuisine. These cucumbers can be straight or slightly curved. The thin edible skin can range from smooth to bumpy and ridged. As they're grown in greenhouses, they are available year-round.
Because of their cooling properties and versatility, Japanese cucumbers are eaten especially during their peak summer season. The Japanese consume them raw in salads, as side dishes such as sunomono salad, sushi rolls, or as a garnish for rice bowls and hiyashi chuka. It's also pickled as Shiozuke (塩漬), salt-cured Japanese pickles. It can also be cooked in stir-fries and miso soup.
They also produce less gas when consumed than regular cucumbers, hence their nickname "burpless cucumbers."
What Does It Taste
It has a crisp texture and mildly sweet flavor without the bitterness of regular cucumbers.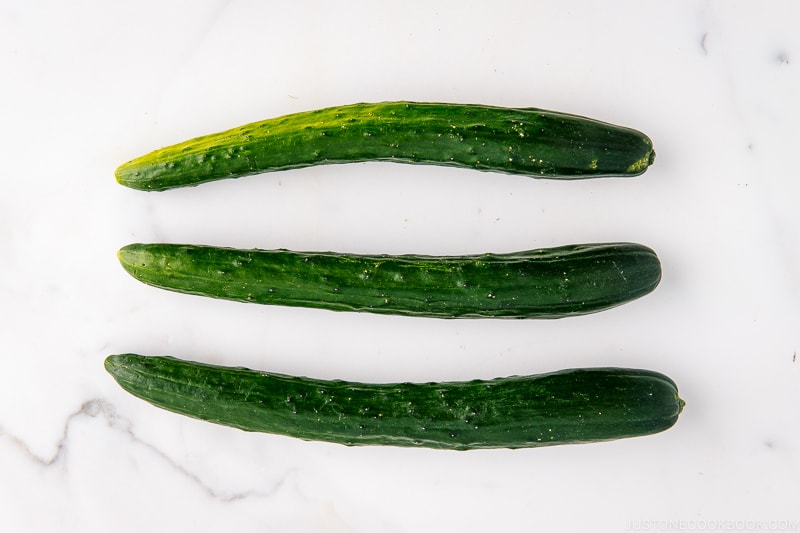 How To Use
Japanese cucumbers are mild and crunchy, with an unsweet melon-like flavor. The skins can also be eaten, although you could peel them in alternating green stripes for aesthetics. They're a delight that you can cut into thin slices and dress simply with soy sauce, rice vinegar, and sesame oil.
Sunomono is a popular chilled side dish with cucumbers, wakame, and protein such as octopus, imitation crab meat, shrimp, or other seafood.
You can also swap Japanese cucumbers with regular cucumbers. Add to salads, slaws, sandwich fillings, and more. Make sure to drain excess liquid, as the vegetable is mostly water.
Recipes Using Japanese Cucumbers
Where To Buy
You can find Japanese cucumbers at Japanese or Asian grocery stores. If you're lucky, perhaps you'll find them at your local farmer's market. If not, try growing them in your garden!
How To Choose The Best
Pick ones that are firm to the touch with bright-colored skin. Avoid those that aren't limp, with wrinkled ends, or have yellow or black spots.
How To Store
Store whole cucumbers in the refrigerator. Wrap each in paper towels and put them in a plastic bag. It should last for about a week. Once cut, pat dry excess moisture, cover the cut end with plastic wrap, and use it quickly.
Substitutions
If you can't find Japanese cucumbers, use cucumbers with few seeds and a firm texture. A close substitute is Persian cucumbers or English cucumbers. Cut in half lengthwise with a knife and scoop out the seeds.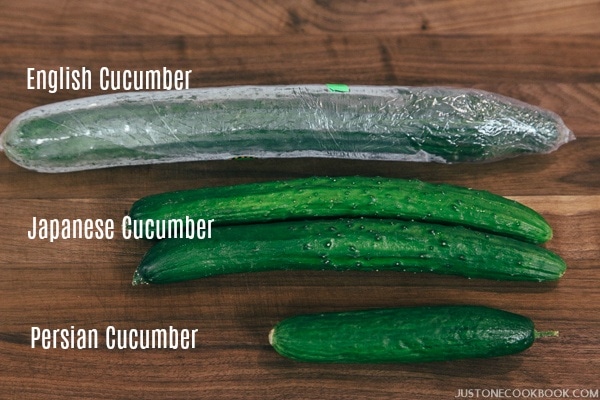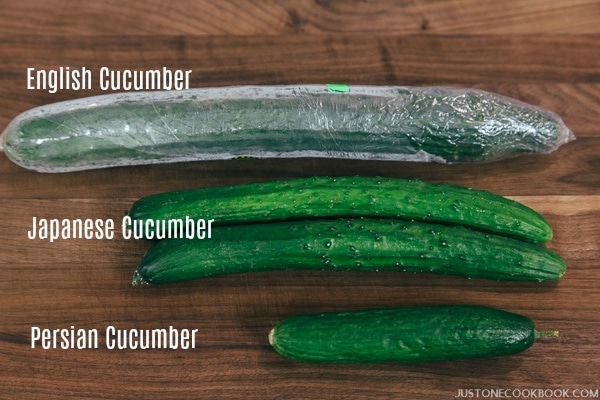 Health Benefits
Japanese cucumbers are an excellent source of nutrients and low in sodium and cholesterol. It's rich in vitamin C, which helps strengthen the immune system, vitamin K to assist in faster wound healing, vitamin E, to protect the cells against free radical damage, and vitamin A, for faster wound healing. It also contains potassium, magnesium, manganese, folic acid, calcium, and iron.
As the vegetable is mostly water, consuming cucumbers can help you stay hydrated.
---
Wish to learn more about Japanese cooking? Sign up for our free newsletter to receive cooking tips & recipe updates! And stay in touch with me on Facebook, Pinterest, YouTube, and Instagram.