Cool down and relax with this popular Japanese Cold Ramen called Hiyashi Chuka. The cold noodles are mixed with homemade dressing and topped with egg, imitation crab, ham, cucumber, and tomato. It's a bright, flavorful, and fun way to experience the magic of ramen on a hot summer day. This recipe is vegan adaptable.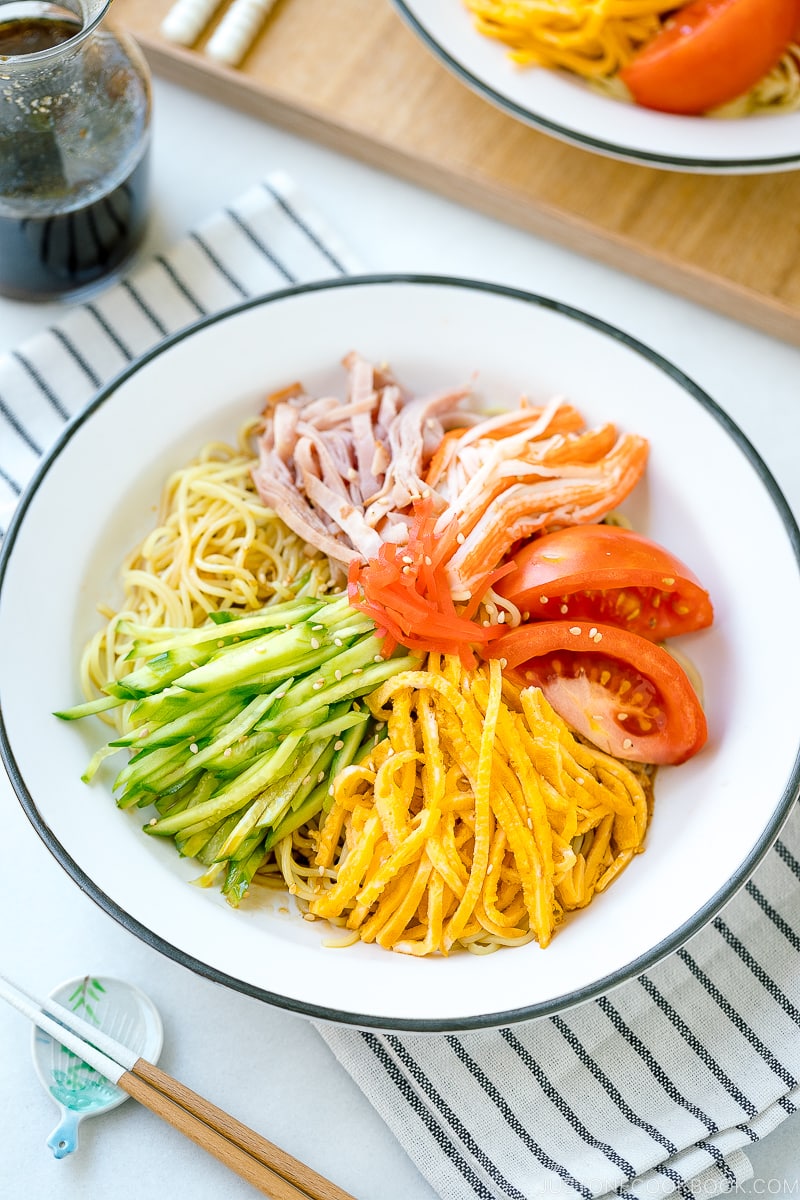 As the temperature and humidity soar in Japan in the late summer, I just want to eat cold noodle dishes like cold soba or cold udon. But when it gets extra hot, all I can think about is the flavorful, rainbow color of toppings on a bowl of cold ramen called Hiyashi Chuka (冷やし中華).
Today, I'm sharing a hiyashi chuka recipe with my favorite homemade soy sauce-based noodle dressing.
What is Hiyashi Chuka?
Hiyashi Chuka (冷やし中華) literally means "Cold Chinese-style", but in fact it refers to a popular Japanese summer dish of which cold ramen noodles paired with toppings such as strips of thin omelette, cucumber, ham, and imitation (or real) crab. To tie everything together, it's served with a soy sauce-based dressing that is sweet, savory, nutty, and acidic.
Refreshing and chewy, crisp and crunchy, sweet and savory—there's plenty of flavors and textures in this cold noodle dish that it's hard not to fall in love with it!
I also love that it is highly versatile so you can be creative and switch up the toppings as you like.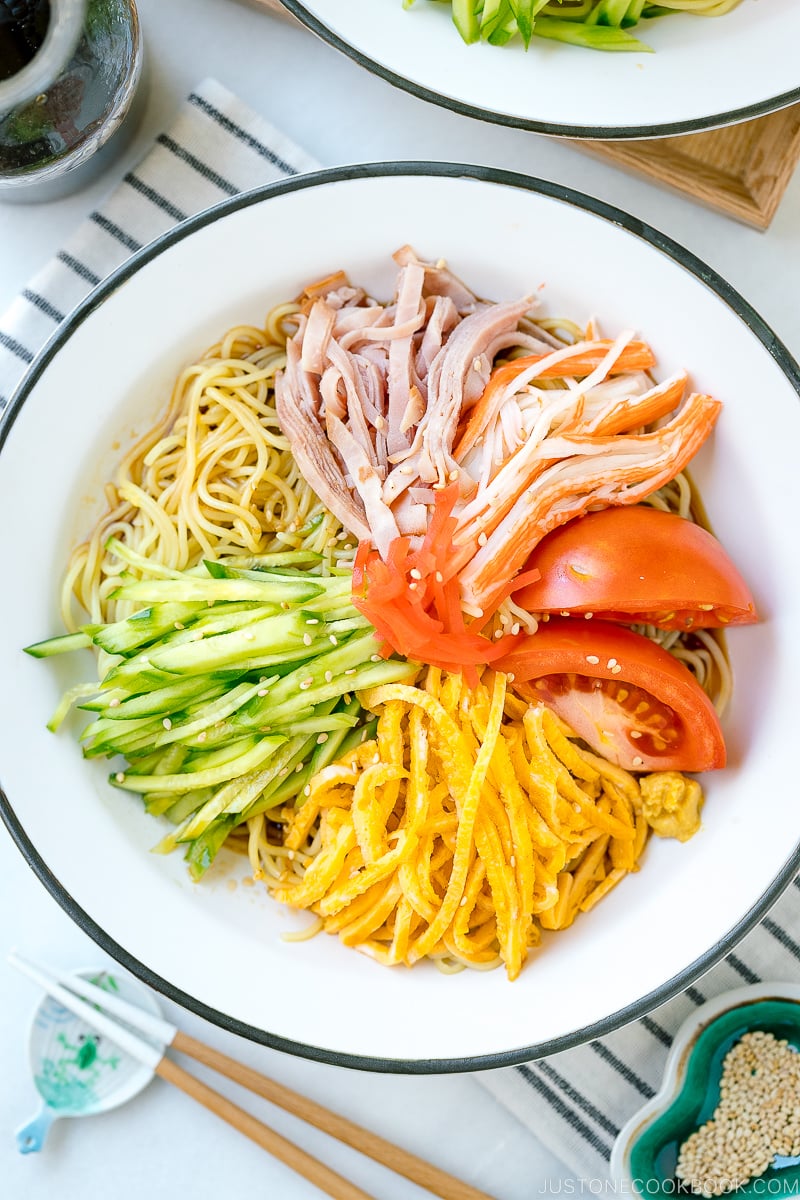 Hiyashi Chuka Topping Ideas
The classic hiyashi chuka consists of ramen noodles, egg, ham, imitation crab, cucumber, and tomatoes. However, there's always room for customization. Here, I suggest a few variations:
Avocado
Blanched bean sprout
Boiled egg
Canned tuna
Cooked shrimp
Fried firm tofu
Shredded chicken (rotisserie, boiled)
Lettuce
Shredded nori
Sautéed mushrooms
Where to Get Hiyashi Chuka Noodles
Japanese and Asian grocery stores carry Hiyashi Chuka (Cold Ramen) noodles in the refrigerated section. You can figure out the package easily as it usually has an image of the classic hiyashi chuka, shown below.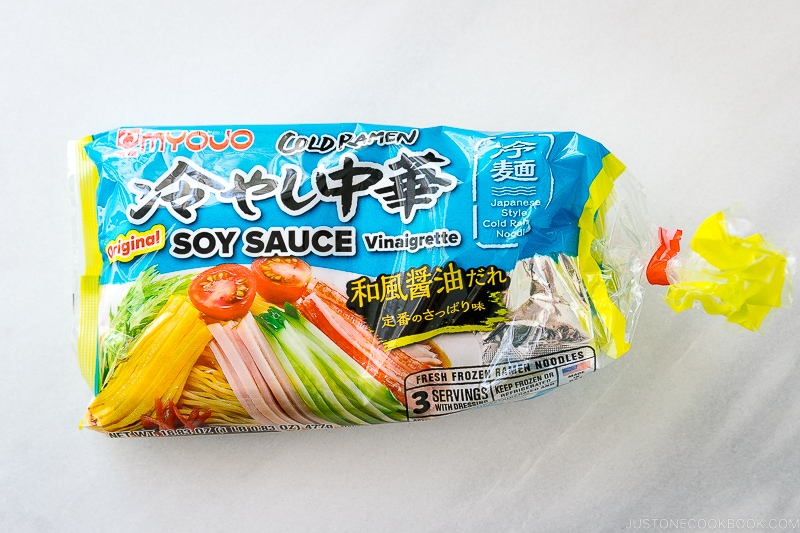 Typically, there are one to two kinds of hiyashi chuka: soy sauce dressing and sesame dressing. I am not a big fan of using the packaged sauce (check the ingredient list before you decide) so I have both dressing recipes on Just One Cookbook. The homemade sauces are healthier and easy to make at home!
Soy sauce based dressing (see the recipe card below)
Since the noodles are fresh, you probably can't find them online. In that case, you can try these dried ramen noodles.
Make Vegetarian/Vegan-Friendly Hiyashi Chuka
If you are vegetarian, simply omit ham and imitation crab (and egg, if vegan) and add your favorite veggies or tofu instead.
You can make the dressing by swapping the chicken stock with vegetable broth, kombu dashi, or water.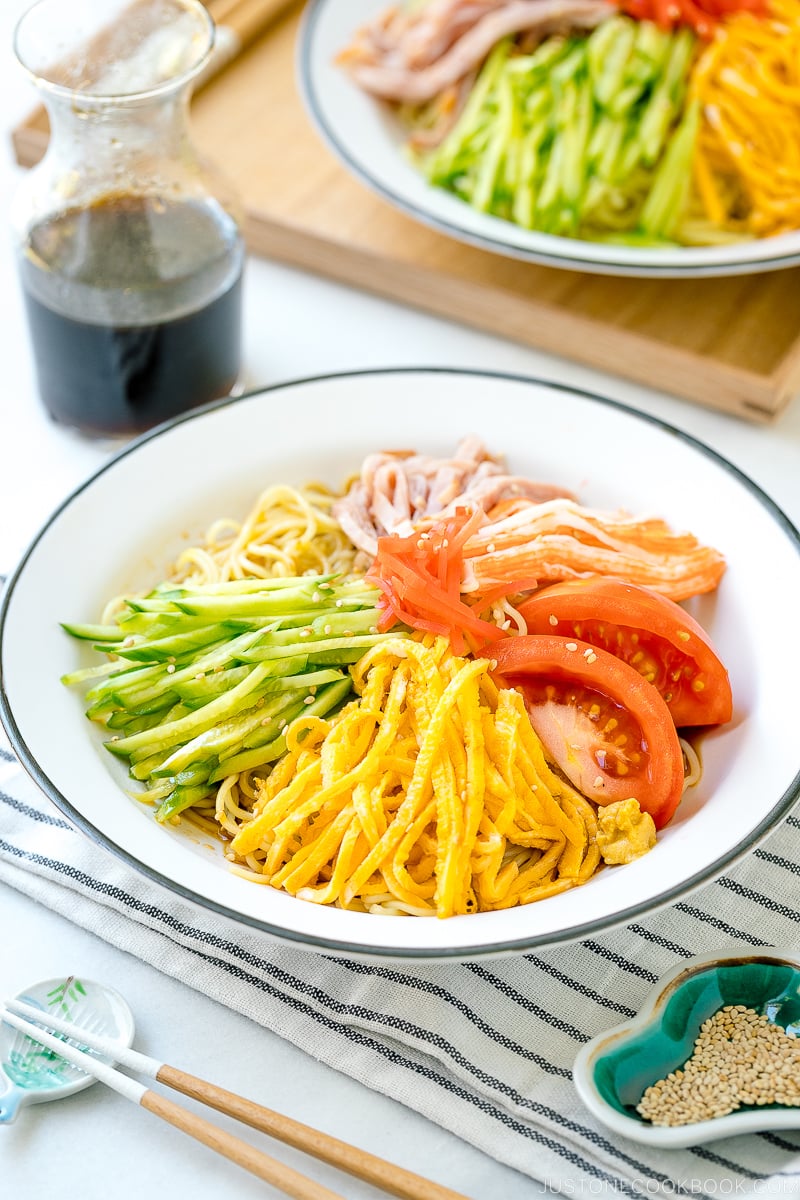 Hiyashi Chuka Cooking Tips
Start preparing the dressing and omelette, which require cooking and then cooling down.
Cut the topping ingredients into thin strips or bite-sized—"noodle-thin" strip for most toppings so that you can enjoy them with the noodles in one bite.
Rinse the noodles under cold running water. It's important to rinse off the starch for a better texture.
Keep the toppings, noodles, and dressing chilled for the ultimate cold noodle experience!
Gradually add the dressing; you don't have to use it all.
On hot days, a cold noodle dish like hiyashi chuka is a nutritious meal to cool your body down, while filling up your tummy. Now pick up fresh hiyashi chuka noodles from an Asian or Japanese grocery store, prepare your favorite toppings, and create this cool Japanese dish!
More Cold Noodle Recipes to Enjoy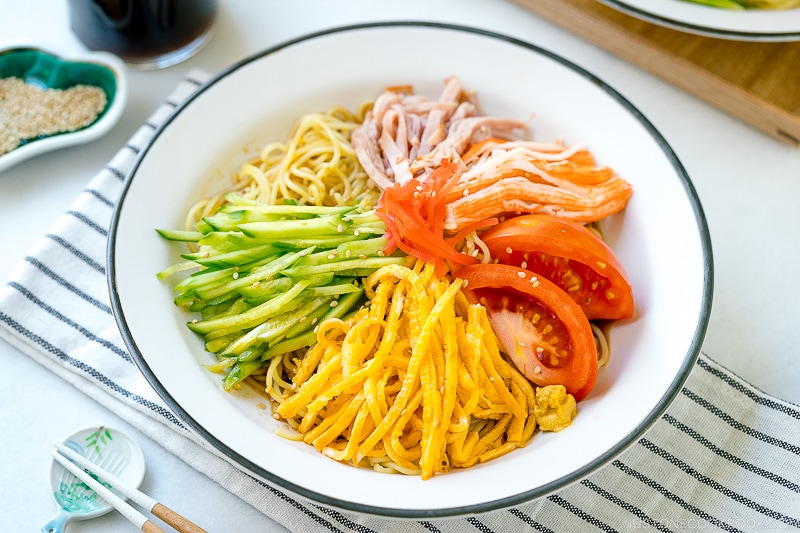 Wish to learn more about Japanese cooking? Sign up for our free newsletter to receive cooking tips & recipe updates! And stay in touch with me on Facebook, Pinterest, YouTube, and Instagram.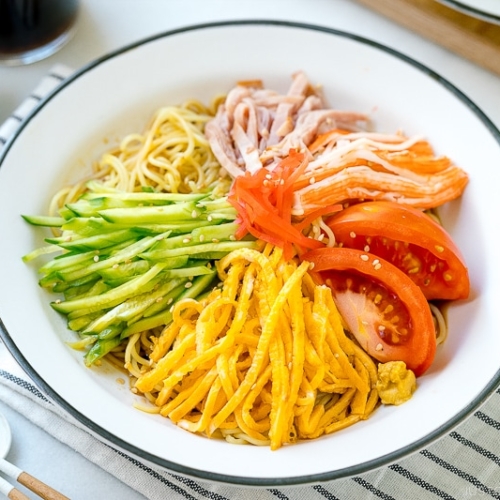 Hiyashi Chuka (Cold Ramen)
Cool down and relax with this popular Japanese Cold Ramen called Hiyashi Chuka. The cold noodles are mixed with homemade dressing and topped with egg, imitation crab, ham, cucumber, and tomato. It's a bright, flavorful, and fun way to experience the magic of ramen on a hot summer day. This recipe is vegan adaptable.
Video
Japanese Ingredient Substitution:
If you want substitutes for Japanese condiments and ingredients, click
here
.
Instructions
Gather all the ingredients.
To Make the Dressing
Peel and grate the ginger. You will need ½-1 tsp of grated ginger for 3 servings. If you like a gingery taste, use 1 tsp. You can always add more after you taste the sauce.

Combine all the dressing ingredients in a medium saucepan and whisk them all together. Bring it to a simmer and then turn off the heat. Make sure the sugar is completely dissolved.

Prepare a bowl of iced water. Dip the base of the saucepan into the iced water to cool the sauce. Cool it completely, and store it in the refrigerator if you're serving later. You can make the sauce ahead and store it in the refrigerator for up to a week.
To Prepare the Toppings
To make a thin omelet, whisk together the eggs, sugar, and salt in a small bowl.

Heat a large frying pan over medium heat. When the pan is hot, add the oil and evenly distribute it. Pour the egg mixture into the pan.

When the egg is set on the surface, flip and cook the other side for 1-2 minutes. Transfer the omelet to a paper towel to absorb the excess oil and let it cool.

Peel the cucumber skin, alternating peeled and unpeeled strips to create a stripe pattern. Diagonally cut the cucumbers into thin slices, and then cut them into julienned strips.

Cut the tomato in half and then cut the halves into wedges.

Cut the sliced ham into thin julienned strips.

Separate the imitation crab into thin strips.

When the omelet is cool, cut it in half and then into thin strips.

Now, all the toppings are ready.
To Cook the Noodles
Bring a big pot of water to a boil. Loosen and separate the fresh noodles with your hands and add them to the boiling water. Cook the noodles according to the package directions. Tip: I usually cook the noodles for less time for a firm, al dente consistency.

Transfer the cooked noodles to a colander and rinse them thoroughly with your hands under cold running water. This stops the cooking, cools the noodles, and removes the excess starch. Drain completely, shaking the colander to remove the excess water.
To Assemble
Divide the noodles into individual plates or bowls. Place all the toppings and pour the dressing on top before serving. Serve with karashi hot mustard and pickled ginger on the side, if desired.
To Store
You can keep the leftover sauce and toppings in separate airtight containers and store them in the refrigerator for 2 days. I recommend preparing the noodles right before you serve.
Nutrition
Nutrition Facts
Hiyashi Chuka (Cold Ramen)
Amount per Serving
% Daily Value*
* Percent Daily Values are based on a 2000 calorie diet.
©JustOneCookbook.com Content and photographs are copyright protected. Sharing of this recipe is both encouraged and appreciated. Copying and/or pasting full recipes to any website or social media is strictly prohibited. Please view my photo use policy
here
.
Editor's Note: The post was originally published on July 7, 2013. The images and blog post have been updated and the recipe is slightly revised on July 17, 2022.