A quick summer lunch: Cold Tanuki Udon! It's a refreshing chilled udon noodle dish drizzled in umami-rich mentsuyu and topped with cucumber, tomatoes, tenkasu (tempura scraps), wakame seaweed, and soft-boiled egg.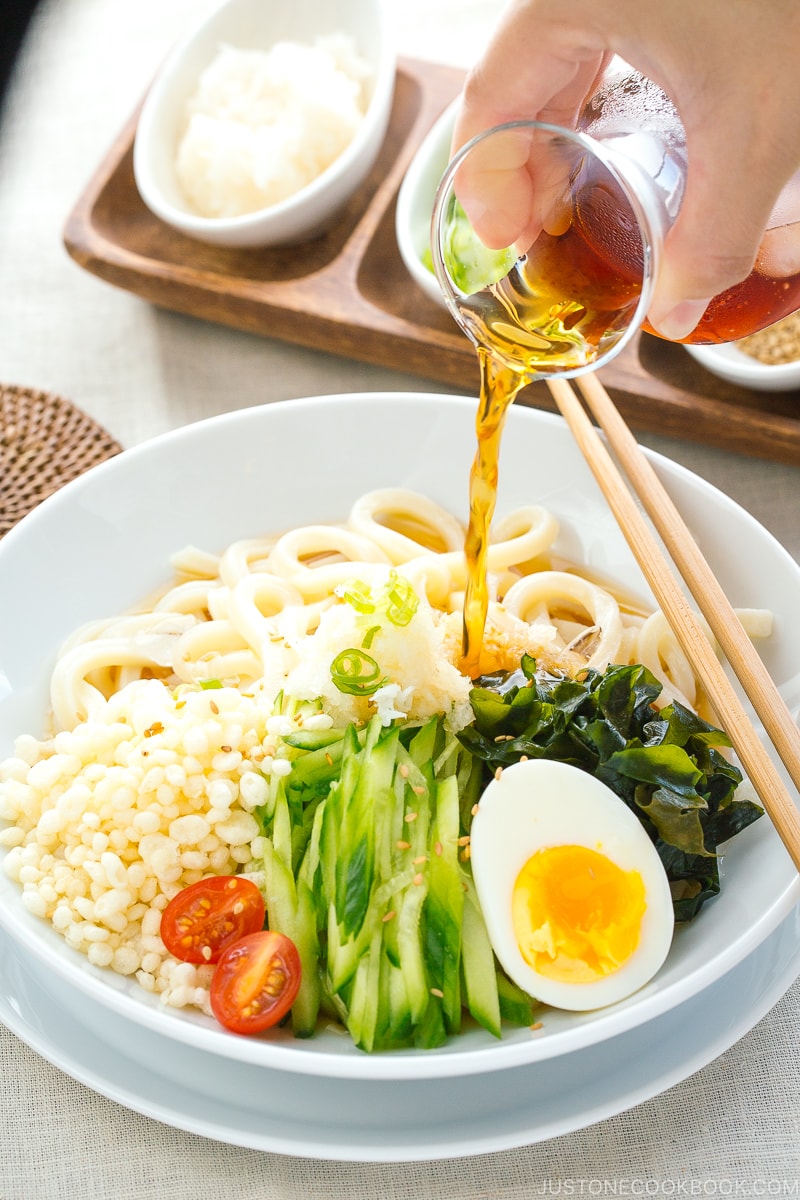 When the weather gets too hot, 1) your appetite goes down, 2) you don't want to cook, 3) all you want to eat is something cold and cool down, like Green Tea Shaved Ice. Sure, I skipped a meal and enjoyed cold treats for lunch when I wasn't a mom. But with my children around, I have to think of QUICK and EASY (and cold!) dishes for our lunch, and of course, they should be delicious as well. Cold Tanuki Udon (冷やしたぬきうどん) is a perfect lunch on those hot days.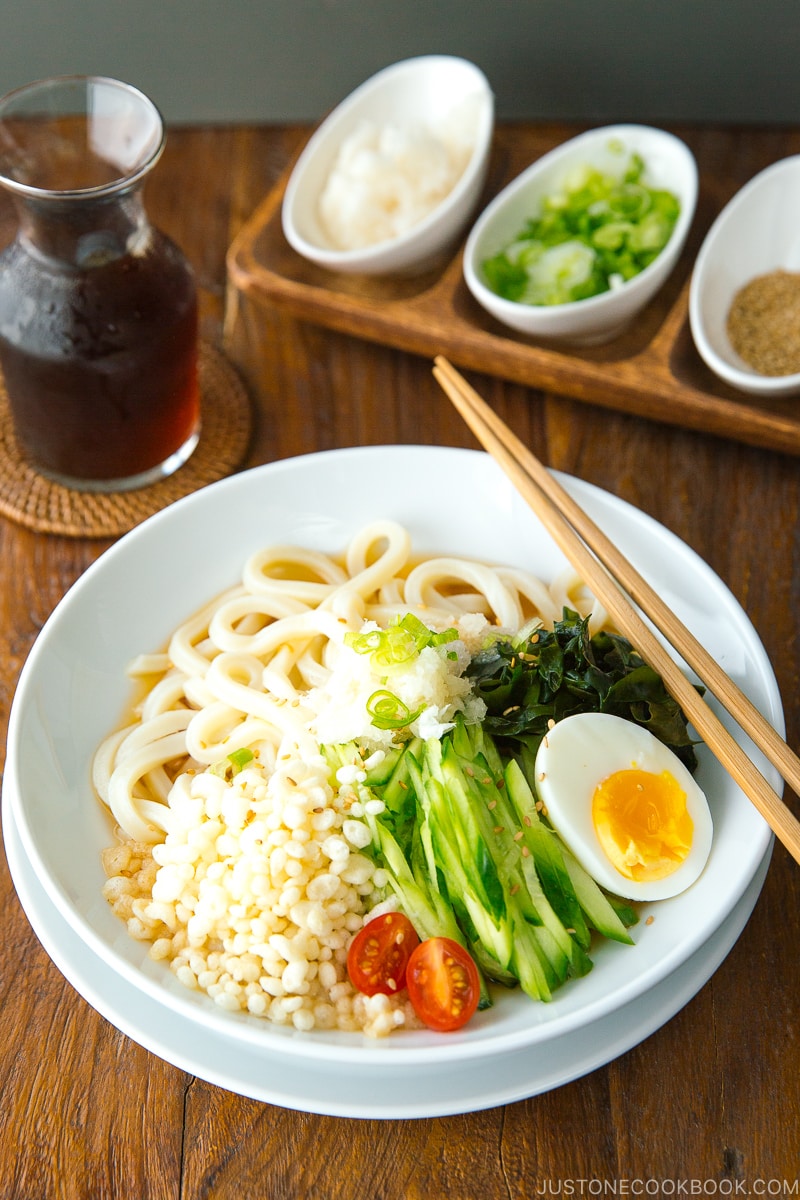 What is Tanuki Udon?
Tanuki Udon is a udon noodle soup dish usually served in a hot dashi broth and topped with tempura bits called tenkasu. However, during the summer months, this dish is often prepared cold. It's very refreshing and super easy to prepare.
Theories of Tanuki
Now if you are wondering about the name of this dish… Tanuki. Do you know what the word means in Japanese? Tanuki (たぬき, 狸) means raccoon dog. What's that to do with this dish and why was it named after a raccoon dog?
There are a couple of theories why this udon noodle dish is called tanuki, but it seems like no one really knows for sure.
One strong theory is that the name tanuki comes from the expression "ta-ne nu-ki (たね抜き)," which means "without fillings." It simply refers to a simple topping of tenkasu, the tempura bits, over the noodles.
Also, each region in Japan has its own style of "Tanuki Udon" and they are a bit different from region to region. Let's look at these three big cities: Tokyo, Kyoto, and Osaka.
Tokyo – "Tanuki" refers to tenkasu, as I mentioned above.
Kyoto – "Tanuki" refers to Kitsune Udon. It also refers to Kitsune Soba with ankake (a dish where a thick gravy sauce is poured over ingredients). This is totally confusing to people outside of Kyoto.
Osaka – "Tanuki" means Kitsune Soba (soba only), and udon with tenkasu is simply called Tenkasu Udon, not Tanuki Udon.
Next time you're in Japan, check out Tanuki Udon on the menu! It could mean totally different things wherever you are!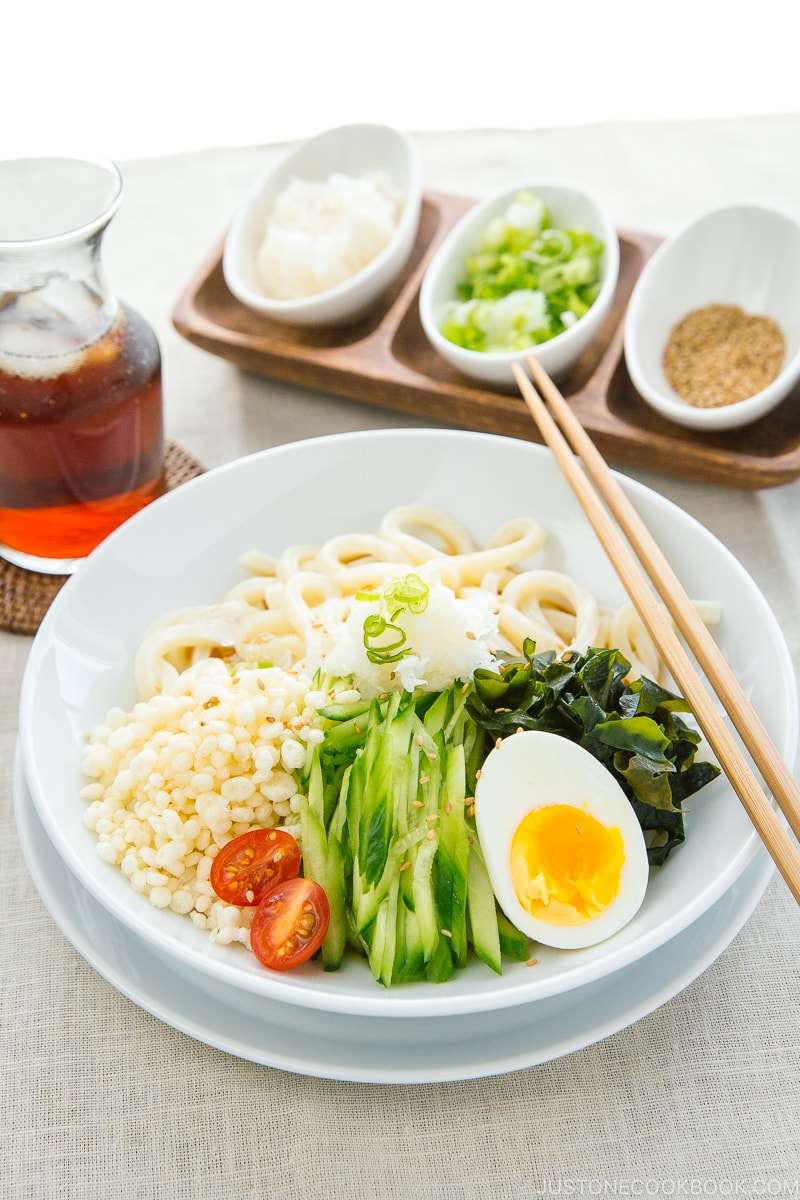 Udon with Tenkasu (Agedama)
For those unfamiliar with Tenkasu (天かす), sometimes called Agedama (揚げ玉), it is simply little bits of crunchy fried tempura batter sprinkled like mini-croutons.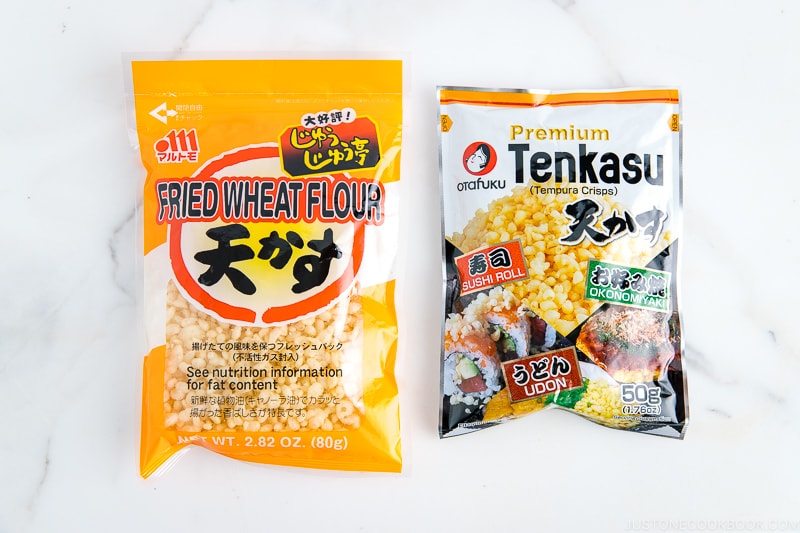 It can be added on top of noodle soup, or mixed in dishes like Okonomiyaki, Hiroshimayaki, and Takoyaki. Tenkasu adds both flavor and texture to the food. Pre-made tenkasu can be found in a package like this and purchased at Japanese supermarkets.
If you don't think you could get tempura bits in nearby grocery stores, don't worry. You could use the leftover tempura crumbs from when you make tempura, or simply skip it and enjoy tanuki udon with your favorite ingredients (but can't call it Tanuki, as it refers to tenkasu).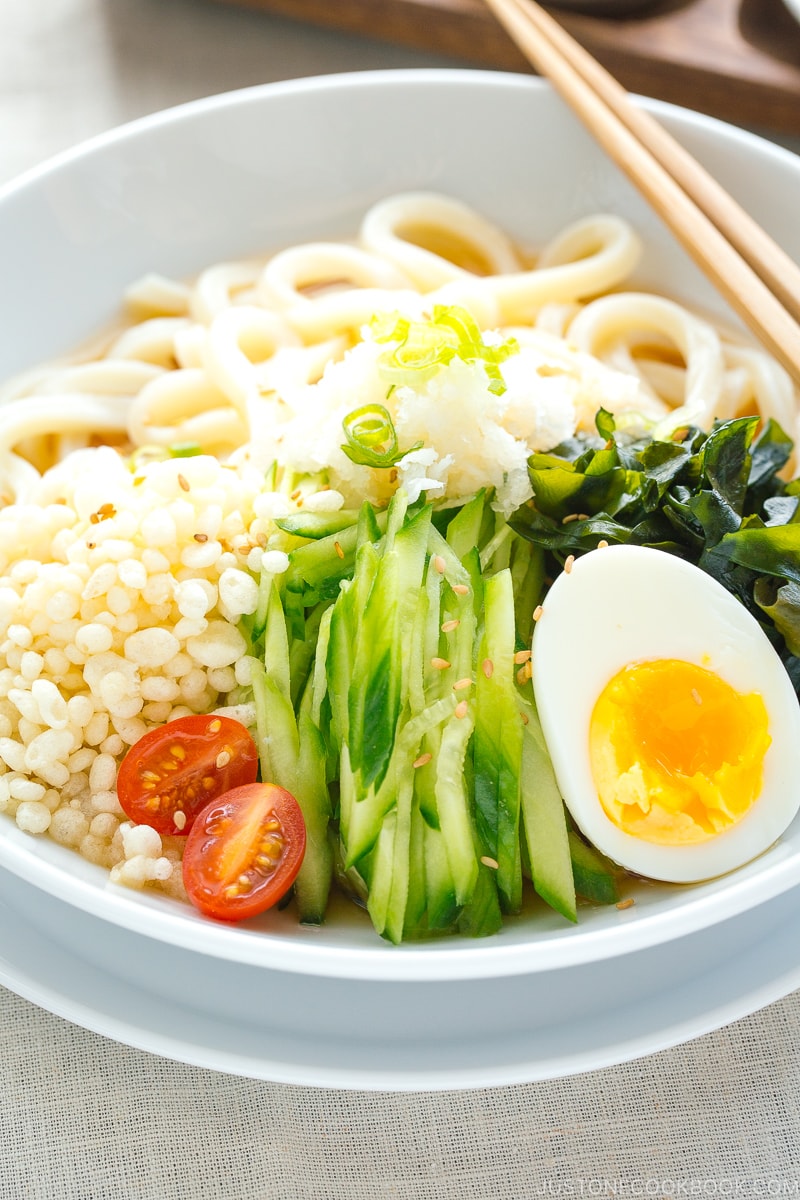 Substitutions
Mentsuyu (Noodle-based soup) – You can make a big batch from scratch (and keep in the fridge), or buy a premade bottle from a Japanese/Asian grocery store or on Amazon.
Tenkasu (tempura scraps) – You can make your own if your local Japanese/Asian grocery store does not have it.
Wakame seaweed – You can use nori seaweed if that's easier to purchase.
Cucumbers, tomatoes, and other toppings – Feel free to use whatever you want to put on top.
For vegan/vegetarian
Mentsuyu – Make vegan-friendly mentsuyu with vegan-friendly Kombu Dashi
Soft-boiled egg – swap with fried tofu
This is a super easy udon noodle dish perfect for the summer to cool you down. Loaded with vegetables, protein, chewy udon noodles, and cold, umami-rich broth.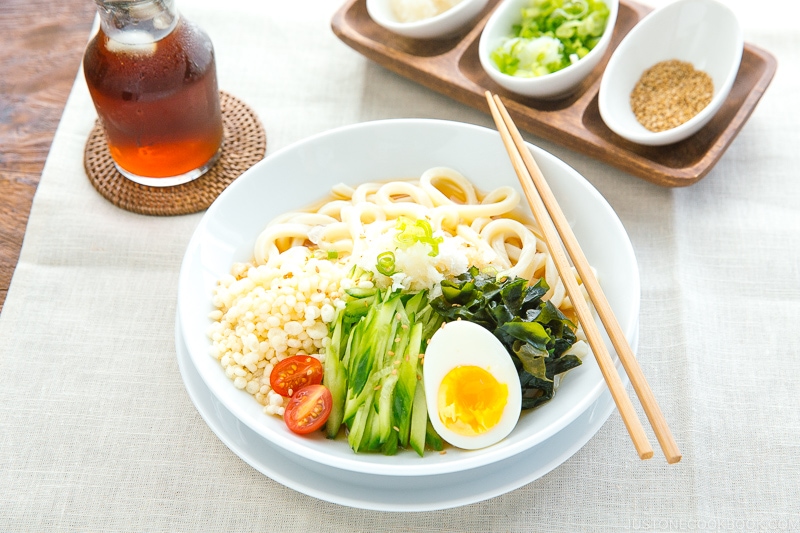 Wish to learn more about Japanese cooking? Sign up for our free newsletter to receive cooking tips & recipe updates! And stay in touch with me on Facebook, Pinterest, YouTube, and Instagram.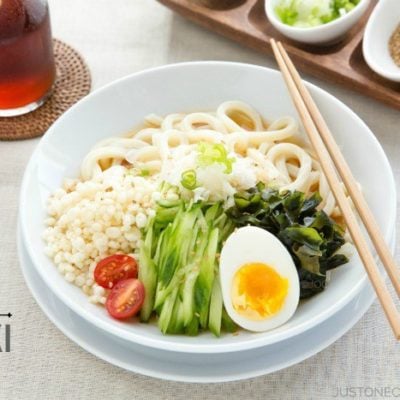 Cold Tanuki Udon
A quick summer lunch: Cold Tanuki Udon—refreshing cold udon drizzled in umami mentsuyu and topped with cucumber, tomatoes, tenkasu, wakame, and egg.
Video
Ingredients
For the Topping
2

tsp

dried wakame seaweed

1

green onion/scallion

2

inches

daikon radish

(the green top part of daikon tastes sweeter and less bitter)

1

soft or hard-boiled egg

(sliced in half)

4

cherry tomatoes
Japanese Ingredient Substitution:
If you want substitutes for Japanese condiments and ingredients, click
here
.
Instructions
Gather all the ingredients. If you are going to make the mentsuyu from scratch, you can follow my recipe.

Put

2 tsp dried wakame seaweed

in a small bowl and soak for 15 minutes. After soaking, queeze the water out and set aside.

Thinly slice

1 green onion/scallion

.

Peel

1 Japanese or Persian cucumber

(leave some skin for a striped pattern) and thinly slice diagonally. Then, cut into julienne strips and set aside.

Peel the skin from

2 inches daikon radish

and grate the daikon. Squeeze the water out and set aside.

Bring a large pot of water to a boil for

2 servings udon noodles

. My favorite udon is the frozen Sanuki udon. Blanch the frozen udon noodles in boiling water for 1 minute (no need to defrost).  If you use dry noodles, follow the package instructions. Remove udon from boiling water and cool in an ice bath. Wait until it cools completely and drain.

To make the sauce, add

⅓ cup mentsuyu (concentrated noodle soup base)

. My mentsuyu recipe should be diluted about 2–3 times depending on your preference. If you use store-bought mentsuyu, read the directions to see if you can use it "straight" (no need to dilute) or if it should be diluted 2 or 3 times. Add ice cubes to keep the mentsuyu cool.

Serve the udon on the plate/bowl. Divide and add the toppings—the wakame, the cucumber strips,

½ cup tenkasu/agedama (tempura scraps)

,

1 soft or hard-boiled egg

cut in half, and

4 cherry tomatoes

. Sprinkle with

¼ tsp toasted white sesame seeds

and the sliced green onions. Serve at the table with the mentsuyu and

wasabi

on the side. Pour the mentsuyu (sauce) on top and enjoy!
Nutrition
Nutrition Facts
Cold Tanuki Udon
Amount per Serving
% Daily Value*
* Percent Daily Values are based on a 2000 calorie diet.
©JustOneCookbook.com Content and photographs are copyright protected. Sharing of this recipe is both encouraged and appreciated. Copying and/or pasting full recipes to any website or social media is strictly prohibited. Please view my photo use policy
here
.