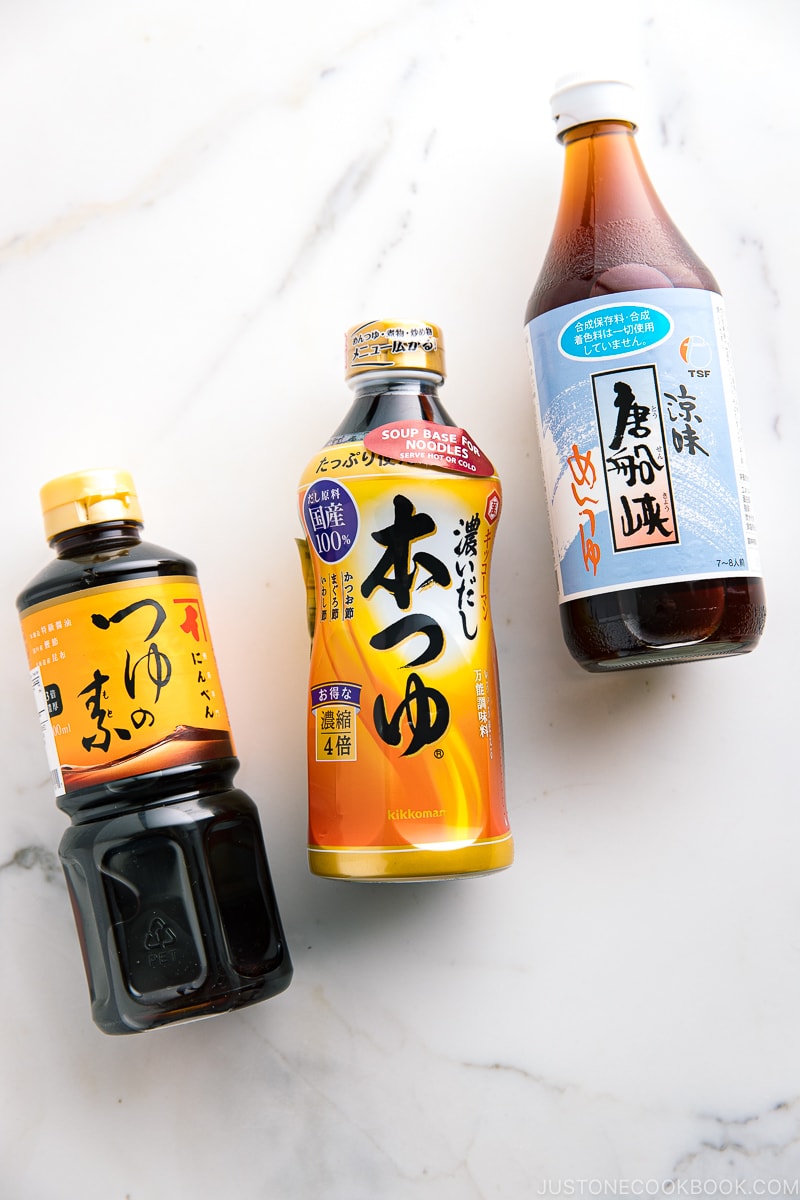 Mentsuyu (めんつゆ), or sometimes called Tsuyu (つゆ), is a Japanese soup base used in soba and udon noodle dishes. It's made from sake, mirin, soy sauce, kombu, and katsuobushi (dried bonito flakes).
What is Mentsuyu (Tsuyu)
With umami-packed dashi in the mixture, we use it as a basic sauce or broth for many Japanese dishes such as hot and cold noodles.
Hot Noodle Soup – Mentsuyu diluted with water, heated, then poured over boiled noodles to complete a noodle soup dish. This hot noodle soup broth is called Kaketsuyu (かけつゆ).
Cold Noodle Dipping Sauce – Mentsuyu diluted with water (or sometimes straight), then serve with chilled noodles. This dipping sauce is called Tsuketsuyu (つけつゆ).
Mentsuyu is also used to season Oden, hot pots, donburi rice bowl dishes, and Tempura Dipping Sauce.
It's also used to replace soy sauce for a more delicate and full-body flavor. I've used it to season Yaki Udon and Japanese-stye pasta.
---
Different Types of Tsuyu つゆ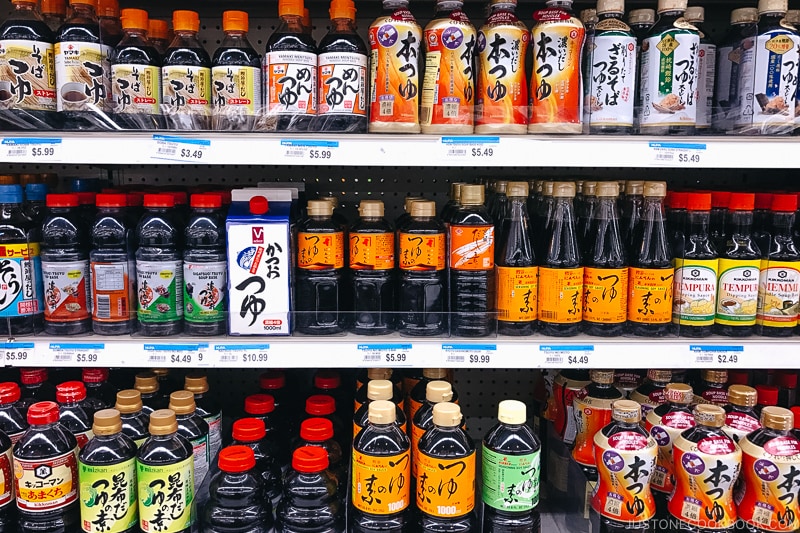 At Japanese grocery stores, you will encounter many brands and types. The bottles have the Japanese word "つゆ" (Tsuyu), short for Mentsuyu (めんつゆ). Here are some common Tsuyu you will see:
Straight (ストレート) – This type of Mentsuyu bottle has a label "ストレート" in Japanese and it does NOT require to dilute it with water.
2 x Concentrated (濃縮2倍) – It's required to dilute the soup base with water depending on what you're cooking. Sometimes the concentration can be 3 or 4 times.
(Zaru) Soba Tsuyu – This Mentsuyu is made for soba noodles or specific to Zaru Soba (Cold Soba Noodles).
Somen Tsuyu – This Mentsuyu is made for Somen Noodles.
---
How to Dilute "Concentrated" Tsuyu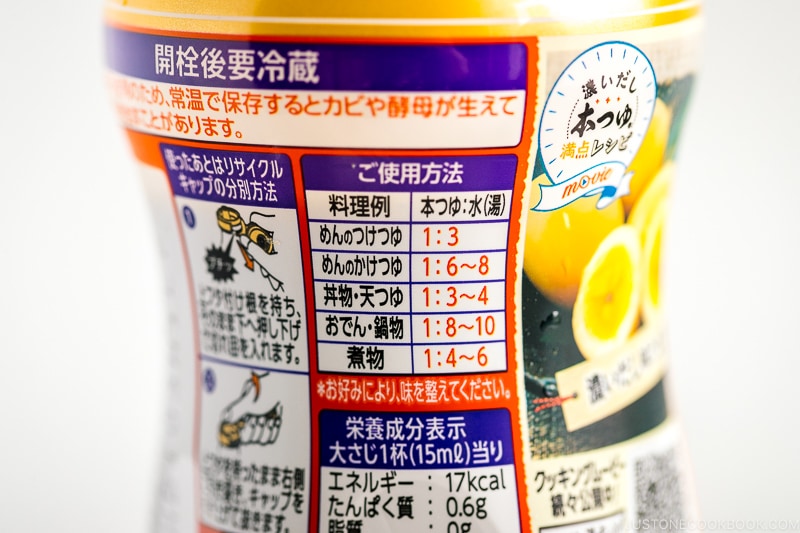 Each brand has different instructions for diluting the Metsuyu. Find the usage guide on the bottle that looks like this.
The Ratio of Tsuyu to Water
Dipping sauce for cold noodles – "Tsuketsuyu" – 1 : 3
Hot noodle soup – "Kaketsuyu" – 1 : 6-8
Donburi dishes or Tentsuyu – 1 : 3-4
Oden or Nabemono (hot pot) – 1 : 8-10
Nimono (simmered food) – 1 : 4-6
Example for Noodles (Serves 2)
Dipping sauce – 1/3 cup Mentsuyu + 1 cup cold water (1:3 ratio)
Hot noodle soup – 1/4 cup Mentsuyu + 2 cups water (1:8 ratio) + I usually add a splash of mirin.
---
Homemade Mentsuyu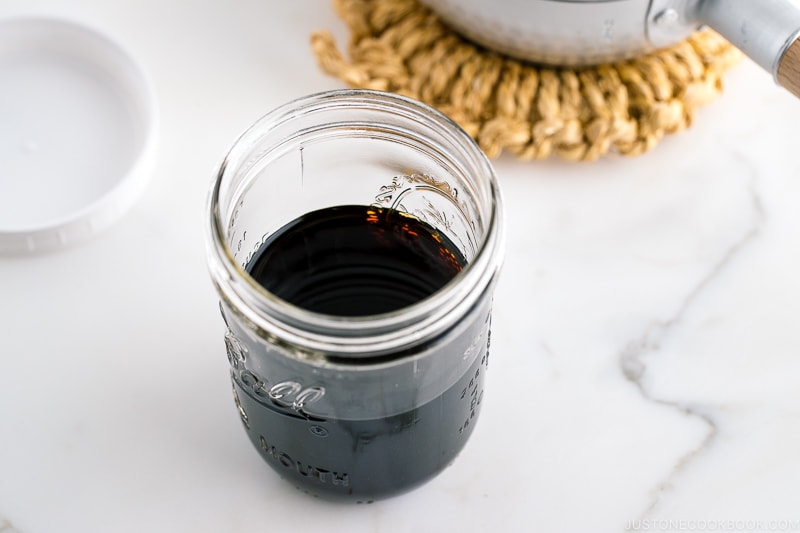 If your local Asian grocery stores don't carry Mentsuyu, you can make Homemade Mentsuyu from scratch!
All you need is basic Japanese ingredients such as kombu, dried bonito flakes (katsuobushi), soy sauce, and mirin from Japanese/Asian grocery stores or online.
---
Recipes Using Mentsuyu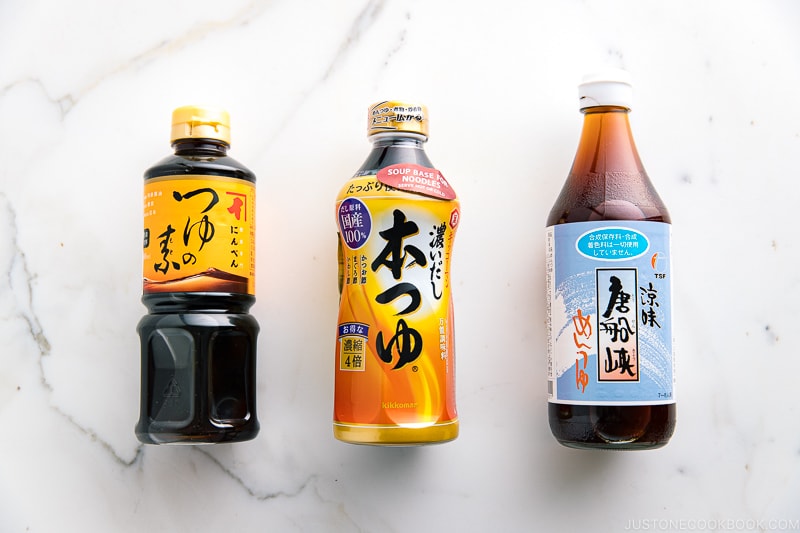 Japanese Ingredient Substitution: If you want to look for substitutes for Japanese condiments and ingredients, click here.
---
Wish to learn more about Japanese cooking? Sign up for our free newsletter to receive cooking tips & recipe updates! And stay in touch with me on Facebook, Pinterest, YouTube, and Instagram.