Print Recipe
Jump To Recipe
Kitsune Udon is a Japanese noodle soup in dashi broth, topped with seasoned fried tofu, narutomaki fish cake, and scallions.  This hearty Udon soup is one of the most popular, classic Japanese noodle dishes.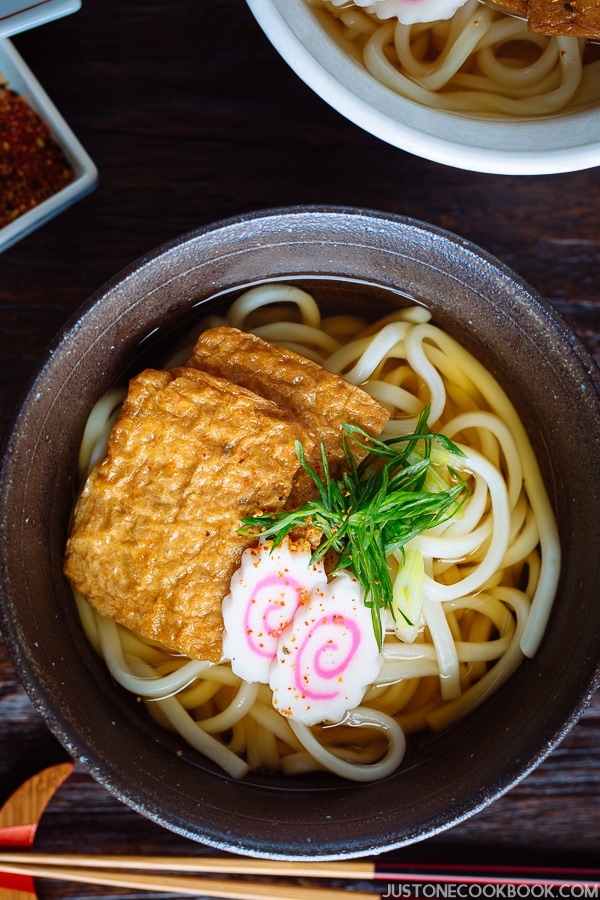 Whether you feel under the weather or just really cold from the weather, I can't recommend enough cooking this bowl of hot Kitsune Udon Noodle Soup (きつねうどん).
The rich broth, the chewy noodles, the fried tofu – everything just comes together so nicely in the bowl that you just want to hold your face above it and let the aroma envelop you.  It's the ultimate Japanese comfort dish.  And it's quick to make, so there is no excuse not to try it!
What is Kitsune Udon?
Kitsune literary means 'fox' in Japanese.  Why do we call the dish – fox udon?  There are a few theories about the origin of the name.
One theory says aburaage (deep fried tofu pouch) often appears as a fox's favorite food in some old Japanese folktales, so people started to call the udon noodle soup topped with aburaage as "kitsune udon."
Another theory is that people call aburaage by "kitsune" because the color of the deep fried tofu pouch is just like the color of a fox.  I think this makes the most sense since in Japanese cooking, we express "golden brown color" by saying "cook till fox color".
So what is kitsune udon?  The noodle soup consists of chewy thick udon noodles, clear dashi broth, and aburaage seasoned well with soy sauce, mirin, and sugar.  Kitsune udon is served as a hot noodle soup, but in the steamy summer months, it is also served chilled with a little bit of dashi based sauce poured over the top.
3 Key Ingredients for Kitsune Udon
To make the perfect bowl of kitsune udon, you need high quality ingredients, starting with these three – dashi, udon, and aburaage.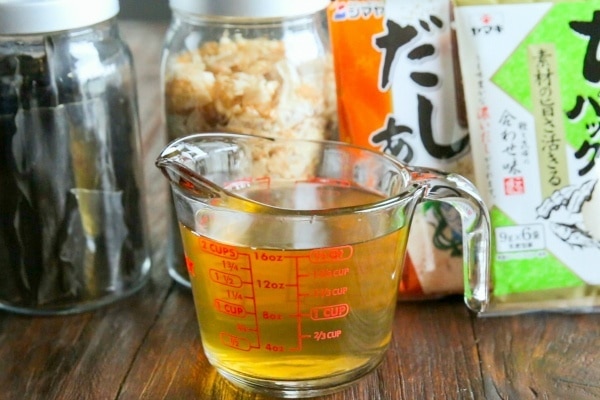 1. Dashi Broth
I can't stress enough about having a good quality dashi.  The dashi broth gives the dish that rich, umami flavor that will have you sipping up the last drops.
Dashi is so important, which is why I have previously shared three ways to make dashi – using dashi powder or a dashi packet, and making dashi from scratch.
For this kitsune udon recipe, I only recommend making dashi using a dashi packet or making it from scratch.  Making it with dashi powder doesn't have the depth needed to make a flavorful enough broth for this dish.  Please don't get intimidated with making dashi from scratch since it doesn't take a lot of time compared to using dashi powder.  Spend the extra 20 minutes to make a super tasty broth – trust me, it's worth your time, and it's easy to make!
I recommend making awase dashi (kombu + katsuobushi/bonito flakes) or katsuo dashi (just bonito flakes) for udon noodle soup broth.
For vegetarian/vegan dashi, please continue reading below.
2. Udon Noodles
Udon noodles are getting very popular outside of Japan, so you can easily purchase the noodles in regular grocery stores in the U.S.
However, if your local Japanese or Asian grocery stores carry frozen udon noodles, or packaged udon noodles that say "Sanuki", try one of those options.  They are more chewy, and won't easily break into pieces, unlike refrigerated udon noodles that fall apart and just don't have the right texture.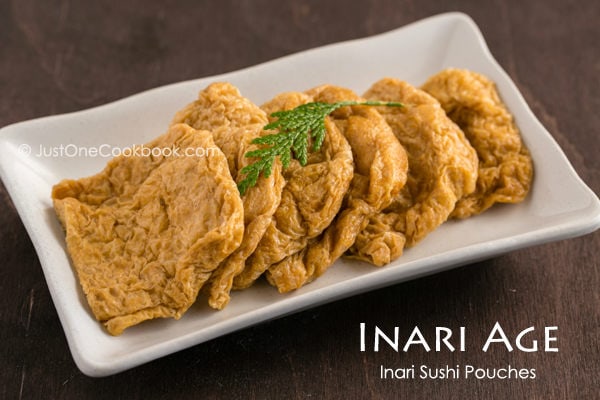 3. Packaged vs. Homemade Aburaage
Living abroad (outside of Japan), it's interesting to realize that raw ingredients can be harder to find than prepackaged foods.
In this case, I'm talking about the aburaage (deep fried tofu pouch) and prepackaged inariage (seasoned aburaage shown below).  You can easily find inariage – packaged or canned – because we use inariage to make Inari Sushi/Inarizushi.
If you are the lucky one who can find aburaage, try making Homemade Inariage to top your udon noodle soup!

Vegetarian/Vegan-Friendly Kitsune Udon
There is a misconception that dashi is not vegetarian/vegan; however, that's not completely true.  Most well-known dashi are made with bonito flakes and kombu, but in our daily Japanese cooking we also use Kombu Dashi, which is 100% vegetarian/vegan.
To make vegetarian/vegan kitsune udon, make kombu dashi and skip those spiral fish cakes as garnish.  And as simple as that, you have vegetarian/vegan kitsune udon!
Don't want to miss a recipe? Sign up for the FREE Just One Cookbook newsletter delivered to your inbox! And stay in touch on Facebook, Google+, Pinterest, and Instagram for all the latest updates. Thank you so much for reading, and till next time!
Kitsune Udon
Instructions
Gather all the ingredients. Bring a large pot of water to boil for cooking noodles (Don't cook yet till Step 5).

In a medium saucepan, add dashi, mirin, and sugar.


Add soy sauce and kosher salt and bring to boil. Once boiling, turn off the heat and set aside.

Squeeze excess liquid from the inariage (or you can keep it as it is). Cut the green onion into thin slices. Slice the Narutomaki fish cake into 1/8 inch (3 mm).

When everything is ready, start cooking udon noodles. Frozen udon noodles (my favorite kind) takes only 1 minute from putting into boiling water. If you use dry noodles, follow the package instructions. Heat up the noodle soup.


Pick up the noodles in a strainer or drain hot water. Make sure to remove excess water (which will end up diluting your soup).

Serve udon noodles and soup in serving bowls and top with inariage, narutomaki, green onion and sprinkles of shichimi togarashi.
Recipe Notes
Dashi: It's really important to have good flavorful dashi for this recipe.  Although you can make dashi easily with dashi powder or dashi packet, I encourage you to make your own dashi because the broth tastes so much better and it only takes less than 30 minutes to make.  For vegetarian/vegan, please use Kombu Dashi.
Udon noodles: You can use any kind of udon, but I like frozen sanuki udon from Asian/Japanese supermarkets. If you use frozen udon, you don't have to defrost prior to cooking.
Inariage: Homemade inariage recipe, click here.
Recipe by Namiko Chen of Just One Cookbook. All images and content on this site are copyright protected. Please do not use my images without my permission. If you'd like to share this recipe on your site, please re-write the recipe in your own words and link to this post as the original source. Thank you.
Editor's Note: The post was originally published on May 25, 2017.